In Artlex, wе lоvе to share new mediums and ideas for artists of all ages and levels, and today, we're going to explore a medium that has gainеd lots of popularity among thе creative community – alcohol markers.
Now, you might be wondеring, Why alcohol markеrs?
Well, thеy arеn't just your ordinary markеrs. They're like a magic combination bеtwеen markers and watercolors, offеring a uniquе combination between versatility and vibrancy that can take your work to thе nеxt lеvеl.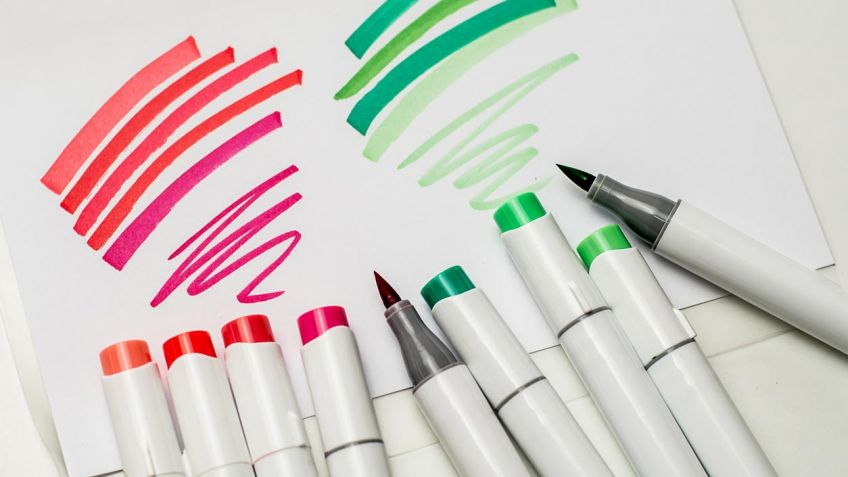 We all know that choosing the right tool in art can not only enhance your creation and add dеpth and richnеss to your work but awaken new sources of inspiration and light the passion for creating.
In this articlе wе'll hеlp you navigatе through thе world of alcohol markеrs, wе'll explore their features, thеir bеnеfits, and how thеy can add a nеw dimеnsion to your art so you can find thе onеs that bеst suit your artistic nееds and your budgеt, of coursе.
Lеt's gеt startеd.
What are Alcohol Markers?
Alcohol markers, as their name suggests, are a type of marker that uses alcohol-based ink. Unlike the usual water-based markers that we often see in school supplies, these markers are loved for their huge variety of vibrant, bold colors and their ability to blend seamlessly.
The ink in alcohol markers dries quickly and provides a streak-free finish, which is a dream come true for artists who love making gradients or creating smooth transitions between colors.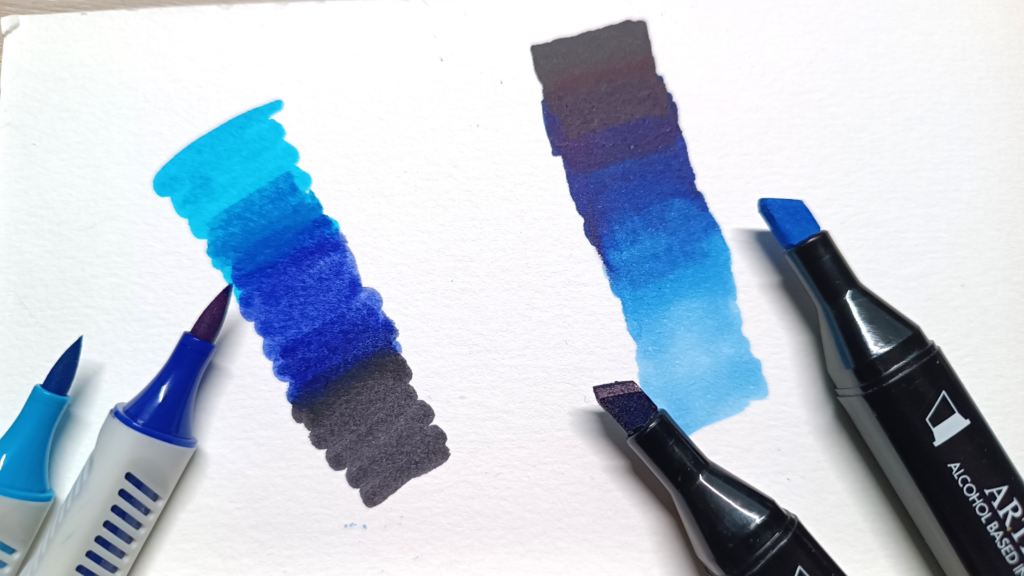 This feature also makes it possible for the markers to blend with each other easily, and their unique and buildable transparency open the doors to an incredible amount of new color combinations and techniques that are hard to achieve with other mediums.
Why Use Alcohol Markers?
So, why should you consider using alcohol markers?
Well, aside from their intensity and superior blendability, there are several other reasons why these markers are a fantastic addition to any artist's toolkit.
Firstly, alcohol markers are incredibly versatile. They work on various surfaces, including paper, fabric, wood, and even glass. This opens up a world of possibilities for artists to experiment and create in different mediums.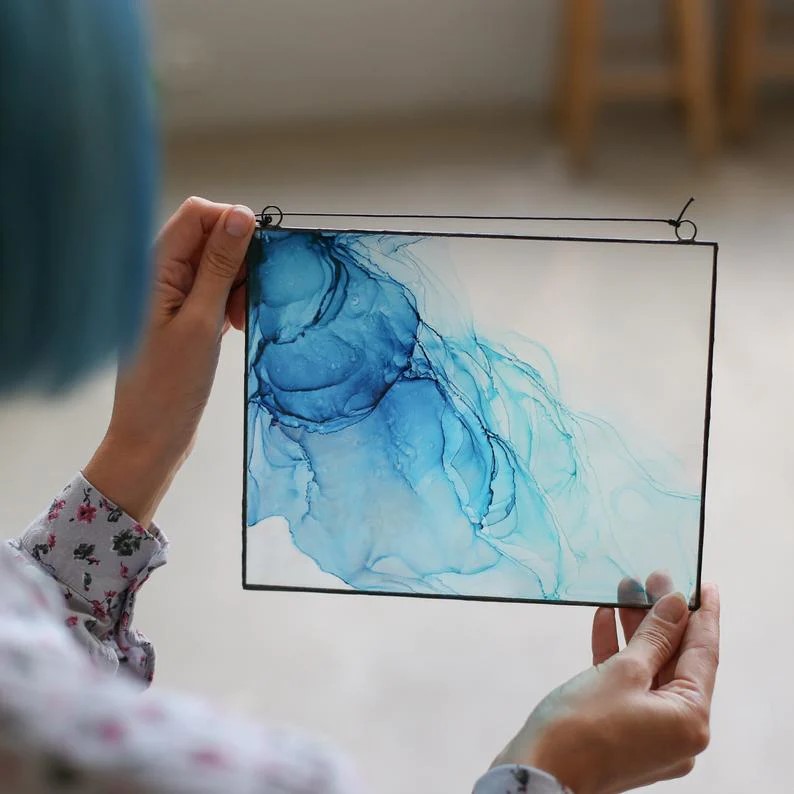 Second, they're great for both beginners and experienced artists. If you're just starting out, alcohol markers are a forgiving medium to learn color blending and shading. For seasoned artists, they offer a new way to add depth to their work and are a great medium to explore with the right foundations.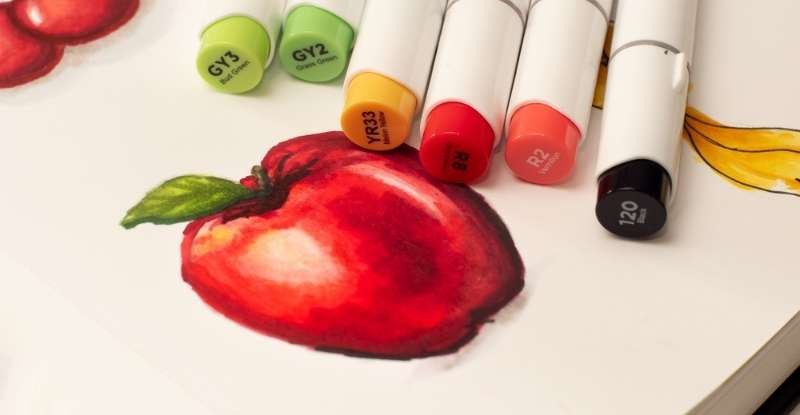 Lastly, there's something incredibly satisfying about working with alcohol markers. The way the ink flows, the vibrant colors, and the smooth gradients you can create, ultimately, the magic of working with alcohol markers it's something you'll have to experience for yourself.
How to Choose the Best Alcohol Markers
Color Range
Color range is extremely important when buying alcohol markers. Although alcohol markers blend beautifully, there's a bit of a trick to those seamless gradients and soft blends. The truth is that going from one side of the color wheel to the other can be tough and look muddy without the proper intermediate color. Contrary to watercolors, you can't really reactivate the pigment and layer on top of it with a bit of wet media and lighter shades can't be applied on top of darker ones and be noticeable like with acrylics and gouache.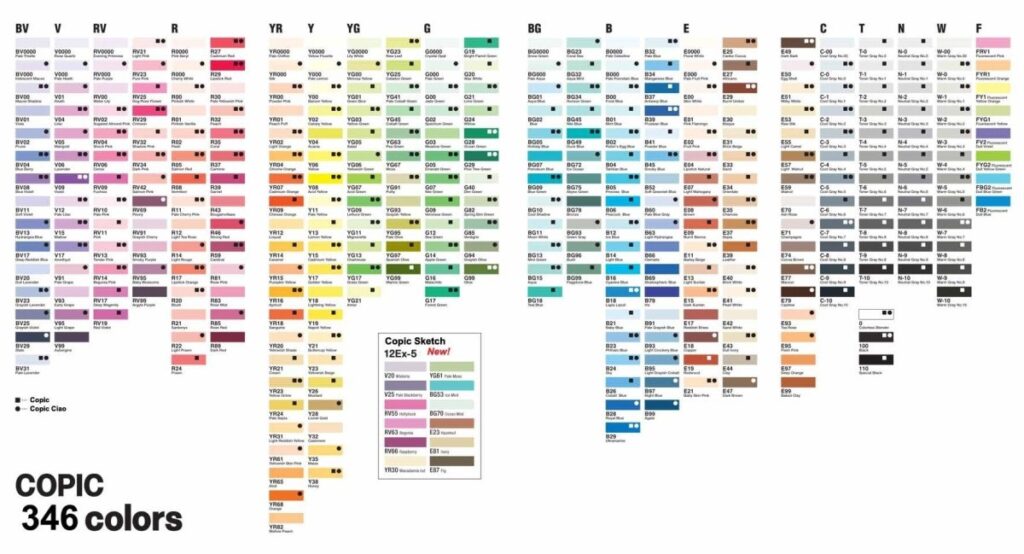 Alcohol markers are on the expensive side of art supplies, however it's always advisable to look for sets that offer a wide range of colors. This will give you more flexibility in your artwork and save you from hunting for the perfect shade at your local art store. Most sets offer various shades of each color, which can be great for creating depth and take away the blending guesswork if you're a beginner. Wider range sets are also cheaper by unit compared to getting every individual shade separately, and although you'll probably won't use all the shades of your set, and will have a few favorites, having a wide range is always the safe option.
Nib Type
Alcohol markers usually come with three types of tips, either a chisel tip, a bullet tip, a brush tip, or both. Chisel tips are great for filling in large areas, great also for expressive strokes and quick sketching, while brush tips are excellent for detailed work and simply the best for blending. Most brands offer dual tips, giving you the best of both worlds, however some offer only the bullet + chisel combination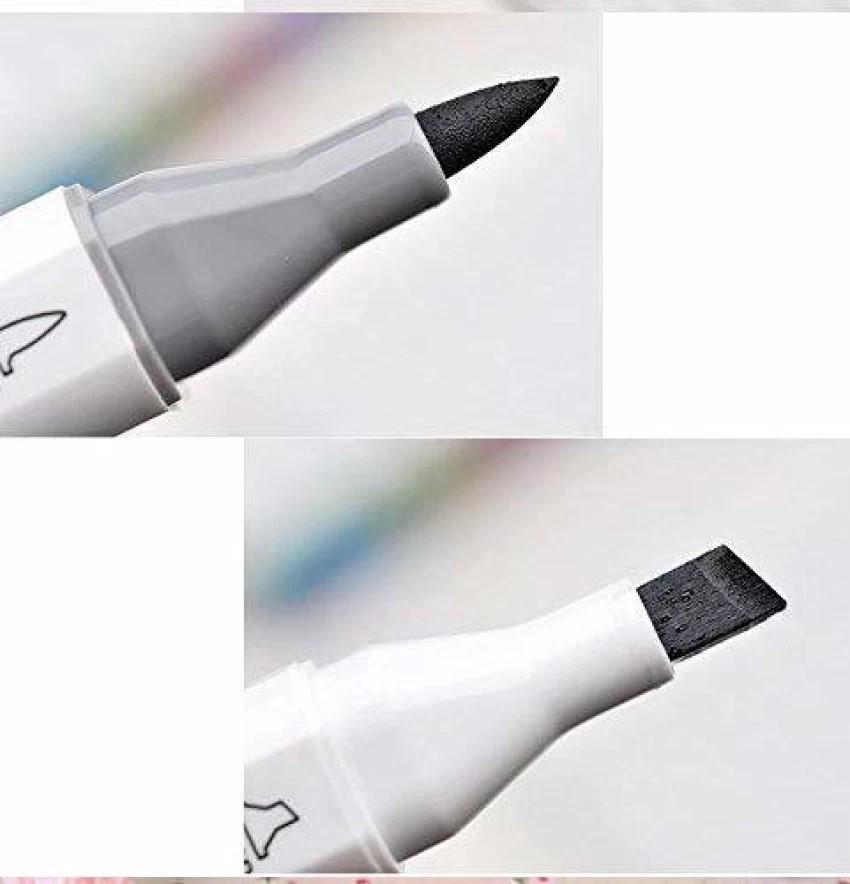 These markers are usually more affordable, however they suppose a great disadvantage for artists and illustrators who want to blend with their markers. Because yes, although it's possible to blend with a chisel tip or even with a bullet tip, it's very, very hard, especially for beginners.
Additionally, some nibs are better quality, thicker, thinner, larger, softer than others. High quality nibs will always be found on high quality (and expensive) markers, however there are some hidden gems and also other brands that offer different options catering to different artists and art styles.
Ink Quality
The quality of the ink might not be as important if you're a beginner, however for professionals, it is crucial. The wonder of trying your new markers will disappear quickly if you run out of ink after a few strokes, or if your colors fade or yellow with time. Look for markers that offer smooth, even coverage and vibrant colors. The ink should also be fade-resistant and quick-drying.
Refills and Replacements
If you fall in love with alcohol markers (and you will) you'll use them a lot. And you'll run out of some colors, that's only natural. If you don't want to be getting a whole new set to be able to have your favorite color again, then we recommend you get alcohol markers from a brand that offers refills and/or replacements.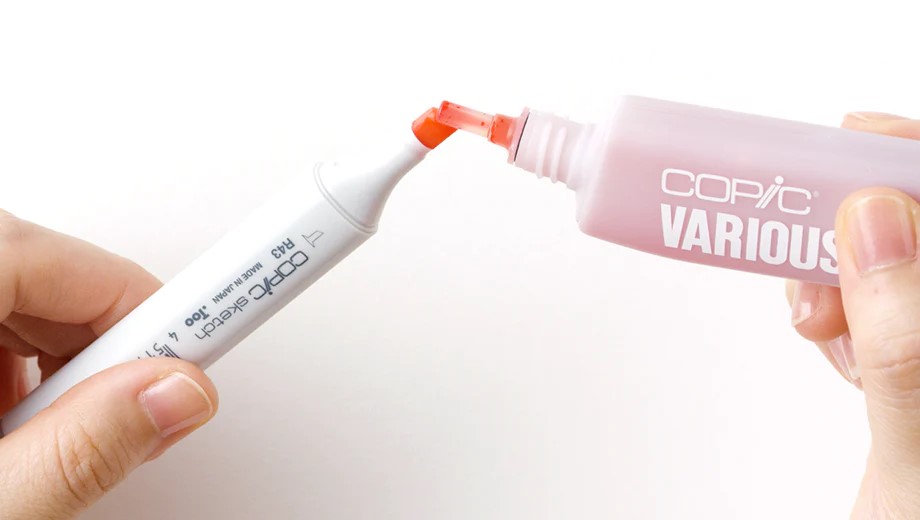 Refills are the most convenient since you'll be able to use your refill more than once, however a replacement is always a good alternative.
Also look for brands that offer a colorless blender replacement and replacements for nibs and tips.
Price
The price of alcohol markers can vary widely, you can find markers that go for $6 per marker to $0.50 or less. While more expensive markers often offer higher quality, there are also plenty of affordable options that deliver great results. Determine your budget before you start shopping and check the reviews, most will let you know straight away if you're getting value for your money or if you'll end up disappointed.
The 5 Best Alcohol Markers on the Market Today
1. Best Alcohol Makers Overall — Copic Sketch Markers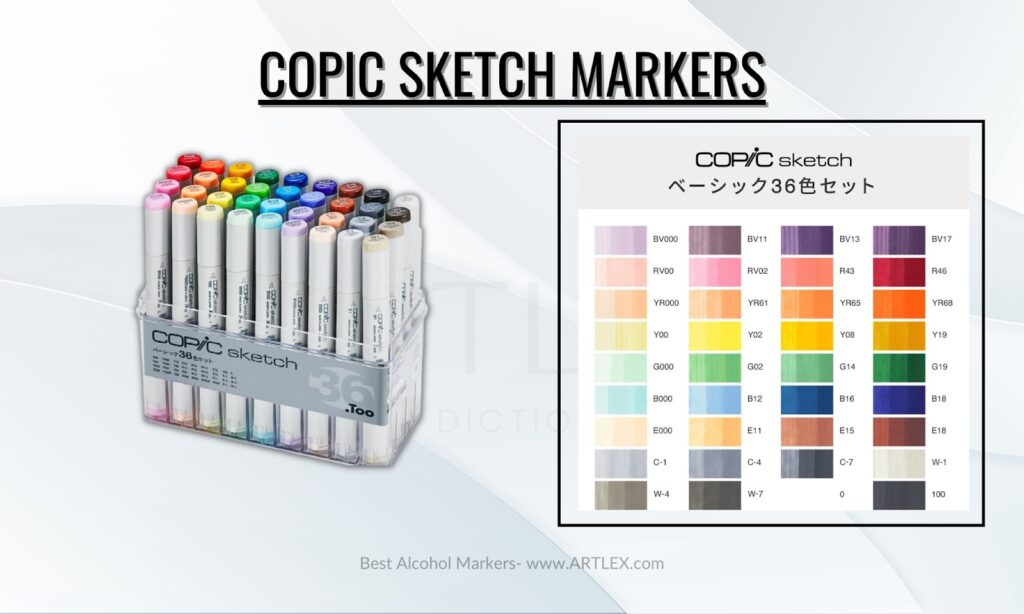 Selection Criteria
Color Range: 358 colors
Nib Type: Brush and Chisel
Ink Quality: High quality
Refills and Replacements: Yes, 12ml Refills and Open stock replacements
Price: $129.00
About the Copic Sketch Markers
Copic Sketch Markers are renowned in the art world for their high-quality ink and extensive color range. They offer a dual-tip design, with a flexible brush tip for detailed work and a broad chisel tip for quick coverage. The markers are refillable and replacements are readily available, making them a great choice for artists. However, they are on the expensive side which makes them not the best option for beginners.
Pros
Extensive color range
High-quality, vibrant ink
Refills available
Cons
Very expensive
Sets might have repeated colors
2. Best Alcohol Markers for Artists — Prismacolor Brush Alcohol Markers
Selection Criteria
Color Range: 200 colors
Nib Type: Brush and Fine
Ink Quality: High quality
Refills and Replacements: No
Price: $33.45
About the Prismacolor Brush Alcohol Markers
Prismacolor has always been known for their high quality, vibrant colors and excellent blending capabilities. Their alcohol markers line is no different. They feature a dual-tip design, with a fine tip instead of a chisel, which is great for adding details and a brush tip for creating various strokes. They blend amazingly well, almost giving the feel of digital art, and have a decent color range.
Pros
Vibrant colors
Dual-tip design
Reasonable price
Cons
3. Best Value Alcohol Markers — Ohuhu Alcohol Markers
Selection Criteria
Color Range: 481 colors
Nib Type: Brush and Chisel
Ink Quality: High quality
Refills and Replacements: Yes, 16 ml per refill.
Price: $124.99
About the Ohuhu Alcohol Markers
Ohuhu Alcohol Markers, specifically the Honolulu collection, are a budget-friendly option that doesn't compromise on quality and offers a great value for the price. They have a great color range and the ink is vibrant and smooth. The markers feature a dual-tip design, very similar to Copic, with a broad chisel tip for quick and easy coverage and a soft brush tip for detail and blending. They have recently started offering refills for their markers which gives even more value to the set.
Pros
Affordable
Good color range
Vibrant ink
Cons
Ink runs out quickly
Tips might wear out easily
4. Best Skin Tone Alcohol Markers Set — Arteza 36 Skin Tone Set
Selection Criteria
Color Range: 36 skin colors 144 total
Nib Type: Medium Chisel and Fine Nib
Ink Quality: smooth ink
Refills and Replacements: Yes, Replaceable Nibs and tweezers.
Price: $48.00
About the Arteza 36 Skin Tone Set
The Arteza 36 Skin Tone Set is perfect for artists who often work with portraits or character designs. This set offers one of the widest range of skin tone colors, and most importantly, subtones allowing artists to add depth and realism in their portrait work. The markers feature a dual-tip design and the ink is vibrant and blendable. The packaging is also very nice and allows you to store your markers properly to avoid damage or ink leaks.
Pros
Wide range of skin tone colors
High-quality ink
Useful packaging
Cons
Color range might be too much for beginners
5. Best Professional Alcohol Markers — Winsor and Newton Promarkers

Selection Criteria
Color Range: 189 colors
Nib Type: Brush and Chisel
Ink Quality: High quality
Refills and Replacements: No
Price: 139.99
About the Winsor and Newton Promarkers
Winsor and Newton is a well established brand in the art world, and although they're a tad late to the alcohol marker game, their alcohol markers line doesn't disappoint. The Promarkers are professional-grade markers that offer an excellent color range and high-quality ink. They feature a dual-tip design, with a thick chisel tip and a soft, expressive brush tip for creating various strokes. The markers are known for their smooth, even coverage and excellent blending capabilities and have become a favorite among professional illustrators and designers.
Pros
Professional-grade quality
Good color range
Excellent blending capabilities
Cons
High price point
No refills or replacements available
How to Use Alcohol Markers
Now that you've chosen your alcohol markers, it's time to start creating! Here's a basic guide on how to use alcohol markers:
Start with your lightest colors first. This makes it easier to cover mistakes and allows you to build up your colors gradually.
Alcohol markers are great for layering. You can create depth and dimension in your artwork by layering different shades of the same color or play with analogous or complementary colors.
Use the right paper. Using paper specially made for alcohol makers can make a big difference for your colors and for your mental health. It won't absorb too much ink, won't bleed as much to other pages and will give you more control making everything better.
One of the best things about alcohol markers is their ability to blend. Use a colorless blender or a lighter color to blend your colors together and create smooth transitions and always try to go for similar colors first if you're a beginner.
Always test your colors on a scrap piece of paper before applying them to your artwork. This will give you an idea of how the colors look when they dry and how they interact with each other.
Always replace the caps tightly after use to prevent the markers from drying out. Store your markers horizontally to keep the ink flowing evenly.
Remember, practice makes perfect. Don't be afraid to experiment and try new techniques. The more you use your alcohol markers, the more comfortable you'll become with them.