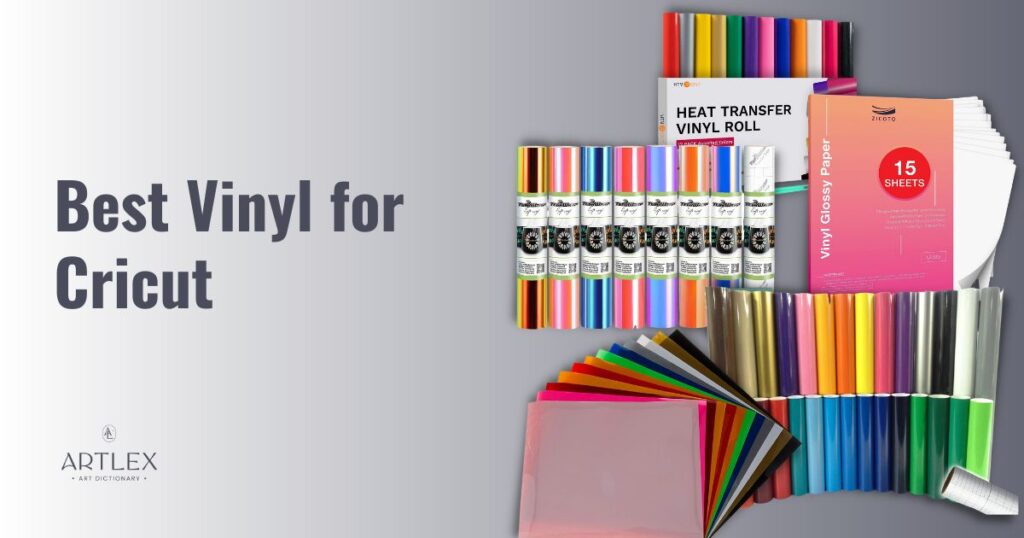 Cricut machines sit high on the list of the most versatile crafting tools available today. Renowned for their cutting capabilities and versatile applications, they're particularly well-suited to working with materials like vinyl.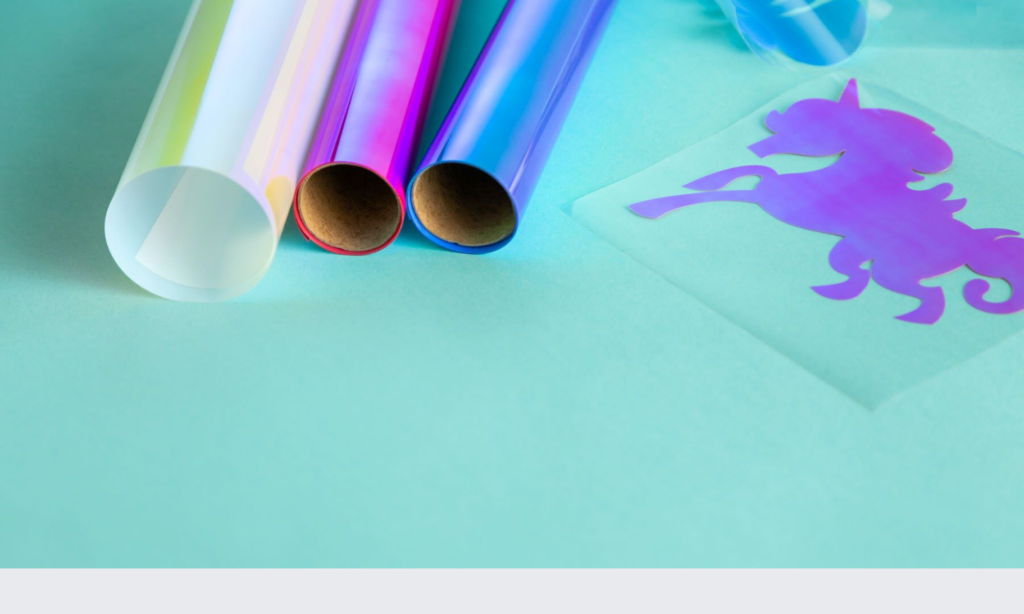 Vinyl, known for its outstanding flexibility, boasts a vast array of finishes and applications. This has made it a firm favorite among the crafting community. With vinyl, the sky's the limit – you can conjure up everything from decorative signs and personalized mugs to custom clothing, ornaments, and a broad spectrum of other accessories.
Given its versatility, vinyl can be used for a multitude of things. Imagine temporary holographic decorations, signs, and banners that cast glow-in-the-dark or shimmering, textured creations!
In the bustling market of crafting materials, many vinyl brands will catch your attention. This can make finding the best match for your cutting machine and intended project quite challenging, but fear not – in this article, we've done the heavy lifting for you.
We've curated a list of what we believe are the best brands of vinyl to pair with cutting machines, especially for Cricut cutting machines.
The 5 Best Vinyl for Cricut in 2023
1. Best Permanent and Removable Vinyl – ORACAL
Selection Criteria
Type of Vinyl: Permanent and Removable
Resistance and Ease of Use: Scratch, scuff, and water resistant.
Finish: Matte and Glass
Price: $12 – $70
About ORACAL
Oracal is a big name in the world of vinyl, known for its high-quality, long-lasting products, extensive palette of colors, and its user-friendly nature. It's so trusted, that its 651 and 631 types have become synonymous with specific vinyl types among crafters.
Choosing Oracal means choosing a reliable buddy for your crafting journey. It wins hearts with its superior quality, long lifespan, and easy-weeding features. Whether you're a professional crafter, a content creator, or a DIYer, Oracal is your friendly companion, offering competitive prices for its top-notch products.
Oracal and Cricut cutting machines are like best friends, working hand-in-hand smoothly. The brand provides both permanent and removable vinyl, perfect for all your vinyl decals.
Pros
High-quality and durable products
Extensive range of colors
Easy to cut and weed
A trusted brand in the industry
Cons
Not as strong in producing specialty vinyls with unique patterns and colors
2. Best Heat Transfer Vinyl – Siser Easyweed
Selection Criteria
Type of Vinyl: Heat Transfer, holographic, glitter vinyl.
Resistance and Ease of Use: Wash-resistant
Finish: Matte and Glass.
Price: $10 – $40
About Siser Easyweed
One of the most recommended brands for heat transfer vinyl is Siser Easyweed. As its name implies, this brand excels in ease of weeding, making the process significantly easier for both newcomers and seasoned crafting professionals.
Heat transfer vinyl, being incredibly thin and flexible, can be among the most challenging to weed when preparing our designs. Therefore, a vinyl that facilitates the weeding process is a real game-changer and reduces the amount of wasted material caused by weeding issues.
Beyond its ease of use, Siser is a well-respected and frequently recommended brand, so you can be confident that you're getting a product that offers quality, durability, and simplicity. Whether you're creating custom t-shirts, personalizing tote bags, or spicing up a set of tea towels, Siser Easyweed is an excellent option for your heat transfer projects.
Pros
Excellent for heat transfer projects
Ease of use in weeding
Cons
Some users report it can be tricky to get the correct heat settings for application
3. Second Best Heat Transfer Vinyl – HTVRONT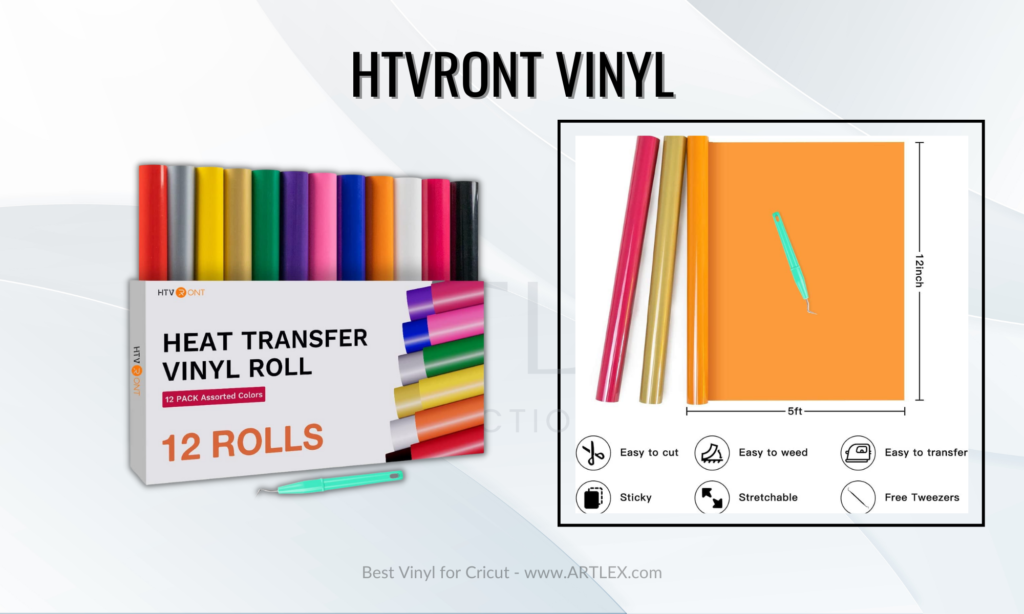 Selection Criteria
Type of Vinyl: heat transfer, glitter, permanent.
Resistance and Ease of Use: Weatherproof, Waterproof
Finish: Matte, glass, glitter, metallic
Price: $21 – $54
About HTVRONT
HTVRont is another brand that shines brightly in the world of heat transfer vinyl. This company, specializing in color transfer and sublimation products, delivers some of the toughest and longest-lasting vinyl. Their products are wash-and-dry cycle champs and bond better with fabrics compared to many other brands.
While HTVRont is a newcomer, it has quickly gained the nod of approval from the crafting community. Many hobby crafters, content creators, and Cricut users have put HTVRont to the test, and it passed with flying colors.
They appreciate it for the ease it brings to the weeding process, its fuss-free application, and of course, its strong and lasting performance. If you're looking to add a little sparkle to your favorite tee or a splash of color to your tote bag, HTVRont has got your back!
Pros
High durability and resistance to washing and drying cycles
Adheres well to fabric
Cons
Not as easy to weed as Siser
4. Best Printable Vinyl – ZICOTO Printable Vinyl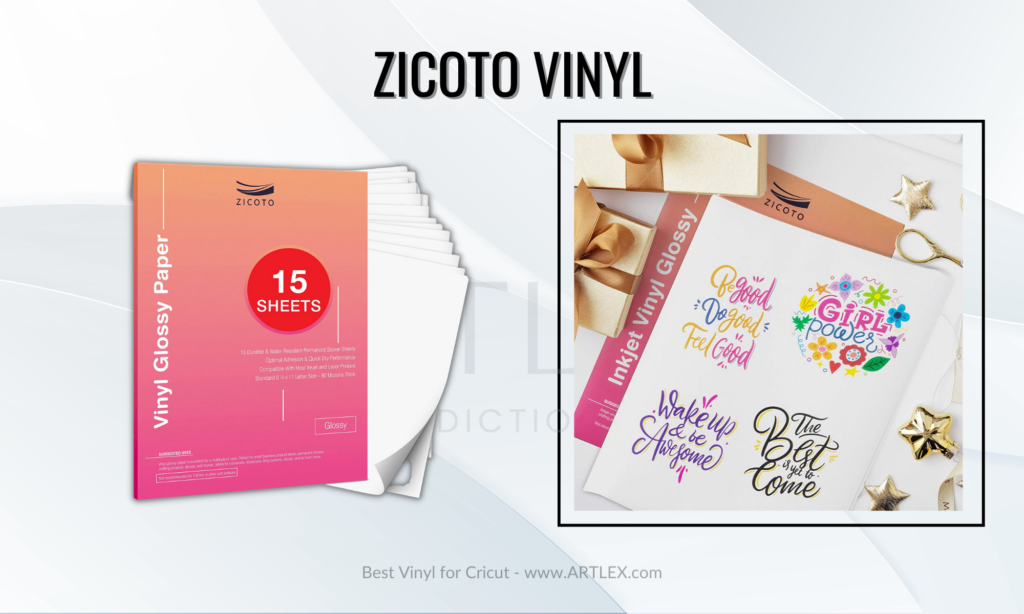 Selection Criteria
Type of Vinyl: Printable Vinyl
Resistance and Ease of Use: Tear resistant, water resistant.
Finish: Matte, glass.
Price: $7 – $9
About ZICOTO Printable Vinyl
If you're a crafter stepping into the colorful world of printable vinyl, you've likely noticed the huge array of options available, especially with the growth of small sticker businesses.
Among these, Zicoto has emerged as a favorite for printable vinyl. This brand caters to crafters by providing vinyl sheets in the most frequently used sizes and ensures that they're compatible with both inkjet and laser printers.
Impressively, Zicoto's products stand up to the test with their durability, water resistance, and tear resilience. Even though Zicoto is a fairly new name in the vinyl market, it's quickly gained a reputation as a top choice for printable vinyl, offering superior compatibility with a wide variety of printers.
Pros
Compatible with both inkjet and laser printers
High durability and water resistance
Cons
Some users report difficulties with print quality with EPSON printers
5. Best Specialty Vinyl – Teckwrap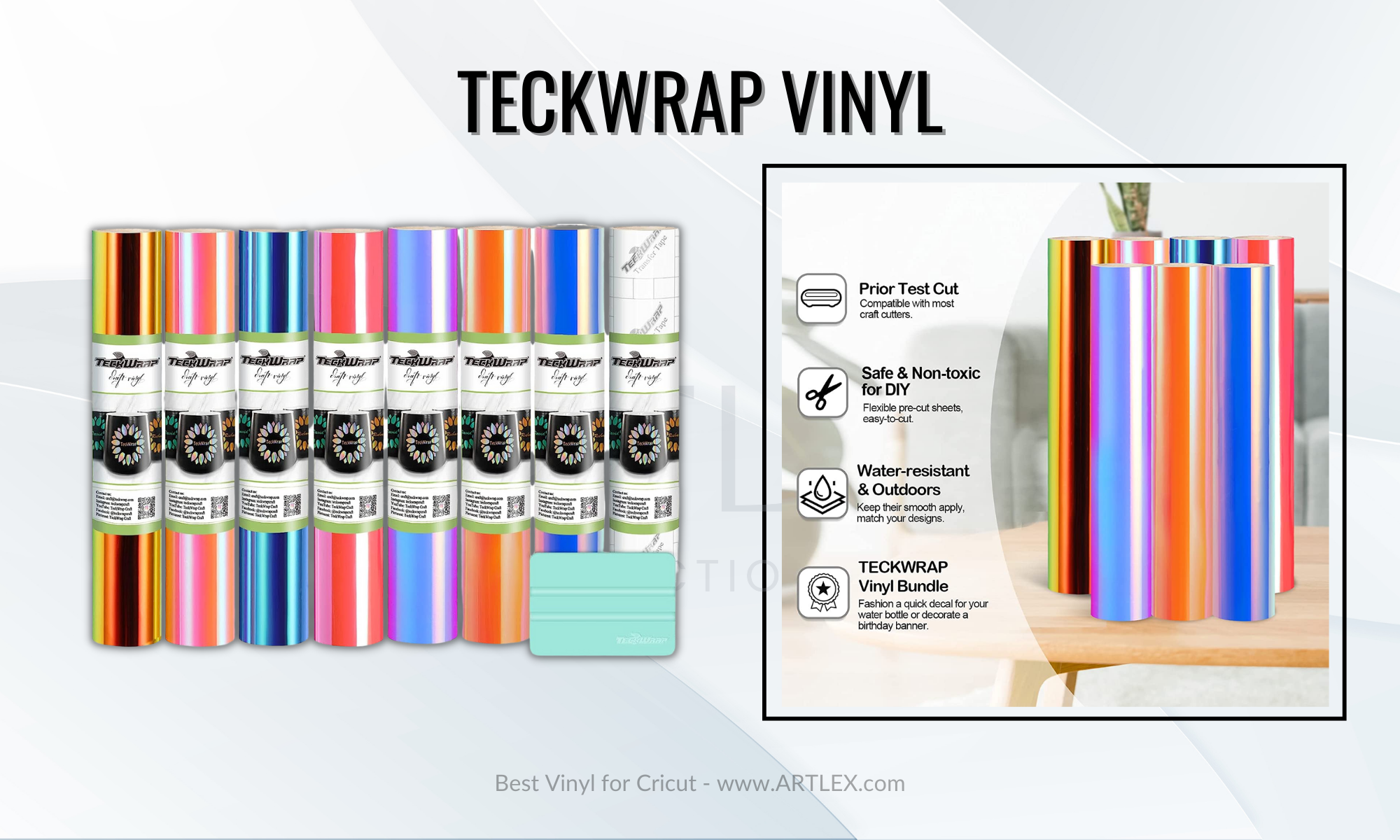 Selection Criteria
Type of Vinyl: Permanent, Holographic, reusable.
Resistance and Ease of Use: Water and UV resistant.
Finish: Matte, glass, metallic, holographic, patterned, clear.
Price: $1 – $70
About Teckwrap
If you're on the hunt for unique colors, sparkling holographic effects, or intriguing patterns in vinyl, then TeckWrap is the brand you've been looking for. While they do offer both permanent and removable vinyl like many other brands, what makes TeckWrap stand out is the dazzling array of designs, colors, and special effects their vinyl boasts.
But it's not just about aesthetics. TeckWrap's vinyl also impresses with its high-quality, durability, and resistance to water and heat. This makes it an excellent choice for vinyl that's compatible with cutting machines.
So, whether you're crafting a vibrant wall decal or creating stunning car wraps, TeckWrap lets you bring a splash of color and a sprinkle of creativity to all your vinyl projects.
Pros
Offers a wide range of unique colors, patterns, and holographic effects
High quality and durable
Resistant to water and heat
Cons
Tends to be more expensive than some other brands
What is Vinyl?
Vinyl is a uniquely advantageous material, thin yet durable, flexible yet resilient. It's like a chameleon of materials, sporting an adhesive side that just sticks to your project without a fuss. The beauty of vinyl lies in its elasticity, letting you cut it with ease, making it a true crafter's dream.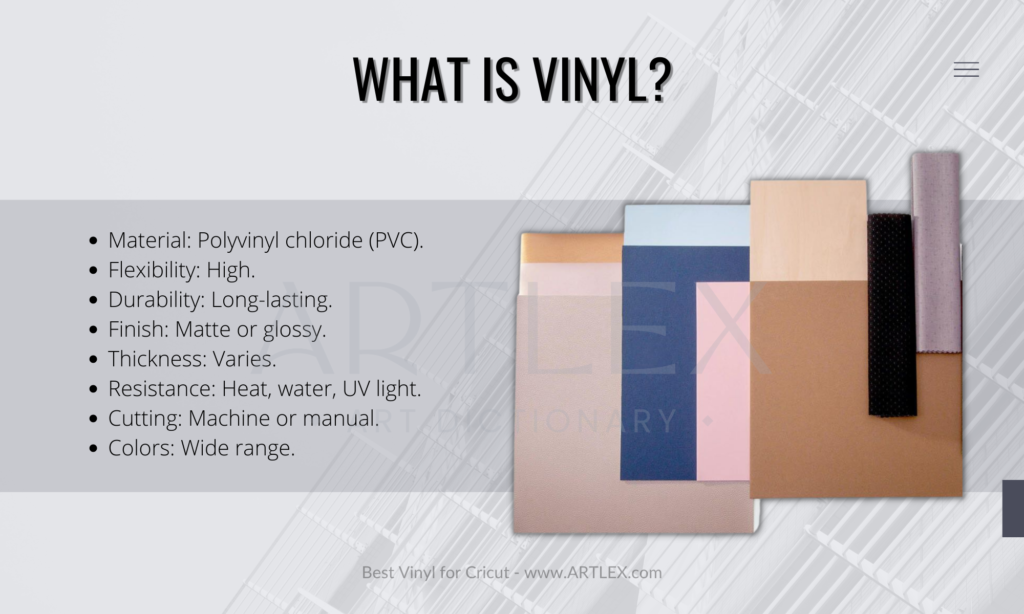 Imagine unrolling a rainbow of possibilities with vinyl sheets that come in a wide range of hues, finishes, and textures. Each roll is a potential canvas for your creativity, waiting to be transformed into the next crafty masterpiece.
What Types of Vinyl Exist?
There are several kinds of vinyl, each made for a specific type of project. You've got your permanent adhesive vinyl, removable vinyl, printable vinyl, iron-on vinyl and others that feature textures or holographic effects.
Permanent Adhesive Vinyl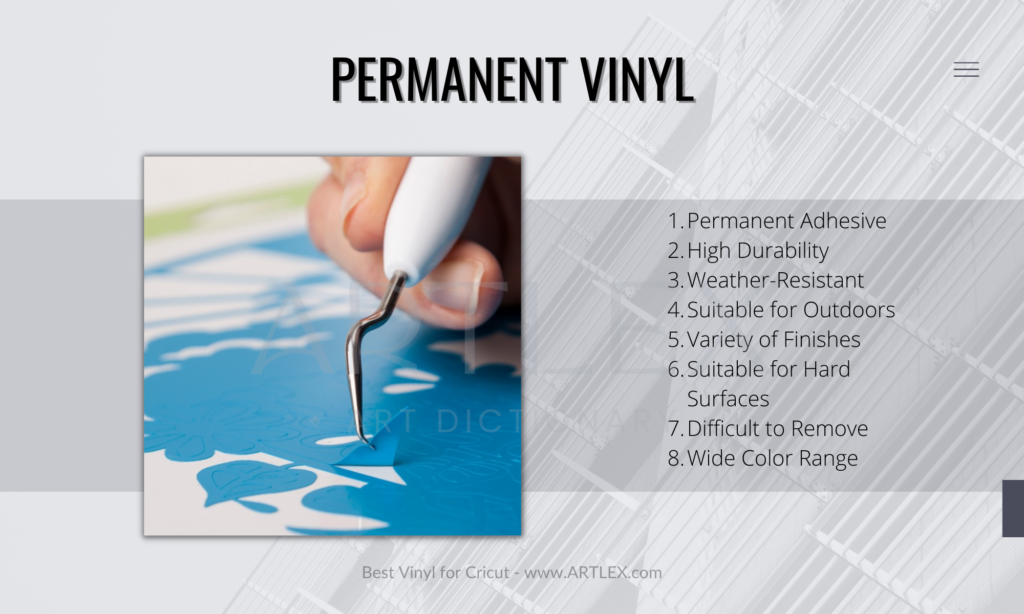 Among these, permanent vinyl is a popular choice. Available in a spectrum of colors, this type sticks around once it's applied. With a strong adhesive on the back, it bonds tightly to whatever surface it's applied to.
Just remember, removing this vinyl can be tough, and you might find some sticky residue or minor surface damage. So, when you're planning your next craft, think carefully if permanent vinyl is the right choice for you.
Removable Adhesive Vinyl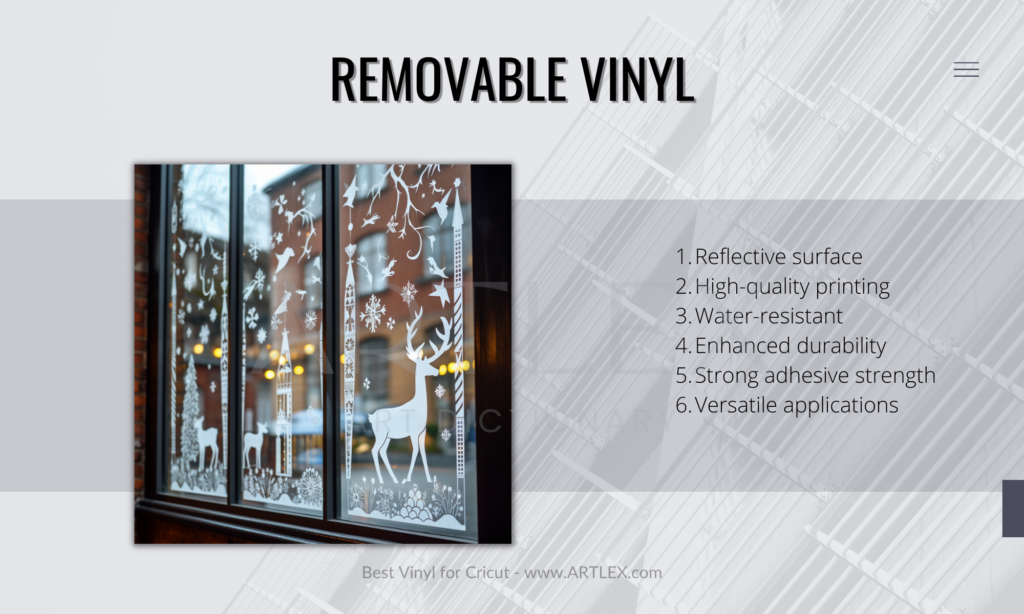 But don't worry, the world of vinyl isn't just about permanence. On the flip side of permanent vinyl, we have removable vinyl. Just as its name implies, this type of vinyl plays nice with walls or any surface you apply it to.
It's fantastic for temporary decorations, wall decals, sprucing up your car, or even jazzing up your labels. Just like its permanent sibling, removable vinyl struts its stuff in a variety of colors and finishes.
But remember, it's important to pay attention to the label – that's where it'll tell you whether it's the removable kind or not. Making sure you've got the right type of vinyl for your project is key to a smooth crafting journey.
Heat Transfer Vinyl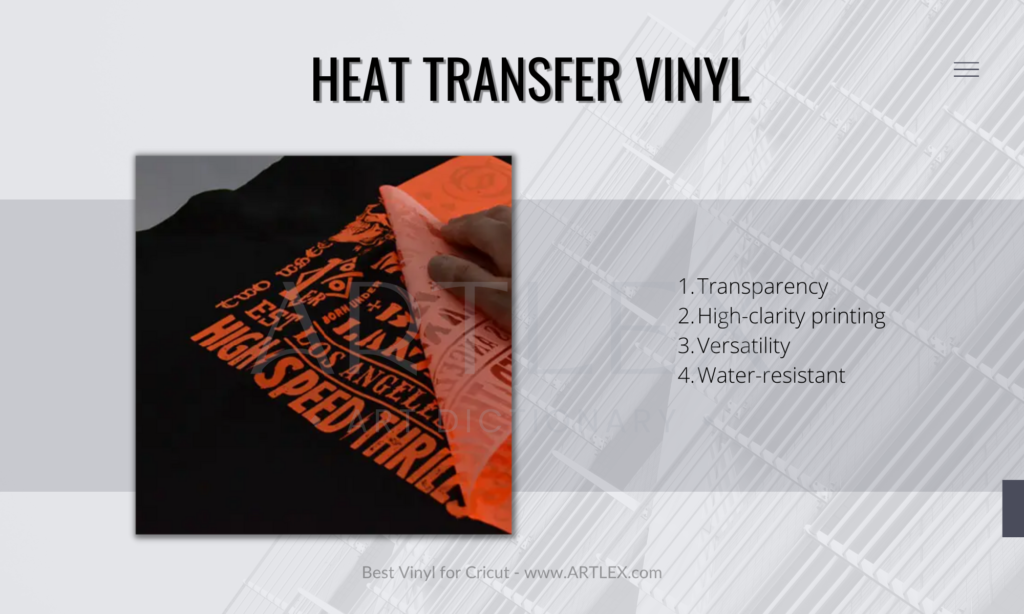 Moving on to a different kind of vinyl magic, let's talk about heat transfer vinyl, or as some might call it, textile vinyl. This type is the go-to for adding a personal touch to clothing, bags, hats, and more.
The secret to this vinyl lies in its special formulation – it's designed to bond with your garment when pressed at a set temperature. A heat press, a bit of time, and voilà! Your design is transferred and adhered to the fabric, ready to withstand washes and dry cycles.
This type of vinyl usually comes in thicker rolls, as it includes a special transfer tape that's suited for heat-based designs. But don't let the 'textile' part fool you! Heat transfer vinyl isn't just for fabric. It can also stick to any heat-resistant surface, so feel free to try it out on wood, canvas, cardboard, and more.
So whether you're looking to customize your wardrobe or put a unique spin on a wooden sign, heat transfer vinyl might just be the crafting companion you've been searching for. Remember to play it safe when using heat, and you're all set!
Clear or Transparent Vinyl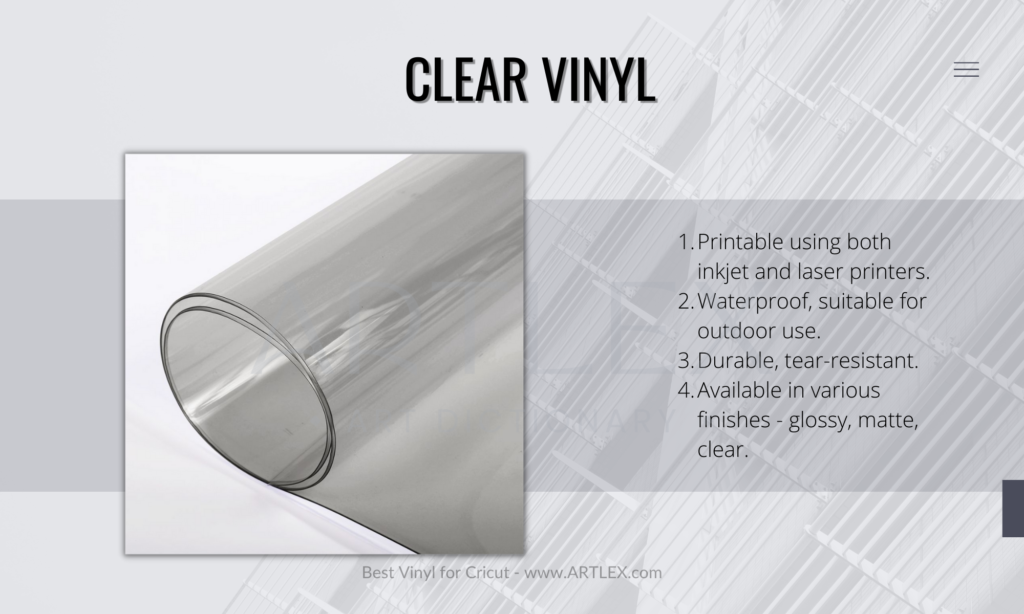 Next, we have transparent vinyl. As the name suggests, it's clear and can be used in a variety of ways. Some transparent vinyl comes with holographic effects, adding an extra dimension to your projects.
Moreover, transparent vinyl can be printable. This means you can use it to create custom decorations, labels, and stickers. Whether you're after a touch of holographic sparkle, a subtle privacy screen, or personalized printed designs, transparent vinyl could be just the thing for your next project.
Printable Adhesive vinyl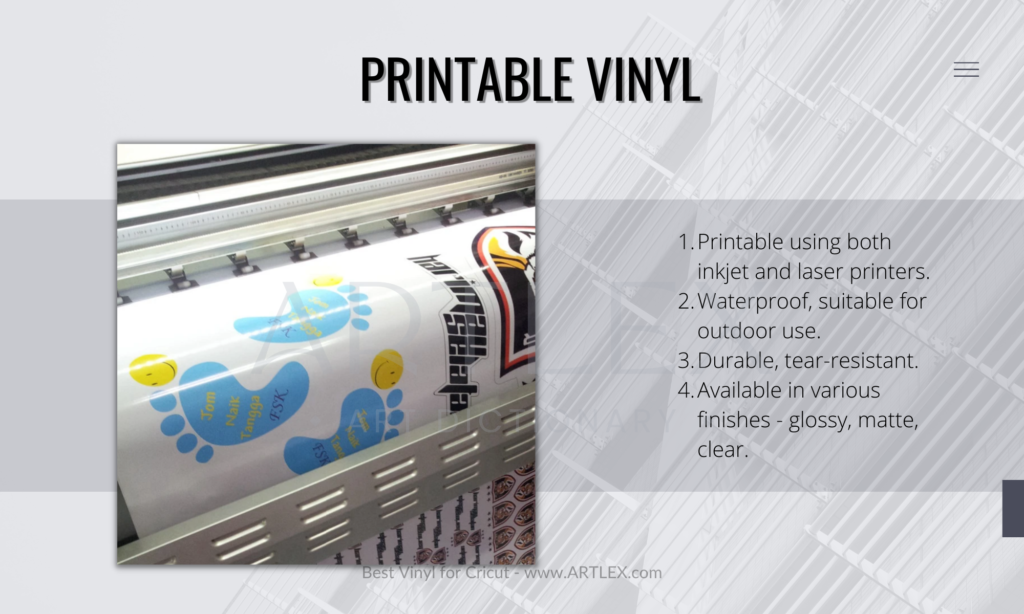 Printable vinyl is specially designed to take on ink, making it compatible with either laser or inkjet printers. Typically, you'll find it in sheet form, sized to fit standard printers, rather than in rolls. This makes it a dream for creating personalized stickers, decorations, or any designs you wish to print. indoor
However, there's one thing to keep in mind with printable vinyl: it needs a protective layer if it's going to be exposed to water or weather conditions. You can achieve this by using a laminating machine or applying a UV-protective and waterproof spray coat. This extra step ensures your printed designs stay vibrant and intact, come rain or shine. So, if you're planning to print your way to personalized crafts, printable vinyl could be your ticket
Cricut Vinyl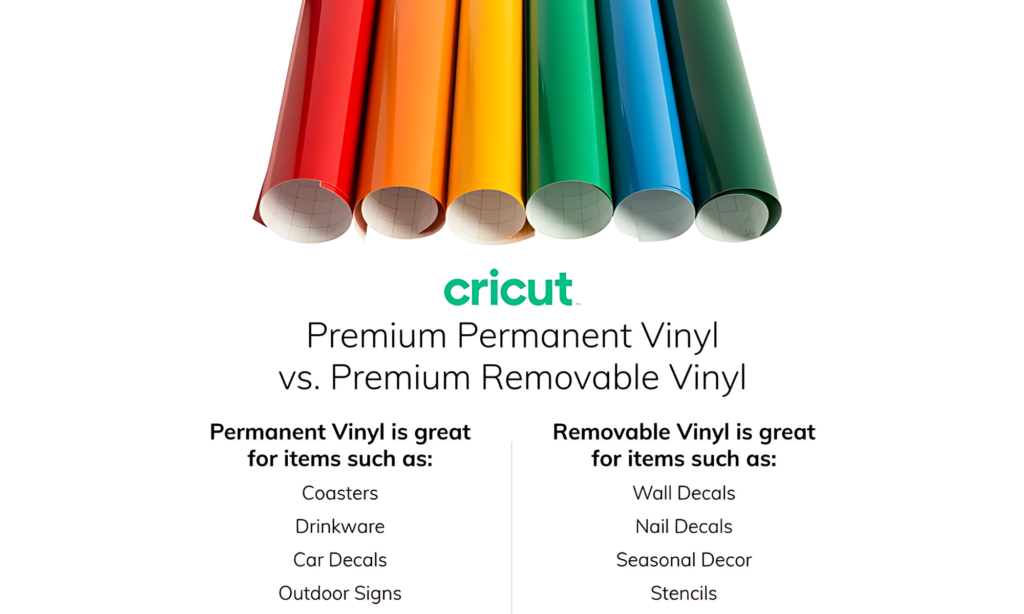 Not to be confused with Cricut transfer tape, Cricut's very own brand of vinyl is another option you can consider. Produced by the company itself, it comes in various types, including permanent, removable, and heat-transfer vinyl. While many crafters appreciate the quality of Cricut's vinyl, some users have experienced issues or found other brands that work better with their cutting machines.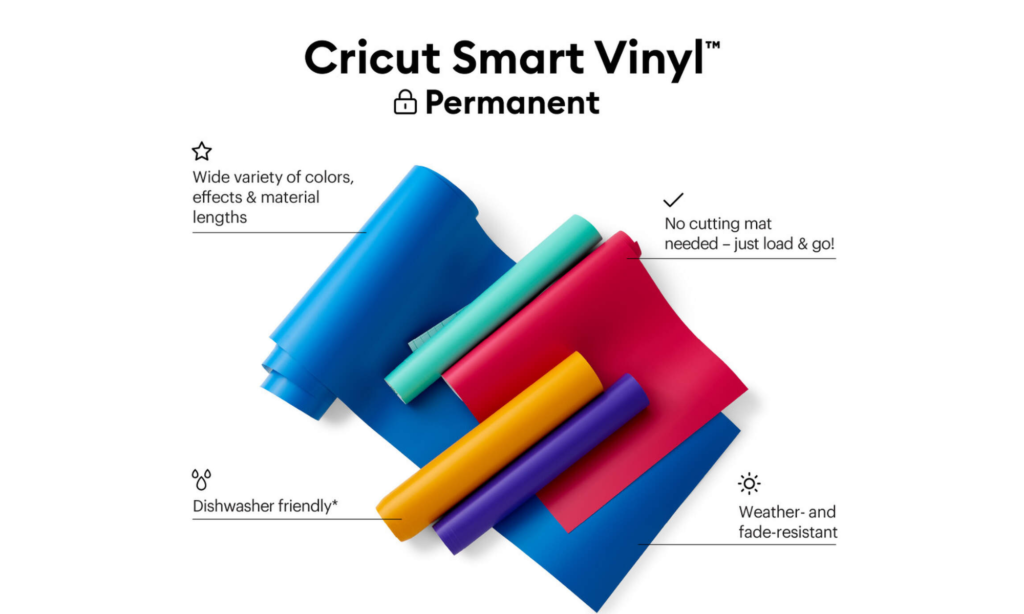 Innovation doesn't stop there with Cricut. They also manufacture a unique type of vinyl, specifically compatible with their latest machines – the Explore 3 and the Cricut Maker 3. This specialty vinyl, known as 'Smart Vinyl', is one of the few materials that the Cricut machine can cut without a cutting mat. It's available in both rolls and sheets, and it features a thicker backing compared to other brands of vinyl.
Just like the standard vinyl, Smart Vinyl also comes in different variants like heat transfer, permanent, and removable. It is part of Cricut's dedication to giving crafters a range of options to ensure they have the perfect materials for their creative endeavors.
Other Types of Vinyl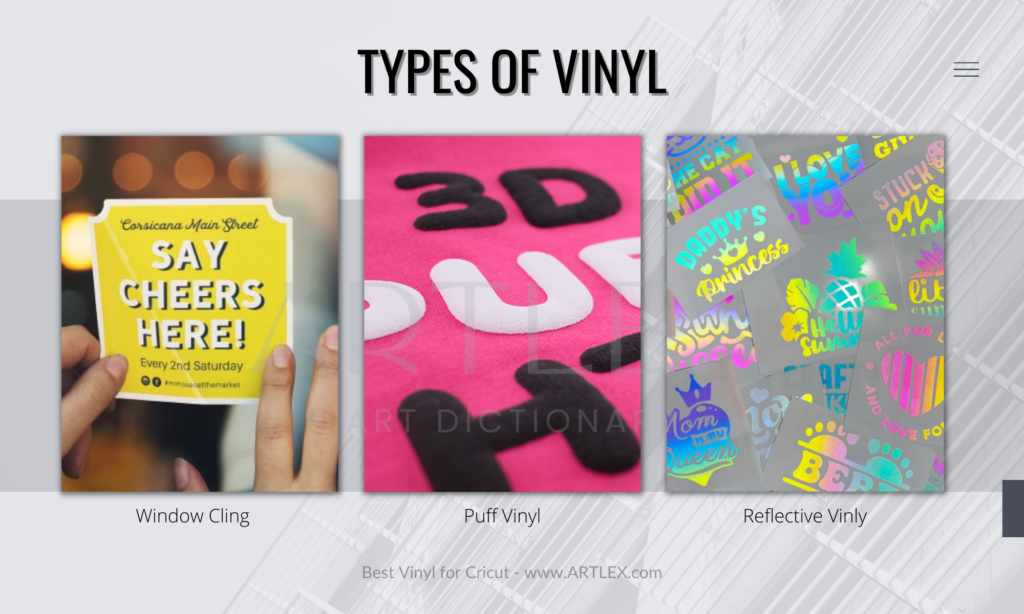 Among other types of vinyl we can find, there's a whole world of possibilities to explore. Let's delve into some of them:
First, there's static cling vinyl: This ultra-thin vinyl is designed specifically for window applications. It doesn't use adhesive, but instead, as if by magic, clings to the glass – making it a perfect choice for window signs or stickers.
Puff vinyl: This one is currently trending on TikTok and Youtube. Once applied to a garment and exposed to a certain temperature, it 'puffs up,' creating a unique raised texture. It's a fun way to add an interesting tactile element to your clothing designs.
Reflective vinyl: Perfect for signs that need to be visible at night, this type of vinyl has a reflective surface that bounces back light. Whether you're making safety signs or just want your design to stand out after sundown, reflective vinyl is an excellent choice.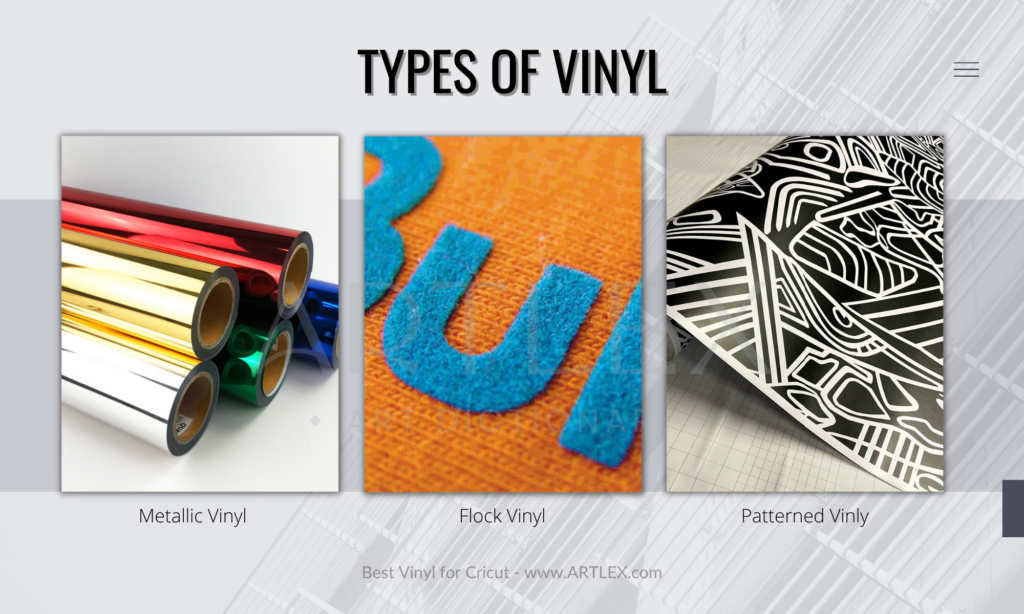 Metallic vinyl: If you're looking for a vinyl that adds a sophisticated touch to your projects, metallic vinyl could be your go-to. It provides a shiny, metallic finish, ideal for adding a bit of a 'wow' factor to your crafts.
Flock vinyl: For a unique, velvety texture, flock vinyl is a fantastic option. This type of vinyl adds depth and tactile quality to your designs, making them not only visually appealing but also pleasant to touch.
Patterned vinyl: Want to make a bold statement? Patterned vinyl comes in a vast array of designs, from polka dots and stripes to more elaborate patterns. It's a quick way to add an eye-catching element to your crafts.
Chalkboard vinyl: Perfect for labels or signs that need regular updating, chalkboard vinyl can be written on with chalk and wiped clean, just like a traditional chalkboard.
And, for those who love a bit of sparkle, there's glitter vinyl. This adhesive vinyl comes with a glitter finish that adds a dash of glamour to your crafts.
What Can I Make With Vinyl?
When it comes to vinyl, the possibilities are almost endless, with the flexibility of vinyl, combined with the precision of a Cricut machine, you can truly transform your ideas into reality. Here are some of the projects you can take on:
Custom T-Shirts: With heat transfer vinyl, you can create custom designs and apply them to t-shirts, bags, hats, and more. This is great for personalized gifts, branded merchandise, or even just for a fun personal project.
Home Décor: Decorate your home with custom wall decals, window clings, or even a stylish sign for your entryway. With removable vinyl, you can even create temporary décor for special occasions or holidays.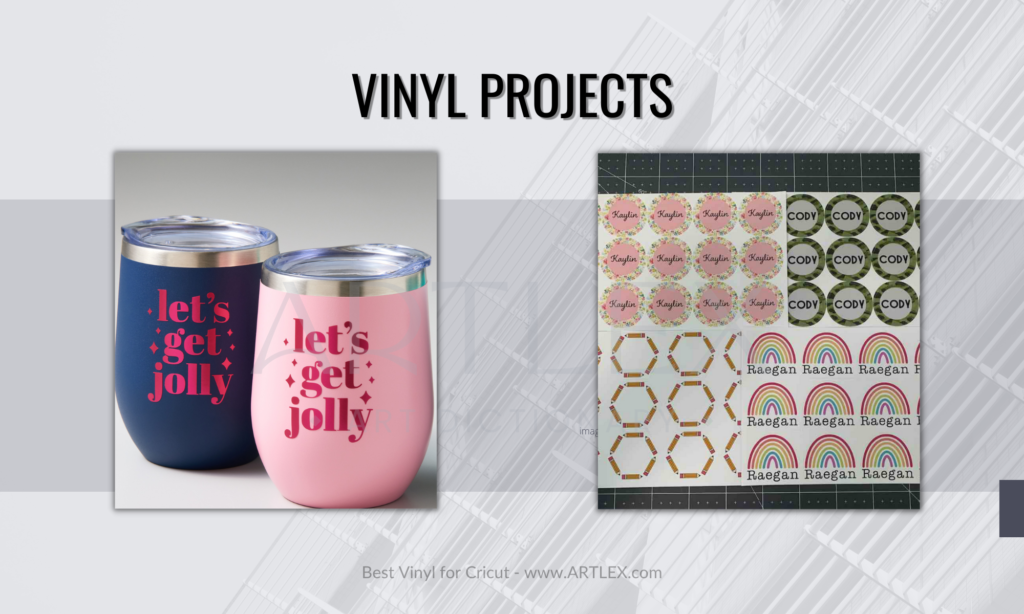 Personalized Mugs: With the precision of a Cricut and permanent vinyl, you can personalize coffee mugs with your favorite quotes, names, or even images – a perfect gift idea!
DIY Stickers: Printable vinyl and your Cricut machine make it easy to create your own stickers. Decorate your laptop, phone case, or stationery with unique designs that truly represent you.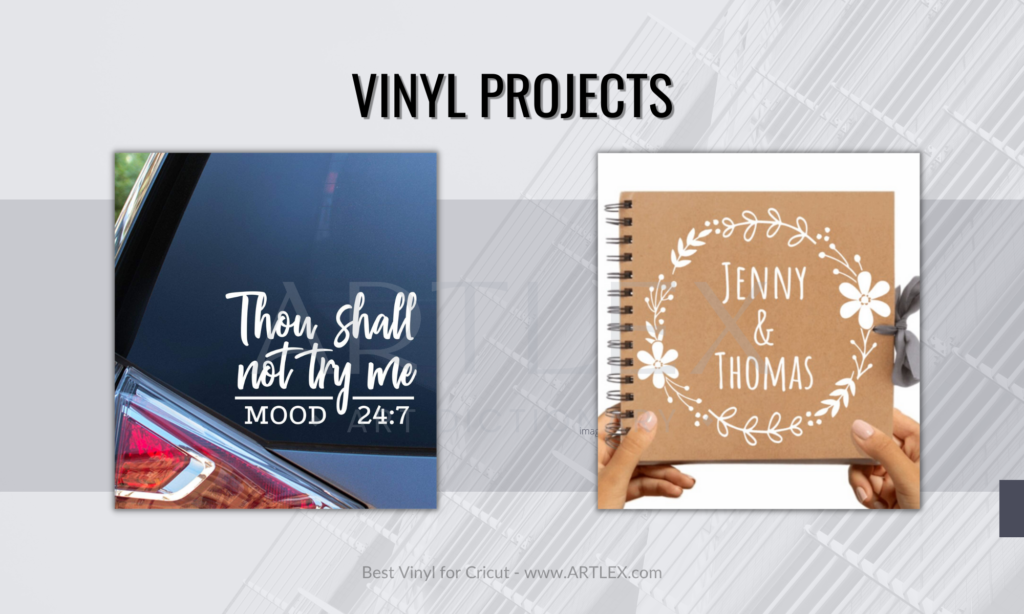 Car Decals: Make your vehicle stand out with custom car decals. Whether it's your business logo or a cool design, permanent or removable vinyl can make your car uniquely yours.
Scrapbooking Elements: Add a touch of sparkle with glitter vinyl, or texture with flock vinyl. Your scrapbooks and cards will never be the same again!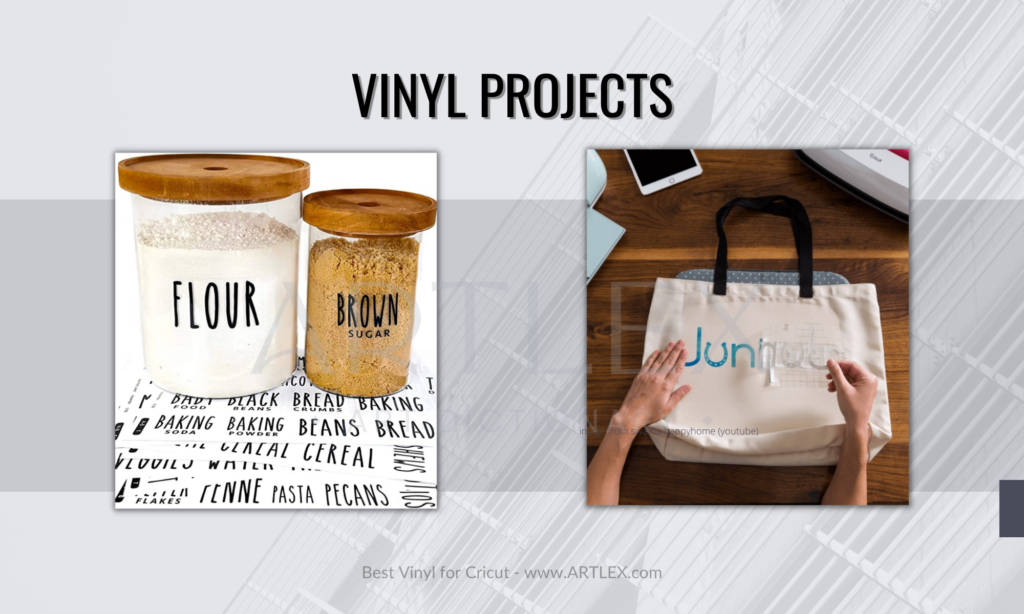 Labels and Organization: With chalkboard vinyl, you can create re-writable labels for your kitchen, craft room, or office.
Customized Gifts: Whether it's a monogrammed towel, tote bags, a customized wine glass, or a birthday banner, vinyl allows you to add a personal touch to any gift.
How to Find The Best Vinyl For Circut?
Type
Choosing the right vinyl for your projects requires a mix of practicality and creative consideration. For instance, if you're keen on jazzing up clothing items, heat transfer vinyl is your best bet. And within this category, there's a whole palette of choices, from glitter for a bit of sparkle, solid colors for striking effects, to textured vinyls for a unique touch.
On the other hand, if your projects involve creating designs for solid objects, such as signs or stickers, you'll want to turn to regular adhesive vinyl. Deciding between permanent and removable options will depend on the desired lifespan of your project.
When crafting for the outdoors, say, stickers for cars or windows, it's important to select a vinyl that can stand up to the elements. It needs to be both weatherproof and waterproof – think of it as choosing outdoor gear for your crafts.
For those looking to create bespoke stickers, printable vinyl sheets will be your perfect companion. They provide unmatched versatility, allowing you to create your own designs and cut them out just the way you want.
In essence, understanding the varied types of vinyl and their specific uses is crucial to making the right choice for your projects. Whether you're opting for heat transfer vinyl for garment designs or UV-resistant vinyl for outdoor use, the right vinyl choice will take your Cricut crafting to new creative heights.
Resistance and Ease of Use
Durability is another key factor when considering vinyl choices. There are types of vinyl that can handle the heat, resist water, shrug off sunlight, and withstand stretching or tearing.
These durable vinyls vary in price – typically, the tougher they are, the higher the cost. However, while hunting for the most resilient options, it's important to not overlook flexibility. Even the most sturdy vinyl needs to be supple enough for intricate cuts and designs.
The life expectancy of vinyl is another critical consideration. Some types of high-quality vinyl boast a lifespan of seven years, while others might last only two to three years. This essentially means that within their respective lifetimes, these types of vinyl may start to tear, crack, fade, or peel off.
If you're considering vinyl for a business venture, this becomes a vital factor to consider. Ensuring your creations stay vibrant and intact for as long as possible is just as important as the creative process itself. So when picking out your vinyl, take into account both its artistic potential and its longevity.
Color and Finish
The color and finish of your vinyl will ultimately depend on your personal taste and the requirements of your project, however, it's worth noting that the variety of colors, textures, and finishes available can vary significantly between brands, as can their qualities depending on the type of vinyl, finish, and texture.
For instance, brands such as Teckwrap boast a wide array of colors, designs, and patterns for permanent adhesive vinyl. On the other hand, Siser is renowned for its diverse selection of heat transfer vinyl. And brands like Oracal impress with their extensive color variety for both removable and permanent vinyl.
Your choice will depend on the type of vinyl you wish to use and the brand that resonates with your crafting needs. The beauty of vinyl is in its versatility, allowing you to explore and create with an abundance of options at your fingertips. Don't be afraid to experiment with different brands and types to find the perfect match for your Cricut projects.
Price
Price is undeniably a critical factor, as it defines how far your budget can stretch. Brands like Cricut command relatively high prices for rolls of vinyl, yet you can often find comparable products for less than half the cost elsewhere.
However, we advise caution when considering lesser-known brands, as these can sometimes offer inferior quality or expired materials that could deteriorate rapidly after a few years of use, or that cannot be stored for long before beginning to deteriorate.
Online marketplaces like Amazon and AliExpress teem with brands offering vinyl at highly competitive prices. But be aware, some of these deals can be misleading, with the delivered product differing significantly from the images or descriptions provided.
In this guide, we have curated a list of brands that we trust for their commitment to quality. We're confident these selected brands will consistently deliver top-tier products, enabling you to create your Cricut projects with confidence and peace of mind.
Cricut Vinyl FAQ
Q: What type of vinyl should I use for my Cricut project?
A: The type of vinyl you'll need depends on your project. Permanent adhesive vinyl is great for mugs, glasses, and other items that will be washed. Removable adhesive vinyl is excellent for temporary projects like wall and window decals. Heat transfer vinyl (HTV) is best for fabrics.
Q: How do I choose between removable and permanent vinyl?
A: If you're creating decals or decorations meant to be temporary, go for removable vinyl. For designs you want to last, like on tumblers, mugs, or outdoor signs, choose permanent vinyl.
Q: What's the difference between regular vinyl and Smart Vinyl?
A: Smart Vinyl is designed to work without a cutting mat, specifically with the latest Cricut Explore 3 and Cricut Maker 3 machines. It also comes with a thicker backing compared to regular vinyl.
Q: Why do the prices of vinyl vary so much?
A: Several factors contribute to vinyl's cost. Brand recognition, material quality, durability, and special features like UV resistance or waterproofing can all affect the price.
Q: Can I print on vinyl with any printer?
A: Not all vinyl is printable, and not all printers can print on vinyl. You'll need to use printable vinyl and ensure your printer – either an inkjet or laser – is capable of printing on vinyl.
Q: What's the best vinyl for creating custom clothing?
A: Heat transfer vinyl (HTV) is the best choice for creating custom clothing. It's specifically designed to be applied to fabric using heat, ensuring it adheres properly and lasts. Siser and HTVRONT are the best brands for heat transfer vinyl.
Q: Can I use vinyl for outdoor projects?
A: Yes, but ensure you're using outdoor or permanent vinyl. It has a stronger adhesive and is more durable, making it more resistant to weather and sunlight. A hint would be to look for the "weatherproof" tag in the description.
Q: How do I ensure my vinyl project lasts?
A: Regardless of the type of vinyl, proper application is key to durability. Be sure to clean your surface before applying the vinyl, use transfer tape to move your design, and press down thoroughly to ensure it sticks well. For HTV, ensure to follow washing instructions.
Q: How do I store unused vinyl?
A: Vinyl should be stored in a cool, dry place away from direct sunlight. Keep it sealed in its original packaging or a plastic bag to protect it from dust and moisture. Also, ensure it's stored flat or on a roll to avoid any warping or wrinkling.
Q: Is Cricut's vinyl better than other brands?
A: While Cricut vinyl is excellent quality and designed to work seamlessly with their machines, other brands also produce high-quality vinyl. What's "best" can often depend on your specific project, personal preferences, and budget.