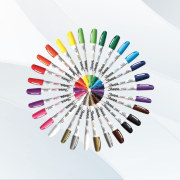 Long-lasting, permanent oil-based markers perfect for any surface, but may take unusually long to dry and can dry up fast if left without a cap
Liquitex Professional Set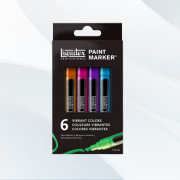 Professional-level, UV resistant acrylic paint markers that offer vibrant and long-lasting colors, but careful storage is required to prevent drying out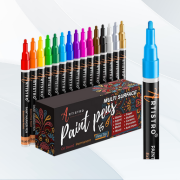 Professional quality oil-based paint markers with a fine round tip and a wide spectrum of colors, but the amount of ink in each marker pen may be lacking.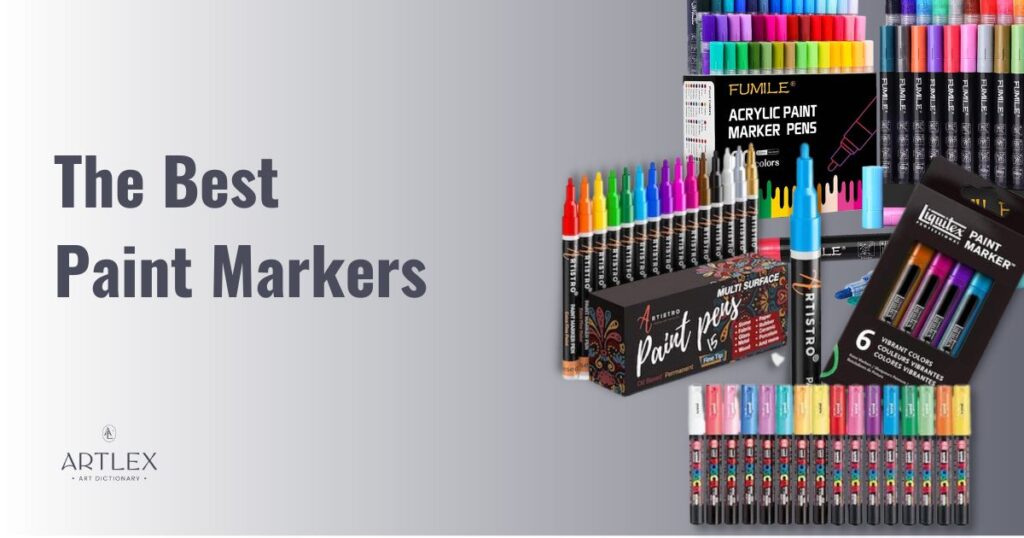 If you like to color on a variety of porous and non porous surfaces, including rock painting, terra cotta, glass and wood signs painting, without the mess that traditional painting affords you, then you could try paint markers for your next project. The felt tips of paint pens allow for colorful designs on your DIY projects, as opaque colors drip via wide, medium, and fine tips.
As fun as this is, buying the correct acrylic paint markers for your specific project can be confusing. We will discuss the best paint markers based on their ink quality, nibs durability, and color selection. As these are the most important factors when deciding which are the best paint pens to buy, we offer the appropriate options for oil and water based pigment ink markers, as well as paint pens for detailing in a variability in colors, as to suit most projects on different surfaces.
Selection Criteria for the Best Paint Markers 2023—Buying Guide
Water or Oil Based Paint Pens
Water-based and solvent-based paints are the most popular for markers. Although both are presented as long-lasting, you should be aware of key distinctions. Solvent-based chemicals, also known as oil-based, are known to improve paint flow but come with a far less pleasing aroma. The opposite is true of products based on water, which emit no odor and provide less of a risk to consumers, so they can be used safely indoors.
Ink Quality
The markers' performance is very indicative of the grade of the paint used. Getting the desired effect with low-quality products is next to impossible. When selecting an ink brand, look for one that consistently provides high-quality ink in terms of opacity, color accuracy, consistency, and drying speed. Also, be sure to check that it is compatible with the materials you use.
Nib Size and Durability
When looking at paint markers, examine the point sizes first. The fine tips are ideal for detailed work, such as lettering and calligraphy. You should opt for rounder and bigger nibs when making big, bold letters or shadings.
One should also test how long the nibs last. Constant use on abrasive materials like pebbles or wood requires tools that are durable enough to hold up under stress.
Range of Colors
Home crafters and DIYers only need a simple pair of paint markers to label or color-code their works in progress. On the other hand, professional markers come in a wider range of colors and offer more accurate tones; a wide color palette makes it easier to accurately depict skin tones and flowers.
Top Product Recommendations for the Best Paint Markers 2023
1. Best Overall Paint Marker—Sharpie Paint Pen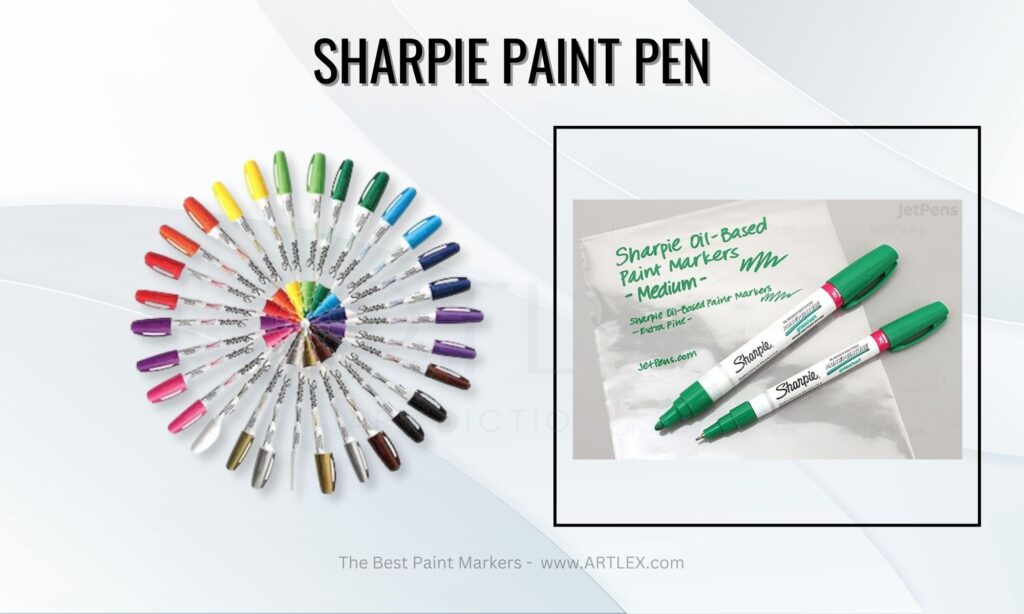 Paint Pens Selection Criteria
Ink Quality – 9/10
Nib Size – Fine and medium point
Nib Durability – 9/10
Range of Colors – 9/10
About Sharpie Paint Pen Collection
The permanent, and long-lasting Sharpie oil based paint markers in this 30-pen set is an excellent choice for any artist, as they come in fine and medium tips for calligraphy and craft projects alike. They can be utilized in any setting and upon any surface, including glass, wood, rocks, porous and nonporous surfaces. It is also water-resistant and non-toxic, so you can use them with children outdoors without an issue.
What sets this product apart is not just the high quality paint, but unlike other markers where you obtain a definite amount of paint contribution over the surface, this marker allows you to adjust the flow of the fluid as per your style of painting. Clear instructions are provided on how to "activate" these pens. Place the tip in an upright position, press it down with your finger, replace the cap, and shake the pen, as directed by the manufacturer. Remove the cap and test the pen on some paper to see whether ink comes out.
Pros:
Bright and bold colors
Shows well even on dark surfaces
Good for rough surfaces
Fade resistant
Valve system
Cons:
Takes unusually long to dry
Markers dry up fast if left without cap
2. Best Water Based Paint Markers—Liquitex Professional Paint Marker Set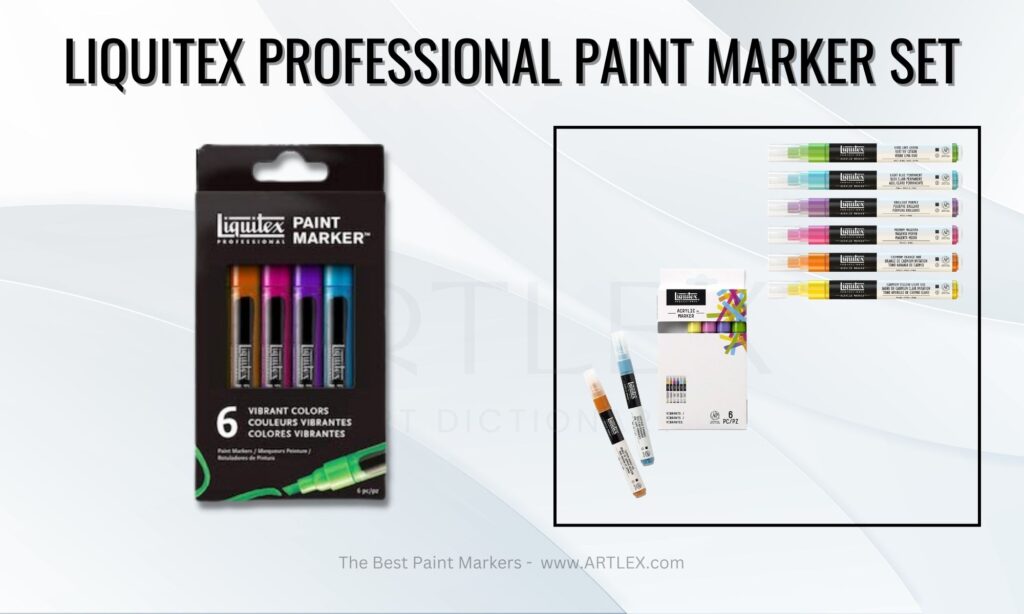 Paint Pens Selection Criteria
Ink Quality – 9/10
Nib Size – Fine
Nib Durability – 9/10
Range of Colors – 6/10
About Liquitex Professional Paint Marker Set
If you are looking for professional level paint markers at an affordable price, you should take a look at the Liquitex paint pens set. These acrylic paint markers come in vibrant, classic and fluorescent colors, in packs of six, featuring fine and wide tips, so you are covered nomatter what project you are working on. Liquitex professional paint markers feature a tried-and-true ball and pump valve design for optimal paint mixing and flow.
These UV resistant acrylic paint pens are long-lasting and can withstand direct sunlight, so your work will remain true for over 50 years, in gallery conditions, according to the manufacturer. You can even use them with Liquitex spray paint and top with a varnish for a bleed-proof, permanent, durable finish that can be applied to practically any surface.
If you like mixing acrylic paint, on hard or smooth surfaces, but the nibs tend to get dirty, you can just take them out, rinse them and continue working without a problem. You should get a new nib if the ink has dried on it or if the old one just looks worn out. They snap right in place and restore your markers to factory accuracy. It's important to remember to maintain the lids on your markers and store them properly to prevent the color from drying out.
Pros:
Highly pigmented
UV resistant
Easy to get replacement tips
Cons:
Must be very careful how to store them as to not dry out
3. Best Oil Based Paint Markers—Artistro Paint Markers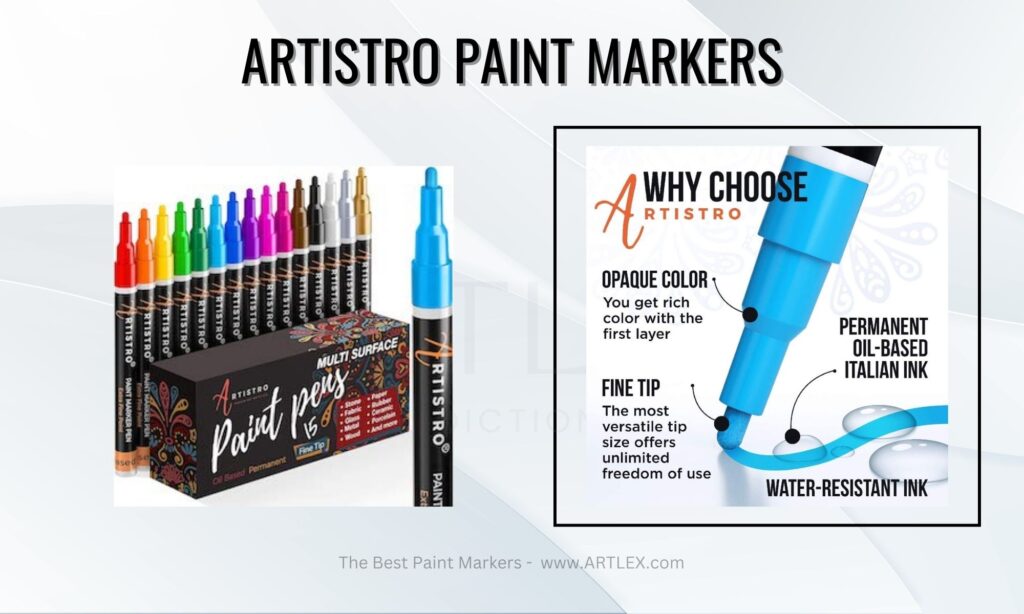 Paint Pens Selection Criteria
Ink Quality – 9/10
Nib Size – Fine
Nib Durability – 9/10
Range of Colors – 9/10
About Artistro Paint Markers
Artistro oil-based paint markers are of professional quality, with a fine round tip measuring between one and two millimeters in diameter that flows paint smoothly without flooding or jamming. These paint pens have a Japanese nib and come in a wide spectrum of 15 colors.
There's a fun variety of hues available in this pack of Artistro paint pens. As opposed to competing paint pen sets, this one also includes metallic tones like copper and silver. Its range of colors makes it suitable for a wider variety of artistic endeavors. These markers are oil-based paint, so once applied on a surface, the ink won't wash out for a very long time, which also makes them difficult to remove from porous surfaces.
Pros:
Ideal for glass and rock painting, along with multiple surfaces
Japanses tip is for fine details, and calligraphy
Vibrant colors
Cons:
The amount of ink in each marker pen seems to be lacking
4. Best Paint Markers for Detailing—Uni-Posca Paint Marker Pens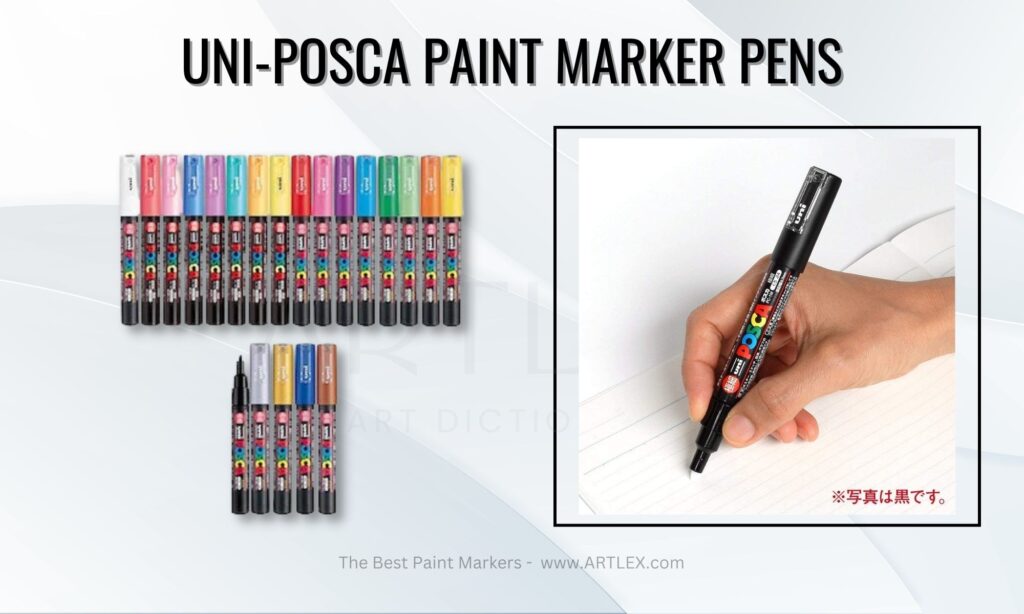 Paint Pens Selection Criteria
Ink Quality – 9/10
Nib Size – Medium
Nib Durability – 9/10
Range of Colors – 9/10
About Uni-Posca Paint Markers
Since their pens are consistently high quality, this Japanese manufacturer has gained a devoted fan base. The intense color of these 21 posca markers is one of their best features. You won't need a second application to get the desired hue because of how opaque they are on their own. In fact, you may apply the lighter ones over a black paper and they will still cover it.
The nibs are designed to work effortlessly with paper and other smooth, nonporous materials. They also work as paint markers on canvas to decorate tote bags with drawings. Its ink maintains its color for a very long time. However, before using it, it needs to be primed. Although this may seem tiresome for some artists, the opacity and vividness of these markers more than justify the extra step of doing so before each use.
Pros:
Large quantity of ink in each marker pen, multiple uses
Works equally well on most surfaces
Durable nibs
Cons:
Drying time is longer than other brands
5. Best Paint Pen Set—Fumile 80 PC Paint Pen Set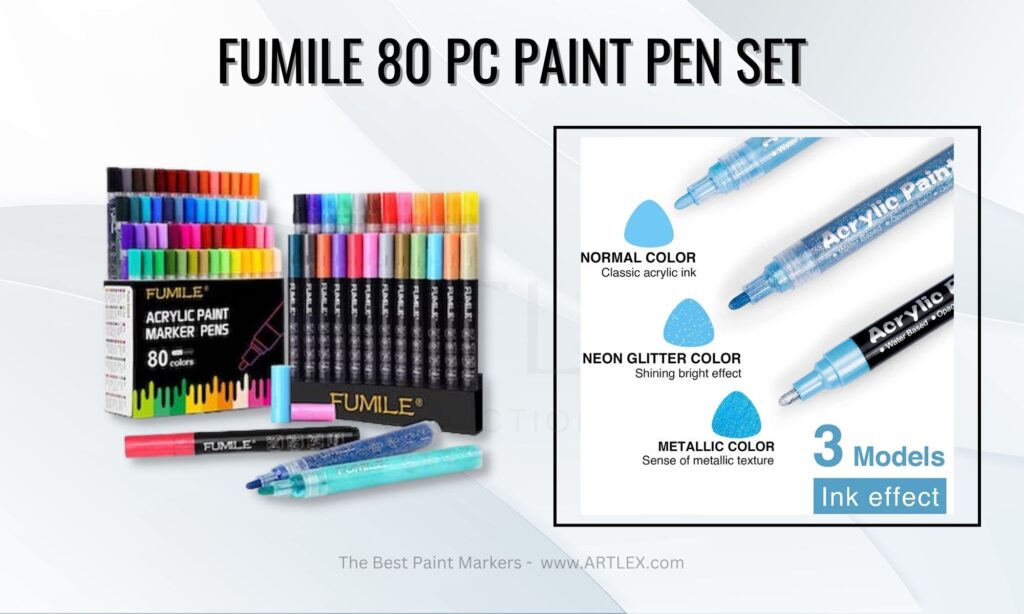 Paint Pens Selection Criteria
Ink Quality – 8/10
Nib Size – Medium
Nib Durability – 9/10
Range of Colors – 10/10
About Fumile 80 PC Paint Pen Set
This 80 marker pen set offers a wide variety of distinct hues, to fit almost any art project. With medium tip sizes and matte finish, this set's felt pens work on various surfaces, including metal, plastic, wood, glass, ceramic and canvas. You don't need a lot to get a good result, with just one stroke, the color is bold and prominent.
This weather resistant, non toxic paint is acid free and conforms to the safety standard ASTM D-4236 certification, making for great art supplies to use with children. You can learn lettering with kids, by using the glitter or metallic colors or even do garden activities together, as these markers show brightly on terra cota pots.
Pros:
Balanced variety of basic, glitter and metallic colors
Environmentally friendly
Useful for a variety of creative projects on multiple surfaces
Cons:
Each marker is not marked with the color number or name, so it is hard to reorder the colors you are using most
6. Best Only White Paint Markers—Akarued White Paint Pens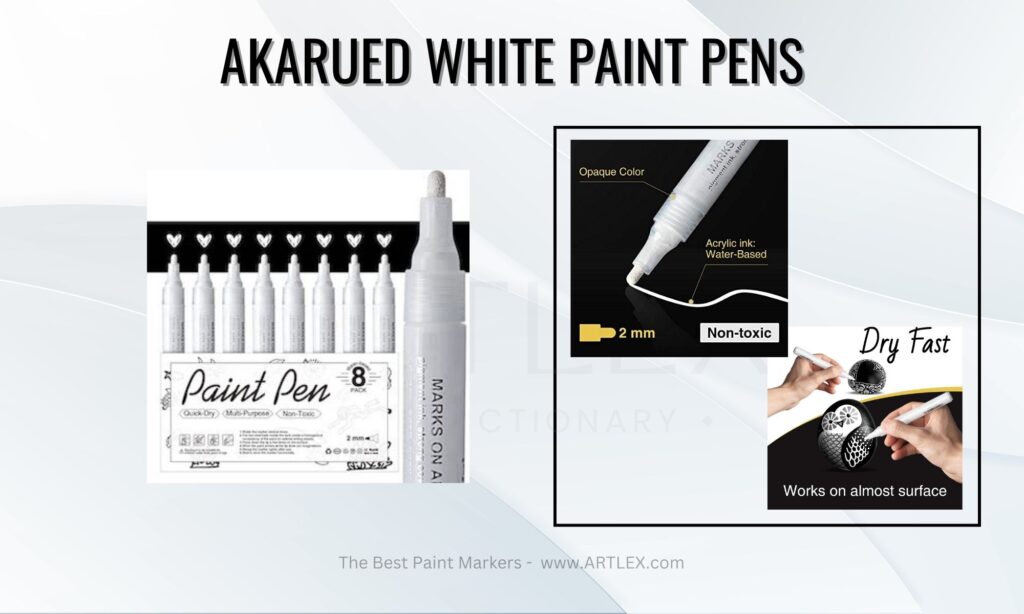 Paint Pens Selection Criteria
Ink Quality – 9/10
Nib Size – Medium
Nib Durability – 9/10
Range of Colors – N/A
About Akarued White Paint Pens
Many companies have extensive experience producing colored paint pens but less expertise in producing a white pen, so a white pen is not always included in the set of the paint you get.
We appreciated the uniformity of the ink flow in this eight piece set. Though the pen is easy to use, it does take some time to start up. Follow the steps in the manual until the ink begins to flow for the first time. However, once it's turned on, the ink flow is consistent and pleasant. Due to its lack of potentially dangerous chemical elements, it is a great marker for painting lessons with your young ones, doing rock painting or glass painting.
Pros:
It comes with a large supply of ink
Good for coated paper, wood, and large variety of mediums
Cons:
Not good for construction paper, as paint is absorbed
Conclusion

If you are a professional and want long term results that are gallery worthy, you may want to look into the ​​Liquitex Professional Paint Marker Set. However, for DIY and paint enthusiasts, the Sharpie paint pen set will offer a great result and hours of fun.
We hope you found our analysis of the top paint markers of 2023 to be helpful. Consult our associated guides for further sources of comparable items for the artistic lifestyle.