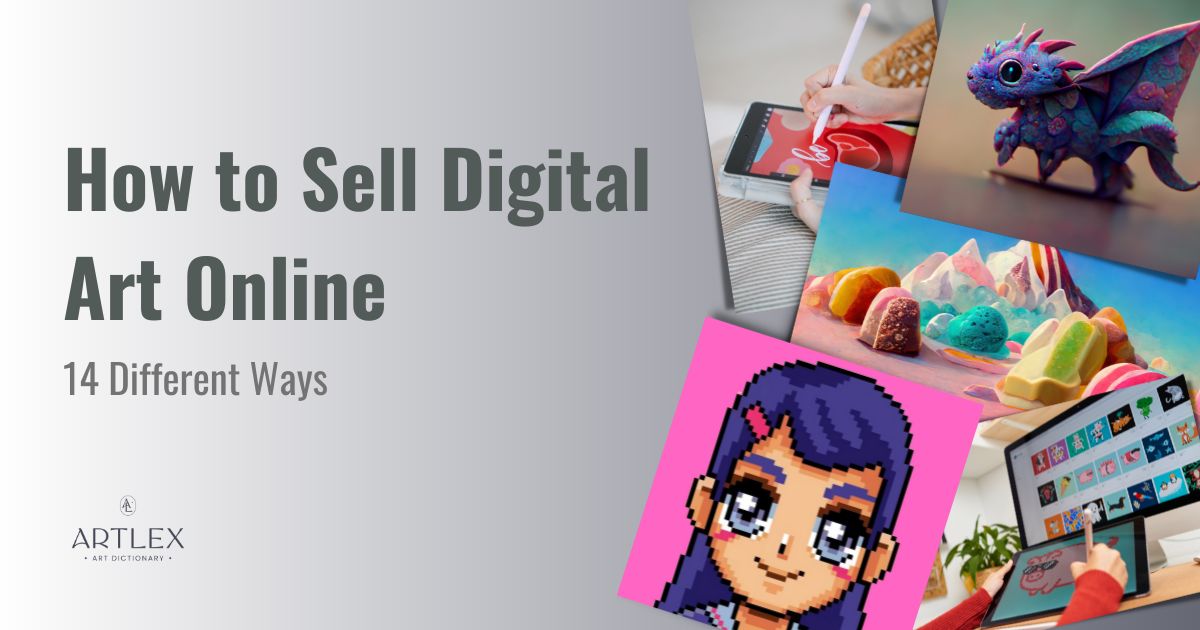 Many artists nowadays are aware of the multiple possibilities that digital art offers, from gaining popularity online to starting a business or even growing a community around them.
Digital art is now key to the entertainment industry and after the pandemic, the massive job loss, and the bloom of small businesses, online work platforms, and cryptocurrencies it has come to the attention of everybody that digital art has several ways to be marketed to the public.
But that's where the questions begin (especially if you don't have a background in sales or online marketing) there will be more than one issue that will make you doubt yourself like, what can I sell, where do I sell? where is my target audience? What is a commercial license? What are NFTs?
If you come from a purely creative background, seeing your art might seem like an odyssey to you. But don't worry, that's why we're here. In this article, you're going to find a very helpful guide on how to sell digital art, even if you don't have any experience in sales or if you're just starting.
About Yourself
This might not sound like something you'd love to do, but it is very important to take a minute and think about yourself:
What kind of artist are you?
What do you want to do with your art?
Do you want it to be a side hustle? Or do you want it to be a full-time business?
There are many different ways to market and sell your art and all of that depends on what kind of art you're making in the first place.
Maybe you're a designer, then marketing your art towards websites, brands, and even selling designs as stock images might be what's the best for you.
Maybe you're a photographer, then selling prints, stock images, and working with a print-on-demand service might be what's the best for you.
Maybe you're a concept artist, then selling prints, stickers, tutorials or the brushes you use might be what your audience is looking for.
And that's another important matter.
Do you have an audience? If you do, do you know what your audience is looking for?
Being active on social media and knowing your audience is the key to start selling your art. Your followers and closest audience are most likely to buy your art or start supporting you, so don't be shy and ask them what they might be more interested in getting from you. You'll be surprised by the response you might get.
There's also this case where you don't have an audience. You might not be very active on social media or simply be new to the digital art world. Don't let that be an issue and keep reading to find out what's the best way to start monetizing your creations.
Commissions and General Support
Commissions
One of the most usual ways for artists to begin selling their art is through commission art. You don't need that big of a following to start selling commissions. Even if you are just starting, you can sell commissions to pretty much anyone on the internet. Art platforms as Behance, Art Station, Dribbble, and Deviant Art are the most common places to post your art and offer commissions.
But the key to commission work lies in marketing your art to the kind of commissions you want to sell.
For example, let's say you want to take commissions on character art. Then make a few samples of your own characters or making some fan art would help you not only show your art style but calculate the approximate price you want to put on your commissions.
Besides social and selling platforms, you should also consider creating your own website to host your items. There are a variety of website builders for artists to help get this done.

PRO TIP: If you are serious about your work for the long haul, then owning your own domain is always preferable. Don't host on a platforms subdomain, even those it's free, you don't own it, and could always lose it.
Because the price is something very important for commission work and also a very tricky part of it. So our recommendation is to make a few samples of the kind of art you want to put for commission, and see how much time it takes for you to make each sample.
Then use a basic hourly rate to calculate the base price and from then add some extras for, let's say amount of detail, delivery time or type of use, etc.
You can do commission work through your social media platforms like Twitter or Instagram, you can also use external sites such as DeviantArt or Ko-Fi.
Fan Base Support
Another way to sell your art and monetize your content is using platforms like Patreon, Ko-Fi, or Buy me a Coffee.
You can offer exclusive content for a small fee and your fans will for sure follow you and support you in that way.
From the number of things you can offer on one of those platforms, the latest addition is merch. As a print on demand service, some of these platforms offer to send merchandise to your most loyal supporters for a small portion of your total income, there are some conditions for that, however, it's still a great way to not only sell your art but grow your fan-base and connect with your audience.
Places to Sell your Art
The internet is full of shops, marketplaces, and new blooming platforms to sell and buy digital assets. And sometimes finding the right one for you takes a lot of time and energy, the energy that you could use to keep creating those same assets you're going to sell.
So leave the hard work to us and just keep reading!
Let's begin with the most popular and recommended online marketplaces and PoD (Print on Demand) services, these are sites where you can showcase your art and earn either a full or a passive income, all depending on the time and dedication you put on the products you sell.
Here you can sell vector graphics, templates, and digital assets such as illustrations, icons, fonts, textures, etc.
Your works will pass a selection process before it's approved for the platform.
It has a big audience and it's a growing and adaptive platform. They take a 40% fee for every sale you make so that's also an aspect to take into consideration.
Best for photography, graphic assets, and 3D assets.
Here you can sell very high-quality patterns, brushes, backgrounds, and digital assets. It's a curated site, so there's a very tough selection and admission process though once you get through it your art will be exposed to a very large audience!
A very well-known platform to sell from hand-mad items to digital assets and art. Etsy has a $0.20 listing fee and a 5% Sales fee, even though many creators affirm that at the end of the day you end up paying from 5% to 15% of your listed price. Etsy doesn't handle shipping costs but takes a fee from the total price + shipping. It has a very large audience, however, that also makes it very hard to be noticed. You can add print-on-demand services to your Etsy shop in case you don't want to handle the packaging and shipping by yourself.
These are print-on-demand services that also feature your work on their platforms to be discovered.
They offer prints, mugs, towels, and even clothing with your art on and hold challenges to feature your work on the front page.
They handle the printing, packaging, and shipping and you only have to post your art. You can also choose your profit margin but it's not going to be a hefty sum. Great for passive income and a really nice way to sell your art worldwide without worrying about shipping.
3D Art
If you're a 3D artist, rest assured there is a quite big and growing market for 3D art. You can sell tools, assets, textures, materials, the 3D models you create, and even art prints and posters of your art.
Here are some of the most popular sites where you can sell your 3D art.
The biggest 3D marketplace at the moment offers a great variety of models and assets, and even though the competition is tight, it's still a great platform to showcase your work and sell it. It's completely free to set up an account and post your models online. The platform does take a 40% royalty fee on your model but you can reduce that to 20% by joining their affiliate programs and paying a membership.
Another great platform to sell your 3D models and 3D art. With a growing audience, CG Trader is very similar to TurboSquid with the benefit of 70%-80% on royalties from the start. You can also take freelance projects on the platform, so if you want more earnings and exposure, then CG Trader is your place to go.
A 3D print-on-demand service with a growing audience and user base, 3D printing has been pretty niche until recently, but it's becoming a more and more requested service. Owning a 3D printer is a privilege not many have, so making and selling 3D prints was not an option a few years ago, however, sites such as Shapeways have made selling 3D printed models way easier than doing it all by yourself. You still need to have a website and a shop to market and sell your products, but all that time spent printing (and failing, or fixing the 3D printer) will be now time you can use to create more!
NFT's and Crypto Art
At this point of the year, we've all heard from NFT's and cryptocurrencies being everywhere, and I get that many of you don't really know or don't really get how NFT's works.
To put it simply, NFT stands for Non Fungible Tokens, and that means "non-replaceable", referring to the basic human instinct to put value into things that don't hold any for other people. Sound familiar? Well, the art market has been doing that for ages.
A single piece of paper signed by, let's say, Picasso, sells for thousands if not hundreds of thousands, but why?
Why was Picasso special? Why was any artist special?
Because of the value, the public gave them of course.
And it's the same for NFT's. You can put the value you want in anything you make (i.e. digital art) and if somebody thinks that your art is worth that value, then they pay it.
The transaction is recorded in a public database (the Blockchain) and it's confirmed and approved by the public, so there are no intermediaries that hold that item from you or from the person who bought it.
Sounds confusing, yes, but it's a very real market and a very real way to sell your digital art even though everything stays in the digital world.
Some markets like OpenSea and Foundation are already on and operating, selling from single pieces to enormous collections of items, and even though it's a bit saturated now, it's still worth checking out.
On the downside, most NFT's are stored on the Ethereum Blockchain, which is run by an enormous amount of computers that eat the equivalent of energy of a whole country, so it's very very bad for the environment. There are some eco-friendly Blockchains like Polygon and Chia that make less of an impact on the environment, however, we need to ask ourselves, is it really worth taking our world to the ruins for a little more money?
In conclusion, selling digital art is completely possible and with a little effort a very profitable business for creatives, where it doesn't really matter the kind of art that you do but how you market it and where you sell it.
I hope you've found this article helpful and that you can now start your journey of growing your audience and selling your art!