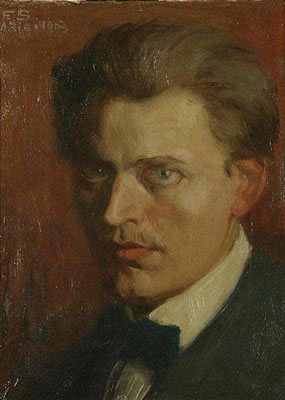 Tavik Frantisek Simon was a Czech painter born on 13 May 1877  in the Zeleznice, Jicin area of the Czech Republic. Simon showed an early talent for drawing, and his primary school teacher encouraged his parents to send him to art school. In 1894, Simon enrolled at the Academy of Fine Arts in Prague at age 17.
At the academy, Simon received an allowance that sponsored his travels to countries like France and England. Simon enjoyed traveling and experiencing new cultures and places, a habit that would heavily influence his artworks. Simon embarked on many travels, making the landscapes and views he encountered the subject of most of his paintings. He graduated from the Prague Fine Arts Academy in 1903 and spent the next decade in Paris.
Frantisek Simon returned to Prague in 1914 and continued painting scenes in the countryside. Then, in September 1926, Simon set out to achieve his dream of traveling around the world, starting the trip in France and traveling through Europe, the USA, the Middle East, and the Far East. During his trip, Simon drew and painted his experiences which he sent as letters to his wife. On his return, he compiled some of the letters and released the book Listy z cesty kolem světa in 1928. The same year, he was appointed a professor at the Prague Academy of Fine Arts.
What was T.F. Simon Known For?
T.F Simon was known for his picturesque paintings of beautiful scenes, landscapes, and countryside. Tavik experimented with various mediums in his artistic career, including oil, aquatint, and mezzotint. His paintings show light in a natural form on the subject from an unusual visual angle. Simon brought his paintings to life using small visible brushstrokes and vivid colors.
Who was T.F Simon Influenced By?
T.F. Simon was influenced by many artists whose works he came across during his extensive travels. In France, Simon was fascinated by the artworks of French Impressionist painters that impacted his style. The Japanese printmaking techniques of etching and color aquatints, producing shades and tones instead of lines, are evident in Simon's paintings.
What Art Movement was T.F. Simon Associated With?
T.F. Simon is associated with the Impressionism art movement.
T.F Simon Artwork
Below are some of T.F. Simon's Artworks
Arc de Triomphe Paris

Bird Market in Verona

Boulevard Saint-Martin

Breton Potters

Charles Bridge and Hradcany

Communicants on the Steps of La Madeleine

Evening Festival Paris

Fiesole Near Florence in the Evening

Fireworks in Paris

Les Halles et L'Eglise Saint-Eustache

Marketplace in Nice

Mi-carême, Paris

Nocturne in Morlaix Brittany

Nocturne

Notre Dame in Twilight, Paris

Notre-Dame de Paris in the Evening

Nocturne in Stramberk

Paris Boulevard in the Evening

Parisian Flower Vendors

Petit Restaurant Paris

Place Maubert Paris

Pont Saint-Michel, Paris

Porte Saint-Martin Paris

Prague Capital of Czechoslovakia

Rue Mouffetard

Rue Royale in the Rain, Paris

Rue Saint-Jacques, Paris

Sous Le Parasole

Sunny Beach

The Old Bibliophile

The old Canal Het Kolkje, Amsterdam

Tyn Church in the Morning

Venetian Woman

Windy Beach