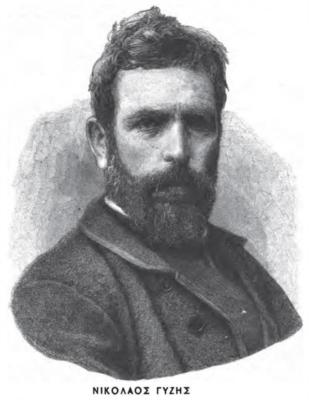 Nikolaos Gyzis was a Greek painter born on 1 March 1842 in Sklavochori, Tinos, Greece. In 1850, Nikolaos enrolled at the Athens School of Fine Arts, where he developed his painting prowess. Gyzis then furthered his art education at the Munich Academy of Fine Arts in Germany through a scholarship. Nikolaos returned to Greece after his studies and painted a series of Greek-themed paintings regarding past and present events.
While at the Munich Academy, Nikolaos became a part of the country's visual culture and would later be a significant representative of the Munich School of artists movement. He expressed his attachment to the School and the German culture through some of his paintings, such as the News of Victory of 1871 and Apotheosis i Thriamvos tis Vavarias paintings. In addition, Nikolaos quickly gained recognition for his artworks which embodied Greek mysticism.
Nikolaos Gyzis was renowned as one of the most important Greek painters of the 19th century because of his famous works like Eros and the Painter. He was an employed professor at the Munich Academy of Fine Arts in 1886, teaching many famous painters.
What was Nikolaos Gyzis Known For?
Nikolaos Gyzis was known for his paintings of different characters based on subjective reactions. Nikolaos' early paintings depicted real-life events and occurrences, but his later paintings had a singular varying character as the subject. For example, the painting Pastry Man shows a server carrying a tray of bread and wine falling from his hands.
Who was Nikolaos Gyzis Influenced By?
Nikolaos Gyzis was influenced by pioneer artists of the Munich School who were educated at the Royal Academy of Fine Arts in Munich, where Nikolaos also schooled. Nikolaos studied the works of artists like Karl von Piloty and employed their techniques in his paintings.
What Art Movement is Nikolaos Gyzis Associated With?
Nikolaos Gyzis is associated with the Romanticism and Realism art movements.
Nikolaos Gyzis Artwork
In the 1890s, shortly before his death, Nikolaos' paintings leaned toward a more religious subject matter. He died on 4 January 1901 in Munich, Germany. Below are some of Nikolaos Gyzis's artworks:
First Learning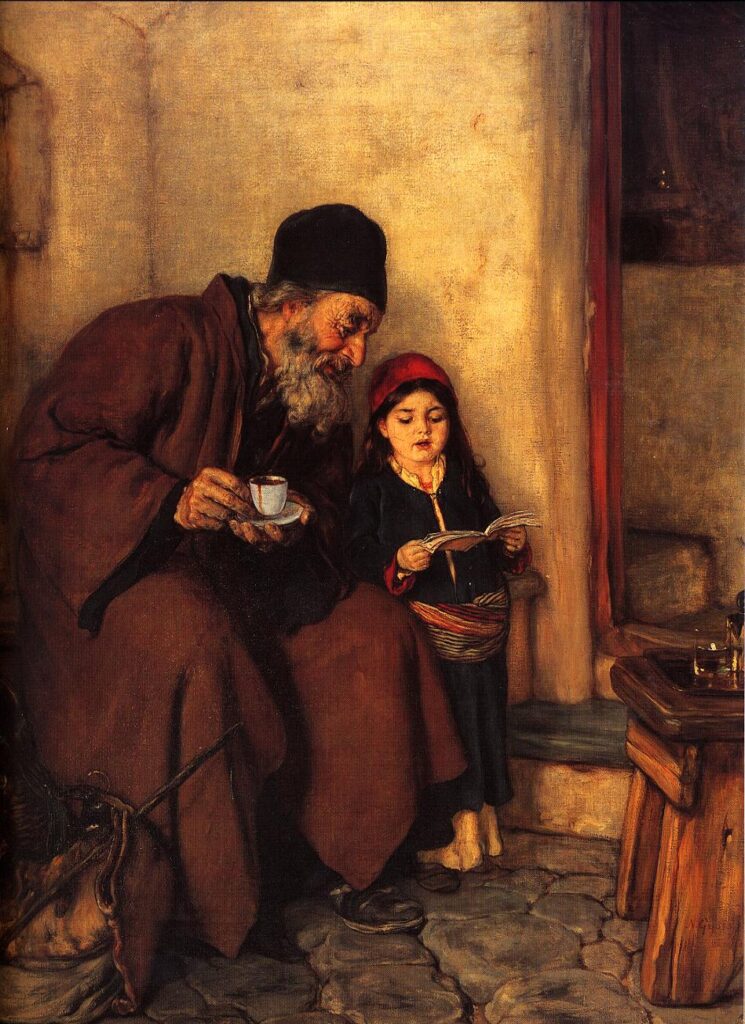 Art and Its Spirits

Artemis Gyzis

Boy with Cherries

Bread

Cards I

Cards II

Carnival in Athens

Girl Playing

Grandfather and Children

Grandma and Children

Kou-Kou

Le Don

Learning By Heart

Orphans

Orphans II

Painter in the Orient

Pastry Man

Portrait

Still Life With Turkey

Still Life

The Barber