Shiva Ahmadi is an Iranian-American painter born in 1975 in Tehran, Iran. She earned her Bachelor of Fine Arts degree from Azad University in 1998. She furthered her education in the United States of America, earning a Master of Art and Master of Fine Arts degree in Drawing at Wayne University in Detroit.
In 2005, she earned her second Master of Fine Arts degree in Painting at the Cranbrook Academy of Art. That same year, she held her first exhibition – Oil Crisis – at the Leila Heller Gallery in New York. Shiva has since participated in eleven solo shows and twenty group exhibitions in Japan, Canada, UAE, England, Germany, and Italy.
In 2015, Shiva Ahmadi was appointed Associate Professor at the University of California. She has won several awards and nominations for her artworks, including First Prize at the 2003 Michigan Fine Arts Competitions and the 2004 Biennial Art Competition. She currently lives in the United States, where she still creates paintings and animations.
What is Shiva Ahmadi Known For?
Shiva Ahmadi was known for her dexterity in working with different mediums. She creates many of her artworks around the theme of the Iraq wars she witnessed as a child. Shiva exudes skillfulness in creating fantasy realms addressing political and societal issues in animations, oil, watercolor painting, and sculpture.
Who was Shiva Ahmadi Influenced By?
Shiva Ahmadi was influenced by contemporary painter Shahzia Sikander. Shiva's works have drawn several comparisons to Sikander's due to the likeness in miniature figures and depictions of socio-political effects. Like Sikander, Shiva also combines traditional oriental techniques with Western methods.
What Art Movement is Shiva Ahmadi Associated With?
Shiva Ahmadi is associated with the Abstract art movement.
Shiva Ahmadi Artwork
Below are some of the artworks of Shiva Ahmadi
Al-Khidr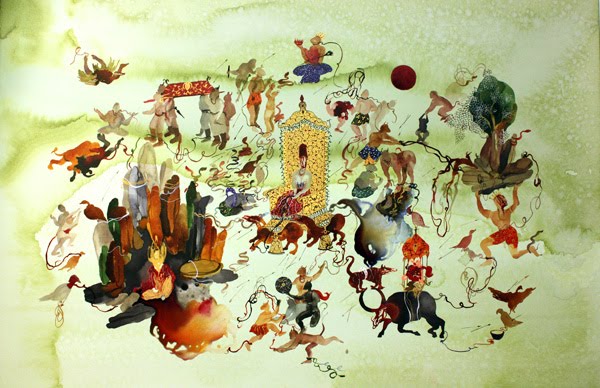 Bird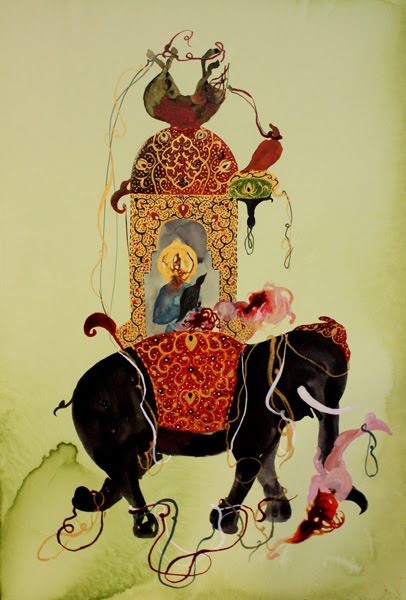 Elephant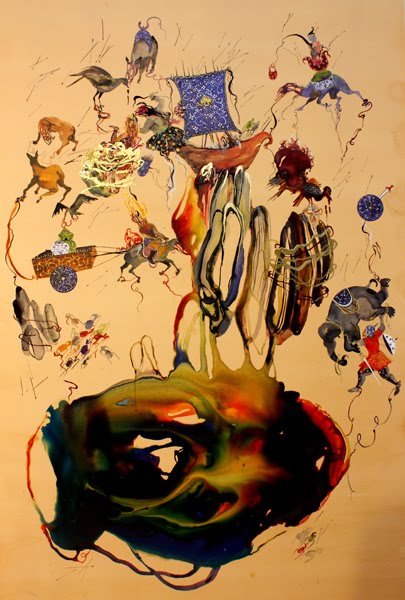 Hocus-Pocus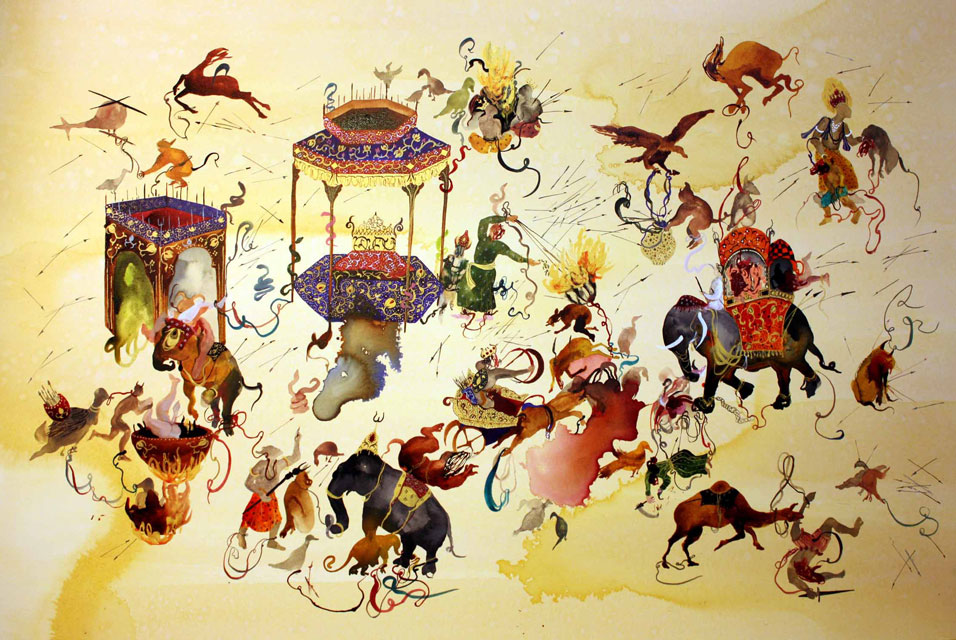 Prophet is Born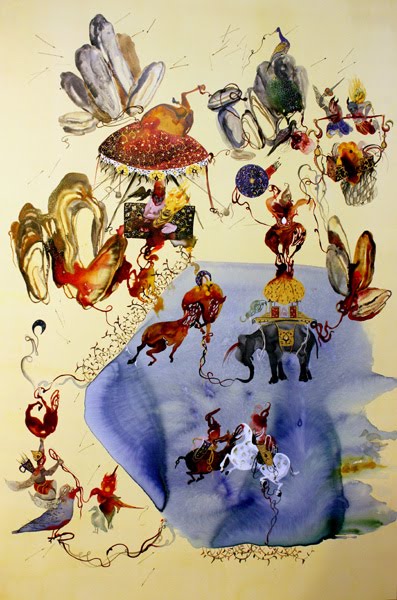 Red Carpet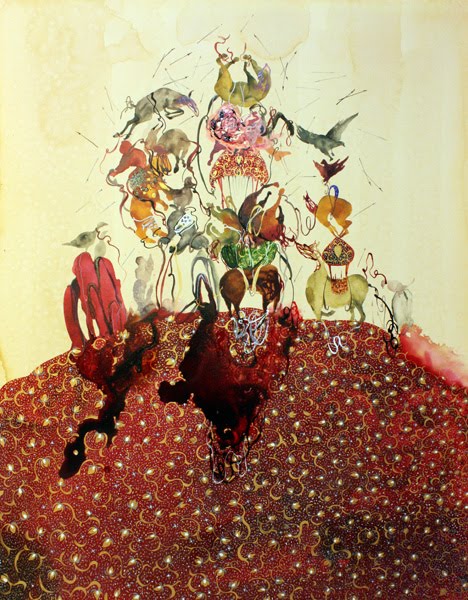 Rocks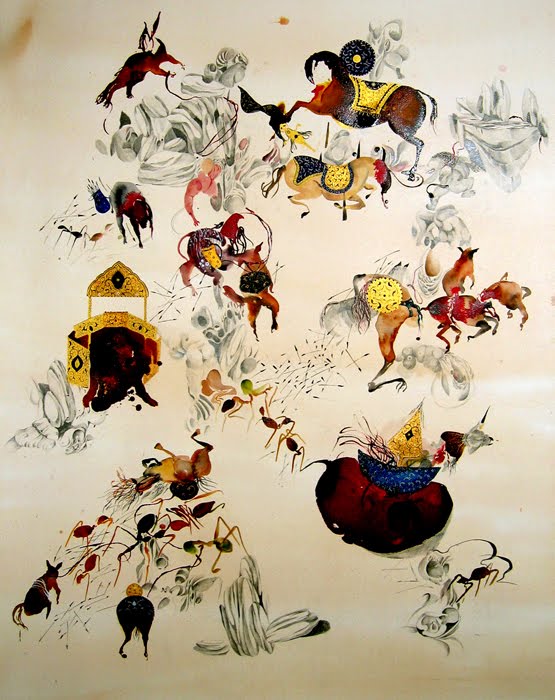 Shield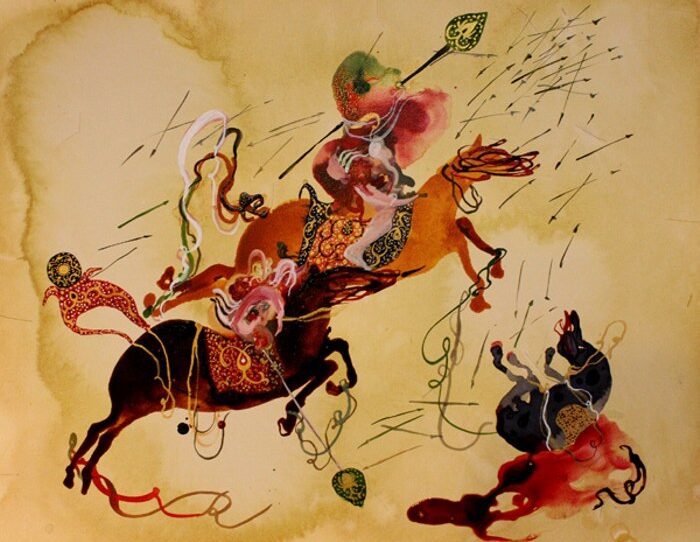 Vulture