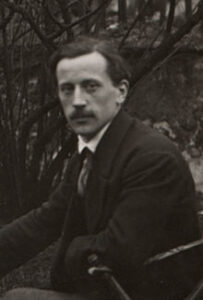 Raymond Duchamp-Villon was a French sculptor born on 5 November 1876 in Damville, Normandy region of France. In 1894, wanting to become a doctor, Raymond enrolled at the Sorbonne University in Paris to study medicine. Struck with rheumatic fever, he had to withdraw from the university in 1898. After a couple of years of experimenting with sculpture, he dedicated himself to art in 1900.
Raymond Duchamp-Villon kept practicing and became skilled in bronze sculptures and wood carving. In 1901, his exhibitions were successful and accepted, and he joined the Societe Nationale Des Beaux-Arts. Raymond and his wife moved to Puteaux in 1907 and established a studio close to his brother Jacques. His style began to develop in abstractions, and he attained the post of sculpture juror of the Salon d'Automne.
In 1912, Raymond co-organized the Section d'Or exhibition at the Galerie de la Boetie in Paris to promote Cubism. The following year, he exhibited at the Armory Show in New York. In a subsequent couple of years, Raymond exhibited in famous galleries in Germany, France, and the Czech Republic. He enlisted in the army in 1914, working on his artwork – Horse – during his leave. Raymond died of typhoid fever on 9 October 1918 in a military hospital in Champagne.
What was Raymond Duchamp-Villon Known For?
Raymond Duchamp-Villon was known for his implementation of Cubist principles into sculptures. Raymond was the pioneer of creating three-dimensional Cubist works. He sculpted abstract figures using geometric forms and fluid contours. Raymond employed a rather expansive range of colors, opposing the commonly limited palette associated with the movement.
Who was Raymond Duchamp-Villon Influenced By?
Raymond Duchamp-Villon was influenced by the styles of Augustin Rodin, Georges Braque, and Aristide Maillol. Raymond had no formal art education and had to develop his style by studying the works of other artists. His artworks' beauty and unnatural appearance showcase the impact of the likes of Rodin, Braque, and Maillol.
What Art Movement is Raymond Duchamp-Villon Associated With?
Raymond Duchamp-Villon is associated with the Cubism art movement.
Raymond Duchamp-Villon Artwork
Below are some of the artworks of Raymond Duchamp-Villon
Baudelaire

Encrier

Femme Assise

La Maison Cubiste

Le Chat

Le Chien

Maggy

Study for La Maison Cubist

Torse de Jeune Homme