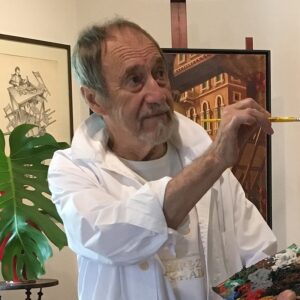 Juarez Machado is a Brazilian painter, born in 1914 in Joinville, Santa Catarina, Brazil. Juarez studied fine arts at the School of Art in Parana, Curitiba. Machado started showing signs of talent in art at a very young age, and by the time Machado was 20 years old, he had several awards to his name. One of the significant awards that Juarez won early in his career was the prize of the Best sculptor in Parana in 1962.
Juarez started as a painter, and along the way, he dabbled in illustration, drawing, photography, miming, writing, acting, sculpting and engraving. Juarez also worked as a column cartoonist for a major Brazilian newspaper. However, in 1965, when Juarez moved to Rio de Janeiro, he solely focused on painting.
Juarez has lived in Paris since 1986 and owns a studio there. He has received numerous awards in both Brazilian and global museums. Machado has lived in Paris since 1986 and has exhibited throughout Europe and the United States.
What is Juarez Machado Known For?
Juarez Machado is known for his figurative Deco-style paintings that portray sex and romance associated with nightlife. Juarez is also known for infusing humor and satire into his paintings. Juarez's paintings are also known to feature warm colors such as red, yellow, and brown. Juarez Machado also gained popularity when Jean-Pierre Jeunet's admitted that Machado inspired his color choices for his Amelie movie.
Later in his career, in 1971, Juarez also worked on the opening drawings on the Uma Pantera em Minha Cama. In addition, Juarez worked as a plastic artist to design the costumes on the set of the series titled Kika e Xuxu in 1976.
Who Was Juarez Machado Influenced By?
Juarez was influenced by his family members, including his mother, who was an artist, and his father, also an artist, an art collector, and a traveling salesman. Whenever his father was away, Juarez spent a lot of time with his mother developing his talent. Juarez Machado is also influenced by the stories surrounding the nightlife in bars and clubs, and he expresses this in his paintings.
What art Movement is Juarez Machado Associated With?
Juarez's art is associated with Surrealism.  Surrealism which explores how the unconscious mind works and represents this exploration in any form of art. Machado's works are also invariably imbued with a sense of humor. Juarez Machado said, "I work a lot with debauchery; humor is a critical form that provokes and entertains; I decided to make an exhibition of myself."
Juarez Machado Artwork
Juarez Machado's work has earned him global recognition as a painter, writer, and costume designer, both on-screen and offscreen. Here are some of Juarez Machado's artworks
Aperitif In Studio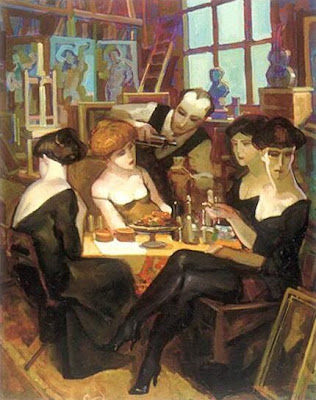 The witches steal the whaling boat from an island fisherman

Bailarina nos cavalos
Bain de jouvence

Barbecue a Paris

Bistro

Champaign Waiter

Cigar Cognac In The Salon

Copacabana Palace Hotel

Curitiba 300 Anos

Dance On Black Piano

Dance On White Piano

Farra do boi ou diante do ritual pagao

Femme au Robe Orange

Femme Au Robe Rouge

First Guests

Horizontal Bath

Ilha – 1997

Ladies and Gentlemen II-l

Ladies and Gentlemen II-M

Les Amours Clandestines

Ode to the sophisticated woman

Oriental Bath

Picnic In The Forest Of Gustav Klimt

Por amor al arte

Silence with a Musical Sentence

Tango a Robe Rouge

Tango In A Box

Tango Levitation

Tango Red Tie

Tango Room

Terrace Rendevous

The Gallery

The Last Tango

Umbrella Lights

Veuve à la Plage

Whiskey And Berries