John Baragwanath King was a British landscape painter and watercolor artist born in 1864. John's place of birth was at Phillack, around Hayle in Cornwall. After giving up his training to become an engineer, Baragwanath King became an artist. John and his wife lived together in St. Austell with their daughter Gladys. During this time, John had a studio in Plymouth, Devon, where he continuously worked on his craft and painted seascapes using watercolors and oils.
John Baragwanath King didn't begin to exhibit his paintings until 1903, when he was 39 years old, and he continued exhibiting until 1914. Baragwanath King's work was exhibited in different countries in Europe, including Paris, Berlin, and Florence. Some of his works were also exhibited at the Royal Institute of Painters in Watercolor and the Baillie Gallery in west London. John Baragwanath King died in his home in Cornwall in 1939 at the age of 75.
What is John Baragwanath King Known For?
John Baragwanath King was known for his oil and watercolor paintings of coastal scenes, seascapes, and landscapes. John's creative abilities are diverse, as is his use of color, which spans from blue and pink seascapes to bright grey, purple and green landscapes. This experimentation with color is motivated by Cezanne's use of color as a substitute for dark and light or to indicate depth in perspective.
Baragwanath King also gained popularity when Queen Alexandra bought one of his paintings. This led King Edward VII to buy more of Baragwanath King's paintings.
Who Was John Baragwanath King Influenced by?
Most of the records about John Baragwanath King show that he was influenced by French artist Paul Cezanne, a painter whose ideas and paintings influenced many other contemporary artists during the Impressionism and Cubism movements.
What Art Movement Is John Baragwanath King Associated With?
John was associated with the Impressionism art movement.
John Baragwanath King Artwork
Here are a few of the paintings by John Baragwanath King:
An Evening at Lopwell on the Tavy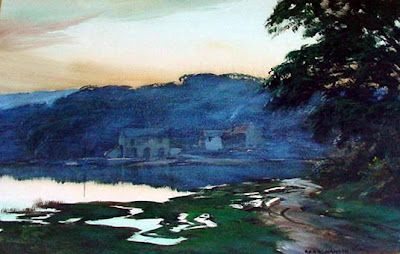 Crinnis Beach
Early Morning Sunrise Wat

Ellen's Isle, Loch Katrine, Scotland

Figures Walking On A Bridge Over The River Wakeham,-Dartmoor

'First Boats In'; Fishing Luggers Returning

Mount Bay's Cornwall
Off-To-The-Fishing-Grounds

Rolling Hills

Storm Clearing the Upper Reaches of the Tavy
White Wings The Safari And Astra