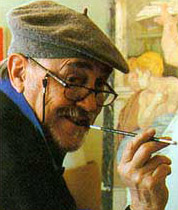 Charles Bagg was an American sculptor and painter born in St. Louis, Missouri, in 1931. His parents were on-stage performers who traveled frequently, and he spent lots of time with them on tour. Charles got formal art education at the High School of Music and Arts in Harlem, New York. He left New York at age 18, with his high school sweetheart, before settling in California.
On moving to California, he attempted several career paths, including stand-up comedy and working in a factory. He eventually settled on pursuing a career as an artist, initially painting portraits of wealthy people and giving art lessons. Charles then started painting in his creative style, humorously depicting political views and opinions. His works gained nationwide acclaim.
Bragg's works always had a deeply profound message relating to societal issues. These satirical works brought him success and popularity as an artist. His works appeared in the PlayBoy Magazine and various exhibits across America and abroad. Museums in the USA, the Netherlands, and Russia feature Charles' works. He died on 9 January 2017.
What was Charles Bragg Known For?
Charles Bragg was known for the satirical style of his work. Charles preferred to draw on mylar's rough surfaces, focusing on subject details and subtle shade. His artworks usually showcase celebrities or characters expressing societal issues and political opinions. Charles depicted the subjects of his works in a humorous and satirical manner.
Who was Charles Bragg Influenced By?
Charles Bragg was influenced by Renaissance artist Hieronymus Bosch. Bosch was famous for communicating critical messages through his paintings. Charles was renowned for adopting the same style, infusing humor in his pieces. Charles' work Asylum Earth showcases the influence of Bosch's popular artwork Garden of Earthly Delights.
What Art Movement is Charles Bragg Associated With?
Charles Bragg is associated with the Surrealism art movement.
Charles Bragg Artwork
Charles Bragg's artwork achieved worldwide acclaim and recognition. Below are some of them
And He Saw That It Was Good

Bacchus

Claude Monet

Francis of Azusa

Garden of Eden

In the Beginning

In the Beginning

In the Beginning

King of Me's

Marissa

May it please the court

Midas

The Fifth Day

The Lovers

The Riddle

The Sixth Day

The Thinker

Toulose Lautrec