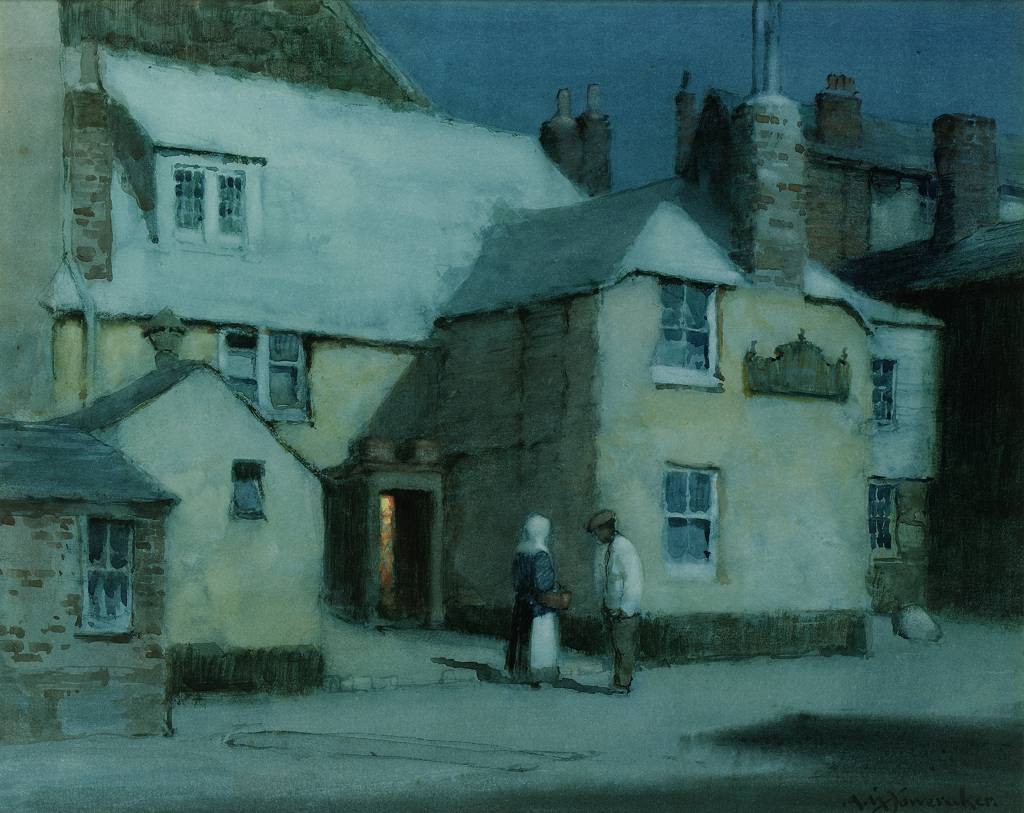 Albert Moulton Foweraker was a British watercolor artist and painter born on 7 July 1873 in Exeter, United Kingdom. Foweraker attended Christ's College, a constituent of the University of Cambridge, and got a degree in Applied Science in 1893. Before taking up the art profession in 1898, he worked as a journalist and engineer. Foweraker then began to paint, exhibiting his works extensively.
Albert Foweraker joined the Royal Society of British Artists in 1902 and participated in many exhibitions at their galleries in London. He moved away to settle in Cornwall later in 1902 and frequently traveled to Africa, Spain, and France to exhibit his artworks. Albert represents his experiences during his travels vividly in his paintings.
Albert Foweraker was also an art instructor. He organized painting classes, especially in Spain, holding classes regularly in Malaga, Granada, and Cordoba. Foweraker moved to Swanage, Dorset, with his wife Annie Triphina Coles in the mid-1920s, living there till his death. He died in January 1942, leaving behind a lofty reputation and legacy as a landscape artist.
What Was Albert Moulton Foweraker Known For?
Albert Foweraker was known for his watercolor paintings of British landscapes. Foweraker painted landscapes and city scenes of cities he had experienced. Cornwall, Dorset, and Devon were the subject of many of his paintings. The artist's preference for the color blue is evident in his artworks. Foweraker was peculiar for his depiction of moonlight in his paintings.
Who was Albert Foweraker Influenced By?
Albert Foweraker was influenced and inspired by the environment he finds himself. Foweraker revealed he was fascinated by the impact of natural light on landscapes. Accurately depicting moonlight, sunsets, and other forms of light in his painting, it is evident how the effects of light influenced his artworks.
What Art Movement is Albert Foweraker Associated With?
Albert Foweraker is associated with the Impressionism art movement.
Albert Foweraker Artwork
Below are some of Albert Moulton Foweraker's artworks
A Devon Farmhouse and Buildings Moonlight

A Devon Village

A Spanish Village By Moonlight

A Spanish Village

Almeda de Hercules, Seville

Cottages in the Moonlight

Evening Stroll in a Cottage

Moonlight Antequieta

Gilbrater from Algeciras

Moonlight, A Devonshire Village

Moonlight Antequera

Moonlight Antequeta

Moonlight Palma Mojica

Moonlight Segovia

Moonlight South Devon

Moonlight, Court of the Myrtles, Alhambra

Moonlight, Malaga, Spain.

Papal Palace Avignon

Pola Algercerias

Ronda Andalucia

Rural Woodland Scene

Santa Maria, Antequera

The Sloop Inn, St. Ives, Cornwall

Unknown Title

Unknown Title

Uknown Title

Unknown Title

Unknown Title

Washing day – house in the woods