At Arlex, we had the recent pleasure of receiving the Yumkfoi crafting and storage cart.
Our initial perception was a mixture of curiosity and skepticism. We wondered if this seemingly simplistic and somewhat unstable cart could possibly handle the weight of our crafting machines and provide sufficient storage for our ever-growing stock of materials.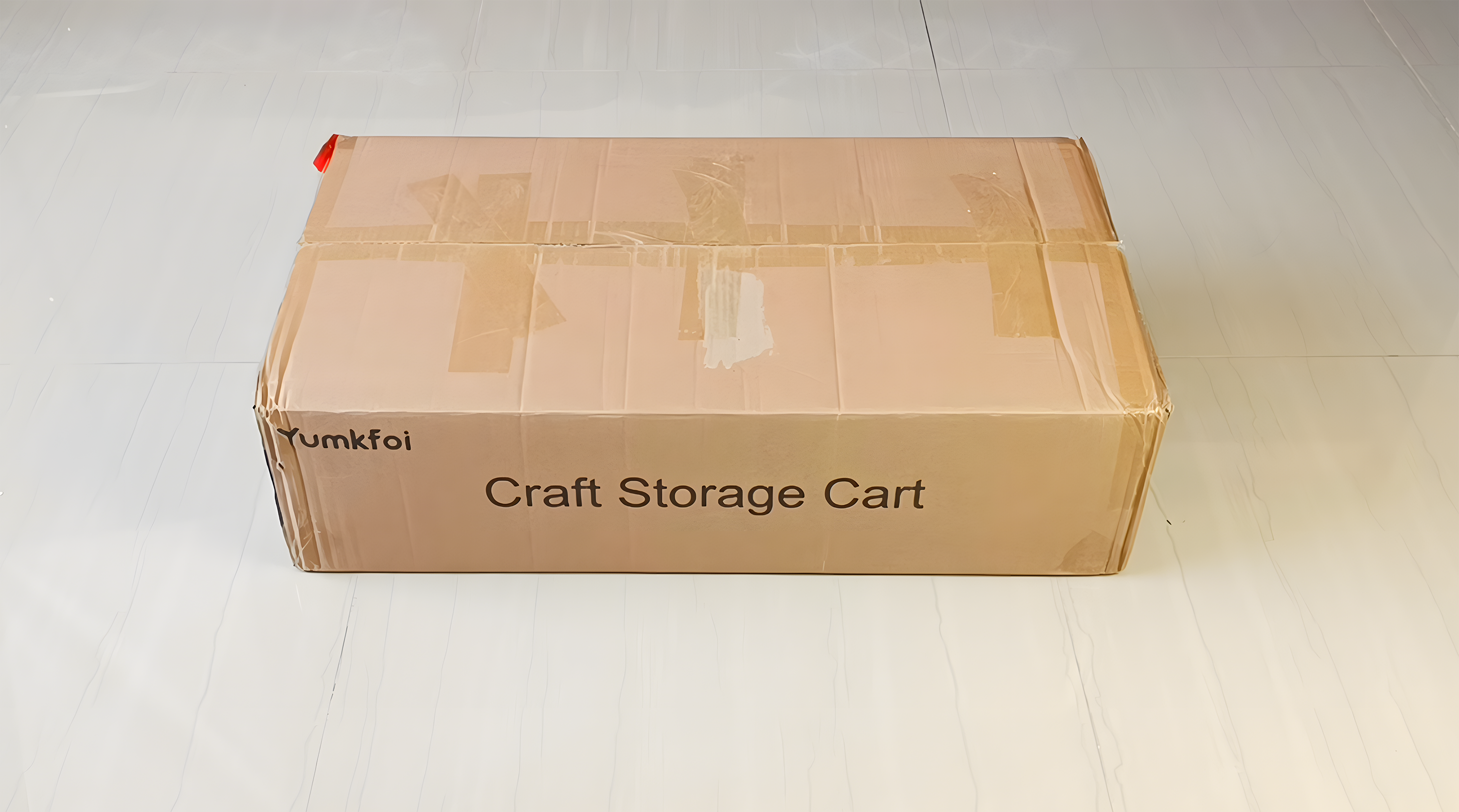 Spoiler alert, it wasn't. And we're really glad we get to try this cart and write this fully honest and unbiased review.
Unboxing and First Impressions
Our unboxing experience was impeccable. The box was quite heavy to carry to the third floor (where the magic takes place), however, we must say that from the moment the cart arrived to the initiation of the assembly process, we found out that every component was delivered in a safe and orderly fashion.
The cart came in a double, well-protected box, and despite the collective weight of the components, each piece was light enough, manageable, and quite straightforward to handle. The accessories, including screws and other bits and pieces, came neatly arranged in well-labeled bags, aligning perfectly with the provided instruction manual.
Our first impressions of the cart were nothing short of impressive. Showcased in a sophisticated pearl color, the cart's height and color would complement any craft table or workspace. It has a solid build and professional finish immediately indicating durability and quality.
Assembling the cart was a project in itself. It was indeed a time-consuming task, although the manual said it would take an hour for a person to assemble it, we now know that it will take about twice that time, and although an Allen key (hex Key) is included in the package, you'll also find out you'll use a Phillips screwdriver (cross-shaped) and some elbow grease.
We worked a bit of a sweat, but in retrospect, this meticulous building effort only added to the firm and resilient nature of the cart.
A Closer Look at the Cart's Features
The Yumkfoi crafting cart is more than what meets the eye. It not only offers ample storage for other Cricut machines but is also specially designed to store rolls! Vinyl rolls, HTV rolls, Iron-on Rolls, and Glitter rolls, this cart can store it all!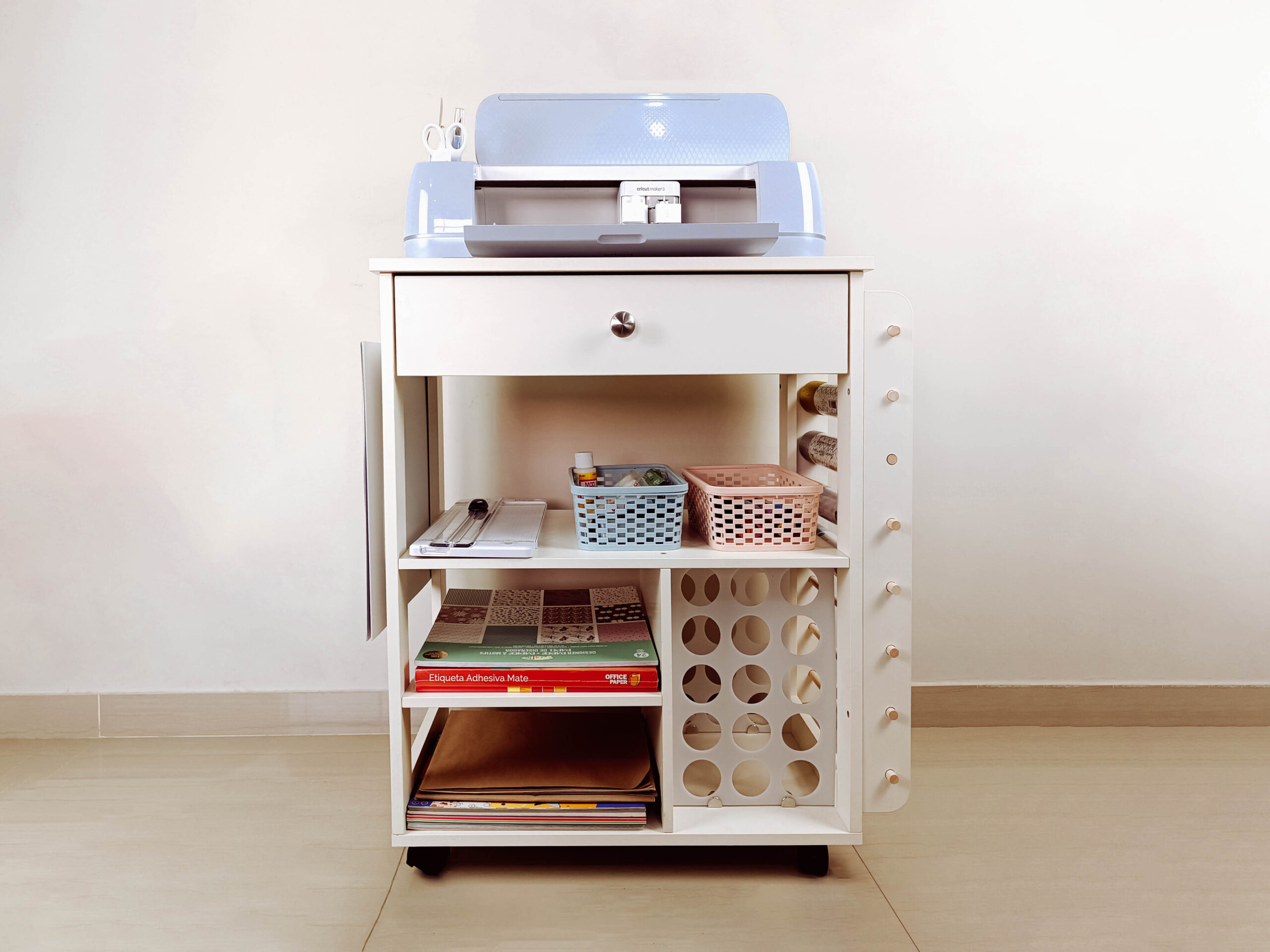 The main table is sized to comfortably accommodate any Cricut machine, including the (quite heavy) Cricut Maker 3, and stands firm without buckling under its weight nor deforming or balancing at all.
The cart's impressive build material doesn't only give it a solid structure but is also easy to clean, an essential factor for any crafter. No need to worry about those inevitable fingerprint stains, accumulated dust, or even the always-present glue stains, the Yumkfoi crafting cart has you covered.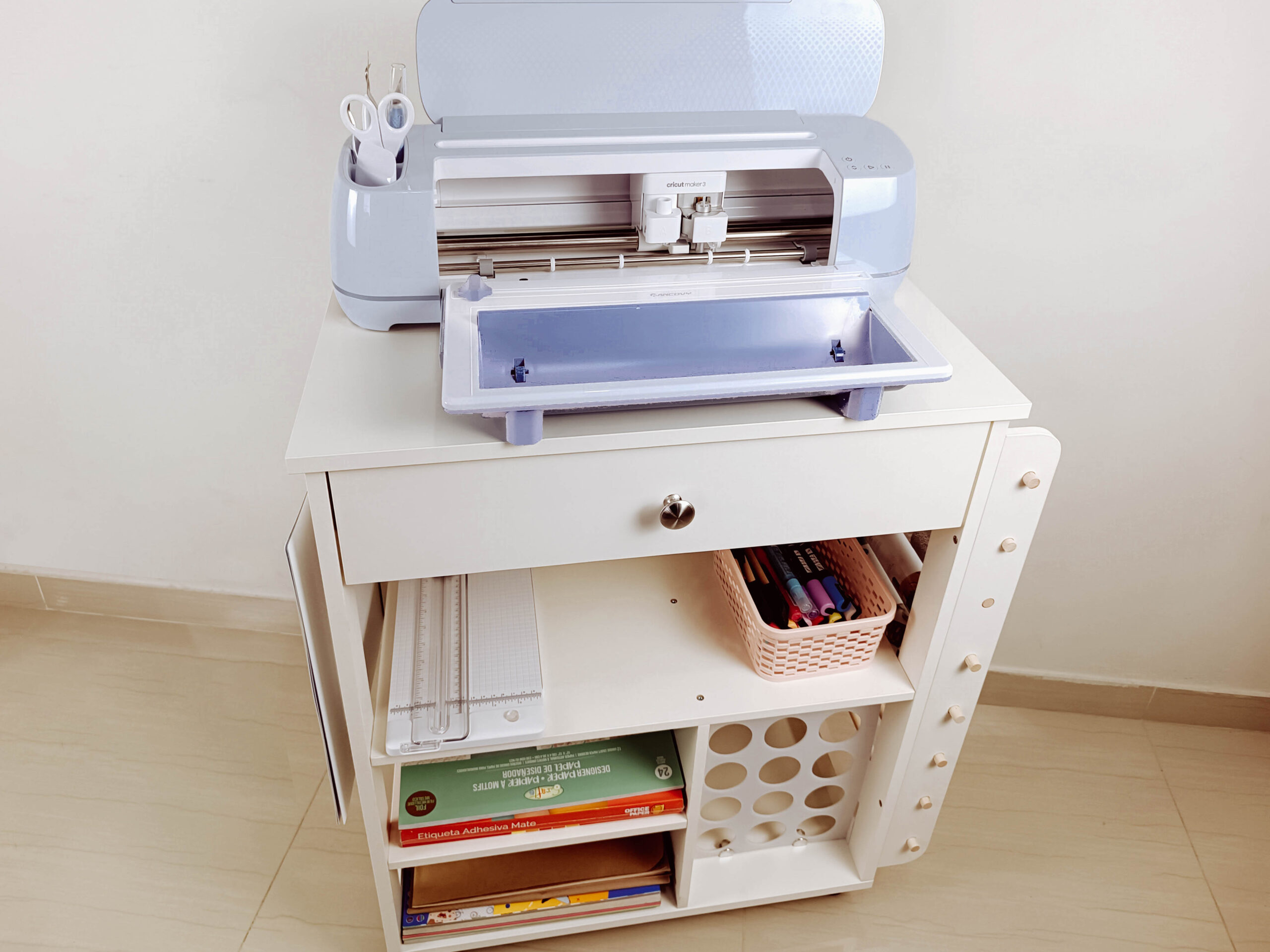 Compared to other crafting carts on the market, such as rotating metal ones or those with simple plastic drawers, this crafting cart truly stands out. Despite the slightly higher price tag, the quality, durability, and practicality make it well worth the price.
Putting the Crafting Cart to Use
Despite our initial doubts, this cart proved to be a reliable assistant in our crafting and DIY activities. Initially, we were unsure if it could handle the weight of our Cricut Maker 3 or whether it would warp over time. However, it proved us wrong by maintaining its shape, facilitating easy mobility, and offering a sturdy crafting surface.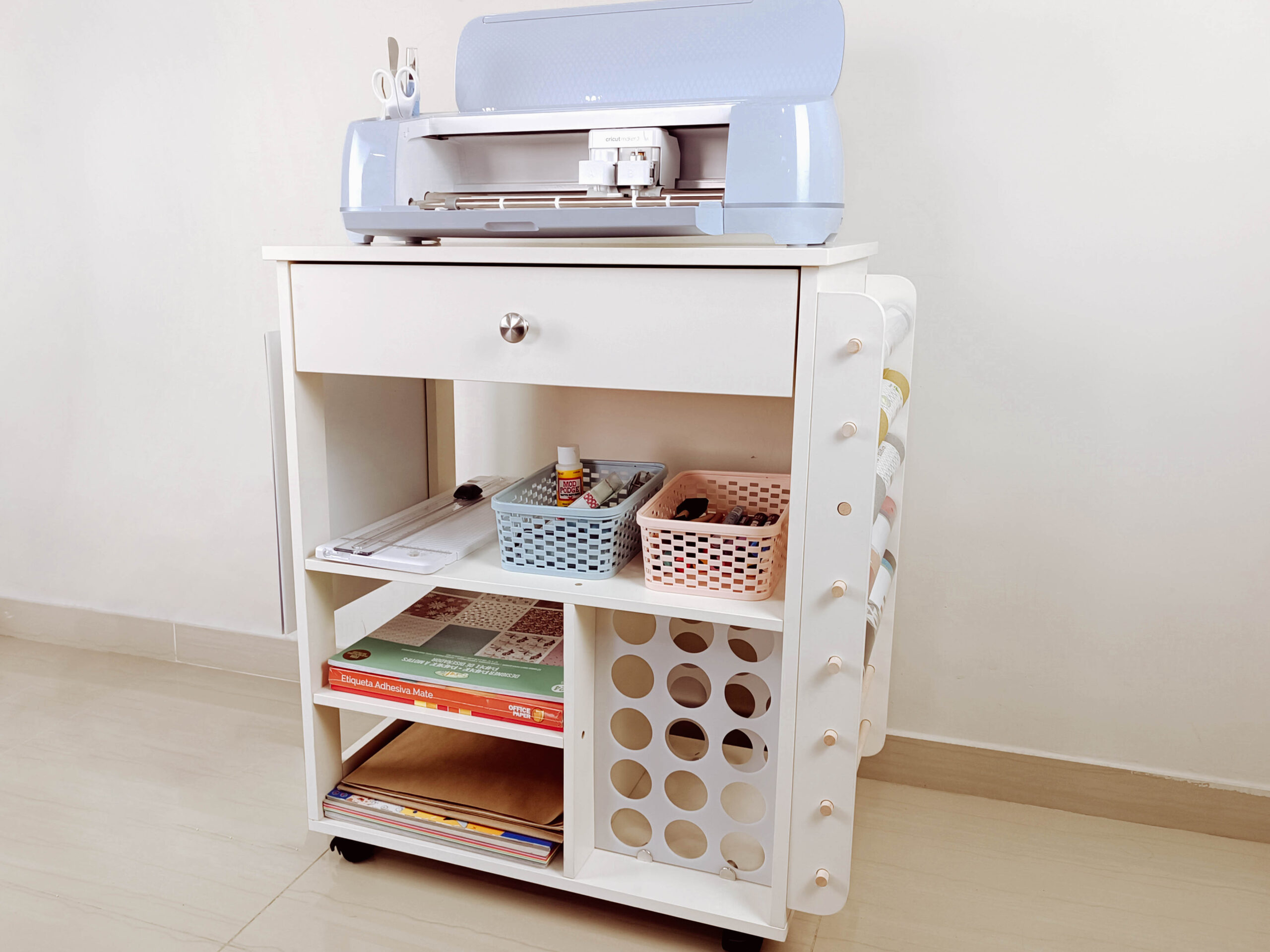 Beyond the Cricut machine, it was also capable of bearing the weight of our heat presses, additional crafting accessories, and materials without buckling or wobbling.
The wheels roll nicely and have brakes to keep the cart fixed in a single position if we want to, you can easily put or take off the brakes without having to bend or kneel, a simple tap of your feet will be enough.
The cart aligns with your average desktop or table height, although we'd wish it would be slightly higher for those who are on the tall spectrum, it still works fine and it's a godsend if you're working while sitting or have mobility issues.
The cart fits it all, well most of it. As we mentioned, it has ample storage for viny and other materials' rolls, with a total of 23 individual roll holders, which is a lot.
You'll be able to easily see each one of your rollers and use them as you, please. Though we must say some of the rollers were a tad hard to get from the side storage and it was a bit of a bother to take the wooden sticks and put them again over and over again.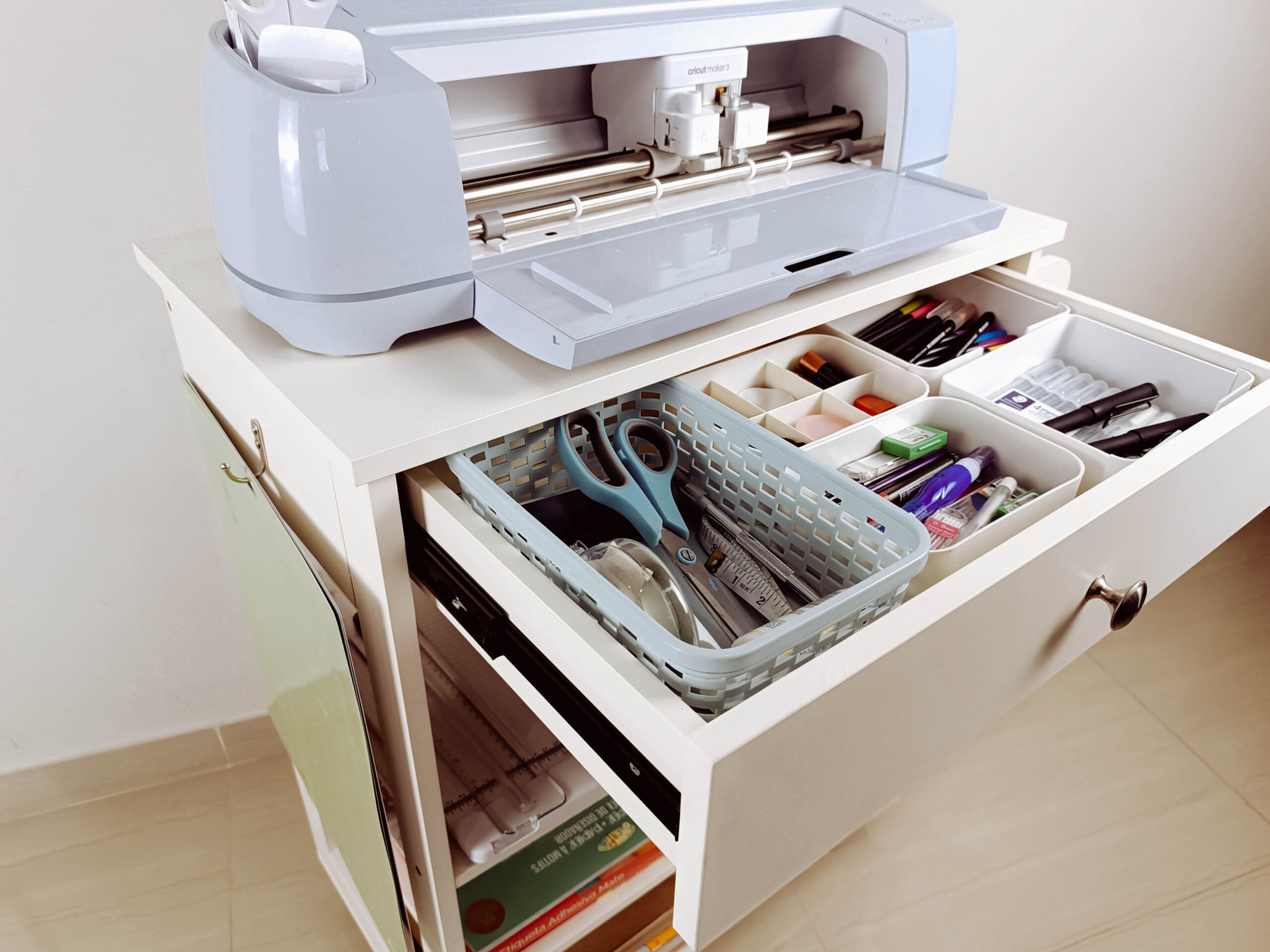 The drawer opens and closes nicely, it doesn't get stuck and it doesn't hit the back with a loud noise but a soft thud, the handle is solid and easy to pull and as we mentioned, although we'd like to have more height, it world just fine for the items you gotta have in-hand or for accessories and more vinyl rolls.
Pros:
The cart is really solid, well-built, and high quality to the touch (and assembly).

The cart is incredibly easy to move around, providing a mobile crafting solution.

It offers a generous storage capacity for various crafting needs.

The side hanging hook is very handy for cutting mats and heating pads. It was a life (and storage) saver.

The drawer's rails are smooth and durable, although the drawer's height is somewhat limited compared to its width.
Cons:
The manual could be a bit confusing or complex to read, we advise you to lay the pieces and follow the steps carefully.

The cart could be higher but accommodates fine to most heights and working tables.

Taking the wooden sticks from the side vinyl storage is a bit bothersome. Might get a bit frustrating if you're in a hurry.

Although the cart's assembly requires considerable effort, having an electric screwdriver would ease the process significantly. So, for those not a fan of assembly, you might want to get a handy friend to help out.
The Assembly Process
For those inexperienced in assembling furniture, the instruction manual may seem daunting at first glance. However, once you start following the step-by-step instructions, you realize the process is simpler than it seems.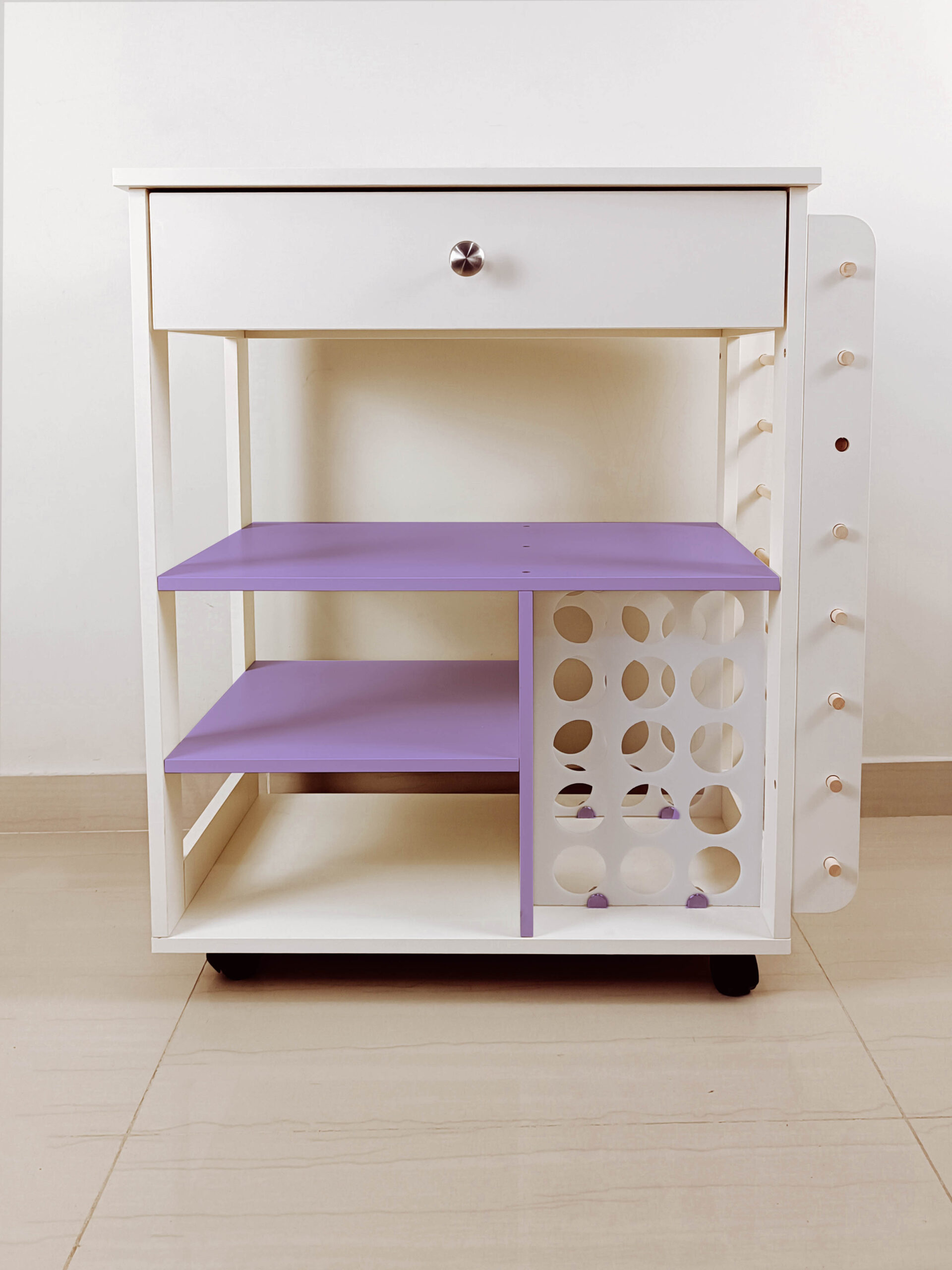 The assembly starts with the middle section, the one where you'll put your vinyl rollers and other machines/accessories, which is then mounted on the main structure.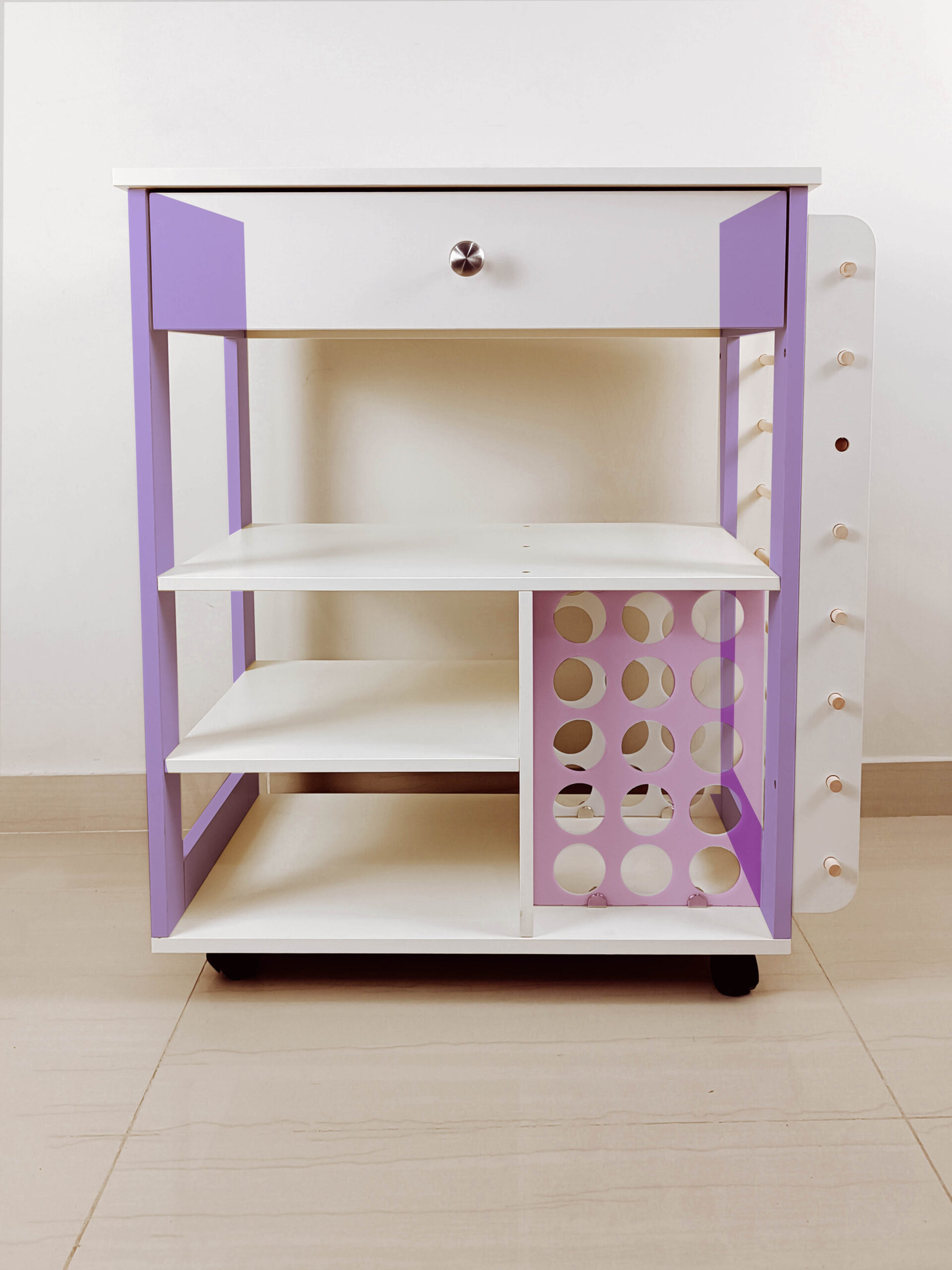 Then, the top and bottom covers, and drawer rails are added.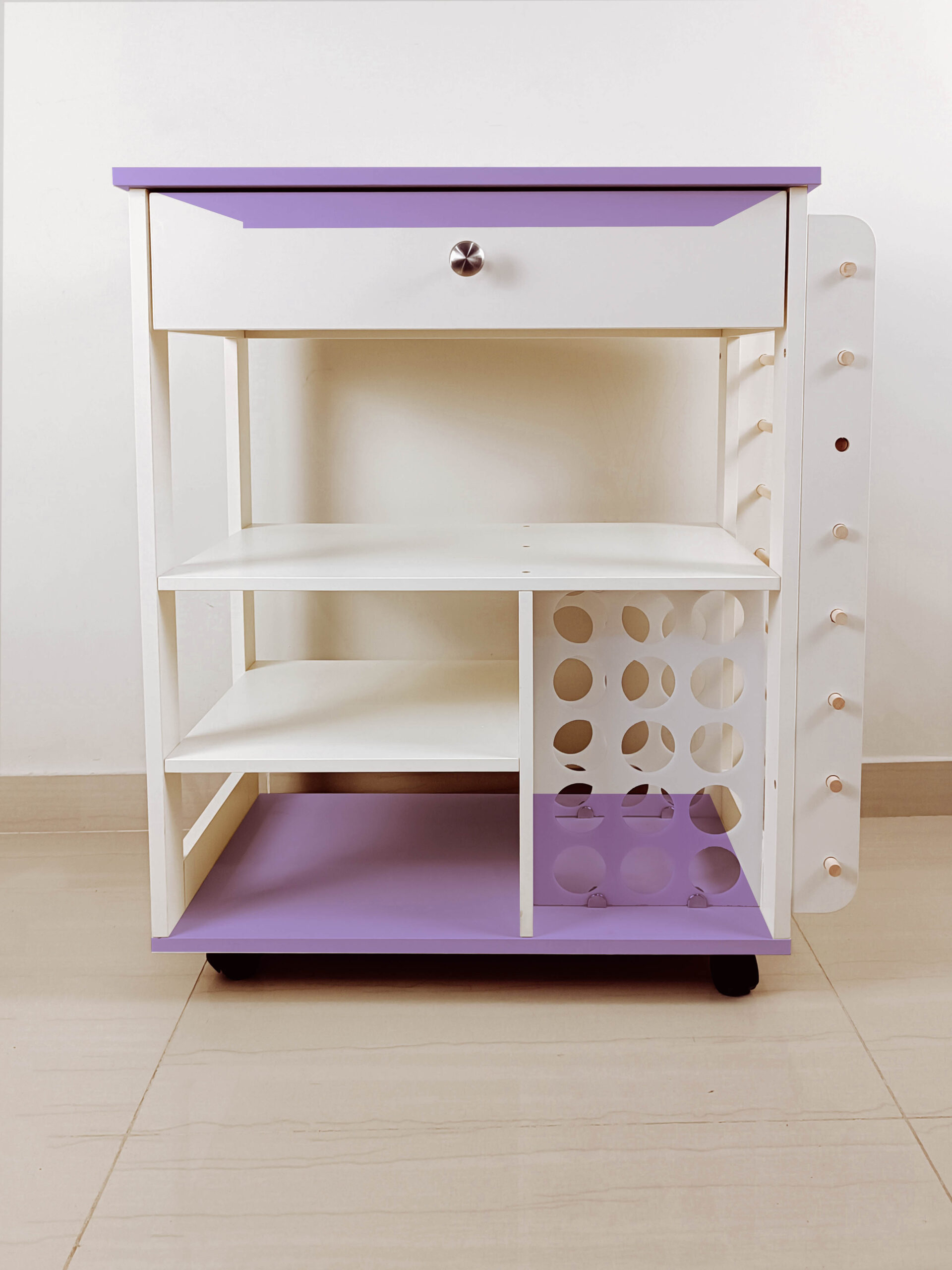 After that, the wheels are mounted and the drawer is assembled.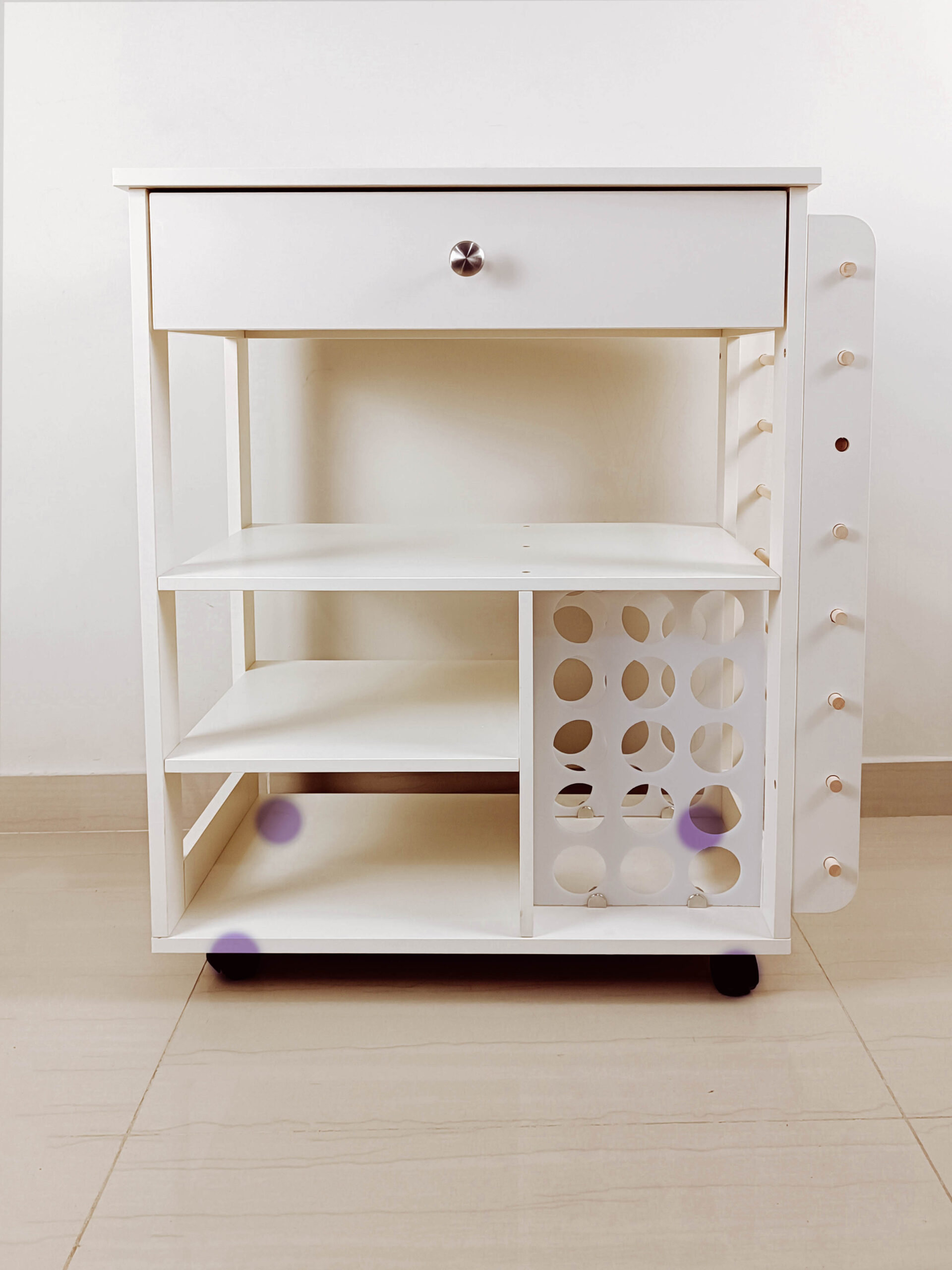 To finish the setup, the hanging hook and side vinyl storage are added along with the drawer. The trickiest part is the drawer's rails, but once you figure out the simple mechanism, assembly, and disassembly become a breeze.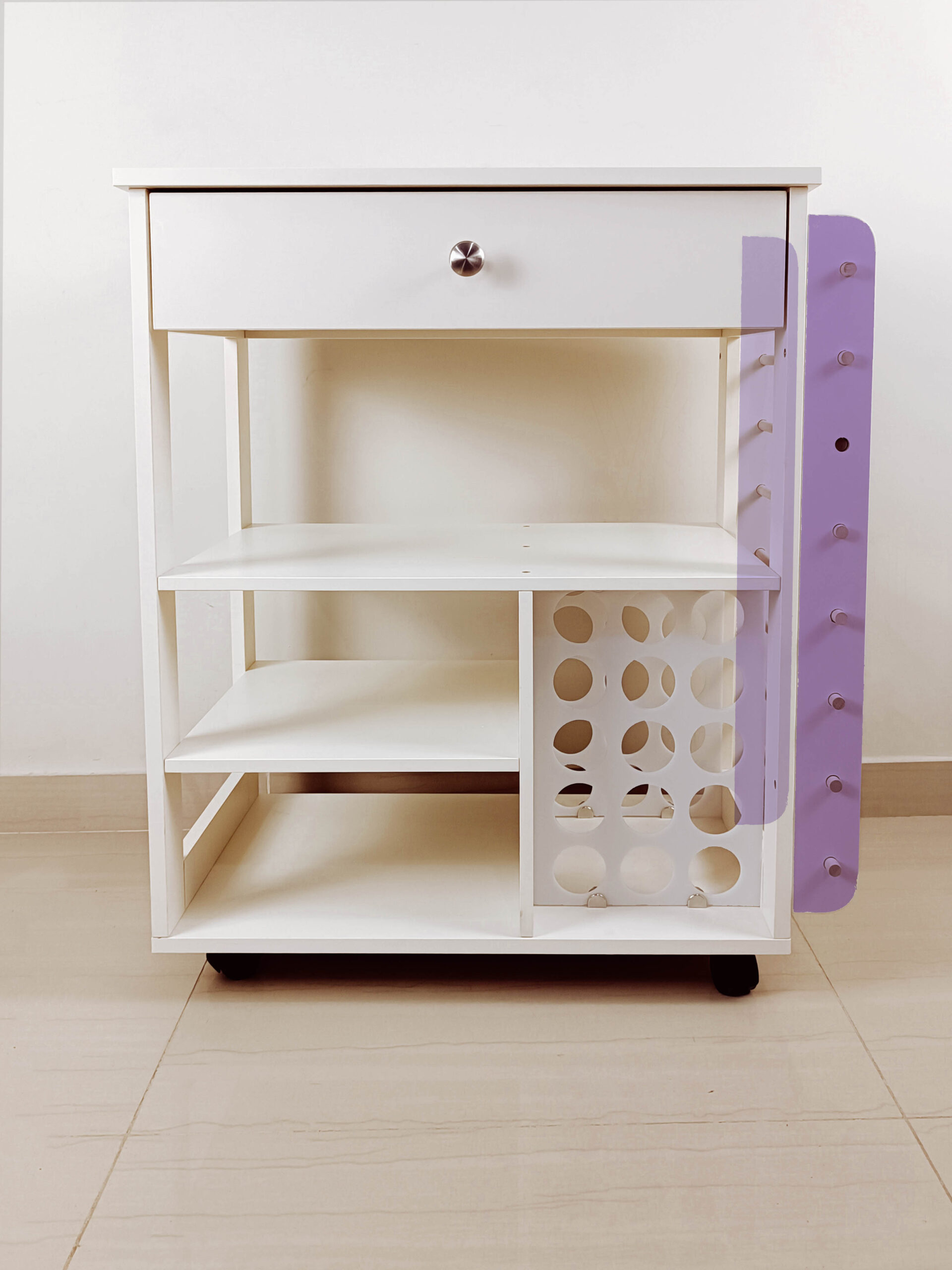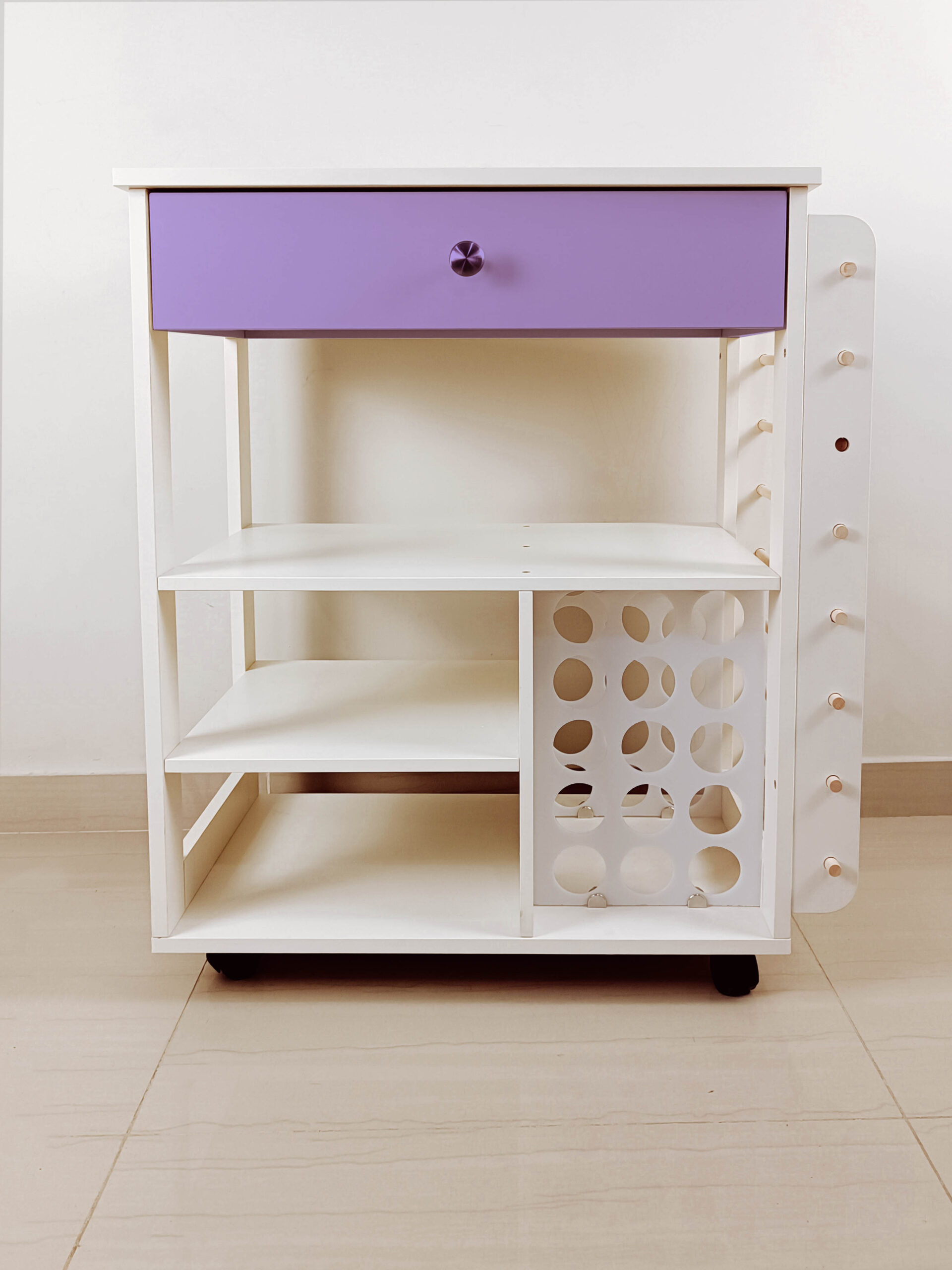 Final Verdict
The final result is a robust, durable, and high-quality cart that enhances any crafting corner. It is not just a storage solution but a comprehensive crafting station. Its easy mobility, sufficient storage capacity, and durable structure make it a perfect solution for any craft corner, no matter the size or space.
Conclusion
This detailed review of the Yumkfoi crafting cart is intended to provide insight into a product that greatly simplifies our crafting needs. Despite the slightly challenging assembly process, the advantages it offers far outweigh the initial effort. Its ample storage space, durable structure, and easy mobility make it an investment every dedicated crafter should consider.
This crafting cart proves that sometimes, the best solutions are those that seamlessly combine functionality with aesthetics.