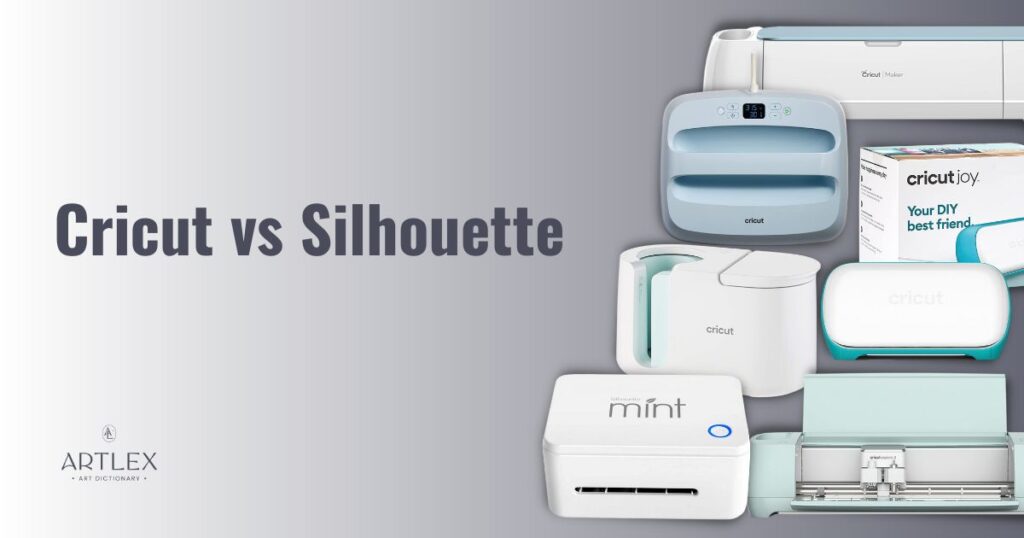 In the ever-evolving world of arts, crafts, and item customization, cutting machines have emerged as indispensable tools for creative enthusiasts and professionals alike.
When it comes to cutting machines, two popular brands stand out: Cricut and Silhouette. In this article, we'll explore the similarities, differences, and unique features of Cricut and Silhouette machines.
These brands offer a variety of models with different features, software, and material compatibility that can be beneficial or limiting depending on your needs. understanding what sets them apart, you'll be able to find the perfect cutting machine that suits your personality and your creative needs.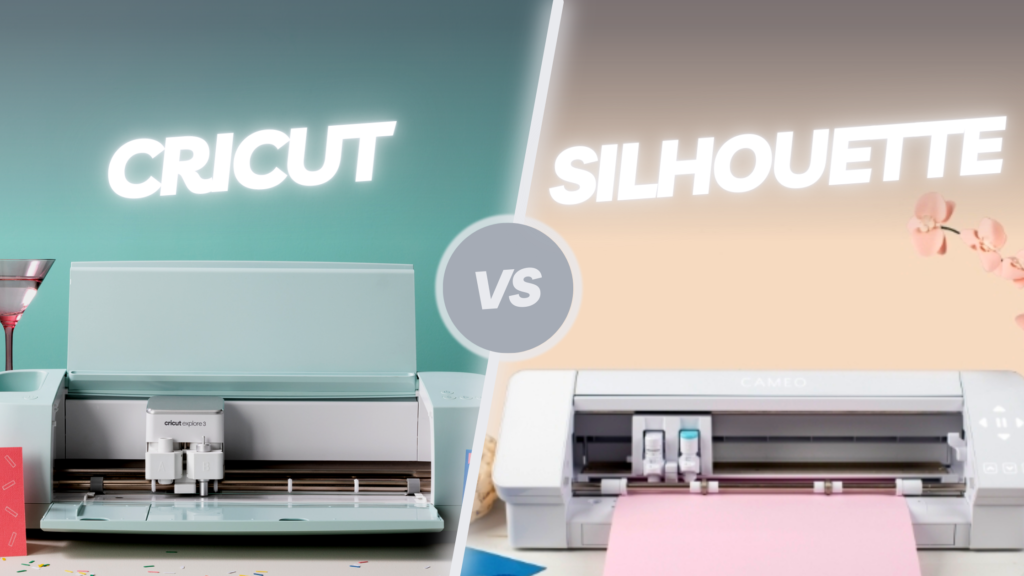 Whether you're an experienced crafter or just starting your crafting journey, knowing the strengths and weaknesses of these brands can make a difference in your crafting approach and help you make an informed purchase.
In this article, we'll compare Cricut and Silhouette regarding important aspects like machine capabilities, software usability, material compatibility, and overall user experience.
What You Need to Know About Cricut
Cricut is a renowned and firmly established brand in the world of crafting and personalization businesses. This brand pioneered the entry of personal cutting devices into the homes of numerous craft artists and scrapbook enthusiasts.
Such a revolutionary move secured Cricut's position as the most popular and highest-quality brand in the market. Despite the emergence of other competitors such as Silhouette and Brother, Cricut continues to maintain its leadership position due to its unwavering commitment to customer service, technical support, product quality, and durability.
It's essential to understand that Cricut machines cater to personal use and small-scale production. The Cricut Maker line is an exception since it's designed for more robust and frequent usage. Nevertheless, the cutting capacity of these machines may not suffice for industrial-scale cutting and mass production.
Cricut machines primarily target those individuals interested in diving into the crafting world with minimal difficulty. These machines are a perfect fit for beginners with limited design knowledge, those eager to learn new skills, and even experienced users who want to use their machines to the max.
However, the relatively high price of Cricut machines, compared to other brands, can pose a challenge for those working with a limited budget.
While Cricut is better known for its cutting machines, it offers a diverse product range. The brand produces various machines, including cutting devices of different sizes and power levels, as well as heat press machines adaptable for various materials, including mugs, textiles, and wood.
What You Need to Know About Silhouette
Silhouette is a brand that came to light following the need created by Cricut for affordable machines with capabilities for mass production, these machines have managed to carve out a unique space in the crafting and production market.
Built with the purpose of being user-friendly while still maintaining high-level functionality, Silhouette's devices serve a range of users, from hobbyist crafters to small and medium-scale businesses. Their products offer precision cutting, high-volume capacity, and versatile materials compatibility.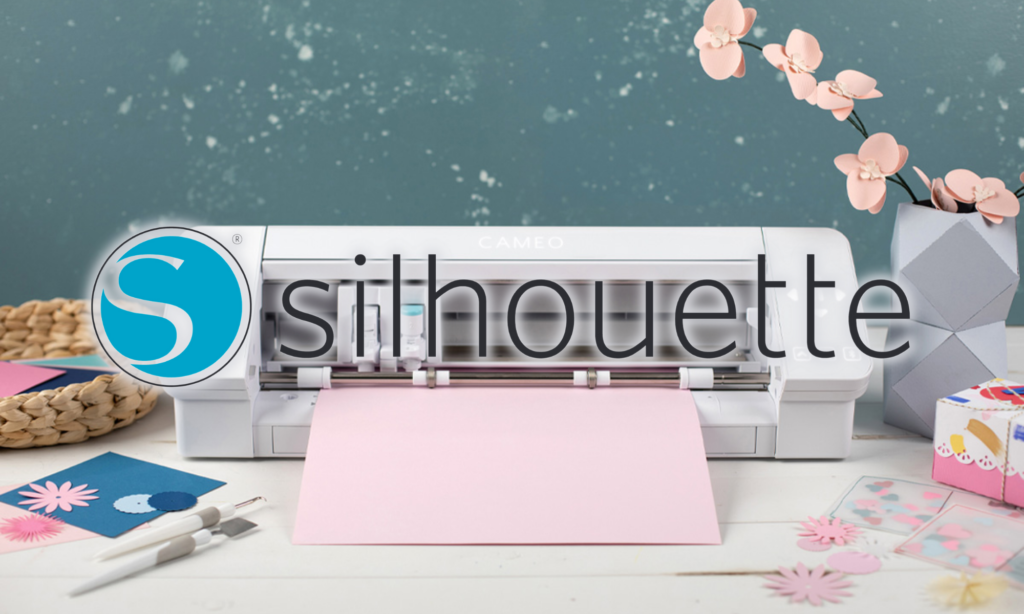 Silhouette stands out, and some might say, does even better than Cricut by making its software really powerful. This fits the needs of people who want to make complex designs. Most people know that Cricut is mainly for using with designs that are already made or designs we make in other programs like Adobe Illustrator or Photoshop. This shows in their software, which is easy and quite straightforward to use.
But Silhouette goes a step further. It adds design tools right into its software. It lets users cut along paths, not just shapes. Plus, it adds more ways to adjust its blades and tools. This means you can make more precise cuts and do different things all on the same mat.
These extra features make Silhouette better for users who are more tech-savvy and who want to do more advanced designing and complex projects. However, for those who are just starting out in crafting or using a cutting machine for the first time, all these features can seem a bit too much.
It might be hard to get used to at first or suppose a steeper learning curve compared to other machines and software.
Cricut Joy vs Silhouette Portrait vs Cricut Explore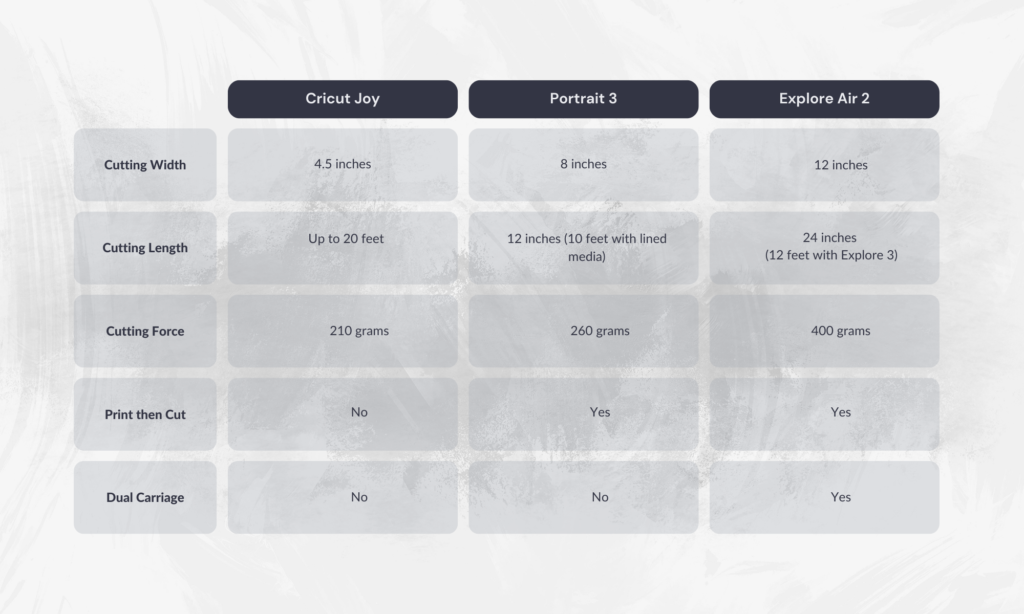 Each machine in these families comes equipped with unique accessories and blades. While some components are interchangeable between models, each machine typically operates best with its specific tools.
The Cricut Joy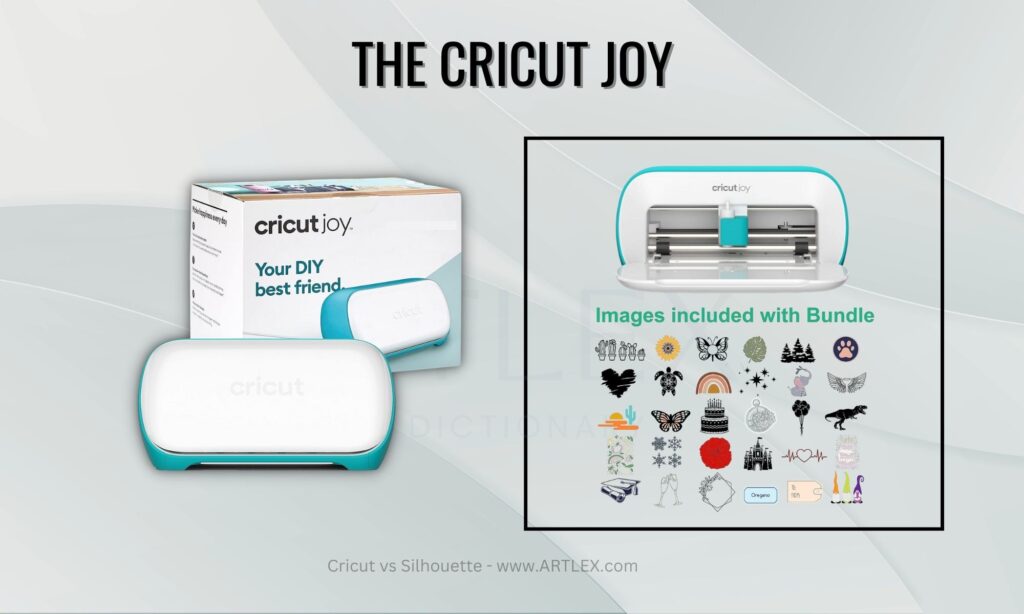 One of Cricut's standout products is the Cricut Joy, a compact machine with a cutting width limit of 4.5 inches. This user-friendly device is particularly suitable for beginners, children, or teenagers looking to venture into the world of crafting.
It's ideally suited for creating cards, small designs, and projects of a smaller scale. Interestingly, this machine doesn't require a cutting mat, making it perfect for vinyl or heat transfer vinyl designs, as it can handle cuts up to six feet in length and 4.5 inches wide.
Despite this compelling feature, it's important to note that it might not be as versatile as larger machines. It's not the optimal choice for working with thicker materials and products. This particular machine includes one blade (the fine-point blade) with limited cutting capabilities, but it allows for the use of additional tools to execute other tasks such as foil transferring and drawing.
However, be aware that this machine is only compatible with markers and tools from Cricut, which could potentially be more costly over time when compared to machines that accept third-party accessories.
Pros:
Compact and portable.
Can cut 50+ materials.
Wireless cutting with integrated Bluetooth
Cons:
Limited cutting width.
Limited material capability compared to larger Cricut machines.
The Silhouette Portrait 3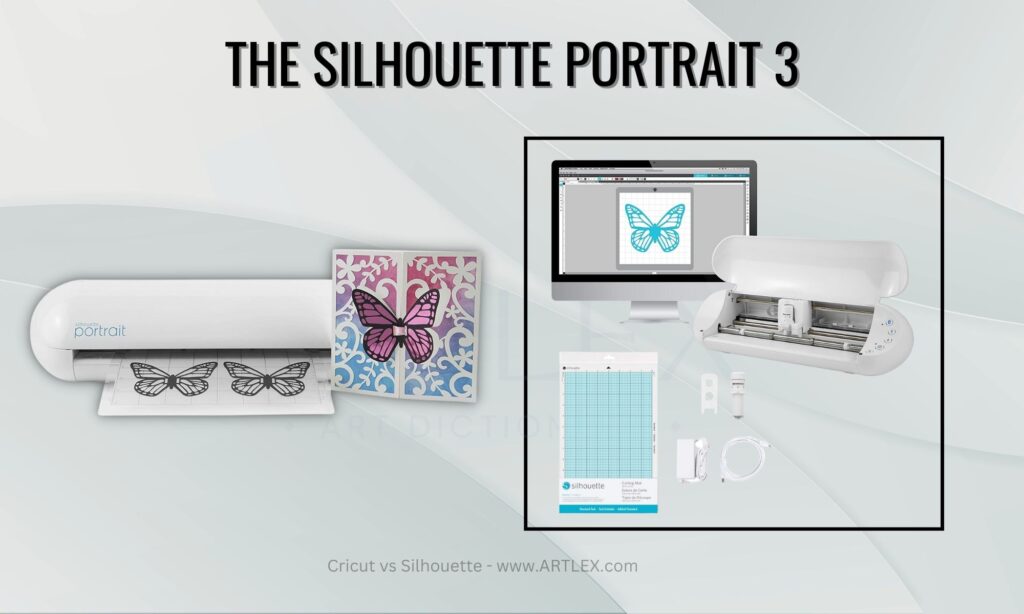 Silhouette offers the Silhouette Portrait 3, which you could think of as the 'beginner's' cutting machine from the brand. This machine is easy to carry around, not too heavy, and still very powerful.
The Portrait 3 does cost around $20 to $25 more than the Joy, and it's not as small. But it can handle materials up to 8 inches wide and can cut as long as 10 feet with its matless cutting feature – something that all Silhouette machines now have.
Just like with the Joy, the Portrait 3 has a single carriage. But thanks to Silhouette's multi-tool adapter system, you can use other tools and blades with it. Plus, Silhouette does allow the use of accessories from other companies for tasks like foil transfer and drawing.
The Silhouette Portrait 3 also works with the Silhouette Studio software. This makes it a really useful machine that can do a lot of different things. It can cut with about the same force as the Explore Air 2 or the Explore 3.
While this machine can't cut very thick materials like the Maker or the Cameo 4 can, it can still cut pretty deeply. In fact, it's strong enough to cut chipboard and craft foam with the 2mm Knife blade.
It's worth pointing out that the Portrait 3 is not made for large-scale or business use like the Cameo 4. So, it's not a good idea to push it too hard. But if you're interested in Silhouette machines, the Portrait 3 could be the perfect starting point for your crafting
Pros:
Compact and portable, perfect for small spaces.
Bluetooth enabled for wireless cutting.
Auto blade compatibility.
Cons:
Limited cutting width and length.
Doesn't handle as many materials as the Cameo series.
The Cricut Explore Family
Moving on, we delve into the Explore family. This line includes the Cricut Explore Air 2 and the Cricut Explore 3.
Cricut Explore Air 2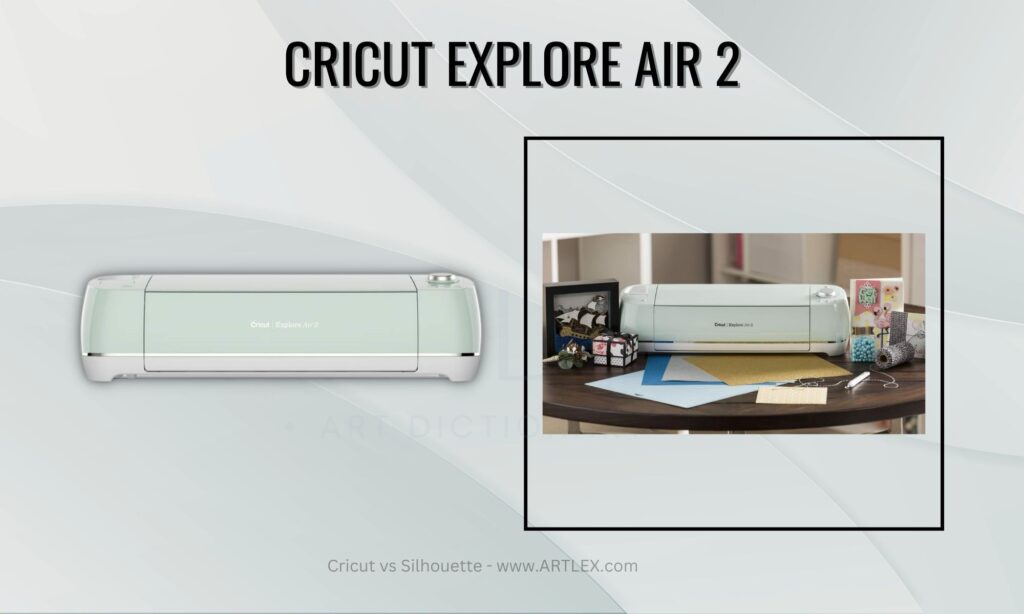 The Cricut Explore Air 2, an older generation within the Explore family, is a versatile and efficient machine. However, it lacks one of the major features of the newer Explore model: the ability to cut materials without a cutting mat, enhancing the cutting length to a sizable 12 feet.
The Explore 2 is capable of cutting an impressive range of up to 100 different materials. While it struggles slightly with flexible materials such as artistic foam, fabric, and flannel, it proficiently handles cutting other materials like cardstock, paper, and various types of vinyl.
With a cutting capacity of 11.5 inches in width and 24 inches in length, the Explore 2 may not be the most cutting-edge machine, but it delivers the essential functions of a cutting machine at a reasonable price, all with Cricut's stamp of quality assurance.
Pros:
Can cut, write, and score 100+ materials.
Dual tool holder.
Wireless cutting with integrated Bluetooth.
Cons:
Limited to cutting less dense materials.
No tool for cutting thicker materials like balsa wood or leather.
Cricut Explore 3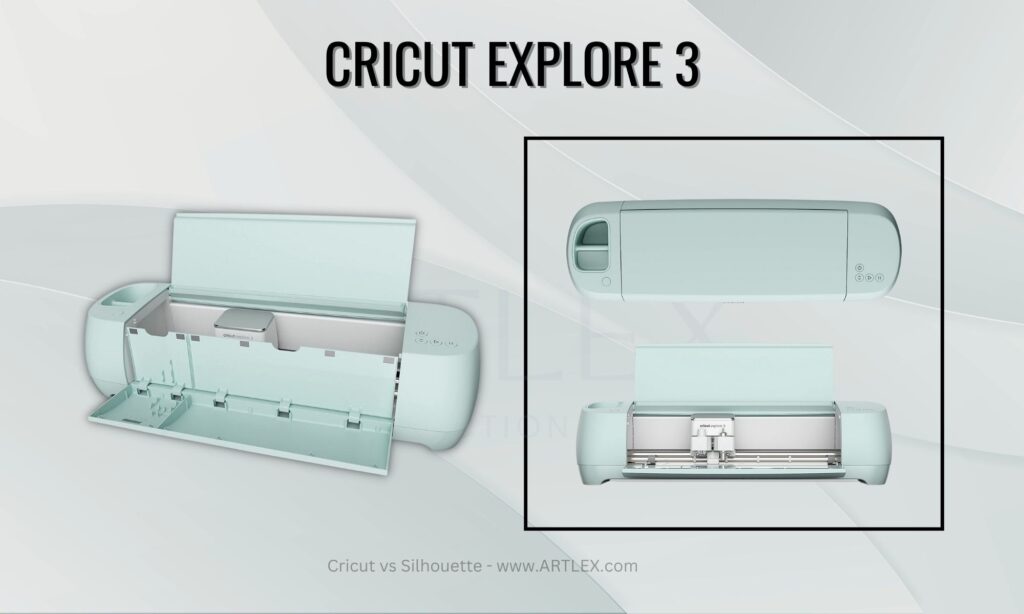 Next in line is the Cricut Explore 3, Cricut's latest addition to the Explore family. This model maintains the same material cutting limitations as the Explore Air 2 but can cut without a cutting mat up to a remarkable 12 feet in length.
The Explore 3 boasts improvements over its predecessor in speed, noise level, and precision. While it's not offered at the discounted price of the Explore 2, it's competitively priced slightly below the Maker line.
The Explorer, like its predecessor, has a dual carriage, compatible with many many tools from Cricut's store allowing users to cut and write or cut and score in one step without the need to switch tools manually. This not only makes the crafting process more efficient but also enables more complex multi-step projects
Pros:
Can cut 100+ materials including everything the Cricut Explore Air 2 can cut and more.
Faster cutting and writing speed compared to Cricut Explore Air 2.
Matless cutting capability with Smart Materials.
Cons:
Requires internet connection for designing and cutting.
Can't handle as many materials as the Maker series.
Print and cut limited to a smaller area
Winner and Loser
If we had to choose a winner between the Cricut Joy, Cricut Explore 3, and the Silhouette Portrait 3, the clear victor would be the Cricut Explore, particularly the latest model, Explore 3. While there is a noticeable price difference, the Cricut Explore 3 offers features not found in the Portrait, such as dual carriages for tools, high compatibility with various blades, and greater cutting power.
The Cricut Explore 3 is also four inches larger, and with the new Cricut 'matless' cutting feature, the limit has extended from 24 inches to 12 feet. On the other hand, the Silhouette Portrait is portable and compact, so if you're seeking a solution that's convenient to carry and use anywhere, it might be the machine for you. However, if you want a more potent machine within a reduced budget, we recommend opting for the Explore 3.
If you prioritize maximum portability and don't plan to use your machine frequently, the Portrait may be your best bet. However, it should be noted that its cutting area is rather limited and might not be ideal for tasks like sticker creation or working on larger projects, such as customizing clothing and textiles or making long-format cards.
Cricut Maker vs Silhouette Cameo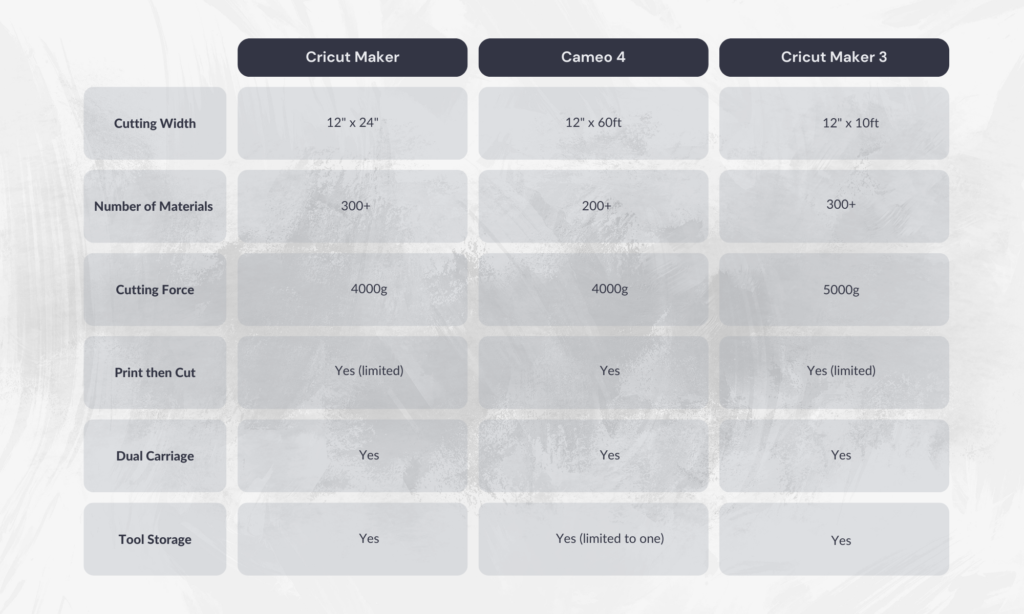 Lastly, we have the Cricut Maker machines, widely regarded as the strongest machines produced by Cricut. Their cutting capacity also maxes out at 11.5 inches in width, but they can adeptly cut an expansive range of up to 300 materials or more.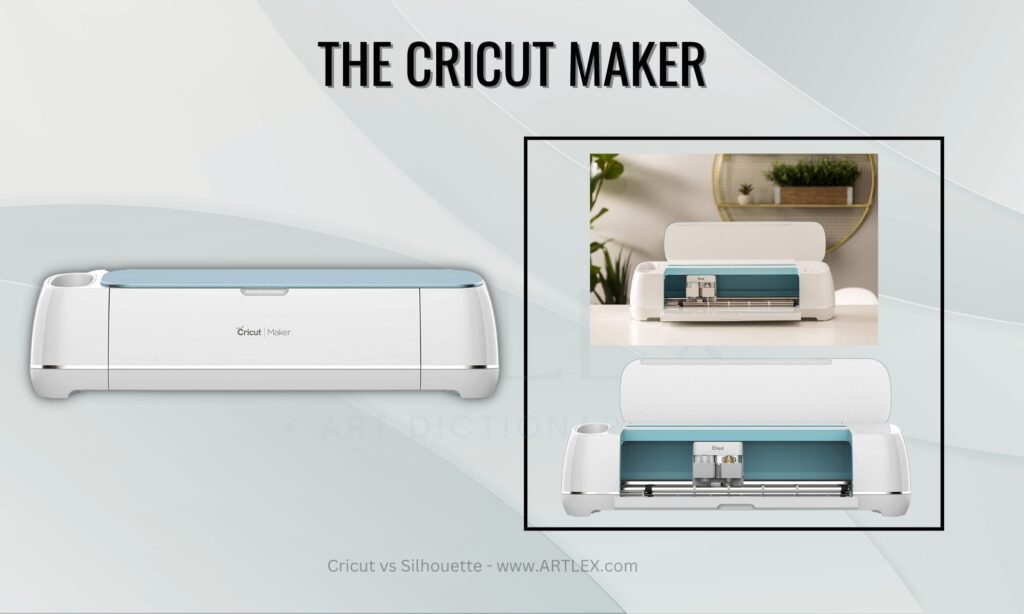 The Cricut Maker, the inaugural model in this family, shares the same cutting limitations of 11.5 inches in width and 24 inches in length as the Cricut Explore 2. A standout feature of the first-generation Cricut Maker is its ability to cut fabric using the rotary blade that comes included with the machine.
Each Cricut Maker also comes packaged with a specially-designed cutting mat for fabric lacking a backing. This machine has proven its excellence in handling a variety of materials, flexible or rigid, including foam, flannel, leather, balsa wood, heavy cardstock, and more.
This machine is still being sold by Cricut and Amazon, even though it's an older model, it works wonderfully and it still outshines Silhouette's machines in some ways, especially if we consider what comes included in the box (Rotary Blade, Fine Point Pen, Premium Fine-Point Blade, FabricGrip Mat, LightGrip Mat) versus what we'd have to buy from Silhouette after getting a Cameo 4.
Pros:
A versatile toolset allows for cutting, writing, and adding decorative effects to a wide variety of materials.
Offers the most cutting power (4 kg) in the Cricut lineup.
Allows you to work with thicker materials compared to other Cricut machines.
Cons:
More expensive compared to other Cricut machines.
Requires internet connection for designing and cutting.
The Silhouette Cameo 4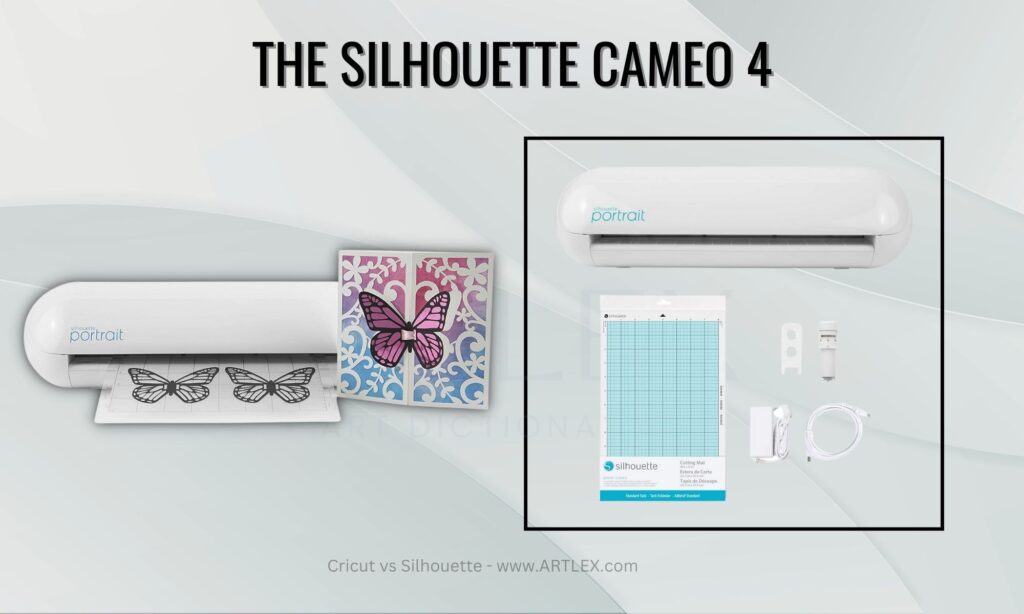 The Silhouette Cameo 4 is a robust cutting machine packed with features that can make it stand out against the competition, including the Cricut Maker, one of it's biggest strengths is its cutting size.
It accommodates materials up to 12 inches wide and 60 feet long without a cutting mat when using lined media, offering more flexibility for large projects or extended designs. It also has a built-in roll feeder (something that Cricut sells separately) for easy cutting large projects.
The Cameo 4 is also equipped with a dual carriage, which allows you to perform two tasks at once, like drawing and cutting, without needing to pause and swap out tools. Although the Cricut Maker also has the same feature, the Cameo 4's auto tool detection is a significant advantage.
This Silhouette machine has an impressive cutting force of up to 5 kilograms, which is significantly more than the Cricut Maker's 4 kilograms. This means the Cameo 4 can handle thicker materials more easily, however, it still performs the same as the Maker 3 due to firmware limitations.
So while the Cameo 4 does have some distinct advantages over the original Cricut Maker, the enhancements of the Maker 3, like the expanded material range, and user-friendly software, might tip the scales in its favor for some crafters. However, as with any tool, the "best" option largely depends on your individual needs and crafting style.
Pros:
Increased cutting force and speed compared to previous models.
Can handle a wide array of materials including cardstock, fabric, and vinyl.
Matless cutting capability.
Cons:
The learning curve for the Silhouette Studio software can be steep.
Need to buy additional tools to utilize all its features.
The Cricut Maker 3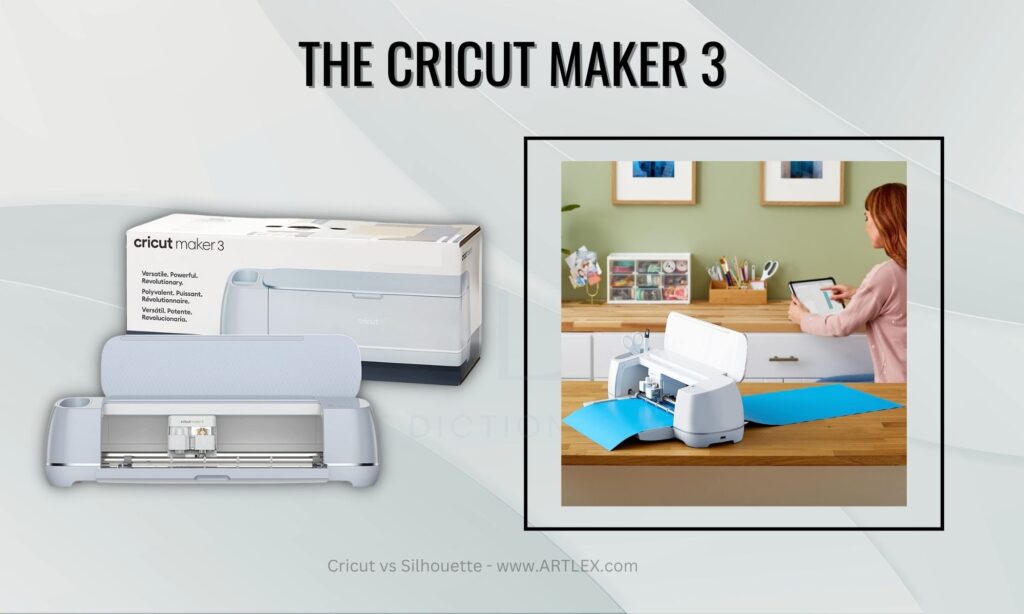 The Cricut Maker 3 is the latest machine launched by Cricut and it's unquestionably their best offering to date. This machine stands out for its quiet operation in comparison to other machines. It cuts a broad array of materials and can cut without a cutting mat, increasing its cutting length up to 12 feet.
The Maker 3 has rectified various issues that were present in previous Cricut models, such as excessive noise when cutting, Bluetooth connectivity, and some cutting problems with flexible materials.
Additionally, the Maker 3 supports a broader range of materials, with over 300 different types, including delicate fabric and thicker, tougher materials like balsa wood and leather. While the Cameo 4's cutting force is robust, the Maker 3's range of supported materials and specific tools designed for those materials make it a more versatile machine.
Lastly, the Cricut Design Space software, used by the Maker 3, is known for being very user-friendly, with a cleaner interface than Silhouette Studio, which might appeal to beginners or those who prefer a simpler design environment.
Pros:
Can cut up to 300+ materials including everything the Cricut Maker can cut and more.
Faster cutting and writing speed compared to Cricut Maker.
Matless cutting capability with Smart Materials.
Cons:
More expensive than other Cricut machines.
Print and Cut is limited
Winner and Loser
When comparing the Cricut Maker 3 and the Silhouette Cameo 4, choosing an absolute winner becomes impossible as these machines perform the same functions but in quite different ways.
If you're seeking a reliable, durable, and aesthetically pleasing machine, we recommend the Cricut Maker or the Cricut Maker 3. These machines are also perfect for beginners who are still learning how to use cutting machines or for those who have experience with design software. However, if your goal is to start a business, expand your sales, or increase production, then we recommend the Silhouette Cameo 4.
Remember that the Silhouette Cameo 4 comes in three versions: the Cameo 4, the Cameo 4 Plus, and the Cameo 4 Pro, each offering different maximum cutting widths to increase your work speed and production rate. However, they also represent a somewhat heftier investment.
While the Silhouette Cameo 4 is great for cutting vinyl stickers and paper crafts, some users have reported issues when cutting thicker materials even though this machine has a higher work power and cutting force than the Maker or Maker 3, so if your goal is to experiment with a wide variety of crafts, we recommend opting for the Maker or Maker 3.
Other Machines
Other Cricut Machines
Cricut offers a robust range of heat transfer machines, each with its unique features and capacities, catering to diverse crafting needs. They have earned their popularity due to their ease of use and the high-quality results they consistently deliver.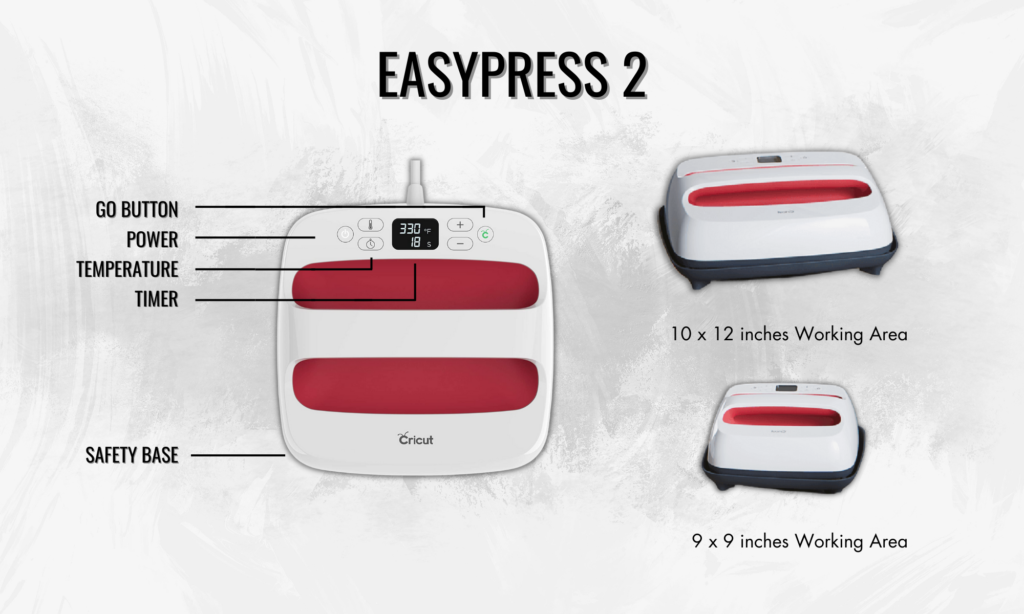 Within the EasyPress family, you'll find the EasyPress 2, available in three different sizes: 6 x 7 inches, 9 x 9 inches, and 10 x 12 inches. These machines simplify the heat transfer process, making it accessible even for beginners.
The manual adjustments for temperature and time can be easily guided by a comprehensive list provided on the Cricut website, which details the ideal settings for a wide range of materials. With the EasyPress 2, you're in control, applying and maintaining pressure for the specified duration.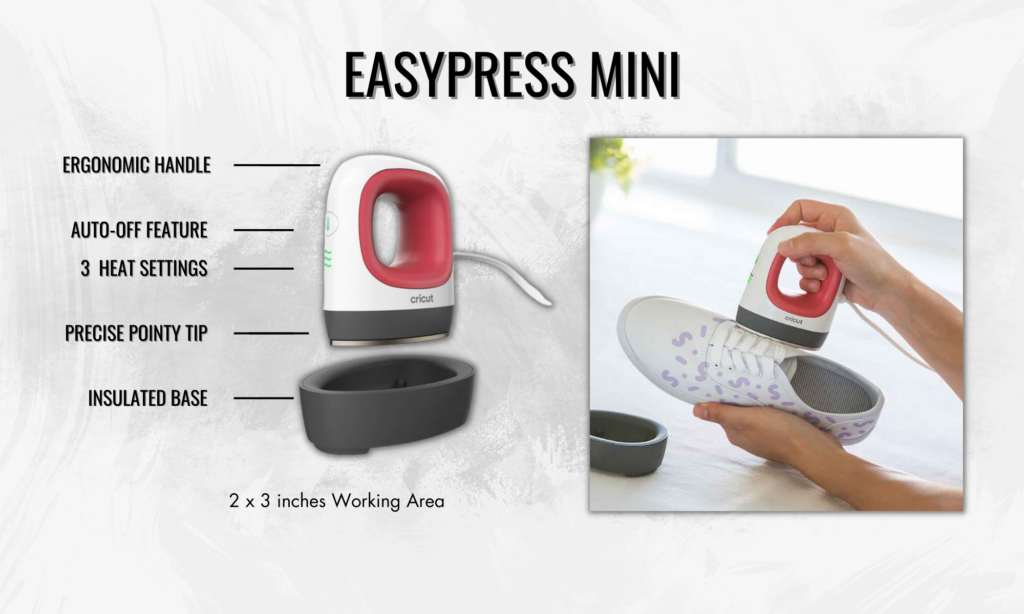 Complementing this lineup is the petite EasyPress Mini. This compact 2 x 3 inches machine is designed to reach those hard-to-access corners and spots. Its petite size doesn't compromise its capability and it is perfect for adding heat transfers to small objects like socks, small bags, and baby clothes, giving a touch of personality to everyday items.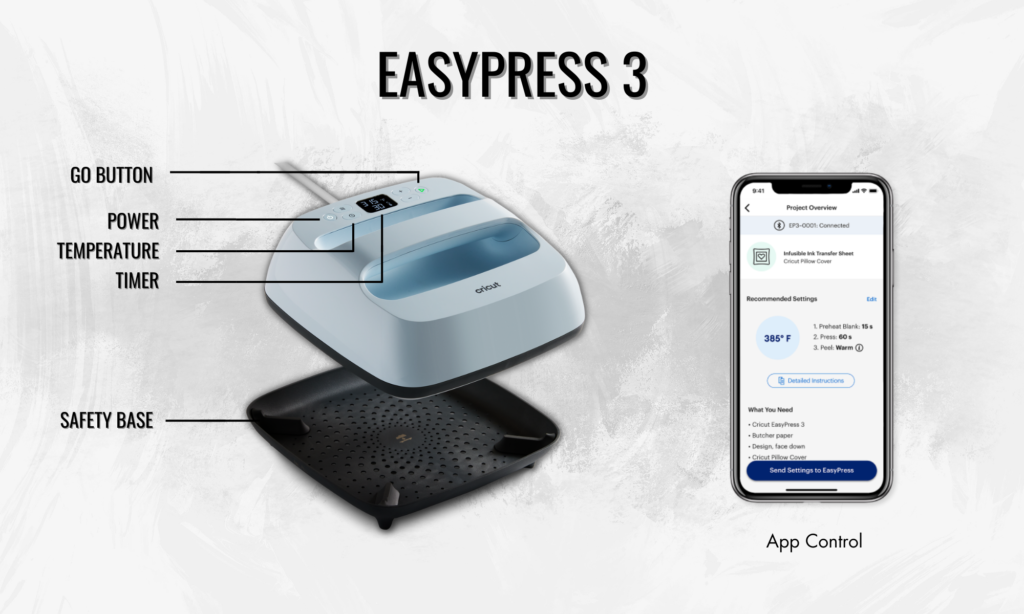 Taking a step towards automation, the EasyPress 3 represents the intelligent evolution of EasyPress 2. By using its app connected via Bluetooth, this machine automatically adjusts the temperature and calculates the pressing time based on your chosen material.
This added layer of convenience makes crafting easier and more efficient, although it's worth noting that the price point is slightly higher compared to the second generation.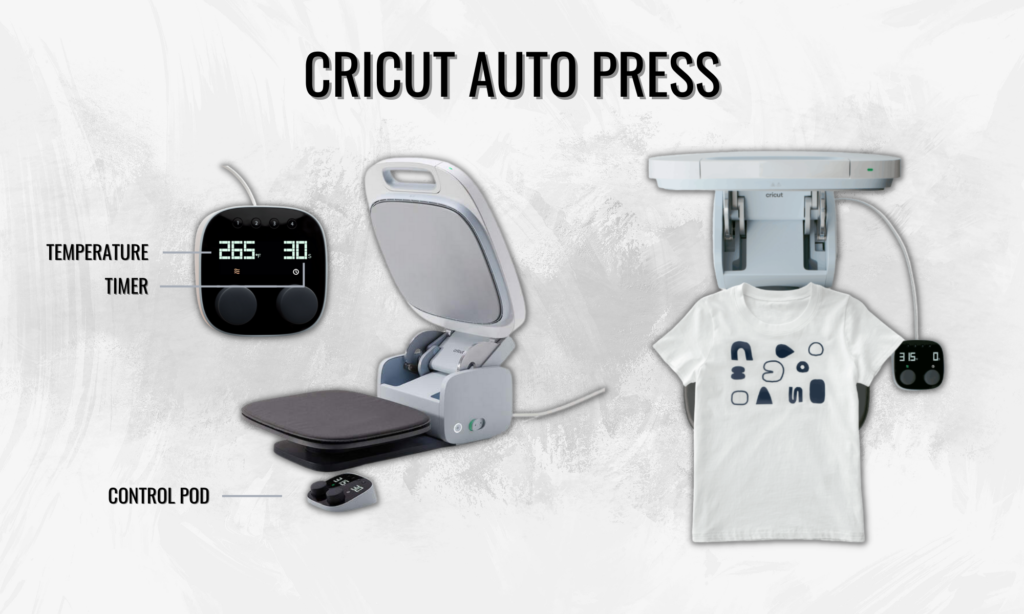 For those into serious crafting or small business owners, the Cricut AutoPress will be of interest. Specially designed for mass production and accommodating a multitude of objects, this machine works autonomously. You just set the temperature and time, and the AutoPress takes over, reducing the potential for errors and accidents in the craft workshop.
Although the AutoPress carries a higher price tag, its efficiency, and consistent results make it an investment worth considering for those engaged in volume production.
Next in line is the Cricut HatPress. This compact Cricut machine, similar in size to the EasyPress Mini, is a powerhouse when it comes to heat transfers on curved surfaces or objects like hats.
Whether you're looking to create personalized hats for a baseball team, customized caps for a company event, or simply want to add some unique flair to your own headwear, the HatPress is your go-to tool. With its compact design, it's easy to store and perfect for small working spaces or crafters on the move.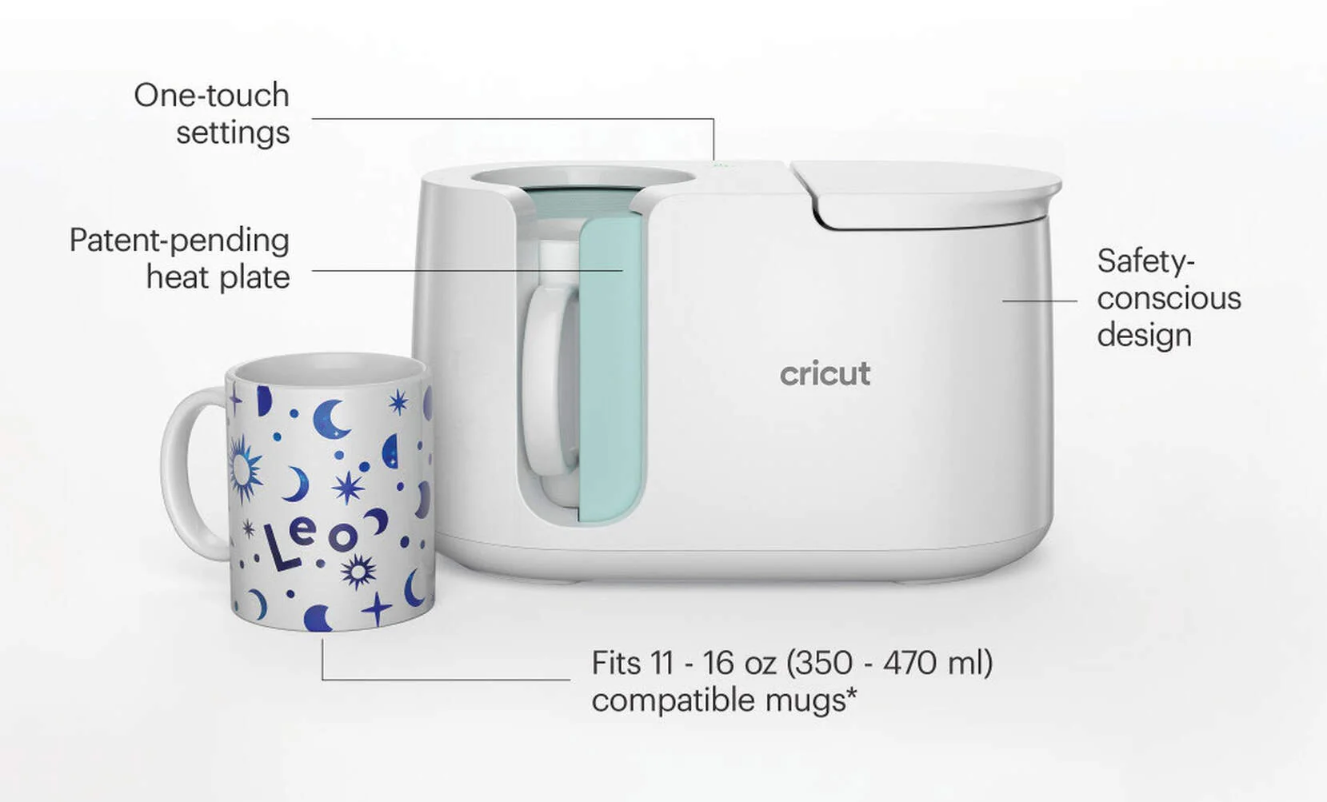 Last but not least, the Cricut MugPress serves a unique purpose – heat transfers on mugs, glasses, bottles, and other cylindrical objects. With its adjustable and automatic features, creating customized drinkware is a breeze.
The MugPress is not only automated but also adjustable to different mug sizes. Once you've set your chosen design, the MugPress takes over, ensuring the correct temperature and pressure for the optimal amount of time. This automation removes the guesswork, making the MugPress a perfect tool for both novices and expert crafters alike.
This wide array of machines embodies Cricut's commitment to making crafting accessible and enjoyable for everyone, from beginners to experienced crafters. That said, while Cricut is a highly reliable and well-regarded brand that consistently delivers excellent results, it may not be the optimal choice for all scenarios, particularly for large-scale production or advanced crafting tasks.
Oher Silhouette Machines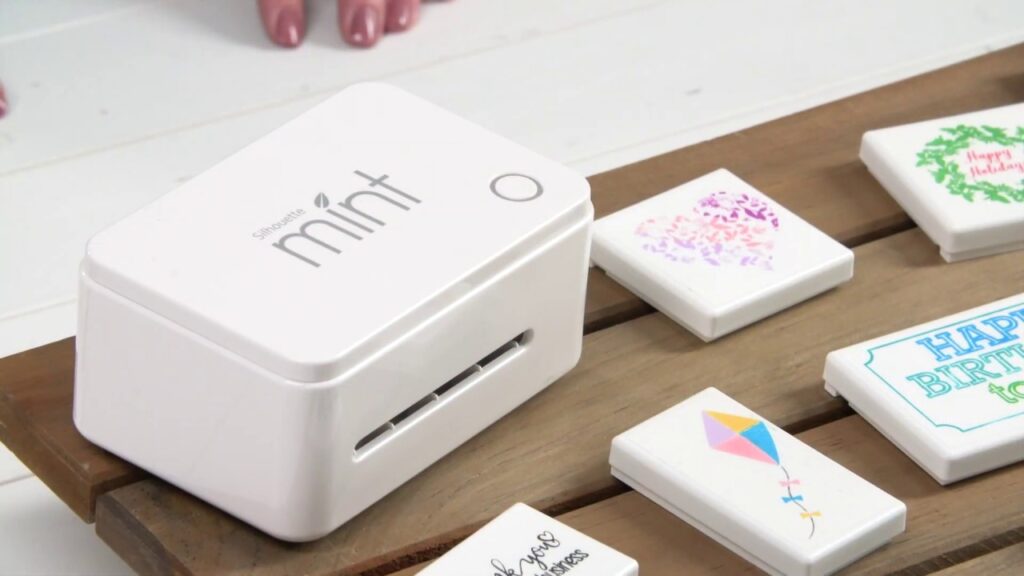 The Silhouette Mint is a small "stamp maker" that provides you with the ability to create your own custom stamps, unlike traditional stamping systems; it allows you to design your own stamps from your computer.
With the Mint, you can turn designs into beautifully detailed, reusable stamps. It utilizes a special thermal printing technology where you can "etch" 3D reliefs of your custom designs on Mint's stamp sheets. You could convert text, drawings, photos, or other images into stamps.
However, it's worth noting that the Silhouette Mint is designed specifically for stamp creation and doesn't possess the cutting capabilities of other Silhouette machines like the Cameo or Portrait. Despite this, the Mint offers a great way to personalize stationery, scrapbooks, business cards, and more.
The Silhouette Alta Plus is a 3D printer designed specifically for the crafting community, the Alta Plus infuses the world of 3D printing with the charm of home crafting. This device enables users to design and bring to life a variety of custom objects, such as intricate pieces of jewelry, ornaments, tailored parts for various projects, molds, and even personalized toys.
What complements the hardware of the Alta Plus is the Silhouette 3D software. This software offers an intuitive interface for designing 3D models, enabling both the import and modification of existing 3D designs or the creation of entirely new ones from scratch.
Although this machine is quite large, we must say that the printing size is limited compared to other 3D printers in the market, however, this machine is extremely easy to use, being basically a plug-and-go, compared to other more complex and larger machines.
Cricut VS Silhouette: Software Edition
Silhouette Design Studio Software
One of the main reasons why Silhouette stands out as a favorite brand among professional artists and business owners is its robust software, Silhouette Studio. While it might seem daunting initially due to its numerous features and functions, it provides certain features and upgrades that can't be found in Cricut's Design Space.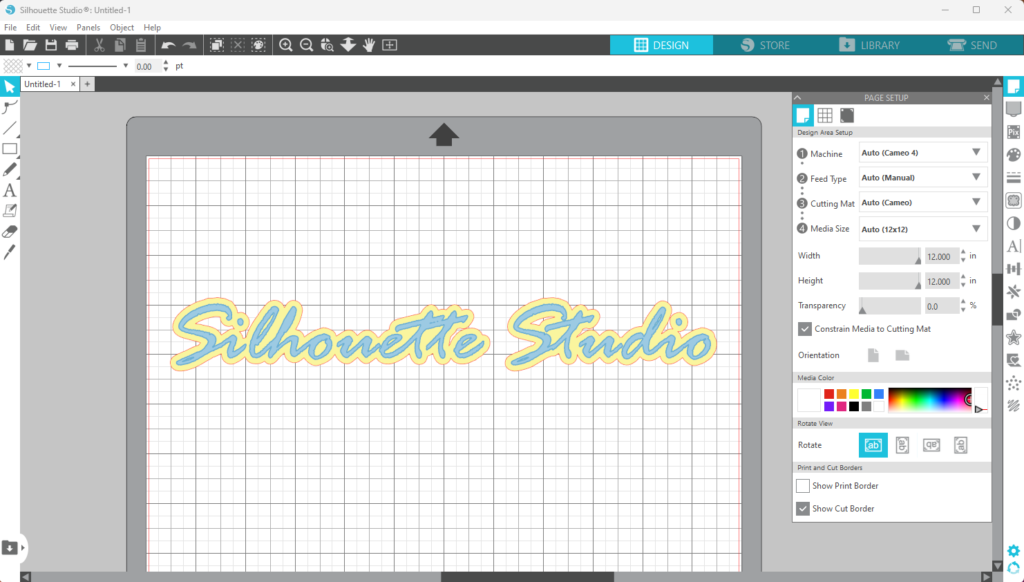 Silhouette Studio presents a distinctly different interface compared to Cricut's software. It's more technical and doesn't provide as much hand-holding during the project creation process. However, this very aspect is what gives you more control over your crafting projects. Once you familiarize yourself with the software, you'll find that it offers an expansive toolkit for your crafting needs.
The advanced features of Silhouette Studio allow you to control your machine's functions more precisely. You can adjust the tools you use and the blade pressure to suit your specific needs.
An extra layer of "design" is added to your crafting experience as well, as the software enables you to create your own designs, and export them in various formats including your own images, PNG, PDF, and SVG files, allowing you to use your designs with other software, other machines, share them online, or store them locally on your hard drive.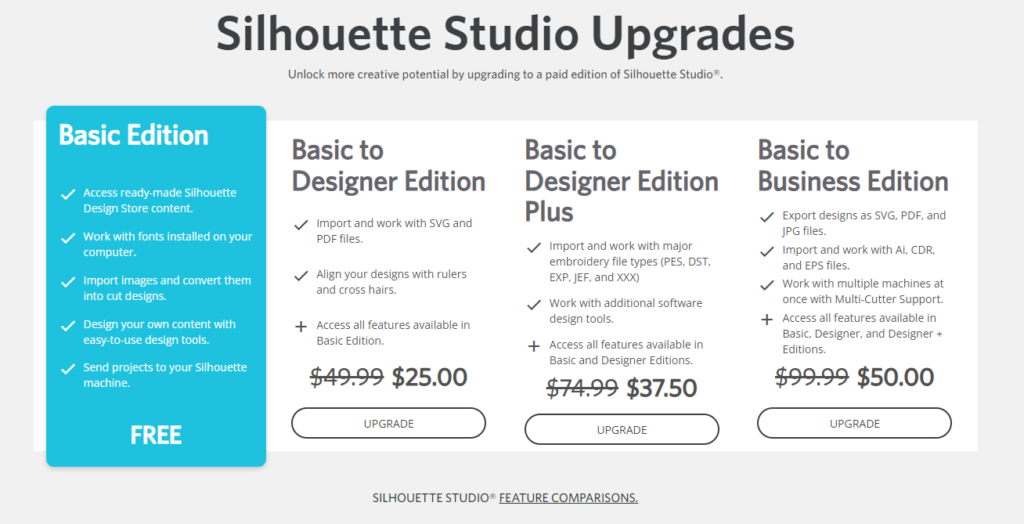 It's important to note, however, that while Silhouette Studio offers a broad range of exciting features, these are tiered based on a licensing system. The basic version of the software is free, but to unlock more advanced features, you need to upgrade your license for a fee.
Therefore, while Silhouette Studio provides a high degree of control and versatility, it does require an investment if you want to take full advantage of its capabilities. But for many crafters and professionals, the depth of control and the potential for creative expression offered by the software make this investment worthwhile.
Cricut Design Space
Cricut design space is Cricut cutting machines' software. Despite the term "design" in its name, the software leans more towards the implementation of existing designs rather than the creation of new ones.
This approach stems from the intent behind the software's creation. Cricut, as a pioneer in bringing personal cutting machines to home crafters and DIY enthusiasts, intended to make the software as easy to use as possible.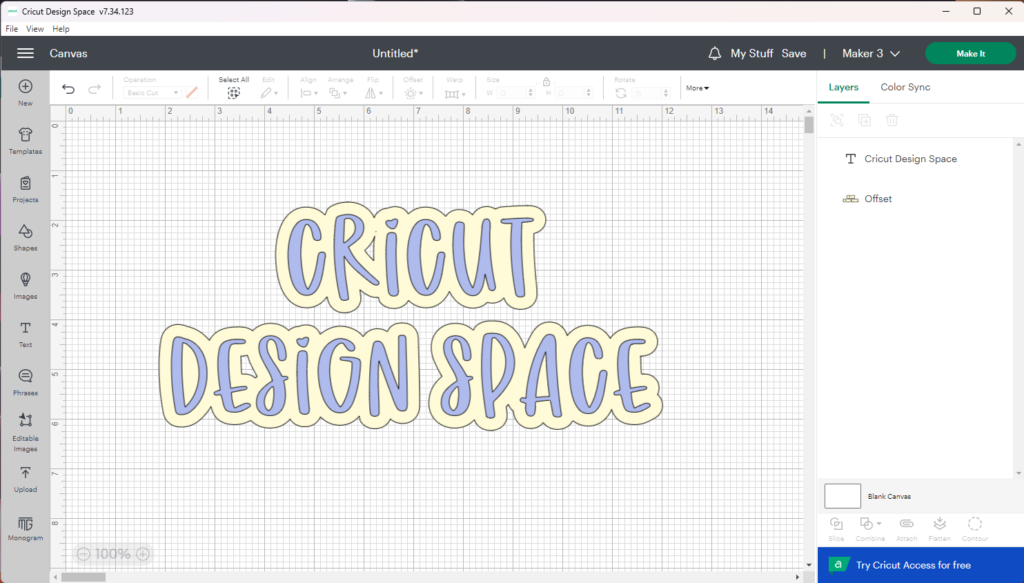 The interface of Cricut Design Space is user-friendly and highly intuitive, guiding users throughout the whole crafting process. For first-time cutting machine users, this software significantly reduces the amount of guesswork and exploration needed to complete their designs.
However, as users gain more experience and seek more control over their cuts or strive to handle more complex projects, they might find the capabilities of Design Space somewhat restrictive.
If you're already comfortable with using other design software like Adobe Photoshop, Illustrator, Inkscape, or Gimp, the absence of advanced design features in Cricut Design Space might not pose a problem. However, if you're a business owner who relies on the consistency, speed, and quality of your products, or if you're looking to minimize limitations regarding the cutting area and optimize material usage, then Cricut's Design Space might not meet your needs fully.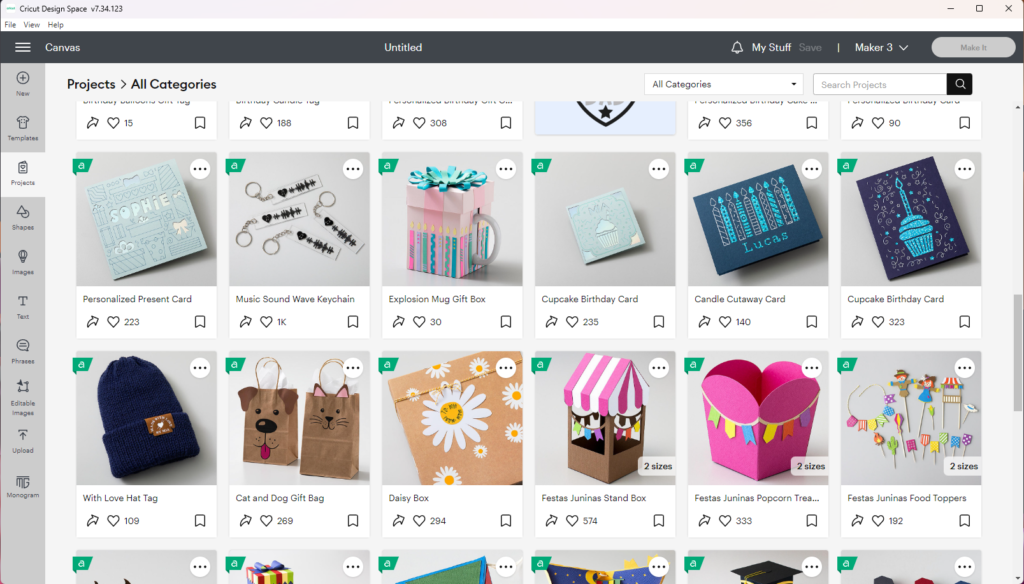 Cricut also offers a subscription-based program known as Cricut Access. This paid service unlocks additional features within the software, including the creation of custom shapes and automatic background removal for certain images.
However, the most notable benefit of Cricut Access is the access it provides to an extensive library of ready-to-make projects. These projects come with step-by-step instructions and materials lists, making it easier for users to start crafting. Moreover, Cricut Access subscribers also gain access to thousands of images, designs, and fonts with different prices and commercial licenses for a monthly fee of $9.99.
Winner and Loser
Between the software of Cricut and Silhouette, Silhouette Studio emerges as the winner, due to its robust features that add an extra degree of control and customization to cuts, this software, in combination with the machine, forms a perfect duo.
By upgrading your license to a paid one, such as the business license, you'll unlock many other options for various projects and crafts like embroidery, sewing, and the ability to save, convert, and export your designs and projects to use with other machines.
Although Silhouette's software only works with Silhouette machines, the designs can be used with other software in the correct format. Therefore, if you're looking to buy a machine based solely on software, know that you can use Silhouette's software for your designs on Cricut, or you can use third-party software.
Cricut Design Space is a very easy-to-use program that guides you through each project, removing the hassle of learning or understanding how every aspect of your machine works. This is great if this is your first time using this type of machine or software. However, if you have experience or desire more control, it can be limiting in the long run.
If you already use other software for your designs and handle vectorization programs and only need a platform to carry out your cuts and projects, then Cricut Design Space will be perfect for you.
Cricut VS Silhouette: Tools and Blades Analysis
Both Cricut and Silhouette machines can do more than just cut. With the proper tools, you can open the doors to a completely new world of crafts and projects, going from cutting fabric accurately to engraving, cutting wood, or even transferring foil to add that special touch to your crafts.
But which blades are good for what? Are all the tools made for the same machines? What makes a difference?
Auto Blade vs Fine Point Blade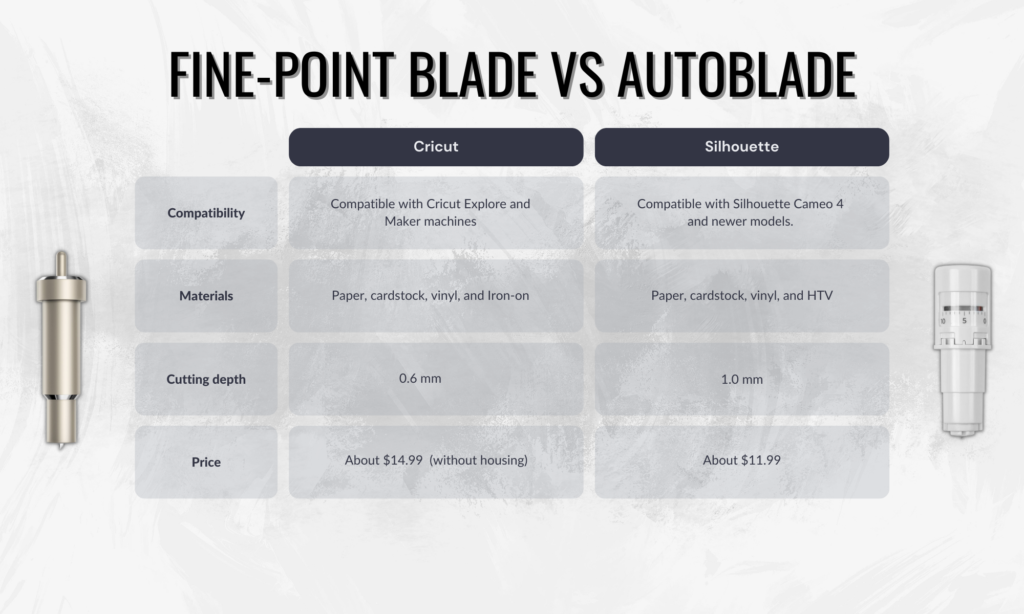 Silhouette's auto blade is an adjustable blade that detects the material depth before the cut and auto-adjusts with each cut it makes, also according to the software configuration and type or intensity of cut.
This blade is made of plastic and it has a cutting depth limit of 1mm like the fine-point blade. Something we must mention is that since this blade is auto-adjustable, it made quite a lot of noise in each cut, which doesn't happen with the fine-point blade from Cricut.
Cricut includes in all of their machines the famous fine point blade, which is great for most materials and cuts, it comes pre-installed in the machine and it's quite solid and resistant, however, even though it cuts through a lot of materials, it's not ideal for thicker or flexible materials like fabric, foam or cork.
This blade comes with its own housing, which is made of metal. It's incredibly durable and you can easily change the blade without having to change the housing. The metallic body makes it more resistant compared to Silhouette Cameo's Auto Blade which is made of plastic.
The Rotary Blade (From Silhouette and Cricut)
One recurring problem that plagued both Cricut and Silhouette machines was their disappointing performance when it came to cutting fabric. Considering that sewing, quilting, and fabric crafting are integral to the crafting community, this issue needed to be addressed. Both brands attempted to develop a blade that could effectively handle fabric.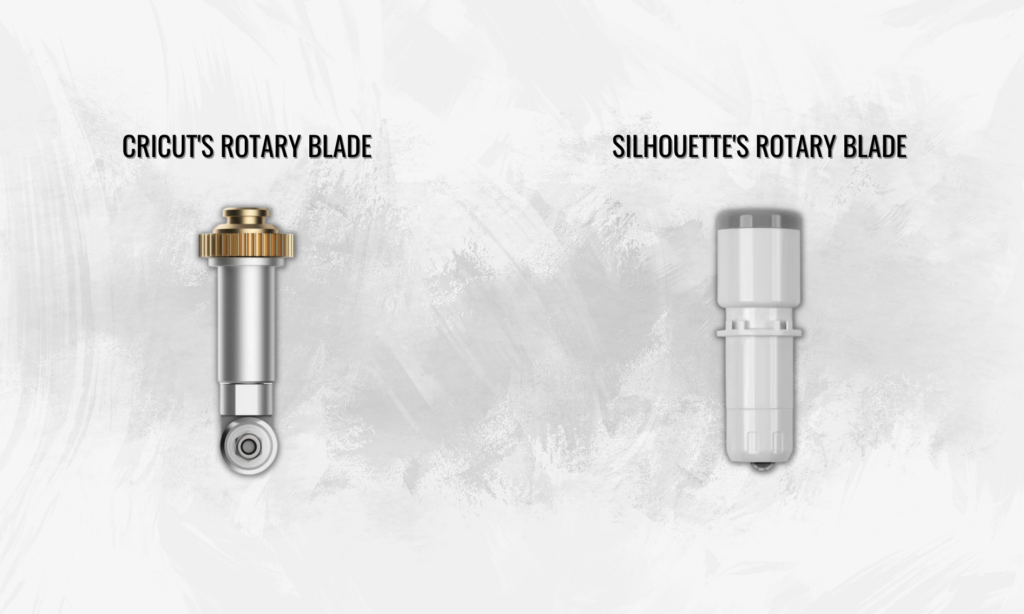 The answer came in the form of the Rotary Blade, a specialized tool designed specifically for fabric and flexible materials. This blade revolutionized fabric cutting as it eliminated the need for bonding or any other stabilizer, typically used to prevent fraying and maintain fabric integrity during the cutting process.
The Rotary Blade is capable of making precise, clean cuts through various fabrics, greatly enhancing the crafting experience for sewing, quilting, and fabric enthusiasts. This breakthrough demonstrates both brands' commitment to continuous improvement and catering to the diverse needs of the crafting community.
Both blades fulfill the same functions, there is not that much of a difference between them but the material they're built from (plastic vs metal) and the way they cut are completely different. While Cricut lifts and rotates its blade, Silhouette traces an additional path outside in order to get the right angle for the cut, creating multiple cuts in the negative space outside of the cut area.
These blades have prices significantly different, while the Cricut one is about $45, Silhouette´s is $20, which can seem like a significant difference, however, since Cricut's rotary blade is made of metal, you can replace the blade in your Cricut rotary blade housing for $15 multiple times while you'd have to get a whole new blade each time with Silhouette.
Kraft Blade vs Knife Blade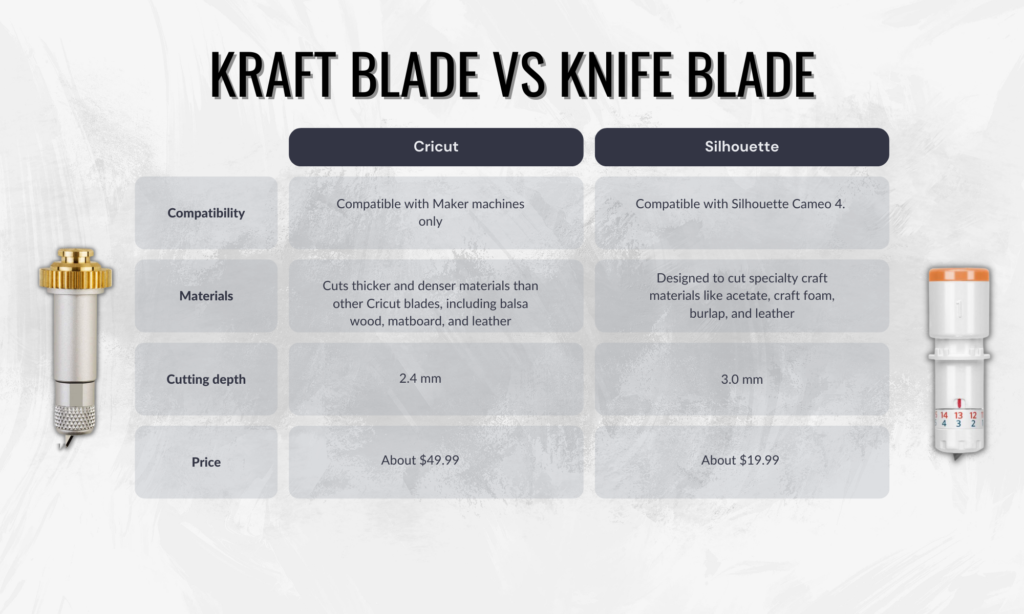 The Kraft Blade is a blade available for the Cricut Maker machine. The Kraft Blade is designed to cut materials like crepe paper, craft foam, and light balsa wood, among other materials. It's an excellent tool for those who are into more intricate crafting projects and need a blade that can handle a variety of materials with precision. This blade, like others from Silhouette, is made from plastic and although it has a 3mm cutting depth, it doesn't give the most consistent results according to many crafters.
The Knife Blade is also exclusive to the Cricut Maker. It's designed to cut through thicker and denser materials, like balsa wood, matboard, and heavy leather. The Knife Blade can cut up to 3/32" thick materials, making it ideal for more heavy-duty projects. This blade is a fantastic tool for those into woodworking, leatherworking, or any craft that involves cutting through thicker materials.
Winner and Loser
When deciding between the best blades or tools from Silhouette and Cricut, Cricut is the obvious winner. Firstly, their blades are made of a more resistant and durable material, allowing only the blade to be replaced. Coupled with the right knowledge about third-party cutting blades, you can expand the customization range of your machine and save quite a bit on blades.
Cricut not only has better blades but also a superior cutting patent, ensuring precise cuts without cutting more material than necessary. They also offer a wider variety of tools than Silhouette, enabling actions like piercing, embossing, debossing, engraving, and foil transferring.
Silhouette blades, while decent, are not the best. Their plastic body makes them wear out quicker, and they are not easy to replace without changing the entire housing. Although these blades have several positive aspects, they have been reported to struggle with cutting thicker or non-standard materials (vinyl, heat transfer, paper, cardboard, sticker, etc.).
One system that stands out in Silhouette is the adapter system for other tools, allowing you to exchange them with older model tools or third-party tools. This is something Cricut lacks as it insists on the machine being used solely with Cricut tools.
TLDR: Cricut vs Silhouette
Cricut, the good:
Trusted brand
Great customer support
Very beginner friendly
Lots of tools
Very quiet
Lots of resources and tutorials
Oriented towards item customization
Great connectivity
Solid metallic build, metallic blades, and housings
Cricut, the bad:
Limited Software
Matless cutting only with smart materials
On the expensive side
Limited blade calibration and settings
Glitchy software
Not great for stickers
Silhouette, the good:
Great software, very powerful
Affordable price point
Higher cutting speed
Cutting width up to 24 inches
Highly customizable software
Amazing for stickers
The adapter system lets you use third-party tools
Oriented towards mass production and business use
Matless Cutting
Silhouette, the bad:
Not beginner friendly
Not that many resources and projects
Very loud
Plastic build, plastic blades
Not that many tools
Not great for deep cuts despite its superior cutting force
Not great customer service
Conclusions
In conclusion, the choice between Cricut and Silhouette ultimately depends on your individual crafting needs and preferences. Cricut machines, specifically the Cricut Maker 3, excel in usability, material diversity, and customer support. They are generally more beginner-friendly and offer quality cutting experiences.
On the other hand, Silhouette machines, notably the Cameo 4, are known for their advanced software, cutting force, and flexibility in design. They may be more suitable for more experienced crafters or those who desire more control and complexity in their design process.
Both Cricut and Silhouette offer excellent machines with their own strengths and weaknesses. The key to choosing the best cutting machine for you is to understand your needs, your crafting goals, and your budget. No matter which brand or model you choose, remember that creativity, patience, and passion are the most crucial elements in any craft project.
Happy crafting!