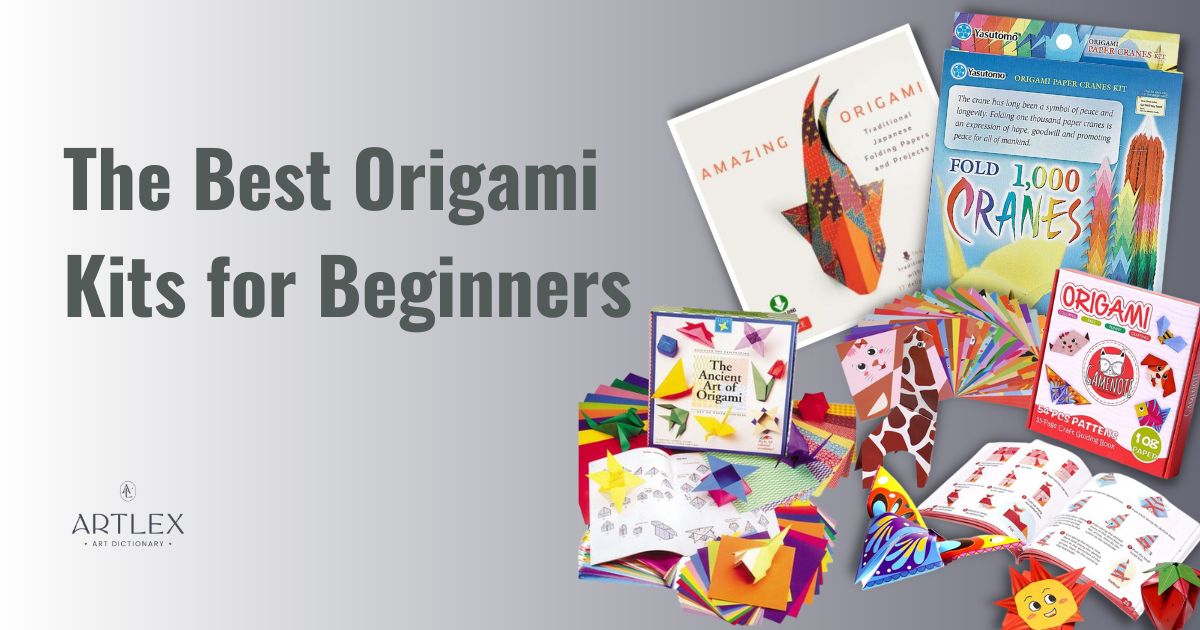 The Japanese art of origami is essentially the art of paper folding. While some beginners may believe learning different folding techniques are straightforward, it does take some skill to understand the images that come with the origami book. Each origami project takes practice to master but is well worth the time and patience once the finished projects are complete and is a great pastime for the whole family.
Before purchasing your first kit, some criteria to check for are that the kits come with clear instructions, whether Japanese print designs or patterned papers are included, and the total number of solid colors and printed paper that come in the kit. Note that origami papers should not require scissors, tape, or any other tool to complete the forms. This craft simply requires artists to fold the paper to create different shapes.
Fun fact: Origami or "ori kami" means "folding paper" in Japanese and origami cranes are the most popular form.
Origami kits should always come with a booklet, and reading our short guide below will help first-timers understand what each symbol means. Some beginners watch tutorial videos to help create more complex forms and understand some folds. Even though some kits come with stickers and a storage bag, these are added extras that aren't necessary to complete origami projects.
Read below to get a better grasp of some symbols you'll find included in the booklet. Symbols include lines and pictures of each step. Note that the symbols will not appear on the paper so don't look for a dotted line, arrows, or circles on the paper itself.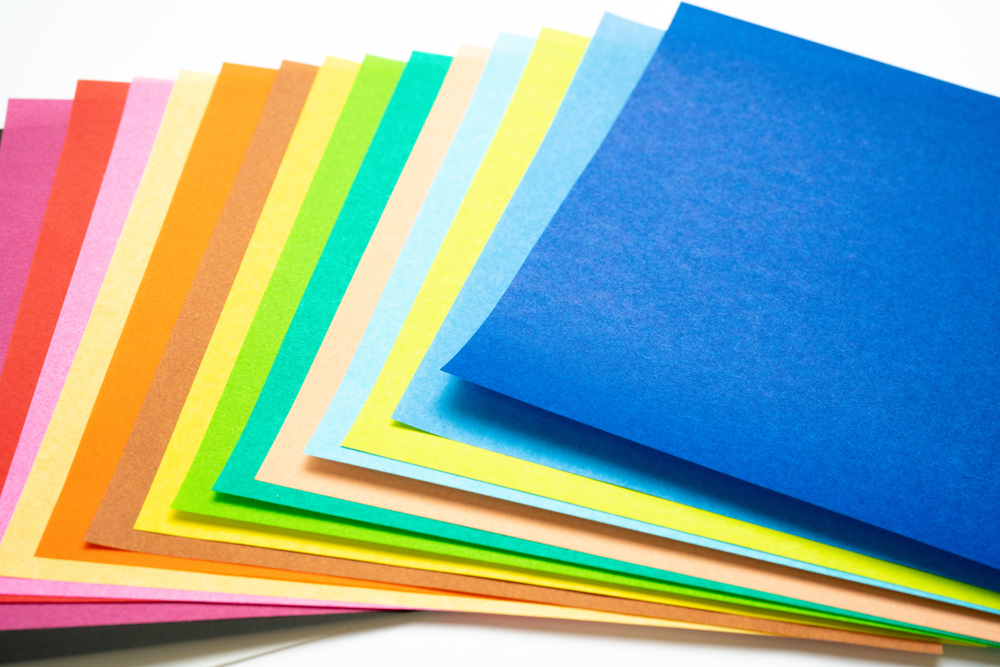 Paper Folding
Before attempting to begin folding origami papers, it's imperative to understand some of the more complex illustrations that will come with the instruction book. Younger children and adults alike will find learning the symbols used in the basic diagrams will have an easier time creating fun projects.
Absolute beginners might find it easier to start with solid colored sheets as patterns may confuse them. Below you'll find several terms and their diagrams.
A valley fold is a dotted line and simply means the paper must be folded in the direction noted in the diagram. A mountain fold is a dotted line with a period between each line.
There are more than a dozen symbols that can be found in the video below:
Understanding the fundamentals which will make life easier for absolute beginners to read the diagrams for each form. For example, understanding where to hold a piece of paper to secure it before beginning the next fold can make or break a form.
Some traditional animal symbols include the crane, which is a symbol of health and long life. They can also represent happiness and luck so being gifted a crane is a big honor in Japanese culture. Fish are another symbol of health, happiness, and prosperity. A rabbit, similar to many other cultures represents fertility. Frogs mean good fortune and a butterfly portrays a coming of age for girls to mature and become autonomous.
1. Best Origami Kit for Beginners Overall – KOOL KRAFTS Origami Paper Kit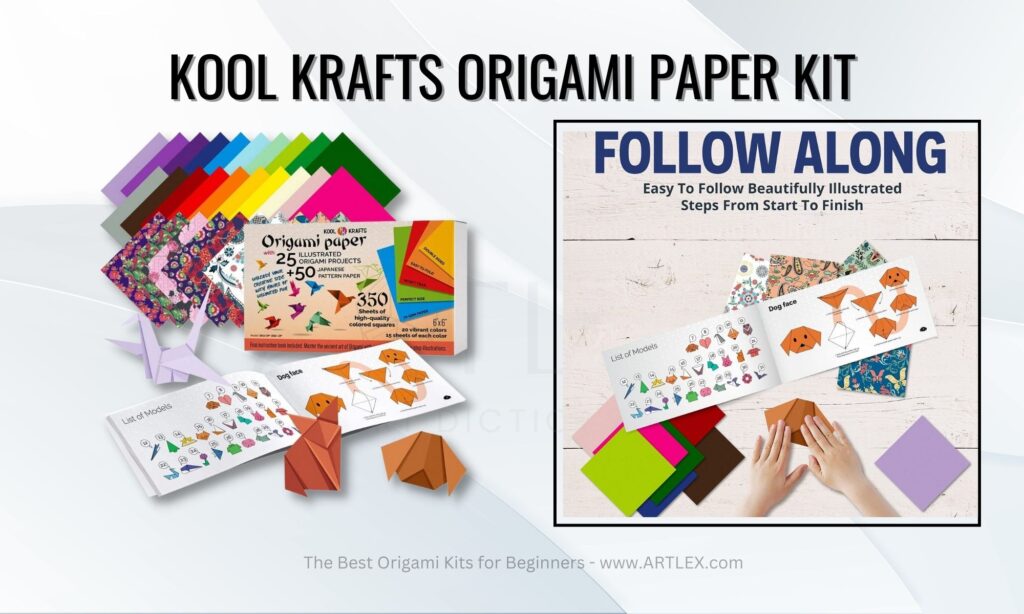 Selection Criteria
Price – ~$14.49 – Our score: 9/10
Instructions included – Yes – Our score: 9/10
Traditional origami papers – Yes – Our score: 9/10
Total papers included – 350 – Our score: 9/10
About Kool Krafts Origami Kit
This KOOL KRAFTS kit is one of the best origami kits for children or adults wanting to learn origami. This good-quality kit includes traditional Japanese folding papers, step-by-step instructions, and 300 origami sheets of paper to complete hundreds of origami projects.
The 50 Japanese patterns of folding paper include flowers and abstract prints with bold and colorful designs. This great kit is one of the easiest ways to learn origami and is very beginner-friendly. Origami projects are a fun way to pass the time with kids and learn a new skill at the same time.
Pros
Can complete over 300 different projects
Instructions include dogs, cranes, hearts, penguins, and other projects
All sheets are made from high-quality paper
Cons
Both sides of all papers are printed whereas traditional papers are one-sided
2. Best Japanese Origami Kit – Aitoh Ancient Art of Origami Kit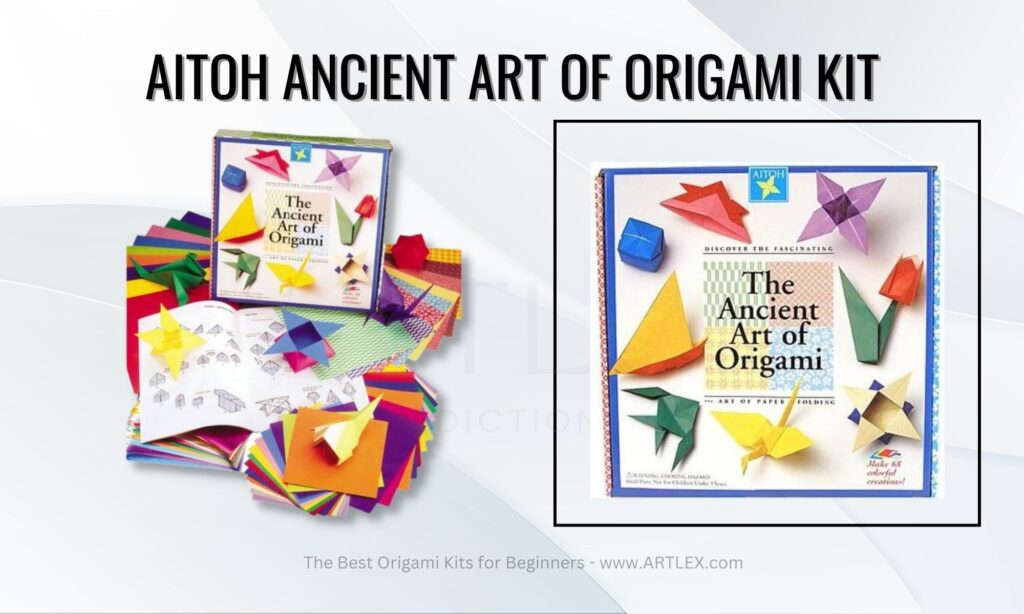 Selection Criteria
Price – ~$14.99 – Our score: 7/10
Instructions included – Yes – Our score: 8/10
Traditional origami papers – Yes – Our score: 8/10
Total papers included – 68 – Our score: 7/10
About the Aitoh Ancient Art of Origami Kit
Adults or children who want to learn the more traditional craft of making origami projects will like this Aitoh kit. Each project comes with step-by-step instructions making folding fun and easy even for younger crafters.
No two sheets of patterned paper are the same and include foiled and brightly colored patterns. Some craft projects include a sailboat, piano, traditional cranes, or flowers. The sheets and booklet come in a nice box that is perfect for gift giving for beginner or experienced origami artists.
Pros
Papers fold easily
The 23-page book includes dozens of projects
Enough paper included for younger kids to practice folding
Cons
Younger children may need help understanding designs
3. Best Traditional Origami Kit – Amazing Origami Kit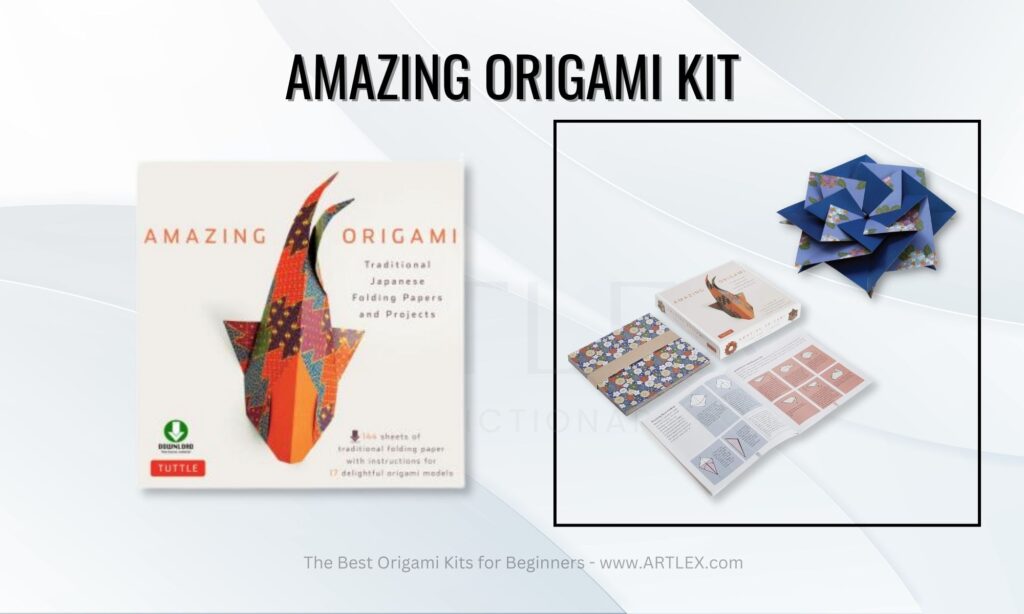 Selection Criteria
Price – ~$8.49 – Our score: 8/10
Instructions included – Yes – Our score: 9/10
Traditional origami papers – Yes – Our score: 9/10
Total papers included – 144 – Our score: 8/10
About the Amazing Origami Kit
Traditionalists that would like to learn the art of origami will like this kit from Amazing Origami. The paper has dozens of traditional patterns on it and some even with gold detailing. The booklet includes instructions for all levels to learn origami for kids and adult beginners alike.
The folds are simple and easy to follow with directions to complete 17 projects included with this kit. Each piece of high-quality paper has double-sided bright colors and comes in metallic, semi-gloss, gloss, or waxy finishes.
Pros
Durable box to hold the books and papers
Directions are fairly easy to follow for most adults and include an image of the finished project
Enough projects for beginners to more advanced origami artists
Includes enough paper to master origami folding
Cons
Paper may omit a strong ink odor for some
Directions might not be so clear for young children to follow
4. Best Origami Kit for Kids – Gamenote Colorful Kids Origami
Selection Criteria
Price – ~$13.99 (Was $27.99) – Our score: 8/10
Instructions included – Yes – Our score: 7/10
Traditional origami papers – Yes – Our score: 9/10
Total papers included – 118 – Our score: 8/10
About the Gamenote Colorful Kits Origami Kit
One of the best origami for kids kits, this Gamenote kit includes 118 papers for various origami projects. The detailed 55-page instructional booklet that comes with this colorful kids origami kit has easy-to-follow pictures to create dozens of origami projects.
A complete beginners kit, this Gamenote origami kit would make a great gift for kids who like art or learning a new craft. While the first few pages of the instruction book are easy enough for younger kids to follow, the middle to end of the booklet is more for older children or teens.
Pros
Full origami kit for children to make over 100 projects
Many fun projects included such as animals, flowers, and even a car and spaceship
Printed paper really brings the projects to life
Cons
A few projects in the booklet are poorly translated and may require video tutorials to complete
5. Best Origami Crafts Kit – Yasutomo 1,000 Cranes Origami Paper Kit
Selection Criteria
Price – ~$16.49 (Was $20.50) – Our score: 8/10
Instructions included – Yes – Our score: 8/10
Traditional origami papers – No – Our score: 7/10
Total papers included – 1,020 – Our score: 9/10
Yasutomo 1,000 Cranes Origami Paper Kit
Cranes are said to live for one thousand years in Japanese lore and being gifted a crane is a way of wishing long life and happiness on the person. This Yasutomo origami paper kit has enough paper to fold more than one thousand cranes with string and beads to hang them somewhere all year round for guests and the entire family to enjoy.
Each crane can be strung together once the form is complete for a beautiful and simple senbazuru, or 1,000 hanging paper cranes. Some users set a specific number of cranes to fold each day which can be meditative and calming, especially for kids in school or adults with high-stress lives. The beauty of this kit is that it allows beginners to learn how to make just one simple form and at the same time understand the design folds.
Pros
Traditional senbazuru origami kit
Includes 18 vibrant colors
Excellent project to complete with a school class or for the entire family to complete together
This would also be an excellent gift for a wedding for those who understand the crane's meaning
Cons
The papers are small and require a needle to fold properly, which isn't included with the kit
Conclusion
We hope you found our guide to the best origami kits helpful. We've covered the different types of beginners kit available along with our recommendations in various contexts.
We've discussed how you can choose the best origami kits from different companies like Colorful Kids Origami Kit or Amazing Origami from Tuttle Publishing with different rich and colorful paper patterns that can be gifted or hung up. Lastly, we've combined our recommendations for those origami kits with enough paper for beginners to fully master folding techniques before purchasing additional paper.
Thanks for reading; we hope our suggestions help you choose the best origami kit for your next crafting project.