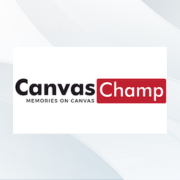 Wide selection, great picture quality, user-friendly design tool, customizable with art.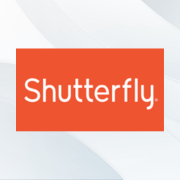 Good premade borders, easy-to-use design interface, regular promotions, multiple material options.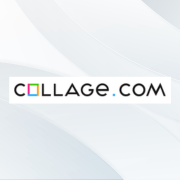 Good premade borders, easy-to-use design interface, regular promotions, multiple material options.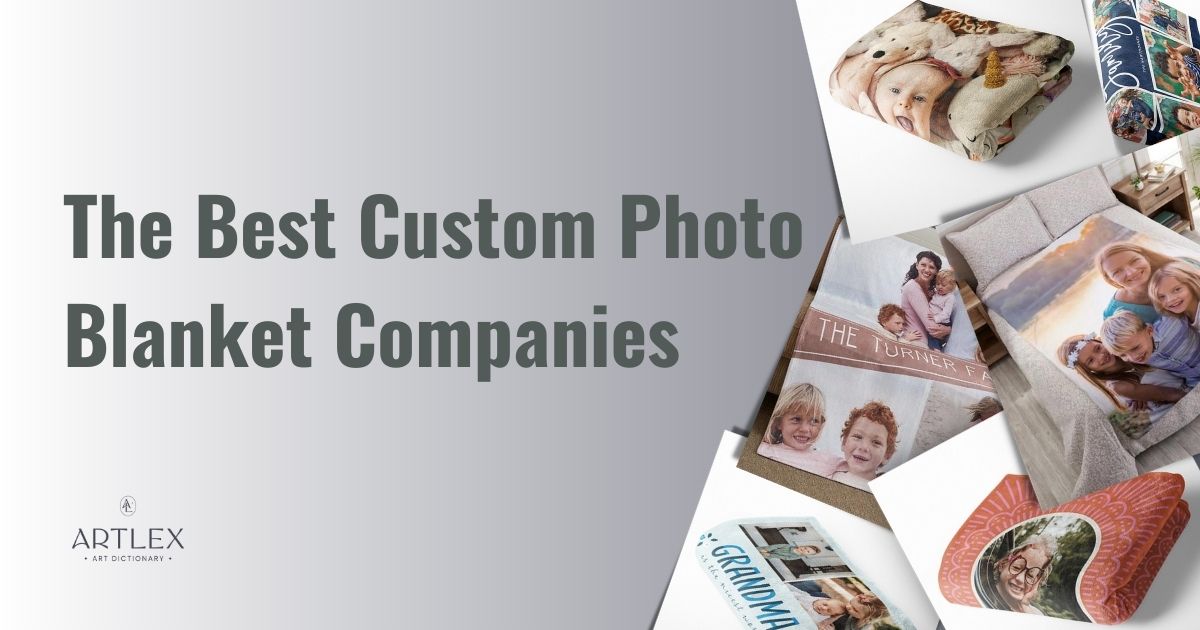 Blankets are the warm friends that keep us cozy throughout our days and comfort us at night. Companies have noticed how useful they can be as a space for people to express themselves by making the best custom photo blankets featuring loved ones and personal moments.
They are the perfect way to take these memories with you and keep them close in a comforting manner. The amount of customization available is overwhelming – from shape, size, and material. If you think of it, you can create it.
I have compiled a list of some of the best photo blanket companies I tested and broke them down based on several criteria.
When looking to jump into making your own photo blanket, I found there is no shortage of options. Read on to find out what things to keep in mind when finding a company that will create a great product that is true to your vision and needs.
How to Choose the Company with the Best Custom Photo Blankets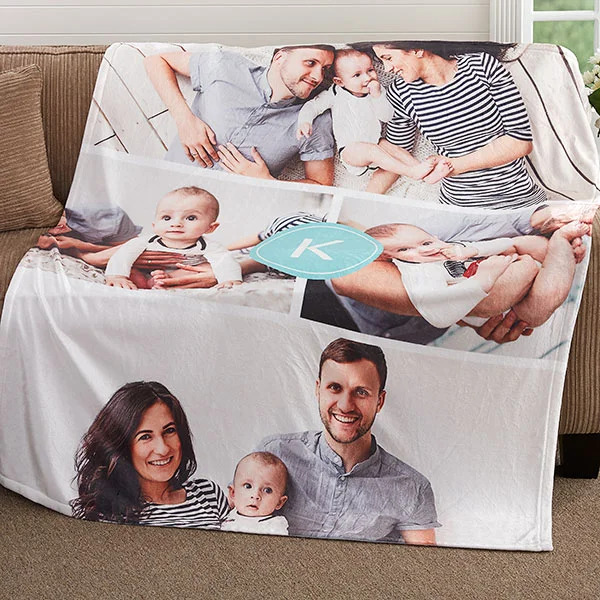 A cozy enjoyer looking to upgrade their blankets into custom masterpieces will want to consider a few things when trying to find the right company for designing a custom photo blanket.
You will want to think about what size and material you want the blanket to be, as some companies limit your ability to choose between these. You will also want to think about longevity and convenience, such as if the final product will be machine washable or not.
Finally, you will want to consider the image quality of the photo you want and the price and time it will take to translate that onto a product. A longer turnaround time can lead to extreme disappointment if you are unhappy with the final product, so this is also something to consider.
Selection Options
The material a photo blanket is made out of is an extremely important choice. Fleece blankets are made from natural materials and are very soft and comfortable. They are also cheaper and easy to wash since they absorb water readily and dry quickly.
However, your fleece photo blanket is decently stain-resistant, so you can keep it in the living room for the whole family to enjoy. They are also hair and dust magnets, requiring regular washing to stay fresh.
On the opposite end, sherpa blankets are often synthetic fibers instead of natural fibers. It is a two-sided fabric that makes specific designs trickier since only one side can be used for photos. The opposite side is the sherpa side which looks like sheep's wool. Sherpa will generally be more expensive than fleece. Both fabrics will be machine washable, but you'll have to check that your custom photo can withstand a wash.
A company with more options for your personalized photo blanket will make it easier to get the design you want without compromising the quality you're looking for.
Companies with a good selection will offer fleece, sherpa, woven, plush, and more. They will also provide sizes in 30"x40, 50"x60", 60"x80", or larger. CanvasChamp has an excellent example of multiple selection criteria.
Image Quality and Design Interface
You will want to do some research on what resolution the images you wish to use on your own blanket. It helps to see if it will work with the company's design interface. Some companies' interfaces are more user-friendly and will make it easier to visualize the final product.
You don't want to use the wrong resolution for your picture because it could affect the clarity of the final product, and you'll end up with something that looks low in quality. As a tip, try not to use a small resolution photo on more oversized picture blankets as this may cause the image to warp or look pixelated.
When brainstorming your personalized blankets, play around with the different design interfaces and get familiar with them. It is possible to add backgrounds, text, and designs on top of the photos for an even more personal touch.
Many companies have design interfaces that allow you to incorporate different background options, text options, borders, photo resizing, and preset designs that can be altered.
Value for Price
Everyone wants to get the best price available, but sometimes the lowest price isn't always the best deal. The best companies for a smooth fleece photo blanket or a regular cozy fleece blanket might not offer the best value for your wants.
Consider what your budget is and how much you want to spend. You may find that a cheaper option may end up needing to be replaced in the long run, which would cost you more money despite it seeming cheaper at the outset.
Companies with great value will offer free shipping, sharp quality, and better quality materials for under $100. If the blanket is going for less than $30, it may not be the best material quality and would not be the best overall value for the price.
The average price for retail blankets ranges in size and material but hovers around $50. Anything under that would be a discounted product.
Turn Around Time
Not only are photo blankets great for you, but I have used them as perfect gifts for family members and friends to immortalize memories on something tangible that they can always hold close.
When considering which company to use, you will want to consider the turnaround time, especially if you are choosing to gift the blanket on a specific date. A complex custom blanket might have a delivery date that can exceed several weeks, which might make you miss your gift's deadline.
Companies with excellent turnaround times will be able to produce a custom blanket and create a custom blanket in 1-2 days, with the average company taking 1-2 weeks.
The Best Custom Photo Blanket Companies
Based on our research, these are the best companies for creating custom photo blankets.
Best Overall Custom Photo Blanket Company: CanvasChamp
Best Blanket Borders: Shutterfly
Best Blanket Design Interface: Collage
Best Custom Photo Blanket Value for Price: mPix
Best Quality Custom Photo Blanket: Canvas Discount
Best Selection of Photo Blankets: Personalization Mall
1. Best Overall Custom Photo Blanket: CanvasChamp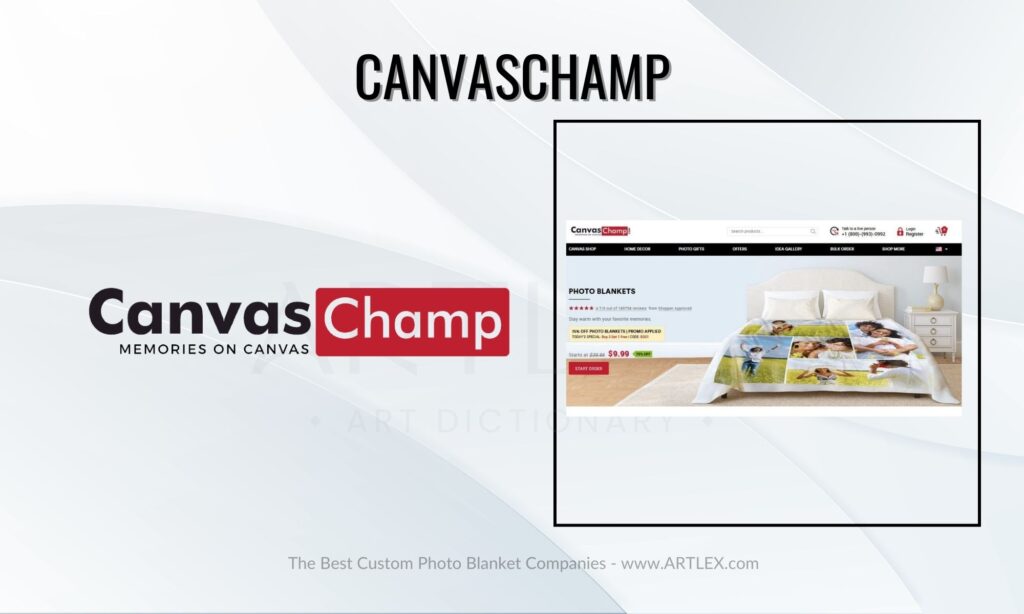 Selection Criteria Scores for CanvasChamp
Design Interface: 9/10
Price: 10/10
Selection: 9/10
Quality: 9/10
About CanvasChamp
CanvasChamp offers the most selection, other than maybe Personalization Mall. You can choose from woven, fleece sherpa, or plain fleece. They also come in various sizes, from baby blankets all the way up to king-sized.
While the design tool doesn't have quite as many additional features as some, CanvasChamp makes blanket creation easy. Plus, the team takes things one step further than their competitors: not only is the preview tool accurate, but the team will reach out to contact you specifically about how your resolution will look.
One of the best parts of CanvasChamp is how they emphasize that anything can go on a personalized blanket—not just photos, but art too.
I find that the woven blanket is best if you want to lend a rustic look to your home, but the sherpa fleece and fleece give the best picture quality.
Pros
Fantastic quality
Great selection of blanket type
Frequently have good sales on
Cons
More borders and premade layouts would be ideal
2. Best Blanket Borders: Shutterfly
Selection Criteria Scores for Shutterfly
Design Interface: 9/10
Price: 9/10
Selection: 8/10
Quality: 8/10
About Shutterfly
Out of all the companies listed, Shutterfly offers the best premade borders to go with your pictures.
It has an excellent design interface with a decent selection of backgrounds and layouts. It is also pretty easy to use. Its ease of use scores high for many, and I enjoyed designing but wished I could easily save my progress like with CanvasChamp.
They have three material options, which is excellent, but did lose a couple of points on selection for only offering two blanket sizes.
They run promotions such as free shipping on orders over a certain amount and regularly run timed sales of certain products on the website.
Pros
Good templates
Great selection of styles
Above average value
Cons
Quality is good but not amazing
Some selections are expensive
3. Best Design Interface: Collage.com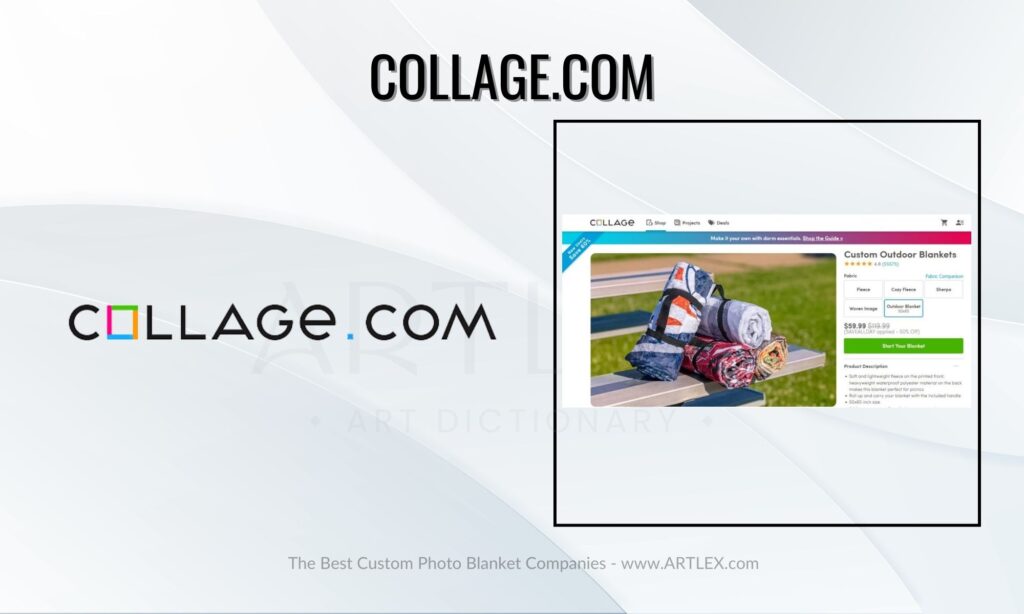 Selection Criteria Scores for Collage.com
Design Interface: 10/10
Price: 7/10
Selection: 8/10
Quality: 9/10
About Collage.com
My experience with Collage's design interface was straightforward and easy to use.
You can save projects in progress, and they offer many options like auto layout for people who just want to get in and be done. Still, they provide depth with preset backgrounds and text formatting designs for those with the itch to customize every detail.
Collage is a print lab based in New York so that American customers will get a quicker turnaround time, though it took me two weeks to get mine. As the name suggests, they specialize in creating designs that contain multiple images with style and beauty.
Their designs are impressive and easy for someone to incorporate into their cozy blanket vision.
They come at a higher price than most companies, but the price is countered by the promotions they run.
Some promotions include your first order free minus shipping fees or limited promotions where you can get up to 50% off on your order.
I was able to try my first photo blanket essentially for free, and I tried out a bright-colored sherpa design to test the quality.
The quality was well within the excellent category, and they also had a great selection of fabrics I could have picked, including plush, fleece, and woven materials.
I would be keen to try the custom woven material with photos because it has a more homely and rustic appeal.
Pros:
Brilliant interface
Excellent selection
Cons:
4. Best Custom Photo Blanket Value for Price: Mpix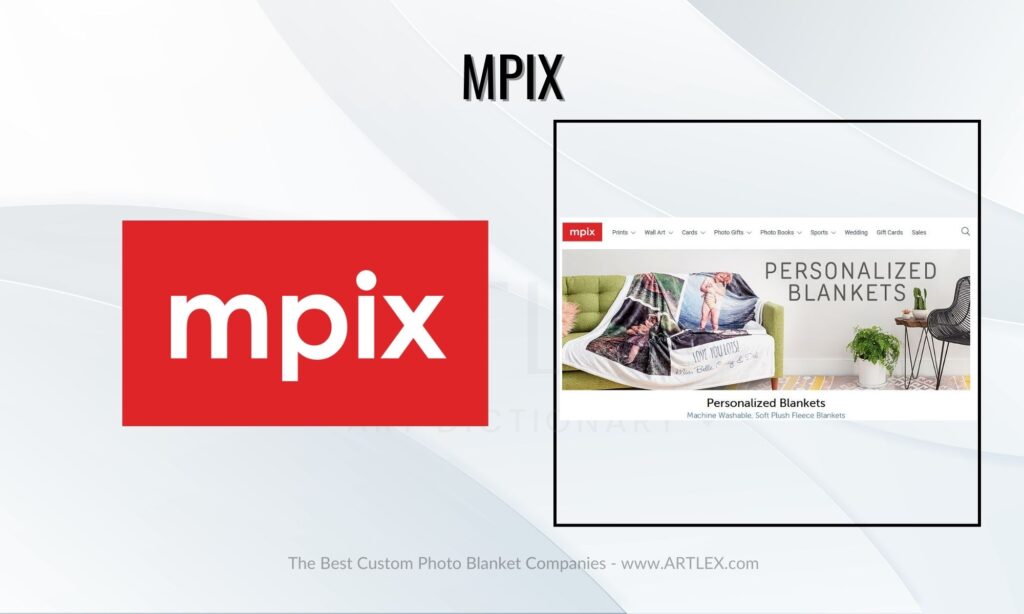 Selection Criteria for Mpix
Design Interface: 7/10
Price: 10/10
Selection: 6/10
Quality: 9/10
About Mpix
I found mPix had the best value for the price they asked you to pay. They offer a beautiful plush blanket option in three sizes. They also offer excellent photo quality that looks like it will hold up over time.
Their user design interface was pretty standard, with a few preset designs and a custom design system that didn't have too much overlap but was usable. There is an image size limit, which means many cellphone resolution images may be challenging to fit onto a design.
You cannot add or customize the text except for the year or family name.
The selection I found was lacking compared to many other competitors as they only offered plush fleece blankets and no other options.
Pros:
Easy-to-use design features
High quality
Cons:
Lacking selection in design and material
5. Best Quality Custom Photo Blanket: Canvas Discount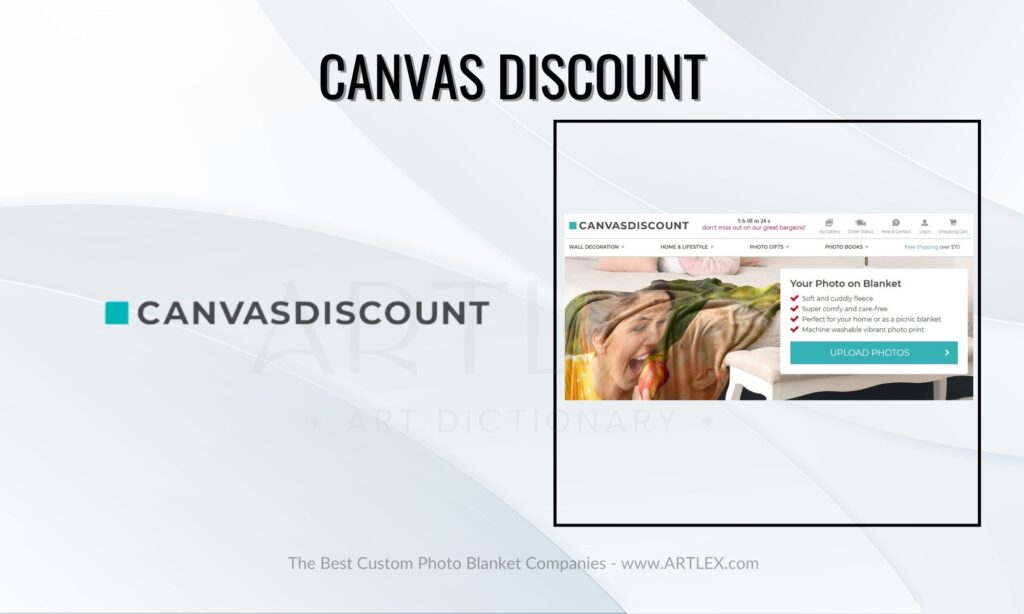 Selection Criteria Scores for Canvas Discount
Design Interface: 6/10
Price: 8/10
Selection: 7/10
Quality: 10/10
About Canvas Discount
I enjoyed the high-quality printing that Canvas Discount had to offer me. They had a durable fabric that was both machine-washable and super soft.
They allow full-size photo-quality printing on their blankets, so you don't have to worry about your photo's quality turning out blurry or unclear.
Canvas Discount only offers fleece and plush blankets and only in the sizes of 27"x40" and 40"x60."
Their blanket design interface is pretty bare-bones, with only the ability to add text and adjust the cropping on your photo.
The price was very low for the quality you get from the fleece.
I would recommend Canvas Discount to someone who needs pristine and vibrant photo quality and doesn't mind the downsides of the lack of a customization interface and design brainstorming.
You can also only do one photo per blanket, so doing a collage-style design isn't suitable for Canvas Discount.
Pros
Unbelievable print quality
Good price
Cons
Lacking customization
Only allows one image
6. Best Selection of Photo Blankets: Personalization Mall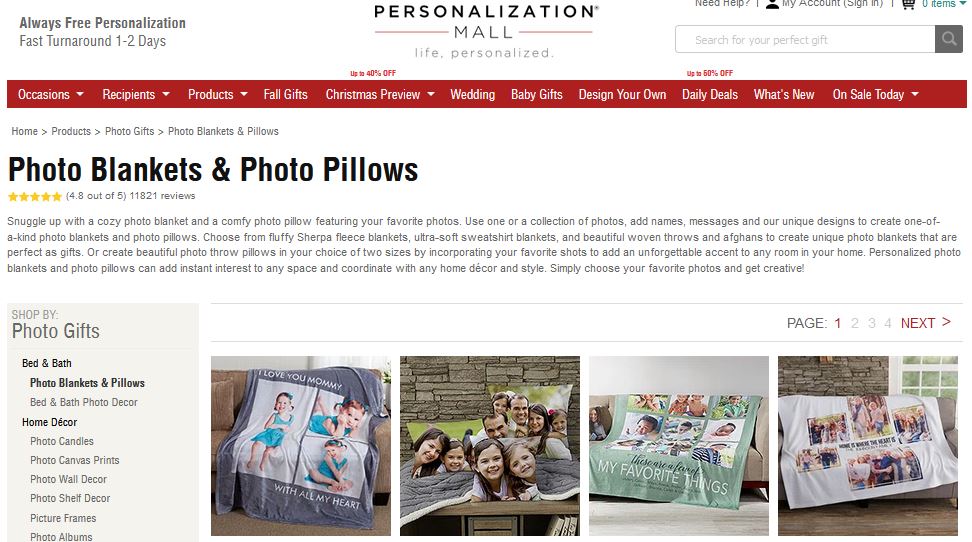 Selection Criteria Scores for Personalization Mall
Design Interface: 7/10
Price: 7/10
Selection: 10/10
Quality: 8/10
About Personalization Mall
The king of selection is Personalization Mall. When I was browsing their site, they had 97 pages of personalized and custom blanket products with many different selection options for design, material, size, and shape.
Almost every size imaginable is on offer with so many designs and colors you could spend forever picking. The one I ordered had 23 design colors on top of the ability to personalize it with multiple photos and text lines.
Turnaround time depends on the item. While the shipping time is quick, there can be a delay in getting it depending on where you live. Of course, they do have express shipping options available.
The price is widely variable, though many of the blankets I saw were more expensive than other companies on this list. You will have to do a bit of digging to get the most value for your money.
Pros:
Amazing selection
Good quality
Cons:
Conclusion
Whether you want a budget option so you go with Mpix or you want something with an easy interface, like Collage, you can find a custom photo blanket company that works for you.
Before you make your choice, consider your budget, the turnaround time, and the number of options they have when it comes to design. This way, you get the perfect blanket to give as a gift or cherish it yourself.
If you want a blanket that gives you variety, coupled with quality and at a good price, then CanvasChamp should be your starting point.