Handi Quilter Sweet Sixteen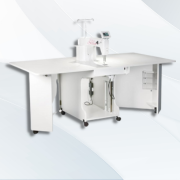 A holistic quilting solution with precision stitching and a large 16-inch throat space for handling big quilts and heavy fabrics with ease.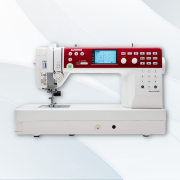 The perfect companion for logo quilting, offering commercial-level performance with a generous 10-inch throat space, and intricate design possibilities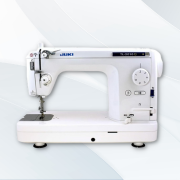 A beginner-friendly quilting machine with an almost nine-inch throat space, intuitive design, and high-quality stitches for a seamless quilting journey
Quilting is a centuries-old craft that continues to inspire artists all over the world. This age-old art form is always developing, from intricate hand-stitched masterpieces to state-of-the-art marvels created by machine quilting. If you're serious about quilting or just getting started, a good sewing machine is a must-have.
Having a machine with a wide throat space is advantageous while quilting. The throat space of a sewing machine is the distance between the needle and the machine's frame; a wider throat space makes it easier to handle bulky fabrics and complicated projects. This buying guide has been carefully compiled to assist you in your search for a quilting machine, especially for use with a large throat.
This article will assist you in making an informed decision when shopping for a quilting machine with a wide throat. We'll tell you all you need to know, from the machine's throat space to its stitching speed, feed systems, and user-friendly features. No matter how much or how little experience you have with quilting, the information in this article will help you choose the right machine.
What is a Long Arm Quilting Machine?
A quilting sewing machine with a large throat is a machine that has been modified such that the area around the needle is more open, called the "throat space." Larger quilts and more comfortable movement while working on massive quilting tasks are made possible by the generous throat space.
Throat space is the horizontal distance between the needle to the machine's right side. The greater the throat space of a sewing machine, the more fabric may be inserted into its path. This is especially helpful for quilting, as it frees you from the constraints of working with smaller pieces of fabric, single layers, or complicated patterns.
Various machines have different-sized throats. Quilting sewing machines with large throats normally begin at nine inches and can go up to 12 inches or more, whereas ordinary sewing machines typically have throat spaces ranging from six to eight inches. In order to accommodate experienced quilters and larger-scale projects, the throat space of some longarm quilting machines can even surpass 18 inches.
There are many advantages to using a quilting sewing machine with a wide throat. While quilting, you may easily move and handle the fabric without worrying about it bunching up or becoming entangled in the machine. When working on dense or densely quilted portions, this is very crucial.
The extra room is especially helpful when working with larger quilts, such as when sewing blocks, quilting detailed patterns, or binding the edges. With extra room in the throat, larger quilts can be laid out and handled with ease, guaranteeing even and exact stitching throughout the whole quilt top.
In addition, you'll have superior all-around sight with a large throat on your quilting sewing machine. With more room to work in, you'll have better visibility as you stitch and be able to more closely follow quilting lines, patterns, and motifs. When free-motion quilting, in which the fabric is moved freely under the needle to create delicate and ornamental stitches, this increased visibility is especially helpful.
A large throat on a quilting sewing machine, in short, means more space between the needle and the machine's frame to work with. With all that extra room, you'll have no trouble working with quilts of varying sizes, moving around large pieces of fabric, or seeing what you're doing. Quilters who often tackle massive projects and yearn for greater creative leeway want this function.
Selection Criteria
Finding the best quilting sewing machine with a large throat can be a challenging endeavor for any needlework enthusiast. Whether you are an experienced quilter or just starting out in the world of patchwork and piecing, the right machine can make all the difference in your creations.
Type of Large Throat Sewing Machine:
Domestic machines and longarm machines are the most common types of quilting sewing machines. Domestic machines are smaller and less expensive, making them ideal for small-scale quilting tasks. Longarm machines are meant for professional or intensive quilting work and feature even wider throats.
Throat Space:
The throat space is the area between the needle and the machine's body. A greater throat space is vital for quilting projects since it allows for more maneuvering and handling of thick quilts. Look for machines with at least a 9-inch throat space for your quilting projects.
Stitching Speed:
As quilting requires long stitching seams, a machine with a fast stitching speed is advantageous. Look for machines with variable speed settings, which let you modify the speed based on your preferences and project requirements. It is advised that you use a machine that can sew at least 800 stitches per minute (SPM).
Quilting Extension Table:
A quilting extension table provides additional support for larger quilts, making fabric manipulation easier. Some sewing machines include built-in extension tables, while others sell them as optional extras. Consider whether or not the machine you're interested in comes with an extension table.
Feed System:
How well the machine can handle numerous layers of fabric without puckering or uneven feeding is determined by the feed system. Look for machines that include a sophisticated feed mechanism, such as a walking foot or a dual feed system, to assist in avoiding fabric movement and maintaining equal stitches.
Needle Positioning:
Intricate designs and precise stitching are common in quilting. A machine that allows you to adjust the needle position on both the left and right side is useful for obtaining precise seam allowances and elaborate quilting patterns.
Features for Free-Motion Quilting:
If you intend to conduct free-motion quilting, look for features such as a drop feed system, which allows you to move the cloth freely under the needle. Machines with easy access to the bobbin area and a clear bobbin box to monitor thread levels are much preferred to save time and your sanity.
Thread Tension Control:
Maintaining consistent thread tension is essential for smooth and balanced quilt sewing. Look for machines that allow you to easily modify the thread tension, particularly with an automatic tension feature. This enables the machine to automatically adjust the tension based on the fabric thickness.
Stitch Options:
While straight stitching is essential for quilting, having extra stitch options can be useful for decorative components or finishing touches on your designs. Look for machines with a wide range of built-in stitches as well as changeable stitch length and width for more elaborate designs.
User-Friendly Features:
Consider the machine's simplicity of use and user-friendly features, especially if you are a beginner. Features, such as an LCD screen for stitch selection, intuitive controls, automatic needle threading, and a comprehensible user manual, will make your life easier for sure. Also, for great visibility while quilting, a machine with good lighting near the needle area is particularly essential.
Remember, you need a quilting sewing machine that matches your individual needs, so there isn't a one-stop for all solution when it comes to sewing machines. So, grab your spools of thread, embrace the enthralling world of patchwork, and let's dive into the realm of quilting sewing machines together.
Top Product Recommendations for the Best Quilting Sewing Machine with Large Throat 2023
Best Overall Large Throat Quilting Machine: Handi Quilter Sweet Sixteen
Best Large Throat Quilting Machine for Logo Designs: Janome MC6650
Best Beginner Large Throat Quilting Machine: Juki TL-2010Q
Best Professional Large Throat Quilting Machine: Grace Q'nique 21
Best Smart Large Throat Quilting Machine: Husqvarna Viking Designer Epic
Best Budget Large Throat Quilting Machine: Brother PQ1500SL
1. Best Overall Large Throat Quilting Machine—Handi Quilter Sweet Sixteen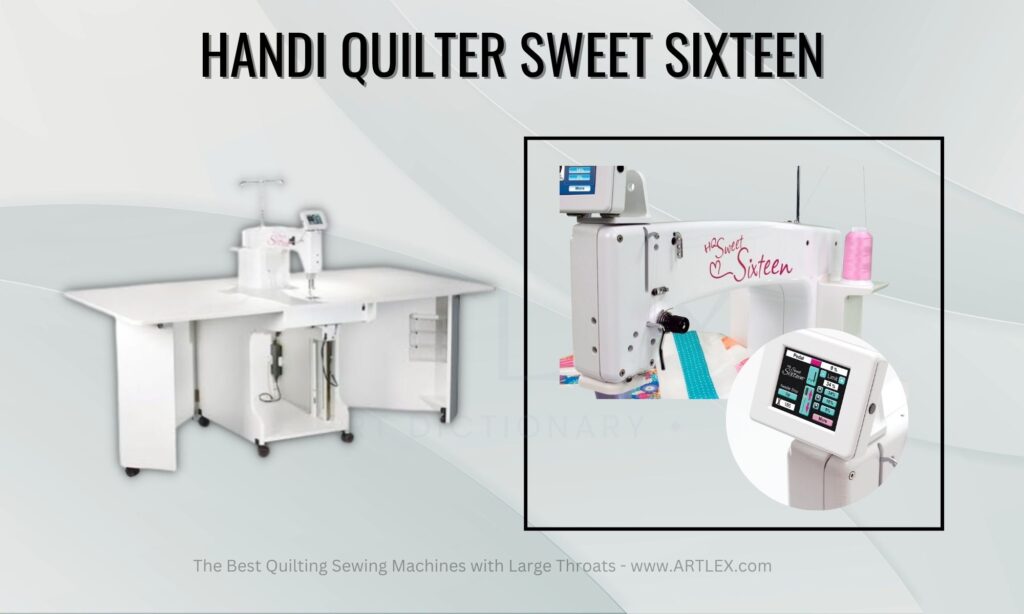 Large Throat Sewing Machine Selection Criteria
Quality – 10/10
Throat Space – 16 inches, plus 8 inches height
Sewing Speed – 1,800 stitches per minute.
Quilting Extension Table – Yes, height adjustable 26 – 42 inches
Feed System – 9/10
Needle Positioning – 9/10
Free-Motion Quilting – No
Thread Tension Control – Yes
Stitch Options – N/A
About Handi Quilter Sweet Sixteen
The Handi Quilter Sweet Sixteen stands out as a top candidate when it comes to choosing a holistic option for a large throat quilting machine. This machine provides an unrivaled quilting experience thanks to its great features, precision stitching, and user-friendly design, making it an ideal model both for professionals and beginners, alike. You can even set an alarm for the amount of time you wish to spend quilting, and keep track of how long you really spend working on a quilt with the help of the project timer and quilting alarm.
The Handi Quilter Sweet Sixteen's distinguishing feature is its 16-inch throat space, which allows for easy movement of large quilts and heavy fabrics, along with its eight-inch throat height which allows for greater flexibility. This large working area allows quilters to complete even the most ambitious designs comfortably. The Sweet Sixteen's throat area allows for unrestricted creativity and careful results while piecing blocks, quilting elaborate designs, or working on free-motion quilting.
This machine, which has a stitch-regulation system, produces regular stitches at any pace. Quilters may perform elaborate designs beautifully thanks to the precision control and flexible stitch length. Even inexperienced quilters will appreciate how simple it is to achieve professional-looking results.
The Handi Quilter Sweet Sixteen's user-friendly design adds to its appeal. The adjustable table height provides personalized comfort, decreasing strain during long quilting sessions. The machine's ergonomic handles provide a secure hold, allowing for smooth and effortless movement over the quilt. Furthermore, the user-friendly control panel and crisp LCD display make stitch selection and modifications a breeze.
The Handi Quilter Sweet Sixteen is well known for its durability and dependability. This machine is created to last for years and is made of high-quality materials that can resist rigorous use. The strong construction promotes quilting stability, reducing vibrations and providing regular stitches.
While the Handi Quilter Sweet Sixteen is an investment, it is well worth it due to its remarkable performance and longevity. It is a popular choice among professional quilters and serious quilting fans looking for a machine that can handle huge projects while producing great stitch quality.
Pros:
The software supports English, French, German, and Spanish
Those pesky tension issues can finally be put to rest thanks to the innovative Easy-Set TensionTM feature
Four different types of basting stitches available, and you can use the touchscreen or the foot pedal to operate the walking stitch
Estimator and alert for low bobbin levels
Project progress is monitored using in-built diagnostics
Cons:
2. Best Large Throat Quilting Machine for Logo Designs— Janome Memory Craft MC6650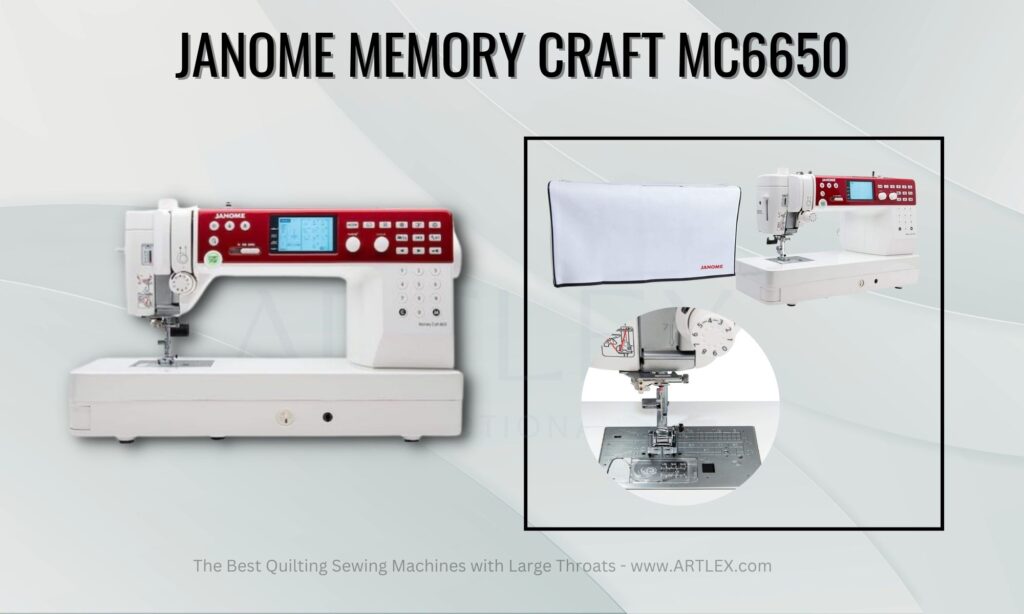 Large Throat Sewing Machine Selection Criteria
Quality – 10/10
Throat Space – 10 inches
Sewing Speed – 1000 stitches per minute
Quilting Extension Table – No
Included Presser Feet – 12
Feed System – 10/10
Needle Positioning – 10/10
Free-Motion Quilting – Yes
Thread Tension Control – Yes
Stitch Options – 172, plus 9 buttonholes
About Janome MC6650
The Janome MC6650 is an excellent alternative for individuals looking for a long throat quilting machine designed primarily for logo quilting. With its outstanding features, superior technology, and versatility, this machine provides logo quilt fans with commercial-level performance and precision.
The Janome MC6650 has a generous ten-inch throat space, allowing for large logo quilting projects. This large working surface enables for simple handling of thick materials, allowing you to include elaborate brand designs into your quilts with ease. The MC6650's long neck area allows for precise and detailed quilting, whether you're sewing corporate logos, sports team insignia, or personalized branding.
The MC6650's innovative features, such as the AcuFeed Flex™ technology, provide flawless fabric feeding during logo quilting. The AcuFeed Flex™ technology combines the accuracy of a walking foot with the adaptability of a dual feed system to provide equal and constant fabric movement. When dealing with numerous layers of fabric or quilting over logo appliqués, this function is critical for achieving smooth and professional results.
The MC6650 also includes a variety of ornamental stitches and alphanumeric characters, allowing you to add exquisite decoration to your logo quilts. With over 172 built-in stitches and nine one-step buttonholes, this machine provides limitless creative options for logo quilting.
In conclusion, the Janome MC6650 is the ideal long-throat quilting machine for logo quilting. This machine addresses the special needs of logo quilt enthusiasts with its big throat space, innovative AcuFeed Flex™ mechanism, multiple stitch options, and user-friendly design. Whether you're making corporate presents, personalized branding, or sports-themed quilts, the MC6650 has the precision, versatility, and durability to bring your logo quilting projects to life with unparalleled excellence.
Pros:
The bobbins on this machine are larger than those on other machines, so you may load more thread at once and make fewer stops to swap them out.
Supports 2 alphabets
Memorized needle up/down
6 LEDs in 3 locations
Cons:
Not capable of quilting on leather
No extension table
Knee lift is not included
3. Best Beginner Large Throat Quilting Machine—Juki TL-2010Q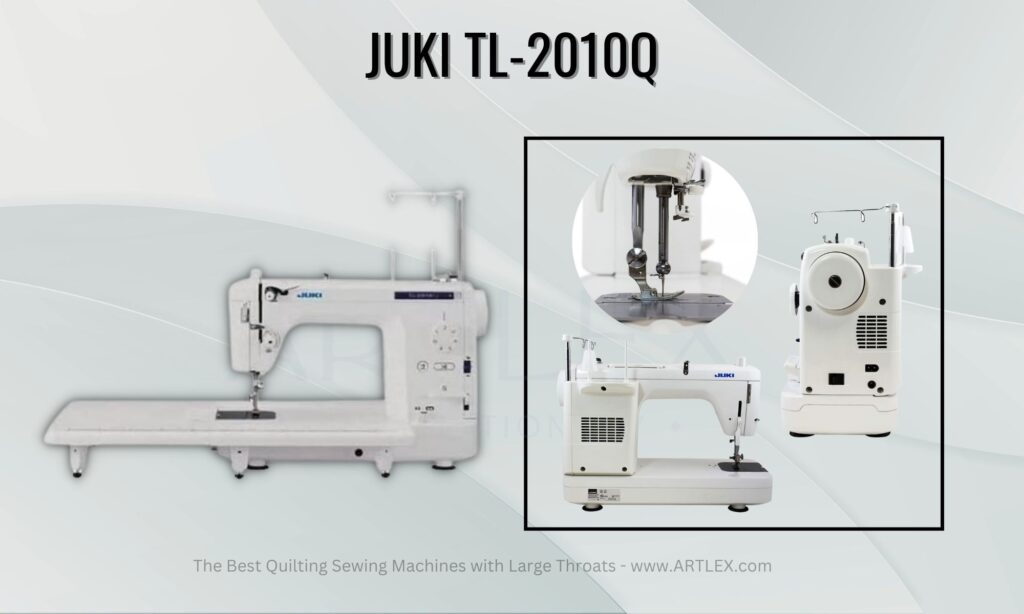 Large Throat Sewing Machine Selection Criteria
Quality – 9/10
Throat Space – 8 ½ inches
Sewing Speed – 1,500 stitches per minute
Quilting Extension Table – Yes
Included Presser Feet – 4
Feed System – 9/10
Needle Positioning – 10/10
Free-Motion Quilting – Yes
Thread Tension Control – Yes
Stitch Options – Straight stitch
About Juki TL-2010Q
The Juki TL-2010Q is a great option for quilters just starting out their adventure in the long-throat quilting realm. This machine makes quilting a breeze for beginners because of its intuitive design, solid execution, and exceptional stitch quality.
With its spacious, almost nine-inch neck space, the Juki TL-2010Q can easily accommodate even the largest quilts and thickest fabrics. If you're just getting started with quilting, you'll like the freedom to move around in this large-throat region. As you begin your quilting adventure, you'll love the flexibility to try out new patterns and ideas.
The TL-2010Q stands out among options for newcomers to this field because of how easily it is to use. This machine is great for inexperienced quilters because of its straightforward design and few controls. Easy-to-use tools like tension controls and built-in thread cutters streamline quilting even further, guaranteeing neat, even stitches every time.
The high quality of the stitches is another notable feature of this machine. This machine facilitates rapid quilting with its top speed of 1,500 stitches per minute. With the automatic thread trimming function, you may spend less time fussing with threads and more time perfecting your quilting designs. Consistent stitching at high speeds is guaranteed by the machine's high-quality build and powerful motor.
The TL-2010Q also has some extra features that are targeted towards novice quilters, and great for all users. The extra room afforded by the table's extension makes it ideal for working on larger projects, and its stability is invaluable while quilting. When working with numerous layers of fabric, the incorporated walking foot promotes even feeding to prevent shifting and puckering.
In addition, you may use it for both straight-line quilting and free-motion quilting thanks to the machine's excellent stitch quality and stitch control. The TL-2010Q gives you the confidence to try out new quilting techniques because it produces such precise and professional results, whether you're quilting complicated motifs or stitching in the ditch.
Pros:
Great option for any level of quilting skills
Very reliable straight stitch options
Multiple thread cutting options
Automatic bobbin winder
Variable speed control
Cons:
No decorative preset stitches
No open toe walking foot
4. Best Professional Large Throat Quilting Machine—Grace Q'nique 21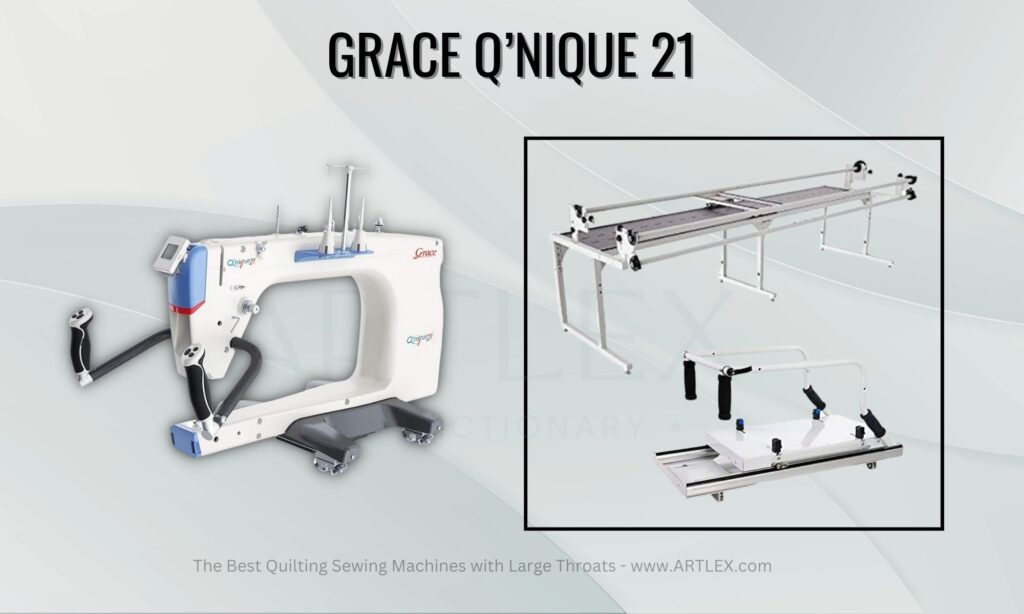 Large Throat Sewing Machine Selection Criteria
Quality – 10/10
Throat Space – 21 inches
Sewing Speed – 1800 stitches per minute
Quilting Extension Table – Yes
Included Presser Feet – Optional 9 feet options
Feed System – 10/10
Needle Positioning – 10/10
Free-Motion Quilting – Yes
Thread Tension Control – Yes
Stitch Options – 4 stitching modes: cruise, precise, baste, and manual
About Grace Q'nique 21
Grace Q'nique 21 is an excellent option for professional quilters looking for a machine with a large throat. This machine provides the ideal quilting powerhouse for commercial use with to its sophisticated features, precise stitching, and large working surface.
The sewing machine for quilting, with its massive 21-inch throat space, is the engine that drives this whole operation. Large quilts may be moved around easily on its spacious table, allowing for more freedom of movement and thought when sewing. The Q'nique 21's spacious throat makes it ideal for quilting everything from delicate patterns to free-motion designs and massive quilts.
This combo, including the Continuum ten-inch quilting frame, makes for a solid and adaptable professional quilting setup. You can quilt with great control and precision thanks to the frame's sturdy build and user-friendly layout. With a length of ten feet, the frame can accommodate even the longest quilts, freeing you from limits on your ambitious sewing endeavors.
This sewing machine has cutting-edge functions designed with professional quilters in mind. Whether you're quilting at high speeds or focusing on minute details, the stitch-regulation mode guarantees uniformity. The ergonomically designed, height-adjustable handles are a welcome relief to tired hands after hours of quilting.
The machine's built-in bobbin winder, spacious full color touchscreen, and straightforward controls all contribute to its user-friendly layout. Speed and stitch length are only two of the many variables that can be tweaked for a tailor-made quilt. Even when quilting heavier materials or many layers, the strong motor maintains a steady and smooth motion.
In addition, there is the possibility of using an automatic quilting design generator using a computerized quilting system. This accessory allows expert quilters to rapidly design sophisticated designs, freeing them more time for exploratory work.
Both the Grace Q'nique 21 and the Continuum 10 inch Quilting Frame are built to handle frequent, heavy use in a commercial setting. Long-term quilters who put their machines through their paces will appreciate the quality of this one, which is built to last.
Pros:
Fully computerized sewing machines
Sport an automatic thread cutter, automatic needle threader, and large throat space
Ability to create decorative stitches
Comes with a large extension table that can handle bulky projects
Good for free motion sewing, due to adjustable handles
Cons:
High initial cost
Even though a good option for large projects, it has a large space footprint
5. Best Smart Large Throat Quilting Machine—Husqvarna Viking Designer Epic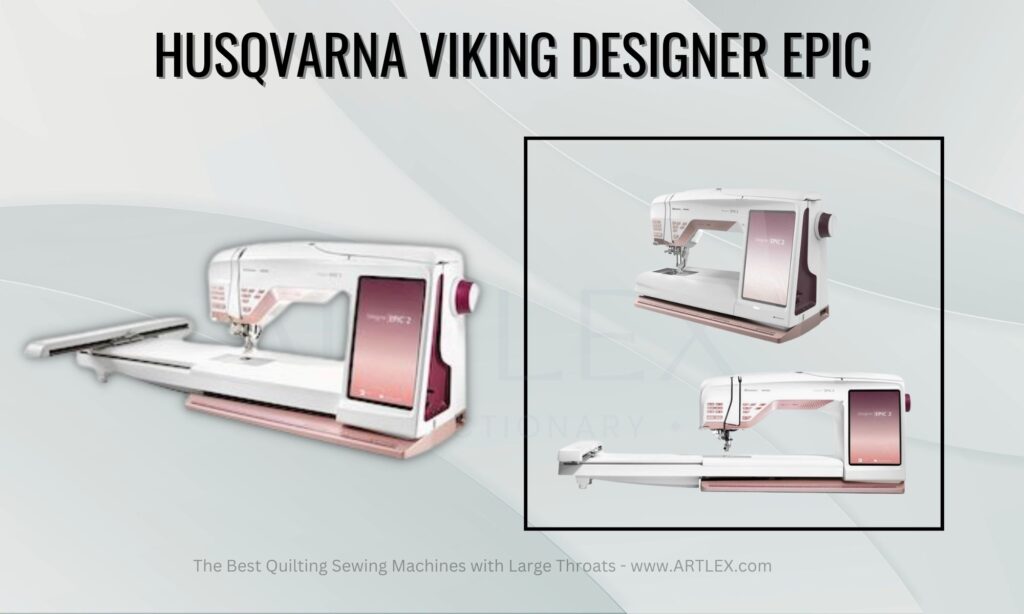 Large Throat Sewing Machine Selection Criteria
Quality – 10/10
Throat Space – 12.2 inches
Sewing Speed – 1000 stitches per minute
Quilting Extension Table –
Included Presser Feet –
Feed System – 9/10
Needle Positioning – 10/10
Free-Motion Quilting – Yes
Thread Tension Control – Yes
Stitch Options – 844
About Husqvarna Viking Designer Epic
The Husqvarna Viking Designer Epic 2 sewing and quilting machine is an excellent choice for sewers in need of a high-tech machine with a large throat. This machine reimagines the sewing experience with its cutting-edge features, cutting-edge technology, and large work space.
The Designer Epic 2's 12.2 inch throat space is the machine's crowning feature, making it ideal for larger projects and more elaborate graphics. With such a spacious area to work in, you may stitch or embroider with complete control and ease. The large throat space allows you to easily complete large projects like quilts, clothing, and home decor.
Unlike most long arm quilting machines, this one is a smart sewing machine that fully embraces modern networking and cutting-edge technology. The machine's impressive stitch library, embroidery designs, and complex operations are all easily accessible on the machine's large interactive tablet-like screen with an intuitive interface. Integrating and syncing designs, patterns, and machine updates is a breeze with the mySewnet ecosystem, which includes the mySewMonitor app and cloud storage.
The machine's embroidery area and abundance of preloaded designs are sure to impress those with a passion for the craft. The Designer Epic 2's precise positioning and cutting-edge capabilities, such as Design Placement and Design Shaping, make it easy to create embroidery that looks like it was done by a professional.
The machine also has a number of useful extras that make it more pleasant to use. Time and aggravation are both reduced thanks to the automatic needle threader, thread cutter, and bobbin winding mechanism. The sensor mechanism in the machine adjusts the settings automatically based on the thickness of the fabric, protecting both the fabric and the stitch quality.
These large throat sewing machines are built with durability and dependability in mind. They can handle tough tasks with ease because of their sturdy build and high-quality parts. Their powerful motor and accurate feeding mechanisms ensure flawless fabric movement and uniform stitch quality every time.
The Designer Epic 2 also comes with a ton of add-ons and extras that can be used to customize its sewing and embroidery functions. The machine can be customized to your specific demands with a variety of presser foot and embroidery hoops.
Pros:
Lines of decorative stitches can be aligned with the help of the Adjustable Laser Sewing Guidance, which is projected onto the fabric.
Notifies you when the Integrated Dual Feed technology should be used or deactivated depending on the kind of cloth and the stitch you have chosen.
Ribbon embroidery attachment capability
Screen-based access to a growing collection of premium embroidery patterns online
Interactive tutorials, sewing instructions, step-by-step workbooks on screen
Cons:
6. Best Budget Large Throat Quilting Machine—Brother PQ1500SL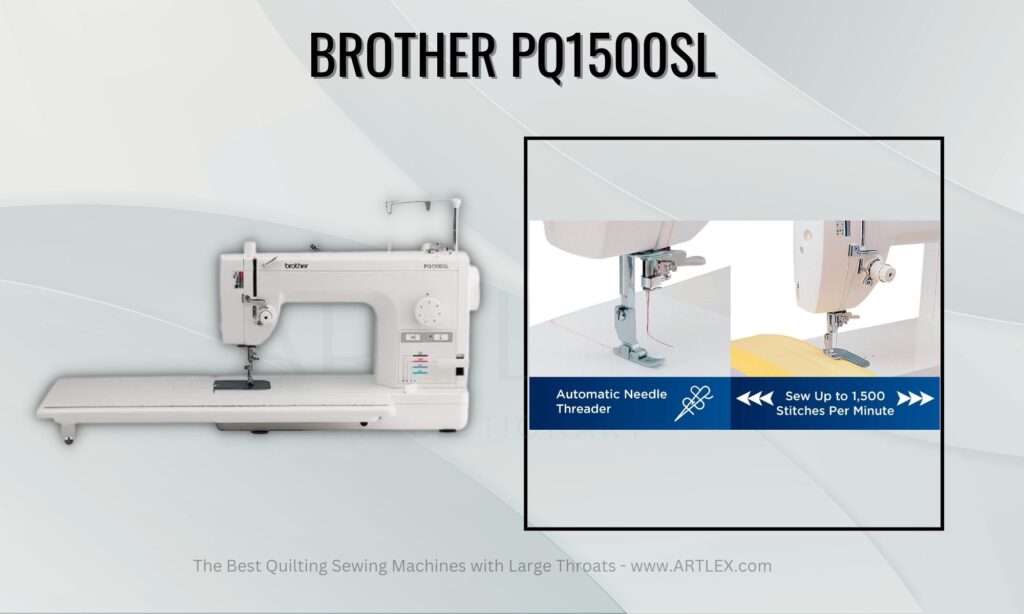 Large Throat Sewing Machine Selection Criteria
Quality – 9/10
Throat Space – 8 ¾ inches
Sewing Speed – 1,500 stitches per minute
Quilting Extension Table – Yes
Included Presser Feet – Yes
Feed System – 10/10
Needle Positioning – 9/10
Free-Motion Quilting – No
Thread Tension Control – No
Stitch Options – Straight stitch
About Brother PQ1500S
The Brother PQ1500SL Sewing and Quilting Machine strikes a good balance between price, speed, and functionality, making it a great option for thrifty sewers in the market for a machine with a long throat. This machine is a great value for individuals who want to tackle bigger sewing and quilting tasks because of its high stitch-per-minute rate, spacious workspace, and assortment of included accessories, yet at a reasonable price point.
The PQ1500SL ensures quick and effective stitching, helping you to complete tasks in less time, with a maximum sewing speed of up to 1,500 stitches per minute. Particularly helpful for sewers working on time-sensitive tasks or in need of a high-output machine, this fast sewing speed is a feature of many modern sewing machines. You can change the sewing machine's speed to suit your personal preferences and the demands of your current project.
Like most sewing machines for quilting that are placed on a much higher price point, this one can also easily handle large fabric applications thanks to its large work area and high throat space. Due to the large neck space, even bulky materials or numerous layers of quilting may be handled with ease. The included expansive table adds even more space and stability, making it ideal for managing even the largest of tasks.
The wide variety of attachments and features on this Brother sewing machine make it ideal for sewers and quilters. The seven different stitching feet (including a walking foot and a ¼ inch piecing foot) provide you plenty of options for sewing and quilting projects. These feet provide for greater control, leading to more uniform fabric feeding and more polished stitching.
When it comes to quilting and sewing, the PQ1500SL is up to the challenge. It's great for quilting big quilts or sewing thicker materials because to its solid build and powerful engine. The machine's capacity to accommodate a wide range of fabric types and thicknesses is bolstered by its adjustable presser foot pressure and thread tension controls.
However, there are a few things to think about, despite the fact that the PQ1500SL provides amazing features at a reasonable price. This device is designed primarily for straight stitching and does not have any embellishment or embroidery features built in. It also lacks a built-in thread cutter, thus the threads will have to be trimmed by hand.
Pros:
Great price point
Fabric tension may be adjusted across a wide range thanks to four extra feed dog settings
Changing stitch speeds is effortless with the pedal foot's responsiveness
Cons:
Lacks free arm option
Allows only for straight stitches
Maintenance and Care Instructions for Smooth and Durable Threading
Maintaining and caring for a sewing machine with a large throat require proper threading. Threading involves guiding the thread through different parts of the machine to achieve smooth and efficient stitching.
To ensure durable threading, follow these key steps:
Always use the correct thread and needle size for your project to prevent tension issues and uneven stitches.
Regularly clean your machine to remove lint and debris from the throat area, preventing the thread from tangling or getting caught.
Follow the manufacturer's recommendations and oil the machine's moving parts for reduced friction and smooth operation.
Pay attention to thread tension and correctly thread the upper and lower threads through their guides and tension disks to avoid thread breakage and produce even stitches.
Check that the bobbin is wound correctly and inserted properly into the machine, as a poorly wound or incorrectly inserted bobbin can cause stitching problems.
By following these maintenance and care instructions, you can ensure that your sewing machine with a large throat continues to provide smooth and durable threading, making it easier for you to create beautiful quilts and sewing projects.
Conclusion
A good sewing machine is like a reliable companion in the world of quilting. It guides you through intricate patterns and delicate stitches to bring your creations to life.
But what if there's a quilting sewing machine that meets all your stitching needs and has a wide throat?
If you're looking for the best sewing machines overall option for large throat quilting projects, the Handi Quilter Sweet Sixteen is an excellent pick. This machine sets a high level in the quilting market with its large throat area, fine stitching capabilities, user-friendly design, and longevity. The Sweet Sixteen will boost your quilting experience, allowing you to bring your creative thoughts to life with ease and precision, whether you're a seasoned quilter or a beginner.
Further, if you're looking for a professional quilting option, go no farther than the Grace Q'nique 21 Longarm Quilting Machine with Continuum 10′ Quilting Frame. This package of a large 21-inch throat area, high-tech features, and a strong frame is ideal for serious quilters who want to take their work to the next level. The Q'nique 21 is a great option for professional use of quilting machines with a wide throat, whether you're working on complex designs or large-scale projects.
We hope you found our analysis of the top quilting sewing machine with a large throat of 2023 to be helpful. Consult our associated guides for further sources of comparable items for the artistic lifestyle.