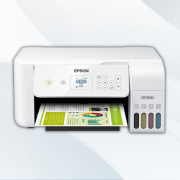 Versatile inkjet with refillable ink tanks, wireless printing, and high-resolution outputs. Ideal for heat transfers.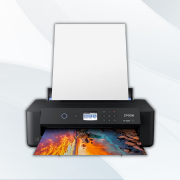 High-speed inkjet offering wide-format printing up to 13×19 inches, with wireless and Ethernet connectivity.
HP Color LaserJet Pro M454dw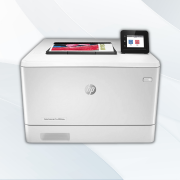 Business-oriented laser printer with impressive print speed and versatile paper compatibility, including heat transfers.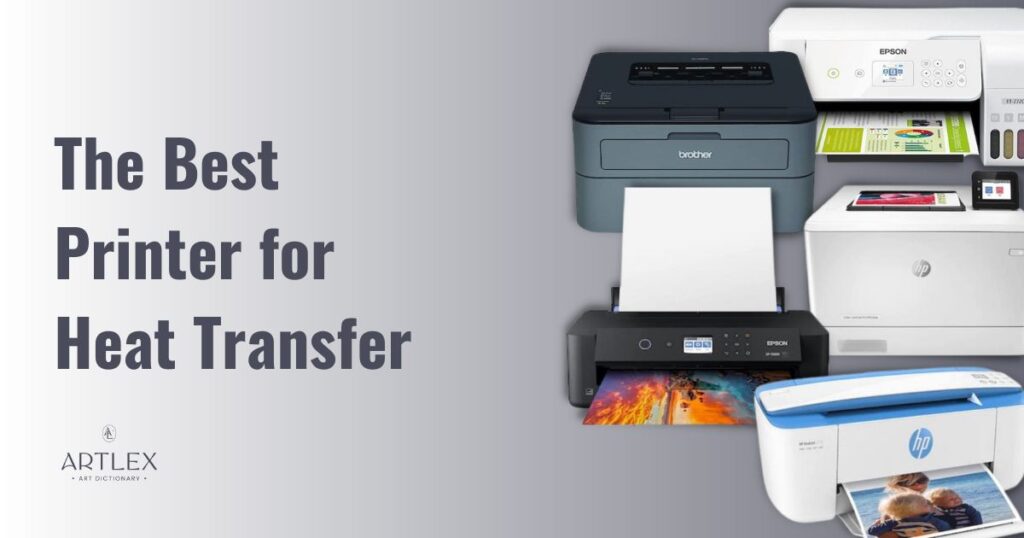 Heat transfer printers are devices that use heat to transfer ink or toner from a printed image onto a surface, such as fabric, metal, or plastic. The image is first printed onto a special heat transfer paper using a standard inkjet or laser printer. The transfer paper is then placed onto the surface, and heat is applied, which causes the ink or toner to transfer from the paper onto the final product. This type of printing is often used for creating custom designs on clothing and other fabrics, as well as for creating custom labels and signs.
Heat transfer printers are useful for a variety of reasons, including the creation of custom designs and images on a wide range of materials, including cotton, polyester, and other fabrics, as well as metal, plastic, and ceramic. Also, the printed images are resistant to fading, cracking, and peeling, making them suitable for use on items that will be washed or exposed to the elements. For small businesses, using a heat transfer printer is a cost-effective way to produce small quantities of custom items, such as t-shirts or signs, that have high resolution and fine details with vibrant and accurate colors. Finally, they are easy to use and require minimal setup and training.
Overall, heat transfer printing is a very useful and efficient way to create custom designs and images on various surfaces.
However, people who want to delve into this type of art but may be a little less familiar with the specifics of each type of machine can find themselves overwhelmed with the number of options on the market. Choosing the correct printer can be difficult, however we will discuss the best printers based on the type of printer you are looking for, quality of the finished product, speed of printing, connectivity options, and transfer paper consumption, which are all of primary importance when making a buying decision. We will also discuss the most appropriate choices for people who are just now starting and want to use a small printer at home, large businesses that require a vast amount of printing done daily, and people who like to print on the run, as they will require specific choices.
Selection Criteria for Finding the Best Heat Transfer Printer 2023—Buying Guide
Overall, you should be looking for a printer that can produce high-resolution and accurate prints with vibrant colors, is built with durable components to ensure it can withstand frequent use and last for a long time, and has good customer support so that you can get help if you have any issues.
Inkjet or Laser Printer?
There are now two main varieties of printers available: inkjet and laser. Your decision should depend on the type of use you have for your heat transfer printer and the time you can allocate to each product.
Inkjet printers use traditional ink cartridges and eject microscopic ink droplets onto paper. They are a more affordable option and render good results, but lack in speed.
On the other hand, laser printers are much faster and don't require the use of ink cartridges, but this comes at a higher price.
Machine and Heat Transfer Paper Size
Iron-on transfer inkjet printers are typically smaller and more convenient for home use, versus laser printers which are somewhat larger. Do not forget to consider the size of the items you plan to print on and ensure that the printer can handle the size of your transfers.
Printing Speed
When deciding your requirements regarding the printing speed of your machine, it is advisable to take your daily print volume into consideration. To keep up with the demands of a busy office, you will need a much faster heat transfer printer than the one you would use at home for the occasional DIY project. When looking at the specs, keep an eye out for the page per minute (ppm) or copy per minute (cpm) number.
By considering these factors, you can choose a heat transfer printer that meets your specific needs and requirements.
Top Product Recommendations for the Best Printer for Heat Transfer

1. Overall Best Printer for Heat Transfer—Epson EcoTank ET-2720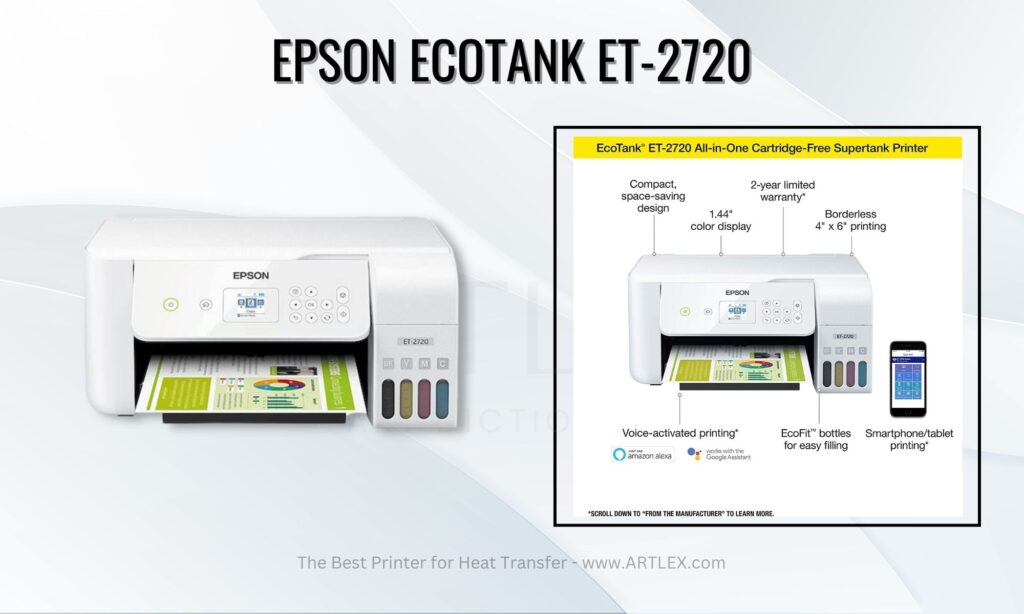 Selection Criteria
Heat transfers: Yes
Type of Printer: Inkjet printer
Heat transfer Paper Size: 3.5 x 5, 4 x 6, 5 x 7, 8 x 10, 8.5 x 11, 8.5 x 14, A4, A6, half letter, and executive – 9/10
Printing Speed: 10ppm monochrome, 5ppm color – 8/10
Wireless Connectivity: Supported, Voice activation
About Epson EcoTank ET-2720
The EcoTank ET-2720 can print, duplicate, and scan wirelessly and features a sizable control panel with separate keys for simple operations, low-cost ink bottles, a 100-sheet rear feed tray, and wireless capability. In addition, it provides a cutting-edge cartridge-free option by employing high-capacity, readily refillable ink tanks that last for two years and can print up to 4,500 black ink and 7,500 color pages, respectively, eliminating the need for roughly 90 ink cartridges.
Regarding heat transfer printing, MicroPiezo inkjet technology (CMYK) and print resolutions up to 5760 x 1440 dpi ensure high-quality outputs for any design. You may use it to print high-quality images, even from your iPhone, on any type of inkjet heat transfer paper (HTP).
Voice-activated printing and wireless support save a lot of time, as you can use almost any Internet-enabled device, including Alexa, to print your designs, without ever having to move from your desk.
The printer has some nice features, but setting it up for the first time can be a pain if you aren't very good with tech, as setting up wireless connectivity has proven to be somewhat challenging.
Pros:
MYK color printing process yields high-quality results
Wireless inkjet printer
Replaceable ink bottles
All in one printer
Cons:
The initial setup is somewhat complicated
Customer support directly from Epson, and not from seller
It does not allow for automatic two-sided printing
2. Best Heat Transfer Inkjet Printer—Epson XP-15000

Selection Criteria
Heat transfers: Yes
Type of Printer: Inkjet printer
Heat transfer Paper Size: Sizes up to and including 13 x 19 inches – 10/10
Printing Speed: 20ppm monochrome, 20ppm color – 9/10
Wireless Connectivity: Supported, Wi-Fi and Ethernet
About Epson XP-15000
While our overall best heat transfer printing option is a great choice for the vast majority of consumers, it falls short when it comes to more niche applications like wide-format printing or continuous heavy-duty operation. Our preferred color inkjet printer, the XP-15000, is ideal for this purpose.
When completing large format work, you can use the Ethernet option, which allows for faster and more stable connection, while for fast document printing Alexa can also help you with wireless printing.
This printer's primary benefits—wide-format printing up to 13 by 19 inches and automatic two-sided printing—make it ideal for producing complex, high-quality output in a short amount of time with minimal intervention from the user.
For advanced printing tasks and detailed coloring of larger alternatives, this printer comes with a total of six ink cartridges. These include the standard black, cyan, magenta, and yellow inks, as well as the more specialized red and grey. Claria photo HD ink ensures that printed images retain their vivid colors for the long haul, and the printer's printhead precision of 1.5 picoliters allows for fine-grained control. It may be used for a variety of purposes thanks to its 200-sheet front tray and separate rear tray for specialty paper.
However, many have reported that the ink runs out quickly and that printing stops if any one of the ink cartridges are empty. Although the ink cartridges themselves are small and very inexpensive, the EPSON software will not let you to use any ink cartridges made by a third party.
Pros:
Vibrant heat transfers
Wireless and Ethernet connectivity
Wide format printer
Cons:
Downloading the Epson software will not allow you to use off brand ink
Customer service does not allow for money back
3. Best Heat Transfer Laser Printer—HP Color LaserJet Pro M454dw

Selection Criteria
Heat transfers: Yes
Type of Printer: Laser printer
Heat transfer Paper Size: Letter, legal, executive, envelopes, A4-A6, B5-6, among others 9/10
Printing Speed: 28ppm monochrome, 28ppm color – 9/10
Wireless Connectivity: Supported Bluetooth, Wi-Fi, USB, Ethernet
About HP Color LaserJet Pro M454dw
The HP color laser printer M454dw was built primarily with companies in mind, both in terms of pricing and durability, as it can produce high-print quality documents as well as attractive graphics for heat-transferring paper at the drop of a hat. Of course laser printers are fast, but this model excels in other areas as well. The HP M454dw laser printer has a projected monthly use of 4,000 pages.
Automatic two-sided printing saves paper, and a USB connector on the front of the printer allows to print documents in Microsoft Office format as well as PDFs without requiring a computer. This function, together with the 28ppm speed and 250-page front tray, is handy for artists who create graphics in large quantities, as it can handle heat transfer paper with ease.
The HP WOLF PRO security that comes inbuilt with this laser printer can protect sensitive company information and prevent malicious cyber intrusions.
Pros:
High quality prints
Wide paper compatibility, including regular paper, glossy photo paper, and heat transfer papers
Eco-friendly
Cons:
4. Best Heat Transfer Printer for Sublimation Printing—Brother HL-L2320D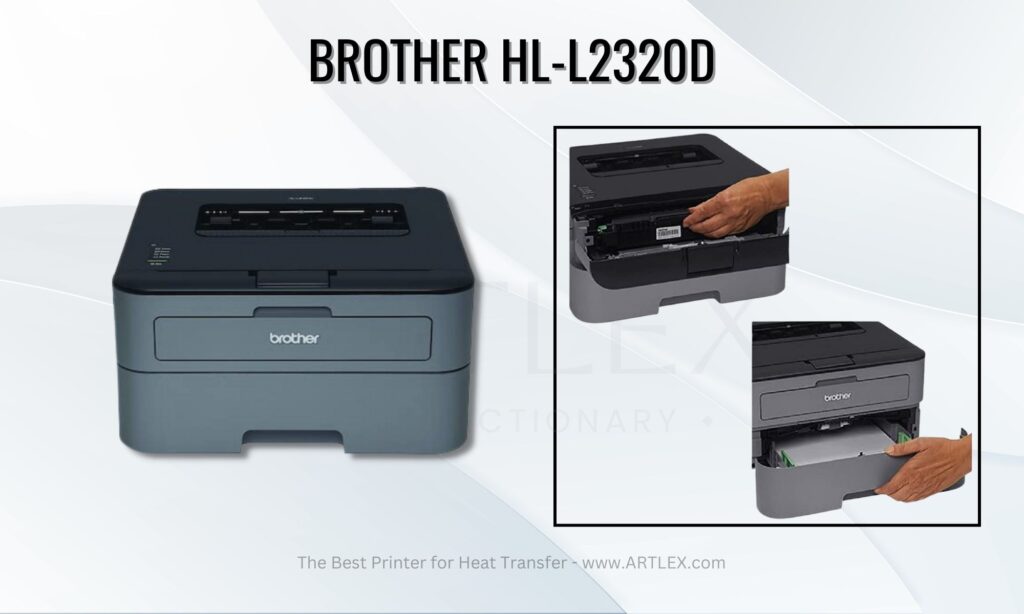 Selection Criteria
Heat transfers: Yes
Type of Printer: Electrophotographic laser printers, sublimation printers
Heat transfer Paper Size: paper, envelopes – 6/10
Printing Speed: 30ppm monochrome – 10/10
Wireless Connectivity: No
About Brother HL-L2320D
The low price of the Brother HL-L2320D attracted our interest, despite the fact that it is a monochrome printer. This printer also boasts a pretty rapid print speed and a sizable paper capacity. As a result, it is ideal for mass-scale heat transfer printing. It's also simple to set up and use because of the wired connectivity.
The sharpness and clarity of the printed product are top-notch. We were able to print some fantastic t-shirt designs with this printer since the prints on the heat transfer papers were so sharp and detailed. In my opinion, this makes up for the printer's lack of color printing.
This high-speed monochrome heat transfer printer can print approximately 30 single-sided pages per minute on high-quality heat transfer paper. You can get around the lack of color in your print work by employing colored heat transfer paper. However, the high print quality and low operating costs of this heat transfer printer set it apart from the rest.
Pros:
Automatic duplexing
High print quality
Sublimation printer (works with sublimation ink)
250 sheet capacity
Cons:
Monochromatic
No Wi Fi direct connection
5. Best Compact Heat Transfer Printer—HP DeskJet 3755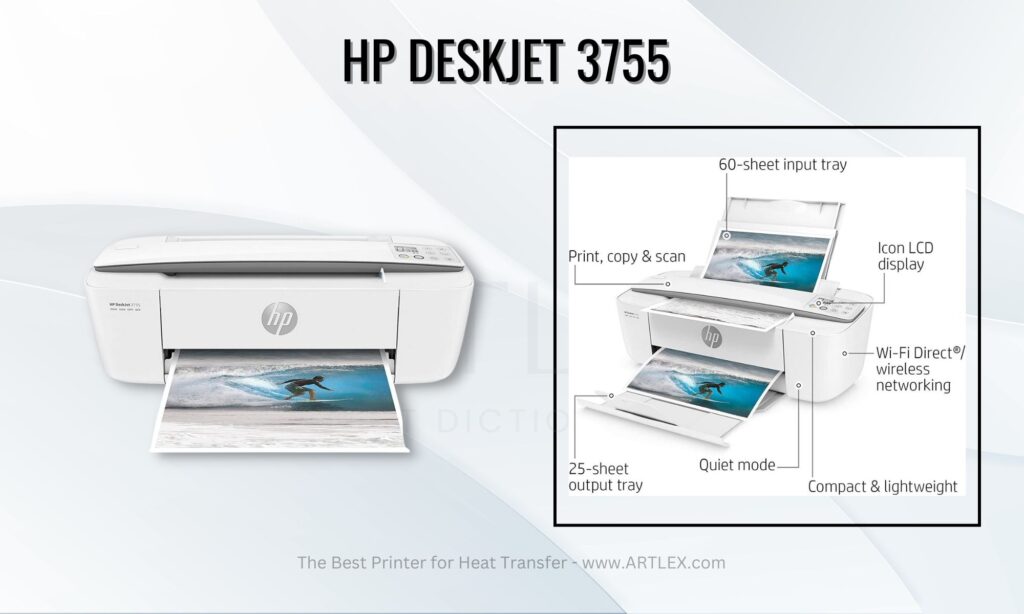 Selection Criteria
Heat transfers: Yes
Type of Printer: Inkjet printer
Heat transfer Paper Size: 3 x 5 up to 8.5 x 14 inches, manual adjustment
Printing Speed: 8ppm monochrome, 5.5ppm color – 5/10
Wireless Connectivity: Supported
About HP DeskJet 3755
Though small and wireless, the most compact printer for heat transfers of our list offers ease of use and portability. You can scan, copy, and print your creations on a variety of mediums, at home, or on the go.
This digital heat transfer printer comes at 15.86 x 6.97 x 5.55 inches, which makes it small enough to have with you without sacrificing printing quality. The AirPrint capability of this printer means that I can print designs seamlessly from any iOS device as well as any computer. In addition, HP's Instant Ink service makes it possible to get and install a replacement cartridge without having to leave the comfort of your own home. The manufacturer has carefully considered the user experience by including a seven-segment LCD in this inexpensive printer.
Overall, this is an efficient printer despite its small size.
Pros:
All in one printer
AirPrint option
High printing quality
Cons:
Slow printing rate
Small range of paper compatibility
6. Most Affordable Heat Transfer Printer—Canon Printer Pixma iP8720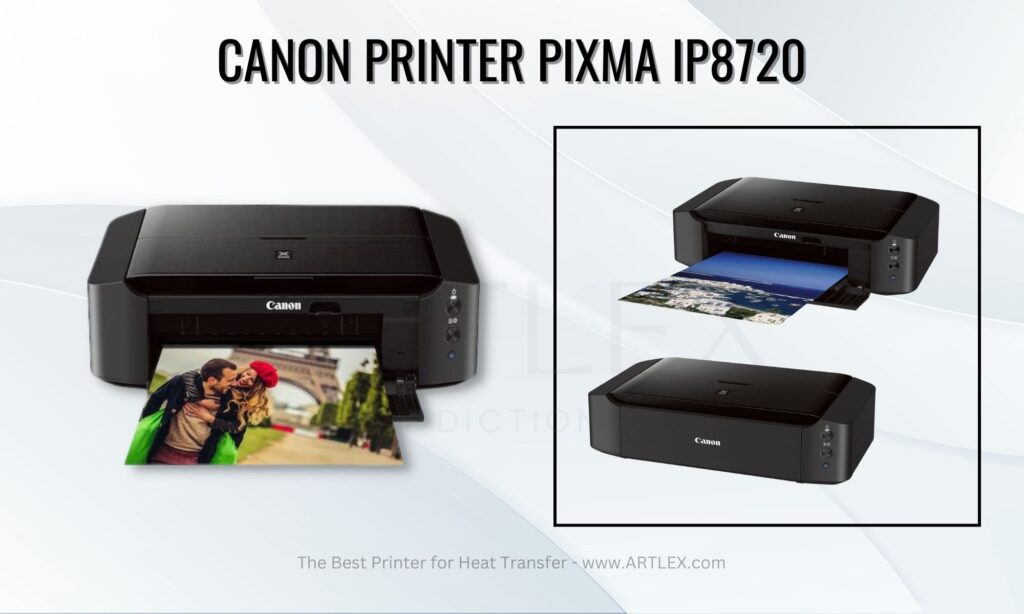 Selection Criteria
Heat transfers: Yes
Type of Printer: Inkjet printer
Heat transfer Paper Size: 4 x 6, 5 x 7, 8 x 10, Letter, Legal, 11 x 17, 13 x 19, U.S. #10 Envelopes – 9/10
Printing Speed: 14.5ppm monochrome, 10.4ppm color – 7/10
Wireless Connectivity: Canon print app
About Canon Printer Pixma iP8720
Our budget printer option comes from another well-known brand in the printing and image industries. The Canon iP8720 is a wireless printer with USB connectivity and full Google cloud print compatibility.
Its heat transfer printing high quality printing ability is impressive, considering this is the cheapest budget printer on our list. Its high-resolution support of up to 9600 x 2400 dpi, along with the six colored inks, result in detailed and colorful prints, making it ideal for heat press fabric printing. Furthermore, the printer offers borderless printing for sizes up to 13 x 19 inches, making heat transfer printing simple.
We should also mention that the printer's wifi and USB interfaces make it highly versatile. You can choose between the ease of use of a wireless interface and the high speeds of USB connections. Last but not least, when printing, this unit is relatively quiet.
Pros:
Canon print app
High quality prints, especially for heat transfer paper
Borderless printing
Maximum print resolution of 9600 x 2400 dpi
Cons:
Wi Fi direct is not always stable
Single tray of heat transfer papers
Conclusion
If you want a heat transfer machine that can also handle regular printing jobs at a fast pace, we hope our list has been useful. In this day and age, unleashing your creative side is easy, even at the comfort of your own house.
However, when working with large art projects and heat transfer t shirts, a wide format printer is a must, and the Epson XP-15000 color printer can handle borderless printing up to 13 x 19 inches with ease.
Heat transfer printing work is fun, but an all in one printer, like the Epson Ecotank ET-2720, can save you space and money. Printers for heat transfers are rather expensive, so not having to buy a project-dedicated one along with a general-use color printer is always welcome for any budget.
We hope you found our analysis of the top heat transfers printers of 2023 to be helpful. Consult our associated guides for further sources of comparable items for the artistic lifestyle.