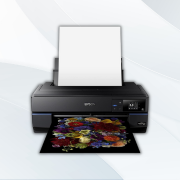 High-performance canvas printer delivering commercial-quality photo and art prints in versatile sizes, perfect for professional photographers.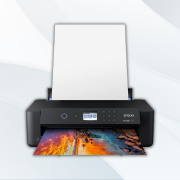 Compact wide-format printer ideal for home use, offering top-quality, professional-grade prints with ease of connectivity.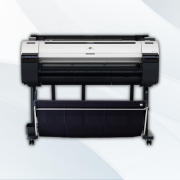 Professional, high-speed large format printer with advanced technology for precise, high-density prints and economical ink usage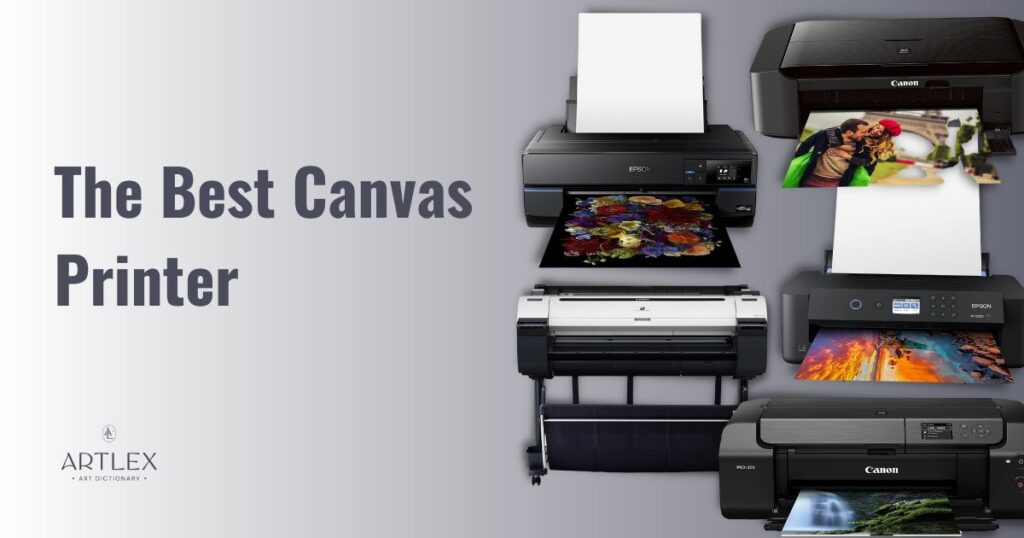 Canvas printers are specialty machines designed to create high-quality images on canvas cloth. These printers produce fine art prints, pictures, and other sorts of artwork on canvas using high-quality inks, and modern printer and ink technology.
When creating canvas prints, the image quality looks to be much superior to that of paper prints. To print on canvas, however, you will always need the right kind of printer. Also, the persons conducting the printing must have a special expertise for altering the saturation, sharpness, and contrast of a picture in order to keep the image's engaging appeal without distorting it, especially when using a professional machine.
Canvas prints have a considerably longer lifespan than other art prints. It is an extremely durable medium, and prints on canvas can last for decades without fading or deterioration if printed with high-quality inks and properly cared for. Canvas prints are thus an excellent alternative for archiving memories or creating long-lasting works of art.
Printing on canvas results in a distinctive, textured effect that cannot be recreated on ordinary photographic paper. Many people find canvas prints visually appealing because of their tactile feel, while the texture of the canvas gives depth and dimension to the image.
It is true that there are companies specializing in the accurate printing of your designs on canvas. If this would more fit your plans, you can take a peak at our guide, where we tested most sites on the market, so you don't have to waste money experimenting with your options. On the other hand, if you want to completely tailor the final result, or do it in the privacy of your home, buying your own canvas printer could well be more economical in the long run.
While selecting a canvas printer, consider elements such as resolution, color accuracy, and ink quality. Better resolution and color accuracy ensure that the finished print looks as similar to the original artwork as possible, while high-quality ink ensures that the print lasts as long as possible without fading or deterioration.
If you are looking for the best canvas printers, you might want to take a look at our guide, as we offer options for professionals who require wide-format printers, black and white prints, and budget options for your home crafting.
Selection Criteria for Canvas Printing 2023—Buying Guide
Print Quality
The majority of canvas prints are images, so it is a good idea that your printer rates high on resolution and color accuracy. A printer with a high resolution (at least 2400 x 1200 dpi) and a wide color gamut is recommended.
The printer's ability to produce true colors is another factor to think about. Inkjet printers are superior to laser printers in this scenario. If you're looking for the greatest print quality possible, an inkjet printer is your best bet, but you should know that they're rather slow, so you may want to factor it in if you are looking for canvas printers for professional reasons.
And if you want your prints to look the way you envisioned them, you'll need a monitor that accurately displays colors. In this post on the best monitors for digital photographers and image editing, we go into detail about the various alternatives available to you.
Media Thickness and Weight
Particularly developed for printing, inkjet canvas could well be the thickest medium you will typically feed into your printer.
Inkjet canvas is measured in millimeters (mil), grams per square meter (gsm), or micrometers (m). Its typical thickness is from 19 to 22mil, and its typical weight ranges from 300 to 450gsm.
Before purchasing a canvas printer, it is important to know what kind of canvas you plan to print on, as not all canvases are created equal. Your printer may jam or its roller motor may overheat if you feed it paper that is too heavy or too thick for it to handle.
Manufacturers of canvas paper often advertise its weight. However, this weight alone is not necessarily indicative of the canvas's thickness. Whether or not a sheet of canvas can be fed into a printer depends primarily on the thickness, but also the flexibility of the canvas.
Top Product Recommendations for the Best Canvas Printer 2023
1. Overall Best Canvas Printer—Epson SureColor P800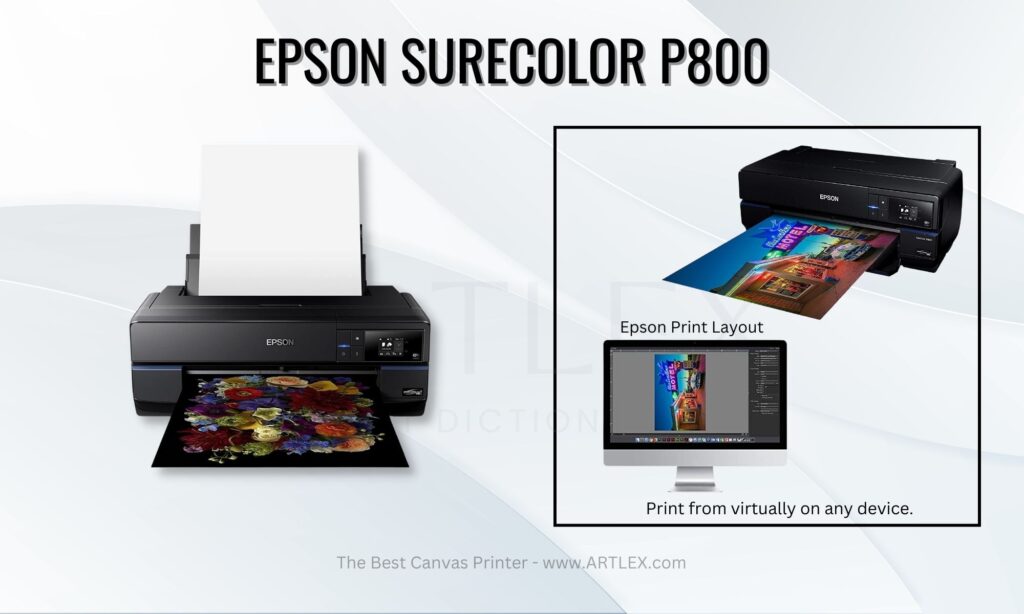 Canvas Printers Selection Criteria
Print Quality – 10/10
Maximum Paper Thickness – 10/10
About Epson SureColor P800
If you're into digital graphics and photography, investing in a machine like the Epson SureColor P800 is not only worth it because of how effectively it performs but also because of how much fun you'll have using it.
You may not need one of these printers, but if you work with photos or graphics for fun or profit, you'll find it to be an invaluable tool. This C-size picture printer's main selling point over its competition is its ability to accept a paper roll adaptor, its smaller size and reduced weight while maintaining impressive results for home crafters and professionals alike.
Cut-paper sizes ranging from 3.5 x five inches to 17 x 22 inches can be printed on with the P800. Printing on 13- or 17-inch-wide, up to 10-foot-long paper rolls is also an option with this canvas printer, for a larger variety of projects.
In addition to its ability to print in impressive grayscale, the SureColor P800's nine ink cartridges also come with a wide range of black ink tones. While the color gamut increases with the number of colors available for mixing, both the monochrome and full-color canvas prints come out looking fantastic.
The SureColor P800's paper roll adaptor makes it superior to its competition when it comes to paper handling possibilities, as it can accommodate rolls of paper with 2- and 3-inch cores and 13- or 17-inch widths. The top paper tray can extend to accommodate up to 120 sheets of regular paper, 30 sheets of high-quality photo paper, or ten sheets of thicker presentation-quality photo paper.
Just above the output tray is where you'll discover another input tray that you can use for thick canvas and poster boards. It's crucial to remember that if you install the roll adapter, you'll need a few feet of clearance in front of the printer to accommodate the banners as they roll out.
Transitioning from inks that perform well on matte paper to those that work well on glossy paper and back can be a bit pricey as it requires draining the ink system. Only by using extra ink can the printer be made to flush, and this can become costly if you do it often, depending on whether you're switching to or from matte black. So, it is our advice to keep, to the best of your abilities, of course, separate your matte black and non-matte black print jobs as to avoid extra costs.
Overall this canvas printer can handle photo and art prints as well as panoramic prints just as well as commercial printers can, both on standard paper and roll feed media for a wider variety of sizes.
Pros:
Aimed at professional photographers
Archival quality of canvas prints
Optimum image generating system
Cons:
High purchasing and running costs
Automatic cutter does not come with the optional roll feeder
2. Best Canvas Printer for Home Use—Epson Expression XP15000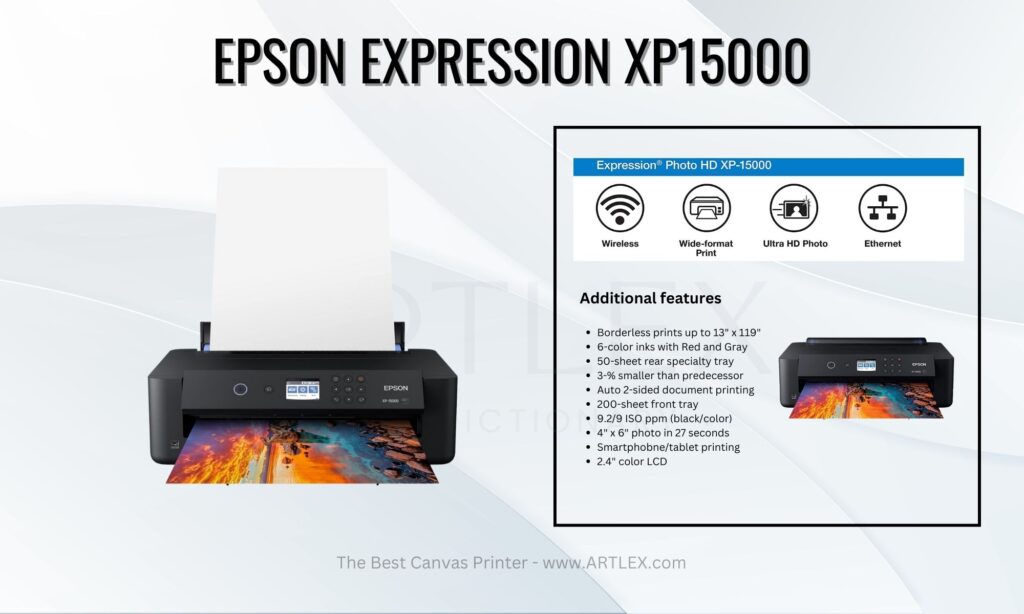 Canvas Printers Selection Criteria
Print Quality – 10/10
Maximum Paper Thickness – 9/10
About Epson Expression XP-15000
Wide-format fine art and photo canvas printing have traditionally required either a specialized photo printer or access to an online printing service; but having such a specialized canvas printer at home was always considered an oxymoron.
Although Epson's Expression Photo HD XP-15000 wireless large format canvas printer is primarily intended for use in the home, it provides a solid foundation for crafters and small businesses alike.
The XP-15000 is compact for a wide-format printer, measuring 6.3 by 18.7 by 14.5 inches with its drawers and trays closed, and weighing 18.7 pounds, making it ideal for home-based offices.
A 200-sheet plain paper cassette is located at the front of this Epson canvas printer, and a 50-sheet feeder is located at the back of the machine, primarily for canvas and wide-format paper. It can also provide label printing on pre-surfaced optical discs and jewel case inserts. Borderless printing is also an option by this printer, for pages of any size, from four by six inches to 13 by 19 inches.
The XP-15000 supports a variety of connections, including Ethernet, Wi-Fi, and USB, but you can also use Epson E-mail Print, Epson Remote Print, and Epson iPrint App for connecting to various cloud sites.
Photos print well on most inkjet printers, with some variation depending on whether or not the printer was designed with printing images in mind. More often than not, the quality of a photo-focused inkjet's prints improves as its color palette expands. The XP-15000 is the only consumer photo printer that can produce truly professional-quality prints, as it uses 180 ink nozzles to print both grayscale photos and color images with sharp detail and lifelike hues.
Pros:
Large format printer
Allows for borderless prints
180 ink nozzle ink system
Cons:
Slow canvas print
No roll feed option
3. Best Large Format Canvas Printer—Canon 9856B002AA

Canvas Printers Selection Criteria
Print Quality – 10/10
Maximum Paper Thickness – 10/10
About Canon 9856B002AA
If you are looking for the best professional canvas printer, Canon 9856B002AA could well be an option worth exploring.
This professional printer uses Canon's L-COA (large format printer common architecture) controller, which allows for wide format prints to be completed at a much faster rate than most of its competitors. This high-speed processor allows for large volumes of data to be processed quickly for maximum color accuracy.
The Sub-Ink tank system also ensures that every drop of ink is used before the tank must be replaced, thus reducing the likelihood of wasted ink and unnecessarily raising the cost of print-per-page. In addition, the empty tanks can be swapped out in real-time without having to turn off the printer. When doing lengthy print tasks, this can make all the difference.
The nozzle head design built into these inkjet printers aids in reducing mist spray for clearer text and sharper lines. Detail and great image quality are both produced via the high-density, high-precision print head's use of four picoliter ink droplets, which are distributed by a total of 15,360 nozzles, even in wide format art prints on canvas papers. The result is consistently accurate 2400 x 1200 dpi output with fine lines that are accurate to 0.10% and thin as 0.02mm.
Pros:
High-quality canvas prints
Geared towards professional photographers
Fast printing speed
Pigment inks can be used in economy mode
Cons:
No roll feeder
Wireless printing issues regarding connectivity
4. Best Black and White Canvas Printer—Canon ProGraf 4100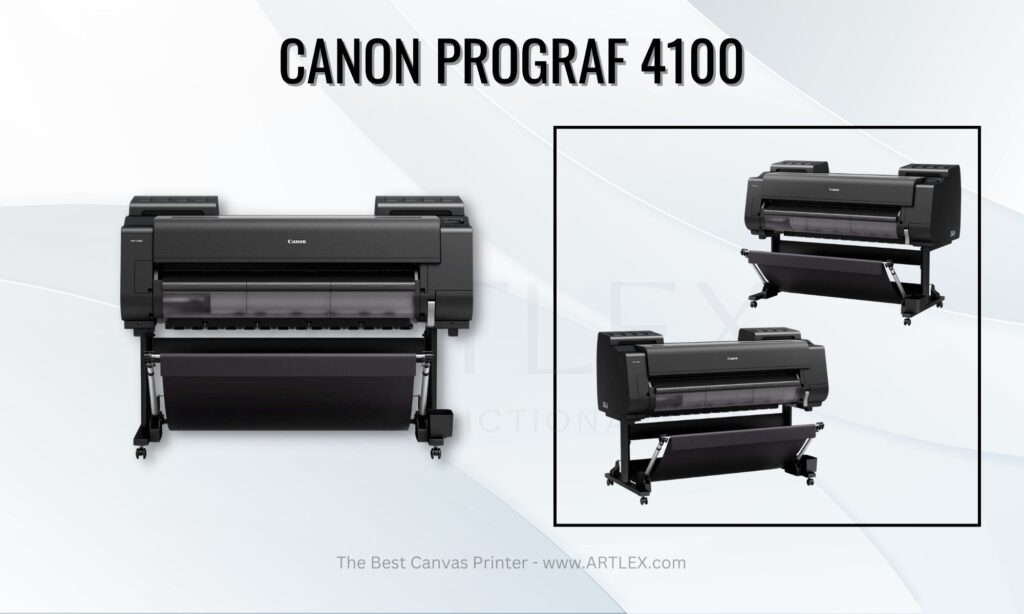 Canvas Printers Selection Criteria
Print Quality – 10/10
Maximum Paper Thickness – 10/10
About Canon ProGraf 4100
Printing on canvas offers a unique and durable way to display artwork and photographs that many people find aesthetically pleasing and emotionally meaningful, especially when done in black and white format.
Yet, when printing canvas in monochrome hues, the printing process becomes even more complicated, as any shortcomings are more visible to the eye.
Canon Prograf 4100 holds a focus on unrivaled print quality and color accuracy, especially when it comes to black and white scales. The L-COA PRO high-speed image processing engine, in conjunction with the 1.28-inch wide 12-channel, integrated compact print head, the LUCIA PRO ink set plus Chroma Optimizer, and the high-precision mechanical platform achieve a balance between print quality and speed.
The LUCIA PRO ink set adopts 11-color pigment inks and Chroma Optimizer, as it was developed to fulfill the needs of the most exacting photographers, and it features microencapsulated colorants that allow for more nuanced gradients, a wider color gamut, and more intense color expression, even in black, white, and gray scales. High-quality color accuracy, sharpness, and depth in dark regions are all within reach with this canvas printer, even in wide-format prints.
This canvas printer is the first of its kind to automatically recognize paper sizes and types, as well as loads it without human interaction. Place the roll holder inside the printer, and the media will feed without any manual intervention on your part, as built-in multi-sensors automatically identify the media type based on surface reflection and media thickness measurements.
An additional roll of media can be loaded onto the printer with the Multifunction Roll System, which also makes use of Canon's new intelligent media management. Alternatively, this device can be set up as a bidirectional media take-up unit. The ability to load two rolls of paper at once means that you can move from printing on paper to printing on canvas without having to pause your work to reload.
The ability to feed two rolls of the same media into the printer simultaneously is also useful for supporting high-volume printing. You can set up the Multifunction Roll System as a take-up unit to rewind longer printouts, expanding the system's rewinding capabilities.
Finally, this printer is equipped with a color calibration feature to ensure accurate color rendering in grayscale. An improved color densitometer is integrated for accurate calibration and color matching. The sensor employs a tri-color LED and condenser lens for precise recalibration, letting you keep your printer's average color difference to a minimum.
Pros:
High print quality
Cost-effective inks
Tri color sensor for color accuracy
Automatic feeder switch for a variety of mediums
Cons:
Expensive initial purchase cost
5. Most Eco-friendly Canvas Printer—Canon IP8720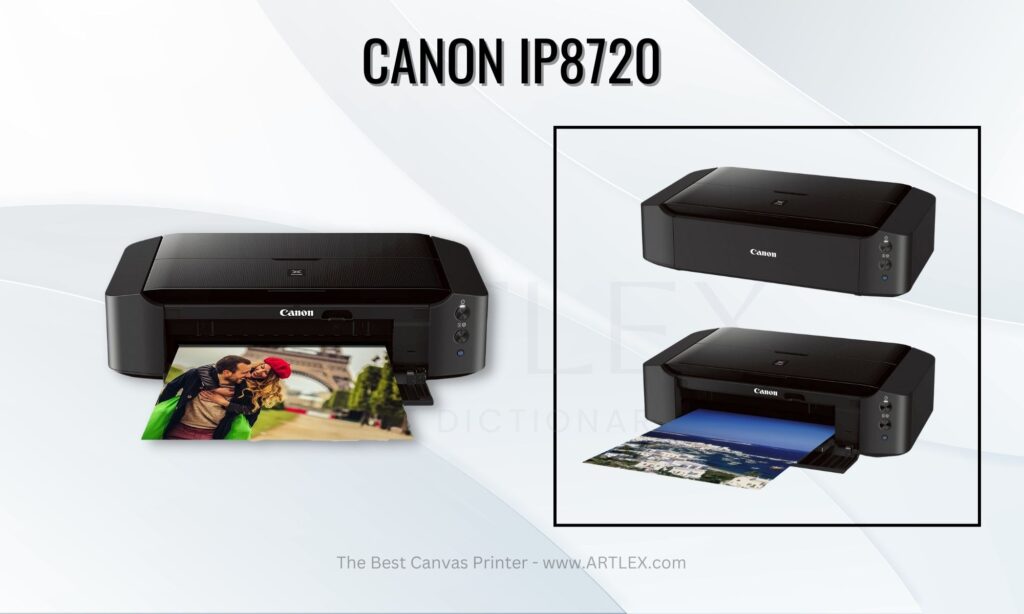 Canvas Printers Selection Criteria
Print Quality – 9/10
Maximum Paper Thickness – 9/10
About Canon IP8720
If you are interested in an eco-friendly option for your canvas printing, the Canon 8720 may well be the way to go. This two-in-one printer is more focused on providing you with a great solution for everyday printing while excelling in photo printing, especially on thicker materials, such as canvas. This way, you do not need to burden the environment even further by purchasing extra machines.
It can also print text, graphics, and photographs on plain paper with the same ease as models that are dedicated to office work, thanks to its ink system and paper handling. However, as it features only one paper tray, you will have to manually switch back and forth between jobs.
Further, this eco-conscious model comes with built-in technology, which ensures your printer is turned off automatically when not in use, thus saving extra resources of the planet from being wasted.
The iP8720 holds six ink cartridges, with the recent addition of gray inks, which allows it to print far better-looking black-and-white photos than its competition at this price point.
This model is ideal for those who wish to print images up to 13 by 19 inches but don't have the budget for a much more expensive professional printer or who need to print photos in black and white but don't want to sacrifice quality.
In terms of print quality, this inkjet color printer delivers higher-quality photographs than most inkjets, even on thick materials such as canvas paper. Because it is intended for printing photographs, the iP8720 excels at producing high-quality prints at the level of what you would find at a professional retailer, so you don't have to worry that you sacrifice quality for an eco-coscious lifestyle.
Pros:
High-quality canvas printing, even in black and white mode
Cheap canvas printer
Borderless prints
Can print even on thick canvas with ease
Cons:
Does not offer Ethernet port
6. Most Affordable Printer for Canvas—Canon Pixma Pro 200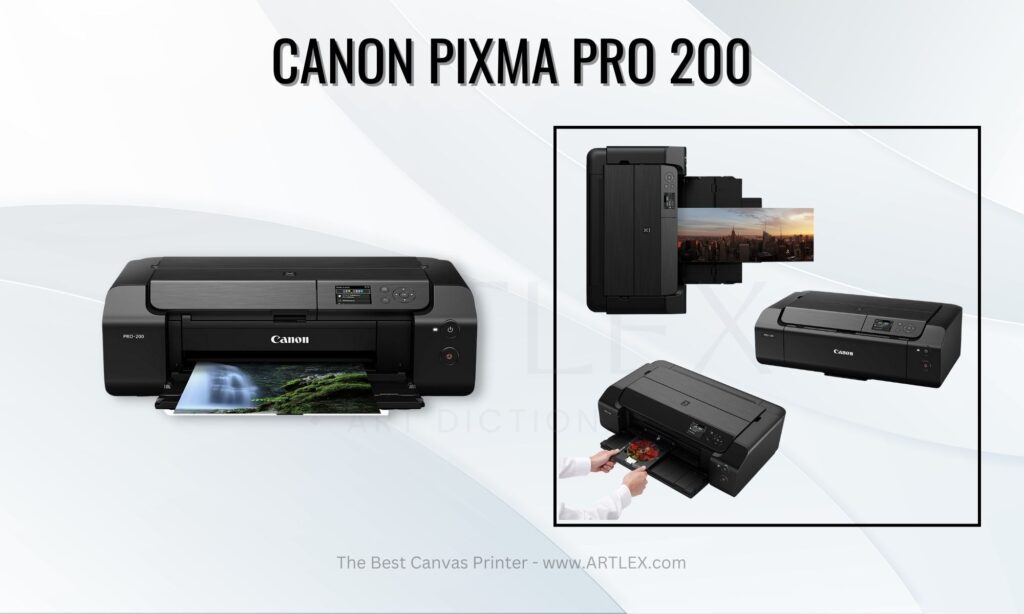 Canvas Printers Selection Criteria
Print Quality – 10/10
Maximum Paper Thickness – 8/10
About Canon Pixma Pro 200
The Canon PIXMA Pro 200 is a wonderful budget option for photography enthusiasts as it can produce canvas prints that look like they came straight from a lab, with a fraction of the price. Whether you prefer to do canvas printing or run a printing business, this inkjet machine is a nice option to consider because it can create borderless prints up to A3 size. You can even use it with transfer paper, to create canvas designs for a variety of stitching kits.
The tray can hold up to 150 pages, and the manual feeder can handle canvas as thick as 380GSM. Skew Correction technology allows for precise paper loading on the PIXMA PRO-200, with paper alignment taken care of automatically by integrated sensors for consistently high-quality results.
This printer may be less expensive than the professional options of our list, but it still uses eight ink cartridges, which it's well worth it if you want to make canvas with detailed images that look like they came from a professional studio.
Dye based inks have a shorter lifespan than pigment inks, however, Canon promises that their genuine inks will last a century, so you don't have to worry about your art fading as time goes by.
Overall, this is a great budget option for people who are looking to start creating canvas art designs, but are not sure if they will continue with this art.
Pros:
Affordable printer
Ability to print digital art on canvas and transfer paper
Eight ink system
Cons:
Maximum paper size is 380GSM, so it can't handle heavier canvas material
Conclusion—The Best Printer for Canvas 2023
When looking for the best printer for canvas, it's always a good idea to look for a model that will be able to handle borderless printing, paper weight of 300 to 450GSM and dye based inks that will last for a long time.
If you are looking for a professional canvas printer, the Epson SureColor P800 is a well rounded model, that can handle canvas print of a variety of sizes and weights, when paired with a roll feeder. The set up and customization of this machine is simple, due to its 2.7-inch color touchscreen, so even novices can use it from the get go.
We hope you found our analysis of the best printer for canvas of 2023 to be helpful. Consult our associated guides for further sources of comparable items for the artistic lifestyle.