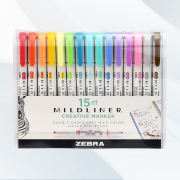 This dual-tip tool with 15 soft hues is perfect for note layouts, Bible journaling, calligraphy styles, and more, with fast-drying and non-toxic ink.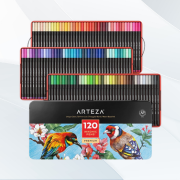 Designed by artists, these 120 fine-point pens come with a comfortable grip and quick-drying, non-toxic ink, making them perfect for adult coloring books.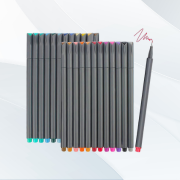 This 24-color set provides flawless, smear-free writing on different paper types, making it suitable for journaling, highlighting, coloring, and doodling. The pens' bodies are sturdy and the ink is long-lasting.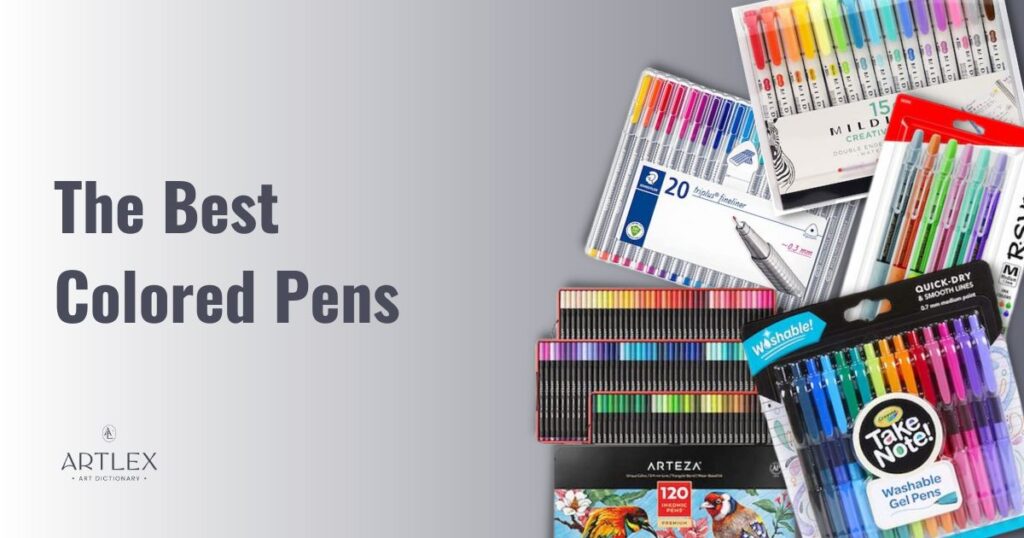 Whether you're back in school or at the office, taking notes is one of the best ways to learn the material and convey it to others. Taking the time to carefully prepare color-coded class notes that pull out relevant passages and emphasize the most important terms is a common practice.
Using colored lines on your pages helps you find the material you need fast. Whether you're an artist or a student, it's always to your professional advantage to take notes in a style that's both imaginative and well-organized.
Journaling, Bible studying, or even just filling out coloring books can have a good impact on your overall mental health. Both colored pencils and rainbow pens will make the experience so much better, if they are of high quality.
But what does high quality mean exactly?
It can feel like trying to find a needle in a haystack when you're on the hunt for the perfect pen. That is why we have compiled a list of the top colored pen options for people who like to journal, draw in coloring books, paint with their children, and even have a soft spot for pastels, as they require specific choices.
We will discuss our recommendations based on the overall pen and ink quality, type of pen as well as the number of colors in the set, which are all of the primary importance when making a buying decision.
Selection Criteria for the Best Colored Pens 2023—Buying Guide
Plans, architectural drawings, sketches, notebooks, and calendars may all benefit from a burst of color with the help of colored fine-tipped pens, so there's no reason to limit yourself to the traditional colors of blue, black, and red. Artists, illustrators, teachers, designers, fashionistas, architects, and even doodlers can choose from a wide variety of gel and felt-tip colored pen sets. Our compiled list below will help you zero in on the optimal set for your needs.
Overall Pen Quality
The correct amount of elasticity and smoothness is essential. Writing points on capless rollerball, ballpoint, and gel pens should extend and retract smoothly and securely and, once extended, should not move.
The pen needs to be sturdy and easy to grip so that it may be used for a long time. You can't write for hours on end with a badly built barrel, which is why a rubber-wrapped one would be the best option. It's also important that the pen's tip is sturdy enough to withstand moderate pressure.
Ink Bleeding and Quality
Fluidity and consistency are the two most essential qualities of good ink. It's important that it dries quickly, has smooth ink flow, and won't corrode whatever it touches. Additionally, saturation and persistence on paper are also crucial elements.
You may not have issues with ink bleeding on thick paper, which is especially important for left-handers. That, however, is not always the case, given the wide variety of paper kinds on the market.
Left-handed artists can sometimes reduce the likelihood of blurring and smearing their work by brushing through the written lines if they use pens that dry quickly.
Therefore, bleeding through is an important factor when choosing a pen, which led us to take it into account when we compiled our list.
Ballpoint Pen
The ink in regular ballpoint pens is thick and sticky. Because of this, there is less ink wasted with each stroke, so the pen may be used on thinner paper without worrying about it bleeding through.
On the other hand, due to the extra thickness of ballpoint ink, artists need to exert more pressure when using it. Over time, this might lead to sore hands from constant writing.
Ballpoint ink is great for left-handed writers because the alcohol in it helps it dry rapidly.
Gel Pen
Gel pens ink is distinguished by its thixotropic nature. The ink is "thixotropic," which implies that it is solid at rest but flows like a liquid when subjected to a shearing force, such as when the ball at the end of the pen spins and moves the gel.
Liquid ink is dripped onto the paper, where it cools and re-solidifies to its original state. Due to this, gel ink is less prone to feathering and bleedthrough and can stay on the surface of the paper for longer.
In most cases, the inks used in many gel pens are not only noted for their vibrant colors, but also for their resistance to water, so choose accordingly if you plan on using watercolor on top of your sketches.
Gel pens are often fairly smooth, although some have extra fine-tip pens that can leave noticeable feedback. They perform well for ordinary use but may leave ink smears on receipts and other shiny materials.
To avoid smudges, left-handed writers may find that thinner tip sizes or quick-drying gel pens work best. More than that, many gel pens come in a variety of hues and textures, making them great for DIY projects and organizational color coding.
Color Variety
Truth be told, this is a matter of preference. Yet, we can not resist note-taking and smooth writing with coloring pens in all the ink colors possible. On the other hand, if you leave it to us, you'll be walking around with a plastic carrying case full of pens in a bright assortment.
It's possible that you won't need a carrying bag at all, though, if your pick simply contains two or three different hues of the pen you like, and it might be enough for the particular project you are working on.
Top Product Recommendations for the Best Colored Pens 2023
Overall Top Colored Pens: Zebra Pen Mildliner and Highlighter
Best Colored Pen Set for Adult Coloring Books: Arteza Inkonic Fineliners
Best Colored Pen Set for Journalling: ibayam Fineliner Pens
Best Colored Pen Set with Pastel Ink: Pentel RSVP RT Pastel Barrel Ballpoint Pens
Best Colored Pen Set for Left Handers: Staedtler Triplus Fineliner Pens (NO BLEED) ballpoint
Best Colored Pen Set for Children: Crayola Colored Gel Pens
1. Overall Top Colored Pens—Zebra Pen Mildliner and Highlighter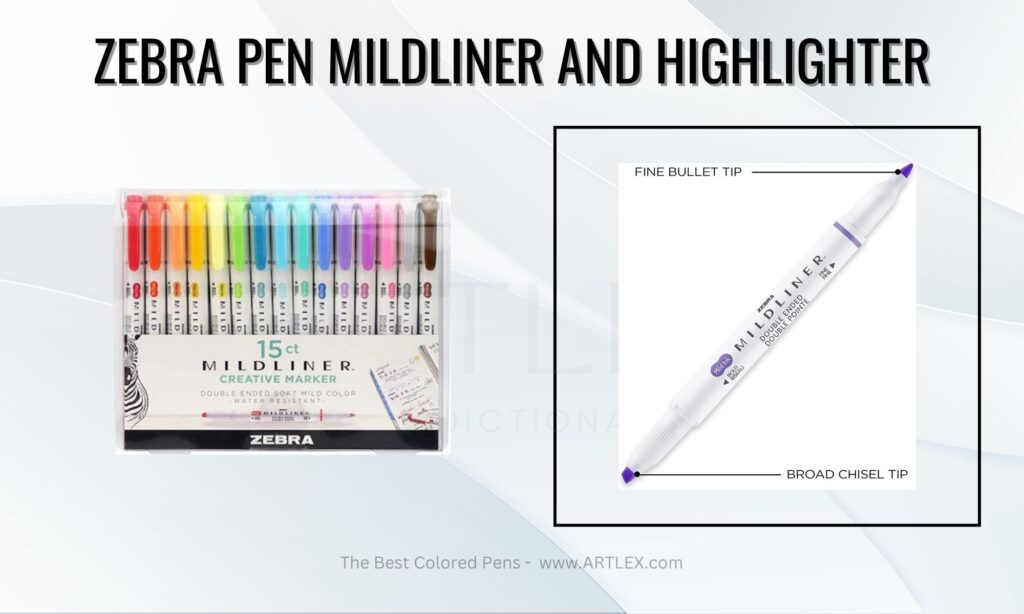 Colored Pens Selection Criteria
Pen Quality – 10/10
Ink Quality – 9/10
Type of Pen – Fine Tip, Chisel Tip
Color Variety – 15 coloring pens – 8/10
About Zebra Pen Mildliner and Highlighter
This Zebra Pen Mildliner and Highlighter kit is perfect for those who want to have a colorful pen and highlighter at their disposal at all times.
You can get two different kinds of color and tip size for different uses with only one purchase. Further, the chisel tip can also be used to draw both thin and thick lines, making it a versatile tool for shading and outlining as well.
So next time you are Bible journaling, you can start with the smooth writing of thin lines and use the bold point to highlight the relevant scripture. We have tested it, and they do not bleed through thin Bible pages. However, keep in mind that the darker colors, like purple and blue, do leave a shadow on the back page.
The tones of these Zebra fine-tip writing pens are further evidence of its adaptability. There are a total of 15 soft hues to choose from, allowing you to experiment with various note layouts and calligraphy styles. If the chisel tip is not your cup of tea, you can always opt for the brush tip variety.
Pros:
Colorful pens, pastel shade
Two-sided writing instrument tip, good for thin and bold lines
Fast drying ink
Non-toxic
Cons:
Chisel tip may appear rough during first uses
2. Best Colored Pen Set for Adult Coloring Books—Arteza Inkonic Fineliners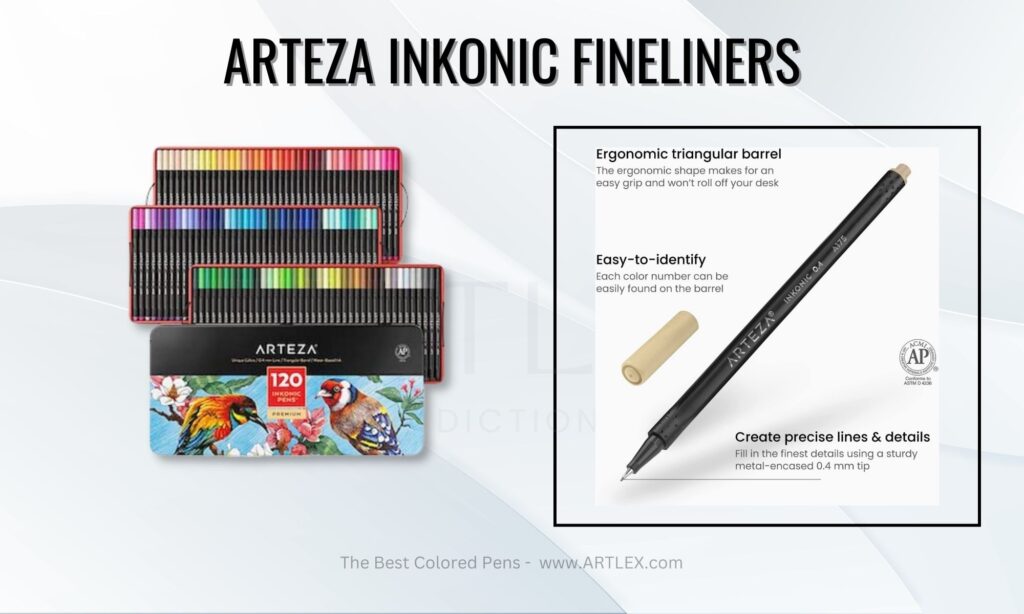 Colored Pens Selection Criteria
Pen Quality – 10/10
Ink Quality – 9/10
Type of Pen – Fine Tip
Color Variety – 120 coloring pens – 10/10
About Arteza Inkonic Fineliners
At Arteza, artists are the ones primarily designing the products, which means that they know all about smooth ink flow and bright colors. This 120-piece smooth glide pen set has a comfortable grip that is great for adult coloring books.
These 120 fine-point pens are stored in a convenient three-tiered container. The ink is odorless, non-toxic, and dries quickly so that your lines on the paper don't smudge. A metal coating on the 0.4 mm tip ensures pinpoint precision, while the pen's triangular shaft is designed to be easy to hold so that you can color for long periods of time without becoming tired.
After all, when you can color for hours without your fingers hurting and enjoying any color under the sun, isn't that what relaxation is all about?
Pros:
Fine pen tips for accurate coloring
Metal tip for sturdy lines
Comfortable grip for hours of relaxed coloring
Cons:
Pastel pens write darker than expected
Not very opaque ink, may need to redo sections
3. Best Colored Pen Set for Journalling—Ibayam Fineliner Pens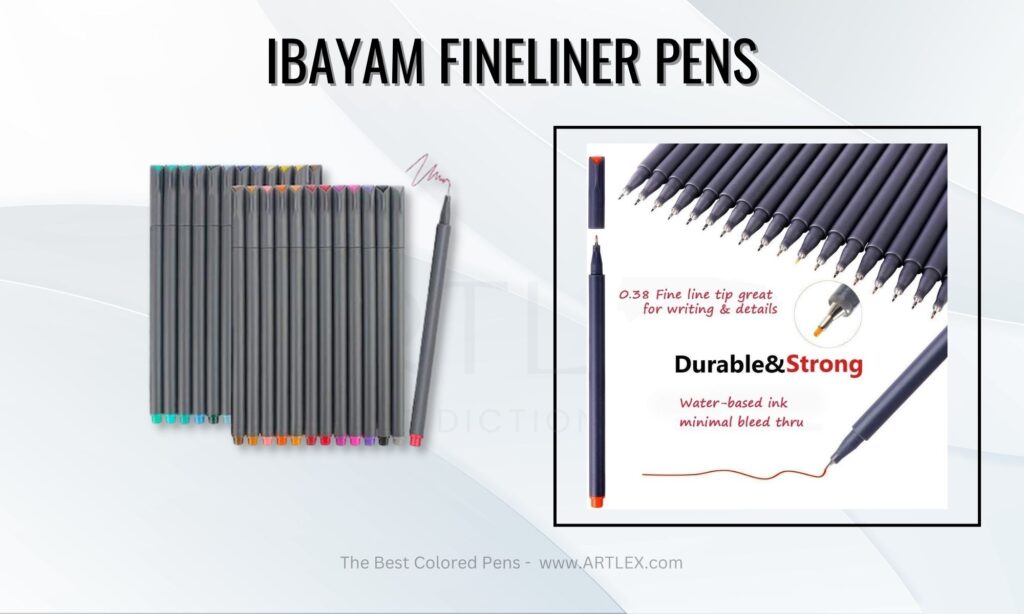 Colored Pens Selection Criteria
Pen Quality – 9/10
Ink Quality – 9/10
Type of Pen – Fine Tip
Color Variety – 24 coloring pens – 9/10
About ibayam Fineliner Pens
The ibayam fine liner pens is a 24-color set that produces flawless, smear-free writing on notebook paper. However, they write equally well on thinner or thicker paper, depending on the type of journaling you prefer. It is because of the ink's water-based composition and porous tip that makes this possible.
This package is great for artists who want to achieve subtle color shifts since they acquire hues that are comparable rather than radically different. The fine line produced by the 0.38mm marker tip is both powerful and precise, making it suitable for detailed drawings as well as the systematic use of color in your journal.
This marker's versatility is demonstrated by the fact that it may be used for highlighting, coloring, and doodling with no problems, while each pen has enough ink to last for a long time. The metal-clad body of these ultra-fine pens is sturdy and provides a satisfying weight, and the nib remains wet even after extensive use.
The pen's body is lightweight and ergonomic, and the cap is stylish and functional, with a color code for easy identification. The best part is that you can carry all the parts in a compact, foldable case with a fold-over snap closure.
Pros:
Fine tip pens, good for bullet note taking and architectural notes
Graphic pens for designs and doodling
Longlasting ink
They write smoothly on most types of paper
Cons:
Need to take care not to push the tips too much, cause they can scratch the metal tip can scratch the surface of the paper
4. Best Colored Pen Set with Pastel Ink—Pentel RSVP RT Pastel Barrel Ballpoint Pens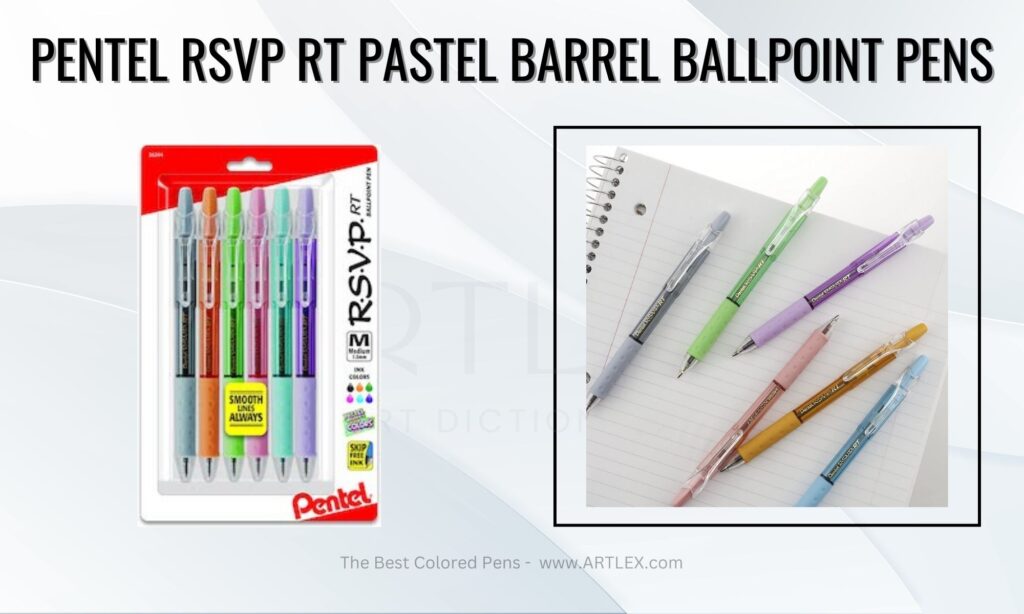 Colored Pens Selection Criteria
Pen Quality – 9/10
Ink Quality – 9/10
Type of Pen – Fine tip
Color Variety – 6 coloring pens – 7/10
About Pentel RSVP RT Pastel Barrel Ballpoint Pen Set
When coloring, not all shades are the same. You may need bright colors to highlight important points. Still, soft pastels are ideal for beginning artists as they allow them to experiment with color and a new medium without having to commit to a more advanced material.
They perform well as a means of laying down preliminary lines and may also be used to add spectacular marks at a later stage, not to mention they are easier to blend than bright colors.
The Pentel RSVP RT Pastel Barrel ballpoint pen set sports a latex-free wrap barrel, which is a defining characteristic of the brand. In general, this company emphasizes ergonomic designs, so using them for long periods of time won't cause as much hand tiredness while you color or learn new designs.
The transparent barrel allows you to always be in control by seeing exactly how much ink you have left, while the stainless steel end will not budge even when you apply more force than normal.
Further, the ink cartridges can be swapped when the ink ends. You can even use blue ink, for writing notes.
If these handy and dependable characteristics meet your requirements, the only remaining decision is which colors you like best among the six pastel ink pen options that come in this package.
Pros:
Ink cartridge replacement, blue ink can turn these pens for writing
Controlled ink flow
Comfortable grip, latex-free
Cons:
If left unused for long periods of time, it is best to clean the tip before using them
5. Best Colored Pen Set for Left Handers—Staedtler Triplus Fineliner Pens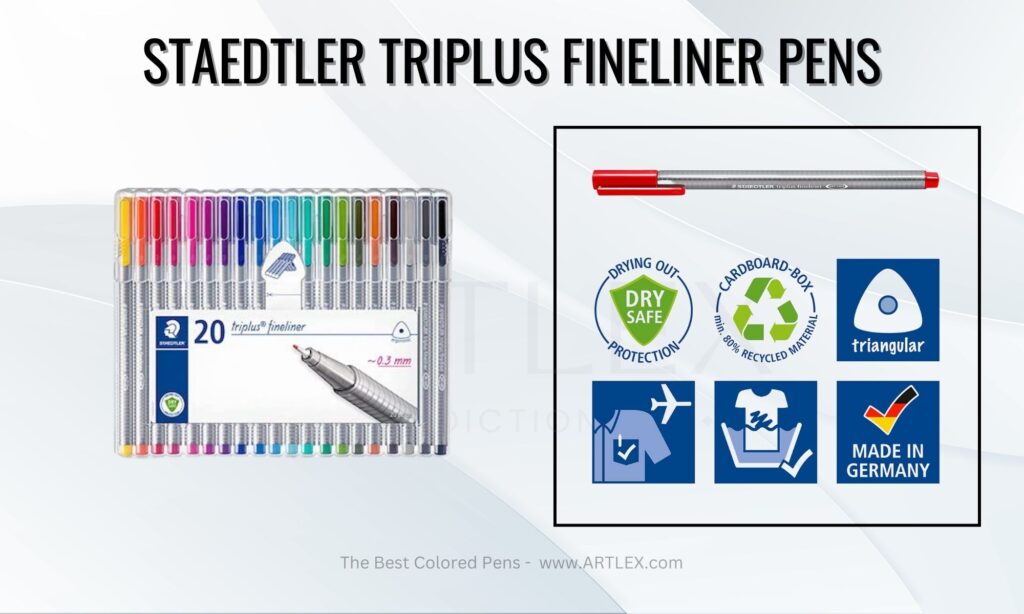 Colored Pens Selection Criteria
Pen Quality – 9/10
Ink Quality – 9/10
Type of Pen – Fine tip
Color Variety – 20 coloring pens – 9/10
About Staedtler Triplus Fineliner Pens
All things being equal, left-handers are left in quite a predicament when looking for a worthy writing instrument that won't smudge. Pens for writing or coloring will need to dry fast as not to carry the color when the artist's hand runs over them.
The Staedtler Triplus fine liner delivers on the promise that your work will not be spotted or smudged and that the color will not bleed through, even when working on super-thin paper.
The beautiful and vivid hues of these pens are another plus. A variety of bright colors help draw attention to the various points, which in turn will aid in note recognition and retention.
Choosing a pen shape that feels good in the hand is also important. The ownership of an ergonomic triangle marker, albeit seemingly inconsequential, can significantly decrease hand tiredness so you can use them for hours without hurting.
The ink will not dry like regular water-based pigments, even if the cap is left off for several hours or days.
Pros:
Dry safe composition ensures long-lasting coloring
Ergonomic design, triangle pen
Fast dry time, ideal for left-handed artists
Will not bleed through thin paper
Cons:
Colors may fade if not in sunlight for long periods of time
6. Best Colored Pen Set for Children—Crayola Colored Gel Pens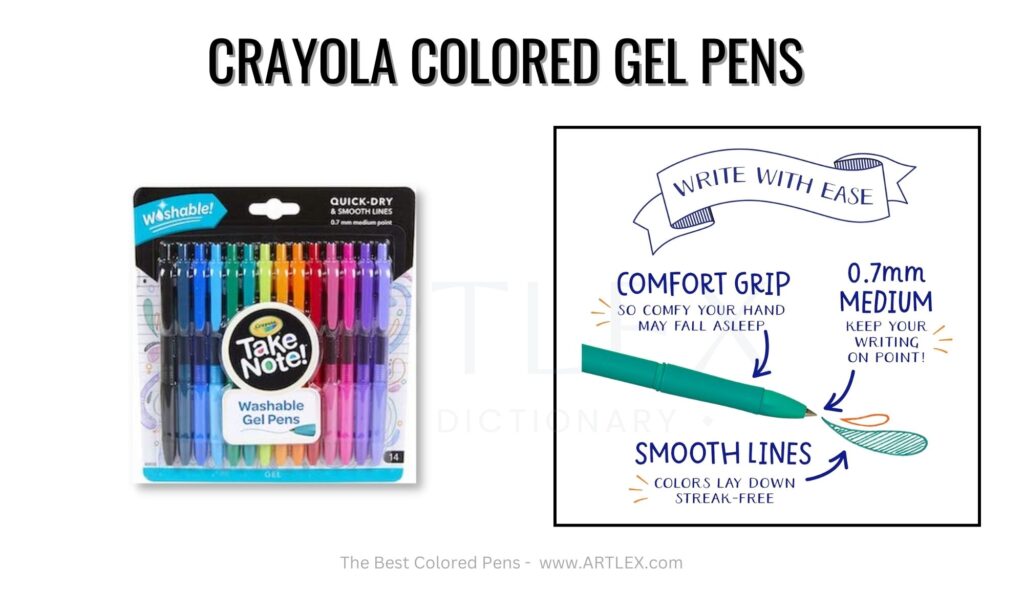 Colored Pens Selection Criteria
Pen Quality – 9/10
Ink Quality – 10/10
Type of Pen – Fine Tip
Color Variety – 14 coloring pens – 8/10
About Crayola Colored Gel Pens
If you are looking for colored gel pens that you can enjoy safely with your children, then Crayola Colored Gel pens may be a great option for you.
These gel pens are equally suitable for smooth writing, note-taking, doodling, and coloring so you can share them with your little ones while you work, and they color. The names alone are reason enough to start coloring; little black dress, lilac bouquet, and par-tea spark the imagination, not to mention help little kids to learn the colors with the help of cognitive cues.
As an added bonus, the ink formula is entirely safe for children to play with; and if they get caught in the moment and draw on their clothes, there is no reason to worry as the ink is easily removed in the laundry.
This Crayola gel pen is great for youngsters, but it also works nicely for grownups. In particular, we like the simplicity with which we can do our work because of features like the cartridge's ability to retract and the body's ergonomic shape. When using this convenient pen, you won't have to worry about producing lines with streaks or splotches.
Pros:
Ergonomic design
Cognitive cue names of each pen's colors
Best gel pen for washing off clothes
Great ink flow
Cons:
Color names are not printed on pens
Colors run out faster than competition
Conclusion—The Best Colored Pens 2023
Finding the correct pen, for some of us, can make our day. Irrelevant of tip and pen sizes, all the pens on our list we consider to be amazing pens, each in their own category.
Based on your needs, though, if you are looking for a colored pen set to start your journey in the journalling world, then the ibayam Fineliner Pens are a great option as they allow you to experiment with a variety of colors. Still, they will not bleed through even at the thinnest paper, such as a Bible.
On the other hand, if you prefer to spend your free time coloring books, then you could give Arteza Inkonic Fineliners a try; their 120-color selection will not leave you wanting.
We hope you found our analysis of the top colored pens of 2023 to be helpful. Consult our associated guides for additional sources of comparable items for the artistic lifestyle.