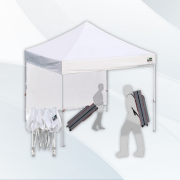 A durable, easy-to-set-up canopy with a classy finish and a removable wall for versatility.
A customizable, pink-colored canopy with three removable walls for optimal privacy.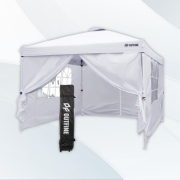 An anti-rust, waterproof canopy with large UV-protected windows for maximum natural light.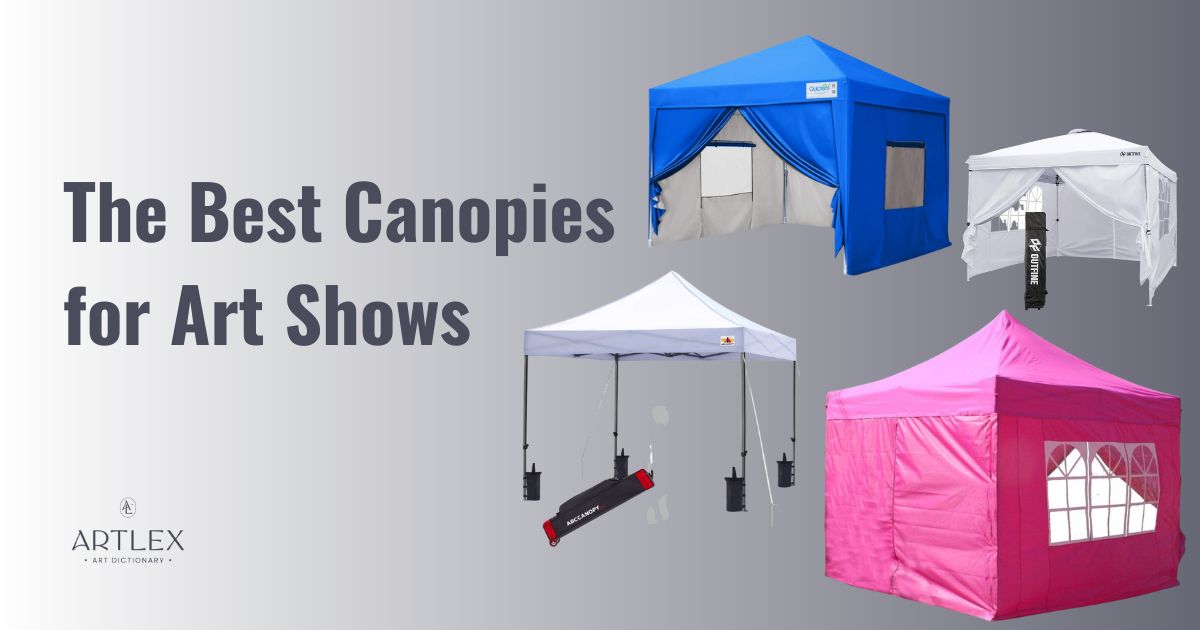 Selling your crafts at an art show involves a lot of preparation. You need to display your work so it catches customers' eyes, but you want to prevent sun and rain exposure. The best canopy for art shows will protect your work without hiding your talent from others.
To compile this list, I tested how easy it was to set up and take down the canopies. I made sure the material was durable enough to protect my art from the elements without making my display look dowdy or uninviting. I researched dozens of canopies before narrowing it to the five best.
How to Choose the Best Canopies for Art Shows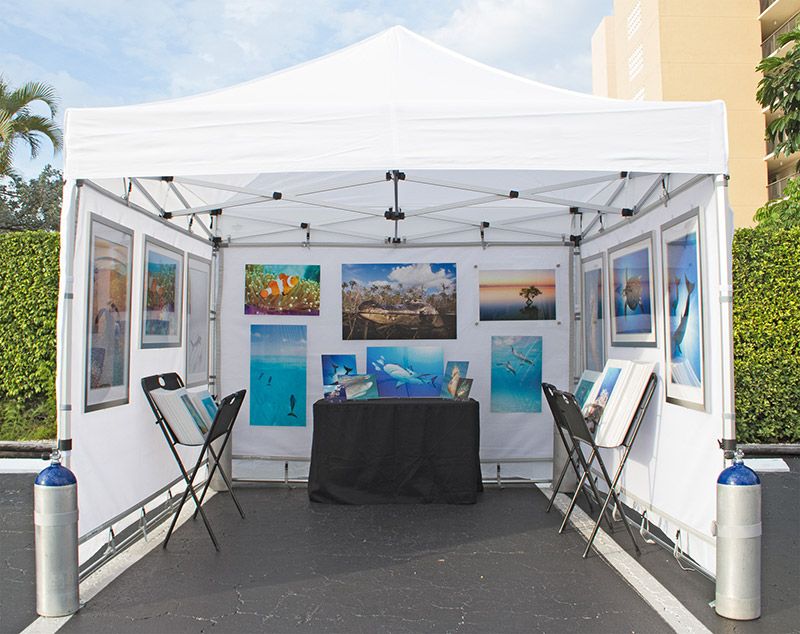 When you're searching for a canopy tent, you want it to meet certain standards. I've participated in many art shows and ensured that the five best canopies on this list will suit the vast majority of your needs. There's no reason to buy several different tents when you can get one of the best to use at different shows.
Size
Renting space at an art show means you're given dimensions that your tables or display tents must fit. The 10×10 size is most common in my experience, but you can always choose something larger. Keep in mind you'll most likely carry and set up the canopy yourself, so you don't want anything too big or bulky.
You don't want to go much smaller because you want to have plenty of room to display your work and allow people to come in and look around. If you have craft shows booked while you're shopping for a canopy, use your setup requirements as guidelines for purchasing a pop-up tent.
Ease of Setup
As I previously mentioned regarding size, you want a canopy that is easy to set up. Even if you have someone else helping you, you don't want to spend too much time setting up the canopy. You need that time to ensure you're displaying your work perfectly, so a quick pop-up tent is your best bet.
Once you get your tent, I suggest practicing with it in advance so you won't struggle the day of the show. You can always buy a lighter tent if yours is too heavy to handle. Investing in a roller bag to transport the canopy and your artwork also helps the setup run smoothly.
Stability
Your art show canopy should have a sturdy frame. There are so many people shopping at craft fairs that they might bump into your tent accidentally, and you don't want it to fall over. You also need to consider the wind and weather.
Most frames are hollow pipes that lock together to provide sturdy coverage. They're easy to take apart and put together, and the hollowness keeps them light for transport.
Material
The material of the canopy itself is crucial. You want something that is water-resistant and can also protect against UV rays. When you're spending hours at outdoor craft shows, you don't want the sun or rain to ruin your art.
Aesthetic
There are different types of outdoor canopies, so you can find one to suit your aesthetic. Plain white canopies allow your work to take center stage, but a bright color will make your tent stand out in a crowd.
You can also find tents with sides if you need more hanging space or want a little privacy in your booth. There are even walled canopies that have windows to allow more light in, or vents in the ceiling to allow airflow.
Cost
Buying a pop-up tent is an investment in yourself and your craft. If you plan to sell your wares at a lot of art shows, it's worth buying the best canopy you can find. You know that your purchase will last for years as you set up and tear down countless shows.
If you aren't sure how you'll fare on the art show circuit or don't want to spend much on the front end, you can get an inexpensive canopy. Make sure you have your goals and budget in mind while you're shopping.
The Best Canopies for Art Shows on the Market Today
There are many options on the market for a craft show canopy, but you want to find the best to showcase your art. You also want it to protect your work from the elements and draw customers into your space. The following five best canopies for art shows will meet all your needs.
Best Art Canopy Overall: Eurmax USA Smart 10×10 Pop-Up Canopy Tent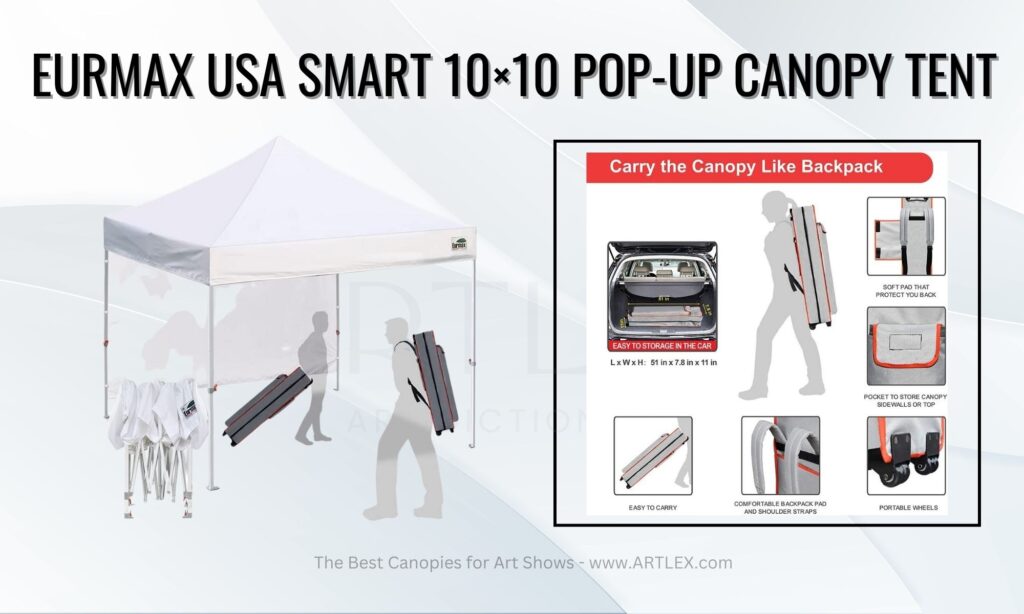 This pop-up canopy made the top of our list because it has everything you need for a successful art show.
Selection Criteria
Size – 10×10
Ease of Setup – One person
Stability – Locks
Material – Steel, Polyester
Aesthetic – 13 options
Cost – ~$199.99
About Eurmax USA Smart 10×10 Pop-Up Canopy Tent
The Eurmax USA Smart 10×10 Pop-Up Canopy Tent is incredibly durable, with an alloy steel frame that ensures your display stays upright all day. Neither the wind nor customers bumping the frame will knock over this structure.
The alloy steel has a hammertone powder coating that gives the frame a classic-looking finish. The polyester canopy comes in 13 solid colors so you can stand out from the crowd without overpowering your artwork. There's one removable wall you can fit into place for additional UV protection, more display space, or privacy.
You'll set the frame up in about a minute since all the poles connect and fold down for easy storage. Use the thumb button to lock the legs in place and you're good to go. There are even banner loops at the top of the canopy so you can advertise yourself.
It weighs 59 pounds, making it a bit heavier than other tents on this list. However, the included bag lets you wear it like a backpack instead of carrying it awkwardly over your shoulder or in one arm. After a long day of selling, you can take advantage of the wheels on the bag and pull your canopy behind you.
Pros
Comes with a roller bag that doubles as a backpack
Adjustable height so you can make it as tall as necessary
Powder finish on the steel prevents rust and looks nice
Cons
Heavier than some other tents on the list
Best Canopy For Privacy: DELTA Canopies 10×10 EZ Pop-Up Canopy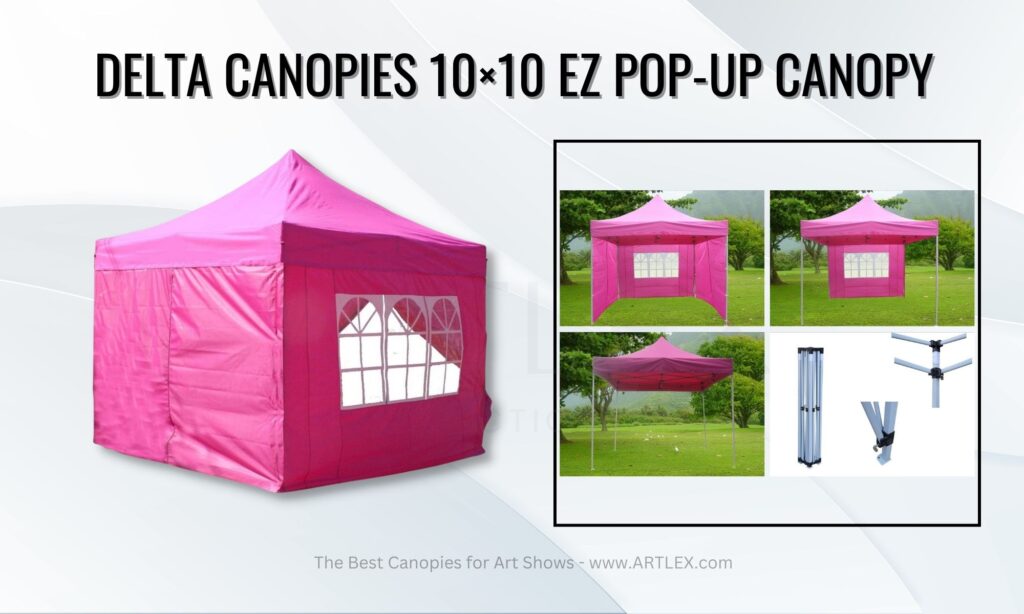 This 10×10 tent has three walls and a front opening you can tie back or let close behind your customers.
Selection Criteria
Size – 10×10
Ease of Setup – One or two people
Stability – Thin frame
Material – Steel, Polyester
Aesthetic – Only pink available
Cost – ~$194.99
About
The DELTA Canopies 10×10 EZ Pop-Up Canopy offers a lot of privacy for your customers, and extra wall space to serve as a backdrop for your art. You can use any or all the three removable sides to create a cozy space for your shop. One wall even has a window to allow in more light.
The wire framework in the canopy itself is easy to unfold and assemble. One or two people can put together this tent in no time. When it's time to take it down, it packs into a small carrying bag for easy storage.
The brand only has a pink version in this size, but it's certainly eye-catching. Unless your art would clash with the color, it's a great tent for the price and all it has to offer. The flexibility to use the walls and window in any configuration will make your art show space feel cozy and unique. The pink is eye-catching, and if that brings people to your shop, then it's worth it!
Pros
Sides have Velcro to ensure water doesn't get in the cracks
Removable sides let you customize the canopy
You can order individual replacements for any broken or torn parts
Cons
The material is only waterproof, not UV resistant
Best Canopy For Extra Light: OUTFINE Canopy 10×10 With Sidewalls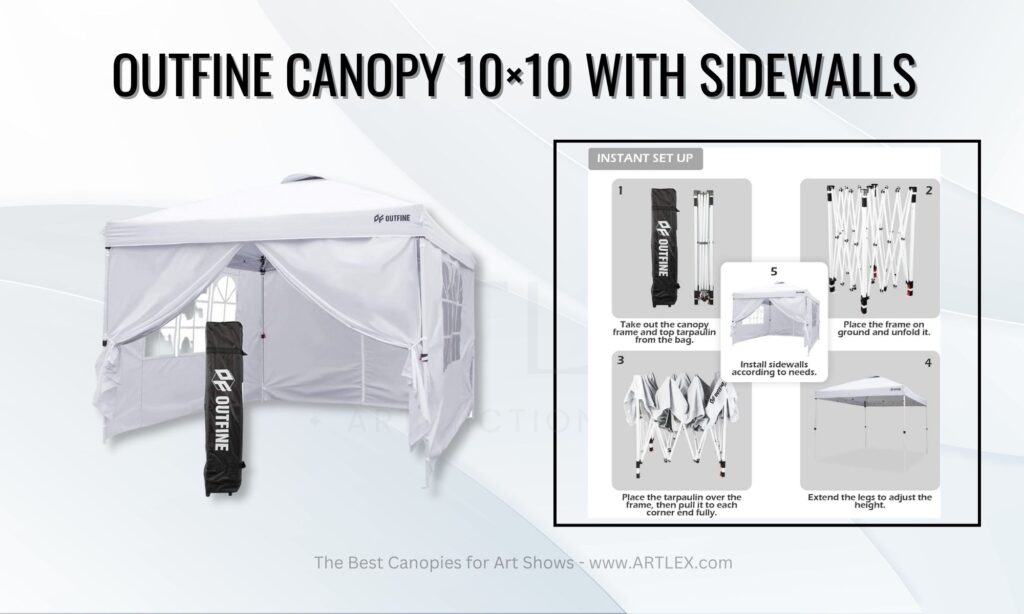 Let in some natural light to ensure your artwork shines at your next art show.
Selection Criteria
Size – 10×10
Ease of Setup – Two people
Stability – Weight bags
Material – Metal, Polyester, Polyurethane
Aesthetic – 6 options
Cost – ~$179.99
About OUTFINE Canopy 10×10 With Sidewalls
The OUTFINE Canopy has metal legs coated with an anti-rust finish that not only protects the metal but also strengthens it. The framework comes with weight bags to put at the base of each leg to keep the canopy upright regardless of the weather or bustling customers.
The canopy is Oxford polyester with a polyurethane lining. That coating ensures the fabric is waterproof and has an ultraviolet protection factor (UPF) of 50+. The material is capable of blocking 99% of sunlight's harmful rays, protecting both your artwork and your customers.
Even the material creating windows has UV protection. You'll get the benefit of natural light to showcase your work without worrying that the quality is deteriorating due to the harsh sun.
Due to the canopy's construction, you need two people to put it together. After you take down this tent, it packs up neatly into a roller bag that's also coated to prevent wear and tear during storage.
Pros
Two large windows on two walls allow in a lot of light
Choose from six solid colors to ensure your tent gets attention
The roller bag is also coated to prevent water damage during storage
Cons
Setup requires two people, which can be difficult to manage
Best Canopy For Water Resistance: ABCCANOPY Patio Pop-Up Canopy Tent
The design of this canopy ensures water won't get onto your artwork during the art show.
Selection Criteria
Size – 10×10
Ease of Setup – Two people
Stability – Can handle weight of two adults
Material – Steel, Polyurethane
Aesthetic – 22 options
Cost – ~$209.95
About ABCCANOPY Patio Pop-Up Canopy Tent
The ABCCANOPY Pop-Up Canopy might look simple, but there's a lot of thought behind the design. The durable steel frame is strong enough to handle the weight of two adults, so you know it can handle the wind and customers bumping against it. Four sandbags come with the tent so you can ensure the frame stays in place.
The sharp incline of the canopy roof makes it water resistant, preventing water from pooling and possibly leaking onto your art. Though the framework and canopy look basic, it's still recommended that you have someone help you set it up.
Pros
Durable steel frame can handle a lot of weight
Steeply pitched roof lets water roll off without pooling
Included sandbags keep the legs in place
Cons
The canopy is just a roof, no sides included
Best Canopy For Smaller Spaces: Quictent Privacy 8×8 EZ Pop-Up Canopy Tent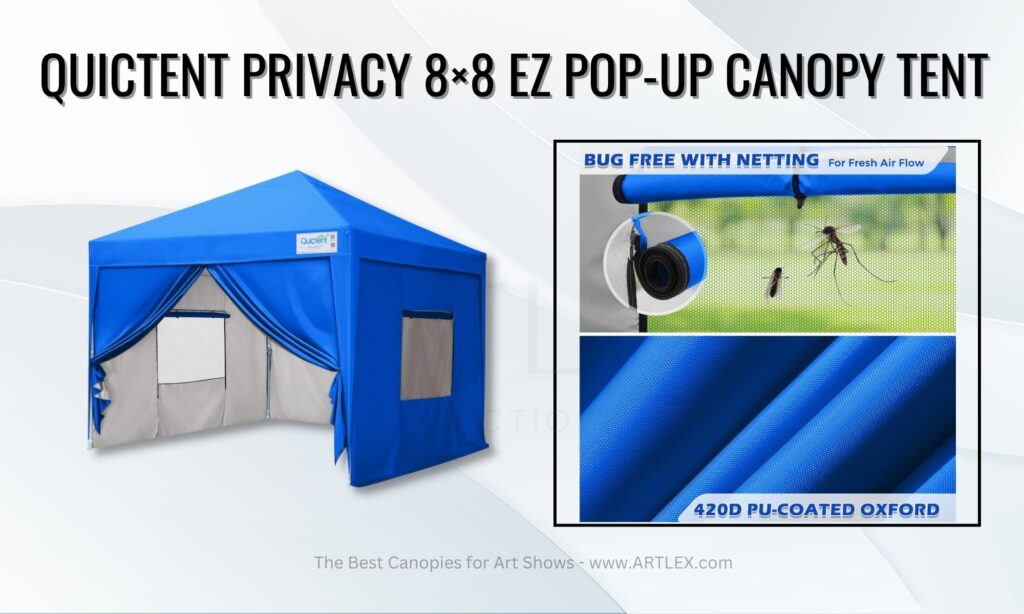 For people not needing a 10×10 canopy like the four above, there's a smaller option—an 8×8 tent.
Selection Criteria
Size – 8×8
Ease of Setup – One person
Stability – Strong frame
Material – Steel, Polyurethane
Aesthetic – 7 options
Cost – ~$169.99
About Quictent Privacy Canopy Tent
The Quictent Privacy 8×8 Canopy is perfect for art shows that rent smaller spaces. You can still have a professional-looking tent for your displays without stepping over your boundaries. This canopy comes with four removable sidewalls.
The material is an Oxford fabric coated to be entirely waterproof while offering UPF 50+ protection. Two of the sidewalls have mesh windows. Mesh is ideal because it lets in sunlight and improves airflow without letting in bugs. Your customers will be comfortable while they shop.
Pros
Two mesh windows let in light and air but keep out bugs
Comes already assembled, just need to unfold to use
Fabric has UV protection and is water-resistant
Cons
Isn't much cheaper considering it's much smaller than a 10×10 tent
Conclusion
If you're looking for the best pop-up tent for a craft show, you're sure to find what you need on this list. Whether you're looking for a simple awning or a canopy with walls and windows, there's something for everyone.
Picking a sturdy, weather-resistant canopy will protect your art and provide an inviting space for your customers. Make sure your art takes the spotlight when you set up your displays in one of the best canopies for art shows.