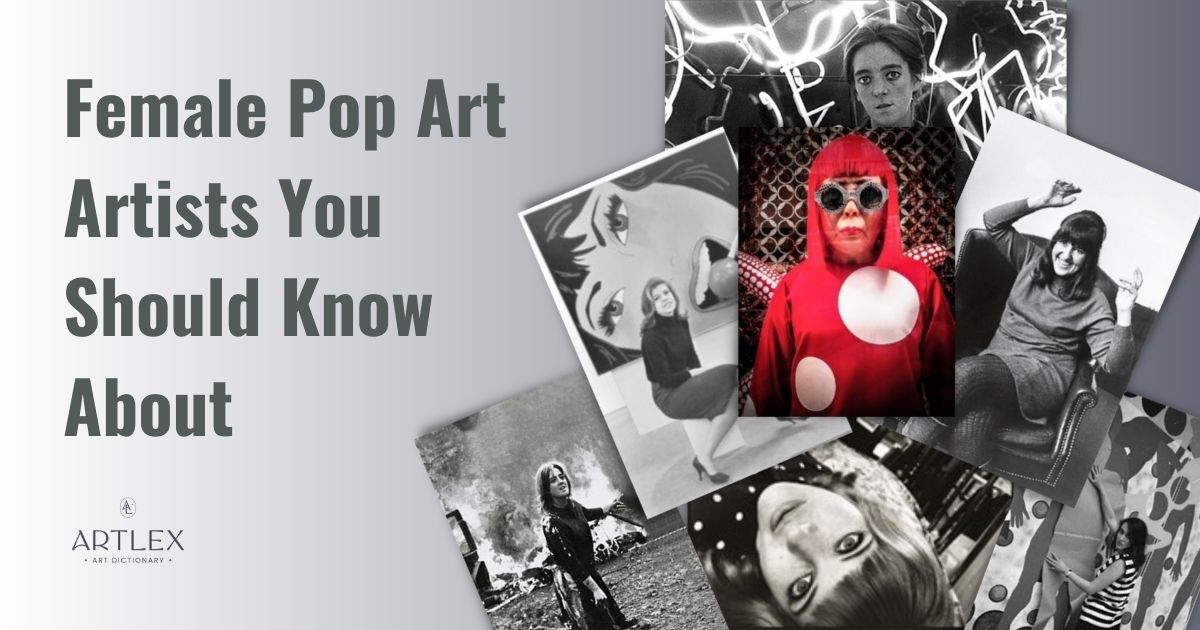 Pop art began in England during the mid-twentieth century. Pop art and Pop art artists blended fine art with popular culture. The art movement provided an important change in what was considered art.
Pop art is bright, vibrant art, with a focus on everyday life. Film, television, newspapers, magazines, music, comic books, and consumer goods all appeared in Pop art artworks.
Female pop art artists have made major contributions to the development of the art form, but have often been under-represented compared to their male counterparts. Below are 10 of the most notable female pop art artists:
1. Pauline Boty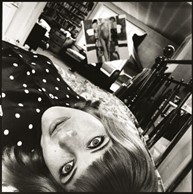 Pauline Boty (1938-1966) was the only female Pop artists in the British Pop art movement. In the 1960s, she was considered the "It Girl" in Swinging London, and often photographed with celebrities. Her Pop art artworks include pop culture, famous figures, from movie stars to politicians. The themes of feminism, women in a man's world, female sexuality, the male gaze, and political topics were all part of her art.
Boty attended Wimbledon Art College at the age of 16. Later, she studied at the School of Stained Glass at Royal College of Art (1958-1961). Boty had initially wanted to study painting, but admission rates to the program were low for women. She continued to paint on her own at home. In 1959, three of her works were selected to appear in the Young Contemporaries exhibition, in London.
An early example of her Pop art collage paintings is the Pop art artwork entitled Gershwin from 1961. Geometric panels hold abstract shapes in orange, yellow and blue. The canvas is split into sections just like stained glass work. The Pop art piece is a reference to jazz musician George Gershwin. Today, the work is part of a private collection.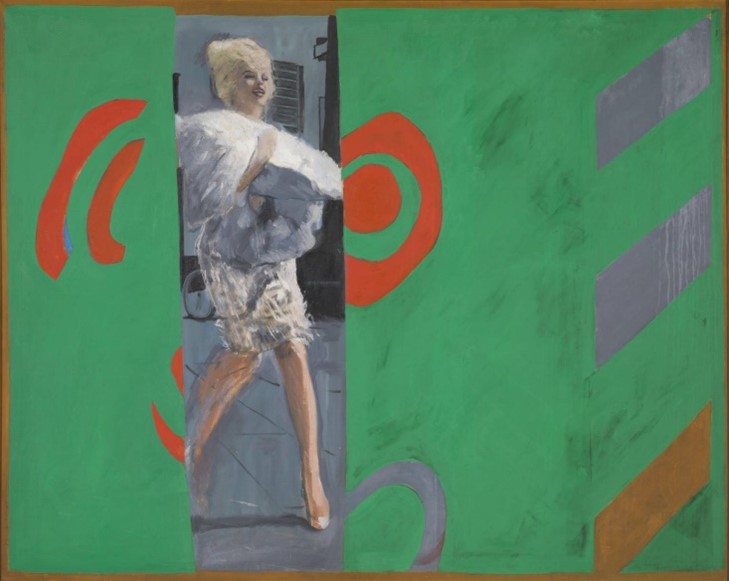 With vibrant color, Boty's work The Only Blonde in the World (1963) captures the image of movie star Marilyn Monroe, dressed for the movie premier of The Seven Year Itch, in 1955. Boty was dealing with repression as a girl artist, so she was sympathetic to what Monroe dealt with as an actress. The oil on board work shows Monroe, on a slim strip, similar to a reel from film, against a green background. Here, the star is almost overtaken by abstract images.
For more information see our full artist profile on Pauline Boty.
2. Evelyne Axell
Belgium born Evelyne Axell (1935-1972) started out as an actress, before becoming one of the female pop artists in the movement. As a painter, she took fine art lessons from artist René Magritte. Finding her own unique style after travelling with her husband, Belgian film director Jean Antoine, to London, today, Evelyne Axell is remembered for erotic paintings of females, self portraits, and psychedelics. A creative process included mixed media, using plastic sheets that were transparent. From these pieces she cut out female figures, and brightly painted these with enamel on both the front and back.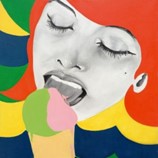 Axell's 1964 Pop art artwork Ice Cream, an oil on canvas work from the Collection of Serge Goisse, in Belgium, saw recent controversy, when its image was used on Facebook to promote an exhibit. The social media giant saw the image of a woman's face, with her eyes closed, licking an ice cream cone, as too suggestive.
Her work Valentine (1966) captured attention, with details referencing Valentina Tereshkova, the first woman in space. This oil on canvas work features a white female form, against a gold backdrop. The figure has a zipper that slashes open in the center to reveal nude colored paint underneath. To the upper left a real toy helmet is mounted. Combined the female body represents a heroism and eroticism under the objectifying male gaze.
3. Yayoi Kusama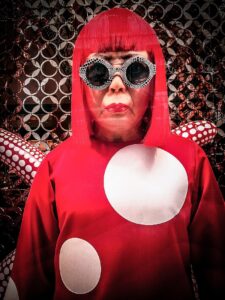 In 1958, Pop artists Yayoi Kusuma (1929-) moved to New York, from Japan. From the late 1950s to the mid-1970s, she developed her style, and became one of the leading female pop artists. Today, she is known for both her paintings, sculptural installations, and performance art. She started painting at the age of 10. This helped to make sense of her mental disease, that involves hallucinations and dots.
In Narcissus Garden, Yayoi Kusama's 1966 Pop art artwork was an installation and performance piece, made entirely of 1500 polished, 12-inch stainless-steel balls. The shiny balls were able to reflect images. The title of the work references Greek mythology, and Narcissus the hunter who fell in love with his reflective image in a pool.
First installed at the Venice Biennale, the artist had not even been invited. Yet, she set up her work outside of the art show. There she stood in a gold kimono, surrounded by the balls, which she sold each for $2. A sign read. "Your narcissism for sale!" When the artist refused to leave, she was arrested and fined. The work continues to be installed at various locations around the world today. It has adapted to include the balls floating in water.
For Infinity Mirror Room—Phalli's Field (1965) Yayoi Kusuma created a mirrored room as a home for hundreds of stuffed phalli, painted with red polka dots.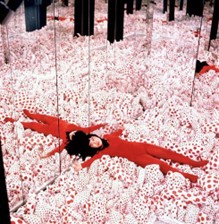 In 1973, the Pop art artist returned to Japan to seek shelter in a mental facility, where she is still very active in her art creations.
Yayoi Kusama's first outdoor sculptural work is Pumpkin (1994). Crafted for the Benesse Art Site, located on Japan's Naoshima Island, the large-scale ceramic work, with yellow acrylic paint, is covered with the artist's signature polka dots, in black. Pumpkins are a continual Pop art theme, based on happy childhood memories at her uncle's farm.
4. Rosalyn Drexler
Found object sculptures, using plaster was initially what American born artist Rosalyn Dexter (1929-) created, while living in Berkley, California. Married to painter Sherman Dexler, the two exhibited their work side by side in 1955.
The couple moved to New York, where her work started to be shown at galleries in the 1960s. At this time the work started to take on more of a Pop art vibe. Using print images as inspiration for paintings, the images were first enlarged, then collaged. Finally, the collage was painted over. Images the Pop art artist favored images that came from film, including movie stars, King Kong, gangsters, as well as images from girlie magazines.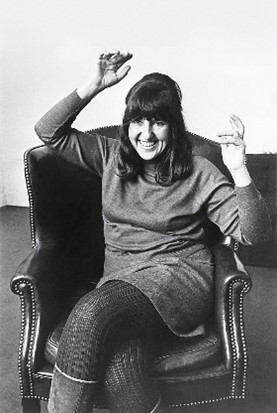 Dexler held solo shows from 1964-1966. In 1964 she gained more recognition through being part of the First International Girlie Exhibit, in 1964, in New York. Dexler was one of two female Pop art artists. The other female pop artist was Marjorie Strider. Andy Warhol and Roy Lichtenstein were also part of the show.
Notable works include Put It This Way (1963) a film noir inspired image of a man slapping a woman, set against an electric blue background, Kiss Me Stupid (1964) a romantic closeup of a couple against an orange backdrop, and Marilyn Followed by Death (1963) in a black and white ominous portrait of the actress being pursued,
It's interesting to note that Dexter considered writing her top profession, writing several novels, multiple plays, and screenplays.
5. Marjorie Strider
American artist Marjorie Strider (1931-2014) was part of the Pop art movement in New York, in the 1960s, after studying art at the Kansas City Art Institute.
Inspired by the female form, as well as the popular Pop art imagery of consumerism, Strider worked using sculptural paintings. These started with canvases on laminated Masonite. Images were brightly colored in the style of Pop art, and then were built outward to produce three dimensional images. Material used included pine, resin-covered foam, and polyurethane. Girl with Radish from 1963 is one such Pop art artwork.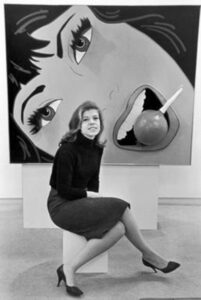 In this work, a painted face of a comic strip woman holds a three-dimensional radish between her teeth. The image of female sexuality was used as a banner for the First International Girlie Exhibit, in 1964. Strider held solo exhibits at Pace Gallery, in New York, both in 1965, and 1966.
Green Triptych also from 1963, depicts a woman in a green bikini. The Pop art character is portrayed in three different poses. The two that face frontward have three dimensional breasts, while a view from behind has three-dimensional buttocks. A major theme of the Pop art artist was to show. A major theme of the Pop art artist was to show examples of the objectified female gaze from men.
6. Marisol Escobar
Marisol Escobar (1930-2016) was born in Paris to a Venezuelan family. As a Pop art artist, she went by the one-word name Marisol. Her art career took off when she moved to New York. Initially working as a painter, by 1953, she began crafting sculptures. Pulling inspiration from her heritage, Marisol's work first included wood, plaster, and terracotta pieces. Later, she moved on to wooden block forms, with found objects, often incorporating popular culture.
"It started as a kind of rebellion," she said about her art transition. "Everything was so serious. I was very sad myself and the people I met were so depressing. I started doing something funny so that I would become happier — and it worked."
The sculptures began with small works, but by 1960, she started creating larger, life-sized works. Tea for Three (1960) is a long, rectangular wooden box, positioned upright. Painted in yellow, blue, and red acrylic, these are the colors of the Venezuelan flag. Three-character heads appear on top, as if sharing one body. There is one painted hand, and a sculptural hand, which holds a cup of tea. The work is on display at the Albright-Knox Art Gallery, in Buffalo, New York.
In The Party (1965-1966) wooden block shaped woman wear evening finery. Each has a version of Marisol's face on top, either a sculpture or a photograph. The figures stand alone without interacting.
A work she is noted for is the Statue of Father Damien, a legendary Belgium priest and humanitarian, who lived on the Hawaiian island of Molokai. Here he lived and worked among the leper colony. Marisol won the commission of the statue that resides in front of the Hawaii State House, over 66 applicants. The seven finalists were asked to create a model, before Marisol was chosen for the project. Her work is based on a photograph, complete with glasses and an arm sling.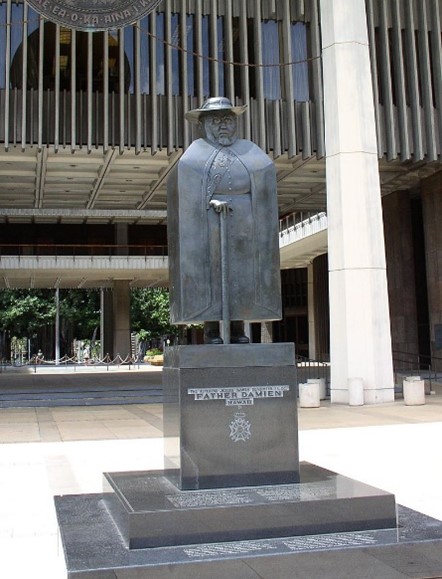 Marisol began her training in the 1950s with Hans Hoffman, in New York, practicing Abstract Expressionism. Prior to this, starting in 1946, she took night classes at the Otis Art Institute and Jepson Art Institute, in Los Angeles. Next, she studied at École des Beaux-Arts in 1949. By 1968, Marisol's Pop art artwork was featured at the Venice Biennale, and Documenta.
7. Idelle Weber
Idelle Weber (1932-) was born in Chicago. Later, her family moved to Los Angeles. While attending Beverly Hills High School, she was given a full scholar ship to study art at Scripps College. In 1955 she received her B.A from UCLA, and a year later her M.A.
Weber moved to New York at the age of 25. Soon after her work was displayed in a group showing at the Museum of Modern Art. The charcoal work entitled Observation of Sound, was purchased by society maven Gertrude Mellon.
Her Pop art artworks show recurring scenes of people in daily city life. There are silhouetted businessmen in suits, women exercising and couples. Backgrounds vary from stark and plain, pastel, or dramatically patterned.
Lever Building II from 1970, on display at the Whitney Museum of American Art, in New York, breaks down the fourth wall. It lets viewers peer inside a multilevel building to observe silhouetted figures at work, against a peach-coloured sky. The work is a collage of paper, plastic, and graphite pencil on paper.
The Chrysler Museum of Art, in Norfolk, Virginia, houses Weber's work entitled Munchkins I, II, III from 1964. The work depicts silhouettes of businessmen, riding escalators up and down, against a lime green backdrop, a popular interior color during the decade.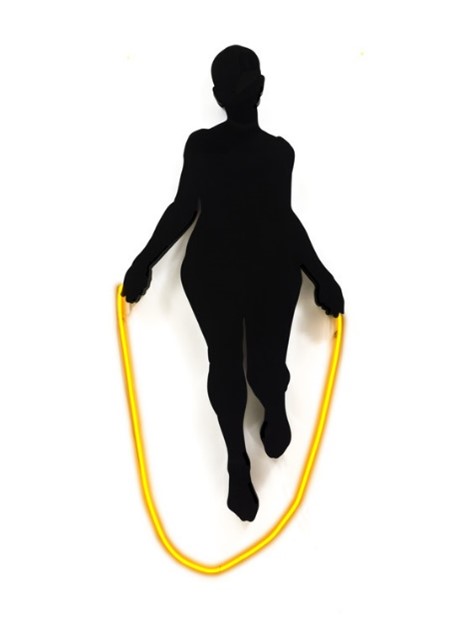 In 1965, the Pop art artist began making Plexiglas sculptures, thereby giving her silhouettes three-dimensional form. Jumprope Lady was one of the first she created successfully. The work crafted between 1967-1968 is a sculpture made from plastic and neon lighting. It is part of the collection at LACMA, in Los Angeles, California.
8. Kiki Kogelnik
Austrian artists Kiki Kogelnik (1935-1997) studied art at the Academy of Fine Arts Vienna. Prior to moving to New York, the artist was actively creating abstract art in Vienna. Later she became part of the local pop art scene. Initially she used bright colors to paint space and technology themes. With the landing of Apollo 11, and Neil Armstrong and the crew taking their first steps on the moon, Kogelnik crafted a series of silkscreens, each commemorating the words of the astronauts.
Sculptural works were also part of the artist's mix of Pop art works. Bombs in Love from 1964 shows two bomb casings side by side, each with a heart motif in the center. In later years, she crafted heads and faces from ceramics.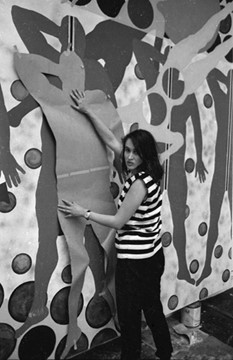 Fascinated by the human body Kogelnik started to include life sized cut outs, and body parts in her paintings and sculptural works. Kogelnik became well known for her "hangings". These works entailed cut outs from plastic, made to represent life sized human figures, in bright colors. These were draped over hangers in half and hung on racks. Kogelnik took and interest in the internal body as well, often drawing pictures of individual bones.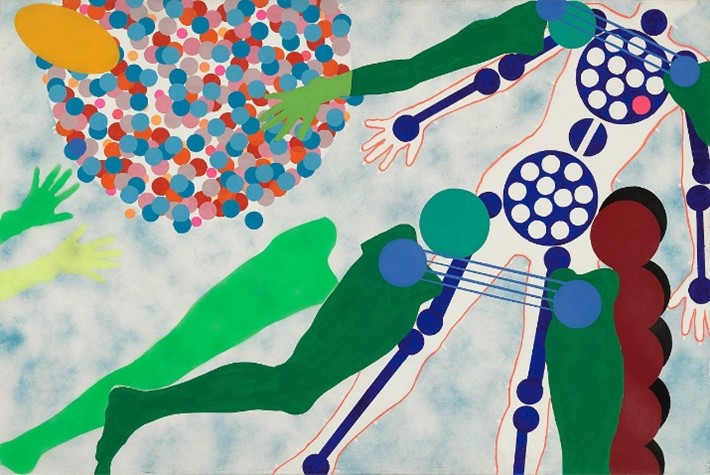 Married to a radiation oncologist, her art became medical and scientific. Red Scissors, a 1964 Pop art artwork uses acrylic, enamel, and India ink on paper. It shows a hand reaching downward, into a woman's reproductive system, toward a pair of red scissors. In her work, scissors became a reoccurring theme. Some large scissors are used to slice through images of fashionable women, while others are held by women. In the 1970s Kogelnik's artwork started to focus on the role of women in advertising.
9. Marta Minujín
Argentinian born artist Marta Minujín first started to exhibit her works while still a student at National University Art Institute. She started in a 1959 show at the Teatro Agón. Awarded an art scholarship from National Arts Foundation, she was able her to travel to Paris. There other artists inspired her to create "happenings", like the public burning of her artwork, in 1963. Friends and family joined her in this event of destruction. Minujin was known not only for her happenings, but paintings, sculptures, performances, and drawings.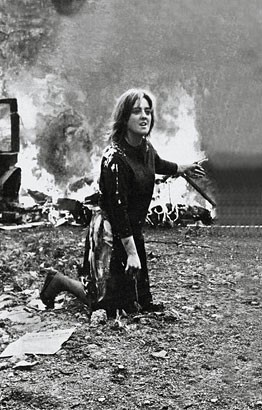 A Guggenheim fellowship in 1964 required that she travel to New York to live. There she befriended Andy Warhol and was part of the Pop art movement.
The artist's works often had an interactive theme. In Sweet Obelisk (1965) she used the Obelisk of Buenos Aires, as a monument to spread ice cream onto. Then, she asked three artist friends to lick it off.
In 1965 with La Menesuda, the artists invited viewers inside for surprises. These included corridors lit with neon, staircases, and rooms, to peek into. There were 16 rooms in total divide by a small entry big enough to let one person in. Eight visitors at a time where able to walk around. The bedroom even had a couple in bed.
Unexpectedly, a confetti dumping machine, covered unsuspecting viewers. This Pop art artwork used advertising throughout to tie the work into the movement.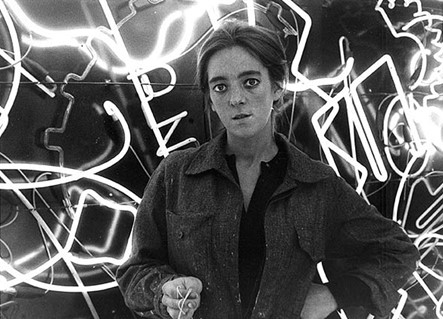 Minuphone (1967) was a psychedelic painted phone booth. When inside, those interacting with the piece would dial a number and view different effects.
10. Corita Kent
Corita Kent (1918-1986) was a Catholic nun as well as a Pop art artist. She taught art at Immaculate Heart College, in Los Angeles. Working primarily in silkscreen, she popularized the art form, long before Andy Warhol.
Her work The Lord Is With Thee, was the first Pop art artwork to stand out. Kent had just graduated from the M.A. program at the University of Southern California. The artwork, influenced by Byzantine art, shows the Virgin Mary is in the center, with a veil and a crown, illuminated with a yellow glow. Around her are light radiating angels, saints, and kings. The color choice of pink, brown and aqua blue, along with visible brushstrokes make this work completely modern. Today, it can be viewed at the Corita Art Centre, at Immaculate Heart Community Center, in Los Angeles, California.
Kent's colorful silkscreens also contained text from the bible to words from popular music at the time, such as The Beatles, as well as popular brand names. There was a commercial element to her works with Pop art artwork pieces such as That They May Have Life (Enriched Bread)from 1964, which was inspired by a Wonder Bread package. Another Pop artwork from the same year entitled The Juiciest Tomato of All was taken from the label of Del Monte tomatoes.
In 1968, Kent left both the order and the school, to focus on progressive reforms of the Vatican II movement, to aid in modernizing the Catholic church. Additionally, Kent was also becoming a famous artist and wanted to pursue her talent. She made regular appearances on television shows, and was invited to speak on radio programs, while touring the country and giving lectures.
Kent's work became increasingly political. Her Pop art artwork love your brother (1969), contains photographs of Martin Luther King Jr. in lime green and hot pink, with an orange overlay of text that states, "The king is dead. Love your brother,". Today, the pop art screenprint is part of the Collection UCLA Grunwald Centre for the Graphic Arts, at Hammer Museum, in Los Angeles, California.
Conclusion
Female pop art artists have made major contributions to the development and popularity of Pop Art, but have often not received the notoriety of their male counterparts. We hope this article has can help spread the word of these artists' work.
For addition artists' information, see our full guide to the Pop Art Movement, or see our guide on Pop Art Artists.