Lyubov Popova was a Russian painter born on 24 April 1889 in Ivanovskoe, Moscow. Lyubov was born to wealthy parents who were also art enthusiasts, and they supported her interest since childhood. Lyubov enrolled at the School of Painting and Drawing in Moscow after receiving home lessons in art. She furthered her education at the studio of Stanislav Zhukovsky in Moscow.
In 1909, Lyubov Popova traveled to Kyiv, where she studied the works of Russian Renaissance icons, and their use of vivid colors interested her the most. Three years later, she enrolled at the Academie de la Palette in Paris, where she studied under Henri Le Fauconnier and Jean Metzinger. Lyubov returned to Moscow, where she continued studying French avant-garde artworks in the collection of Sergei Shchukin.
Lyubov Popova joined the Supremacist group in 1916 and officially committed to painting abstract art. Lyubov exhibited extensively with various Russian societies and actively participated in the Russian Revolution of 1917. In her later years, she experimented with several mediums, creating set designs and costumes while also teaching art. Lyubov died of scarlet fever in Moscow on 25 May 1924.
What was Lyubov Popova Known For?
Lyubov Popova was known for her involvement as a revolutionary and a painter. Lyubov joined the Left-Wing Federation of the Moscow Artists' Union during the 1917-1920 Civil War, teaching art at Vkhutemas. Lyubov combined the techniques of Cubism and Futurism in her paintings, using geometrical forms to create brightly colored abstractions.
Who was Lyubov Popova Influenced By?
Lyubov Popova was influenced by Giotto di Bondone, Umberto Boccioni and Fernand Leger. Lyubov painted her early works in the style of Impressionism, adopting the color techniques of Renaissance painters like Giotto. Her later switch to Cubo-Futurism occurred as an effect of her studies of the painted figures of Boccioni and Leger.
What Art Movement is Lyubov Popova Associated With?
Lyubov Popova is associated with Cubism and Futurism art movements.
Lyubov Popova Artwork
Below are some of the artworks of Lyubov Popova
Birsk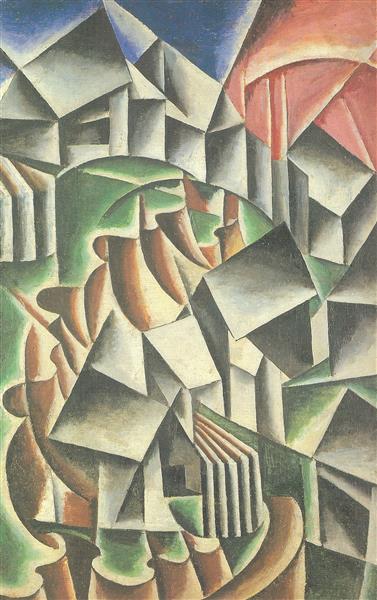 Design for a puppet show, "The Priest's Daughter, The tale of the priest and Balda"
Design for a Puppet Show

Air Man Space

Painterly Architectonic

Painterly Architectonic

Portrait of a Philosopher

Relief

Seated Female

Seated Figure

Seated Figure

Space Force Construction

Space Force Construction

Still Life With Compote

Still Life With Guitar

Still Life with Instruments

The Jug on the Table

The Traveler

Violin