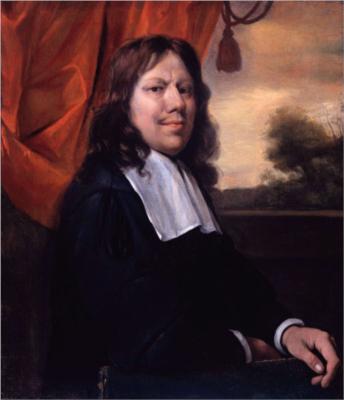 Jan Havickszoon Steen was born in Leiden, Netherlands, in 1626 to a wealthy Catholic family of brewers. In 1646, Steen enrolled as a student at the University of Leiden. He registered as a painter two years later and founded the Leiden painters' Guild of Saint Luke alongside Gabriel Metsu.
Jan Steen married Margriet, the daughter of his tutor; Jan van Goyen, in 1649 while he was in The Hague. He had eight children with Margriet. Steen lived and worked with Jan van Goyen for many years while building his reputation as a painter. In 1654, Steen moved to Delft with his wife and leased a brewery to get more income to support his family.
Steen moved to Haarlem in 1660, where he continued painting and developing facial gestures of characters in his paintings. After his wife died in 1669, he moved back to Leiden, where he married Maria van Egmond. Jan Steen often put himself in his painting, playing the comical role of a clown.
What is Jan Steen Known For?
Jan Steen is known for his use of humor and storytelling in his paintings. Jan was also famous for his biblical paintings, including popular ones like Samson and Delilah and The Feast of St Nicholas. In addition, Steen often depicted inns in his paintings, reflecting his upbringing as a brewer.
Jan painted with rich vibrant colors, adding a thought-invoking perspective to his paintings. The depictions of various activities in comical ways appeared to have a moralizing tone in his paintings. Jan's works are often aimed at warning people to refrain rather than indulge in the acts he painted.
Who Influenced Jan Steen?
According to a study conducted after Jan Steen's death, it was concluded that one significant influence on Jan's paintings was the guild of the Rhetoricians, which was a group of ordinary people that wrote indigenous poetry and dram. Jan Steen was also influenced by artists like Nikolas Knupfer, and Isaac Van Ostade.
What Art Movement is Jan Steen Associated With?
Jan Steen is associated with the Dutch Golden Age and Baroque art movements.
Jan Steen Artwork
Towards the end of Steen's life, he began painting in a futuristic style that was different from what he was known for, and his paintings were more elegant but less energetic. Below are some of Jan Steen's artwork:
Dancing Lessons

Fat Kitchen

Feast of St. Nicholas

Idlers

In The Tavern

Lean Kitchen

Liveliest

Meal

Merry Family

Prince's Day

Quack Doctor

School Teacher

Self Portrait A Lute

Self Portrait

The Artist's Family

The Dancing

Twelfth Night

Village Fair

Winter Landscape