Pop art is an art movement that began in England, during the mid-twentieth century. It provided a radical shift, as to what was considered art at the time. Pop art blended fine art with popular culture.
Characteristics of Pop art included images taken from everyday life such as consumer items from the grocery store shelves, new and innovative household appliances, recognizable imagery from films, television, newspapers, magazines, and comic books.
Pop art used appropriation, repetition, humor, pulp culture and monumental imagery. Artists included bright, bold primary colours, neon, florescent and colors that were not found in nature. Pop art provided a criticism on consumerism, or a view on the changing modern times, depending on the artist creating it. Visuals in Pop art depended on regional differences.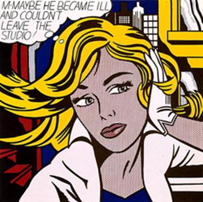 Famous artists from the Pop art movement include Andy Warhol, Roy Lichtenstein, Richard Hamilton, Eduardo Paolozzi, Peter Blake, David Hockney, Romero Britto, Robert Rauschenberg, James Rosenquist, Yayoi Kusama, Peter Max and more.
Yayoi Kusama in 2016.
The pop art movement lasted between 1950 until the 1980s. Some Pop artists from as early as the  50s continue to create Pop art today.
Origins of Pop Art
Pop art as a collective movement began around 1950. The Independent Group, an art centric group formed in London, England. This included a group of artists, architects and art critics who came together to talk about popular culture. This included films, books, science fiction, and the world of advertising. New household appliances, which were making running a home even more efficient, was the innovative technology everyone was talking about.
The first artists to create Pop art included Richard Hamilton, and Eduardo Paolozzi. Both Hamilton and Paolozzi, used their Pop art artwork to criticize American consumerism. England, meanwhile, was still left battling the effects of World War II. British Pop artists were the first to use mass media imagery in their Pop art artworks.
The name Pop art has been attributed to the Independent Group, art critic Lawrence Alloway, architects Alison and Peter Smith, and visual British Pop art artist Richard Hamilton. All had written letters containing the phrase. Additionally, the word Pop appears in the artwork I Was a Rich Man's Plaything (1947).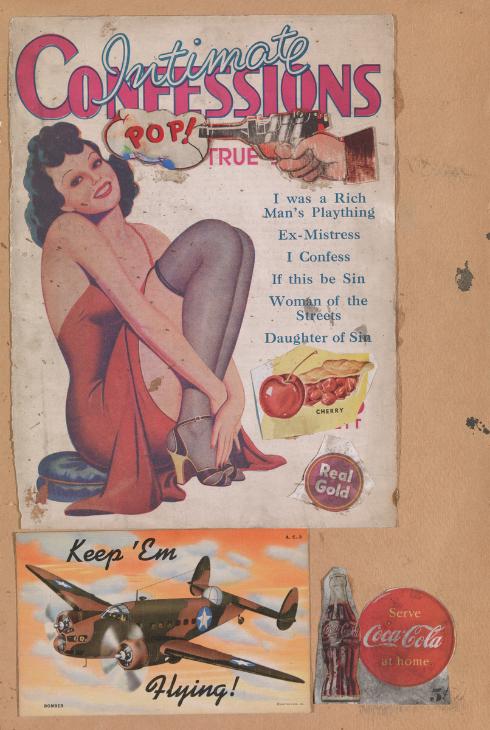 Scottish born, British Pop artist, Eduardo Paolozzi (1924-2005) made a variety of Pop art including collages, graphic works, sculptures, and mosaic murals. His early Pop art collage from 1947 entitled I was a Rich Man's Plaything (1947). The central subject is an image of a pinup girl taken from an American magazine. Additional images include a cherry pie, the Coco-Cola logo, and a World War II bomber. The word "POP!" emerges from a pistol held in the hand of a man. It is interesting to note that although Paolozzi was working on his art, such as this Pop art, he was not showing it to anyone until years later.
Pop Art in the 1950's
The Independent Group held two important exhibitions in London during the 1950s. Parallel of Life and Art, in 1953, and This is Tomorrow, in 1956, where the juke box supplied a steady stream of rock music. These public showings help to popularized British Pop art artists.
Just what is it that makes today's home so different, so appealing? by English Pop art artist Peter Hamilton (1922-2011) is a collage of a home's interior, using clippings from magazines, and newspapers. The Pop art critics American consumerism and an idealized lifestyle. A muscular man hides his nakedness behind a large lollipop. A naked woman wears pasties.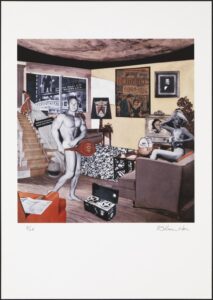 British Pop art artist Peter Blake (1932-) combines images of people, and illustration of fine art in frames, with popular culture, such as magazines in his work On the Balcony. Made to look like a collage the work is painted by hand.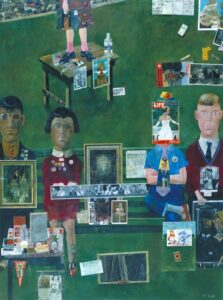 British Pop Art in the 1960's
British Pop art artists began to use screen prints in art, which had previously only been used in advertising. The Pop artists were drawn to screen print because it was a non-traditional method of creating art. It also gave them the ability to mass produce their works easily.
Paolozzi used the method in both art and interior design, developing textiles, and wallpaper. Hamilton was drawn to creating art which featured interiors of homes.
New British Pop artists began to emerge on the scene. Artist Pauline Boty (1938-1966) was considered the It Girl, in Swinging London, in the 1960s. She studied stained glass making at art school and then later focused on painting. Her Pop art included celebrities, women in a man's world, feminism, and political subjects.
British Pop art artist David Hockney created A Bigger Splash (1967), after moving to Los Angeles in 1964. The large, square canvass measures 94 inches on each side, and is part of the Collection at the Tate, London, UK. The inspiration for the acrylic on canvas, Pop art artwork was a catalogue of swimming pools. Later the artists said he wanted to capture a fleeting moment in time. Swimming pools were a reoccurring theme in Hockney's work between 1964-1971.
American Pop Art: 1960s in New York
Pop art became international with artists in New York first adopting the style. Some of the first American Pop artists included Andy Warhol, Roy Lichtenstein, James Rosenquist, and Claes Oldenburg.
Campbell's Soup Cans (1968) is one of Pop art artist Andy Warhol's (1928-1987) most recognizable work. Thirty-two posters each representing a different soup, were crafted using synthetic polymer paint on canvass. Another famed Warhol Pop art artwork is Marilyn Diptych from 1962.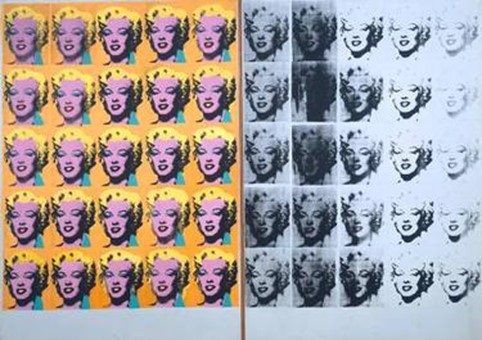 American Pop artist Roy Lichtenstein (1923-1997) used humor when addressing the topic of war. The pilot of one aircraft says, " I pressed the fire control… and ahead of me rockets blazed through the sky." This results in the explosion of another plane and the words Whaam! for which the acrylic paint and oil on canvas work was named.
Swedish born American raised Claes Oldenburg (1929-) is one of the only Pop artists who specialized in sculpture. In Pastry Case, I (1960-1961) the Pop art artist crafted American classic desserts, from plaster and paint including, strawberry shortcake, a banana split, a strawberry sundae, and a candied apple. These sweet treats rest on a three-tiered showcase made from metal and glass. Today, the Pop art, sculptural work is owned by The Museum of Modern Art, in New York.
In President Elect (1960-1961) American Pop art artist James Rosenquist (1933-2017) makes a political statement by combing images of John F. Kennedy, with half a Chevrolet and a piece of stale cake, which the artist later revealed was what he thought of the politician's promises. The oil on Masonite work hangs in the Centre Georges Pompidou, in Paris.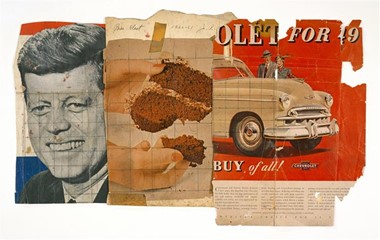 Yayoi Kusuma (1929-) moved from Japan to New York, in 1958. By the 1960's she had gained recognition with her paintings and sculptural installations. For Infinity Mirror Room—Phalli's Field (1965) Kusuma used a mirrored rom as a space for hundreds of red dot painted stuffed phalli.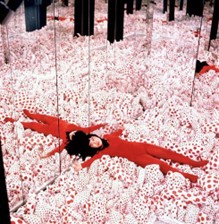 German born, American based Pop artist Peter Max (1937-) set up a studio, in New York, with friend Tom Daly. Work included advertising, posters and covers for books, using photography, collage, bold colors, and psychedelic imagery. The Pop art Max created made him so famous, he ended up on the cover of Life magazine in 1969. Max is well known for using American icon in his work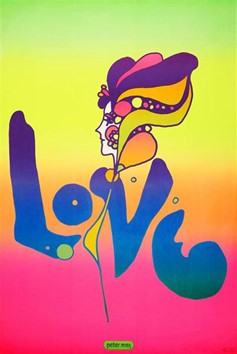 American Pop Art: 1960s in Los Angeles
In 1962, the Pasadena Art Museum, in California, held an exhibit entitled New Paintings of Common Objects. Los Angeles based Pop art artists represented included Ed Ruscha, Phillip Hefferton, Wayne Thiebaud, Joe Good, and Robert Dowd. Andy Warhol and Roy Lichtenstein were also part of the event.
Geographical differences were apparent in the work, as Los Angeles Pop art artists used less consumer products, and instead focused on lifestyle. This included images of surfboards, water, motorcycles, and signs. Wayne Thiebaud (1920-2021) like many at the time, found diners and cafeterias part of a relaxing California life, and this was reflected in his Pop art artworks.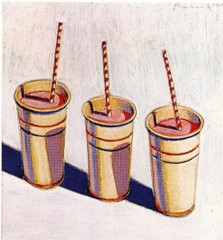 Pop Art in the 1970's and 1980's
Artists like Andy Warhol continued to work on Pop art during the 1970's and 1980's. He used Mao Zedong as a subject of his silkscreen work entitled MAO (1973) which became part of a series. Then there was Oxidation Painting (1978) also part of a series that was crafted with the help of friends urinating on a canvas of copper paint. Self portraits and religious scenes were part of his Pop art mix in the 1980's.
A key artist to emerge during this time was Keith Haring (1958-1990) His work was inspired by street art and graffiti, which incorporated personal and political themes. In the 1980s he opened Pop Shop, a retail shop in New York, which enabled anyone to buy a piece of his art. Famous Pop art artworks by Keith Haring include Crack is Whack (1986), Boxers (1988) and Radiant Baby (1990).
The mural Crack is Whack is located at a handball court on 128th and 2nd Avenue in New York. The work was presented as the artist's commentary on the prevalent use of the drug.
Brazilian born Britto Romero (1973-) fell in love with art when he travelled to Paris. Matisse inspired the colors of his artwork. Picasso inspired form. In 1988, he moved to vibrant Miami. His Cubism style Pop art attracted attention, with his cheerful paintings, sculptures, and serigraphs. In 1989, he was invited to work along with Warhol and Harding on Absolute Vodka's Absolute Campaign. More advertising campaigns followed with Disney and Evian.
Pop Art Today
Many of the artists from the original movement are still creating art including Peter Blake, David Hockney, Ed Ruscha, Yayoi Kusuma (now living in Japan), Claes Oldenburg, Peter Max, and more. All the new Pop art artwork is still relevant today.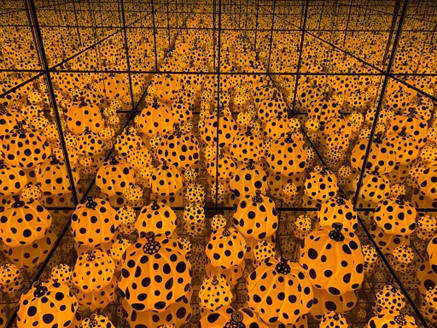 Pop Art vs. Contemporary Art
The Pop art movement was followed by new contemporary art. Pop art can be defined by characteristics, with some regional differences. Contemporary art spans the globe, and it cannot be easily defined. This new art continues to evolve with digital developments.