What is Rococo Style?
Rococo was an architectural and art style that began in Paris in the early 18th century, before spreading throughout France, Germany, Austria, and other parts of Europe. It was visible in architecture, painting, sculpture, and decorative arts. The name 'Rococo' is derived from the French word "rocaille" meaning shell, and referred to the shellwork and intricate detailing used in moldings and rockwork. Rococo is sometimes referred to as "little baroque" for being highly decorative and evolving from Baroque style.
Famous Works in Rococo Style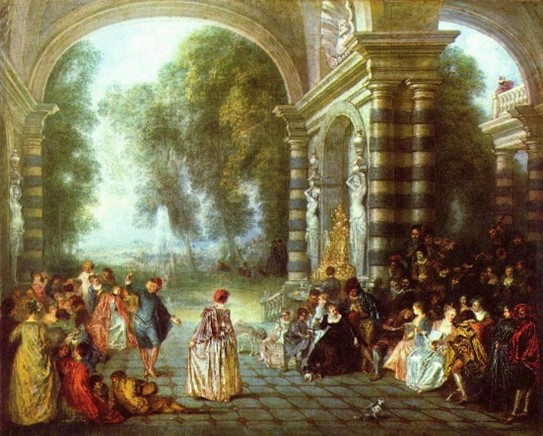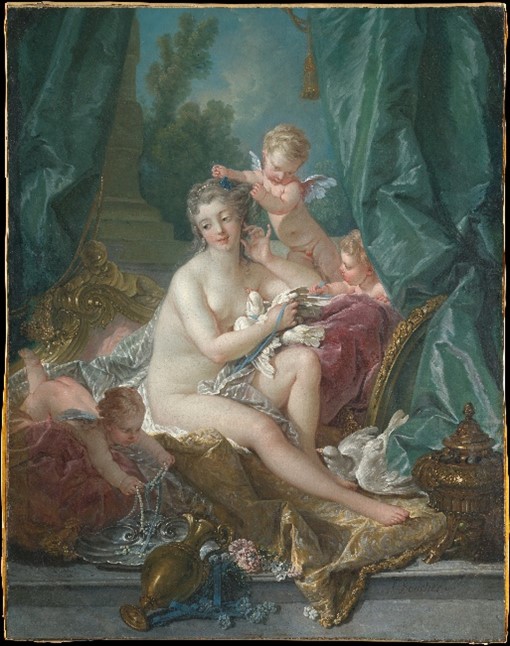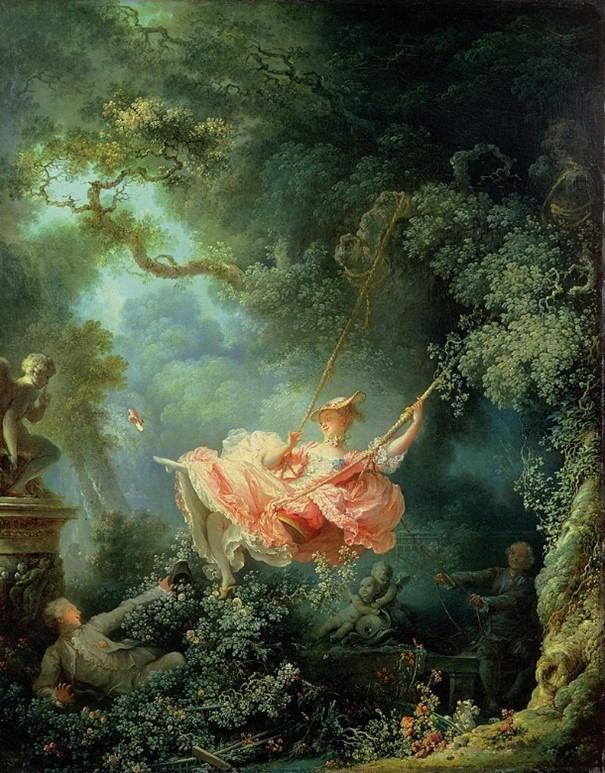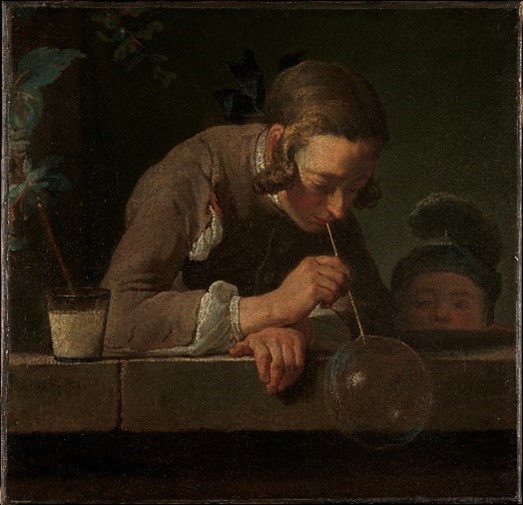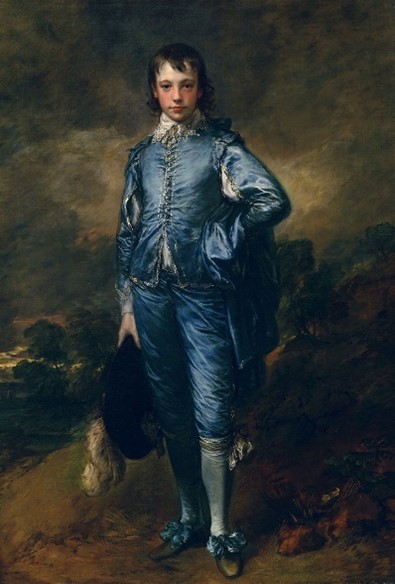 Historical Background and Typical Rococo Style
In 1715, after the death of Louis XIV, French nobility left Versailles, and moved back to Paris. This was a time of fun and frolic, where aristocrats were free to live without the restrains of the palace life, demanded by the King. This is where Rococo style art and Rococo decorative arts began.
Characteristics of Rococo Painting
Painters from the Venetian School such as Giorgione and Titian influenced Rococo painters in their use of color and erotic subjects. Rococo painting captured the playful, everyday lives of aristocrats who lived for pleasure. Colors lightened to white and silver, with pastels, especially pink, blue, and green. Rococo artists used brushstrokes that were light and curvaceous with sweeping diagonals.
Subject matter in Rococo paintings included romance and love between mortals or mythical beings, complete with cupids, puttis, angels and lush gardens. Landscape paintings were particularly beautiful in Rococo style with a dreamlike quality.
The Father of Rococo Style: Jean Antoine Watteau
Fêtes galantes a new genre in Rococo painting, or courtship party painting, as illustrated through the artwork of French painter Jean Antoine Watteau (1684–1721) captured the lives of 18th century, well-dressed aristocrats pursuing romantic love.
In Watteau's Rococo painting The Pleasures of the Ball (1717), lavishly dressed aristocrats enjoy the pleasure of each other's company, while outside on a courtyard, surrounded by stately architecture and the beauty of nature.
The Embarkment for Cynthera (1717) shows couples about to board a vessel, either to or from the Greek island of Cythera, with cupids circling excitedly. The island was said to be the birthplace of Aphrodite the Greek goddess of love. Fittingly, Watteau adds a statue of Venus and Cupid to the right.
Other French Painters in the Rococo Style
François Boucher (1703-1770) was known for his Rococo paintings of mythology. The Toilet of Venus (1717) is a romanticized vision of the goddess of love surrounded by three cupids. The Rococo painting is housed in The Metropolitan Museum of Art, in New York.
Arguably the most famous work from 18th century French Rococo paintings is The Swing by Jean–Honoré Fragonard (1732-1806). Aristocrats play, as a woman allows a man to look under her skirt, while on a swing pushed by a Bishop. The scene takes place in a private, lush garden, a typical setting in Rococo style.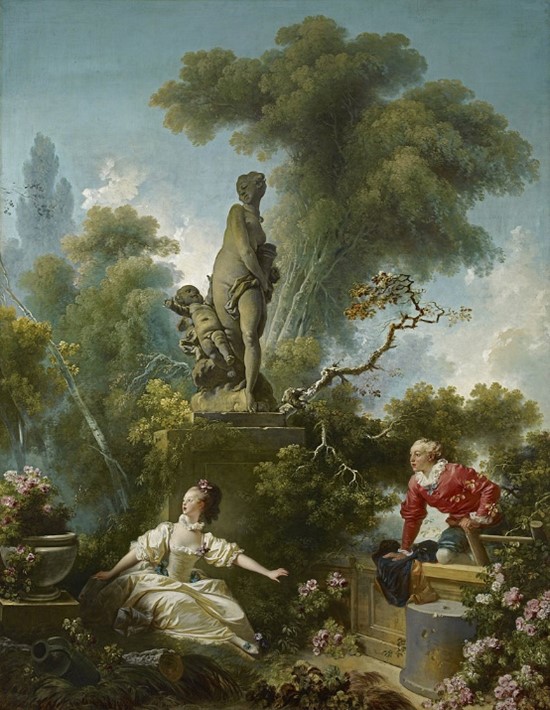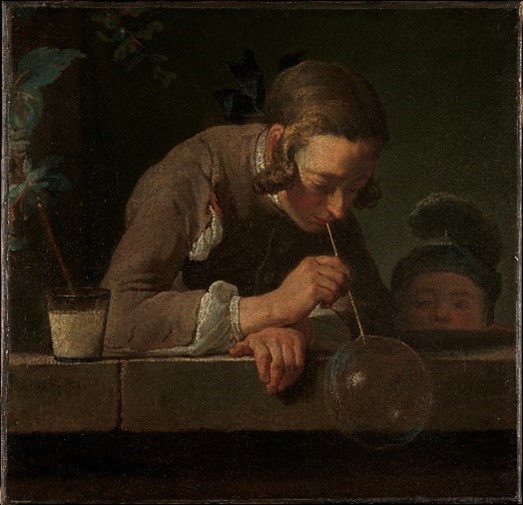 In Soap Bubble (1733- 34) by 18th century French painter Jean Siméon Chardin (1699–1779) two children play, while the older one blows a large soap bubble, representing the innocence of childhood.
Italian Rococo Paintings
The Entrance to the Grand Canal (1730) by Italian Rococo painter Canaletto (1697-1768) invokes the perfect day in 18th century Venice, as seen through the eyes of a British tourist, who were his clients, is now at the Museum of Fine Arts in Houston. Through this artist, Rococo style spread throughout Italy.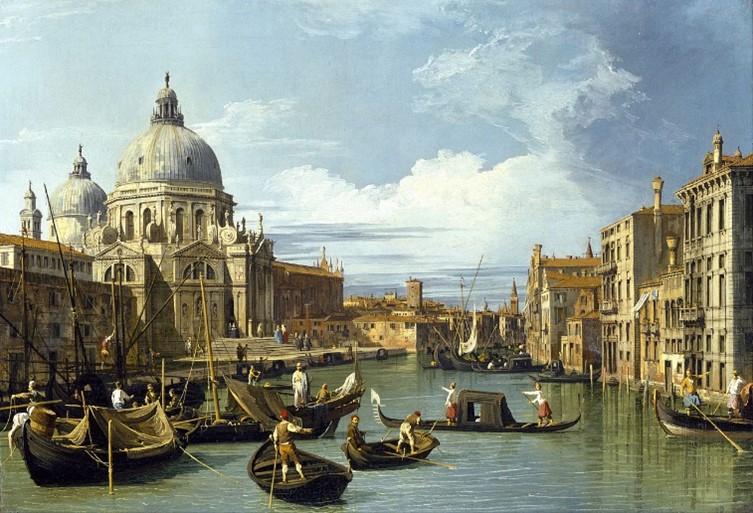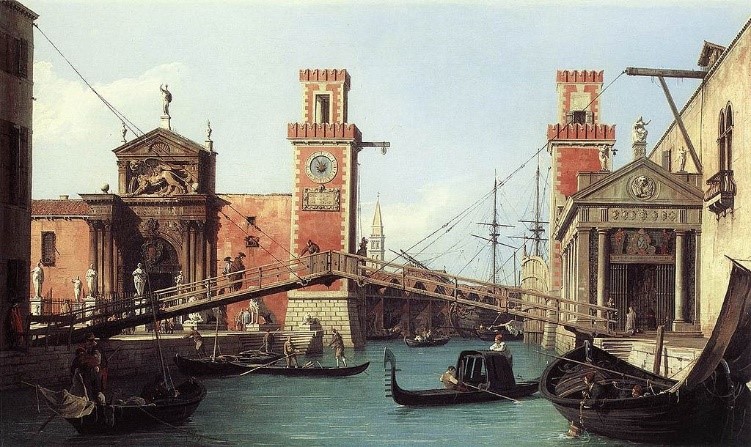 English Rococo Painting
Thomas Gainsborough (1727-1788) was an English portrait and landscape painter who made his biggest impact when merging the two. The Blue Boy is a popular 18th century image by the artist. This Rococo painting captures a boy dressed in rich blue, achieved through the artist's fine brush strokes in multiple shades. This work in not only a portrait, but a study of fashion during the Rococo period.
Other paintings attest to the quality of his painting. Portraits of elegantly dressed aristocrats illustrate rich and expensive fabrics used in fashion.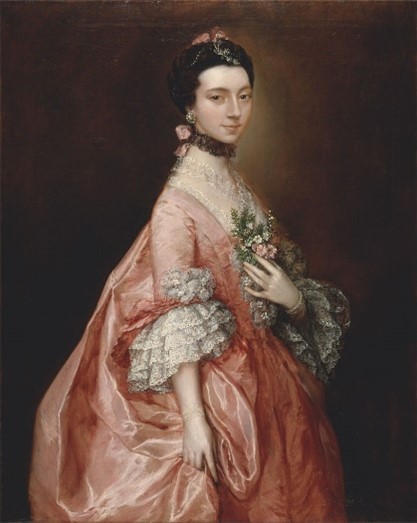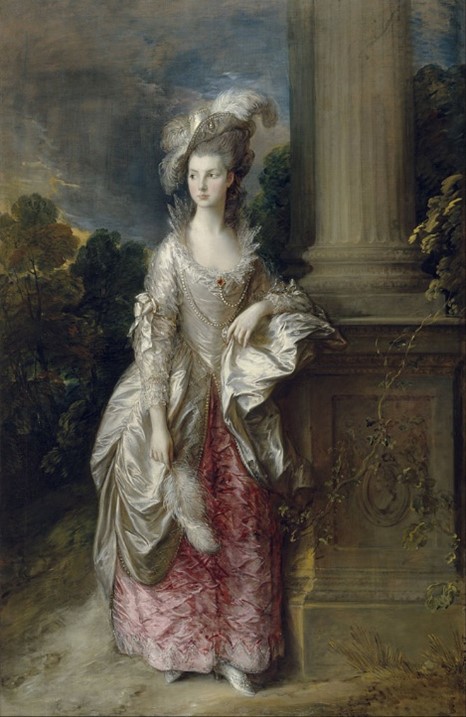 Rococo Style: Sculpture
Rococo sculpture and architecture were interlinked in the Rococo period and followed the same subject matter as painting. French Rococo sculptor Edmé Bouchardon (1698- 1762), who during his career worked for King Louis XV, produced memorable Rococo sculptures such as the Fountain of the Seasons (1739–45) in Paris. Rising two stories, the Rococo sculpture with its monumental statues of the seasons, the putti ornamentation is pure Rococo. Cupid Cutting His Bow from the Club of Hercules (1739–1750) also represents the period as does the simply entitled Rococo sculpture Cupid (1774).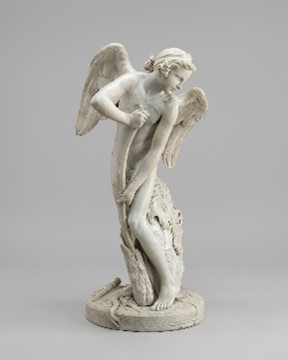 Rococo Style: Decorative Arts
In the Rococo period porcelain figurines became popular for the mantelpiece or decorative arts centerpieces on the dining table. In 1710, Meissen established the first hard paste porcelain factory in Europe, to capture the same decorative art elements of imported Chinese porcelain.
At first Meissen porcelain art or decorative arts in tableware included tea and chocolate pot sets. Later, in 1735, Meissen began producing its first porcelain figurines, with subject matter drawing from paintings. These works in 18th century Rococo style were soon being copied by Sevres Porcelain factory, in France.
Influence of the School of Fontainebleau on Rococo Style
School of Fontainebleau, in France, established by Italian Mannerist Rosso Fiorentino (1494- 1540) was foundational to Rococo style interior design. Florentino was commissioned to work on the Palace of Fontainebleau by King Francis I, in 1530. The décor features frescoes, with elaborate frames made from stucco, featuring nymphs, putties, garlands, and baskets filled with fruit. Elaborate wood trim featured gilding. This would heavily influence Rococo decorative arts and the Rococo period in general.
Rococo Style: Interior Design
Rococo style interiors were full of soft pastel colors, painted ceilings and trompe l'oeil. Interior elements paid particular attention to moldings, decorated in curvaceous forms using S and C shapes. Natural shapes from nature dominated, especially seashells, flowers, birds, and vines. Fontainebleau inspired elements included cupids, putties, and gilding.
Chinese elements emerged based on porcelain wares. Mirrors were used to attract light and a feeling of spaciousness. All forms of decorative arts flourished. Venetian glass chandeliers and the use of silk and velvet were influenced by Italian Rococo. Tapestries and small paintings helped to create intimate spaces. Outdoor private gardens and secluded parks allowed for flirtation.
Hôtel de Soubise, in Paris, France, built in Baroque style, in the early 1700s was the city mansion of Prince and Princess of Soubise, redecorated by French architect Germain Boffrand (1667 -1754) in the 1730s. The Salon de la Princess is pure French Rococo style. The room is adorned with gilded carved wood or boiserie, cherubs, ceiling paintings and mirrors in Rococo decorative style.
Rococo Style: Rococo Architecture
German Rococo employed bold pastel shades for exteriors and interiors. François Cuvilliés (1695- 1768) the Belgian-born architect and designer built the pink painted, 18th century Amalienburg between 1734- 1739. This was a small extension as part of Nymphenburg Palace Park, in Munich, Germany. The Rococo architecture was commissioned by Elector Karl Albrecht for his wife Maria Amalia as lodge for pleasure and hunting.
Classical elements appear in the form of Ionic pilasters and a broken pediment above the door that are purely decorative.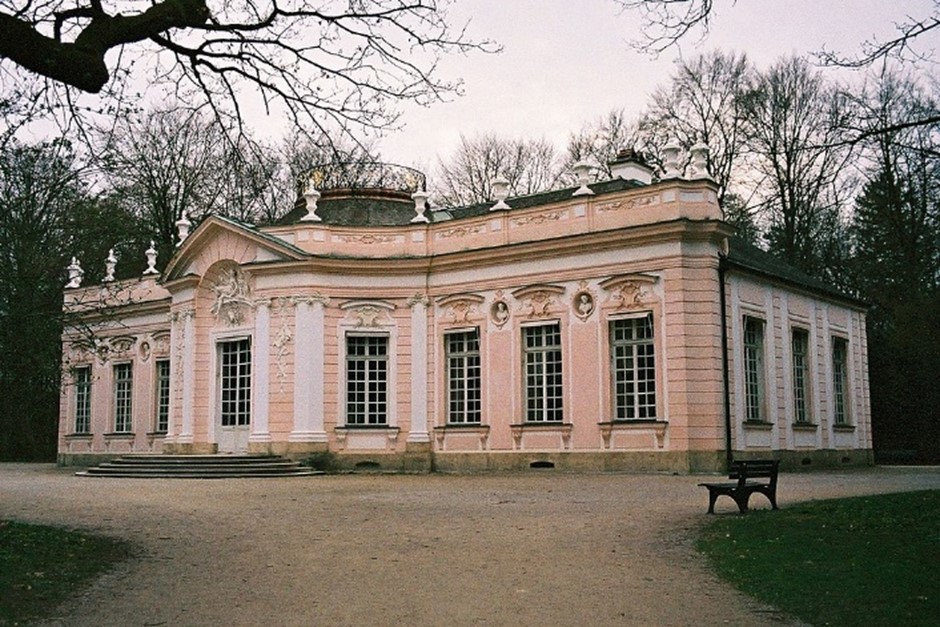 The stucco work was crafted by German painter and stucco plasterer Johann Baptist Zimmermann (1680-1758). Considered a prime example of Rococo style his work in The Hall of Mirrors is resplendent with Bavarian blue panels and three-dimensional silver gilt-stucco work, on walls and ceilings. The windows overlook the garden, while mirrors and doors alternate to reflect light.
The interior decoration of the bedroom is lemon yellow, with wall carvings in silver and blue stucco. The Blue Cabinet was used to store hunting gear, with cut-out niches that housed the hunting dogs. The area was highly decorated to looks like Chinese porcelain wares, which more in demand during the Rococo period.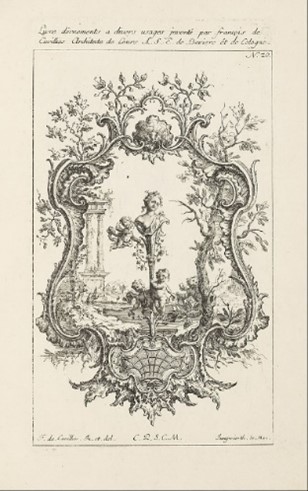 Notable Rococo Artists
Jean Antoine Watteau (1684-1721) French
Jean-Honoré Fragonard (1732-1806) French
Jean Siméon Chardin (1699-1779) French
Canaletto (1697-1768) Italian
Thomas Gainsborough (1727-1788) English
Edmé Bouchardon (1698- 1762) French
Notable Rococo Architects
Germain Boffrand (1667- 1754) French
François Cuvilliés (1695- 1768) French
Rococo Terms in Art
Fêtes galantes
Putti
Sculpture in the round
Hard paste porcelain
Rococo Architecture Terms
Boiserie
Bavarian blue
Ionic pilaster
Broken pediment
Stucco
Cartouche