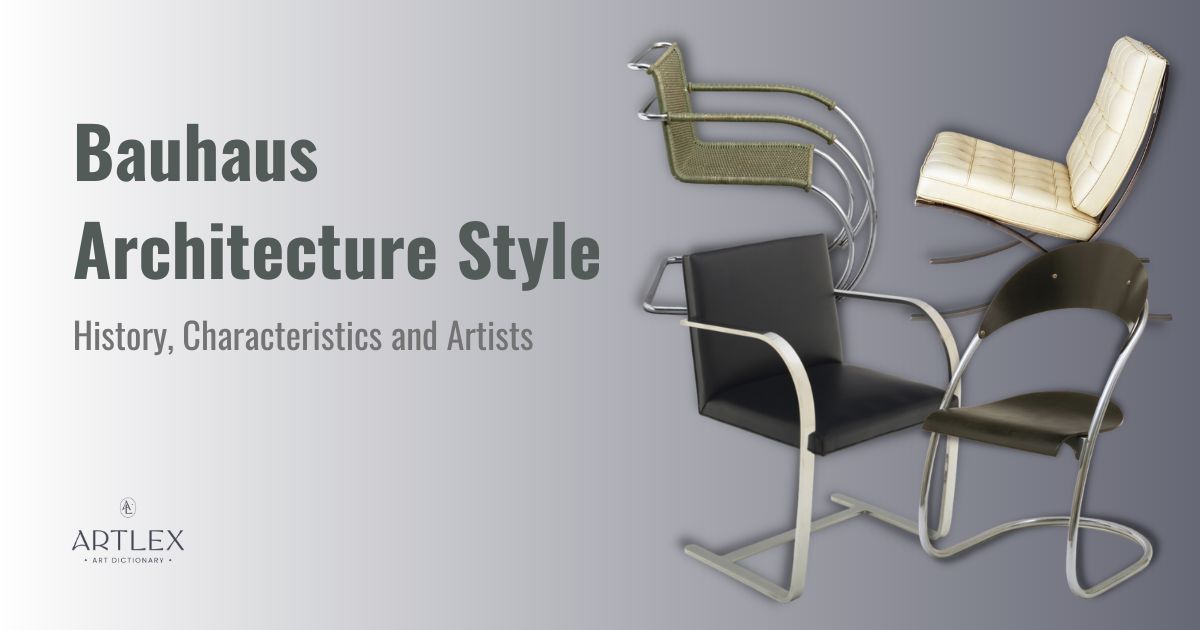 The Bauhaus was a school of design, architecture, and applied arts established by German architect Walter Gropius (1883 – 1969) in Weimar, Germany in 1919. The school was operational in three different cities (Weimar, Dessau, and Berlin) until 1933 when it was shut down by the Nazi regime. It was an enormously influential school that defined the epoch and helped shape modern art, design, and architecture. The name "Bauhaus" loosely translated from German means "House of Building."[1] Despite the name and the fact that the founder of the school was an architect, the Bauhaus did not have an architecture department until 1927.
Notable Bauhaus Artworks
Ludwig Mies van der Rohe, Brno Chair, 1929-1930, MoMA, NYC, New York, USA
Ludwig Mies van der Rohe and Lilly Reich, Barcelona Chair, 1929, MoMA, NYC, New York, USA
Ludwig Mies van der Rohe, the MR20 Armchair, 1927, MoMA, NYC, New York, USA
Marcel Breuer, The Wassily Chair, 1927-1928, MoMA, NYC, New York, USA
Marianne Brand, Teapot in silver and ebony, 1924, The Metropolitan Museum of Art, NYC, New
York, USA
Walter Gropius, The Bauhaus Building, Dessau, 1925-1926.
Josef Hartwig, Chess Set, 1924, MoMA, NYC, New York, USA
Josef Albers, Nesting Tables, 1926.
Peter Keler, Baby Cradle, 1923.
Wilhelm Wagenfeld and Carl Jakob Jucker, Table Lamp, 1923-1924, MoMA, NYC, New York, USA
Anni Albers, Design for a rug, 1927, Harvard Art Museums, Cambridge, MA, USA
History of Bauhaus
The Bauhaus school of art went through three different relocations and stages. It was formally called the "Staatliches Bauhaus" because it was a state-funded institution combining two schools – the Grand Ducal Saxon Academy of Fine Art and the Grand Ducal Saxon School of Arts and Crafts.
The school was founded in Weimar, in the state of Thuringia, in 1919 by German modernist architect Walter Gropius. Under his direction, the Bauhaus in Weimar operated until the politically motivated closure in 1925. During this time, Gropius laid the groundwork for the second phase of the school, which took place in Dessau, in the state of Sachsen-Anhalt, from 1926 to 1932.
During Bauhaus Dessau, the school had its heyday. The director was Hannes Mayer and most of the designs that we know today as Bauhaus style came from Dessau including the famous Bauhaus Building built by Gropius. After the closure of Dessau in 1932 due to increasing pressures from the Nazis[2], Bauhaus teachers and students moved to Berlin, in the state of Brandenburg, where they established a new Bauhaus school.
It was a privately funded school, with Ludwig Mies van der Rohe as the director. The Bauhaus Berlin lasted until April 1933, when it was finally closed by the Nazi regime. The teaching staff and students fled Germany, leading to the spread of the Bauhaus style throughout the world.
Total Work of Art
Drawing on ideas of the English Arts and Crafts movement of the 19th century and Art Nouveau, the school actualized the concept of the "Gesamtkunstwerk," or total work of art. The driving idea of Bauhaus was to level the distinction between the fine and applied arts and create new aesthetics that combine visual arts with industrial techniques.
Fusing fine arts, the know-how of traditional craftsmen, and industrial processes under one roof, Bauhaus aimed at producing simple and purposeful designs with an artistic feel that can be mass-produced and serve the community. It was a utopian movement that attempted to improve people's everyday lives through beautiful and functional design.
The German school acted as a hub for Europe's most innovative creative minds at the time, teaching painting, ceramics, textiles, metalworking, photography, typography, graphic art, theatre design, architecture, and interior and product design. The teaching method at Bauhaus replaced the traditional pupil-teacher relationship with the idea of a community of artists, architects, designers, and craftsmen living and working together.
Bauhaus had many famous architects and avant-garde artists of the twentieth century among its lecturers including Hannes Meyer, Ludwig Mies van der Rohe, Josef Albers, Anni Albers, Marcel Breuer, Mart Stam, Herbert Bayer, Adolf Meyer, Alfred Arndt, Marianne Brandt, Otti Berger, Friedrich Engemann, Carl Fieger, Lyonel Feininger, Johannes Itten, Wassily Kandinsky, Paul Klee, László Moholy-Nagy, Oskar Schlemmer, and others. The students were encouraged to experiment and invent new designs that had to be simple, functional, and easy to produce. Among the most commercially successful workshops were the textile and metalworking studios. Their products were sold under the school's patent, providing vital funds to the Bauhaus.
The school of art was also known for its costumed parties that were part of the training program. These events were seen as an opportunity for relaxation, creative exchange, and improvisation among students and teachers. Later, they turned into large-scale performing arts shows, such as Oscar Schlemmer's "Triad Ballet" from 1922, with costumes and stage designs produced in Bauhaus workshops.
The Main Principles of Bauhaus
In the Bauhaus manifesto from 1919, Walter Gropius stated some of the main principles of the movement such as:
Arts and architecture were to lead back to craftsmanship. Gropius' aimed to create one style that would unify architecture, fine arts, and crafts. He embraced the philosophy of Gesamtkunstwerk, the "total work of art," and reformulated it into "Total Design," intending to convey the famous idea through a "new guild of craftsmen" into all aspects of modern life.
Emphasis on technology. Following the principle of combining arts and crafts, Bauhaus artists embraced modern technologies, merging art and design with mass production.
Function follows form. According to Gropius, an object's design should be based on its intended function. As stated in the manifesto, "an object is defined by its nature. In order, then, to design it to function correctly – a container, a chair, or a house – one must, first of all, study its nature: for it must serve its purpose perfectly, that is, it must fulfill its function usefully, be durable, economical, and 'beautiful.'" Bauhaus designs are straightforward and functional made of simple, geometric shapes, clean lines, primary colors, and with little to no embellishment.
Simplicity and minimalism. Bauhaus aesthetic is based on simplicity, clarity, balanced visual composition, rationality, and functionality. Ornamentation was allowed only if it followed on from function.
Truth to materials. Bauhaus architects and designers believed that materials should be used in the most honest way possible to reflect the true nature of objects and buildings. They used basic utilitarian materials steel, concrete, and glass unmodified and exposed, emphasizing beauty in their functionality.
A holistic approach to design. Bauhaus architects and designers strived to integrate the school's techniques into everyday life.
Continuous development and innovation. The Bauhaus school advocated for continuous experimentation and evolution of their architects and designers, urging them to constantly invent something new using modern technologies and materials.
Characteristics of Bauhaus Style
Coming from a desire to merge all the arts and industry, the Bauhaus strived to create beauty through functional, utilitarian design. The most basic principle of the Bauhaus movement was "form follows function." This idea used simple, geometric shapes with few decorative details to design functional, straightforward objects and mass-produced objects.
Bauhaus designs are characterized by clean lines, simple, useful shapes with little or no decoration, primary colors, and rational use of modern materials such as glass, concrete, and steel.
The most important contribution of the Bauhaus is in the field of industrial design. The Wassily chair designed by Marcel Breuer in 1927-1928, the MR20 armchair designed by Ludwig Mies van der Rohe in 1927, and Marianne Brandt's Teapot, in silver and ebony (1924) are now part of collections of the world's foremost art museums, including MoMA in New York City, The Art Institute of Chicago, The Centre Pompidou in Paris, and The Victoria and Albert Museum in London. These objects are considered iconic expressions of the Bauhaus style. They have become the most popular collectible items in the luxury furniture market.
The most famous architectural project of the Bauhaus movement was the Bauhaus Building in Dessau, designed by Walter Gropius in 1925-1926. It is the built manifesto of functionality, clarity, and minimalism, regarded by art historians as the symbol of "white modernism" par excellence. The Bauhaus Building was awarded UNESCO World Heritage status in 1996, together with the former building in Weimar.
False Gender Equality of the Bauhaus
Although Bauhaus was praised for its progressive approach to gender equality, accepting both male and female students into its program, women were discouraged from participating in fields other than textile design. Most female students were enrolled in the more domestic or "feminine" subjects, such as weaving workshop under the direction of Gunta Stölzl. However, as this workshop didn't offer certificates, this prevented many of them from further developing their careers. Marianne Brandt was the first woman to attend the metalworking workshop, replacing László Moholy-Nagy as studio director in 1928. Some also criticize the ratio of female to male faculty members being uneven at the Bauhaus. For example, only six of forty-five faculty members were women when the school was operating in Weimar.
Influences and Legacy
Despite being short-lived, the Bauhaus is widely regarded as the most influential art school of the 20th century that helped shape modern design and architecture. The school played a crucial role in developing modernist architecture and made a significant impact on mid-century modern art and design and Scandinavian minimalism.
It championed ideas like "form follows function," promoted a holistic approach to design, and re-conceptualized the artistic process. It popularized modern materials like glass, steel, and concrete, which have become a staple of contemporary interior design. To this day, Bauhaus style and ideals inspire artists and designers worldwide. For example, the concept of the famous Swedish home furnishing company IKEA was inspired by the works produced by Bauhaus designers.
The Bauhaus also strongly influenced contemporary design education with its unique approach to teaching that emphasized experimentation and problem-solving in design work.
It was an art school like no other. The class structure at Bauhaus included the first year of introductory classes called "preliminary course," which covered subjects like color theory and the fundamental elements of design.
After this preparatory course, students would continue to pursue more advanced technical courses. Bauhaus teaching methods and concepts were transmitted throughout the world by faculty and students who fled Germany after the final closure of the school in 1933. Today, almost all architecture and design schools in the world have this type of art curriculum.
Global Impact of Bauhaus

Even though it had a short and turbulent history, the Bauhaus has had an immense and far-reaching influence on modern and contemporary design and architecture. It fundamentally changed the world of design with its progressive, avant-garde ideas and remains a vital part of art history.
During the wake of World War II, many of the key members of the Bauhaus fled Germany spreading their teaching philosophies around the world. Its influence was especially strong in the USA, where many Bauhaus artists moved during the war, inspiring generations of architects and designers with their work.
Moholy-Nagy founded the New Bauhaus in Chicago in 1937 (later becoming the Institute of Design), and Gropius was appointed chairman at the Harvard Graduate School of Design the same year. He was joined by Breuer, who accepted a teaching position at Harvard.
Mies van der Rohe was appointed head of the architecture department at the Illinois Institute of Technology and designed its campus. Josef and Anni Albers taught at Black Mountain College and Yale. Several Bauhaus artists built an architectural ensemble of 4,000 buildings in the Bauhaus style in Tel Aviv, Israel (called the White City of Tel Aviv).
This outstanding collection of modernist architecture was declared a UNESCO World Heritage Site in 2003. The Bauhaus is still considered one of the most influential design schools of the twentieth century, inspiring architects and designers to this day.
Notable Bauhaus Artists
Walter Gropius (1883 – 1969), German
Hannes Mayer (1889 – 1954), Swiss
Mies van der Rohe (1886 – 1969), German-American
Marcel Breuer (1902 – 1981), Hungarian
Oskar Schlemmer (1888 – 1943), German
Paul Klee (1879 – 1940), Swiss-German
Wassily Kandinsky (1866 – 1944), Russian
László Moholy-Nagy (1895 – 1946), Hungarian
Marianne Brandt (1893 – 1983), German
Gunta Stölzl (1897 – 1983), German
Josef Albers (1888 – 1976), German
Anni Albers (1899 – 1994), German-American
Alma-Siedhoff Buscher (1899 –1944), German
List of Related Art Terms
Arts and Crafts Movement
Abstract Art
Constructivism
Modernism
International Style
Scandinavian Minimalism
Scandinavian Design
Functionalism
Footnotes
[1] The name is an inverted version of the German word "Hausbau", meaning "building
of a house."
[2] The Nazi regime disagreed with the modernistic style the school was promoting.
They accused its members of being communists and leftists.