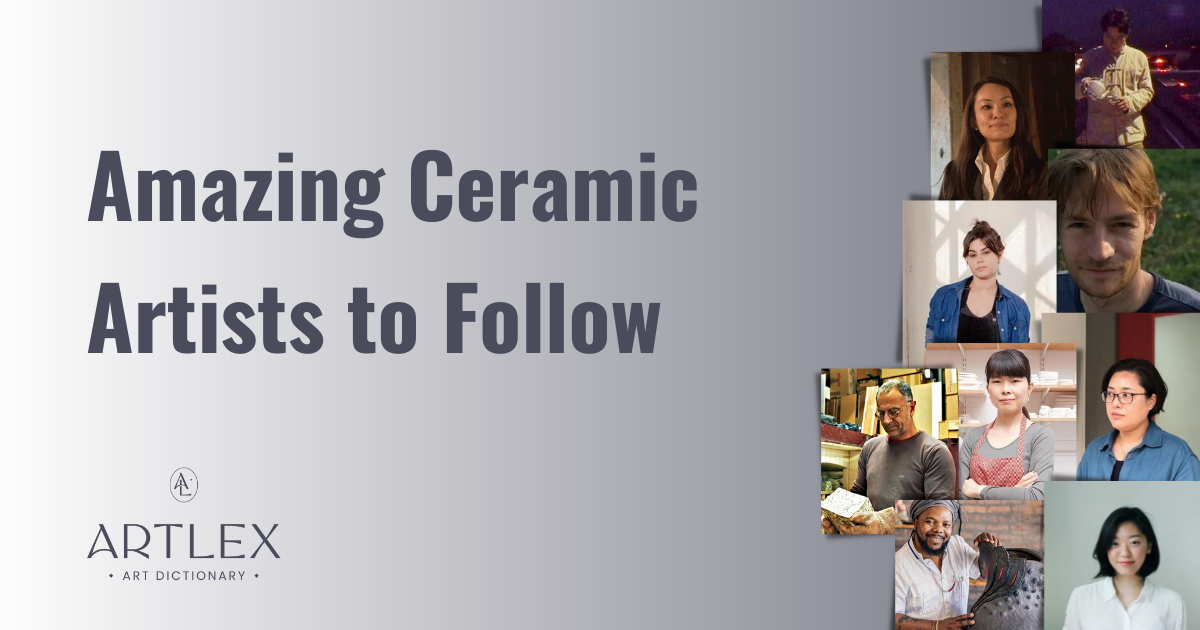 Ceramic art has been around for tens of thousands of years, with modern contemporary ceramic artists taking ceramic fine art to another level. Ceramic artwork is no longer dominated solely by vases or pottery, but modern art has provided a window for this art to take on a life of its own.
As a form of self-expression, pottery allows artists to display their own work in a multi-layered fashion. Each artist is inspired by different motivations for their artwork, including their hometown, life experiences, or nature, usually reflected in their art.
Fun fact: The first ceramics were found in China over 20,000 years ago.
Clay is all about the firing process, with each ceramic artist choosing a different finish. This physical medium can be finished using either a glaze or left raw for a different artistic expression.
Contemporary Ceramic Artists to Follow Today
#1 – Hitomi Hosono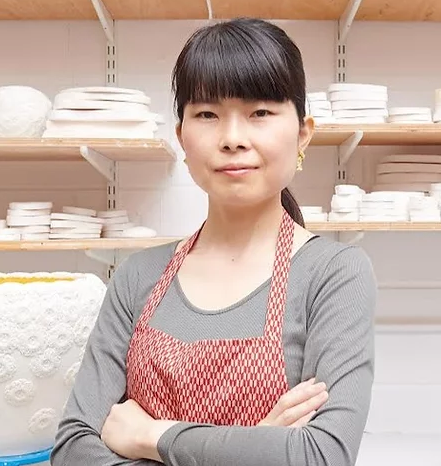 Artist Website: https://www.hitomihosono.com/
The porcelain works of the talented Hitomi Hosono are inspired by the natural world. Her ceramic artworks take on organic shapes and have a dream-like quality. Some of her pieces use gold leaf and have a matte-like finish. Each ceramic vessel inspires the work of Gaudí with his famous organic forms and the ancient craft of rendering nature in his artwork. Each ceramic vessel inspires the work of Gaudí with his famous organic forms and the ancient craft of rendering nature in his art. Her artwork has been exhibited at many international art events and museums such as the Albert Museum and the Victoria and British museums.
#2 – Yun Hee Lee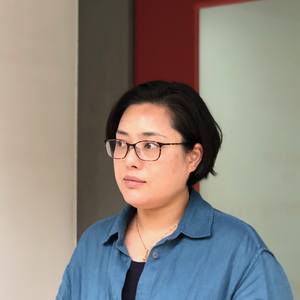 More Info Here: https://www.artsy.net/artist/yun-hee-lee
Yun Hee Lee is from South Korea. This ceramic artist creates figurative sculptures made with porcelain shards and gold leaf. Her traditional techniques are developed from the east but are also influenced by western culture. Her use of clay is inspired by people's fears, anxieties, and desires. The glazed porcelain ceramic sculptures depict dreamlike figures that go against traditional notions of ceramic sculpture.
#3 – Christina Tufiño
More Info Here: https://www.artspace.com/artist/cristina-tufino
This ceramic artist from Puerto Rico uses clay as a material experimentation of images inspired by hoarding. Her ceramics also depict biomorphic forms and the human body, which are fashioned by hand without using a potter's wheel. Christina is a mixed media artist who also draws. Her art has been exhibited in various museums in New York, California, Mexico, and Japan. She attended art school at the University of Puerto Rico.
#4 – Andile Dyalvane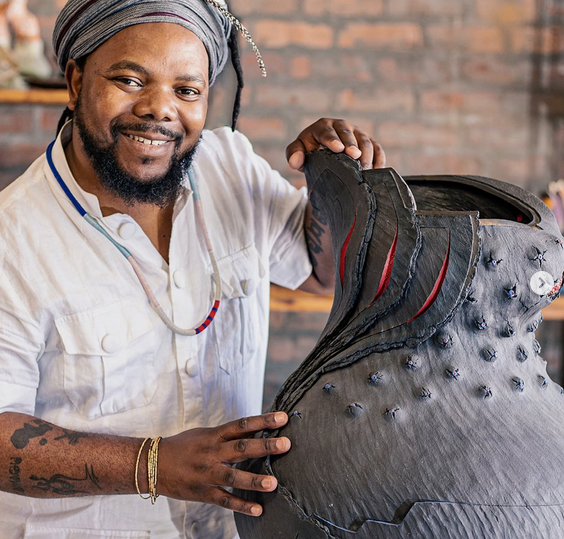 Artist Social: https://www.instagram.com/andiledyalvane/
Born in South Africa, Andile Dyalvane's clay art is inspired by his homeland and his native Xhosa culture. This ceramic artist uses clay in its raw form to create large-scale works like a ceramic sculpture of a tress, leaves or water. His work has been exhibited at the National Museum of China among many others worldwide.
#5 – Christopher David White
Artist Website: https://www.christopherdavidwhite.com/
Similar to other artists, Christopher David White is inspired by nature. Found materials like a cardboard box bring an element of simplicity to his work. His work doesn't necessarily represent refined sculptures rather, this ceramic artist uses clay and other materials to create contemporary ceramic sculptures of the human body. Christopher studied at the ceramics department at the University of Indiana.
#6 – Takemura Yuri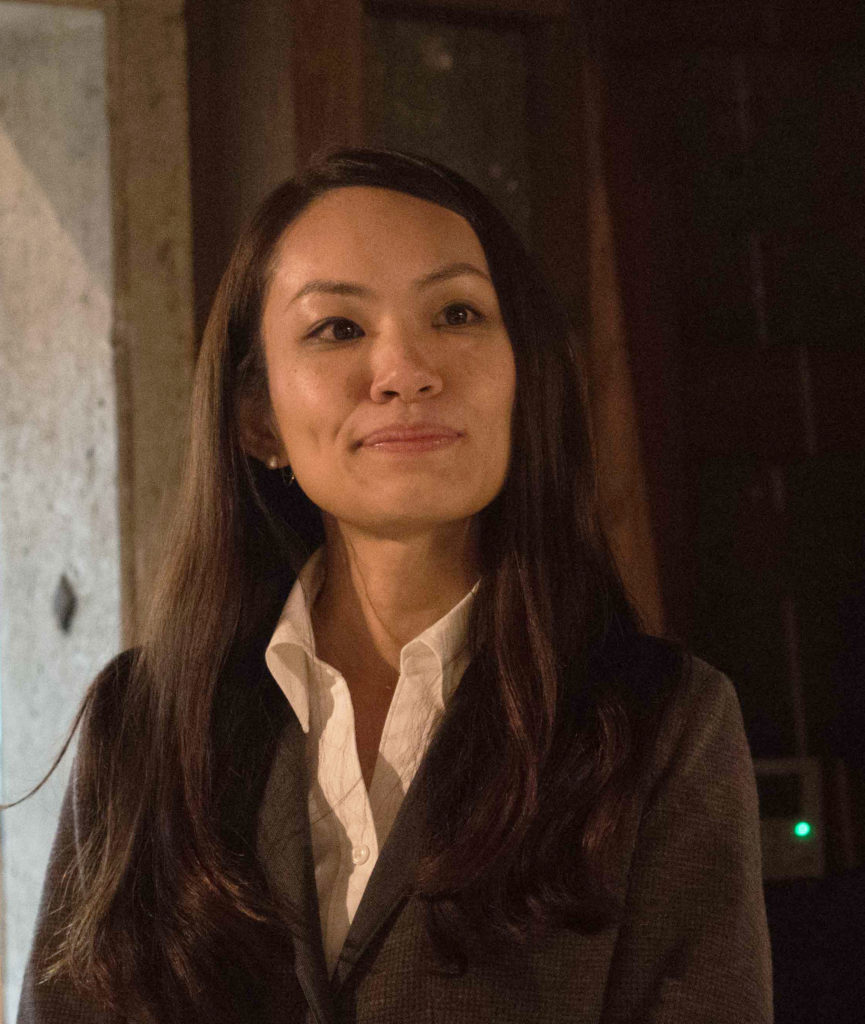 More Info Here: https://www.mirviss.com/artists/takemura-yuri
The ceramic art world provided the perfect landscape to explore unique tea bowl shapes. Having graduated from the Tokyo National University, Takemura Yuri took a clay modeling class that gave her more artistic freedom than her original art form, oil painting. Yuri is one of the youngest contemporary ceramic artists to come from Japan.
#7 – Lei Xue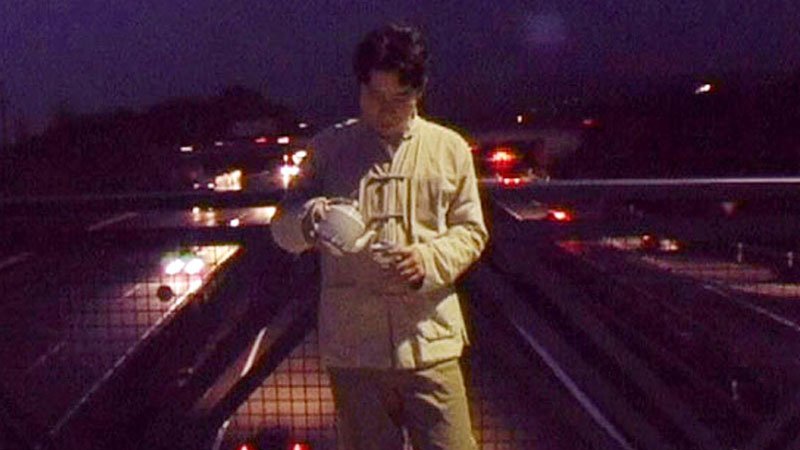 More Info Here: https://coleccionsolo.com/artists/lei-xue/
Lei Xue creates gorgeous vases, some of which look like a translated vase that has been crushed. His Ming Dynasty Patterns teach art history in a beautiful art form. In his sculptures, Xue also honors tea ceremonies and is a famous contemporary ceramic artist in his native China. He also creates porcelain cans that mimic crumpled cans that have been thrown away– bringing light to the throw-away culture that has dominated the world.
#8 – Fernando Casasempere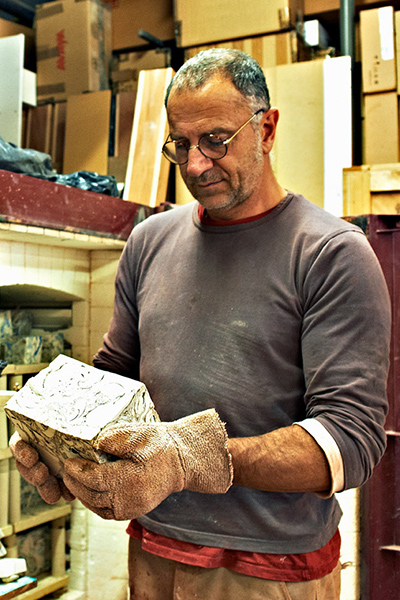 Artist Website: https://www.fernandocasasempere.com/about/
One of the contemporary ceramic artists from Santiago, Chile, Casasempere uses Chilean clay to produce ceramic art and ceramic sculpture. Casasempere specializes in large installations, including one seven meters long at the New Art Centre, inspired by his anxiety over the destruction of the environment. One of his most famous exhibits was in the courtyard of Somerset House, where he produced a field of steel and ceramic flowers.
#9 – Hae Won Sohn
Artist Website: https://haewonsohn.com/
Originally from Koren, Hae Won Sohn graduated from New York State College and is a contemporary ceramic artist who uses clay to create gorgeous pottery. Her abstract works tend not to use molds rather, they are freehand and take on natural shapes inspired by nature. Like other artists, her work is regularly exhibited in New York, DC, and Korea.
Conclusion
We hope this article introducing different ceramic artists inspired many facets of your next pottery project. We hope this first glance into some of their contemporary ceramic pieces helps you want to explore more of these artists' finished pieces and research other ceramic works.