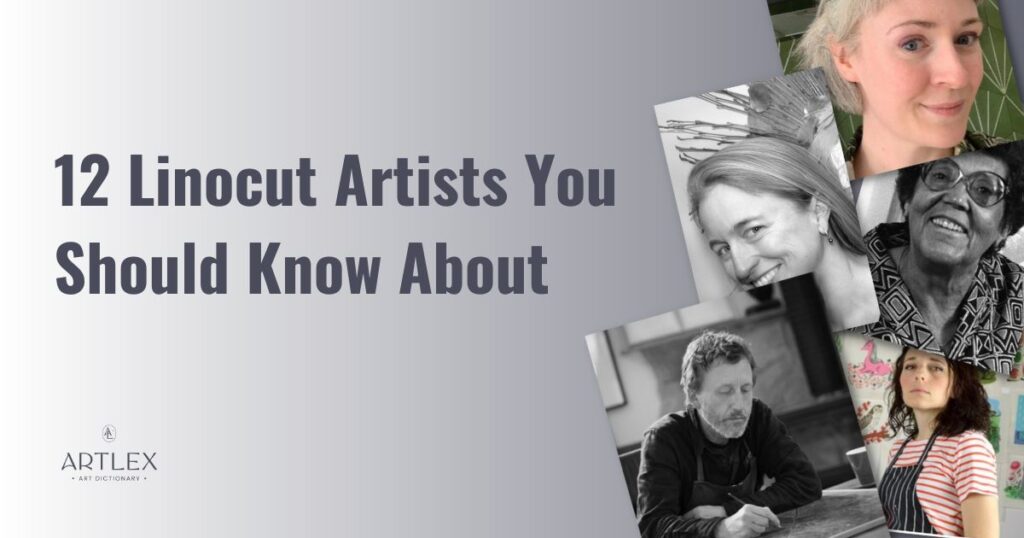 Linoleum may seem like an unlikely canvas for artists. Lino is indeed nothing "fancy," nor does it typically come in colours or textures that inspire schoolchildren to play as they do with crayons.
But linoleum's initially dull appearance is misleading. When carved into with painstaking attention to detail, that gray block can produce amazing linocut prints that can be easily replicated.
These famous artists are well-versed in the potential of linocut. Many of them even turned to linoleum as a tool of social change because linoleum is highly accessible and the printing process is quick and easy.
Claude Flight (1881-1955) is perhaps the best example of a revolutionary linocut artist. Although Flight wasn't the first to use a linoleum block to carve a relief print, he made it his mission to make sure the practice took off and effectively made it what it is today.
Flight is credited with popularizing the colour lino print beginning around 1919, according to the Museum of Modern Art (MoMA). This makes linocut a relatively new art form, still innovative and contemporary in the 21st century.
Naturally, Flight ranks high among linocut artists worth knowing. Read on for 11 more, including several contemporary artists who are inspiring their audiences daily through Instagram and other social media.
What is linocut printing?
Lino printing is a process of carving the inverse of an image into a linoleum block, inking it, and then producing the resulting image on a surface (typically paper).
The idea is much like carving a handmade stamp. It requires removing all the lino that shouldn't be part of the image (or the negative space), making it a form of relief printing.
Linocut artists are required to plan in a way that most media don't demand. The resulting image from a lino block is as if reflected in a mirror, so any text must be carved in reverse, for instance.
There is also a higher degree of commitment each time the artist carves a line into the block. There is no "un-carving" possible in the same way that a pencil can be erased or a digital mistake can be undone.
Because of these unique features, artists sometimes find that linoleum changes their style. Very fine lines can be difficult to achieve, so a linocut artist might favor bold, thick lines that make a stronger statement.
Likewise, because colour requires a more complex printing process, a lino printmaker might opt for only a single colour of ink in the final image, or very few.
A lino print has a distinctive look with a wide appeal because of its clean, geometric lines and the stark contrast between light and twilight.
Linoleum is similar to wood in this way; woodcut prints could also be described as such, and it's not surprising that many artists work with both materials. Yet linocut art occupies a special place in printmaking and art.
No other material can boast of such a rich avant-garde history. Nor does anything else look exactly like a print made this way.
Check out the work of the professionals below to see what linoleum is truly capable of.
Andrea Lauren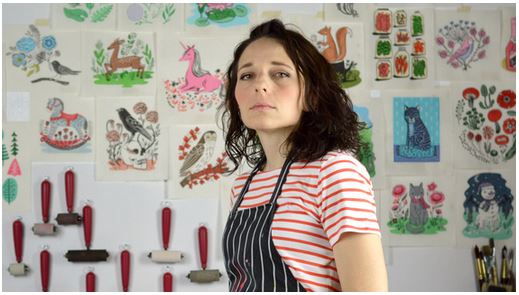 Andrea Lauren is a contemporary fabric designer who is known for bringing linocut printing to the attention of the 21st-century public. Born in London but based in Florida, she can be found online at her website.
Not only does Lauren elevate her work by scanning her hand-carved designs and digitally editing them, but she's also the author of the celebrated book Block Print. The 2016 instructional book introduces readers to linocut printmaking via "simple techniques for creating your own printing blocks out of art-foam."
Lauren's style draws clear inspiration from the artwork of William Morris in works such as this 2020 design featured on her website, which incorporates densely-packed plants and animals in a woodland theme. However, her patterns also skew more minimalistic at times, as found in this moth image which has become a best-selling fabric pattern on her Spoonflower profile.
Angie Lewin (b. 1963)
An artist of multiple media, UK-based Angie Lewin is a linocut printmaker as well as an accomplished artist in watercolour painting, screen printing, and woodcut printing.
Lewin looks to the British countryside for her art's inspiration, where she focuses on "intricately detailed plantforms" and the surrounding landscape to translate the world of nature into ink.
Lewin's mastery of technique is evident in her stylistic consistency regardless of any particular print medium. Her art is recognizable as hers in the woodcut block print "Dahlias and Anemones" as well as the screen print "Sea Holly Blue" or the linocut "Festival Fireworks."
Kat Flint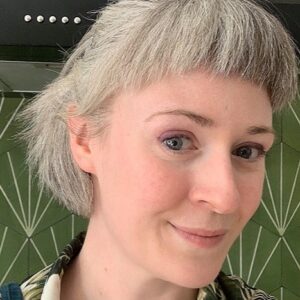 Kat Flint's lino prints have found a happy home on Instagram, where Flint shares images of her process at all stages. Documentation via Instagram is arguably what's propelled Kat Flint to fame as a linocut artist; in a way, her followers visit her home studio in South East London daily, from wherever they're located.
Flint's projects turn linoleum into a medium of storytelling above all else. Sometimes, the lino block has a fantastic story to tell, as in this Little Red Riding Hood-inspired print. More often, though, Flint's subjects are inspired by a range of everyday figures and symbols whose folkloric qualities are amplified by the bold lines and details in the artist's style.
Take, for example, this amazingly intricate in-progress lino carving of a fisherman, or the powerfully minimalistic "Hey There" print depicting an image of early motherhood.
Sybil Andrews (1898-1992)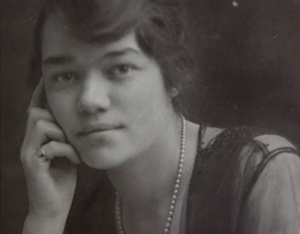 Sybil Andrews earned herself a place among famous linocut artists with her modernist artwork printed across several decades, both world wars, and two countries (England and Canada).
Andrews carved some of this remarkable historical period into linoleum; much of her best-known work could be described as modernist both in style and subject matter. For example, "The Winch" uses bold colour and lines to portray men working in a Cubism-influenced style.
Andrews was an early adopter of lino printing. She met Claude Flight in the 1920s, taking classes with him at the Grosvenor School of Modern Art, where she also worked. It was after this time learning from Flight that she began to focus on work in linoleum.
Mark Hearld (b. 1974)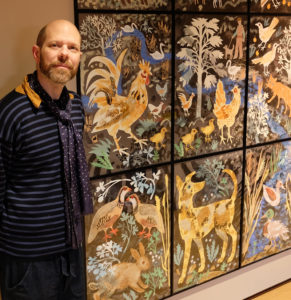 Linocut artists often draw inspiration from natural landscapes, and Mark Hearld is a prime example. Hearld holds a master's degree in natural history illustration, and it shows in intricate textures like those featured in "Little Owl."
His work has been featured most recently in Raucous Invention — The Joy of Making, which was published in 2022 by St. Jude's Prints. The book may be described as a kind of artistic ode to the world as Hearld sees it, full of rich detail and the beauty of everyday life.
Hearld is based in York and graces Instagram with photos of art as well as his life.
Claude Flight (1881-1955)
Claude Flight is known as a pioneer among linocut artists. As the MoMA notes, it was Flight who brought linoleum block printing to the attention of contemporary fine artists and collectors. He saw in it "the potential for a truly democratic art form" because lino prints could be made with relatively inexpensive materials.
Flight's work often turned to Futurist themes in works like "Speed," which captures the urban hustle and bustle of London from a pedestrian's perspective on the passing bus and towering buildings.
Claude Flight was also a teacher and mentor to fellow British linocut artist Sybil Andrews. Both Andrews and Flight incorporated a modernist theme in their printmaking and changed art history by popularizing linoleum as a medium.
David Frazer (b. 1966)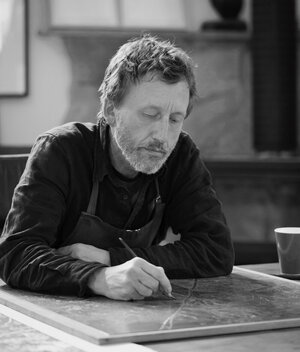 Australian David Frazer demonstrates that linocut work can be just as powerful and culturally relevant as it was 100 years ago, in Flight's time. His prints are intimate and emotionally impactful, typically inked from wood engravings.
Frazer's prints often look like deeply personal moments that happened to be caught "on camera." 2020 wood engraving "A Kind of Prayer" feels invasive although the subject has his back to the viewer. "200 Words" evokes a similar feeling through a lino block; the seated man seems as though he's contemplating life as he looks over the water.
The patience required to carve such a high level of detail on such a large scale might be amazing in itself even if Frazer was not such a fantastic storyteller. Many of his prints measure more than a meter in both dimensions and the viewer needs to "zoom in" to truly appreciate the texture.
Frazer can be found on Instagram, where he documents his artistic process for about 13 thousand followers.
Leopoldo Méndez (1902-1969)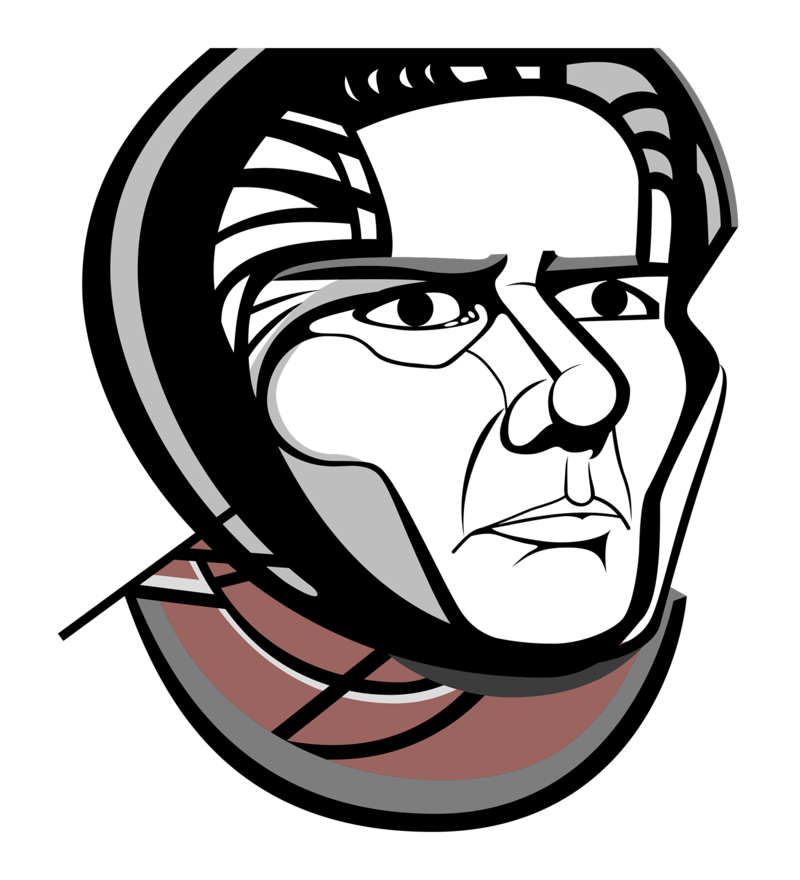 Leopoldo Méndez was not an artist of individual fame, but that wasn't because his linocut art wasn't influential. In fact, the truth is closer to the opposite: Méndez wanted to remain anonymous and work collaboratively because he saw his artwork as an extension of his left-wing political philosophy.
Méndez is best known for co-founding the Taller de Gráfica Popular (Popular Peoples' Graphic Workshop) or TGP, in Mexico City, in 1937.
TGP was devoted to "a philosophy of art as a means of activism and liberation for the people of Mexico," particularly focused on printmaking as a tool of anti-fascism in Mexico and beyond.
Méndez as an individual graphic artist still received credit for his linocut backdrops "Little Schoolteacher, How Immense is Thy Will," which was for the 1947 film Río Escondido (Hidden River). The prints made a "moving mural" that brought linoleum block printing as well as revolutionary ideas to public consciousness through the movie screen.
Edward Bawden (1903-1989)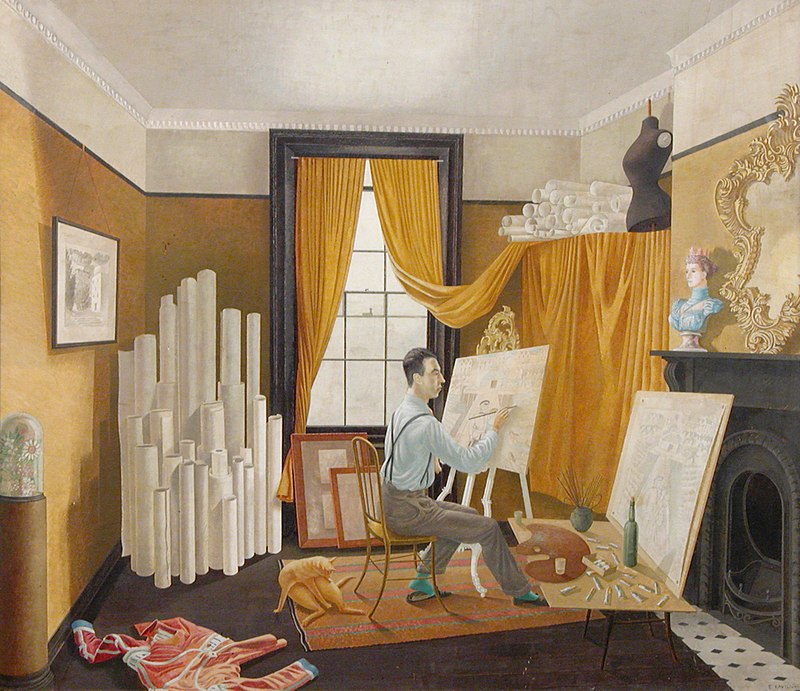 British artist Edward Bawden was known for a wide body of work that included watercolour painting, graphic arts, and illustration as well as linocut prints. Bawden not only sold his art commercially but also served as a war artist with the British army and taught at the Royal College of Art.
Bawden was so prolific that generalizing his work is a difficult task, but his lino prints tended toward a geometric and minimalistic feel, such as in "The Tower of London." Still, Bawden was able to produce a high degree of realism across all media, as was necessary when he illustrated for the war effort.
Elizabeth Catlett (1915-2012)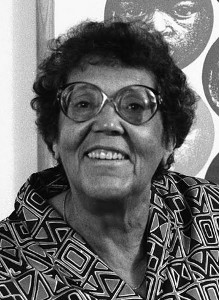 Linoleum blocks were just one art form where African American Elizabeth Catlett shone. She also excelled in sculpture and painting. Above all, though, Catlett was a revolutionary artist.
Catlett joined the artist collective Taller de Gráfica Popular (Popular Peoples' Graphic Workshop) or TGP, founded by fellow lino artist Leopoldo Méndez, in 1946. Like Méndez, Catlett used linoleum as a tool of democracy and stuck to a style of social realism (see "Sharecropper," for example) to be more "meaningful" for "the struggling people," as she put it.
John Banting (1902-1972)
British designer and artist John Banting was another linocut artist concerned with social causes, but his approach was to create mostly abstract and Surrealist images. Finding early inspiration in Pablo Picasso, Banting was all the more influenced toward surrealism after meeting figures like Marcel Duchamp and Andre Bréton, as The Court Gallery explains.
Linoleum could be considered an experiment in technique for Banting in the broader context of his life and art. Still, Banting made a significant contribution to art history by bringing a non-representational style to the lino block. "Snake in the Grass, Alas" is one such example that "reveal[s Banting's] fascination with spontaneous design," as the Tate Museum notes.
Evon Zerbetz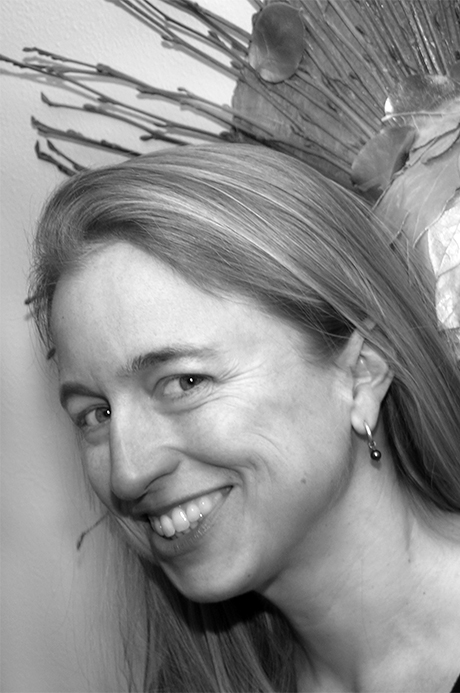 Evon Zerbetz lives in Alaska and is drawn to lino printing due to its characteristic texture–"the lines that can only be created in carving relief plates," she writes on her website. Her linocut illustration work has been applied well beyond the page, even including architectural installations and sculptures.
Zerbetz stands out for her incorporation of bright, bold colours that she paints onto her prints to create the final image. Take, for instance, these three painted prints from the children's book Dream Flights on Arctic Nights. Each image is inspired by nature, as her subjects tend to be, and the paint adds a fun pop of colour to appeal to her young audiences as intended.