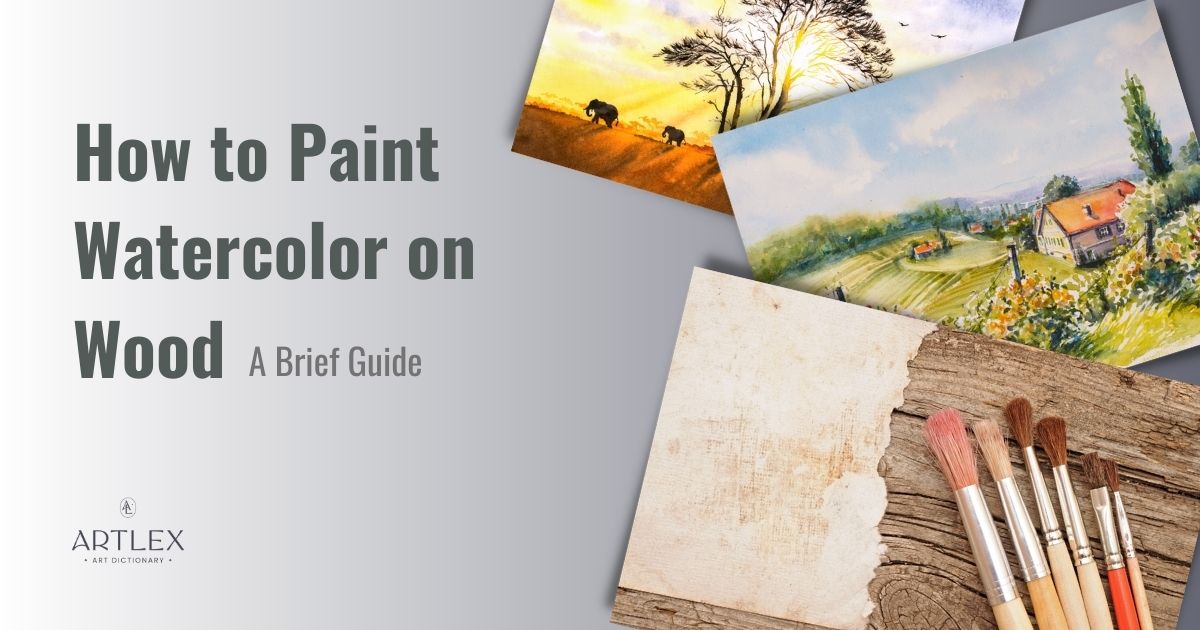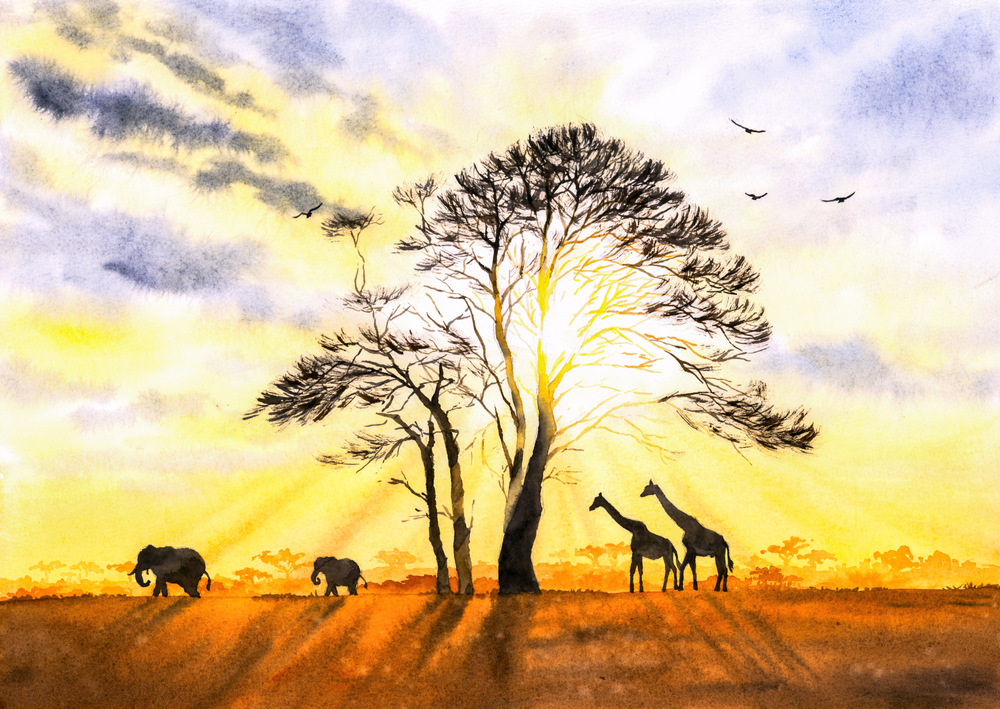 While painting watercolor on wood leaves a very different effect than painting on paper, it can create a unique watercolor painting. When choosing a piece of wood, be sure to look at the wood grain if not using a primer that will compliment the raw nature of this distinct style.
Keep in mind that wood is a very porous material, and there may be some absorption issues. Hence, if not wanting to highlight the wood's natural grain and texture, it's essential to complete some additional prep work before beginning to apply watercolor paints to the surface. Read on below to learn what prep work is needed and how to paint watercolor on wood.
Step 1: Understanding Watercolor Paints
We have covered an entire article about watercolor paints here, but we'll discuss some key points. First, not all watercolor paints are created equally. Most watercolors are made with gum arabic, a binding agent and pigment that is activated with water. Occasionally some binding agents are made out of linseed oil. If buying watercolors from your local craft store, look for trusted brands like Winsor & Newton or Daniel Smith.
Either is perfectly fine to use on wood. As mentioned above, wood is porous, so applying watercolor directly to the wood will allow the grain and texture to show through, especially if the wood isn't a smooth surface.
Differences Painting on Wood and Watercolor Paper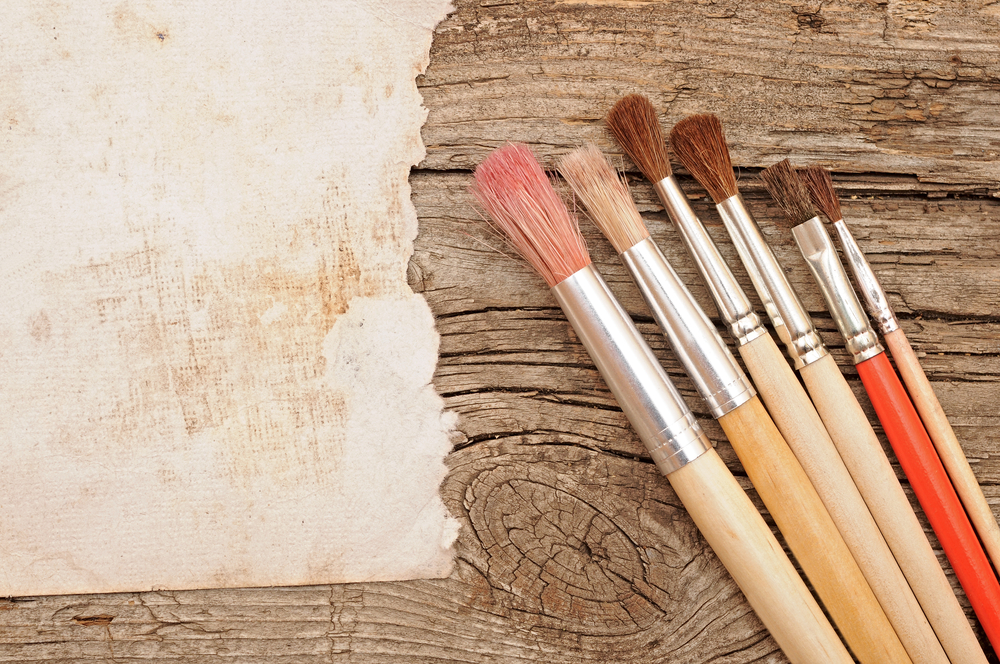 Using wood as an art canvas for watercolor paint is a good way for artists to showcase their skills, add a personal touch to their paintings, and make an excellent gift for the holidays.
For more information about the different types of watercolor papers, read our article here.
Artists would still use the same type of brush when painting on wood, canvas, or another surface. For more information about the best types of watercolor brushes, check out our article here.
Watercolor Painting on Wood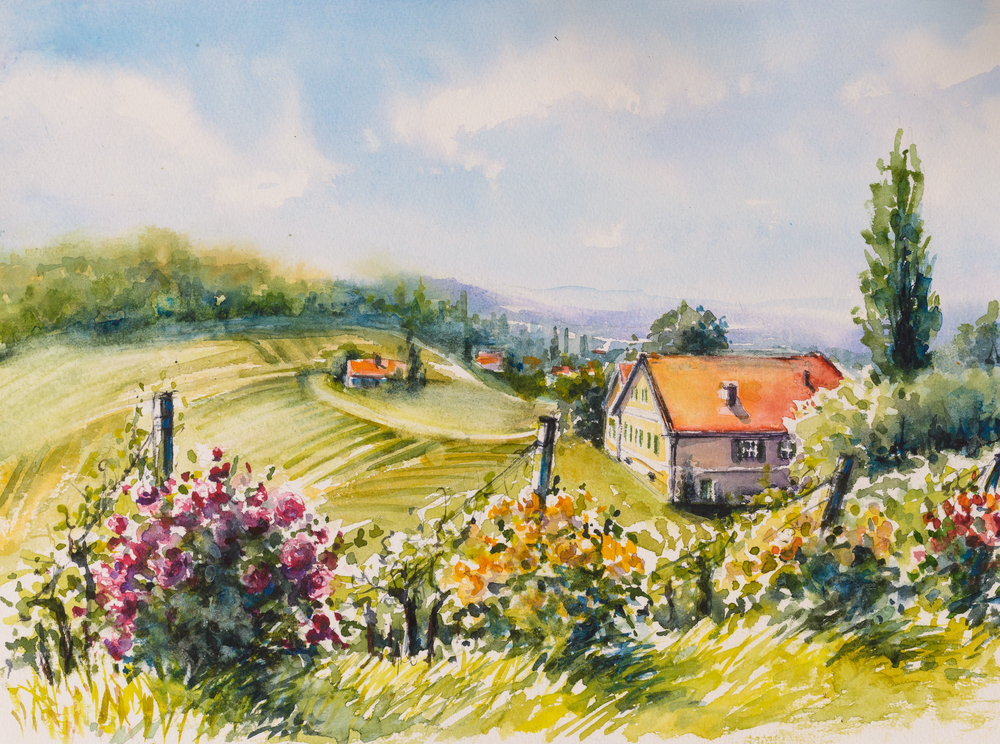 Step 1: Prime the Surface by Sanding
If you did not choose the piece of wood to complement the natural grain or texture, it's essential to do some prep work to ready the wood for the watercolors. Preparing the wood surface will create a flat surface for a more finished look and allow the watercolors' pigments to pop.
Using fine-grit sandpaper, sand the area where you'll be painting. If you have a large piece of wood, sanding a smaller central area can also give a unique framed quality to the painting, especially since it's challenging to frame wood. Using sanding paper on a drill with a dust removal kit to catch any wood shavings can also save cleanup time. We suggest wearing a mask, protective eyewear, and gloves.
Step 2: Apply Primer
Once the surface is sanded, wipe it down with a damp cloth, or if you have a bottle of compressed air that you use to clean your keyboard, that will get all the dust off the surface as well. Make sure the wood dries entirely before applying a primer.
The best primer to use is watercolor ground in an iridescent gold color that will complement the natural color of the wood. This primer can be applied directly from the container and used on canvas, fabric, or even metal surfaces.
Using a brush with synthetic bristles will provide a smooth surface while using natural bristles will create a more textured surface. A little goes a long way, so using a large amount isn't necessary. Remember, watercolor ground serves to create an absorbable surface, so be sure to use less water. If you opt for this primer, it will need to be finished to protect the painting.
Gesso is another primer made out of acrylic that many artists prefer for its affordability and ease of use. Before painting with watercolors, most artists use a light coat of white gesso or super heavy gesso as starting points.
The vital thing to note about gesso is that it doesn't yellow over time, but it does require sanding if using more than one coat. Note that gesso is used chiefly as a base for acrylic and oil paints.
Step 3: Varnish the Wood Surface
The final step to sealing watercolor art on wood is to varnish it. After all, you wouldn't want all of your prep work to go to waste. Varnishes protect the wood surface against humidity over a long period of time. For watercolors, we recommend sealing the surface with a clear-coat spray before applying varnish. Artist-grade epoxy resin is another alternative varnish to use on top of the already sealed watercolor surface.
Paintings can also be protected with glass in a customized wooden frame if the wood isn't too thick. Glass also protects the surface of the painting against humidity and protects warm colors from bright light.
Textured Clay as an Alternative to Wood
Many artists who don't want to deal with the process of preparing a wood surface will opt for painting on textured clay surfaces. Paints stick easier to these types of surfaces without using gesso or another primer. While not as attractive as wood or canvas material, painting on textured clay can be fun and create some very interesting art.
Conclusion
We hope the above guidelines helped you to understand how to use watercolors on wood. These tips will help you cover the entire process in just three easy steps, including sealing watercolor art to help make it last longer. The rest is up to you.