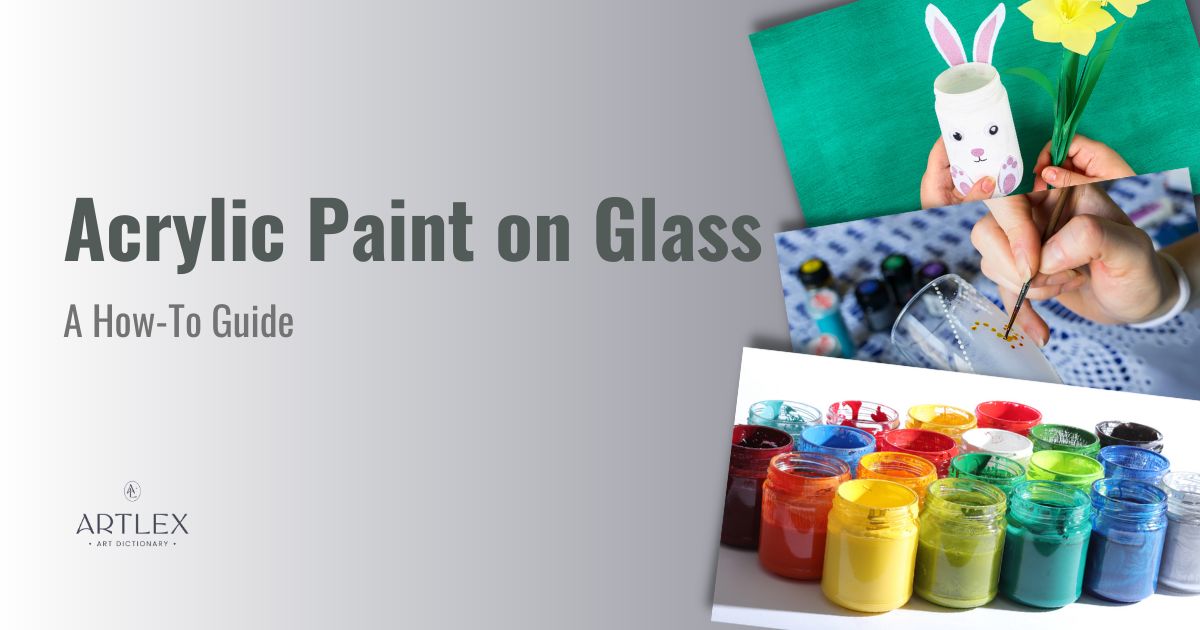 Acrylic paint on glass adds a unique touch to Christmas ornaments, wine bottles, or even to create a stained glass effect on premade glass windows. It's also a fun crafting project to reuse glass bottles or teach kids how to use recycled glass at home. In addition, acrylic paints can be used to paint glass on indoor and outdoor projects.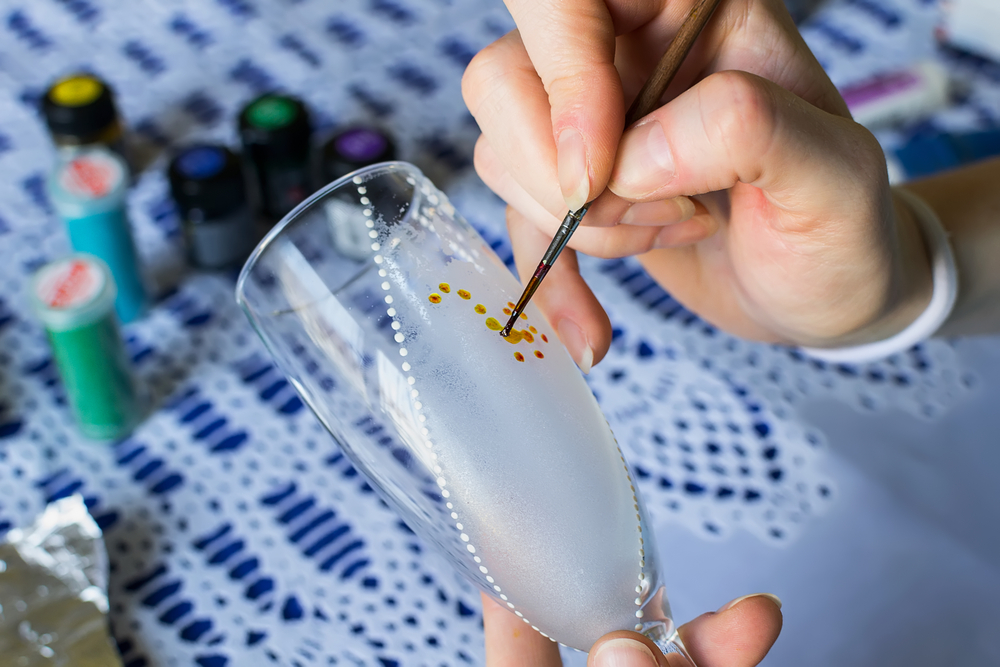 We assure you, using acrylic paint on glass is fun and easy. Simply follow these simple steps to get started.
Materials Needed for Glass Painting with Acrylic Paints
Painting glass requires a handful of materials. See our list below and get ready to start painting.
Acrylic Paints
Not all acrylic paints are created equally, and it's vital for the longevity of your project that you choose quality paint. Read our quick guide below to learn more about the different types of acrylic paints and how to apply acrylic paint on glass.
Clean Glass Surface
A clean glass surface is the best type of glass to apply acrylic paint. Different glass surfaces will do, from thin glass or thick glass to a recycled glass surface. Acrylic paint is best when applied to smooth surfaces.
Acrylic Paint Brushes
The right acrylic paint for glass usually does well with soft acrylic or watercolor brushes. Foam brushes like a spouncer or stippler are also handy when painting glass.
A flat brush can help provide a smooth finish, while round brushes can help with details. It's important to clean brushes with paint thinner when using acrylic enamel-based paint.
Rubbing Alcohol
Rubbing alcohol provides the cleanest surface possible before acrylic paint is applied.
Acrylic Paint Palette
Acrylic paints can be placed in a palette or even in plastic cups if working with children.
Paper Towels
Paper towels can be used with rubbing alcohol to clean the glass surface.
Different Types of Acrylic Paint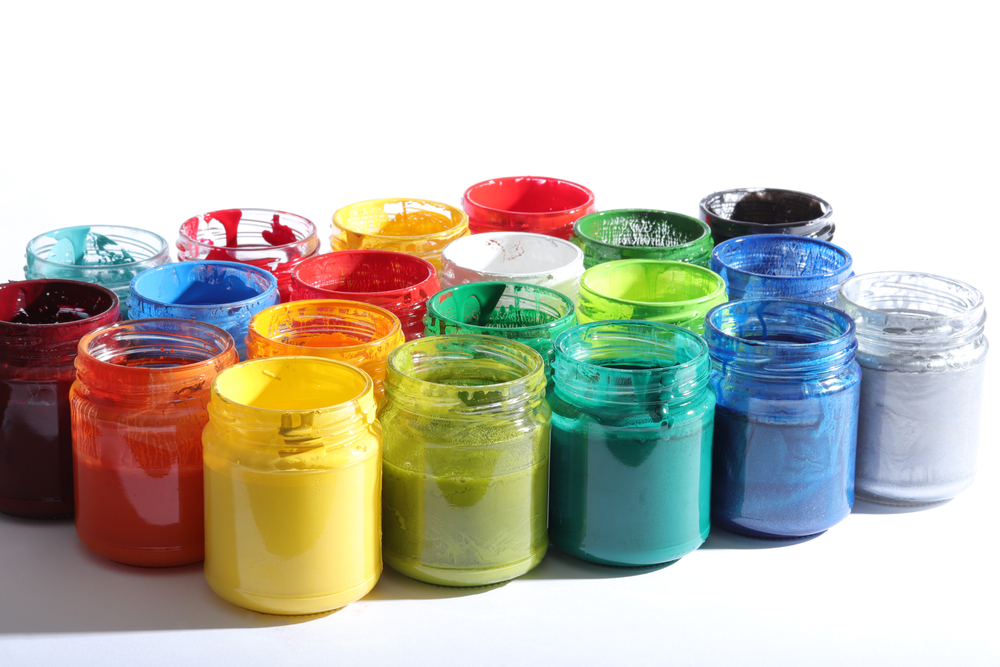 Most acrylic paints are solely water-based and do not stick well to glass. Therefore, using quality paint that is a combination of enamel and acrylic will last longer on glass. Some of the best acrylic paint brands are suggested below.
We suggest you wear latex gloves or a non-latex alternative to protect the skin if allergic to latex gloves.
To learn more about the different types of paints, read below.
Enamel Based Acrylic Paints
Acrylic enamel paint is enamel-based paints that are a combination of acrylic and enamel. The enamel hardens, helping the acrylic paint stick to the glass surface.
One of the best acrylic paint brands is Folkart acrylic craft paint and can be sold as a paint set. This paint goes on thinner than other acrylic paint and, once dried, doesn't need to be sealed. They are perfect to paint acrylic stained glass.
Another brand of acrylic enamel paint that we suggest is Arteza outdoor acrylic paint. Also non-toxic, Arteza acrylic paints can be used for glass painting either for indoor or outdoor projects.
Enamel paints are also scratch-resistant and non-toxic. However, they are not food safe and should not be used on any item to serve food unless adequately sealed.
Solvent-Based Glass Paints
Unlike enamel-based paint, solvent glass paint is toxic and should not be used by children. This acrylic paint is used mainly by professionals.
Prime Glass Surface for Acrylic Painting
Wash the glass items in the dishwasher if painting something small, like a drinking glass or by hand, and allow the glass piece to completely dry.
Use cotton balls or a paper towel to wipe the entire glass surface for applying acrylic paint.
Once the glass piece is completely dry, it's ready for the acrylic paint.
Painting Glass
Now that the smooth surfaces are clean, each painted glass piece can be turned into a work of art. Some artists like to prime their glass, and although it isn't required, we suggest using the same primer as the acrylic paint, so if using enamel acrylic paint, use an enamel-based primer.
Depending on the shape of the glass items, a pattern or stencil can be placed inside the glass. Another pattern idea is to cut out one of the adult coloring book mandalas and tape it inside the glass jar to apply your acrylic paint.
Craft tape or regular masking tape can be applied outside of the glass to create lines. A craft knife can help remove acrylic paint and perfect lines or stripes on painted glass items.
Once the patterns are fixed, you're ready to start acrylic painting. Set your best acrylic paint set out, mix paint, and apply to the glass. If the paint is too thick, use a clear acrylic medium to thin it out a bit.
Another tip is to use a foam brush to paint large polka dots straight to the glass. Place the brush evenly on the painted glass and turn slightly to create a circular shape. Let the finished piece air dry for 24 hours before applying sealant.
Keep in mind that acrylic paints are not food safe unless oven sealed. Remember to paint on glass or that will not be used to serve food.
How to Seal Acrylic Paint on Glass Surface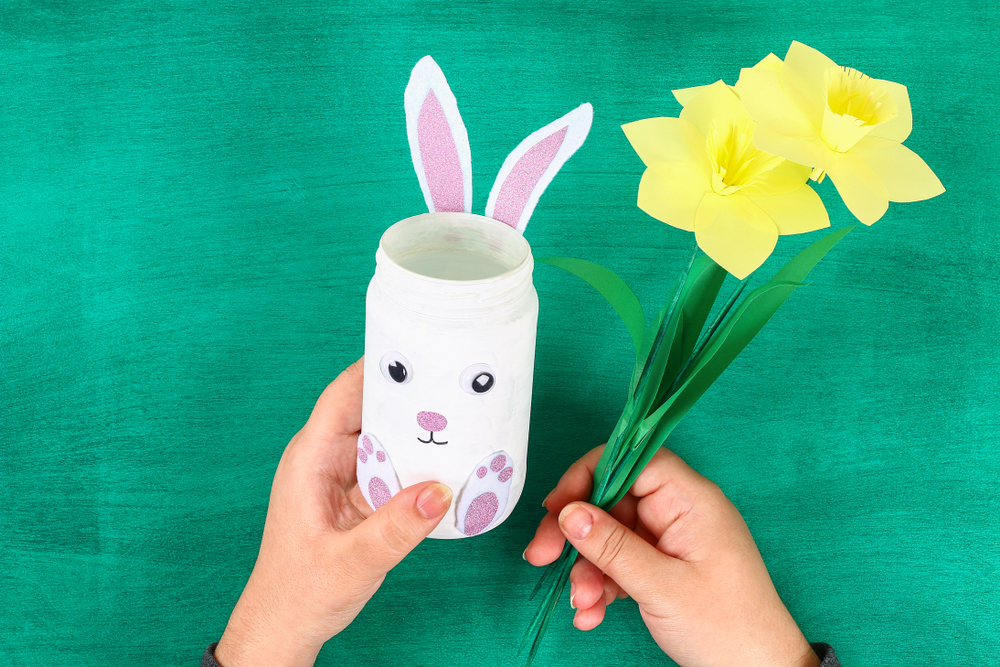 Sealing acrylic paint is the last step to help the acrylic paint stick to the glass. There are two primary ways to seal acrylic paint.
Using Sealant Coating
A spray-on sealant like Aleene's spray gloss finish can be applied one full day after the paint has dried to seal acrylic paint to the glass. If using spray paint, be sure to spray in a well-ventilated area and use a mask.
A brush-on sealer can also be applied to the painted glass item. A brush-on sealant lasts just as long as spray paint. Be sure to allow the glass materials to air dry.
Bake the Glass Piece
Anyone wanting a non-toxic option to seal glass can bake it. To bake acrylic paint on glass, place the glass in a baking pan in a cold oven, and set it to 350ºF for 30 minutes. Do not preheat the oven.
To seal acrylic paint on thicker glass, let it cool for 30 minutes with the oven door open. Thinner glass can be taken out a little sooner. Wipe the glass down using a damp microfiber cloth or a soft cloth that isn't abrasive.
It is best to let the acrylic paint on glass set for several days before using it for food.
Conclusion
We hope our guide to how to acrylic paint on a smooth glass surface was helpful. Using acrylic paint on various glass surfaces, including stained glass, is a great gift idea for DIYers. Acrylic painting is also a fun and creative way to teach children how to recycle glass bottles. We hope these tips help you enjoy your next acrylic paint project.