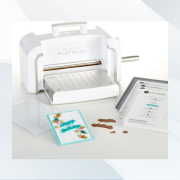 Versatile, portable, and precise, the Spellbinders Platinum 6 is a top choice with high-quality cutting plates.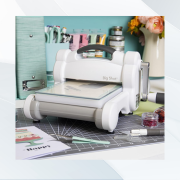 Known for its durability and compatibility with different brands, the Sizzix Big Shot offers versatile cutting and embossing capabilities.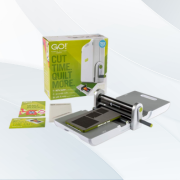 Designed for quilters and fabric crafters, the Accuquilt GO! provides precise and efficient fabric cutting with special dies.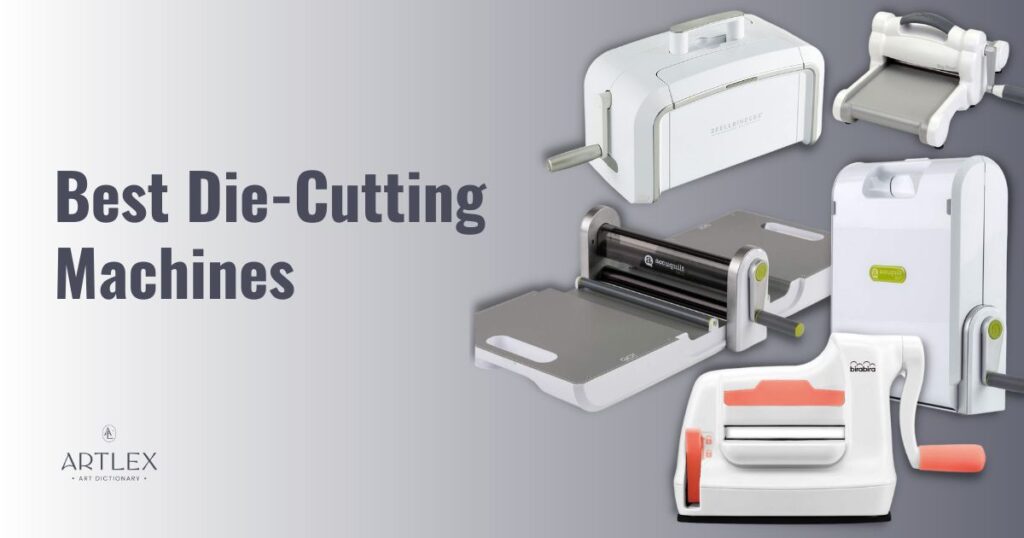 Die-cutting has its roots in the times of the industrial revolution when people sought for optimization of manual processes and used machines to speed up the production process. They used metal tools called dies to cut materials like paper or fabric. At first, they had to use hammers to press the dies into the materials and make the cuts.
We've come a long way from that. Nowadays we have multiple devices that can do this for us available at the nearest physical or online craft store, but the cutting process hasn't changed that much.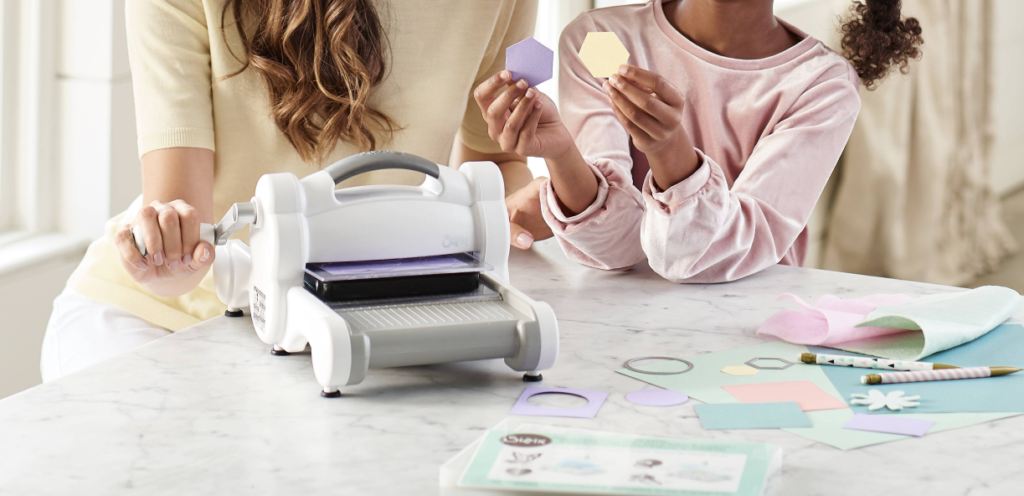 What has changed is the amount of options that we have available! Several brands have emerged and gained popularity over time, creating new machines that target different crafting needs.
So how do you know which one is the best for you? Don't worry, we've got your back. After extensive research, we've come up with a list of the best die-cut machines in the market.
Keep reading to find out which one is the best match for you!
The 5 Best Die-Cutting Machines in 2023
Best Die-Cutting Machine – Spellbinders Platinum 6
Second Best Die-Cutting Machine – Sizzix Big Shot
Best Die-Cutting Machine For Fabric – Accuquilt Go!
Best Electric Die-Cutting Machine – Sizzix Big Shot Switch
Best Budget Die-Cutting Machine – Bira Craft
1. Best Die-Cutting Machine – Spellbinders Platinum 6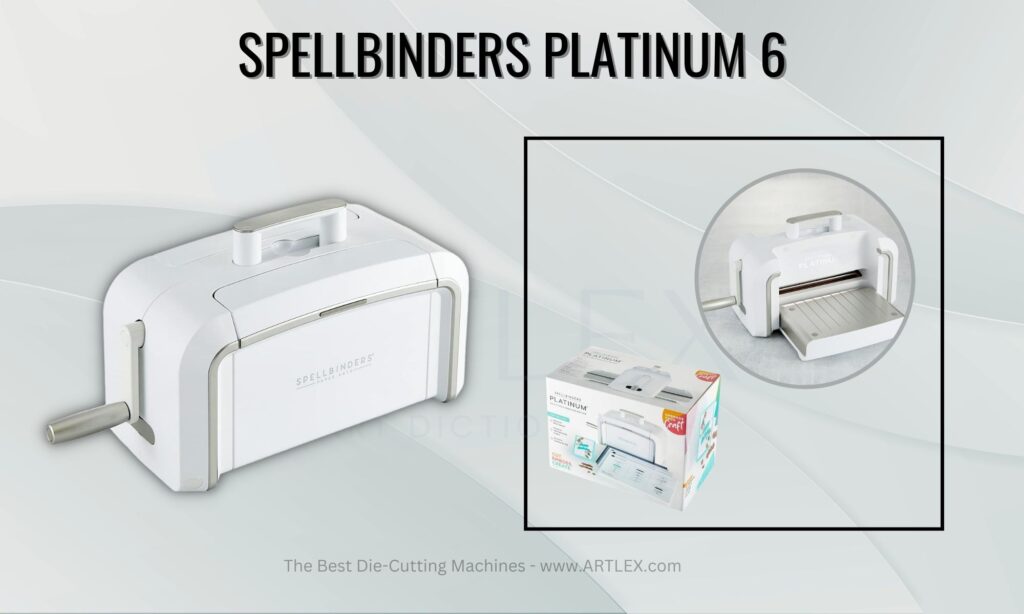 Selection Criteria
Cutting Size: 6 inches
Portability and Dimensions: 11.81 x 7.87 x 7.87 inches, 2.2 lb
Price: $108.99
About the Spellbinders Platinum 6
This manual die-cutting machine is at the top of our list because is the perfect combination between versatility, portability, quality, and cutting precision. The Spellbinders cutting machines have been around for about 20 years, being the perfect crafter companions and in many cases, the pillars behind many small businesses.
Their excellent quality and durability have contributed to the popularity of the brand and their easy-to-store foldable system has made them the best friends of teachers and instructors all over the world.
This machine is not only for cutting but it's also a great embossing machine, capable of both 2D and 3D embossing and it's compatible with multiple dies and embossing folders from different brands.
Another outstanding feature is the quality of the cutting plates that come included with your purchase, being sturdier, more durable, and overall higher quality than other brands, which is great both for convenience and for your budget.
Pros
Compact and portable design.
Sturdy construction for durability.
Compatible with a wide range of die sizes and brands.
Cons
Limited cutting width compared to larger machines.
Manual operation may require more effort for cutting larger or more intricate designs.
2. Second Best Die-Cutting Machine – Sizzix Big Shot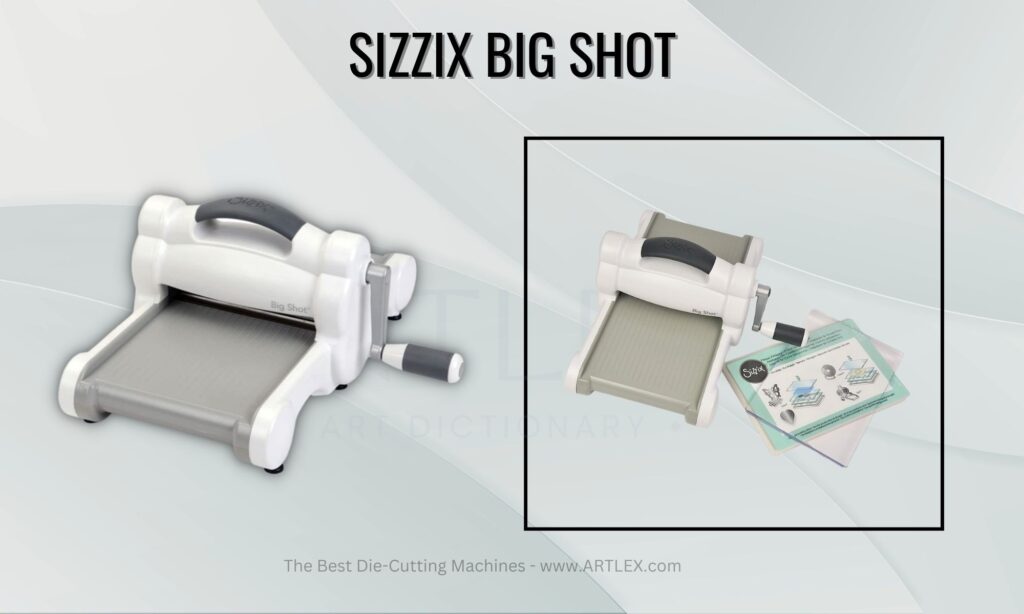 Selection Criteria
Cutting Size: 6 inches
Portability and Dimensions: 16.6 x 11.6 x 9.1 inches, 10.59 lb
Price: $92.88
About the Sizzix Big Shot
Sizzix is another popular and trusted brand in the crafting world, well known for their dies and machines, this brand is another favorite of many crafters. The variety of machine sizes they have and the material versatility they offer is a big factor in why the Sizzix Big Shot is in second place on our list.
The Big Shot has been around for some time, and being the high-quality machine it is, lasted for many many years to the crafters that got it originally. however recently it has been improved considerably, making it even more precise and easy to use.
This cutting machine is also compatible with cutting plates and dies from different brands and its handle and foldable design make it easy to store and carry on the go.
Pros
Sturdy and durable construction.
User-friendly manual operation.
Can emboss and stencil in addition to cutting.
Wide availability of accessories and optional plates.
Cons
Some users may experience difficulty with thicker or more intricate dies.
Limited pressure adjustment options for different materials.
3. Best Die-Cutting Machine for Fabric – Accuquilt GO!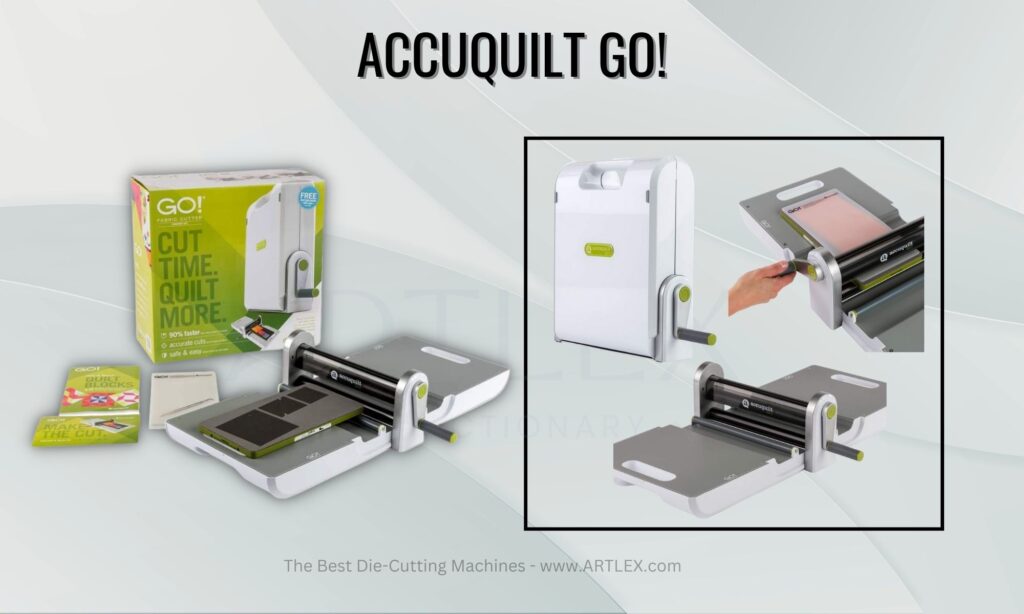 Selection Criteria
Cutting Size: 10 inches
Portability and Dimensions: 17.75 x 7.75 x 17 inches, 23.3 lb
Price: $359.99
About the Accuquilt GO!
If we have to list the best die-cutting machines we can't forget about the Accuquilt go. This fabric-cutting machine is a must-have for quilters and fabric crafters who want to speed up their process or cut in volume.
One of the standout features of the AccuQuilt Go is its precise fabric-cutting capabilities. The machine utilizes special dies that are specifically designed to accurately cut the fabric into various shapes and sizes. These dies fit snugly into the machine, ensuring flawless cuts every time, although we do recommend you to be careful since they are very sharp and you might get cut if you're not careful enough.
The AccuQuilt Go also eliminates the tedious and time-consuming process of cutting fabric by hand. With a simple pass through the machine, you can cut multiple layers of fabric simultaneously (from six to eight layers), saving you valuable time and effort. It's a game-changer for quilting projects, allowing you to achieve professional-looking results in a fraction of the time.
Pros
Precise and accurate cutting for quilting and fabric projects.
Time-saving compared to manual cutting methods.
User-friendly and easy to use.
Wide range of die options
Cons
Higher initial cost
Dependency on specific AccuQuilt dies.
4. Best Electric Die-Cutting Machine – Sizzix Big Shot Switch

Selection Criteria
Cutting Size: 9 inches
Portability and Dimensions: 17.5 x 8 x 9 inches, 18.52 lb
Price: $291.99
About the Sizzix Big Shot Switch
The Sizzix big shot Switch is the electric version of the manual big shot and just like any other die-cutting machine, it uses dies to cut through different materials. Not to be confused with electronic cutting machines like Cricut's and Brother's, the Sizzix big shot uses the same mechanism as manual die cutters but is powered by electricity instead.
We've chosen it as the best electric die-cutting machine because of its high quality and durability of the machine. The power adapter is about six feet long, which is great compared to other brands which are about half of that.
This machine is very easy to use, has a 6 inches feeding plate, and is compatible with many die and embossing folders. The cutting plates are very high quality and very durable compared to other models and brands, and it has instruction on the surface base for easy cutting every time.
Pros
Compatible with a wide range of dies and embossing folders.
Sturdy and durable construction
Suitable for various materials, including paper, cardstock, fabric, foam, and thin metals.
Very user-friendly
Cons
May require additional accessories or platforms
On the expensive side
5. Best Budget Die-Cutting Machine Overall – Bira Craft
Selection Criteria
Cutting Size: 3 inches
Our Score – 10/10
Portability and Dimensions: 8 x 3.8 x 5 inches, 3.1 lb
Our Score – 7/10
Price: $49.99
Our Score – 8/10
About the Bira Craft
This small machine is one of the most versatile and affordable die-cutting machines in the market. The BiraBira brand is not as well known as Sizzix or Spellbinders, however, it has proven to be an excellent machine for beginners and for those who are on a budget.
The cutting size is quite small, however, the dies are pretty affordable and it includes three cutting pads that you can use when you're cutting, 2D embossing, or 3D embossing.
Its three-inches opening allows you to use many different dies compared with other machines of similar price that only have a two-inches opening and it has a base with a suction mechanism that makes sure your machine stays firm in your work surface making the cutting even easier. Great value for the price and perfect for beginners and kids.
Pros
Compact and portable design, ideal for crafting on the go
Suitable for beginners
Very affordable
Cons
Limited cutting capacity
May not be suitable for cutting thicker materials
Types of Die-Cutting Machines
Manual Die-Cutting Machines
Manual die-cutting machines are small devices that work just like large-scale machines, but that are small and easy to use. The principle hasn't changed, these machines simply continue to use pressure to push the die through the paper, giving it the exact shape you want. It's simple and fun!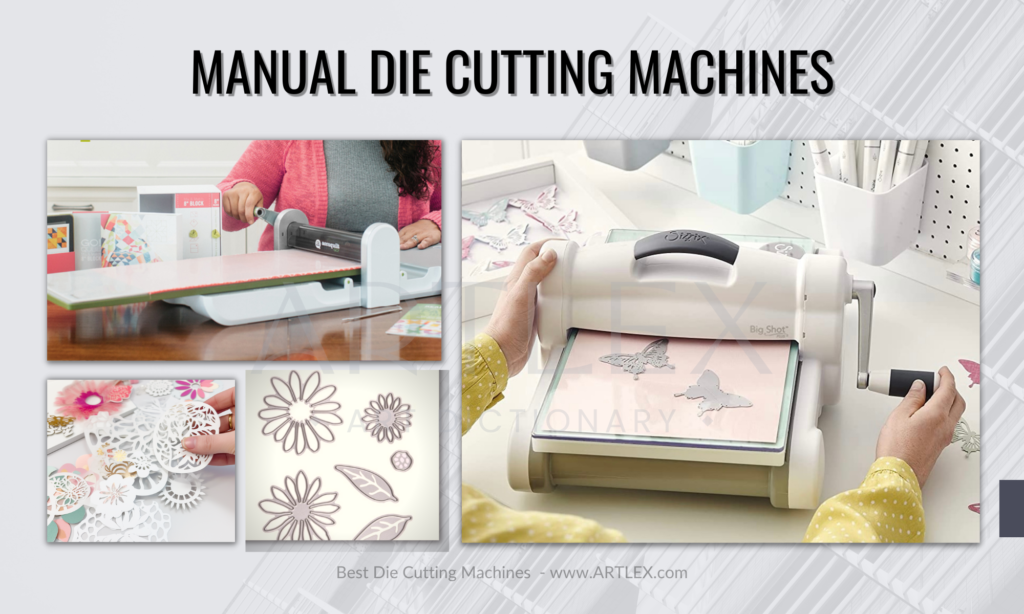 The machine itself is made of rollers that squeeze the die and the paper sandwiched between clear acrylic platforms and a more solid "base platform". Some machines include a few more platforms that are useful when cutting very intricate dies or that are used for "printing", marking the lines of the dies onto the material without cutting, or "embossing" creating textures on the material using embossing folders.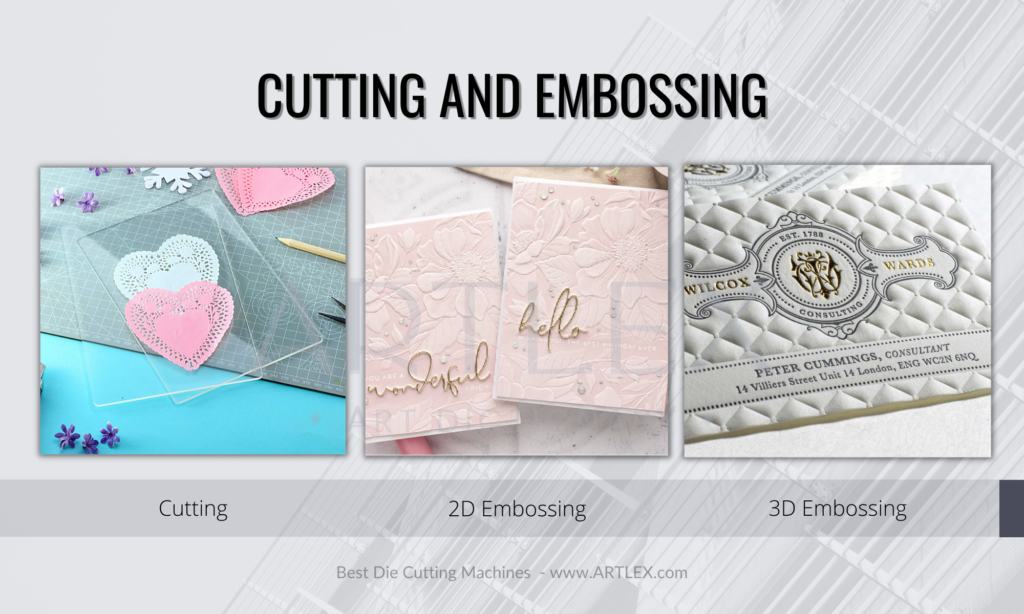 These machines are perfect for small-sized projects like card-making, journaling, or scrapbooking, however, they are also great for mass-producing since they're much faster than electronic cutting machines in the tasks they are designed for.
Electric Die Cutting Machines
Electric die-cutting machines follow the same principle, however, instead of using your own strength to "process" the sandwiches, they use electricity to do so. These machines usually consist of a printer-like body with a single feeding slot that has an exit in the back. You only need to press a button or put the sandwich in the feeding slot to start the machine.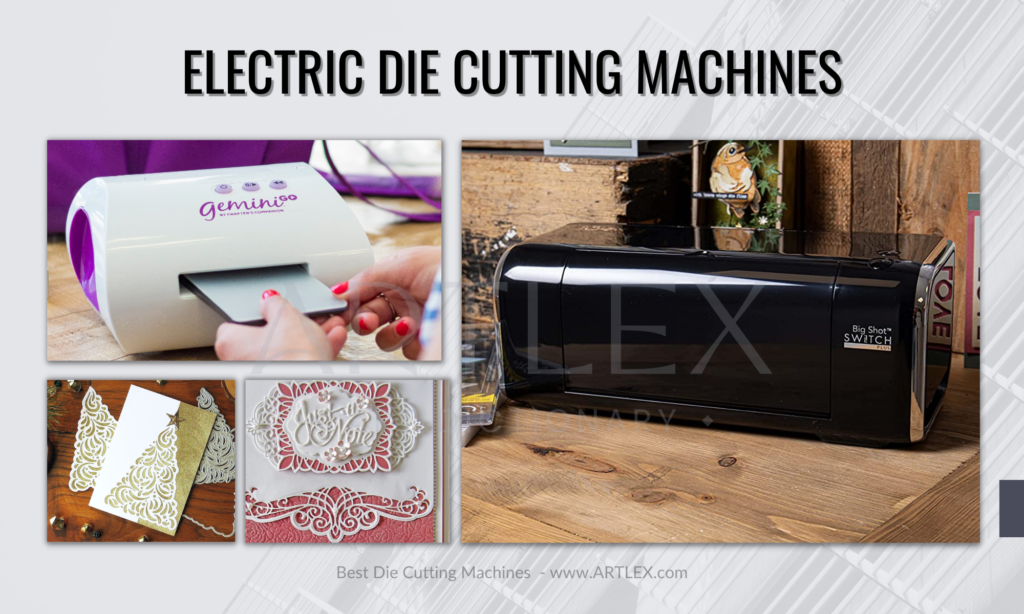 These machines usually have a reverse button for special cutting techniques or for a double pass o ensure perfect cuts every time. They are also a good fit for 2D and 3D embossing and are a great option for people that prefer taking the strain away from their hands and arms.
What Are Electronic Die-Cutting Machines?
Actually, there is no such thing as an "electronic die-cutting machine", however, you for sure have heard or read the term everywhere and might be wondering what it means. Technically speaking, an electronic machine is controlled by a computer, and since both manual and electric die-cutting machines consist of a simple mechanism that works with dies and rollers, they can't be considered "electronic" per se.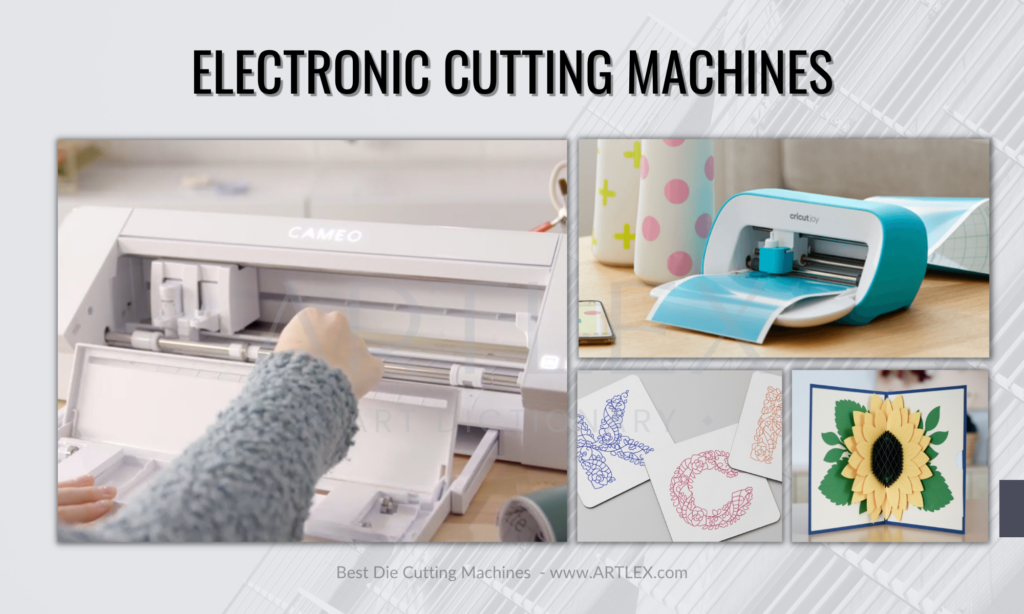 What some call "electronic die-cutting machines" are what we know as electronic cutting machines like the ones made by Cricut or Silhouette, which consist of a cutting mechanism with a blade controlled by a computer, meaning we input our designs and shapes into the machine's software and the computer translates that information into cutting directions that are later performed by the blade.
It's basically like comparing a screen printing process or a printing press with an inkjet printer. The result might be similar or even the same but the process are completely different.
These machines are much more versatile than a manual or electric die-cutting machines, since they open the doors to creativity with an infinity of new possible designs, shapes, and letters, and also cut a wide variety of materials, while die-cut machines are limited to the dies the owner possesses and only to a few materials.
How to Find the Best Die-Cutting Machine?
Cutting Size
The cutting size of a cutting machine is directly related to the types of projects you want to do. There are several machines in the market with sizes that go from 2 inches by 4 inches to 14 inches by 16 inches, however not all of them are targeted to the same users.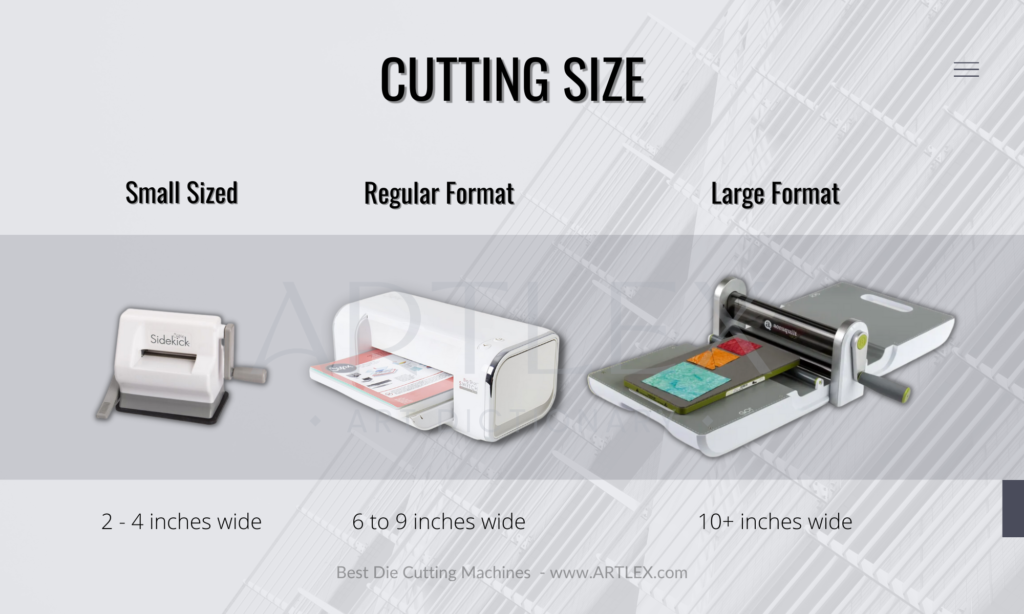 Larger manual die cutters are usually made for fabric and to cut multiple layers of material at a time, and are made for quilters and sewers, while smaller models are made for one or two layers of paper, cardstock, and foam and are better for card making, embossing, and scrapbooking.
Although you can use a larger cutting machine with smaller dies, there is another factor you might want to have in mind and that is the dimensions of the m
Portability and Dimensions
Another important factor to consider is the size and dimensions of the machine and how it fits within your craft studio, craft room, or on your desk. While some machines are foldable and easy to store, larger ones are typically stationary and quite heavy to transport.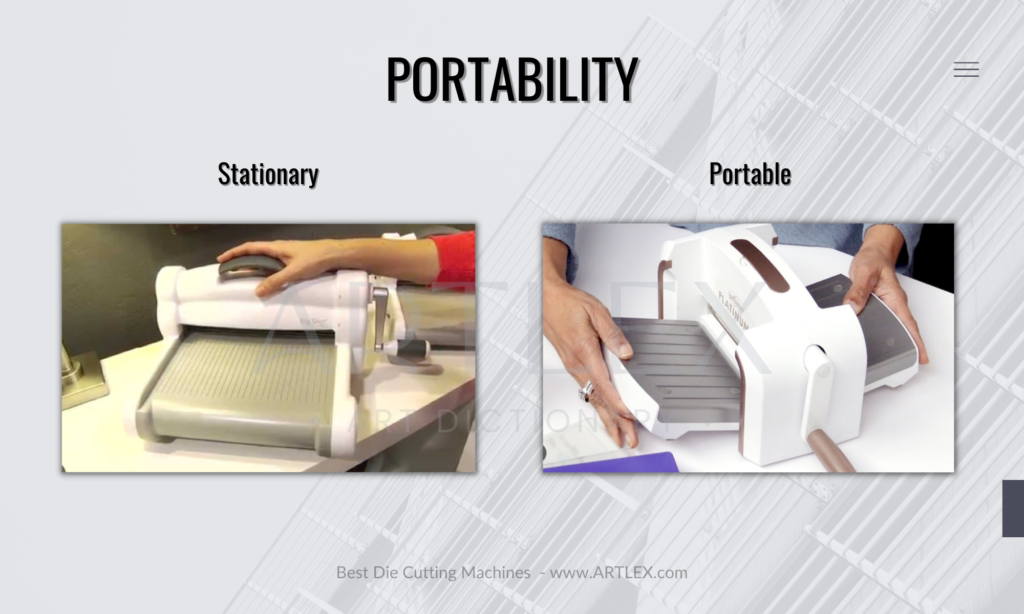 Additionally, since they don't fold, they may not be easy to store either. This aspect can significantly impact your workflow. If you're planning to use the cutting machine for teaching in a classroom or if space is limited, it might be worth exploring more portable options.
Cutting Plates and Accessories
Both electric and manual die-cutting machines require cutting plates, a base surface, and the dies themselves. These elements are placed into the machine, forming what many people refer to as a "sandwich."

Typically, the sandwich consists of the base surface, the cutting plates, and your dies and materials. However, some machines may require additional plates to ensure proper cutting.
For instance, the Gemini electric cutting machine comes with a magnetic plate that offers flexibility and is meant to secure the material in place. However, this magnetic plate tends to stretch and warp quite quickly, turning it into another consumable item that needs periodic replacement.
Acrylic cutting plates also require frequent replacement as they tend to wear off rapidly, especially with frequent use of the die-cutting machine. If you plan on using your machine for embossing or printing techniques, it's worth considering a flexible embossing cutting plate that is compatible with your machine.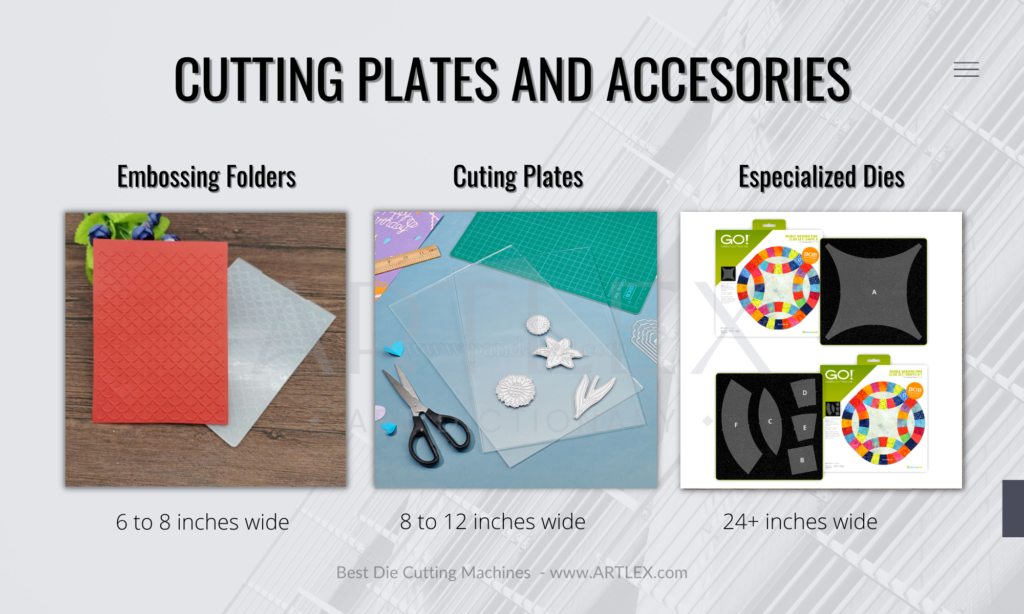 Another type of plate to consider is the chain or metallic plate, particularly useful for cutting intricate designs or tough materials. Despite being made entirely of metal, this plate also wears down relatively quickly, so it's essential to include it in your budget for replacement.
Furthermore, it's important to note that some machines are exclusively compatible with dies from their own brand. If you're specifically looking for a die-cutting machine for quilting or cutting fabric, it may be wise to invest in one tailored for that purpose.
However, if you prefer a multipurpose machine that allows for versatility in die options and cutting plates, look for models that are compatible with various dies and offer interchangeable cutting plates.
Price
The cost of a die-cutting machine is closely associated with its size. Smaller machines tend to be more affordable, while standard to large models can exceed $300. At first, this may not appear to be a significant investment.
However, when considering the long-term expenses of replacing consumables like cutting plates, dies, and wasted material resulting from incorrect placement or sandwich usage, the overall cost of a cutting machine with a small collection of dies and cutting plates can accumulate considerably.
Die-Cutting Machines Alternatives
Now that we have a comprehensive understanding of what to look for in a die-cutting machine, let's explore some alternative options. Electronic cutting machines such as Cricut, Silhouette, or Brother are excellent alternatives to manual or electric die-cutting machines since they can cut a wide range of materials and are not limited to a selection of designs but allow you to create your own or cut many of the free designs available on the internet.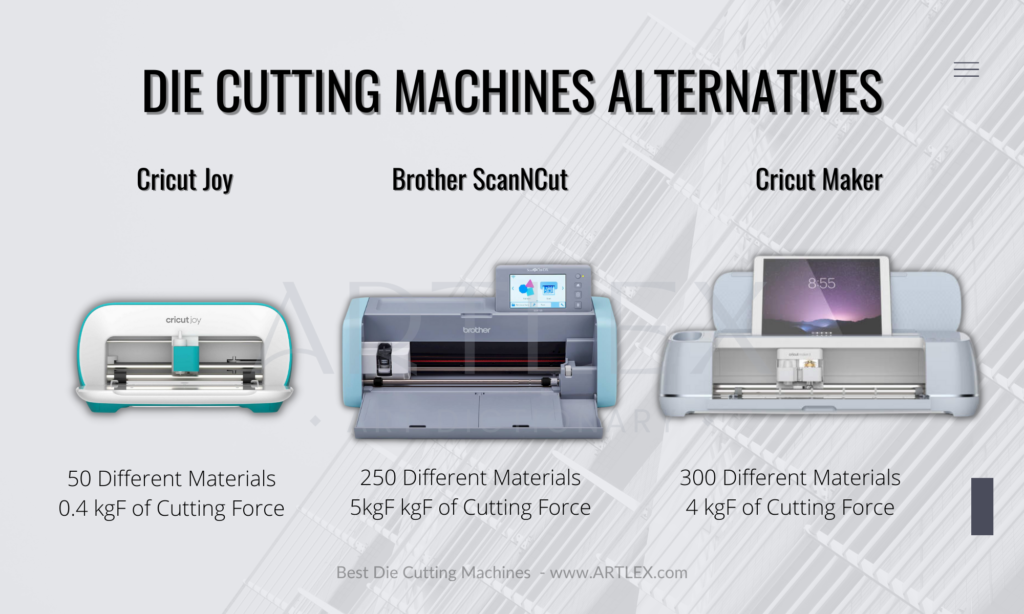 Many of these machines come with user-friendly software accessible via your computer or smartphone. Some even come pre-loaded with designs, fonts, and graphic resources, making them ready to use straight out of the box, without the need for additional devices.
While the price range of an electronic cutting machine falls between $150 and $400, which may seem a bit high, it's important to consider the versatility they offer and the relatively inexpensive consumables such as cutting mats.
When taking these factors into account, you'll discover that these electronic cutting machines can sometimes be a more cost-effective alternative in the long run compared to a manual die-cutter or an electric one, which can end up costing thousands of dollars over time.
Within the recommended models we have the Silhouette Portrait, the Cricut Explore Air 2, the Cricut Joy, and the Brother ScanNCut, which you'll be able to read more about in our article "Best Cutting Machines"
How to Use a Die-Cutting Machine
Parts of the Machine
Platform and Base: The machine consists of a platform, the main rolling mechanism, and a base. The platform is a flat surface where you place your cutting plates, your material and the cutting dies, while the base provides stability and support.
Cutting Die: A cutting die is a metal template that contains the desired shape or designs you want to cut out. It typically consists of sharp blades or edges that will cut through the material.
Cutting Plates: A cutting plate is what sandwiches your material and die to keep it in place and apply pressure to it.
How to Cut with a Die-Cut Machine
Material Preparation: Prepare your material by placing it on the cutting plate, then place your cutting plate on the platform. You may need to trim it to fit within the cutting area of the machine.
Cutting plate: Place another cutting plate on top of the material. The cutting plate is usually made of a durable, firm material like acrylic or polycarbonate.
Sandwich Assembly: Once the material and cutting mat are in place, you'll create a "sandwich" by layering the components. The order typically goes: base, cutting plate, cutting die (blade-side down), material, and cutting plate.
Rolling or Cranking: With the sandwich assembled, you'll either roll the sandwich through the machine or use a crank mechanism to pass it through the machine. As you roll or crank, the machine applies pressure to the cutting dies, which presses the die into the material and cuts out the desired shape.
Result: After passing the sandwich through the machine, you'll retrieve your material. The cutting die will have left behind the cut-out shape in the material, while the excess material will remain intact.
Finishing Touches: Depending on your project, you may need to remove any small pieces or clean up your die since some materials might get a bit stuck.
Conclusions
In conclusion, selecting the best die-cutting machine for your needs depends on various factors. Consider the size and dimensions of the machine, as well as its portability if space is a concern. Additionally, evaluate the accessories required for each machine, such as cutting plates and additional plates for specific models.
Don't forget to consider the overall durability and reliability of the machine. Look for reputable brands and read customer reviews to gauge the long-term performance and satisfaction of users.
Ultimately, the best die-cutting machine is one that seamlessly integrates into your craft studio or room, enhancing your creative workflow and providing you with the flexibility to bring your imaginative designs to life.
By carefully assessing these factors and considering your unique requirements, you'll be well-equipped to make an informed decision and select the perfect die-cutting machine that suits your crafting aspirations.