Montana BLACK Popular Colors Set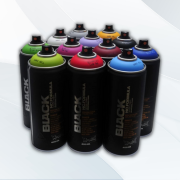 sure aerosol spray paints with excellent durability and surface compatibility, but nozzles can clog due to thick paint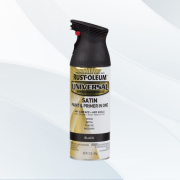 Oil-based spray paint with strong adhesion and resistance to severe weather, however, it may feel chalky with primer and can leak under long pressure.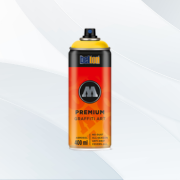 Professional-grade spray paint with over 275 color options and UV-resistant shades, although some cans may be delivered with paper labels.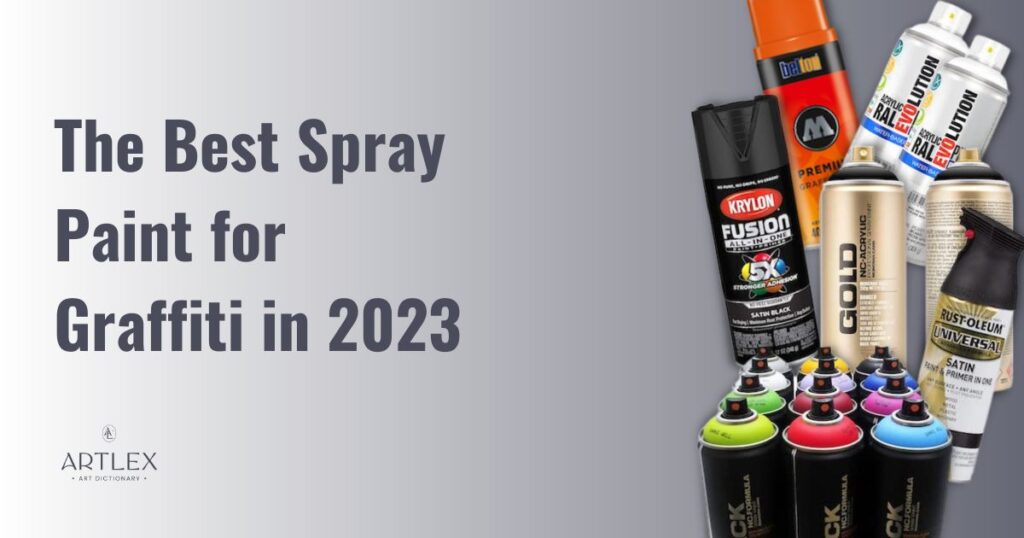 Graffiti art has been discovered dating back to the 1970s when artists began carving images into the walls of churches and other public buildings. Depending on who you ask, street art can either be seen as a threat or as something beautiful and important.
Nowadays, most street artists employ aerosol paints made of oil or water to create their masterpieces as a means of self-expression and as a form of audience entertainment. Other artists use this medium to condemn social ills and celebrate social virtues. If you're a graffiti artist, finding the right spray paint will help you do work that stands the test of time and looks good while doing it.
Old-school graffiti writers had to make do with whatever supplies were available at the neighborhood hardware store. These days, graffiti and muralists can choose among many paints and spray cans from a variety of businesses that aim specifically at this community.
As graffiti is a kind of street art that typically employs non-traditional canvases, such as walls and outdoor surfaces, the optimal spray paint must be compatible with such environments.
Once you've found your stride and settled on a signature style, it's time to experiment with other spray paint manufacturers and look for appropriate spaces to display your work.
On the other hand, choosing the best spray paint brands can be difficult. We will discuss the best spray paint brands based on how weather resistant they are, their finish, how thick or thin lines they make, and the type of materials they adhere to, all of which are critical when making a purchasing decision. We will also go through the best options for experts, those who like water-based or oil-based paints, and those who want to use a specific color as their trademark art, all of which necessitate special choices.
Selection Criteria for the Best Spray Paints for Graffiti 2023—Buying Guide
Graffiti is a multifaceted art form, and the kind of paints you'll need depends on a wide range of factors.
Weather Resistant Spray Paints
Depending on where in the world you plan on showcasing your art, the best graffiti paint could well change. When working in wet winter weather, for example, you might need to ask yourself, "Is this spray paint waterproof?"
In general, the weather, abrasions, and regular wear and tear may have an impact on certain paints. Make sure the graffiti paint you choose can withstand outdoor conditions, whether you are looking for a moisture-resistant or one that is sun-safe, by ensuring it has UV protection.
Oil-based paints have an optimal temperature range from 40°F to 90°F. Water-based spray paints, on the other hand, just like water, freeze at 32°F, so it is best to steer clear if you plan on using it in a very cold climate.
Glossy or Matte Finish
It's important to know that different spray paints take on distinct looks as they dry. Some sport a glossy finish, while others are matte; some have bright, strong hues, while others are more muted. Also, when using spray paint, it is advisable to keep it at a distance from your canvas, as to avoid localized overuse. For maximum results, it is best to wait between layers, so your matte or glossy finish will be best achieved, rather than a runny mess. So drying time needs to be considered, along with the finish type.
Overall, the final paint finish will be determined by the artist's personal preferences and the desired effect. There is always the option to aim for an overall matte finish, wih glossy highlights.
While there is no definitive answer here, it is important to consider the paint's finish before making a purchase.
Spray Nozzles
There is a wide range of spray nozzles available, each with its own size and accuracy of paint expulsion. Some spray cans make it easy to achieve crisp lines, while others generate so much overspray that it looks like a cloud has formed that can cover larger areas faster. Picking the proper spray nozzle is crucial if you want to paint precise lines and little details.
Some models also have interchangeable or adjustable nozzles, which is convenient in case you need to focus on a specific area or want to experiment with a new method, using the same spray paint.
Adhesion
It's important to get a graffiti spray that works well on a variety of surfaces. In addition to brick and concrete, this may also involve other materials. Graffiti spray paint is frequently used on pre-painted and finished surfaces. This means it shouldn't need any special preparation for use on a wide variety of surfaces.
There are some brands that have made spray paint and primer in one convenient package, so they can create a uniform coat of protection while creating your art. In the long run, your painting will look different depending on how well the paint adheres to the surface.
Top Product Recommendations for the Best Spray Paint for Graffiti 2023
Best Graffiti Spray Paint Set: Montana BLACK Popular Colors Set
Best Graffiti Spray Paint, Oil Based: Rust-Oleum 245197
Best Spray Paint for UK/Europe: MOLOTOW PREMIUM
Best Graffiti Spray Paint, Water Based: Pintyplus Water Based Spray Paint
Best Graffiti Spray Paint for Crisp Lines: Montana GOLD Spray Paint
Best Graffiti Spray Paint for Area Coverage: Krylon K02732007
1. Best Graffiti Spray Paint Set—Montana BLACK Popular Colors Set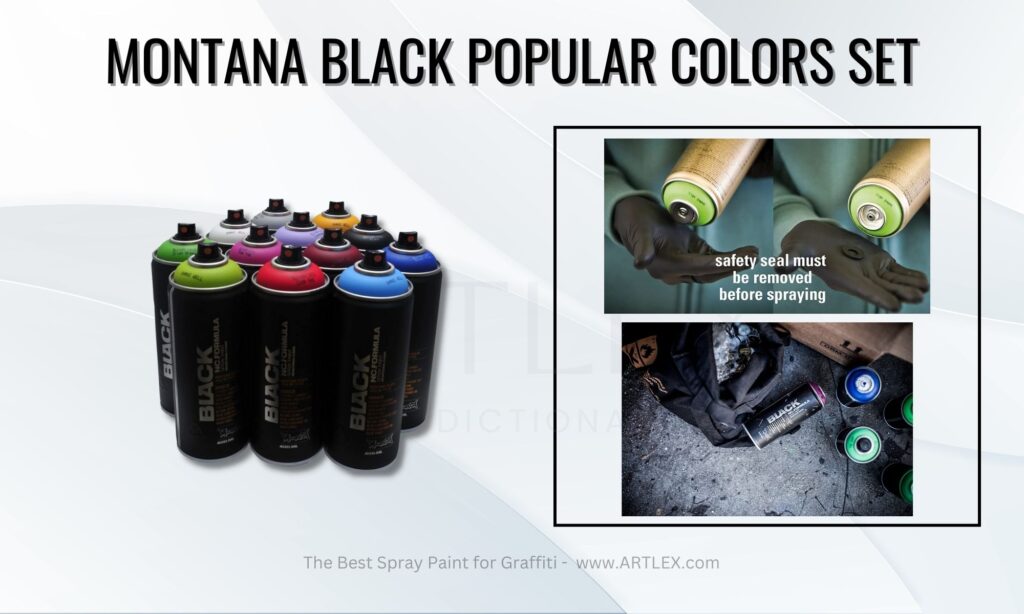 Spray Paints Selection Criteria
Weather Resistant Spray Paint – 10/10
Type of Finish – Matte
Spray Nozzle – 9/10
Adhesion – 9/10
About Montana BLACK Popular Colors Set
For graffiti artists that specialize in drawings and lines, the Montana Black set is an option to consider. This high-pressure aerosol spray and ergonomic nozzle make these products easy to use for long periods of time. They spray with a good level of precision and have excellent durability and a wide range of surface compatibility so you can use them on almost any job.
If, on the other hand, you're just getting started with graffiti, this collection of 12 spray cans in vivid hues is also a great place to start, as Montana Spray Paints claims that this is their most popular range of colors all in one package.
These paints are designed to hold up under extreme conditions, including rainy and snowy weather.
Keep in mind that this spray paint runs on the thicker side, so your nozzles may seem to clog up unusually fast. You can always remove them and clean them under warm water for long-term use.
Pros:
Balanced variety of colors
Hold up under extreme weather conditions
Wide range of surface compatibility
Cons:
Nozzles can clog up, as the paint is thick
2. Best Graffiti Spray Paint, Oil Based—Rust-Oleum 245197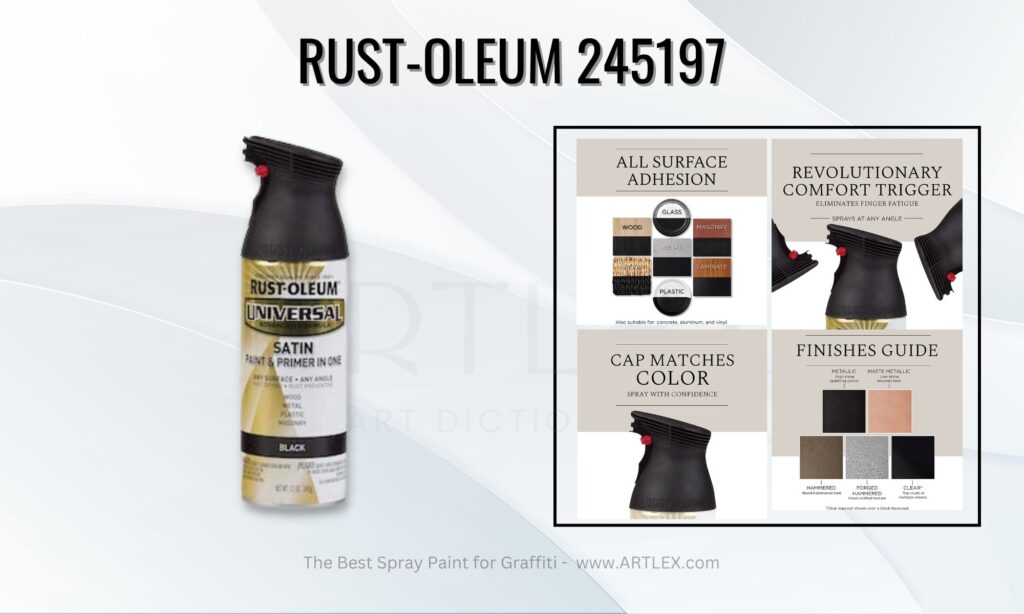 Spray Paints Selection Criteria
Weather Resistant Spray Paint – 10/10
Type of Finish – Low sheen
Spray Nozzle – 9/10
Adhesion – 10/10
About Rust-Oleum
When combined with the varnish's resistance to severe weather, oil-based paints ensure that your street project lasts for decades rather than days. Spray painting with oil-based paint protects surfaces from rust and corrosion while also being very resistant to fading. Since this material is impervious to the effects of sunlight, it is ideal for almost all outdoor surfaces.
The fact that it may be used on a variety of surfaces is perhaps the most notable attribute of this high-grade paint. It forms strong connections with unglazed metals, ceramics, wood, plastics, plaster, and cement.
Graffiti artists tend to work for long stretches of time before completing their work. This is why we chose a product with a good spray nozzle that is ergonomically designed to minimize hand fatigue, while the spray technology works from any angle to reach those out-of-the-way spots.
This aerosol is also resistant to chipping, so you can get a smooth finish even if you use just one layer of spray paint.
Pros:
Variety of colors and textures to choose from
Winter-proof
High-quality paint
Cons:
Primer may make it feel chalky
If under long pressure, it can leak
3. Overall Best Spray Paint for Graffiti—MOLOTOW PREMIUM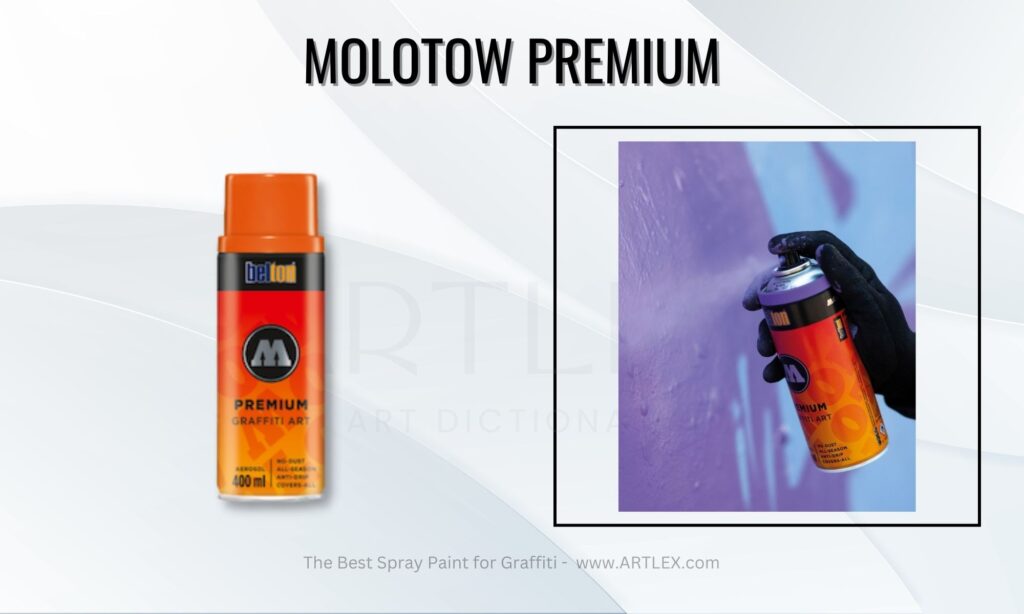 Spray Paints Selection Criteria
Weather Resistant Spray Paint – 10/10
Type of Finish – Both
Spray Nozzle – 10/10
Adhesion – 9/10
About MOLOTOW PREMIUM
This high-quality spray paint is an ideal option, even for professional graffiti artists, due to its highly opaque, UV-resistant shades with quick drying time. These graffiti paints are made with quadruple-ground automotive pigments so that artists can explore graffiti art to its fullest. Keep in mind that this product was created back in 1999 by graffiti artists, and it is considered the best individual graffiti spray by most.
MOLOTOW PREMIUM has one of the widest selections of graffiti spray paint colors, with more than 275 to choose from. There are neon tones, as well as translucent varnishes and solid colors. The neon hues have a low resistance to sunlight, but a UV varnish applied after the paint has cured can increase its resistance to the sun's rays. This product is also winter-proof as it can handle temperatures as low as 14°F.
The Flowmaster high-pressure valve system included with these bottles ensures uniform coatings due to the valve's anti-drip qualities. A nice finishing touch is the use of different colored caps for each color, which make it simple to tell what shade you're working with.
Pros:
Wide variety of colors
High-pressure aerosol cans
High coverage rating
Created by street artist
Ideal for outdoor use
Cons:
Some cans may be delivered with paper labels, as the company still has previous stock
4. Best Graffiti Spray Paint, Water Based—Pintyplus Water Based Spray Paint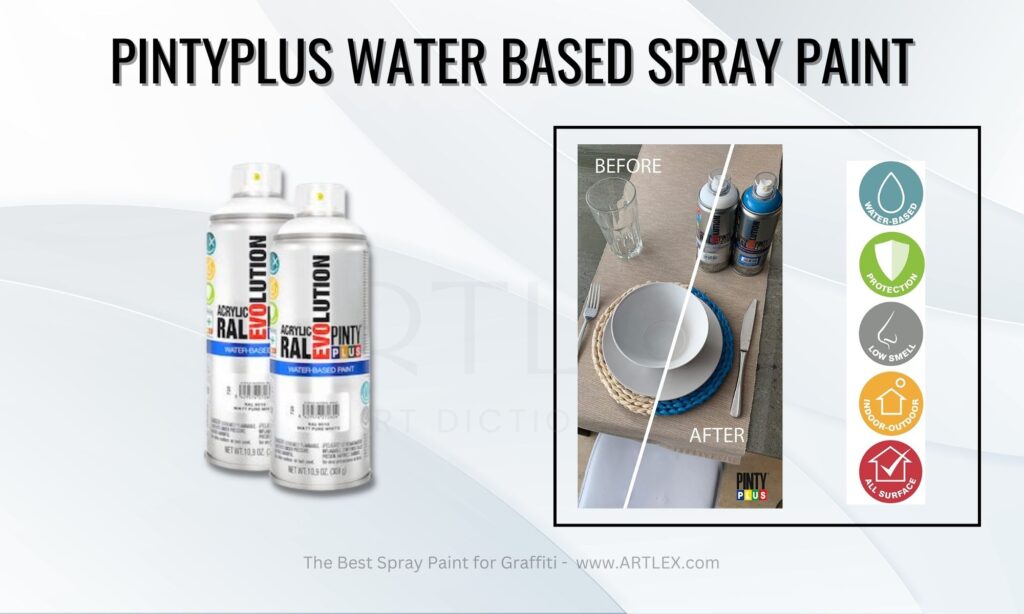 Spray Paints Selection Criteria
Weather Resistant Spray Paint – 9/10
Type of Finish – Matte
Spray Nozzle – 9/10
Adhesion – 8/10
About Pintyplus Water-Based Spray Paint
Many graffiti artists like to practice on their own DIY projects, often making mistakes and needing to correct them. Water-based spray paints are very good solutions for these people, as they can use soap, water, and a brush to try things another way.
This two-pack 10.9 ounces spray paint provides a matte finish, and can be repainted within 15 minutes, although it does offer high coverage even with a single coat. The PintyPlus spray paint comes in 18 vibrant colors and is a low-VOC spray paint that is free from toxic solvents.
One of the most important characteristics of this spray paint is that because it has no discernible odor, it is also one of the safest aerosol paints on the market. This trait not only helps you keep a low profile, but it also safeguards your health.
Pros:
Best graffiti paint for experimentation
Low VOC
Nozzle hardly needs cleaning
Cons:
Porous surfaces need a primer
5. Best Graffiti Spray Paint for Crisp Lines—Montana GOLD Spray Paint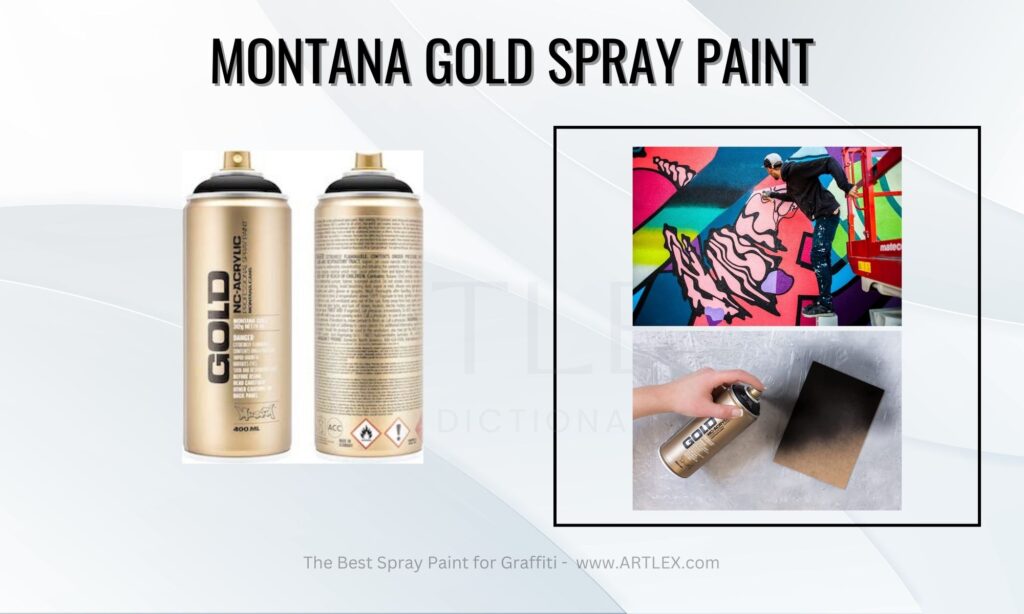 Spray Paints Selection Criteria
Weather Resistant Spray Paint – 10/10
Type of Finish – Gloss
Spray Nozzle – 10/10
Adhesion – 9/10
About Montana GOLD Spray Paint
If you want to limit the area sprayed, then the Montana Gold low-pressure spray may be a good option for you. Designed to achieve pinpoint precision, this low-pressure system produces professional level lines in combination with the Level Cap System. Simply switching out the nozzle allows you to choose between an ultra-narrow line (Level 1) all the way to an ultra-wide coverage (Level 6).
With 214 semi-gloss colors to choose from, the seamless color scheme is devoid of dead spots or missing tones, allowing any vision to be brought to life. However, remember to always shake your graffiti spray cans for at least three minutes before using them, or until you can hear the mixing balls bouncing around freely inside the can, for optimal results and maximum coverage.
Like most spray paints on our list, this one is also UV-resistant and long-lasting, with high-grade binders for extreme tolerance to environmental factors. Please note that this does not apply to the use of any Chrome Effect or fluorescent colors of this line.
Pros:
Cap iusdhihusdhaiud
High coverage
High-quality paint
Great for outdoor use
Vibrant colors
Cons:
Dry time can be up to one hour, depending on environmental factors
6. Best Graffiti Spray Paint for Area Coverage—Krylon K02732007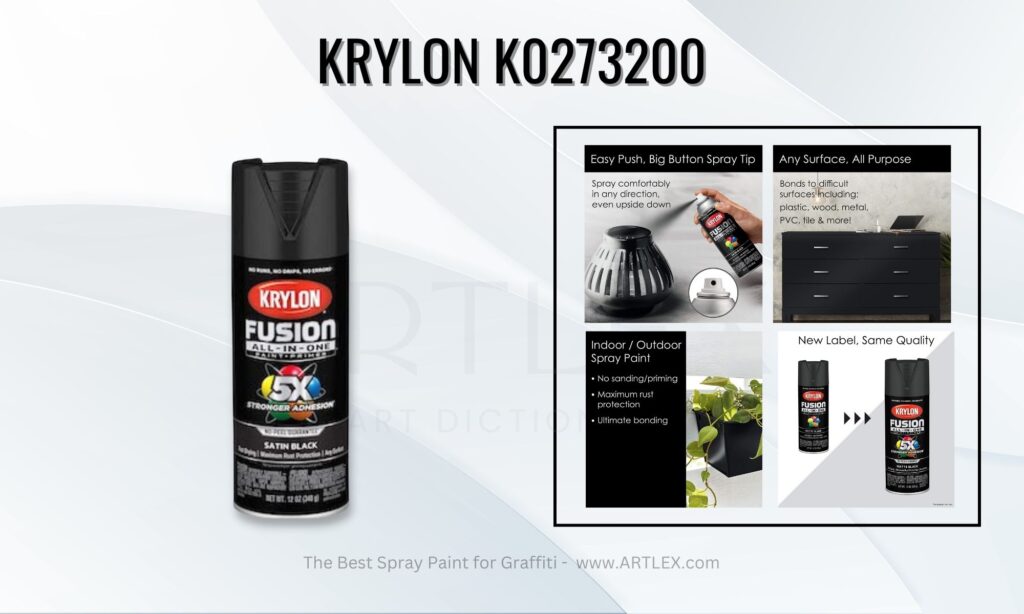 Spray Paints Selection Criteria
Weather Resistant Spray Paint – 10/10
Type of Finish – Satin
Spray Nozzle – 9/10
Adhesion – 10/10
About Krylon K02732007
Krylon has been producing high-quality spray paint since 1947, giving the company a solid foundation in the market. After they commercialized this canned invention, they also decided to shorten the name of the product by replacing the first "n" in nylon with the first and final letters of the inventor's surname, resulting in the "Krylon" brand.
Krylon's multipurpose spray paint can is ideal for a wide range of street art projects. Both the primer and the paint are part of this one formula. Its rust protection feature makes it a good choice for painting over cement, metal, and any other outdoor surfaces, as it adheres well to many substrates without the need for primer or sanding. This spray paint cuts your preparation time so that you can focus on your art.
This paint has excellent adhesion, dries quickly, and leaves a satin finish. You can apply Krylon spray paint with confidence because it dries in only 20 minutes and won't spill or run.
This dual-purpose spray paint is perfect for graffiti writers. The graffiti spray can's ergonomic push nozzle makes it a breeze to use. Paint can be sprayed from any direction because it dries quickly. However, due to the company's focus on DIY projects and home improvement applications, this product offers a more limited palette than its competitors. But as a straightforward black paint for long-lasting graffiti projects, it works great. You can always combine it with other graffiti paints for more color options.
Pros:
Fast drying
Superior coverage
High level adhesion
Cons:
Conclusion—The Best Graffiti Spray Paint 2023
The paints selected on our list have been designed for a wide range of applications, from home improvement to graffiti and street art. Yet if you are also looking for spray paint brands that are made by street artists, look no further.
Montana Black and Gold are two paints from a trusted brand, one made for low and the other for high pressure paint needs. Both are equally recommended, if you want to cover a large area or draw crisp lines on your project. So a combination of these two recommendations could well have you set for any type of project that comes to mind.
MOLOTOW PREMIUM spray paints were also selected based on the fact that they ticked all the boxes of our criteria, as well as came highly recommended by seasoned graffiti street art artists.
We hope you found our analysis of the best spray paint for graffiti of 2023 to be helpful. Consult our associated guides for further sources of comparable items for the artistic lifestyle.