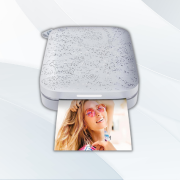 This portable printer offers quality prints, has a battery life of 35 photos per charge, and uses Zink technology.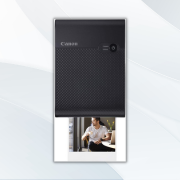 This device produces long-lasting 2.7-inch square photo prints from mobile devices with fast print speed.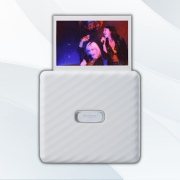 Ideal for group photos, this printer offers larger photo prints with a battery life of up to 100 prints per charge.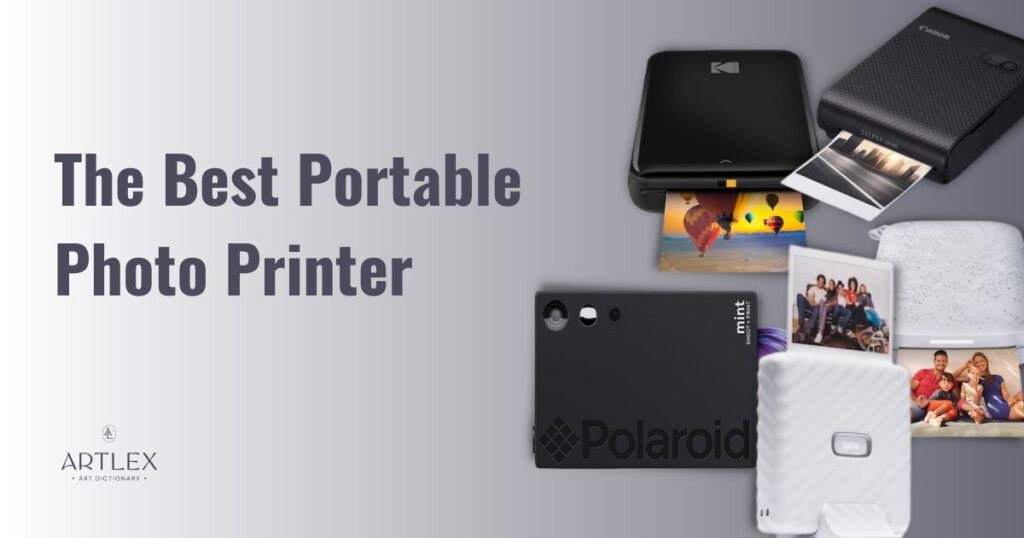 Small, lightweight, and battery-operated, portable photo printers eliminate the need for a computer by printing digital photos straight from a user's mobile device or camera. These printers can print on a wide range of media, from inkjet to thermal, and to a high image quality.
In particular, studio photographers, event photographers, and anyone else who needs to print images on the fly can benefit from having one of these portable printers. They are small enough to fit in a purse or a pocket, making them ideal for printing photos on the go, whether at a celebration, a party, or on a trip. What a better way to capture memories and share them with those around you?
Still, there are specialists whose areas of focus lies in digital art and photography but who may be less well versed in portable photo printers. We'll cover the most important factors to consider when shopping for a mobile printer, such as printing technology, user friendliness, battery life, and software compatibility, and share our thoughts on the best portable printers currently available. We'll also go through the best options for professionals who need quick photo prints, those who want their photos to retain their quality over time, and landscape photographers, all of whom have unique needs.
Selection Criteria for the Top Portable Printer 2023—Buying Guide
By considering the following factors, you can choose the best portable printer that meets your specific needs and requirements.
Printing Technology:
In this day and age, there are several instant-print methods available:
Polaroid Technology:
The most common variety, sometimes simply called a "Polaroid," utilizes the same film as Fujifilm's Instax quick cameras as well as Polaroid Hi Print products, which conceal the developing fluid within the photo paper's margins. When a photo exits the printer, it is immediately saturated with developer fluid and the image formation process begins.
Zink Technology:
Zink paper does not need ink to create an image, as it is embedded with dye crystals that change color when heated.
Dye-sublimation Technology:
Also known as dye-sub printers use heat on a ribbon to apply numerous layers of ink in four different colors to a sheet of paper. To guarantee that the paper can easily feed into and out of the printer, most dye-sublimation printers require at least one print's worth of room behind them. This procedure is time-consuming since each piece of photo paper must go through the printer four times to lay down each layer of color. However, if you take into account the time it takes for a Polaroid to develop, dye sublimation does not look too bad.
Ease of Use:
Unless you are a professional photographer or event planner, then you are most probably looking for a photo printer either for a DIY project or for fun. Either way, your printer should primarily make your life easier and that is why we prioritized finding printers that are intuitive and simple to operate.
The ideal portable printer would also be compact and lightweight enough to carry and use anywhere. The best portable printer is the one you can carry around in your purse or pocket, for use at a moment's notice.
Battery Life:
Being on the move implies that if you run out of battery, you must have planned ahead of time and brought extra cords and a battery bank. Choosing a printer with a long battery life is therefore a no-brainer. However, because most of these printers only last approximately 10 photos, you may not be able to avoid bringing the extra items entirely.
Cost to Print Photos:
Specialized photo paper is expensive regardless of the printing technology you choose. Prices for individual prints currently range from fifty cents to a dollar. So keep that in mind when deciding between two printers, one with a low upfront cost and one with a higher price but lower cost each shot, the total cost of ownership is an important factor to take into account and usually depends on how often you want to use your new photo printer.
Top Product Recommendations for the Best Portable Photo Printers 2023
1. Overall Best Portable Photo Printer—HP Sprocket Printer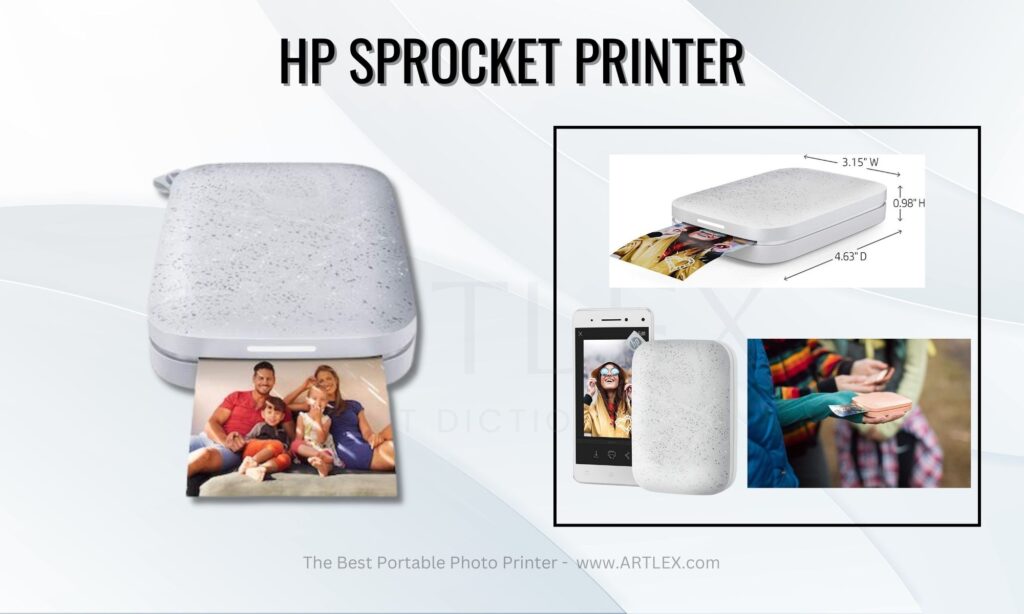 Portable Photo Printer Selection Criteria
Print Quality – 9/10
Ease of Use – 8/10
Battery Life – 35 photos per charge – 9/10
Cost to Print Photos – 8/10
Printing Technology – Zink technology
About the HP Sprocket Printer
The HP Sprocket is a great illustration of the convenience of compact printers, as it is among the most portable models available today. It is measured at 3.1 x 4.6 inches and 6.1 ounces, fitting easily in your purse.
Printing is done exclusively from iOS and Android devices using HP's Sprocket app, making it similar to its rivals in that it is intended as a phone and tablet accessory and uses Bluetooth as its sole connection option. However, you can bring it with you during social gatherings and allow other guests to also connect wirelessly as to print instant, shareable photos simultaneously.
The average print takes approximately one minute to complete, and the cost per print is currently at 65 cents. The photographs are worth the delay and the money if you care about how they look because the print quality is among the best we've seen in a Zink-based printer. Also, it stays connected even when sleeping, thanks to Bluetooth 50 and HP Sprocket's new sleep mode, so it does not waste battery while inactive.
Pros:
High quality prints
Mini photo printer, easy to carry at all times
Zero ink
Can add emojis, crop and edit photos
Cons:
Does not connect via USB cable
Expensive photo paper
2. Best Portable Printer for Long Lasting Quality—Canon SELPHY Square QX10 Printer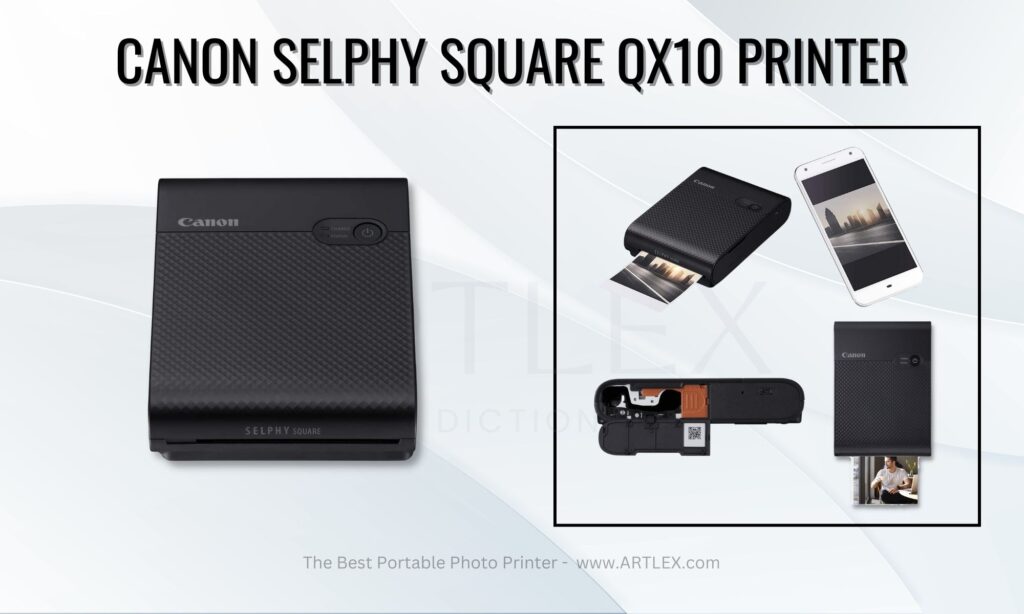 Portable Photo Printer Selection Criteria
Print Quality – 10/10
Ease of Use – 8/10
Battery Life – 20 photos per charge – 7/10
Cost to Print Photos – 7/10
Printing Technology – Dye sub technology
About the Canon SELPHY Square QX10
The SELPHY Square QX10 produces square 2.7-inch photo prints directly from your mobile device. You might be shocked to find a USB Micro B port located on the right-hand side of the printer, however it is only used to charge the battery and not to print directly from a computer. Like most mobile photo printers, it comes with a free app where you can edit your photos and even add emojis.
Unfortunately, its size is far larger than other printers (5.6 x 4 inches) which means that you will most probably need to purchase a case or carry it in your bag, as it will not fit in your pockets.
The paper size is significantly wider than the photo itself, at 2.8 by 3.3 inches, leaving a border around the side and bottom, which can be beneficial if you want to write a caption to remind yourself where and when you created this memory. This could be very useful, as Canon claims their device prints photos that can last a century, if you tend to them carefully. When you peel off the backing, you'll find a self-adhesive surface, allowing you to literally stick your prints in your scrap book for next generations to find.
The total time for all four passes of a print is only about 43 seconds, making for a very quick print time. Image quality is excellent, albeit it can't quite match that of professional photo inkjet printers. There's a lot of depth in the blacks and a good retention of detail in the highlights, while the colors look vivid.
Pros:
Instant photos will last for 100 years
43 second print time
Margin around the photo paper for notes
High image quality
Cons:
Not the most portable photo printer of our list
Need to carry ink cartridges
3. Best Portable Printer for Group Photos—Fujifilm Instax Link Wide Printer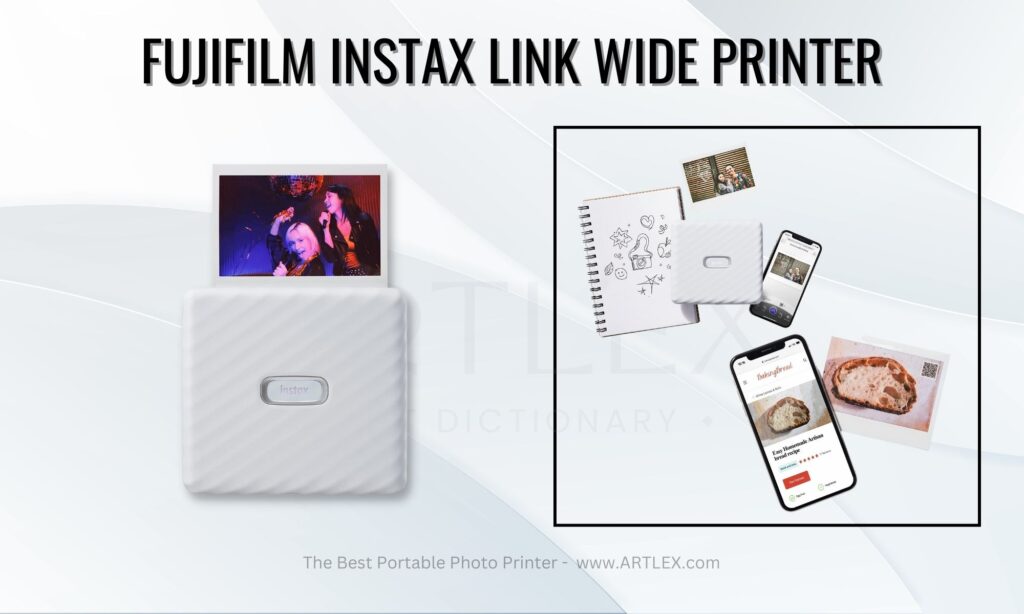 Portable Photo Printer Selection Criteria
Print Quality – 8/10
Ease of Use – 8/10
Battery Life – 100 prints per charge – 10/10
Cost to Print Photos – 7/10
Printing Technology – Polaroid
About the Fujifilm Instax Link Wide Printer
Similar to the Mini Link, the Fujifilm Instax Link Wide printer creates the same quality results, although roughly twice as wide, without compromising portability. It's lightweight (12 ounces) and thin (1.3 inches), so it'll easily slip into your bag during the next family reunion or trip abroad with friends.
This portable device can produce photo prints that are 3.4 by 4.3 inches in size, with an image area of 2.4 by 3.9 inches and a white border, which is a great size if you want to take group photos, landscapes or just showcase details of your selfies. Each of those pictures costs around one dollar.
In addition, a stand is included in the package so that you may set it up in your home. For portability, a wrist band is included.
The printer has a relatively slow charging time, taking about two hours and, depending on how long you leave the device on for after each print, the Instax can have a battery life of up to 100 prints on a single charge. While developing the photos takes about 90 seconds, the actual printing time is relatively fast at around 12 seconds.
The app lets you modify your photos in a number of ways, including applying filters, making collage prints, adding stickers and text, and arranging them in premade templates; you can even add embed QR codes that lead to websites, and audio recordings.
The Instax Link Wide isn't the cheapest instant printer out there, but the trade-off is that the photographs it prints are larger in size so you could use it for a variety of printing jobs, other than landscape photos. When budgeting for an instant printer, it's important to factor in the additional expense of film. For $19.99, you can get a pack of 20 Instax Wide prints from Amazon, so the cost might add up quickly.
Pros:
Companion app allows for QR code creation, for extra information
Rechargeable battery life lasts for 100 printing pictures
Cons:
Expensive cost of printer paper
Long photo development time
4. Best Instant Photo Printer for Professionals—Zink Polaroid Mint Instant Print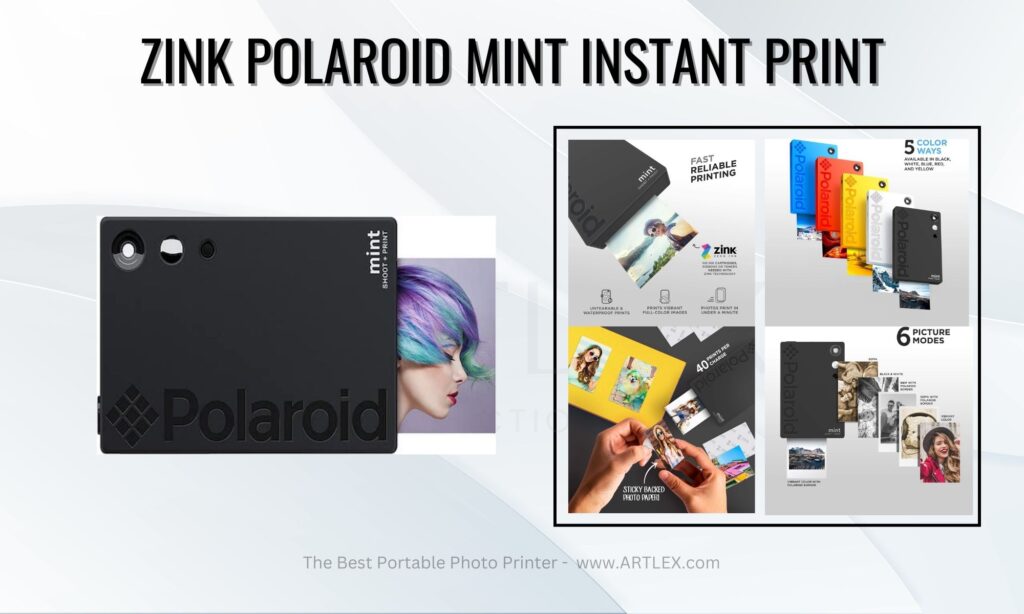 Portable Photo Printer Selection Criteria
Print Quality – 10/10
Ease of Use – 9/10
Battery Life – 40 prints per charge – 8/10
Cost to Print Photos – 9/10
Printing Technology – Zink technology
About the Zink Polaroid Mint Instant Print
This combo portable printer is much different than anything on our list, as it comes with both a camera and a printer.
For the low price, you get a small enough (three by one inches) and lightweight (0.45 pounds) camera to carry around in your pocket and hold easily in your palm. Also, this pocket printer comes with the option of 20, 30 or 50 photo paper packs, so you don't have to worry about running out. If you are a professional or event planner, you can easily offer these instant photo printers to guests and have them take and print pictures all night long.
The device in itself offers three photography modes (color, black/white, sepia) and two frame options (frame/no frame) with a touch of a button. You even get the option of a 10 second delay timer, so you can also run and join the fun.
Once you take the photo, the compact printer takes over. The quality is good enough for professionals, even though it has a somewhat retro look. The 16 megapixel camera works well with the printer, especially in dim lights. You can even take good selfies without fear of a dark picture owing to an integrated light sensor that triggers the LED flash, and the incorporated selfie mirror. A single charge will last for 40 pictures, which is well above the average of most portable printers.
The Polaroid Mint Camera has a slot on the side for an up to 256GB microSD card. Digital copies are automatically saved, which is very helpful when paper supplies are low. The fact that the Polaroid Mint camera and portable printer can only print out new captures is a big setback. If you snap a picture but forget to load paper first, you can't go back and print the picture later.
Pros:
Two in One technology: camera and printer in one
Zink printers do not need to carry extra ink cartridges
Professional grade photos
Cons:
Lack of smartphone connectivity
5. Best Portable Printer for Gaming Enthusiasts—Instax Mini Link Bundle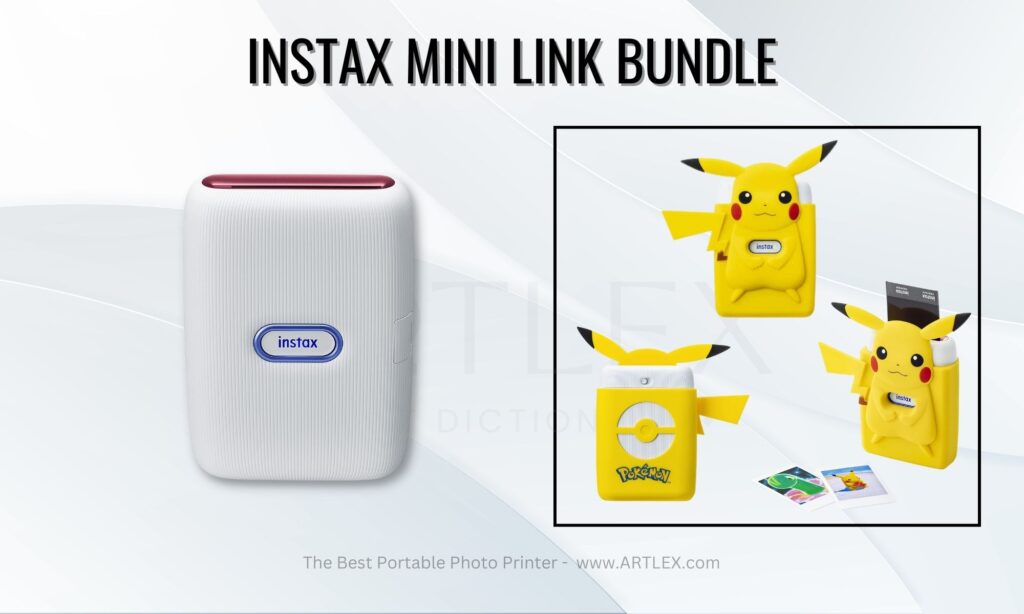 Portable Photo Printer Selection Criteria
Print Quality – 8/10
Ease of Use – 9/10
Battery Life – 9/10
Cost to Print Photos – 8/10
Printing Technology – Dye sub Technology
About the Instax Mini Link Bundle
The Instax Mini Link Special Edition is a convenient way to print photos taken with your smartphone or Nintendo Switch using its companion app. This printer is practically pocket-sized (3.5 x 4.9 inches), making it easy to have it on you at all times. Even though it's made entirely out of plastic, it doesn't seem flimsy or cheap; rather, it's about as solid as a portable Nintendo gaming system.
The quality of prints made with this Instax Mini Link is superb. The default "Natural" setting is optimal for gloomy settings due to its medium saturation and enhanced highlight colors. The Instax Camera Mode is a special motion-control feature that allows you to adjust the focus and exposure of your smartphone's camera by tilting the printer (to zoom in and out) and hitting the power button (to take a shot). External controls are limited to a single power button that lights up to reveal the device's remaining battery life. A flap conceals a micro USB solely charging slot.
The app has some great features, but it's easy to ignore them because you'll probably just use it to transfer photos rather than edit them. It allows you to do basic adjustments, edits, and corrections, and even scrubs video to extract a still frame. So, if you are taking videos of your gaming experience, or you just want to share photos of your avatar, this Instax printer is the one for you. The rechargeable battery can power the camera for roughly 40 prints, so you are good to go.
The additional modes in the companion app, such as the collage creator, and the Party Print feature, can be a lot of fun, too. Instax Mini Links are perfect for social events, such as gaming parties, because they let you print reminders of the occasion. You'll also find more printing features in the "Fun Mode" submenu, including the Frame Print (which adds colorful borders to photos) and Collage (which combines multiple images into one print, albeit credit card size).
Pros:
Instax Mini Link can print stills from video
Can print from Nintendo Switch Console
Very fast printing time
Cons:
Micro USB used for charging
Gesture controls are confusing, especially on a gaming printer
Mini prints
6. Most Affordable Pocket Printer—Kodak Step Instant Printer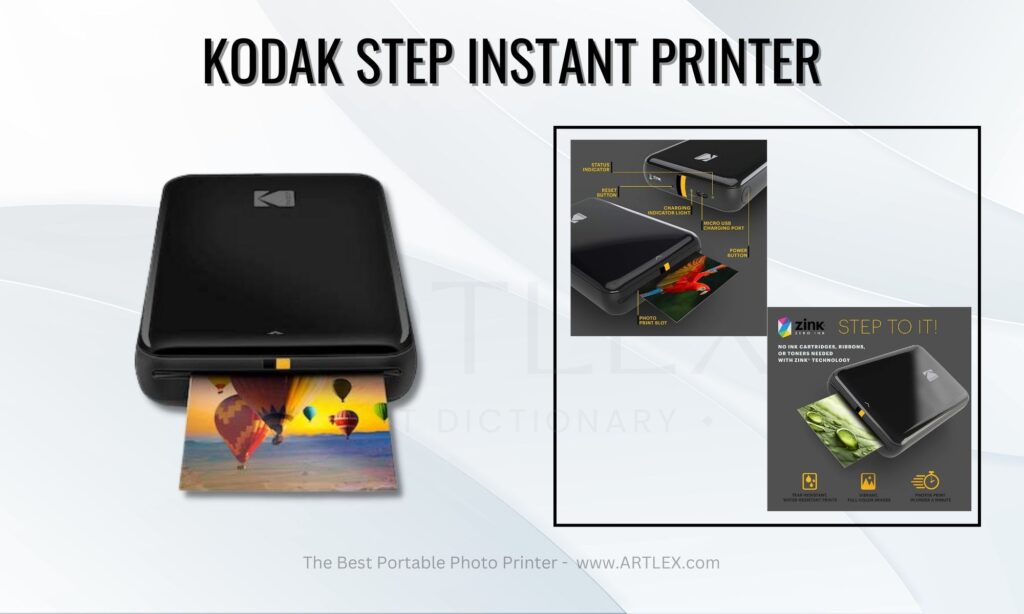 Portable Photo Printer Selection Criteria
Print Quality – 8/10
Ease of Use – 9/10
Battery Life – 8/10
Cost to Print Photos – 10/10
Printing Technology – Zink Technology
About the Kodak Step Instant Printer
If you are looking into portable photo printers but you realize that the price of the device or the photo paper are out of your budget, do not despair. The Kodak Step's compact dimensions (4.5 x 3 inches) and low weight make it simple to carry around, while its low price point will allow you to have fun without worrying.
This printer's companion app is easy to install, as it provides step-by-step instructions for pairing your smartphone with the device over Bluetooth. Within minutes of taking it out of the package, you should be ready to start printing.
Photos can be printed in as little as 40 seconds, while a single charge will let you to take 20 shots before it needs to be recharged. So, even though this is our budget option, you don't miss on any of the features of more expensive specialized options. In order to preserve your precious memories for as long as possible, the photos it produces are resilient in the face of spills, rips, and smudges.
In addition, the free app's user interface is well-designed and provides numerous options for customization. You may customize your photos with a variety of stickers, filters, and frames. By using the collage function, you can compile several of your preferred images into one tangible product.
The photos printed with this device offer a good level of clarity and sharpness. However, the colors may not always be spot on, as there is a faint pink hue in some sections of the images.
Pros:
Zero Ink print technology
12 second print speed
Cons:
Charges via Micro USB
Images printed appeared too warm
Conclusion—The Best Portable Photo Printer 2023
Buying instant printers may seem like a splurge to some, especially since we can always share photos online. Yet, portable photo printers offer you the ability to share photos, when you are out and about, with people without having to share personal information like your email address, or social media handles.
If you are looking for instant cameras to share at your next big event, or take selfies to share in the moment, the Polaroid Mint pocket printer could be the best option for you.
On the other hand, if you are a gaming or video fanatic, and you want to print photos straight from your Nintendo Switch, the Instax Mini Link Special Edition will solve your problems, and even make you the life of the next gaming party.
We hope you found our analysis of the top portable photo printers of 2023 to be helpful. Consult our associated guides for further sources of comparable items for the artistic lifestyle.