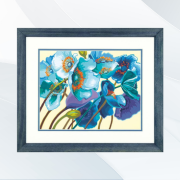 Great for beginners; includes everything needed; multiple designs available. Cons: No frame included.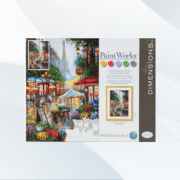 Suitable for intermediate artists; paints feature European city scenes; includes all necessary tools. Cons: Only one brush included.
Artist's Loft Hummingbird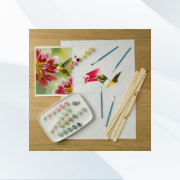 Includes wooden frame and four brushes; ideal for beginners and intermediate artists; 47 pieces included. Cons: Canvas needs to be attached to frame.
Adult artists who love the meditative pastime and art therapy of painting will appreciate paint by numbers kits– one of the hottest craft trends at the moment. These handy number kits can unleash the inner artist in anyone, even those who have never lifted a paintbrush.
Before buying a paint by number kit, there are a few criteria to consider, these include the painting level, whether it's for beginners or advanced artists, how large the canvas is, what the theme is, and if it includes more than one brush.
Some pricier kits include the option of purchasing a wrinkle-free canvas, a frame, and more colors. There are also several number kits from tigers, ballerinas, or New York in autumn that would make the perfect gift for a special someone that loves art and painting.
Fun fact: The first photos of the planet mars were painted like a paint by number image.
Older kids can also find something to choose from including abstract images, flowers, animals, or landscapes. Painting by numbers is also a great way to spend family time together where each family member can contribute to the same painting regardless of skill.
There are hundreds of designs to choose from for talented artists including sensitive succulents, an old newspaper for advanced artists, or even a masterpiece from Van Gogh and other famous painters.
Each painting by numbers kit always has the paint included, but not all have several paintbrushes so beginners might want to invest in a designated paintbrush set that is specific for paint by numbers such as this 10-piece paintbrush set.
How Do Paint by Numbers Kits Work?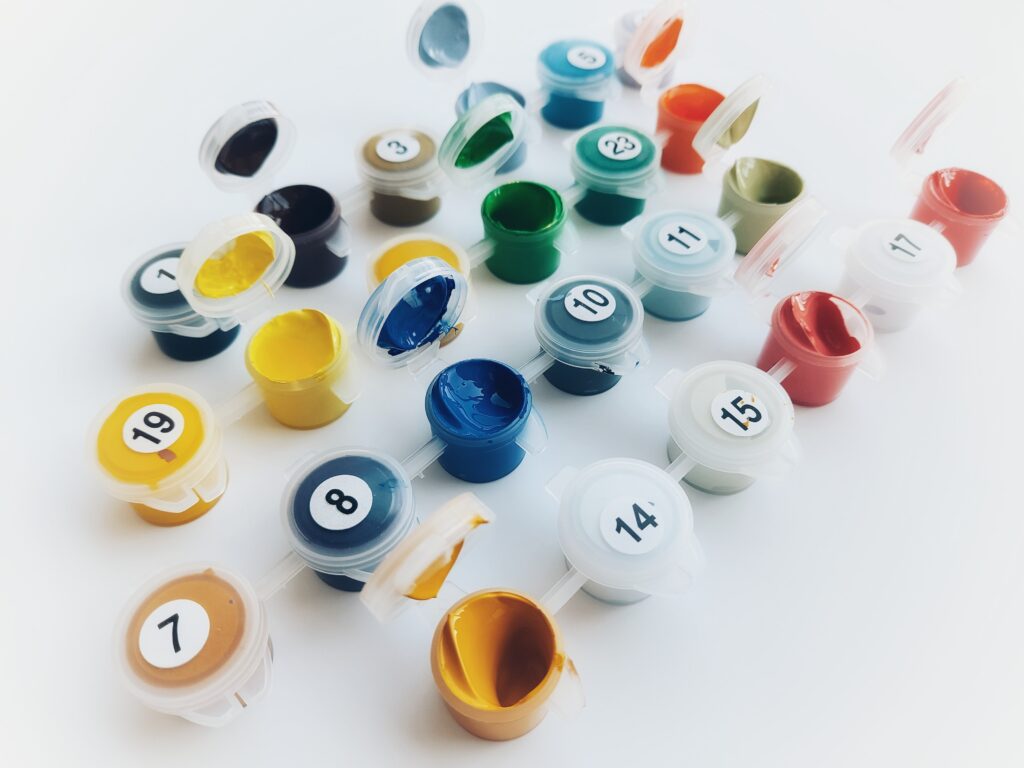 Paint by numbers kits come with a canvas with each color having its own number so the artist knows exactly where and what color to paint. This system makes it impossible to use the wrong color. The best kits have an unfolded canvas and more than one paintbrush for fine details or painting larger areas.
It's imperative to keep paints closed in between use so they don't dry out. If purchasing a canvas that comes already folded, simply iron it carefully before painting in order to remove all creases thus making it easier to paint.
Some paint by number kits can take upwards of 10 hours for advanced artists and so are an excellent way to relax the mind. Using a lamp and a magnifying glass can help artists see very small numbers and reduce eye strain.
Lastly, artists who run out of paints can purchase additional colors from certain manufacturers without having to purchase another kit. When hanging a painting, note that cotton canvas should not be exposed to direct sunlight as it will cause the paints to fade faster. In addition, when gifting artwork to friends and family, protecting the surface in a framed glass will also help the art last longer not to mention make it look more finished and presentable.
Our Recommended Products for The Best Paint by Numbers for Adults
#1 Best Paint by Numbers for Adults Overall – Paintworks Paint by Number Kit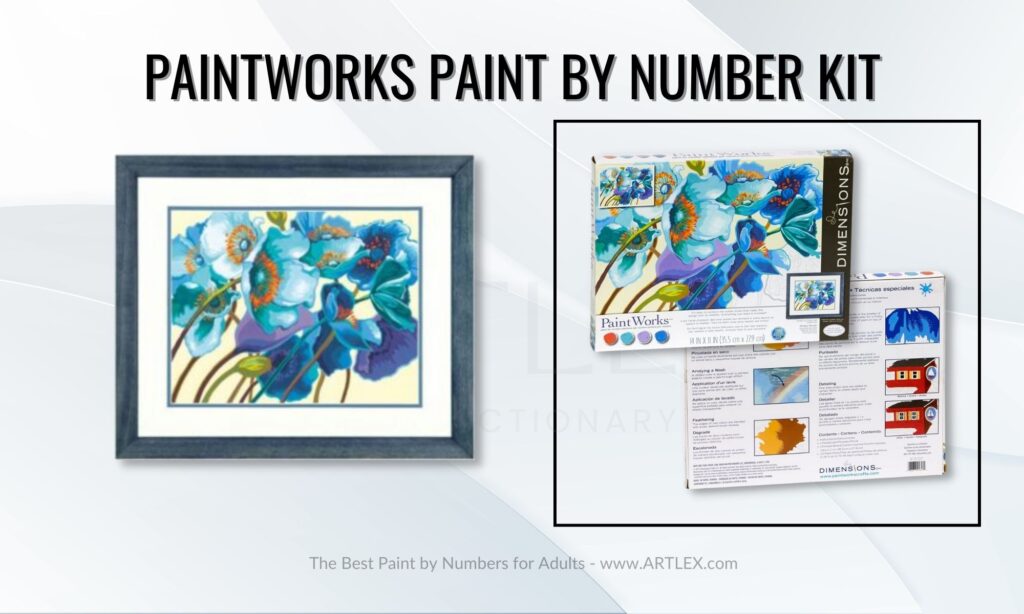 Selection Criteria
Price – $ – Our score: 9/10
Skill level – Adult beginner – Our score: 9/10
Size – 11×14 inches – Our score: 9/10
Theme – Nature – Our score: 9/10
Brushes – 1 – Our score: 7/10
About Paintworks Paint by Numbers
Adult beginners new to paint by number kits will find this acrylic paint set from Paintworks brings out their inner Vincent Van Gogh or Bob Ross. This custom paint kit features a beautiful design of blue poppies with a fun retro color palette.
There are three other nature scenes to choose from in this set, including a lake with a canoe, a lighthouse, and a winter scene for more advanced artists. Each masterpiece also makes a great gift and is the ultimate way to create complete paintings to liven up any wall.
The kit comes with acrylic paints, one paintbrush, the paint by number canvas, and instructions. Paints are easy to clean with soap and water.
Pros
Perfect adult paint set that includes everything needed to paint
Acrylic paint dries quickly
There are other artwork designs to choose from
Cons
Doesn't include a framed option
#2 Best Acrylic Paint by Numbers – Paintworks Cities Paint by Number Kits
Selection Criteria
Price – $21.99 – Our score: 7/10
Level – Intermediate or Advanced – Our score: 8/10
Size – 20.5×16.5 inches – Our score: 9/10
Theme – Cities – Our score: 8/10
Brushes – 1 – Our score: 7/10
About Paintworks Cities Paint By Numbers
These vibrant acrylic paints from Paintworks feature different European cities. The lakeside village has warm colors and includes different shades allowing intermediate artists to explore a variety of painting techniques.
The kit comes with a complete set including the numbered canvas, instructions, one paintbrush, and the acrylic paint. The numbered sections use five different colors to create an original painting that is both beautiful and calming for one's mental health.
Like most advanced numbers kits, the finished product also makes the perfect gift for a loved one on their birthday or other special occasions.
Pros
Simple color scheme that helps advanced artists focus on technique
A calming scene that inspires relaxation
Large canvas
Cons
#3 Best Hanging Kit Paint by Numbers – Artist's Loft Hummingbird Painting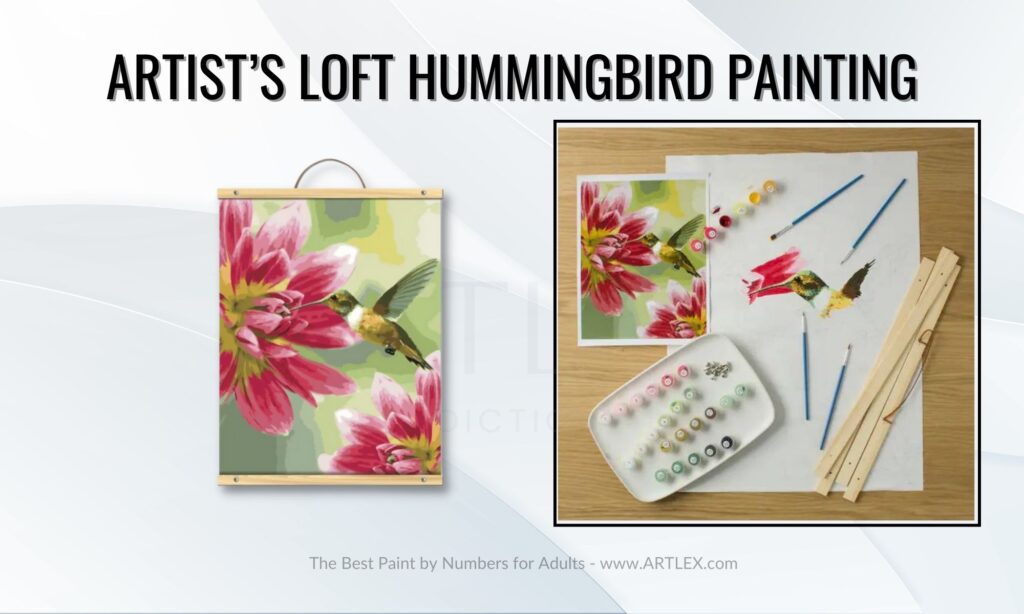 Selection Criteria
Price – $9.99 – Our score: 8/10
Level – Beginner – Our score: 9/10
Size – 16×21.5 inches – Our score: 8/10
Theme – Nature – Our score: 9/10
Brushes – 4 – Our score: 9/10
About Artist's Loft Paint by Numbers
The only kit on our list that includes a wooden frame that keeps the canvas tight, this best adult paint by number kit from Artist's Loft features a painting of a hummingbird and flowers. This beautiful painting is for beginners and intermediate artists alike.
This kit contains 47 pieces including 29 colors, a cotton canvas, a reference, an instruction sheet, and the frame pieces. The four synthetic brushes range from one small round and one flat brush and two detail brushes.
Note that artists must construct the pine frame themselves, but instructions are included along with all tools. Some artists might want to use a magnifying glass to see the smaller numbers.
Pros
Comes with four art brushes
Relaxing beginner painting with many colors included
Even kids can appreciate painting this artwork
Many different designs to choose from
Cons
Must attach the canvas to the framed pieces
#4 Best Paint by Numbers with Paint Brushes – Eniref Paint by Numbers Kits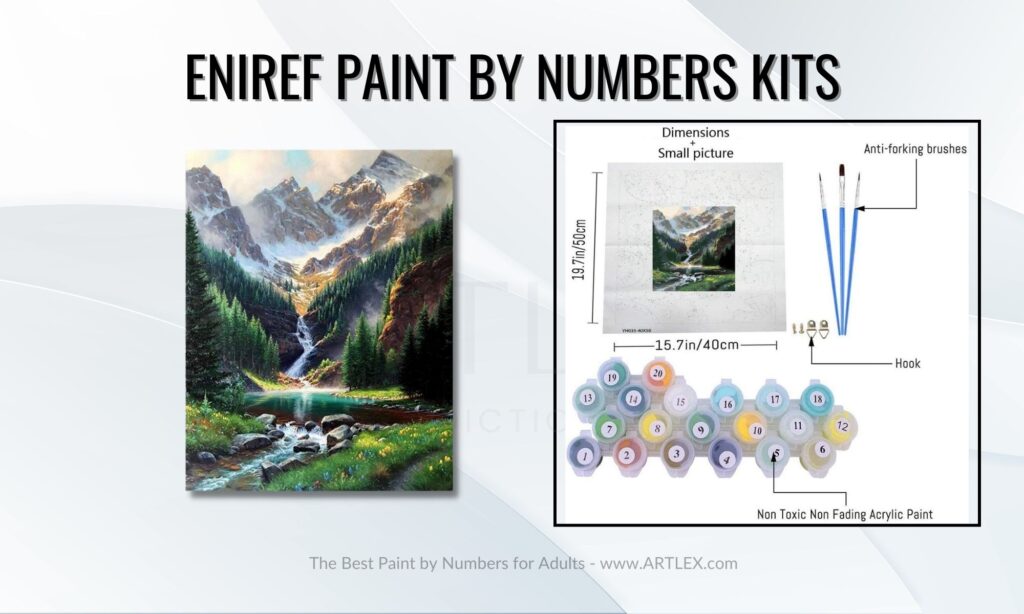 Selection Criteria
Price – $10.79 – Our score: 8/10
Level – Advanced – Our score: 9/10
Size – 16×20 inches – Our score: 9/10
Theme – Nature – Our score: 9/10
Brushes – 3 – Our score: 9/10
About Eniref Paint By Numbers
An advanced artist can appreciate the high-quality materials that come with this Eniref paint by numbers kit. The soothing scenes of nature like this waterfall with mountains in the foreground will calm anyone after a hard day's work.
Most kits don't include more than one paintbrush or hooks as this kit does. It also includes all materials needed to start painting such as a clean canvas, paints, brushes, and instructions.
Note that some of the lighter colors might need an extra layer of paint and the folded canvas might need to be flattened with heavy books or an iron before painting.
Pros
The colors are rich and vibrant
Painting has many shades and advanced painting techniques for intermediate or advanced artists
Will liven any area with its calm and relaxed image
Cons
#5 Best Beginners Paint by Numbers – Bird on Giant Sunflower Adult Paint by Numbers Kit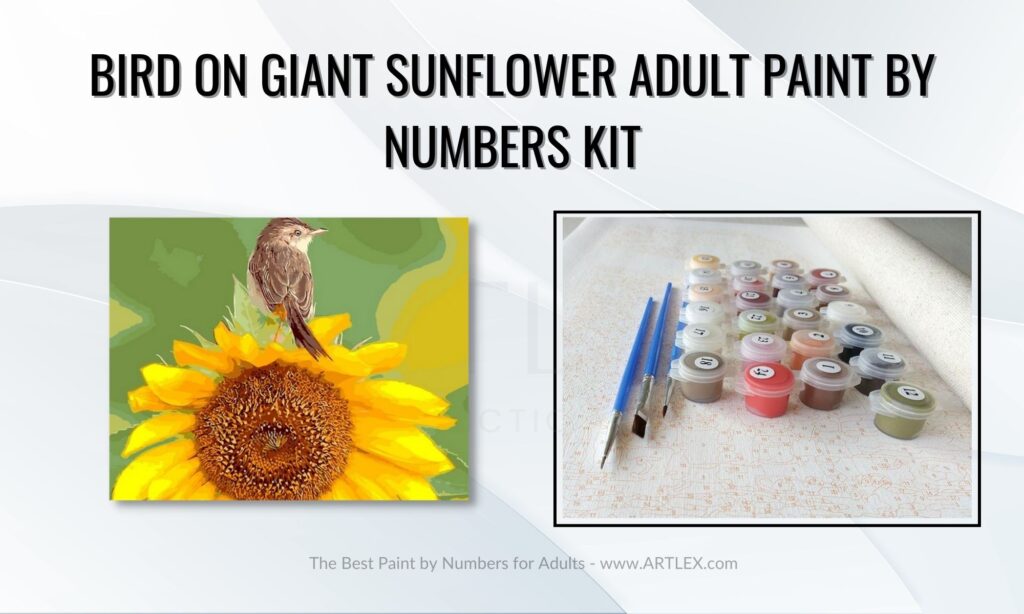 Selection Criteria
Price – $21 – Our score: 9/10
Level – Beginner – Our score: 9/10
Size – 15×19 inches – Our score: 9/10
Theme – Nature – Our score: 9/10
Brushes – 3 – Our score: 7/10
About PaintByNumbers.co
With over 500 designs to choose from, paintbynumbers.co has one of the largest collections of paint by numbers kits online. "This Bird On A Giant Sunflower", while seemingly complex is designed with the adult beginner in mind. There is also the option to create your own paint by number from a wedding photo, a family vacation, or a favorite memory.
The large canvas, 24 paints, and three paintbrushes are included with this kit. Each masterpiece comes in a wooden box and makes an ideal gift for adults just entering the world of art and adult paint by number. Some collections include the ocean, snow, people, flowers, animals, and abstract art.
This company also offers an optional frame or to buy a canvas that is already stretched. They're also currently offering one free paint by number kit with the purchase of three kits.
Pros
The vibrant colors and images will bring any wall to life
Includes different canvas and frame options
Has bulk order options for young adult birthday parties
Provides over 500 paintings for all levels
Will provide a refund after 30 days
Cons
Customized options are a bit pricey
Conclusion
We hope you found our guide to the best adult paint by numbers helpful. We've covered the different types of kits available along with our recommendations in various contexts.
We've discussed how you can choose the best-numbered kit with different themes ranging from animals, nature, and beautiful snow scenes that can brighten any room, office, or bedroom. Lastly, we've combined our recommendations for the best-numbered kits with hundreds of artwork to choose from which are ideal for beginners to advanced painters alike.
Thanks for reading, we hope our suggestions help you choose the best painting by number kit whether the image you prefer is inspired by nature, a European or Asian city, a winter wonderland, or a masterpiece from the great artists of old.