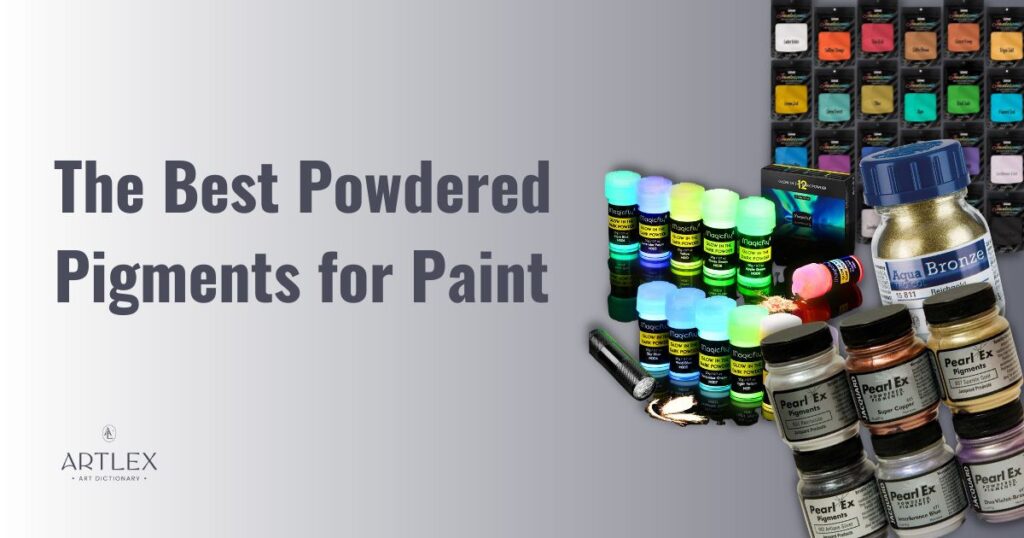 Experienced artists usually prefer to have control over the colors and hues they use. Making their own paint gives them just that, and even allows them to save some money in the process.
But how do they do it, you ask? Dry pigment powders along with different binders can give you a wide range of paint materials, oils and acrylics. A tiny amount of pigment can go a long way. Powders also come in a wide variety of quality levels to fit applications, from simple crafts to fine art.
If this adventure interests you, check our guide of considerations when using pigments. Then you may take a look at our top recommendations for pigment powders.
Selection Criteria for the Best Powdered Pigments for Paint 2023—Buying Guide
Creating art is all about expressing yourself, and what better way than to create your own colors? Pigments, paints, bonding agents…they may sound too terrifying to even begin. So let us give you a hand. But first, why use pigments rather than paints?
Mica Powder Pigments Price
Pure ground Mica is a non toxic type of colored powder. Natural earth offers powders to artists for as long as art has been around. Ancient methods of Mica pigment powder extraction and art use date back to the Aztec civilization. Thus, you can use this non-reactive mineral for your painting needs without worries. Ready made paints tend to be toxic to inhale for long, but with Mica inadvertent inhalation is not a problem. Prices reflect this process and all the advantages these pigments offer to the art community, and we react to it comparatively.
Paint Type
Artists tend to experiment with more than one type of paint. They may like epoxy, acrylic, oil or even pencils when creating art pieces. So pigments offer the option to use just a small amount to create any type of paint you want. The viscous medium can be more or less fluid depending on how you plan on using it. Keep an eye on our selection criteria because not all pigments can be combined to make every form of paint.
Volume
The volume included in each product is evaluated comparatively. When it comes to mica powders, most firms contain anything from 0.5 ounces to 3.5 ounces, depending on consistency and pigmentation. This may lead to complaints by customers that, especially in multipacks, some jars may contain less product than others. Keep in mind that the volume may vary based on the density of the pigment, but the weight is always the same throughout multipacks, unless otherwise specified.
Finish
Depending on how much pigment you use with your bonding agent, you will get a more or less vivid color of your choice. The Value of the color will vary depending on the amount and type of pigment you use.
Top Product Recommendations for the Top Powdered Pigments for Paint

Best Overall Pigment Powders for Paint: U.S. Art Supply Jewelescent 24 Color Set
Best Pigment Powders for Painting Epoxy Resin: Jacquard Pearl Ex Pigment 6 Color Set
Best Pigment Powders for Painting Plastic: SmallMeaning Mica Powder
Best Metallic Pigment Powders for Special Effects: Schmincke Aqua Bronze Powder
Best Glow in the Dark Pigment Powders for Paint: Magicfly Glow in The Dark Pigment Powder
Best Chameleon Pigment Powders for Paint: Cheapart Chameleon Mica Powder
1. Best Overall Pigment Powders for Paint—U.S. Art Supply Jewelescent 24 Color Set

Powdered Pigments for Paint Selection Criteria
Price – $119.99
Our score: 7/10
Paint Type — Oil, Watercolor
Volume — 3.5 Ounce (Pack of 24)
Finish — Pearl
About The U.S. Art Supply Jewelescent 24 Color Set
Considering you get 24 color options, it seems like a fair trade-off for the increased price point of these metallic powders. The ultra premium quality of this stone mineral puts it on the professional cosmetic level, as it is a safe, non-toxic, inert powdered pigment that is both extremely colorfast and resistant to tarnishing and fading.
Each bag is also labeled on the back, so if you run out of your favorite color choice, you know what to look for, instead of just looking for a chrome yellow type of color. Each hue is available in a 3.5 ounce resealable bag so you'll have plenty of it for all your future paint projects.
The variety of applications on this pigment is what sets it apart from the competition. You can put these Mica pearls into an airgun as well as use on candles, cosmetics, soap, and slime. The company backs this product with a full refund, no questions asked international warranty.
Pros:
Large volume per bag
Can be used in an airgun, slime, bath bombs, eyeshadows
Resealable bags
Cons:
2. Best Pigment Powders for Painting Epoxy Resin—Jacquard Pearl Ex Pigment Powders 6 Color Set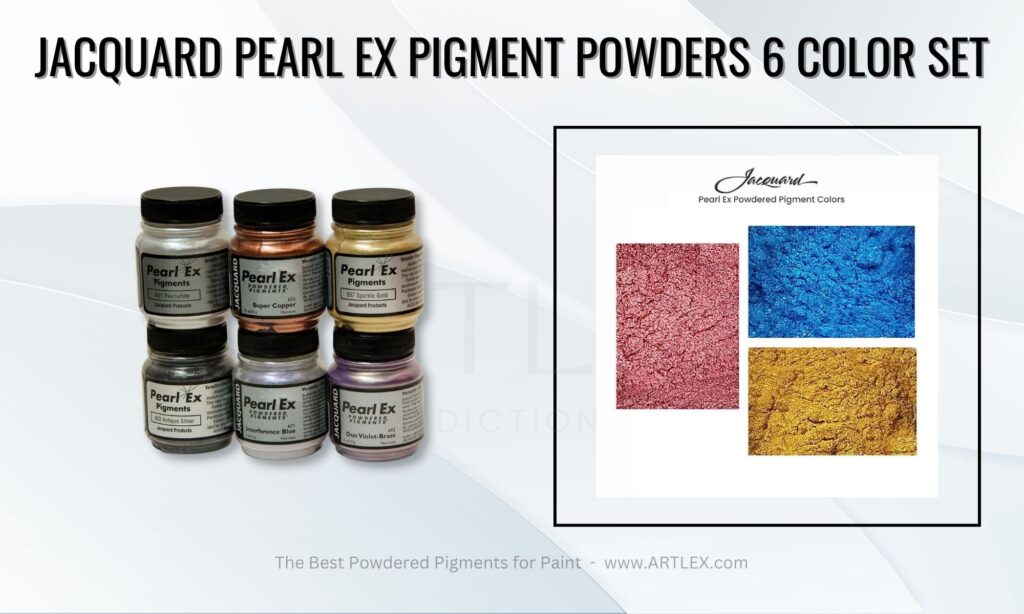 Powdered Pigments for Paint Selection Criteria
Price – $26.69 (Was $37.74)
Our score: 9/10
Paint Type — Resin, Acrylic, Oil, Polymer Clay
Volume — 0.7 ounces (Pack of 6)
Finish — Metallic
About The Jacquard Pearl Ex Pigment Powders
Jacquard Pearl Ex pigment is a mica powder product that can be used on any viscous medium. These metallic powders can also be fired in a kiln at up to 600 degrees Fahrenheit, which makes them a good option for industrial and manufacturing use, unlike most of its competitors.
This allows you to create art pieces with epoxy resin in combination with a variety of materials, such as in pottery, which is also rather unique. This six-piece collection gives you a wide choice of metallic hues to add to resin, including white, copper, gold, silver, blue and violet-brass.
Overall, if you are looking to create colorful resin art, alone or in combination with other materials, this pigment set is a great option. Be advised that even though there are quite a few complaints regarding some of the jars not having the same amount of product as others (and all the accusations coming with it), the company clearly states that the set Includes 4-0.75 ounce. and 2-0.5 ounce jars.
Pros:
Conforms to ASTM D-4236
Can withstand heat up to 600°F
Bright sheen
Cons:
3. Best Pigment Powders for Painting Plastic—SmallMeaning Mica Powder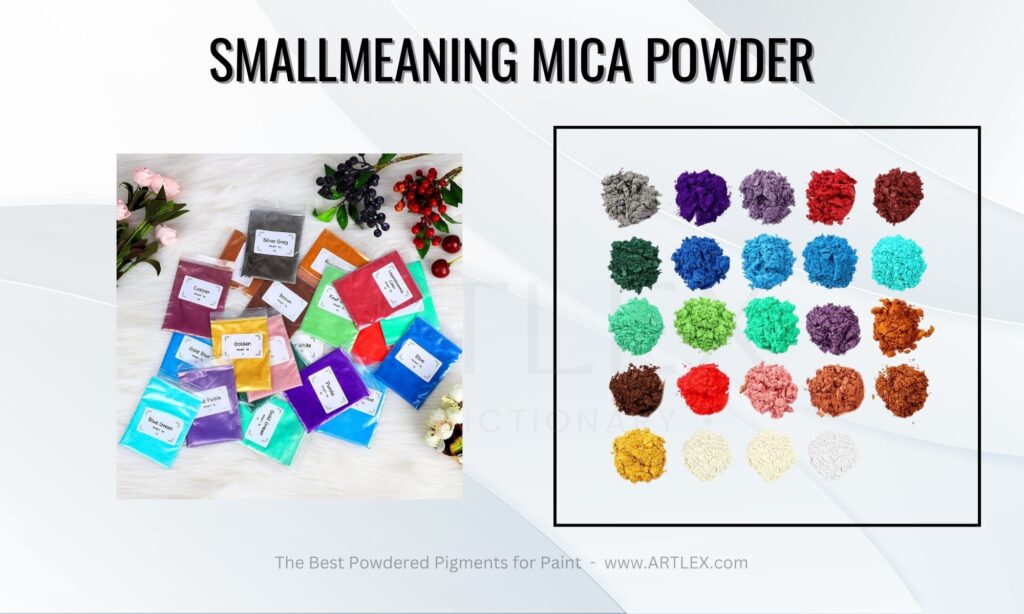 Powdered Pigments for Paint Selection Criteria
Price – $9.99
Our score: 9/10
Paint Type — Plastic, cosmetic, soap, nail art
Volume — 0.18ounce (Pack of 24)
Finish — Metallic
About The SmallMeaning Mica Powder
Finding a pigment powder that is suitable for use with plastic might be tricky. SmallMeaning solid dyes are suitable for both cold pressing and melt-and-pour techniques. As a result, you may combine them with natural pellets and shape them to your craft's needs. They are even safe to color polymorph thermoplastic pellets, which is unusual in this industry.
Most consumers rank these stain-free, cruelty-free colors highly. We also liked the range of colors they include in the package. However, we should warn you that once you have the powders, you may need to rehome them.
The bags are resealable and easy to dip your brush into for the minimal quantity of powder required. The two-by-three-inch plastic bags are also properly labeled. They are, however, a bit difficult to deal with on a daily basis. Working with plastic necessitates high heat on your workspace… and, well, thin flimsy bags containing that much color may prove troublesome.
Pros:
Good to work with polymorph thermoplastic pellets
Clearly labeled color names
Good variety of colors
Cons:
Bags are thin and not sturdy
4. Best Metallic Pigment Powders for Special Effects—Schmincke Aqua Bronze Powder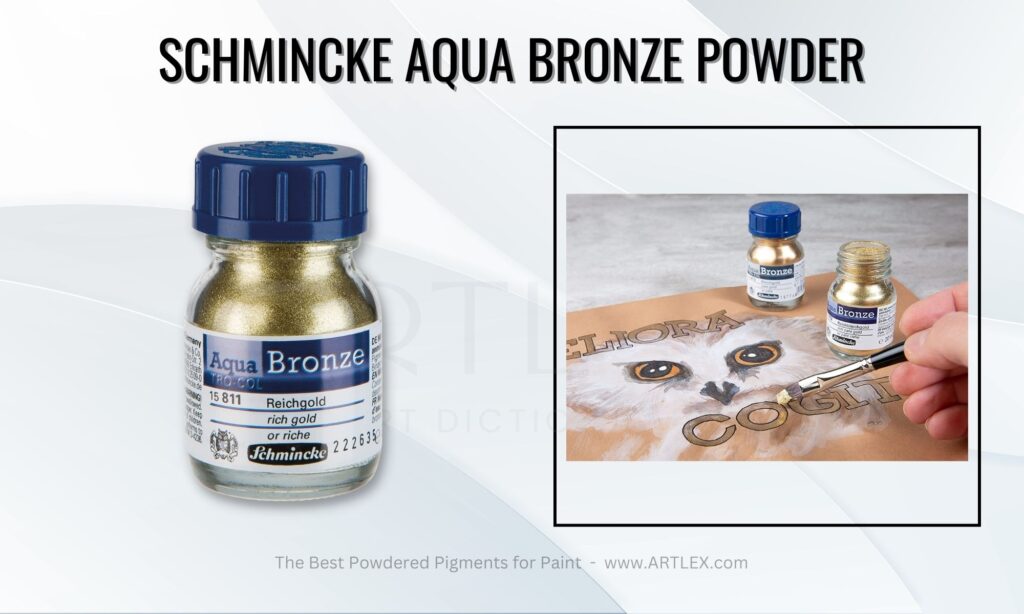 Powdered Pigments for Paint Selection Criteria
Price – $18.93 (Was $26.10)
Our score: 8/10
Paint Type — Watercolor, Gouache
Volume — 0.6 Fl Oz (Pack of 1)
Finish — Metallic
About The Schmincke Aqua Bronze Powder
If you are working with epoxy or acrylic, you may want to add some depth and special effects to your art. The Schmincke Aqua metallic powders is a good option for this type of craft. Schmincke, a German company, sells powders in gold, bronze, and silver tones. Despite the fact that the brand is recognized for their traditional range of hues, the metallic line is of similar quality.
Please be aware that these specific pigments are dry pigments which suit projects involving water based mediums only. If you want to create your own paints using metallic pigments to blend with oils, linseed oil or even wax, check out the specific Schmincke Oil metallic pigments instead.
The scent of the pigment may be unpleasant at first, but you only need a very tiny quantity to blend. How much you use is entirely dependent on your preferences, therefore there is no hard and fast rule. You can experiment with different amounts to see how you feel about them and how they will blend with your work.
Pros:
Five colors of metallic dry pigments
HIghly stable pigments
A small quantity goes a long way
Cons:
Chemical smell when keeping the bottle open for too long
5. Best Glow in the Dark Pigment Powders for Paint—Magicfly Glow in The Dark Pigment Powder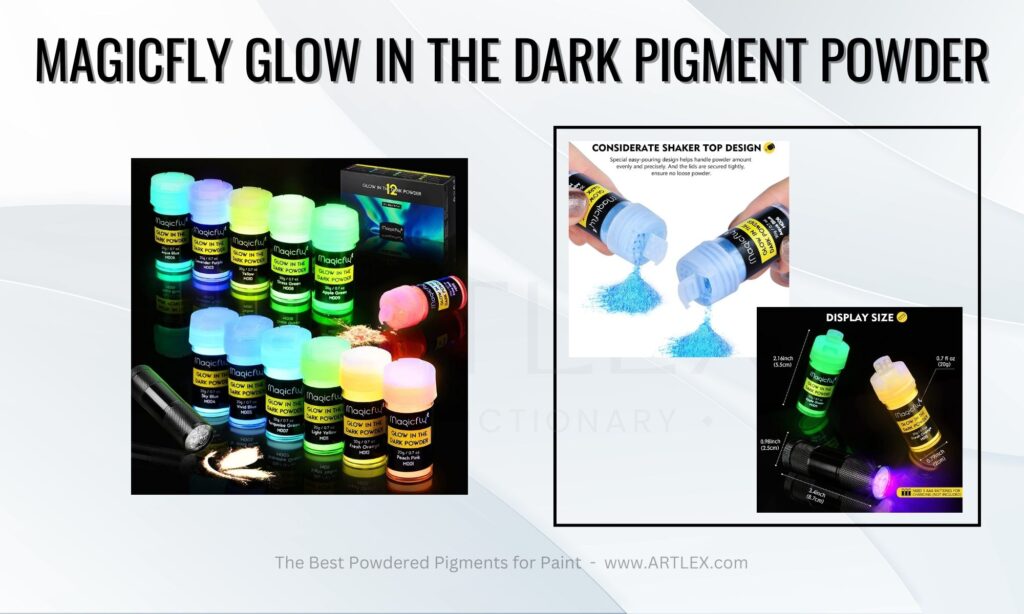 Powdered Pigments for Paint Selection Criteria
Price – $17.99
Our score: 8/10
Paint Type — slimes, epoxy resins, nail arts, paintings
Volume — 0.7oz (Pack of 7)
Finish — Glow in the dark
About The Magicfly Glow in The Dark Pigment Powder
There are a few things to check while looking for glow in the dark paints. A good quantity of pigment with minimal charge time, long lasting glow, and a tight lead is a nice place to start. The extras, however, were what made Magicfly Glow in The Dark pigment powder stand out to us.
The shaker jars were presented with a small mesh aperture on one side and a large opening on the other. So, depending on how much pigment you want to drop in your mix, you have total control over which opening to use. We also received a UV lamp in the package, which allowed us to charge the pigment quickly even without sunlight.
Do not be alarmed if your jars are not equally full. Some pigments are denser, so less volume means equal weight for all. Also, let us remind you that when you are done with your projects, store the powders in a dry place away from sunlight.
So if you are looking for a way to create glow in the dark projects, such as keychains to easily be found in a dark purse, Magicfly Glow in the Dark dry pigment powder is a good option to try.
Pros:
Thoughtful jar design, allows for exerting greater control of pigment use
UV lamp for charging included in package
Good amount of pigment powder
Non-toxic, inorganic pigments
Cons:
Needs quite a lot of time to be charged under sunlight for a good glow brightness
6. Best Chameleon Pigment Powders for Paint—Cheapart Chameleon Mica Powder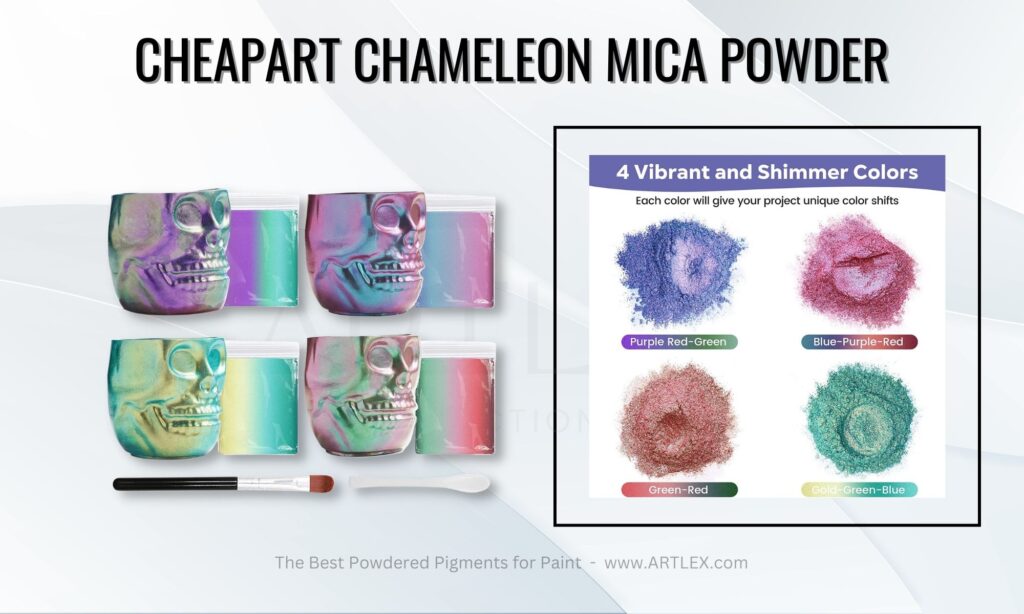 Powdered Pigments for Paint Selection Criteria
Price – $7.99 (Was $9.99)
Our score: 9/10
Paint Type — acrylics, resin, polymer clay
Volume — 0.4 Oz
Finish — Chameleon
About The Cheapart Chameleon Mica Powder
If you are creating modern formulations and are in the market for chameleon pigment powder, then Cheapart could be worth a look. Sculptures or nail art that, depending on the angle and lighting, will take on a rainbow of hues is always a fun addition to your painting media. Unlike other brands, the end result of this paint pigment will have a smooth, metallic texture, which further adds to the chameleon effect. As this powder is non-toxic, it can also be mixed with eyeshadow and lipstick as a best quality enhancer, as well as be airbrushed on skin and products.
Even though the packaging is a touch fiddly, and you will most likely need to rehome the pigments, the shine and quality make up for it. The powder is very smooth, making it simple to apply uniformly in molds, even with a brush, so the end result will always be uniform. So you can make your own paint, or dissolve it in oils, acrylics and resin for a mixed chameleon effect.
Pros:
Luminous intensity
Mica pigments non toxic, so can be used on skin and nails as well as making oils
No complex process to add extra shine
Color accompanied by brushes
Kid friendly
Cons:
Conclusion
If you enjoy your afternoon crafting sessions or consider yourself part of the 'serious artists' club, powdered pigments are a good way to gain greater control over your colors and cut costs at the same time.
And who knows? Maybe you can create and patent your own color, like misty lavender, flamingo pink or and a new lapis lazuli.
We hope you found our analysis of the top powdered pigments for paint of 2022 to be helpful. Consult our associated guides for further sources of comparable items for the artistic lifestyle.