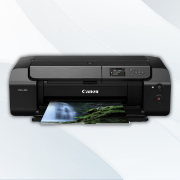 High-quality, professional printer perfect for mass-producing greeting cards, featuring automatic alignment and Skew Correction technology.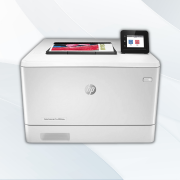 Rapid, business-oriented laser printer excelling in cardstock printing and high-volume tasks.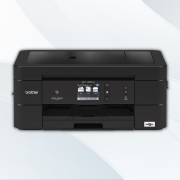 Compact and versatile wireless printer for detailed and natural-looking greeting card prints.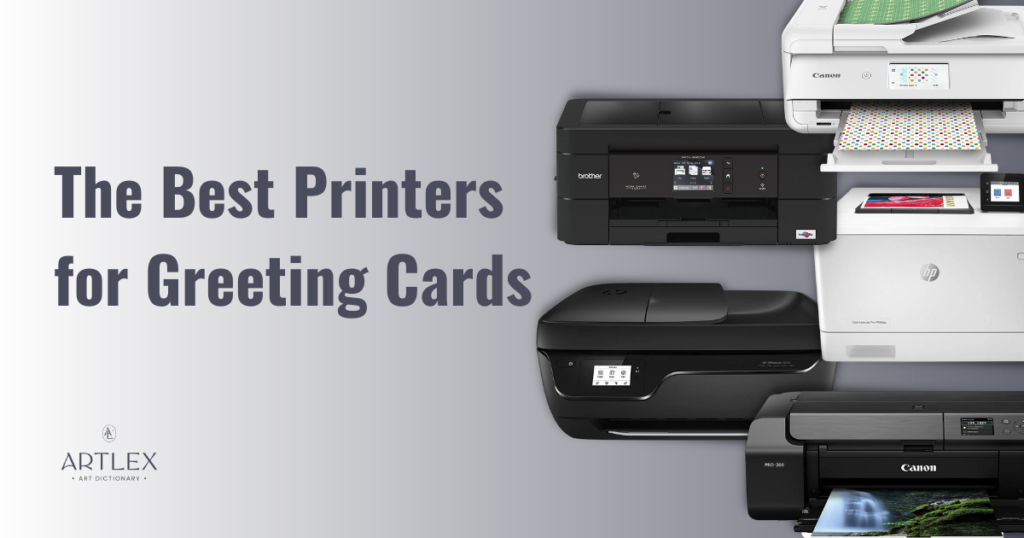 Whether you own a small business or like to personalize your greeting cards, an inkjet printer can up your game.
Greeting card printers are commonly referred to as "photo printers." They are intended to produce high print-quality pictures and can be used to make personalized greeting cards with personal photos, graphics, and text.
Photo printers employ modern, usually inkjet, technology to provide high-quality prints with fine details, vibrant colors, and smooth gradations. They can print on several types of paper, such as cardstock, glossy paper, fine art paper, as well as plain paper, for all your everyday needs. Some photo printers have extra ink cartridges or specialized inks to improve color accuracy and print longevity. The majority of them also enable wireless printing, which allows you to print using Amazon's Alexa or Google Cloud Print from your smartphones, tablets, or PC without the use of cords.
A cardstock printer will enable you to produce custom designs as a DIYer, such as personalized greeting cards with your own text and photos, which is especially beneficial for making one-of-a-kind cards for important occasions such as your loved ones' birthdays, holidays, marriages, or graduations.
However, you may find it hard to decide which machine to buy due to the high volume of inkjet and laser printers that are on the market, as they all seem the same. Choosing the correct printer can be difficult indeed.
We will discuss the best printers based on their overall printing quality, paper weight compatibility, and paper size options, which are all of primary importance when making a buying decision. We will also discuss the most appropriate choices for home all-in-one use, professional settings and a budget option, to match the needs of most people.
Selection Criteria for the Best Printer for Cardstock 2023—Buying Guide
Cardstock Printer Quality
As greeting cards frequently include high-quality photographs, a printer with high color accuracy and print resolution is essential. So you may want to choose a printer with a high resolution (at least 2400 x 1200 dpi) and a broad color range.
Another thing to consider when selecting a printer is color accuracy. In this case, inkjet printers outperform laser printers. Inkjet printers are usually the best choice if you are mainly concerned with output quality, but keep in mind that they lack in terms of speed.
Additionally, a color-accurate monitor is vital for getting the desired results from your printing. The best options are discussed in length in our article on optimal displays for digital photographers and photo editing.
Paper Weight Compatibility
Make certain that the printer you select is capable of handling the type of paper or cardstock you intend to use for your greeting cards. In general, you may want to use a printer with a straight paper path to avoid paper jams and ensure even printing, especially for thicker paper.
LBS and GSM are the usual paper weight measurements. Due to the impact it has on the quality and clarity of the paper, only medium to heavy GSM is used for art prints and card stock.
It is advised that you select a printer that can handle thicker and heavier paper, with weights ranging from 120 to 380 GSM, so that you can print on a variety of paper types without curbing your imagination. Using printers with insufficient paper weight capacity may increase the frequency of print jams, requiring you to accept lower paper quality in the long term.
Although some home printers are capable of printing on thick sheets, the majority are not. If you intend to print on thick cardstock, look for a printer with high-quality rollers and a robust motor.
So, to begin your search for the best card stock printer, you should first have a broad idea of the weight of the paper and the intended design. You should also keep in mind that the paper coating, in addition to the paper construction and weight, may affect printability. The film left behind by coated paper can quickly clog printer rollers. As a result, most manufacturers recommend that you run a standard sheet of paper through your printer after printing every two or three coated sheets. This will aid in the removal of the coating from the rollers and will assist to increase the life of your printer.
Paper Sizes
When looking for the best printer for cardstock, consider the maximum paper size and print format that it supports. You should opt for a printer that can handle a variety of paper and card sizes, compatible with your project now and in the future.
For reference, an A4 piece of paper measures 8.3 by 11.7 inches, and the maximum size you'll probably need is an A2, which measures 16.5 by 23.4 inches. So, if you intend to work on large-scale projects, you should also consider purchasing a wide-format printer.
While inkjet printers are normally slower than laser printers, this can vary depending on print size and whether borderless printing is enabled.
As a result, it is advantageous to examine not just the initial uses for which the printer will be utilized but also any other uses that may occur in the future.
Keep in mind that while high-end printers are more expensive up front, they will pay for themselves in the long run by removing the need to send work to an expensive lab for large prints.
Top Product Recommendations for the Best Printers for Greeting Cards 2023
1. Overall Best Card Stock Printer—Canon PIXMA PRO-200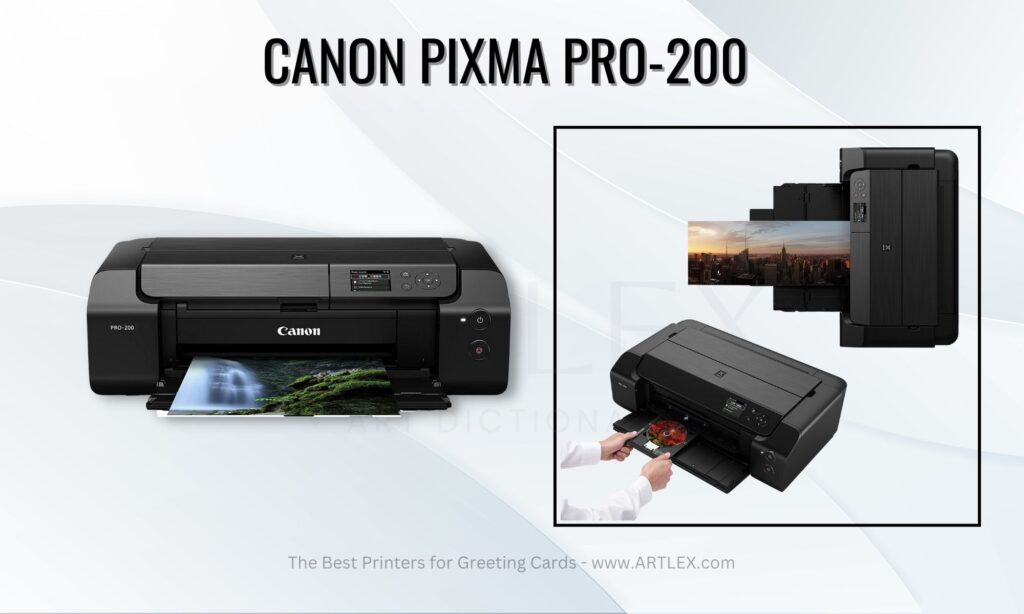 Cardstock Printing Selection Criteria
Print Quality – 10/10
Paper Weight Options – 10/10
Paper Size Options – 10/10
About Canon PIXMA PRO-200
Due to its capacity to generate lab-quality prints, the Canon PIXMA Pro 200 is a wonderful option for photography enthusiasts. It is ideal for mass-producing greeting cards up to A3 size without borders, so whether you like to send personalized wishes or you own a printing business, this inkjet printer is a great option to consider.
The tray can hold up to 150 pages, and the manual feeder can handle cardstock as thick as 380GSM, making this an excellent choice for artists and crafters alike. Even more surprising is the inclusion of a third feed option that can be used to print directly onto discs and photo paper. On the PIXMA PRO-200, Skew Correction technology enables exact paper loading; paper alignment is handled automatically by built-in sensors, ensuring excellent prints every time.
However, as it requires eight ink cartridges, this printer is more expensive, but it is definitely worth it if you want to use it for professional-quality photographs on your greeting cards. Even though this is the best printer for making cards and printing invitations, keep in mind that the results will vary based on the paper type you use.
While pigment inks have traditionally had a longer lifespan, Canon claims that their official dye inks will last for 100 years, making this a moot point as long as you stick to their brand.
Because dye-based inks can give either a magenta or a greenish tint, there is some variety in black-and-white prints. You can still get fantastic results when printing in black and white, but it will take more calibrating to achieve ultimate brilliance.
Pros:
Automatic duplex printing
Wide range of photo paper
Automatic document feeder
Borderless prints
Cons:
2. Best Laser Printer for Greeting Cards—HP Color LaserJet Pro M454dw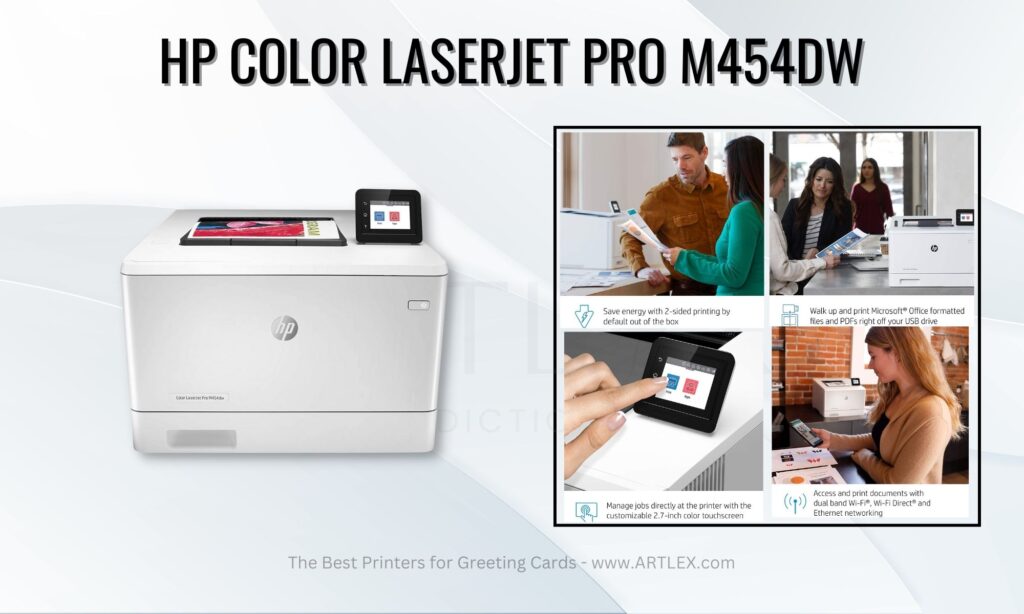 Cardstock Printing Selection Criteria
Print Quality – 9/10
Paper Weight Options – 8/10
Paper Size Options – 9/10
About HP Color LaserJet Pro M454dw
The HP color laser printer M454dw was created with businesses in mind in terms of pricing, lifespan, and the need to print a lot of copies quickly. The input tray of the printer can hold up to 250 sheets of paper, and its 2.7-inch color touchscreen makes it simple to use.
While laser printers aren't great for printing images or detailed papers due to their low picture quality, they do excel in other areas, such as printing on cardstock and mass manufacturing of invitations and greeting cards.
With a print speed of 28 pages per minute and a cheap cost per page, this HP printer is the best choice if you frequently produce large amounts of either. The 'HP instant ink' service offered by this company remotely checks your ink levels and sends you replacements before you even run out.
For cardstock prints on thick photo paper, this is the best color laser printer with the maximum cardstock weight being 175 gsm, which, albeit low as an absolute number compared to inkjet options, is more than enough for most postcards or greeting cards.
Aside from saving paper with automated two-sided printing, the front USB port on this printer allows you to print files directly from your device for even faster service, and the HP WOLF PRO security ensures that no uninvited hackers or cybercriminals have access to your company's secret data.
Pros:
Good for high-volume printing
High print speed
HP instant ink service
Double sided printing
Cons:
Lower DPI than inkjet printers
3. Best Compact Inkjet Printer for Cardstock—Brother MFC-J895DW Wireless Printer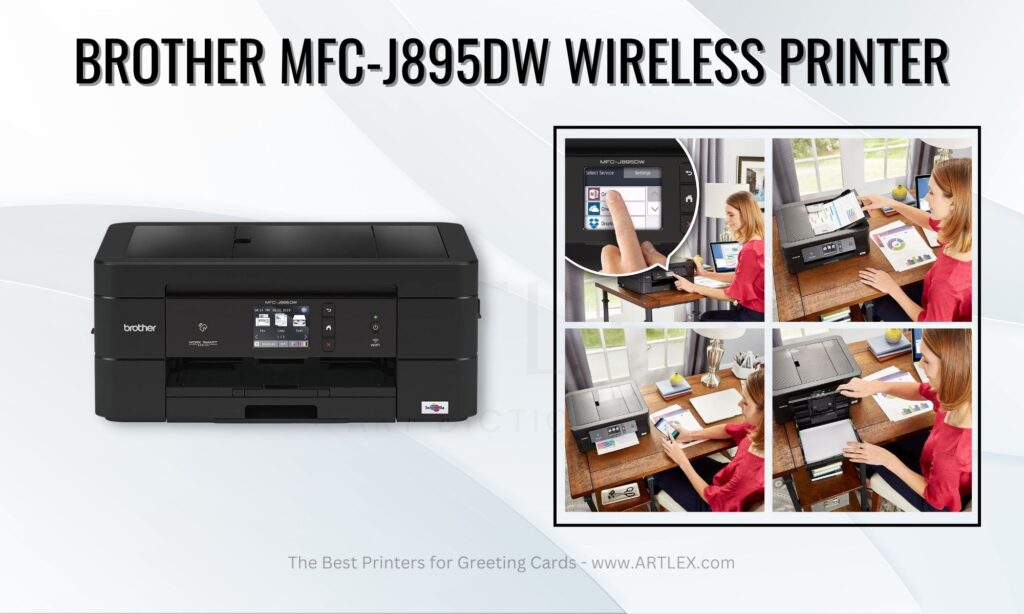 Cardstock Printing Selection Criteria
Print Quality – 9/10
Paper Weight Options – 8/10
Paper Size Options – 9/10
About Brother MFC-J895DW Wireless Printer
Another good wireless all-in-one printer is the Brother MFC-J895DW. It's portable and has great possibilities for printing beautiful greeting cards, while it fits perfectly on your desk due to its compact size.
Cardstock and specialty paper can be loaded into the printer manually. It does, however, include a single paper tray that can hold either 150 sheets of normal paper or 20 sheets of high-quality photo paper.
As it offers a variety of connecting options, you can print from both your mobile device and your computer via Wi-Fi, USB interface, and Ethernet. This Brother printer holds the ability to print from a USB drive, which has made it quite popular among crafters. It even supports AirPrint, Mopria, Brother iPrint & Scan, Google Cloud Print, and Wi-Fi Direct for easy mobile printing. Keep in mind that the memory card slot and USB port are on the chassis's left side, opposite the ink cartridge bin.
This inkjet printer produces excellent results on glossy paper, picture paper, and card stock as it uses ultra high-yield ink. Despite minor flaws with dark fills, conventional graphics appear good. Please keep in mind, though, that this is not the printer to use for bulk production of greeting cards.
The MFC-J895DW creates prints that are both detailed and natural-looking when using matte photo paper. At this price point, high-quality photo printing from an inkjet printer is not extraordinary, but for use in home and small business contexts where printing photos and graphics on greeting cards is a routine function, this machine is a fantastic alternative to explore.
Pros:
Automatic duplex printing
Automatic document feeder
Variety of paper sizes
High printing quality
Simple interface
Cons:
4. Best All-in-One Printer for Home Use—Canon TS9521C All-in-One Wireless Printer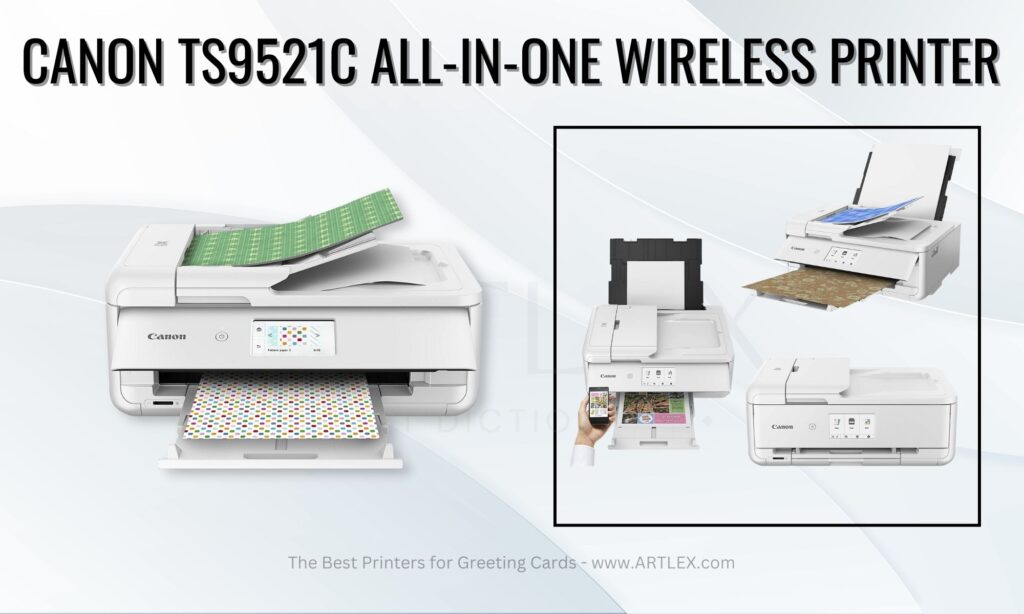 Cardstock Printing Selection Criteria
Print Quality – 9/10
Paper Weight Options – 9/10
Paper Size Options – 10/10
About Canon TS9521C All-in-One Wireless Printer
The Canon TS9521C All-in-One Wireless Printer is a wonderful choice if you enjoy making greeting cards and other forms of crafty expression. It is the first desktop inkjet printer that comes pre-configured to print seven-by-ten-inch paper sizes that fold to make five-by-seven greeting cards. Greeting cards of the five-by-seven-inch size are the industry standard and are available in most retailers.
Your prints will last a lifetime without fading thanks to ChromaLife 100, as promised by the manufacturer. This cardstock printer also holds five ink cartridges, four of which create vibrant colors and the fifth is reserved for printing in black. Its five-ink system allows you to replace the ink judiciously, so you won't be wasting any.
For a home printer, black and color printing at 15 and 10 pages per minute (IPM) is quite reasonable. Greeting cards printed at a resolution of 4800 x 1200 dpi are similarly clear and detailed as professional ones that you find at the stores. The printer can also print on photo paper, including satin and glossy. However, if using heavy stock, load no more than ten sheets at a time, and only papers no heavier than 120 GSM into the front paper tray.
While the TS9521C is compatible with other platforms that support IFTTT (If This Then That) scripting technology, its principal "smart" feature is its ability to print when prompted to do so by voice, specifically with Amazon's Alexa and Google's Assistant. Some scripts come preinstalled with this Canon printer, but you can also write your own or search for, download, and edit scripts online.
Finally, the Message in Print software can be used to hide music, video, and text within a picture, and it has a memory that contains over 40 distinct printable patterns, such as dots, squares, checkerboard, seasonal, and many more, that can be used as backgrounds for greeting cards.
Pros:
Augmented reality features in greeting cards
Pre-installed patters to be used as background
Commercial size greeting card printing comes pre-installed
Automatic document feeder
Borderless printing
Low ink cost due to the ability to replace colors separately
Cons:
Borderless prints come only at 7 x 10 inches; for other sizes, you need to create custom sizing which will not allow to print borderless cards
No OSX drivers, for Mac users
5. Best Printer for Cardstock Small Businesses—Epson SureColor P700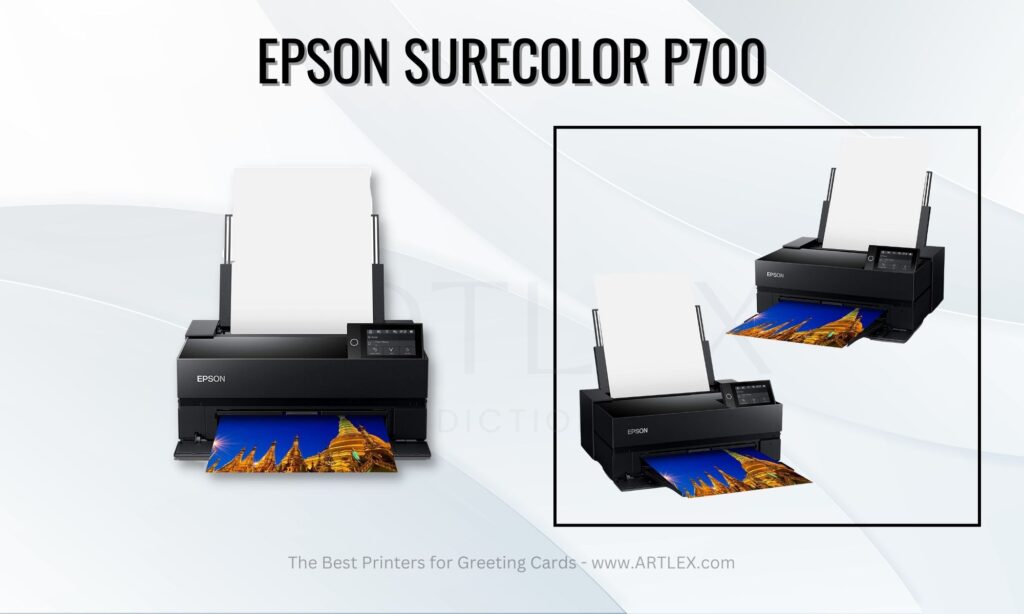 Cardstock Printing Selection Criteria
Print Quality – 10/10
Paper Weight Options – 10/10
Paper Size Options – 10/10
About Epson SureColor P700
If you require a printer for printing greeting cards on thick cardstock for your business, the Epson P700 is a good choice; but, the high cost of refilling ink may be a deal breaker.
The SureColor P700's high-quality photo output can be ascribed to a variety of reasons, including its precise ten-channel MicroPiezo AMC printhead, which sprays droplets as small as 1.5 picoliters in size. The printer can print rapidly and efficiently since it does not have to waste time and ink cleaning the nozzles when switching between picture black and matte black inks. Due to its ink-repelling coating, nozzles are less likely to become clogged. But, in order to justify this printer, you should print every day, as the printer heads may become clogged with little use and will waste a lot of ink when cleaning on startup.
Also, unlike many inkjet printers, this one comes with two black cartridges, one for gloss paper and one for lustre paper, and it will automatically select the correct black cartridge for the paper type being used, so you can print professional pictures on your greeting cards without worrying about the final result.
The P700 works on conventional paper sizes ranging from four by six inches to 13 by 19 inches. Furthermore, it can accommodate high quality paper rolls with a diameter of 13 inches and a core size of two inches. Its tray may hold up to 120 regular sheets of paper, 30 pictures, or a single sheet of thick fine art media in terms of paper size. Also, it sports a front media channel that can accommodate one sheet of paper of any thickness.
This inkjet printer also supports approximately ten different preset paper sizes, allowing for borderless printing of photos and documents. So, when it comes to printing cardstock, especially in a professional context, this machine will have you covered.
Pros:
High quality print photos
Ink delivered by a ten-channel MicroPiezo AMC printhead
High print speed
Cons:
6. Best Budget Printer for Cardstock—HP OfficeJet 3830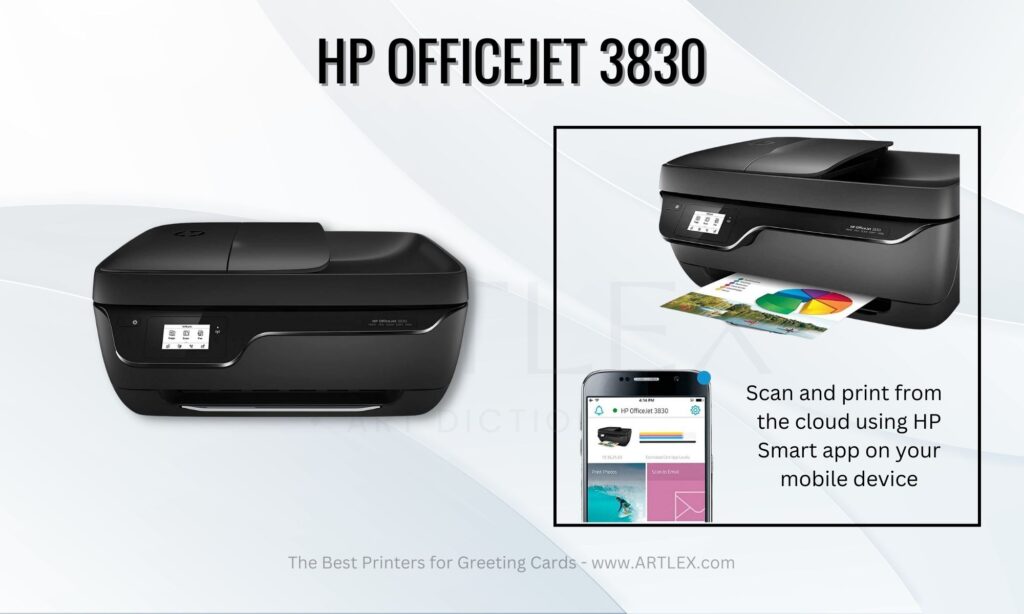 Cardstock Printing Selection Criteria
Print Quality – 9/10
Paper Weight Options – 8/10
Paper Size Options – 9/10
About HP OfficeJet 3830
The HP OfficeJet 3830 is an excellent printer for home customers, on a tight budget, that need to print on cardstock. High-resolution prints at up to 4800 x 1200 dpi can be produced using only two ink cartridges, which is fantastic because it means you can get professional results without spending a fortune on ink.
The HP OfficeJet 3830, like every other HP printer, uses HP's Instant Ink technology which is an ink service, where you pay a fixed monthly fee and automatically receive replacement cartridges in the mail when your current ones run out. If you print frequently, this can be a major time and money saver.
This printer works equally well with heavier paper and thinner sheets. It's ideal for creating customised photo cards, as you can incorporate your favorite images along with heartfelt messages, and print directly from your phone or tablet. Its automatic document feeder will help you create four by six photo prints, with the use of your voice, as it is compatible with Amazon's Alexa.
The HP OfficeJet 3830 is the most affordable option if you need a device that can print on cardstock in addition to standard paper, as it includes all of the features you need for daily use, such as copying, scanning, wireless printing, and faxing.
Pros:
HP instant ink services
Optional quiet mode
Borderless printing
Low ink cost
Cons:
Conclusion—The Best Greeting Card Printer 2023
If you are looking for the overall best inkjet printer for cardstock printing, you should have a peak at the Pixma printing solutions, and in particular the Canon PIXMA PRO-200. For printing greeting cards either for your home or your business, this machine will cover almost all your needs, as you can print borderless greeting cards, even on heavy duty paper, in a blink of an eye.
However, if you are on the market for cardstock printers to be used at home, then the Brother MFC-J895DW Wireless Printer is another good option, as it offers high print speed, compact design, and high quality colors for all your greeting card needs.
We hope you found our analysis of the best printer for cardstock of 2023 to be helpful. Consult our associated guides for further sources of comparable items for the artistic lifestyle.