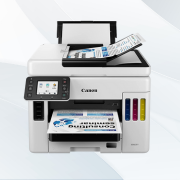 A high-volume, high-speed ink tank printer suitable for business and home offices.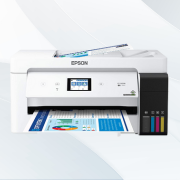 A high-quality, multifunctional, wide-format printer, perfect for high-quality photo printing.
Canon G6020 Megatank Printer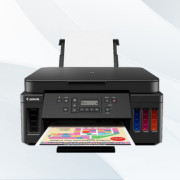 An affordable, high-resolution printer with wireless connectivity and versatility in printing on different media.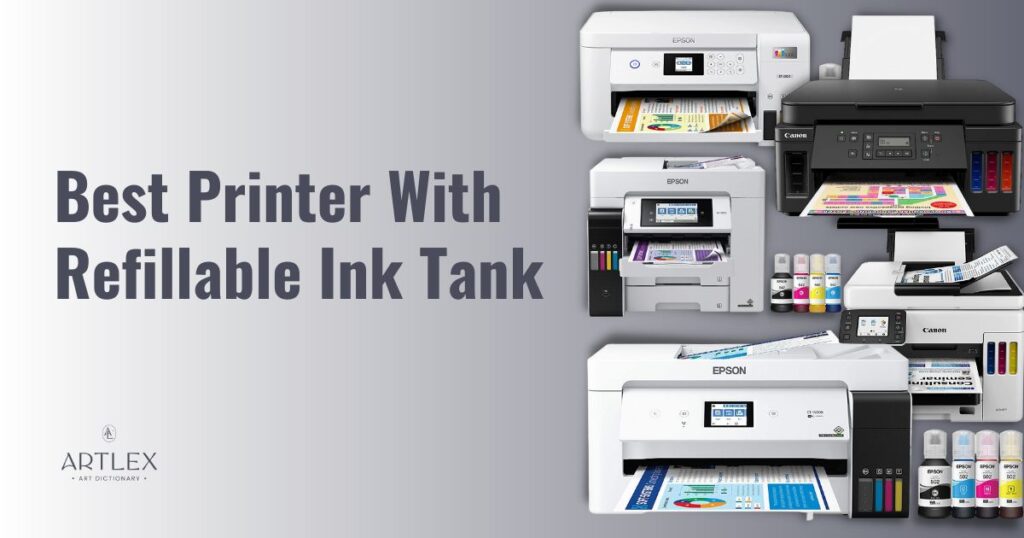 A printer is one of the most valuable yet underrated assets anyone can have; whether you're a working professional, business owner, student, or parent, you've probably noticed owning a printer is a huge advantage since the paper is a standard need in many industries and situations. Data can be modified, batteries can die, and servers can fall, but a paper will last for decades and keep information and data safe.
In the world of printers, there are several types of devices, each using different types of ink and printing systems and with different purposes. You might've heard the word laser, inkjet, and wide-format, and they all come at different prices.
One of the most common issues that people tend to have with printers is related to replacing ink cartridges when they're empty, not only because of the hassle of constantly buying cartridges but because of the cost and environmental impact plastic has on the planet.
Unlike traditional inkjet printers that use replaceable cartridges, printers with refillable ink tanks come with built-in, refillable ink tanks, making them a more convenient, cost-effective, and eco-friendly option for individuals and businesses alike.
In this article, we'll talk about the features you need to look for in printers with refillable ink tanks, and we'll answer some of the most frequent questions about printers and list some of the best devices available in the market today.
The Best Printers with Refillable Ink Tanks in 2023
Best Ink Tank Printer Overall –Canon Maxify 7021
Best Ink Tank Wide Format Printer – Epson EcoTank ET-15000
Best Budget Ink Tank Printer – Canon G6020 Megatank Printer
Best Ink Tank Printer for Volume Printing – Epson EcoTank Pro ET-5850
Best Ink Tank Printer for Crafting – Epson Ecotank ET-2850
1. Best Ink Tank Printer Overall – Canon Maxify 7021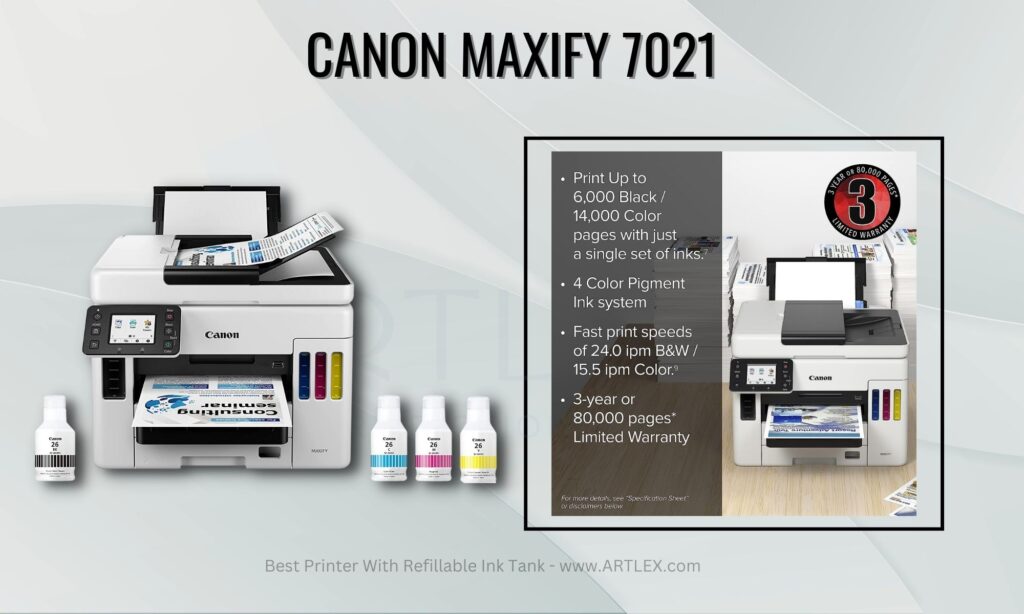 Selection Criteria
Printing Size and Resolution: Up to 8.5″ x 14″, 4800 x 2400 dpi
Printing Speed: 25 ppm in Black and 15 ppm in Color
Connectivity: Wifi, USB, Ethernet. Air Print Supported
Compatibility: Windows, Mac, Android, iOS, iPadOS
Price: $649
About the Canon Maxify 7021
The Canon Maxify GX7021 is a refillable ink tank printer that provides a high-volume ink supply with a high-speed printing capability of up to 24 pages per minute in black and white and up to 15 ppm in color and a small footprint that fits any working space; this printer is a great option for business, home offices, or studios.
It prints in multiple materials, like envelopes, cardstock, and photo paper, making it a versatile tool for any user. It features an auto document feeder for printing, copying, or scanning and has multiple connectivity options and an LCD screen for USB direct printing.
One of the standout features of the GX7021 is its large ink tanks, which can hold up to 6000 pages of black ink or 14,000 pages of color. And if things don't go well, canon has a 3-year or 80000 pages warranty with instant exchange of the product in case yours stops working, and since it includes a set of ink bottles, you'll be set for a long time.
Pros
Small footprint, fits in any workspace
High-capacity ink tanks
ADF and double-sided printing
Great price
Cons
Some users have reported wireless connectivity issues
Not as budget-friendly as other options
2. Best Ink Tank Wide Format Printer – Epson EcoTank ET-15000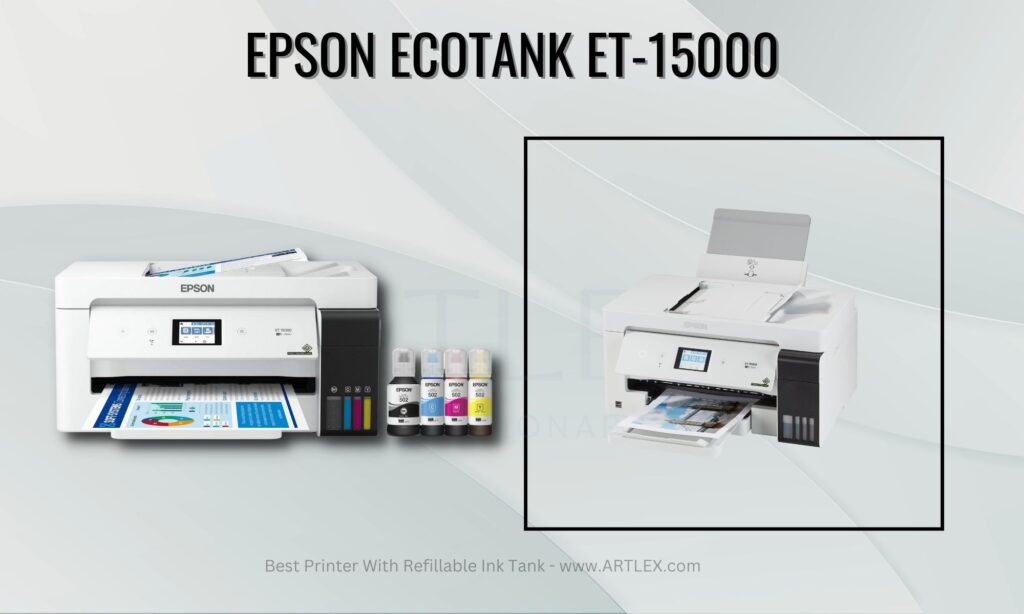 Selection Criteria
Printing Size and Resolution: Up to 8.5″ x 14″, 4800 x 1200 dpi
Printing Speed: 17 ppm in Black and 9 ppm in Color
Connectivity: Wifi, USB, Ethernet. Air Print Supported
Compatibility: Windows and Mac
Price: $799.99
About the Epson EcoTank ET-15000
It's not a secret that the Epson ET 15000 is a great printer. Be it for photos, infographics, posters, etc; this printer is the best choice. No wonder it's hard to find and constantly being sold out on amazon.
This printer is one of the few high-quality photo printers that also supports wide format; it can print 17 pages per minute in black and up to 9 pages per minute in full color. It's also a multifunctional device that can print, copy, scan, and even fax, so it's good for home offices and businesses. And for the crafters that are looking for a wide format printer to convert to sublimation, this is also an excellent choice.
The automatic document feeder improves your productivity, and the voice activation and automatics double-sided printing function are just the cherries on top. We recommend you go to a distributor or buy directly from the EPSON store since associated sellers on amazon will raise the prices a bit too much just because this printer has high demand.
Pros
Wide-format printing
High-quality printing, great for photos
ADF and double side-printer
Ink is very affordable
Cons
Constantly out of stock
On the expensive side
3. Best Budget Ink Tank Printer – Canon G6020 Megatank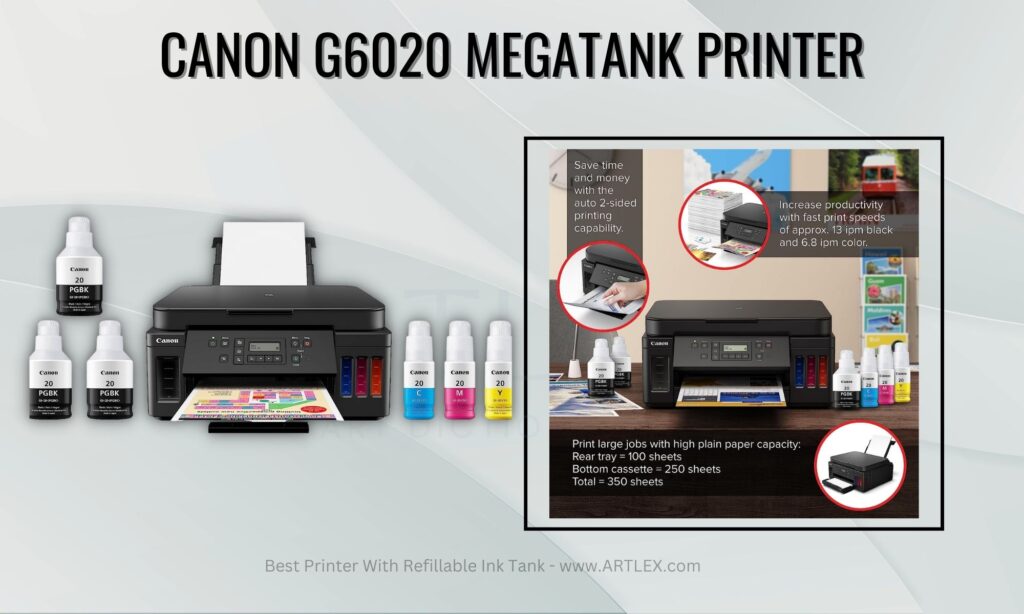 Selection Criteria
Printing Size and Resolution: Up to 8.5″ x 11″, 4800 x 1200 dpi
Printing Speed: 13 ppm in Black and 7 ppm in Color
Connectivity: Wifi, USB, Ethernet, PictBridge. Air Print Supporteda
Compatibility: Windows, Mac, Android, iOS, iPadOS, FireOS
Price: $249
About the Canon G6020 Megatank
When researching for the best refillable ink tank printers, we couldn't find many budget options since ink tank printers always suppose a bit of an initial inversion in exchange for long-lasting, affordable ink, and if there is a budget printer, it will have major shortcomings like limited features, connectivity options or even print in black only.
This small, affordable powerhouse is the only printer that can qualify as a "budget" while keeping all the cool functions an all-in-one printer has. It has quite a high printing resolution, and its 250 sheet paper tray and 13 pages per minute speed make it an efficient high-volume printer.
The Canon G6020 is also wireless, which will allow you to print from any device, including apple devices, since it supports Air Print, and it's also a great option for borderless printing in different media since it can print on plain paper, photo paper, magnetic paper, sticker paper, and cardstock.
Overall, the Canon PIXMA G6020 MegaTank is a reliable and efficient printer that can help you save money on ink costs while providing high-quality prints and a range of useful features for home and small office use.
Pros
Great price for the many features
High-capacity ink tanks
Wireless connectivity and Air Print support
Cons
It doesn't have ADF or Duplex printing
Doesn't have a small footprint
4. Best Ink Tank Printer for Volume Printing – Epson EcoTank Pro ET-5850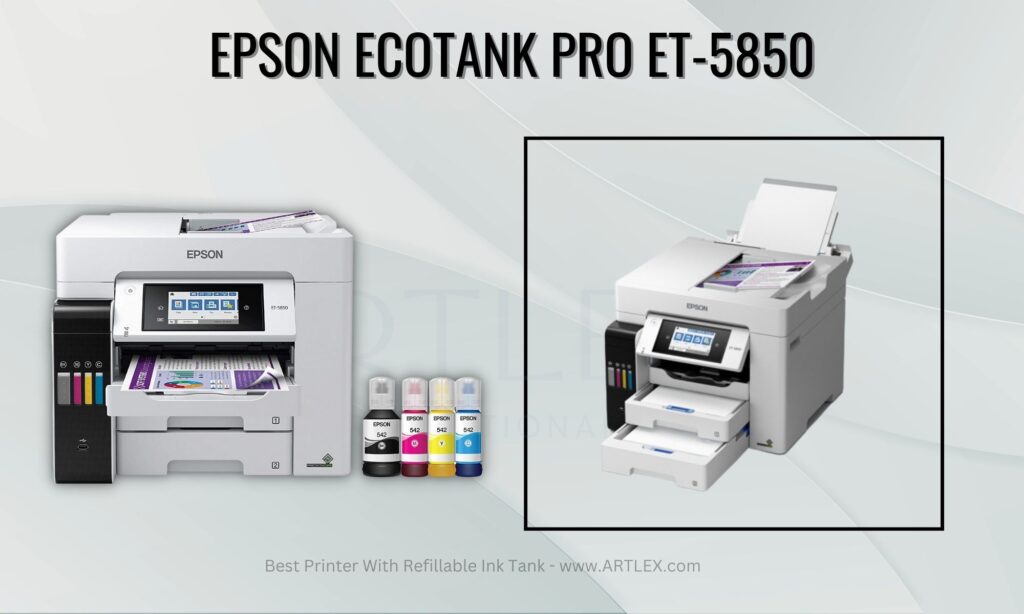 Selection Criteria
Printing Size and Resolution: Up to 8.5″ x 11″, 4800 x 2400 dpi
Printing Speed: 10 ppm in Black and 5 ppm in Color
Connectivity: Wifi, USB. Air Print Supported
Compatibility: Windows, Mac
Price: $311
About the Epson EcoTank Pro ET-5850
The Eco Tank Pro ET-5850 is not your average tank printer; besides having a bombastic 2400 x 4800 dpi, this all-in-one printer also has automatics duplex printing, faxing, and copying, which makes it the perfect choice for medium to large-sized businesses or for those who need a powerful printer.
Most ink tank printers have similar features; however, what makes the Epson Ecotank Pro the best device for volume printing is the fact that Eco now turned into Super Tank, meaning more ink, fewer ink replacements, and more printing.
Not only this printer needs less ink, but it also comes with a two-year unlimited ink supply, so save your ink bottles because that's all you're going to need to receive more ink for absolutely free.
The hidden tray can hold up to 550 pages, and it features a wide 4×3 inches touch screen for easier navigation and setup. Besides all that, this printer is ENERGY STAR certified, which means it meets strict energy-efficiency guidelines set by the U.S. Environmental Protection Agency.
Pros
Unlimited ink supply for two years
ADF and duplex printing, copying, and scanning
High page yield and printing resolution
Cons
On the expensive side
Paper jams have been reported when switching trays
5. Best Ink Tank Printer for Crafting – Epson Ecotank ET-2850
Selection Criteria
Printing Size and Resolution: Up to 8.5″ x 11″, 4800 x 1200 dpi
Printing Speed: 13 ppm in Black and 7 ppm in Color
Connectivity: Wifi, USB, Ethernet, PictBridge. Air Print Supported
Compatibility: Windows, Mac, Android, iOS, iPadOS, FireOS
Price: $249
About the Epson Ecotank ET-2850
We all remember the ET-2760, the printer all crafters had and used, which was reliable, high quality, and very, very popular. Sadly, it was discontinued not so long ago. Although it is still being recommended by most sites and listed on amazon, EPSON doesn't offer support or updates for that model.
The new version is what we are presenting to you today; the Ecotank ET-2850 has about all the same features as the ET-2760 but is better, faster, and, more importantly, covered by EPSON's customer service and warranty. The ET-2850 has a high printing resolution, automatic duplex printing, and can also connect to your home or office's Wi-Fi network, which allows you to print from anywhere in the room and supports mobile printing via the Epson Connect app.
One of the features that make it appealing to crafters is the possibility of turning this device into a sublimation printer since the price is lower than other ink tank printers, and while the amazon sellers have raised the prices of the discontinued version, the ET-2850 ends up being the most affordable and better option overall.
Pros
Not as expensive
Great for crafts
Duplex printing
Cons
Needs maintenance
Wireless connectivity issues have been reported by some users
What Are Refillable Ink Tank Printers?
A printer with refillable ink tanks is an inkjet printer that uses a continuous ink supply system in the form of ink tanks instead of traditional cartridges. This means that instead of changing cartridges every 4 to 6 months (in case you don't print in volume, of course), you would only have to get a set of bottled ink and refill the tanks about every 2 – 2.5 years.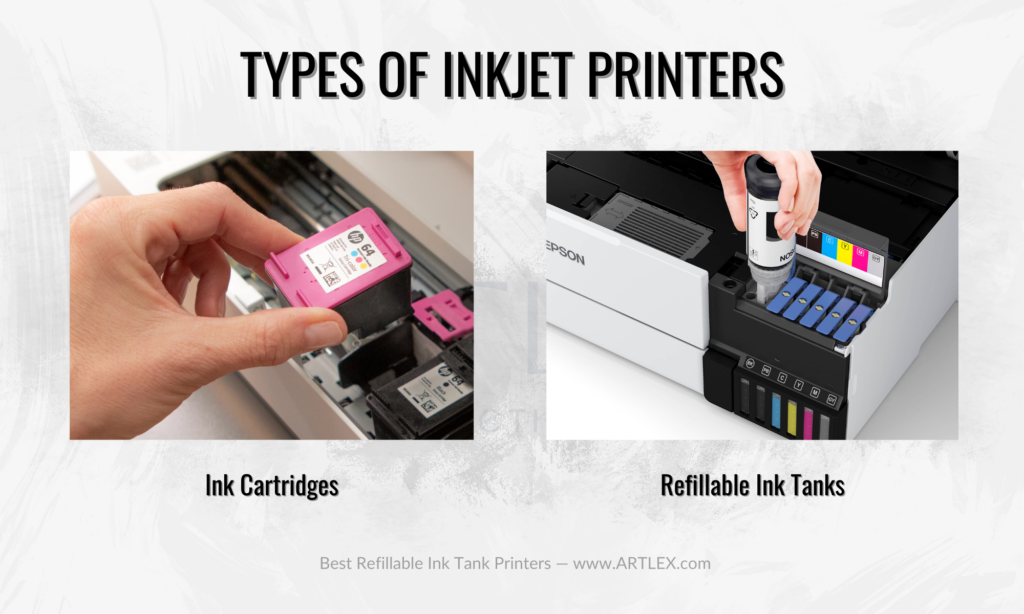 There are several types of printers in the market, with the two most popular being laser and inkjet. Until not that long ago, both laser and inkjet printers only used cartridges, limiting the use, convenience, and functionality and raising the long-term costs enormously.
For an occasional user, a cartridge might've worked just fine, but for a volume user, it was simply not enough. It came to the extreme that people were either adapting third-party continuous ink printing systems to their printers or refilling cartridges on their own, risking ruining the cartridge, voiding the printer's warranty, or ruining the printer itself.
Since this method was only available for inkjet printers users, the companies decided to take a big step and replace the cartridges with an internal continuous ink supply system that can be easily refillable with low-cost ink bottles and that last a very long time.
What to consider when buying a printer?
When buying a printer, we might find ourselves overwhelmed by the massive amount of options available on the market. With so many different brands, models, and features to consider, it can be difficult to know where to start.
Although you need to think thoroughly about what you're going to use this printer for, the best refillable ink printers always share some common characteristics and features, like the ones we've listed below:
Print Size and Resolution
The print size determines the maximum size of the paper that the printer is able to handle. Most refillable ink printer models are designed to support different paper types and sizes, but there are some limitations you need to consider.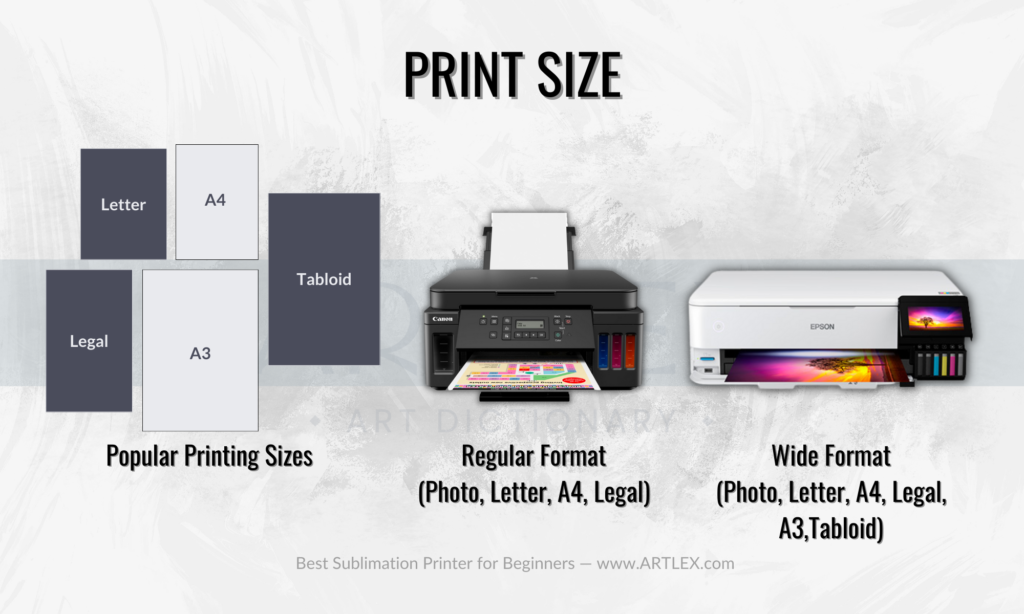 For example, most printers will be able to handle the standard letter-size paper without any issues. However, if you need to print larger documents, such as legal-size paper, or A3 formats, you'll need to choose a printer that can handle wide-format printing.
This also supposes a rise in the printer's price and functions, but it's the less expensive option compared to industrial printers' prices and occupies much less space.
Printing resolution is also important since it will directly affect the quality and sharpness of your prints. Inkjet printers use micro dots of ink, combining them to generate different colors, so the highest the dpi resolution your printer can handle, the better the prints you'll be able to get.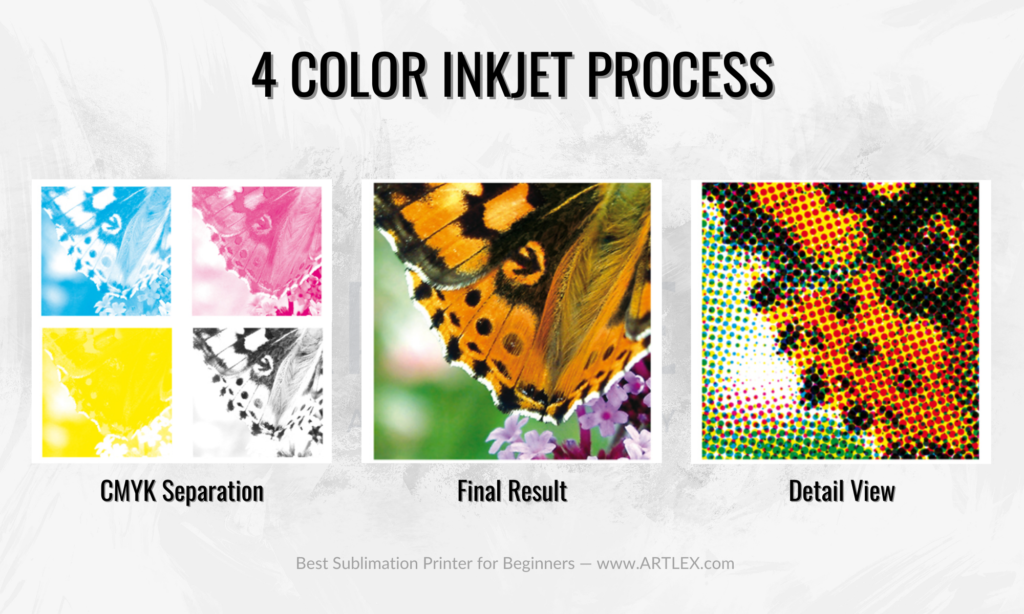 Modern printers can have a printed resolution of about 4000 dpi for color images and 600 dpi for black, which means you'll be able to print high-quality images and text with a home or office printer, which is especially useful for photo printing and graphic design.
It is important to note that print quality can affect the ink usage of your printer since high-quality prints need special paper and much more ink.

Although the image resolution does significantly affect the result and some specialized high-resolution photo printers use individual ink cartridges, having a high-resolution ink tank printer will always be the better option than cartridges that run out of ink in the middle of a print.
Printing speed
Print speed refer to the number of pages per minute a printer can print, it can vary depending on the content you plan to print and the printer brand and model. Any printer will print documents with only text much faster than images, so although the usual criteria to determine the speed of a printer is PPM (pages per minute) what we need to look for is IPM (images per minute) or a lower number next to the PPM value to know the real printing speed we'll get.
Some printers can print fifteen pages per minute, while others take more than a minute to print one page. If you plan on printing large volumes or want to improve your efficiency and productivity, then looking for a high printing speed is recommended, an automatic document feeder function is also a great way to speed up the scanning and printing process. You might also want to look for double side printing or two feeding trays.
Remember that even the best ink tank printers' speed will be affected by the connectivity, a printer with wireless connectivity may take longer to print than if it were connected via USB.
Connectivity and Compatibility
Connectivity is essential when purchasing a printer because it guarantees compatibility with various devices, streamlines setup and usage, allows for remote and multi-user printing, and keeps your printer up-to-date.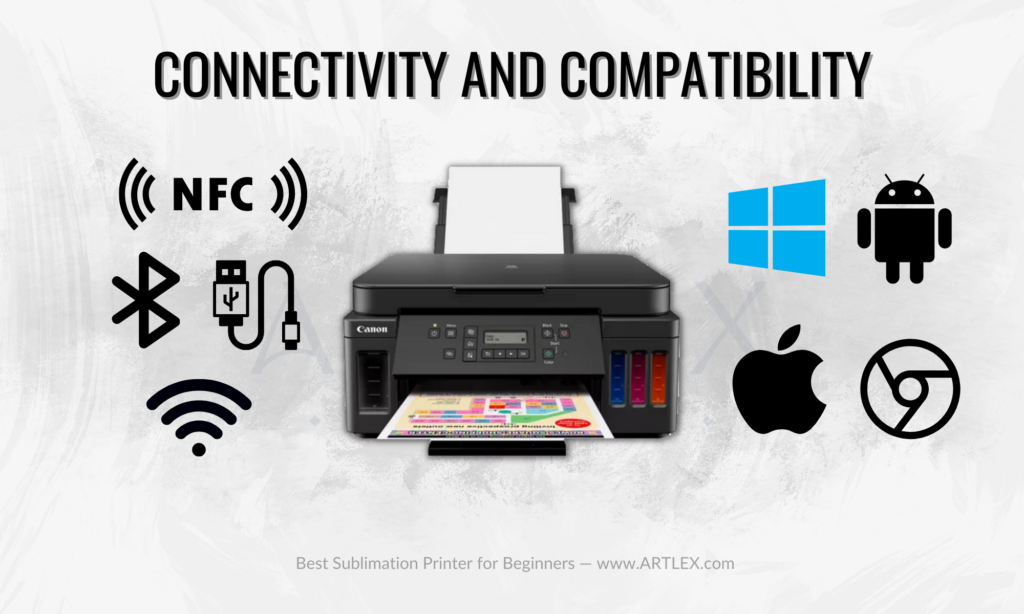 Modern printers typically offer USB and wireless connectivity options. However, some models may not support wireless connections. For enhanced mobile device functionality, consider NFC connectivity, which makes printing even easier by bringing your mobile device closer to the printer. Apple users should look for AirPrint compatibility, simplifying printing from iPhones or iPads.
Additionally, make sure to explore your printer's app features for wireless and cloud-based printing capabilities, even if your device is not compatible with Air Print.
Ease of use and Maintenance
From the set-up, ink filling, connection, and re-filling, a good printer with ink tanks must have several key features that make it easy to use and maintain.
First, it should have clear instructions that are easy to understand and execute; the printer must have a control panel with clear labeling since icons tend to be hard to understand and, often, will require you to have the manual on hand.
Filling the ink tanks should also be an easy and straightforward process; the ink tanks should be designed to prevent spills and leaks, and the refill bottles should come with easy-to-use nozzles that fit snugly into the tanks' refill ports. Bonus points if they come with key-shaped heads, which make filling the inks in the right compartments easier and more accessible to everyone.
Connecting the printer to the wi-fi network of your office or home should also be an easy process; if the printer can automatically download drivers and controllers after being plugged in, that's even better.
An all-in-one printer is always a better option, especially for offices, small businesses, and schools, and while an automatic document feeder is not always a must, it is a nice feature to have. You can also go for a printer that has a double-side automatic printing feature in case you want to print in volume and save on paper costs.
Cost
The starting cost of a printer with refillable ink tanks is higher than your average cartridge-use printer, which might be disappointing at first; however, in the long run, investing in a printer with refillable ink tanks can save you a significant amount of money.
This is because the cost of replacement ink bottles is much lower than that of traditional ink cartridges. In fact, many refillable ink tank systems can provide up to 10 times more pages per refill than a standard cartridge.
Some might argue that cartridges are also refillable, but we remind you that refilling your cartridges is an incredibly messy procedure, and if done incorrectly, it can cause damage to the cartridge and the printer or lower the quality of your prints; also, doing that in the first one or two years will instantly void the warranty of your printer since the system is able to tell when you've broken a cartridge seal.
Refillable Ink Tank Printer FAQs
What printers can use refillable ink cartridges?
Inkjet and Laser printers can use refillable ink cartridges, although we don't recommend nor encourage this process.
Are refillable ink printers worth it?
100% worth it if you're looking for a reliable device and you want to print frequently or in volume.
What are the disadvantages of an ink tank printer?
Upfront Price: Refillable ink tank printers can be more expensive than regular inkjet and laser printers upfront, that is because the quantity of ink included is larger than the one in cartridges and because of the continuous printing system, which is more elaborate and expensive than your average $70 printer.
Maintenance: Ink printers require a bit of maintenance since large amounts of ink are used constantly; the headers need to be cleaned from time to time, the ink container needs to be emptied, and in case of ink clogs, a deep clean needs to be done from time to time. Check this guide in case you run into this trouble.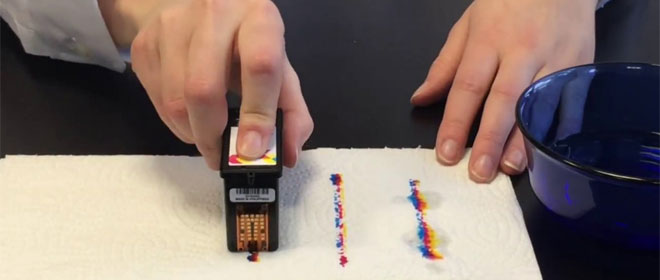 Bulky design: Because of their larger ink tanks, ink tank printers can be bulkier in size compared to traditional inkjet printers. This can make them less portable or take up more space on a desk or table.
Can I refill the ink tanks myself?
Most refillable ink tank printers allow you to refill the ink tanks yourself. You can do it using the manufacturer's ink or third-party ink. It's important to check the printer's specifications and recommendations for ink types, and don't be fooled by printers that offer higher cartridge ink volume since those are not refillable.
How do I know when the ink tanks need to be refilled?
Most refillable ink tank printers have a visible ink level gauge on the printer. You can also check the ink levels by printing a test page or checking the printer's ink management settings.
Are refillable ink tank printers easy to set up and use?
Refillable ink tank printers are generally easy to set up and use, with many models featuring wireless connectivity and mobile printing capabilities. However, they may require more maintenance and troubleshooting compared to traditional inkjet printers.
Conclusions:
In conclusion, refillable ink tank printers have emerged as a game-changing innovation in the world of printing technology. These printers offer an environmentally friendly and cost-effective alternative to traditional cartridge-based models, empowering businesses and individuals alike to reduce their expenses and carbon footprint.
With their easy-to-use design and long-lasting ink supplies, refillable ink tank printers are poised to become the preferred choice for many users seeking efficiency, sustainability, and reliability in their printing needs.
You might've noticed we haven't included any of the HP Smart Tank or brother INKvestment line, and that's because they either had horrid reviews with consistent negative user experiences we couldn't overlook or because we noticed they weren't refillable as advertised but had larger replaceable cartridges that were not only very expensive but also beat the environmental purpose of refillable ink tank printers.
As the technology continues to advance, we can expect even more improvements and features that will improve the user experience and resolve most of the current issues present in these types of printers.