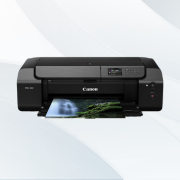 It offers excellent color reproduction, versatile media handling, and convenient connectivity options.
Epson EcoTank Photo ET-8500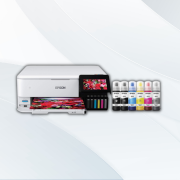 It features a cost-effective ink tank system, high-quality prints, and a range of convenient features.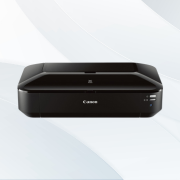 It provides affordability, good print quality, and versatility for various media sizes.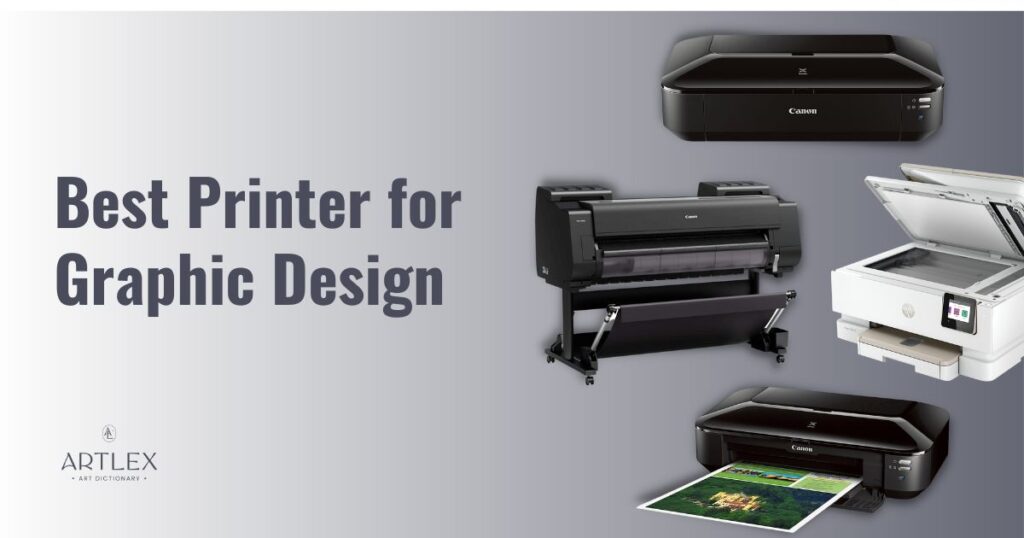 Picture this: Spending hours perfecting every pixel, losing sleep (and sometimes sanity) over the right shade of blue, only to have our dreams crushed by a printer that just doesn't 'get' us. It's like trying to explain a Picasso to a pet rock.
Sounds familiar? Well then you proabbly need a professional printer but are in… denial.
Now, you might be thinking, "I'm just starting out, I can't afford the kind of printer that'll do my designs justice!" Or perhaps, "I've got a budget to think about; I can't spend a small fortune on a printer!"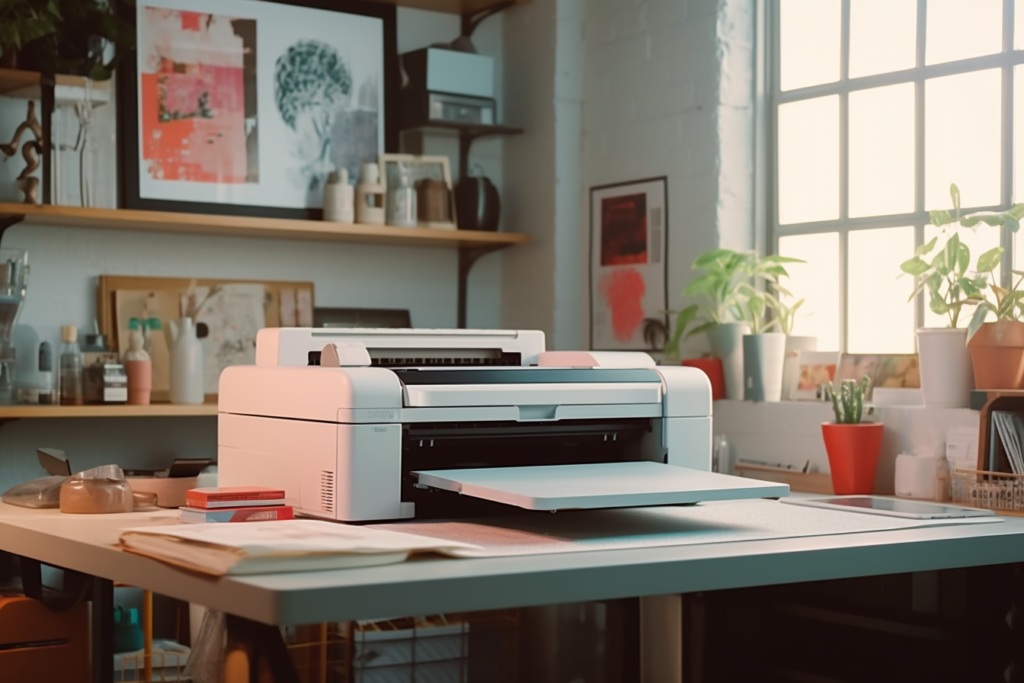 Well, my friends, that's where this article steps in. We're here to help you find that rare gem: a printer that understands your artistic needs and doesn't ask you to sell a kidney in return. This is about more than just comparing technical specs and prices. It's about finding a printer that'll faithfully reproduce those midnight blues and sunset oranges just as you pictured them.
So, whether you're just starting your design journey, or you've been in the game a while but still value the art of a well-managed budget, stick around, we're about to uncover the best printers for graphic designers that don't just promise quality, they deliver it (and without emptying your bank account). Are you ready? Let's get started!
Our Top Product Recommendations
Best Printer for Graphic Design Overall – Canon PIXMA PRO-200
Best Ink Tank Printer for Graphic Design – Epson EcoTank Photo ET-8500
Best Budget Printer for Graphic Design – Canon PIXMA IX6820
Best All-in-One Printer for Graphic Design – HP Envy Photo 7955
Best Large Format Printer for Graphic Design – CANON PRO 4100
Best Professional Printer for Graphic Design – Canon imagePROGRAF PRO-300
1. Best Printer for Graphic Design Overall – Canon PIXMA PRO-200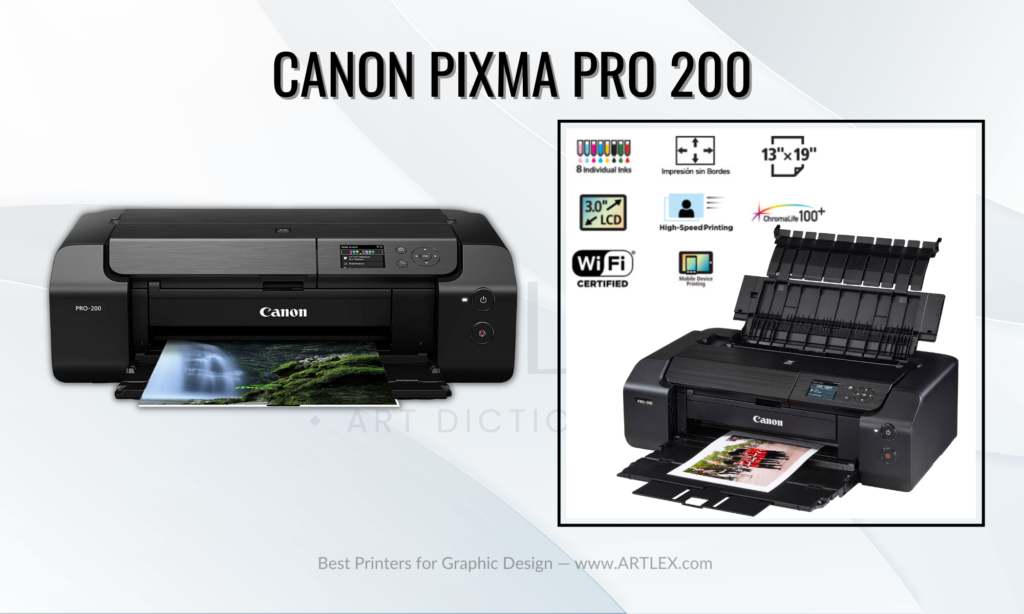 Selection Criteria
Printing Size: Up to 13″ x 39″
Printing Resolution: 4800 x 2400 dpi
Connectivity: Wifi, USB, Ethernet. Air Print Supported
Ink Price: Moderate
Price: $599
About the Canon PIXMA PRO-200
Due to it's excelent printing quality, color reproduction and price, the Canon PIXMA PRO-200 stands out as the best graphic design printer o our list.
It offers an 8-color dye ink system, providing a wide color gamut for vibrant and accurate color reproduction. With a maximum resolution of 4800 x 2400 dpi, the PIXMA PRO-200 can handle detailed and complex designs with precision.
It supports various media types (paper, cardstock, photo paper, discs, fine art paper, etc), thicknesses (up to 130lbs) of and sizes (up to 13 x 39 inches), making it a versatile choice for diverse projects.
Additionally, it's equipped with an intuitive 3-inch LCD display for convenient operation and qualifies for the "Auto Replenishment Program" which will send you ink when you run out of it (free shipping).
Pros
Excellent color reproduction.
Compact design saves space.
Easy to use with.
Compatible with a wide range of media types and sizes.
Cons
Not the fastest printer on the market.
On the expensive side.
2. Best Ink Tank Printer fro Graphic Design – Epson EcoTank Photo ET-8500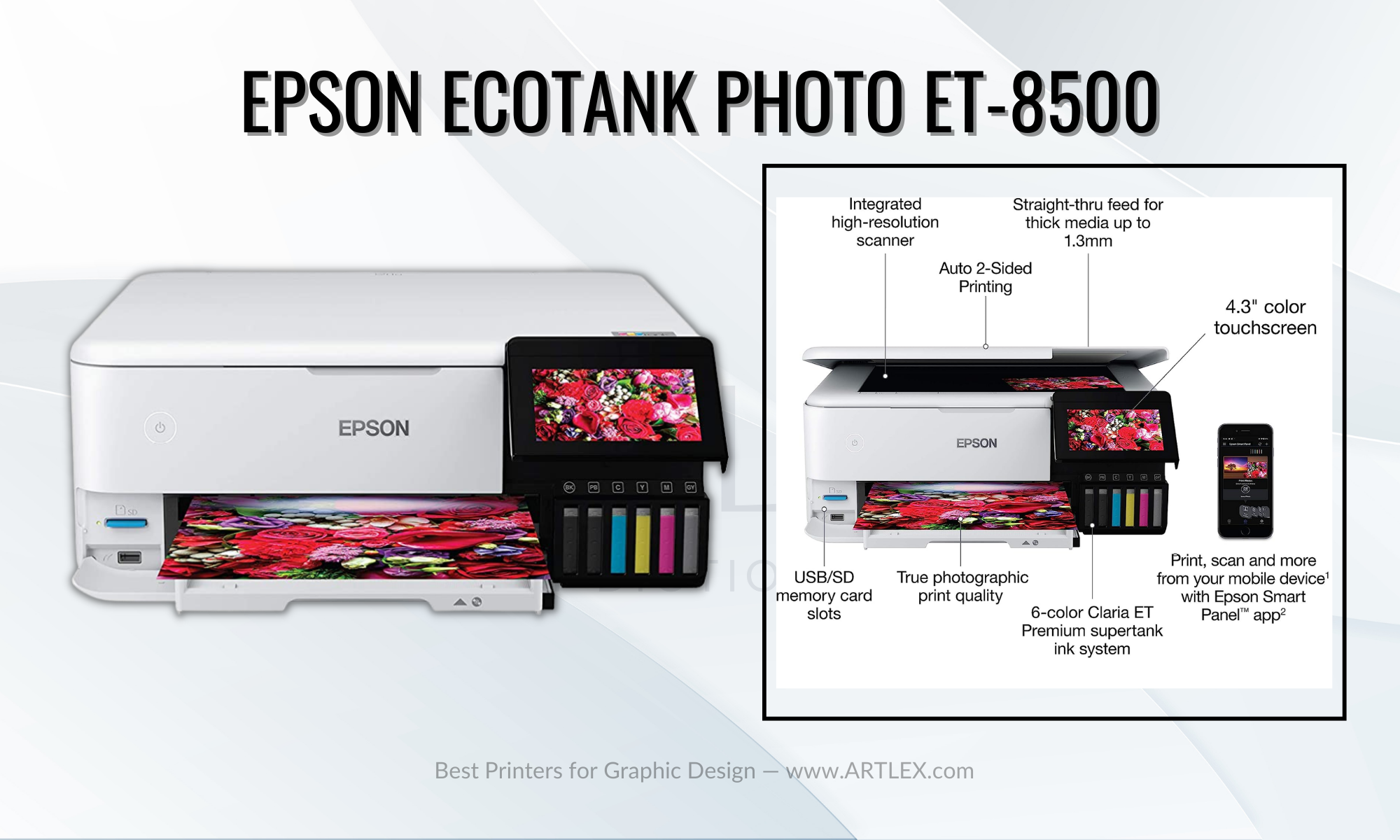 Selection Criteria
Printing Size: Up to 8.5″ x 14″
Printing Resolution: 5760 x 1440 dpi
Connectivity: Wifi, USB, Ethernet. Air Print Supported
Ink Price: Low (thanks to the ink tank system)
Price: $616
About the Epson EcoTank Photo ET-8500
The Epson EcoTank Photo ET-8500 is a great choice for designers seeking a cost-effective, high-volume, high-quality printer. Its key feature is the high-capacity, refillable ink tank system, which significantly reduces printing costs over time (4 cents per photo) and lasts up to two years before needing to be refilled.
This printer can produce high-quality prints mainly because of its 6-color Claria Photo HD Ink set (CMYK+Light Cyan and Light Magenta) and a maximum resolution of 5760 x 1440 dpi. It lets you print in different types of media, including fine art paper and cardstock up to 1.3mm thick.
It also includes convenient features like dual paper trays, wireless connectivity, a built-in SD card slot, and a 4.3-inch color touchscreen. The only downside would be the limited printing size, with legal size beign the limit.
Pros
High-capacity ink tanks.
Affordable refillabell ink.
Great color accuracy and print quality.
Supports printing on various media.
Cons
Higher initial cost than some other models..
3. Best Budget Printer for Graphic Design – Canon PIXMA IX6820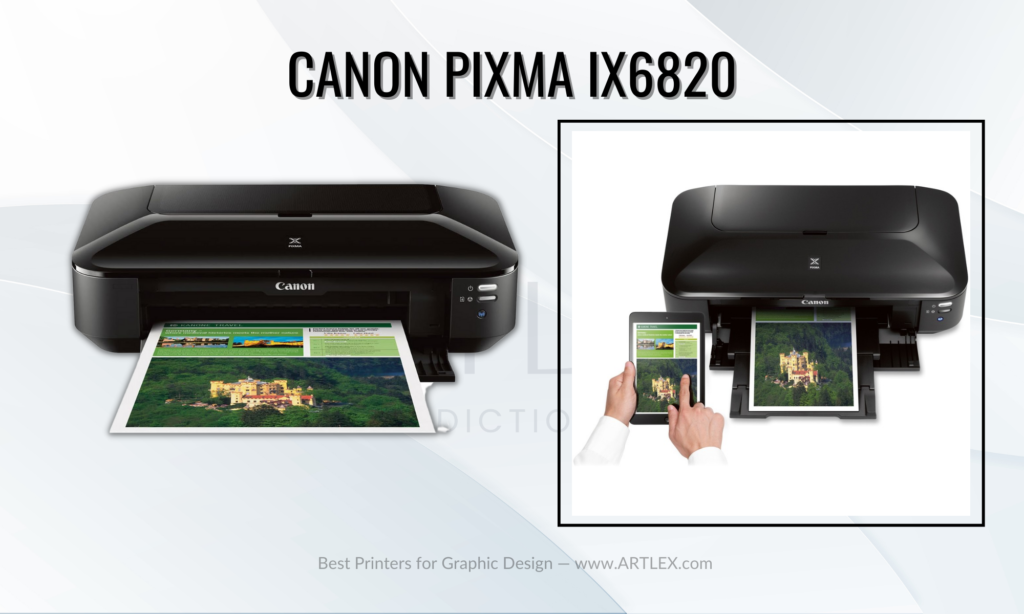 Selection Criteria
Printing Size: Up to 13″ x 19″
Printing Resolution: 9600 x 2400 dpi
Connectivity: Wifi, USB, Ethernet. Air Print Supported
Ink Price: Moderate
Price: $199
About the Canon PIXMA IX6820
For those on a tighter budget, the Canon PIXMA IX6820 might be the best coice. It offers a combination of affordability and performance by using a 5-color ink system to deliver high-quality, vivid prints with a resolution of up to 9600 x 2400 dpi.
It also offers excellent versatility with the ability to handle various media types and sizes, from 4"x6" to 13"x 19". Although this Canon Inkjet printer doesn't have an ink-tank system it is compatible with high yield ink cartridges, which is great for volume printing.
The IX6820 has wireless connectivity, allowing you to print from any room in your home or office, it's compatible with Windows, Mac, iPadOS and Android and allows for cloud printing with the Canon Print App.
Pros
Affordable without sacrificing print quality.
Can handle up to 13″ x 19″ sized paper.
Cons
No built-in scanner or copier.
4. Best All-in-One Printer for Graphic Design – HP Envy Photo 7955

Selection Criteria
Printing Size: Up to 8.5″ x 14″
Printing Resolution: 4800 x 1200 dpi
Connectivity: Wifi, USB, Ethernet. Air Print Supported
Ink Price: Low with HP Instant Ink
Price: $229
About the HP Envy Photo 7855
The HP Envy Photo 7955e is a multifunctional printer that prints, scans and copies hence the all-in-one name. It produces high-quality prints with a stunning resolution of up to 4800 x 1200 dpi.
This printer isn't just about great prints – it's also designed for seamless user experience. Its diverse connectivity options mean you can print from your smartphone, USB, or SD card with ease. Plus, it also includes an automatic document feeder (ADF), ideal for scanning or copying multiple pages.
One of its standout features is the HP Instant Ink system – it monitors your ink levels, and orders new cartridges when you're running low, potentially saving you up to 50% on ink costs. Furthermore, this printer offers you free ink for the first 6 months of use and advanced printing features with the HP app.
Pros
All-in-one functionality (print, scan, copy).
Self-healing Wi-Fi system for reliable connectivity.
Compatible with HP Instant Ink program for saving on ink costs.
Cons
The print speed is not as fast as some other models.
Does not support large-format printing.
5. Best Large Format Printer for Graphic Design – CANON PRO 4100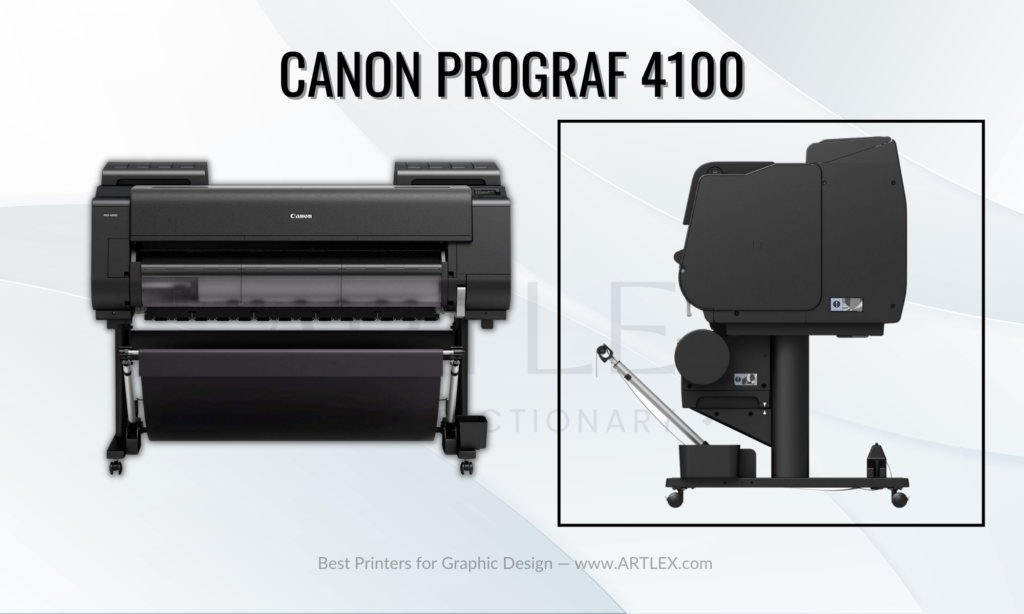 Selection Criteria
Printing Size: Up to 44″ wide
Printing Resolution: 2400 x 1200 dpi
Connectivity: Wifi, USB, Ethernet.
Ink Price: High
Price: $4,995
About the CANON PRO 4100
If you need to print larger projects, the Canon imagePROGRAF PRO-4100 44 is a standout option. This professional-grade printer can handle media up to 44 inches wide and uses a 12-color LUCIA PRO ink set for superior color accuracy and consistency.
Its high-capacity ink tanks minimize downtime, and the built-in color densitometer ensures precise color output every time. Though sizable and more expensive, the PRO-4100 is ideal for designers who require large-format prints without compromising on quality.
Pros
Excellent for large-format printing.
Superior color accuracy.
High-speed printing.
Cons
High initial cost and more expensive to maintain.
Large footprint; not suitable for small workspaces.
6. Best Professional Printer for Graphic Design – Canon image PROGRAF PRO-300
Selection Criteria
Printing Size: Up to 13″ x 19″
Printing Resolution: 4800 x 2400 dpi
Connectivity: Wifi, USB, Ethernet. Air Print Supported
Ink Price: High
Price: $849
About the Canon imagePROGRAF PRO-300
The Canon imagePROGRAF PRO-300 is a professional-grade printer built for serious graphic designers. It offers a 9-color plus Chroma Optimizer LUCIA PRO ink set for a wide color gamut and improved color accuracy.
Furthermore, the PRO-300 is versatile in terms of media handling, accommodating different sizes and types of media, from glossy and luster photo paper to fine art media.
The PRO-300 can handle media up to 13″ x 39″ and provides a maximum resolution of 4800 x 2400 dpi. It features a 3-inch color LCD display and is equipped with both Wi-Fi and Ethernet connectivity for flexible printing options. While it comes with a higher price tag, the imagePROGRAF PRO-300 provides the exceptional print quality that professionals demand.
Pros
Excellent color range.
Capable of printing on various types and sizes of media.
High printing resolution.
Cons
Higher price point than other models.
Types of Printers and Printing Processes
1. Inkjet Printers:
Inkjet printers stand as a common and affordable option on the market. They work by ejecting tiny ink droplets onto paper, creating rich and detailed images. You'll find models that print in color, black and white, and some even with white ink.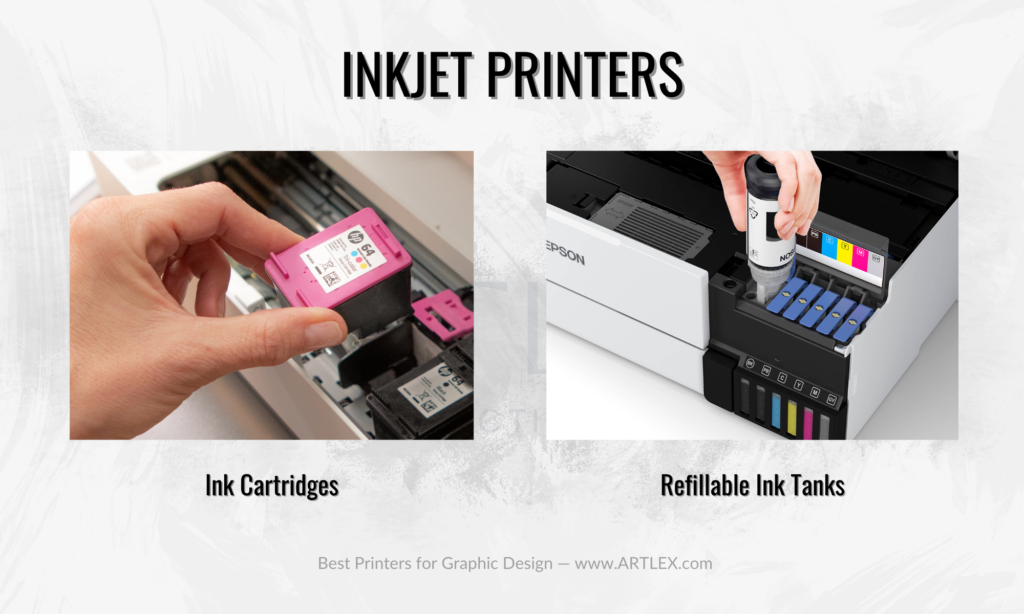 The Process: The printheads heat the ink, causing a bubble that splatters tiny droplets onto the paper. These droplets then combine to create a spectrum of colors, primarily utilizing three main colors- Cyan, Magenta, and Yellow. This is the subtractive color mixing method in action.
Different companies employ different technologies to achieve this. Epson, for example, uses Micro Piezo technology, which involves a piezoelectric crystal at the back of each nozzle. When electrically stimulated, this crystal vibrates, forcing an ink droplet onto the page without using heat. The control of the droplet size and placement with this technology allows for high-quality prints.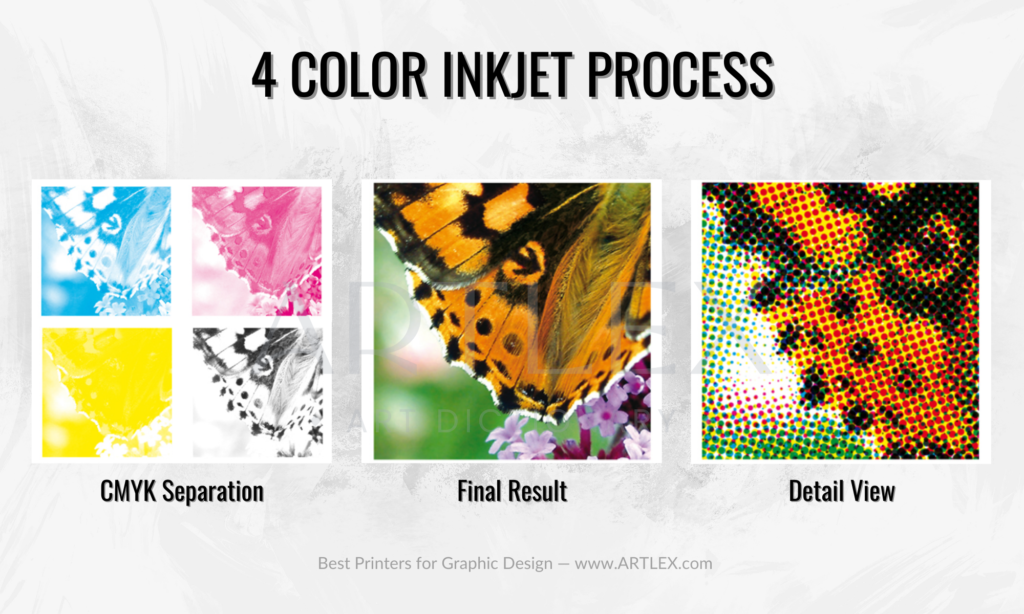 Other manufacturers use variations of inkjet technology. Canon employs a method called Full-Photolithography Inkjet Nozzle Engineering (FINE). Like a thermal inkjet printer, it uses heat to force droplets out of the nozzle.
HP also utilizes thermal inkjet technology that creates a bubble to expel the ink. Brother's inkjet printers use a similar piezoelectric technology to Epson's, but control multiple nozzles at once using a common crystal. Despite the differences, all these technologies aim for precision, control, and quality in their print outputs
Pro Tip – For a broader color spectrum and enhanced precision, look for inkjet printers that use additional special ink cartridges. This can significantly boost your design's print quality.
Despite their versatility, some low-quality inkjet printers may result in oversaturated prints and printing issues. Always review printer specifications and user reviews before purchasing.
2. Laser Printers:
Laser printers, another popular choice, particularly cater to business needs and situations that require high-speed printing. They handle high-volume, text-heavy printing efficiently and can also take on graphic designs and images.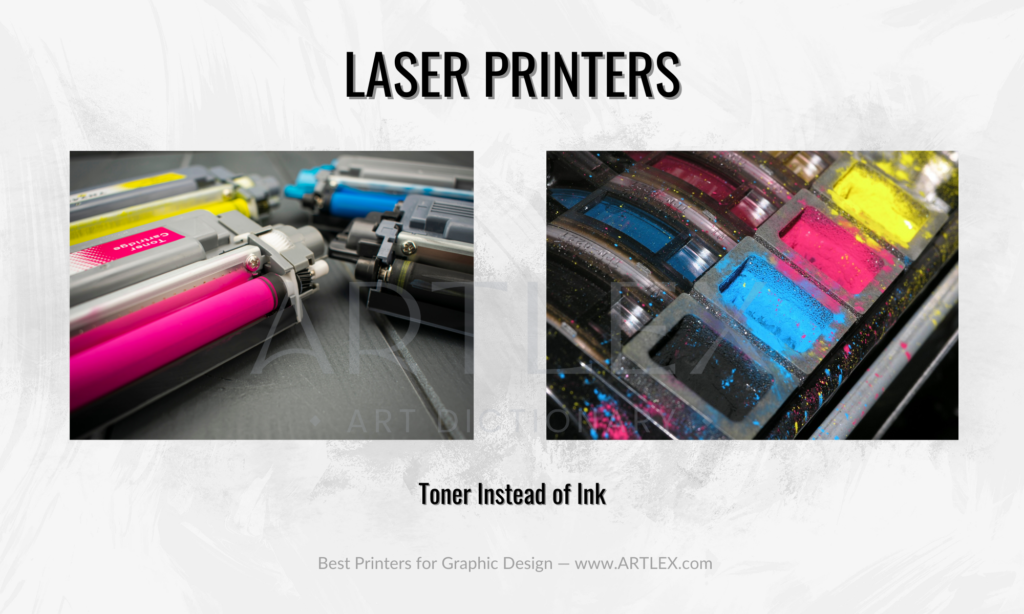 The Process: First, a laser beam projects the image of the document to print onto an electrically charged, rotating drum. This process alters the electrical charge in those areas of the drum that the laser hits, creating an 'electrostatic image.'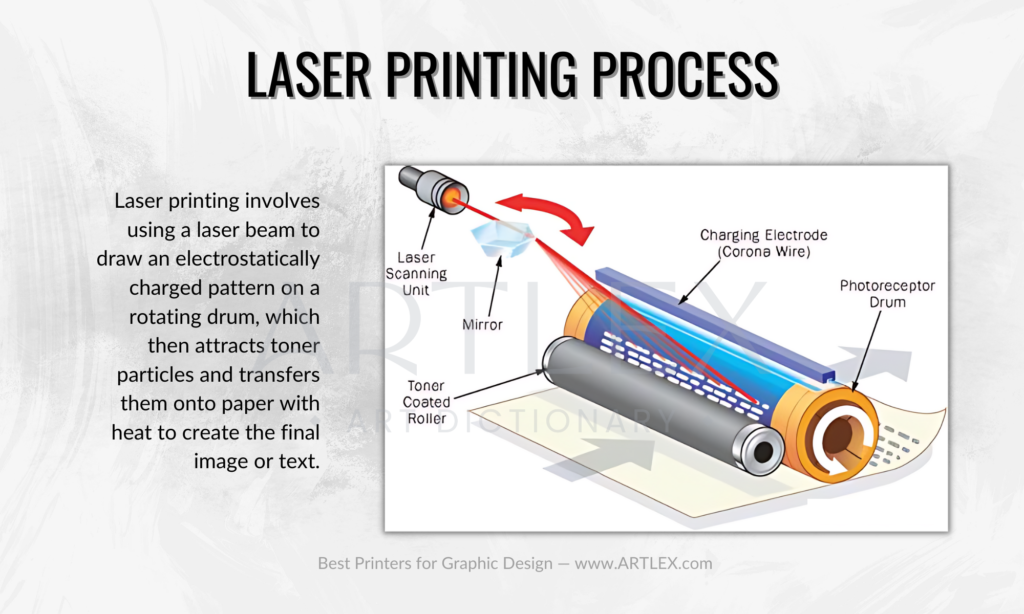 Next, the drum is coated with toner, a fine powder made up of pigment and plastic. The toner sticks to the areas with altered charge, forming a toner image on the drum.
Then, the drum rolls over a sheet of paper, transferring the toner image onto it. Finally, the paper passes through a pair of heated rollers (fuser unit), which melts the plastic in the toner, thus bonding it to the paper fibers and creating a permanent image, hence, the warm pages fresh from the printer.
Pro Tip: While they deliver high speed and volume, laser printers might not provide the color depth achievable with inkjet printers. Therefore, they are best for text and simple, crisp designs.
3. Dye-Sublimation Printers:
Dye-sublimation printers, currently rising in popularity, use a unique process, transitioning specially-formulated dyes directly from solid to gas when heated. This method allows the dyes to transfer easily to various surfaces such as paper, wood, fabric, ceramic, etc.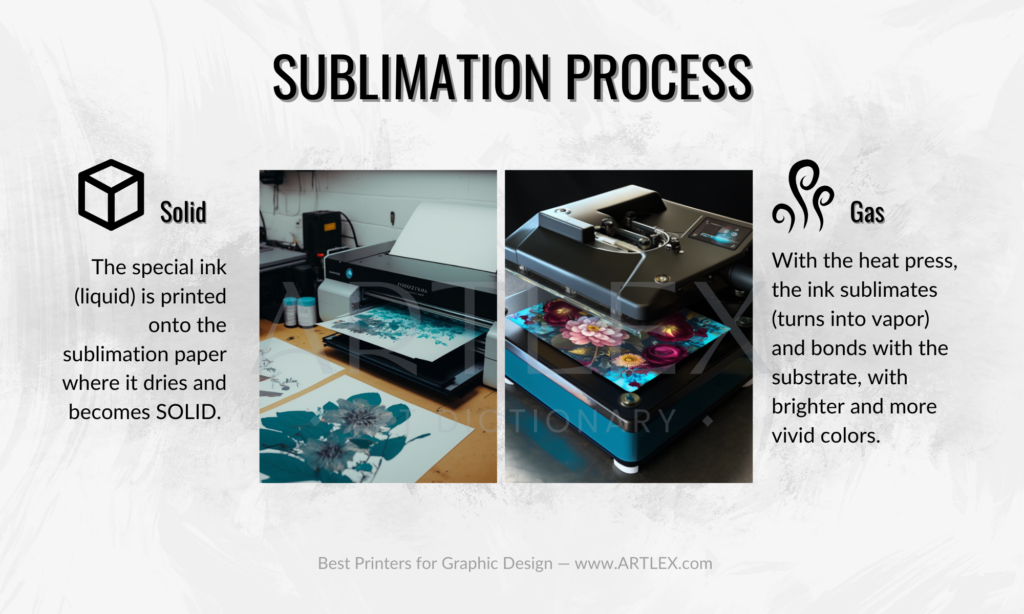 Pro Tip: Dye-sublimation printers are excellent for diversifying your design mediums or creating unique home decor pieces. However, remember you'll need a heat press and special paper for transferring designs onto different surfaces.
4. UV Flatbed Printers:
Lastly, UV flatbed printers use ultraviolet light to cure the ink as soon as it hits the paper or other materials such as metal, wood, and acrylic. The prints from UV printers are vibrant, durable, and long-lasting.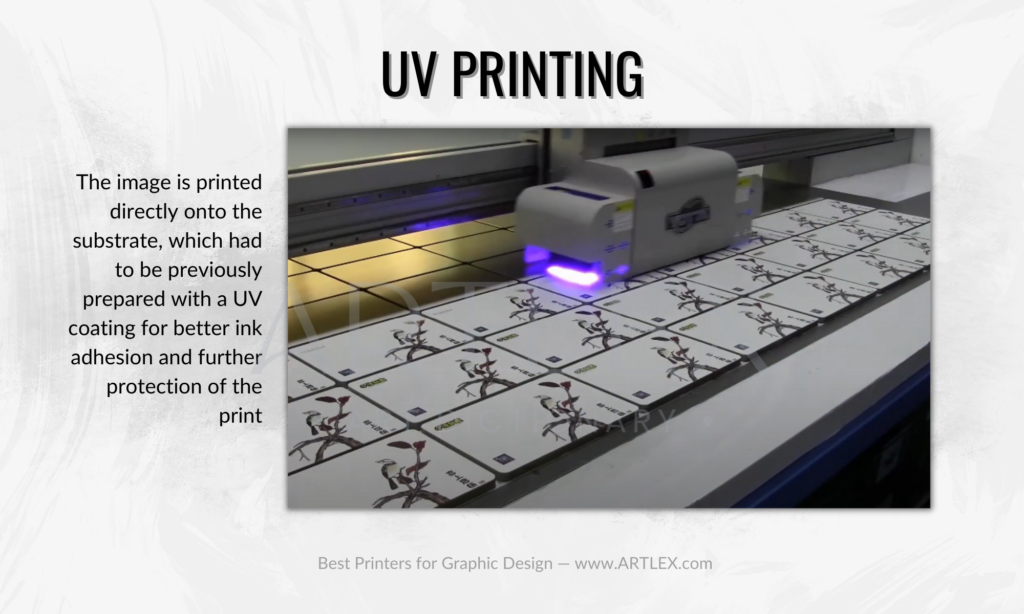 Pro Tip: If your designs involve a lot of color or you're creating prints for outdoor use, UV flatbed printers are an excellent investment. Just ensure you're using archival inks and adequately protected surfaces to retain color quality and definition over time.
How to Find the Best Printer for Graphic Design
Printing Resolution:
Resolution is the cornerstone of clarity in graphic design. The intricate details, the delicate gradations, and the finesse of your work hinge on your printer's resolution. Measured in dots per inch (DPI), resolution refers to the number of individual dots that a printer can produce within a square inch.
A high-resolution printer will be able to reproduce the subtleties of your design with greater accuracy, ensuring a true representation of your creative vision.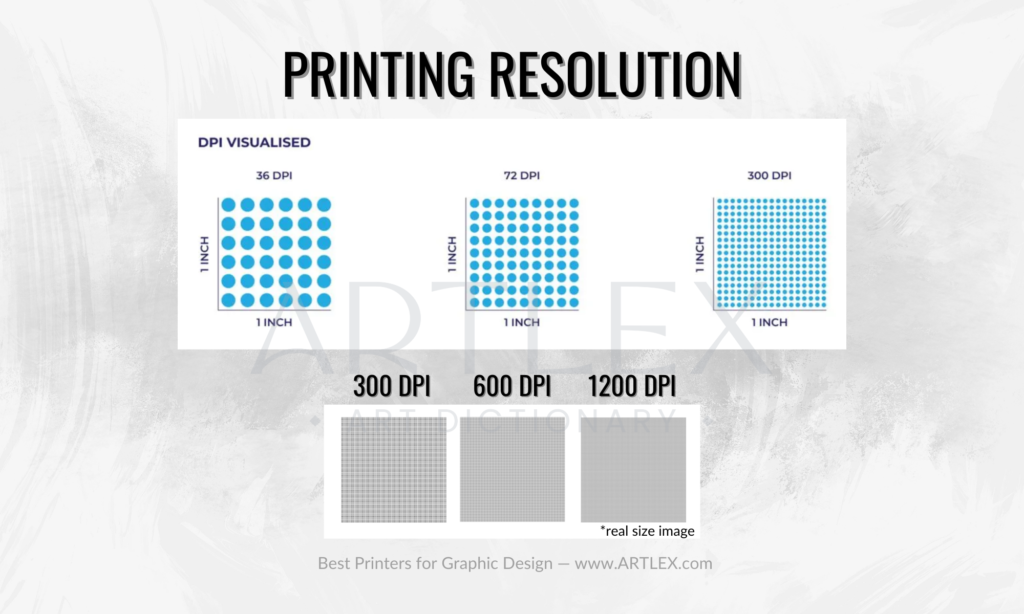 For a professional graphic designer, a printer that delivers at least 1200 DPI for black and white prints, and 4800 x 1200 DPI for color prints, should be the minimum benchmark. However, it's important to remember that high resolution alone doesn't guarantee superior print quality.
It must be complemented by other features like color accuracy and ink quality. While higher resolution often means slower print speeds, the trade-off is typically worth it for the enhanced detail and precision.
For those who frequently work on large projects or under tight deadlines, finding a printer that effectively balances high resolution and efficient print speed is crucial, however this usually means a higher starting price-point.
Above all, you should consider how the resolution will serve your specific needs as a designer. If your work primarily involves text-based designs, lower resolutions might suffice. On the other hand, if your designs involve complex images or you work extensively with photography, investing in a high-resolution printer would be the best.
Color Accuracy:
In the world of graphic design, the right color can make or break a design. A red that's too dark, a blue that's too light, or a green that's too dull could alter the entire aesthetic of your design. This makes color accuracy, the ability of your printer to reproduce colors as they appear on your screen, a paramount feature to consider when choosing a printer.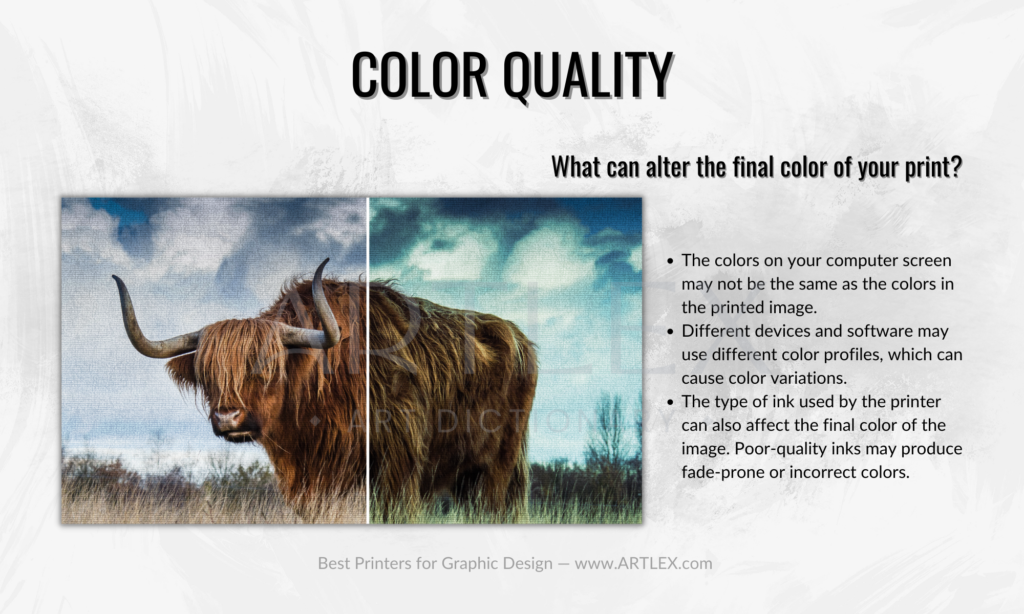 Printers that support a broad color gamut, encompassing a wide spectrum of colors, are able to produce more vivid and true-to-life prints, however in order to find a printer that fits your color requirements, you should look for printers that utilize multiple ink cartridges—beyond the basic cyan, magenta, yellow, and key (black)—such as light cyan, light magenta, grey, orange and others.
These additional colors can dramatically improve the color vividness and accuracy, allowing for smoother gradients and less banding. Another consideration for color accuracy is the printer's ability to accurately reproduce Pantone colors, a standardized color matching system used in the design industry.
Printers with Pantone emulation can match these standard colors more closely, ensuring your printed designs meet the exact color specifications of your clients and software.
Printing Size:
Size matters in two primary ways when choosing a printer for graphic design: the maximum printing size the machine can handle, and the physical size or footprint of the printer in your workspace.
For the maximum printing size, it's crucial to think about the types of projects you typically work on. If your work generally revolves around standard sizes like letter (8.5″ x 11″) or legal (8.5″ x 14″), most consumer-grade inkjet or laser printers will suffice.
However, if you frequently design larger materials like posters, banners, or broadsheets, you will need a large-format printer capable of handling these sizes. Some professional-grade printers can print up to A3+ size (13″ x 19″), and even larger.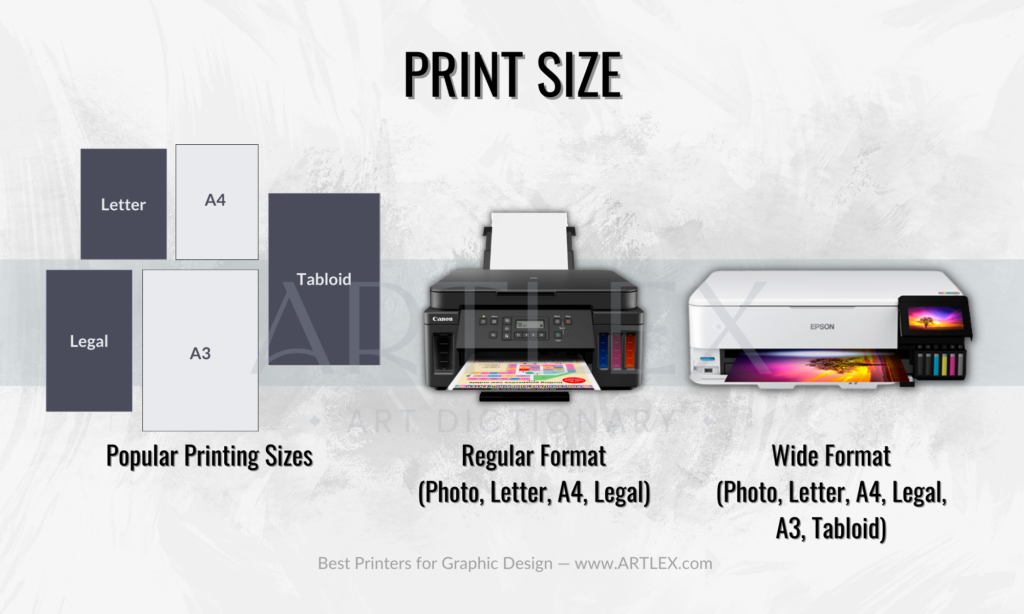 The footprint of the printer in your workspace is another important consideration. Printers come in various sizes, and the one you choose needs to fit comfortably in your workspace without causing clutter.
Remember, a larger printer will require a larger, more dedicated space. This becomes even more critical with professional-grade printers, which tend to be larger than their consumer-grade counterparts.
It's important to strike a balance between your printing size needs and the space available. If you're often working with larger prints but are limited in workspace, you might need to explore more compact professional printer options or plan your workspace to accommodate a larger device.
Paper Handling:
As a graphic designer, you understand that the medium is just as important as the message. Different projects will call for different paper types and sizes, from glossy photo paper and matte cardstock to fine-art media and more. Your printer should be able to handle a wide variety of these mediums with ease.
An efficient printer should provide flexibility in terms of the type and size of paper it can accommodate. Whether you're printing small business cards, art prints, standard sizes, or larger format prints, your printer should be adaptable to your project needs. It's also important to consider the paper path in a printer.
Some printers use a straight paper path which can handle heavier paper types and cardstocks without bending them, ensuring your final print is free from any creases or distortions while others use a roller system that will most likely warp your thicker media.
Moreover,if your budget allows it, look for printers with multiple paper trays that can hold different paper types or sizes simultaneously, offering further convenience and efficiency for busy designers.
Print Speed:
While quality should never be compromised for speed, in the professional world time is often of the essence. Therefore, the speed at which your printer can produce prints, especially for large volume projects, is a significant factor. Laser printers usually offer faster print speeds than inkjet models, which could be crucial when working against tight deadlines or for bulk printing.
However, print speed isn't a stand-alone feature—it's invariably linked with other aspects of the printer. Faster printers might offer lower resolution or color accuracy while others might offer high-speed, high-quality prints but compromise on the cost of operation.
Keep in mind, advertised print speeds are often based on printing in draft mode or at the lowest quality setting, which is generally not suitable for graphic design work. Therefore, it's essential to consider the print speed at the highest quality setting to be about twice or thrice the advertised time.
Connectivity:
In today's digital age, a printer isn't just a standalone machine—it's a part of a broader creative ecosystem. That'w why your printer's connectivity options can significantly affect your workflow. A printer with versatile connectivity options can streamline your design process, save time, and increase productivity.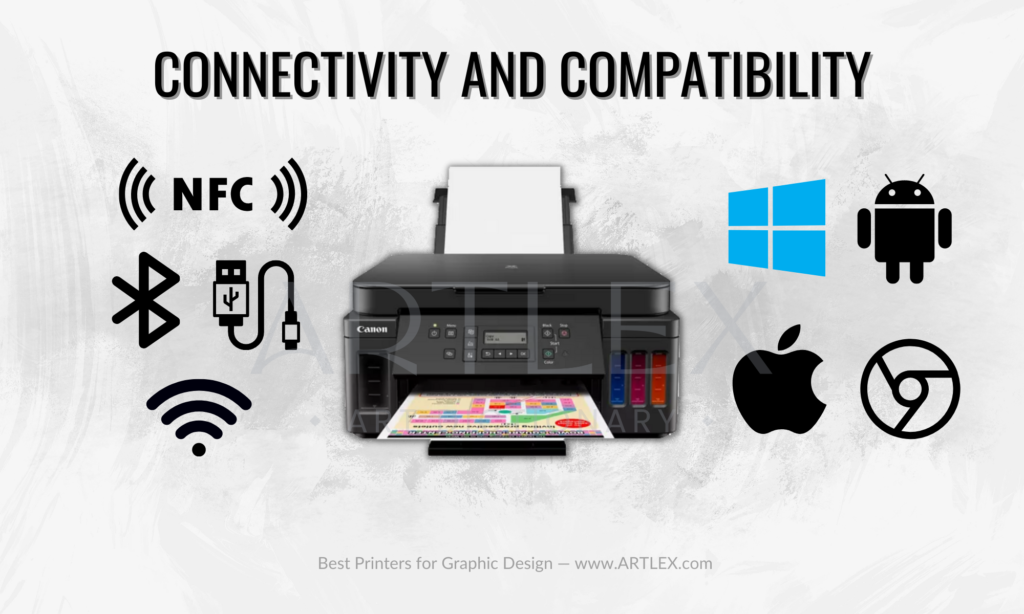 The standard USB connection is essential, allowing you to connect your printer to your primary design device. However, wireless connectivity can be a life-saver in an office environment, allowing multiple devices to connect to the printer over a network.
Wireless printing offers the convenience of enabling you to print directly from your laptop, tablet, or smartphone without the need for any wires. This can be particularly useful if you often find yourself switching between devices or if you prefer a clutter-free workspace.
Some printers even offer the functionality to print directly from cloud storage services or integrate with apps on your devices, offering added convenience. Here's a quick guide on what you might find when looking for printers and how each of these connectivity types work:
USB:
The classic and steadfast USB connection provides a direct link from your computer to your printer. It's reliable and offers high-speed data transmission. However, the convenience is limited to cable length and it's tethered to a single device. It's a great choice if you have a dedicated workstation and don't require much mobility.
Wi-Fi:
A Wi-Fi-enabled printer connects to your local network wireless, making it accessible to any device connected to the same network. This allows you to print from multiple devices without needing any physical wires. It's particularly useful if you're in a shared workspace or want the freedom to print from different devices or locations in your house or office.
Bluetooth:
Bluetooth offers a simple and personal connection. Unlike Wi-Fi, which uses a network, Bluetooth connects your device directly to the printer. The downside is its limited range (around 30 feet) and slower data transmission speed. It's a good option if you often print from a single device and don't need a large coverage area.
NFC (Near Field Communication):
NFC simplifies the connection process to just bringing your NFC-enabled device close to your printer. It's a convenient 'touch-to-print' solution, great for quick, small-volume tasks. Remember, you need to be in close proximity to the printer, which can be limiting in larger workspaces.
AirDrop:
If you're in the Apple ecosystem, AirDrop provides an easy way to send files from your device directly to your printer. It's quick and easy, but remember, it's only available between Apple devices.
Cloud Print:
Lastly, Cloud Printing opens up global access to your printer. As long as you have an internet connection, you can send print jobs to your printer from any location. It's a highly convenient solution, especially for those who work remotely or travel frequently. However, the performance depends on the stability of your internet connection.
Consumables and Operation Costs:
When selecting a printer for graphic design, the "consumables" or the ongoing supplies the printer needs to operate, become a key consideration. These include paper, ink or toner, and additional inner components of the printer. Each of these consumables can significantly influence your printing costs and the overall output quality.
Paper or Print Media:
The kind of paper you print on forms the canvas for your designs. Different projects call for different types of paper, ranging from standard printer paper to cardstock, photo paper, or even fine-art media.
Each type of paper imparts a unique texture and finish to your prints. For instance, glossy photo paper can make colors appear more vivid, while fine-art media can give your prints an elegant, professional look.
When choosing a printer, ensure it's versatile enough to handle various paper types, thicknesses and sizes that your work demands. Also, it's worth noting that certain printers are better suited to different paper weights, which could influence your choice if you frequently print on heavier stock.
Ink or Toner:
The ink or toner your printer uses is a crucial aspect of your printing setup. For inkjet printers, the ink cartridges are your primary consumable, these come in various types, from regular cartridges to high-capacity ones or even refillable ink tanks. The kind you choose can significantly impact your printing costs and the frequency of replacement.
While ink cartridges are reliable and offer a wider color depth to your prints, they are also very expensive. A printer with refillable ink tanks can reduce the printing costs enormously however it does compromise in quality and color accuracy.
Laser printers, on the other hand, use toner cartridges. While toner generally doesn't produce the same depth of color as ink, it can be more cost-effective for high-volume printing. Toner is also very expensive, thus, consider your printing needs – the volume and quality – before settling on an inkjet or laser printer.
Additional Components:
Finally, consider the additional parts your printer may need over time. Some printers have replaceable parts like print heads, which need to be changed after a certain number of prints. This can add to your overall operational costs. On the other hand, certain modern printers come with built-in, permanent print heads, reducing long-term maintenance costs.
Price
A critical aspect to consider when purchasing a printer for graphic design is the price. Although we already went through the cost of consumables and inks, the initial cost of a printer can affect your decision as much as the other factors. The price range can vary widely depending on the type of printer and the specific features it offers.
Entry-Level Printers:
These printers typically cost between $50-$150. They might be good for minimal printing needs or for a student/beginner graphic designer who is just starting out and has a tight budget.
However, they might not provide the best print quality or the speed required for professional-level work. Additionally, although the initial investment is low, these printers often have higher operational costs due to expensive ink cartridges and frequent replacements, which could add up over time.
Mid-Range Printers:
Mid-range printers fall in the $150-$500 bracket. These printers often offer a solid balance between price, performance, and print quality, making them suitable for most freelance graphic designers or small design studios.
They usually support a wider color gamut, offer better paper handling, and may come with features like duplex printing or wireless connectivity. The cost per print is also usually lower than entry-level printers due to more efficient ink or toner usage systems.
High-End Printers:
Printers above $500 can be considered high-end. They offer superior print quality, faster printing speeds, excellent color accuracy, and can handle a wide variety of paper types and sizes.
These printers are geared towards profesional designers, large design studios, or businesses that have substantial printing needs. Though the initial cost is higher, they often have lower operational costs due to more efficient ink or toner use and durability.
Professional Graphic Design Printers:
For a full-fledged design studio or a professional designer who needs the absolute best in print quality, professional graphic design printers ranging from $1000 to $5000 (or more) may be worth considering.
These printers are designed for high volume, top-quality printing with exceptional color accuracy, wide color gamut, and high resolution. They are built to handle a wide variety of media types and sizes, and they are typically more durable for heavy-duty use.
FAQs
Q: What is printer resolution and why is it important in graphic design?
A: Printer resolution, measured in dots per inch (DPI), refers to the number of individual dots that a printer can produce within a square inch. The higher the DPI, the greater the detail and sharpness of the printed output. This is especially crucial in graphic design, where precision and fidelity to the original digital design are paramount.
Q: Is it necessary to have a printer that supports a wide range of paper sizes?
A: Yes, having a printer that supports a wide range of paper sizes offers greater flexibility in your design projects. Whether you need to print small business cards or larger format prints, a versatile printer will allow you to tailor your output to each project's requirements.
Q: How does the size and footprint of a printer affect my workspace?
A: The physical size of the printer can significantly impact your workspace. Large, professional-grade printers might offer more features and higher quality prints, but they also require more space. Depending on your workspace size, you might opt for a smaller, more compact printer that still meets your design needs.
Q: Can you explain the difference between dye-based and pigment-based inks?
A: Dye-based inks use smaller color particles that are dissolved in a liquid, like sugar in water. This results in vivid and brilliant colors. However, they are less durable against sunlight or water. On the other hand, pigment-based inks use larger color particles suspended in the liquid. They are more resistant to water and sunlight, making them better for prints that need to last longer, though the color vibrancy may not be as high.
Q: What are some key consumables I should consider when choosing a printer?
A: Key consumables include ink or toner, paper, and any additional printer-specific items. For ink or toner, you should consider the cost per cartridge or bottle, the yield (how many pages each can produce), and the type of ink (dye-based or pigment-based). The type of paper the printer can handle is also important, including its ability to print on cardstock or special media. Printer-specific items can include print heads or maintenance cartridges.
Q: What kind of printers would you recommend for an entry-level graphic designer?
A: For entry-level graphic designers, affordable yet high-quality printers like the Canon Pixma iP8720 or the Brother MFC-J985DW can be excellent choices. They offer good resolution and decent color accuracy, suitable for a variety of projects without a hefty price tag.
Q: I'm a professional graphic designer. What printers should I consider?
A: Professional graphic designers might opt for high-end models like the Canon imagePROGRAF PRO-1000 or the Epson SureColor P900. These printers offer exceptional print quality, advanced color accuracy, and excellent paper handling capabilities. However, they come with a higher price tag, so they're seen as an investment in your professional work.
Q: Can the printer's compatibility affect the output of my design software?
A: Yes, it's important to ensure the printer is compatible with your design software. Compatibility issues can lead to color mismatches, loss of detail, or other print errors. Always check the printer's specifications or consult with the manufacturer or seller to ensure compatibility with your software.
Q: What are the considerations when thinking about the cost of a printer for graphic design?
A: When assessing the cost, look beyond the initial purchase price. Consider the ongoing costs of consumables like ink or toner, the durability and longevity of the printer, and its energy efficiency. Lower-priced printers might have higher ongoing costs, so consider these factors in your budgeting.
Q: How does the choice of ink affect the longevity of my prints?
A: The type of ink can significantly impact the longevity of your prints. Dye-based inks tend to fade faster, particularly under sunlight or when in contact with water. Pigment-based inks are more resistant to fading and water damage, making them a better choice for prints that need to withstand environmental factors or last for a long time.