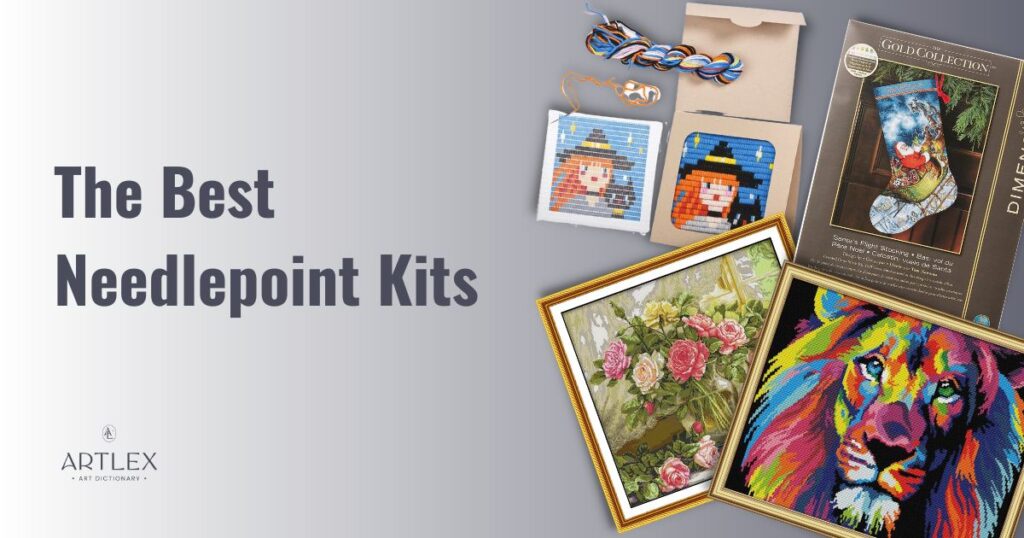 Needlepoint is a relaxing and meditative hobby that allows people to create patterns with yarn. It can also be a way to express creativity and create unique and personalized items. Additionally, many people find it satisfying to see a project through to completion and hold a tangible representation of their efforts.
The easiest way to learn how to needlepoint, especially for beginners, is to use a kit. A needlepoint kit typically includes a printed canvas with a design, embroidery floss, and a needle. It is used to create a piece of needlepoint embroidery by stitching the floss through the canvas according to the printed design, either by counting or with a pre-printed chart. So you do not need to worry about selecting the right materials or design. Additionally, needlepoint kits often come with instructions and tips, making it easier for beginners to learn and improve their needlepoint skills.
Choosing the correct needlepoint kit, though, can be difficult. However, we will discuss the best options based on the overall quality of canvas and floss, as well as the skill level of each kit and clarity of instructions, which are all of the primary importance when making a buying decision. We will also discuss the most appropriate choices for people looking for printed and charted kits, as well as guides and easy options for beginners.
Selection Criteria for the Top Needlepoint Kits 2023—Buying Guide
Finished Needlepoint Quality:
A quality, colorful yarn, along with a high-count canvas, will uplift the final result. Quality floss or yarn for needlepoint should be made from durable and colorfast materials that will stand up well to stitching and washing.
Skill level of the Needlepoint Project:
Before purchasing a kit, be sure the design is appropriate for your skill level, as there are both beginner-friendly and advanced kits available for all needs.
Needlepoint Kit Instructions:
Look for a kit that includes clear instructions and helpful tips. This will make it easier for beginners to get started and for more experienced needle pointers to improve their skills.
Top Product Recommendations for the Best Needlepoint Kits 2023
1. Overall Best Needlepoint Kits—Setoda Stamped Cross Stitch Kits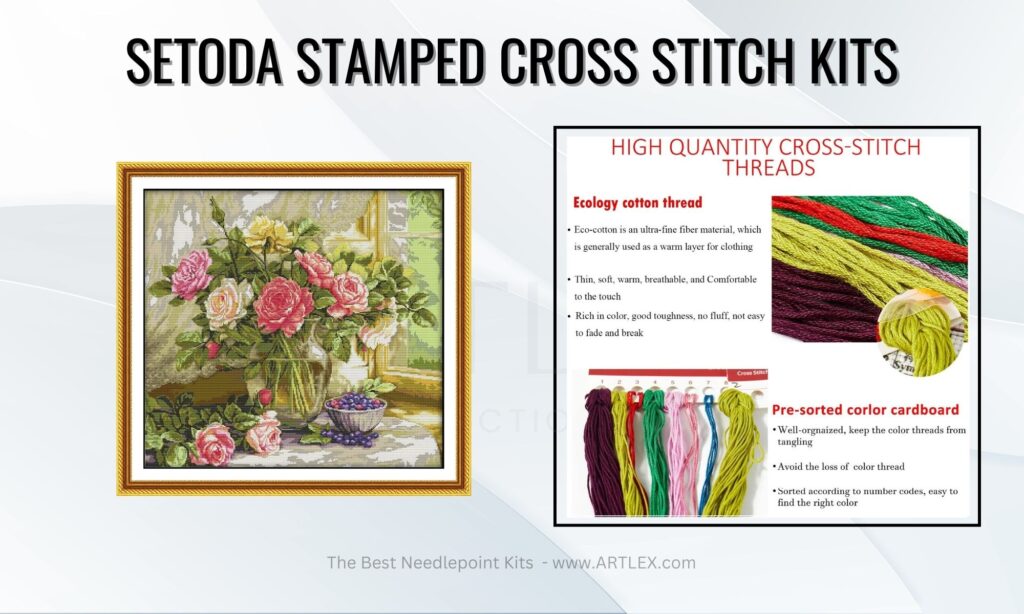 Selection Criteria
Quality – 10/10
Skill level – Beginners, Advanced
Kit Instructions – 10/10
About Setoda Stamped Cross Stitch Kits
For individuals who wish to embroider but don't know where to start, the Setoda printed cross stitch kit is a great option, as it includes everything you might need. This kit's designs are pre-stamped onto the canvas so that you know exactly where to stitch and where to switch colors without needing a guide. Each kit comes with everything you need to get started, down to instructions on what color thread to use for each detail.
The cross-stitch you create will be smooth and vibrant thanks to the high-quality, eco-friendly cotton threads included in the kit. The three-ply cotton weave provides sufficient thickness, for correcting your mistakes while you learn this craft. In addition to being completely non-toxic, the yarn colors this company uses are also quite bright.
The thread cardboard packs a 14-count, presorted kit, along with a pre-printed cotton fabric, a high-definition pattern, pre-sorted embroidery threads, two needles, and an instruction booklet. Keep in mind that this company allows for 33% more thread length, so you'll have plenty to work with, even if you make a mistake and need to start over.
Since the ink used to create the stamped design on the fabric is water-soluble, care must be taken to avoid getting the pattern wet at any point until it is completed. When you're done stitching, simply soak the canvas in warm water for an hour to remove the pattern.
Pros:
14 designs to choose from
Clear stitch patterns
Cons:
The threads included in the package seem to be lacking, even with the extra length offered by the company
2. Best Printed Needlepoint Kits—Joy Sunday 11CT Stamped Cross Stitch Kits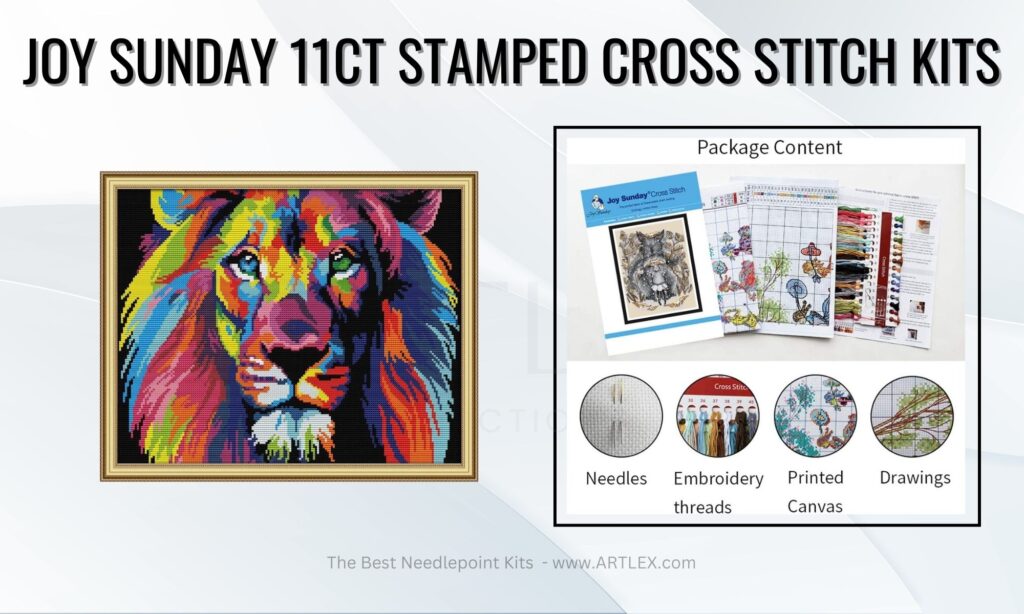 Selection Criteria
Quality – 10/10
Skill level – Beginner
Kit Instructions – 9/10
About Joy Sunday 11CT Stamped Cross Stitch Kits
Printed kits include a stamped canvas with a design to follow, along with the necessary threads and instructions. The Joy Sunday kits come with everything in the box for you to start working right away, even if you are a beginner. The clear instructions with diagrams make this style a good place to begin learning. The canvas is made of pure cloth, so you don't have to worry about deformation of the image and pulling of the threads while you are stitching.
Also, when it comes to the number of holes in the embroidered fabric, the rule is that the greater the hole count per inch, the more intricate the pattern will be. In this case, the 11-count canvas is a great idea for novices to avoid getting lost in the design and frequent changes in colors.
This kit includes 21 colors and six thread yarns for a total of 24,186 stitches. Since there are six individual strands in a single thread, the thread must first be cut in half along its width so you will have more than enough to finish your project, even though you still get 20% more threads than what is strictly needed to finish the needlework.
Pros:
A balanced mixture of designs
Canvas is stiff, so there is no need for a hoop while stitching
Cons:
Does not contain a sturdy frame
Be aware that the actual canvas may be smaller than what is assumed by the image
3. Best Charted Needlepoint Kits—Dimensions Gold Collection Counted Cross Stitch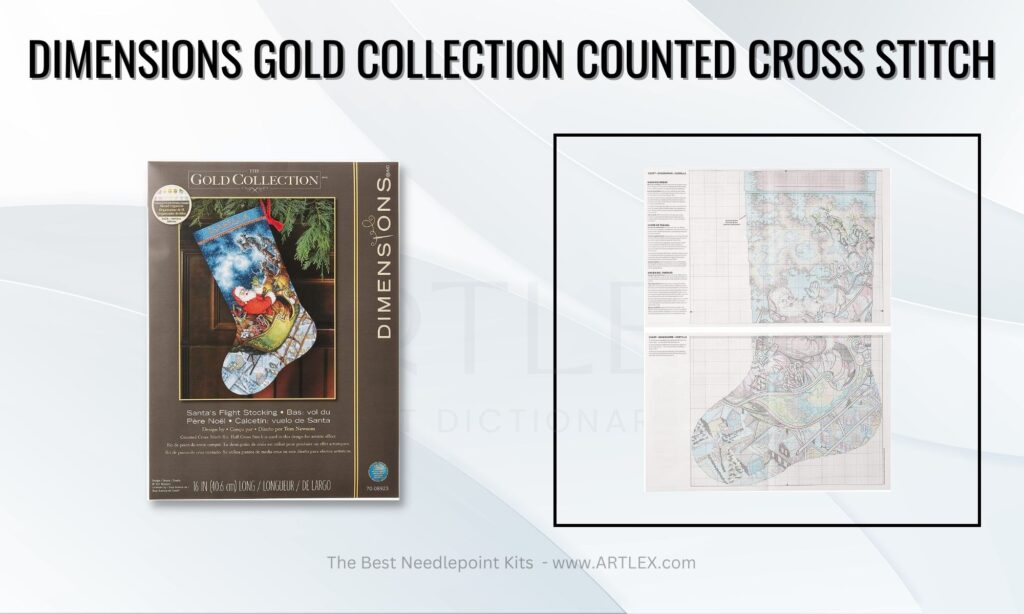 Selection Criteria
Quality – 10/10
Skill level – Master
Kit Instructions – 9/10
About Dimensions Gold Collection Counted Cross Stitch
The Dimensions Gold Collection is considered one of the standards in the industry, and their counted kits include more complex designs and techniques, as well as a wider variety of silk threads and materials.
These advanced kits hold a chart or graph of the design, where the stitcher must follow the counted chart paper to create the design on a blank canvas. Even though the instructions are detailed, keep in mind that this level of cross-stitching is complicated, as it includes a lot of counting, double-checking, and a variety of stitches.
This design is a Christmas stocking that can be hung over the fireplace and can be personalized because it has all of the alphabet letters in the pattern, which you can arrange wherever you like in the finished result. As it is now well after Christmas, you can even get it on Amazon, and if you search, you will discover that Amazon is selling alphabetically numerous designs of this brand.
The stocking kit includes a 16-count dove grey Aida, presorted threads, wool yarn, felt, and a needle.
Pros:
Highly detailed pattern
Wide variety of stitches, including half stitches, full x cross stitches
Cons:
May need extra blue floss
Color matching of threads with other companies might prove to be frustrating
4. Best Stitch Guide Needlepoint Kits—Stitch.ly Counted Cross Stitch Kits for Beginners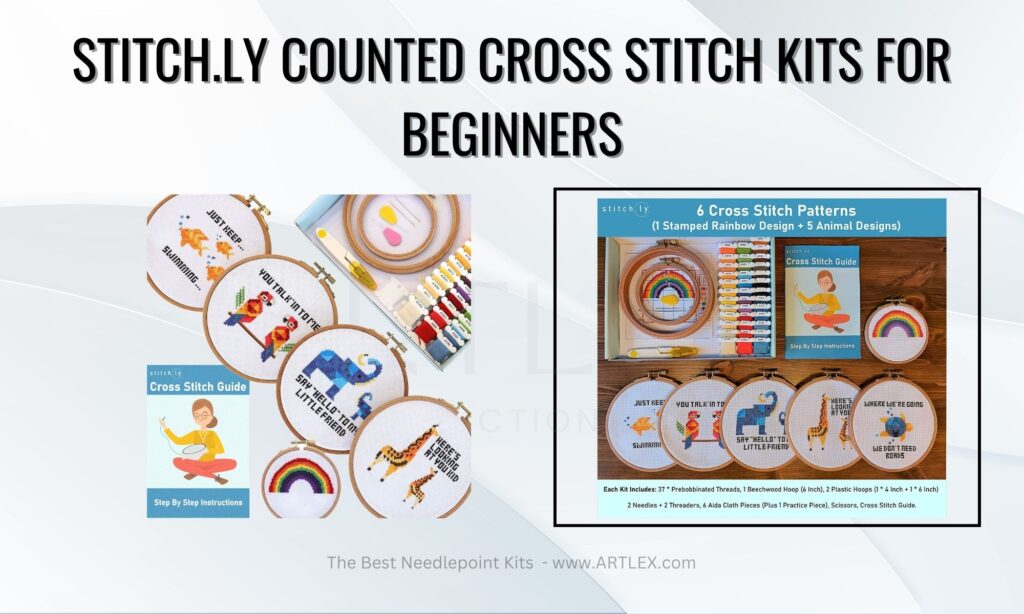 Selection Criteria
Quality – 9/10
Skill level – Beginner
Kit Instructions – 10/10
About Stitch.ly Counted Cross Stitch Kits for Beginners
Learning how to cross stitch can seem daunting when you first look at a counted design. It takes some counting and thought to find the exact middle of the canvas and start counting outwards to find specific spots for each color, not to mention deciding how many strands of thread you need for each stitch. The Stitch.ly Counted Cross Stitch Kit offers a very detailed guide with all the information you need to learn easily how to cross-stitch in counted patterns.
This kit's stitch guide includes detailed instructions and diagrams for creating a particular stitch or design, along with six needlepoint patterns, three embroidery hoops, 37 floss threads, two needle threaders, two needles, one pair of scissors, and one instruction handbook.
Even if this is your new date with arts and crafts, this kit has you covered: the needles have a large eye, and the designs are clearly printed on A4 paper, while all the threads are labeled, so you don't have to worry about needle crafting being hard on your eyes or hands.
Pros:
Very detailed guide for counted cross stitching
Large print and eye needles make it comfortable to focus for long periods of time
Cons:
Some customers miss the graphs, but contacting the seller will solve this in no time
5. Best Needlepoint Kits for Beginners—Sozo DIY Needlepoint Embroidery Craft Kit for Beginners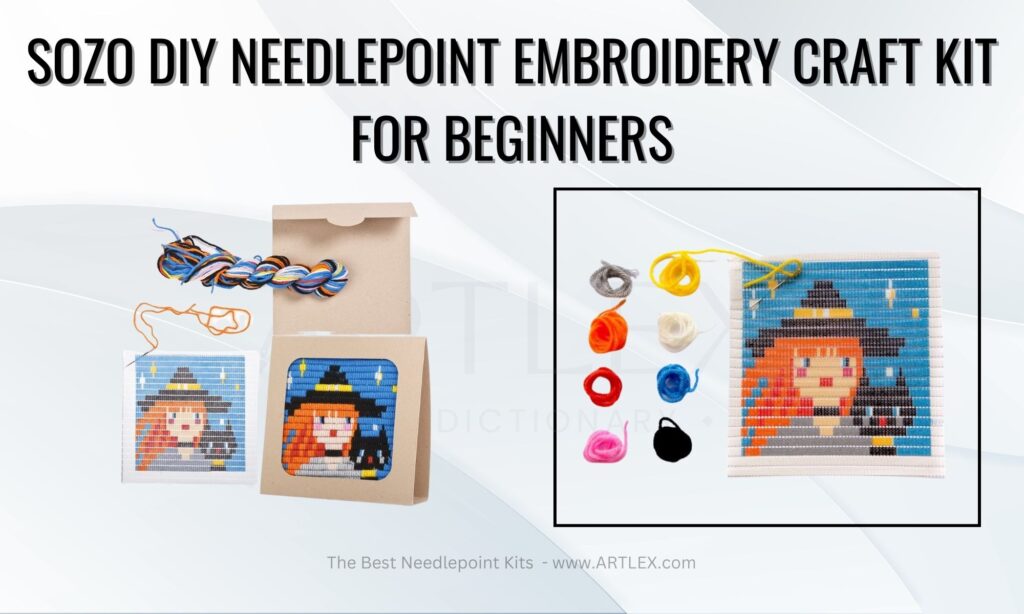 Selection Criteria
Quality – 10/10
Skill level – Beginner
Kit Instructions – 10/10
About Sozo DIY Needlepoint Embroidery Craft Kit for Beginners
As a true beginner, you might want to start with a simple printed canvas, so you can check whether this craft is something that interests you to pursue further. The Sozo DIY needlepoint kit is a good option for both adults and children alike.
It includes a canvas that has already been stamped, as well as colorful yarn, a needle, and a cardboard frame. The canvas is perforated in big areas, making it easy to see where to weave the thread. While the kit may not include a great deal of printed guidance, Sozo's video tutorials are simple to follow. With 21 different designs, you can buy multiple kits to present to friends or use for your own needlepoint practice.
Pros:
Includes all materials to start learning
Variety of designs to choose from
Clear sign of each step in the process
Cons:
Needle eye too tight for beginners and children
6. Best Pillow Needlepoint Kits—Brvsk Lemons Needlepoint Kit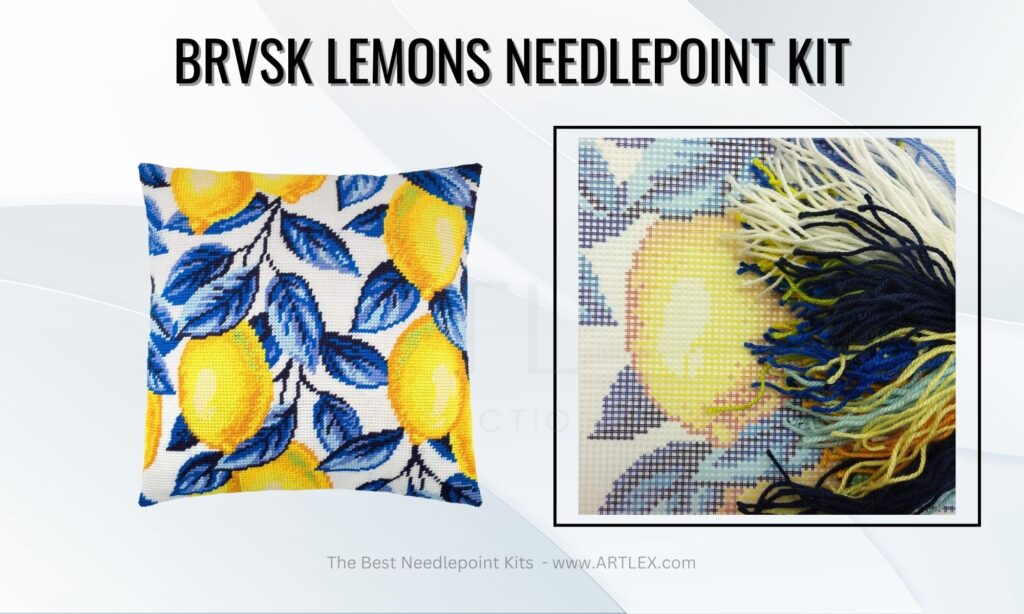 Selection Criteria
Quality – 10/10
Skill level – Advanced, Master
Kit Instructions – 9/10
About Brvsk Lemons Needlepoint Kit
Whether it's for a birthday, the holidays, or a trip, this needlepoint set is sure to be appreciated. BRVSK is a European family-owned brand that is known for the quality of their designs and kits.
This kit allows you to complete it in a variety of ways, depending on your mood and overall decor of the room you want to put it in: Cross-stitch is more noticeable and eye-catching, whereas half-stitch and tapestry stitch are more efficient. The color-printed cotton canvas is made by Zweigart, with eight holes per inch for symmetry, making it easy to follow. The kit also contains high-quality polished acrylic yarn conveniently pre-cut into 32-inch lengths for quick stitching, as well as an 18-gauge, nickel-plated tapestry needle.
Once you finish the needlepoint design, you can sew it on a backing and have a pillow ready in a matter of days, either as a handmade gift or for your own house.
Pros:
Ample yarn to finish the design without stress
High-quality threads
Large holes to make it easy on the eyes
Cons:
No hoop
No directions on how many strands of yarn needed for each stitch
Conclusion—The Best Needlepoint Kits 2023
When choosing a needlepoint kit, initially, you may look for a design that you find appealing and that will fit your intended use. However, the overall quality of the threads, along with the level of difficulty to complete, can make a difference in your overall enjoyment. If you are a beginner, you can go through the Setoda store in order to check if anything catches your eye. For more experienced crafters, the Dimensions Gold Collection might be closer to their needs.
We hope you found our analysis of the top needlepoint kits of 2023 to be helpful. Consult our associated guides for further sources of comparable items for the artistic lifestyle.