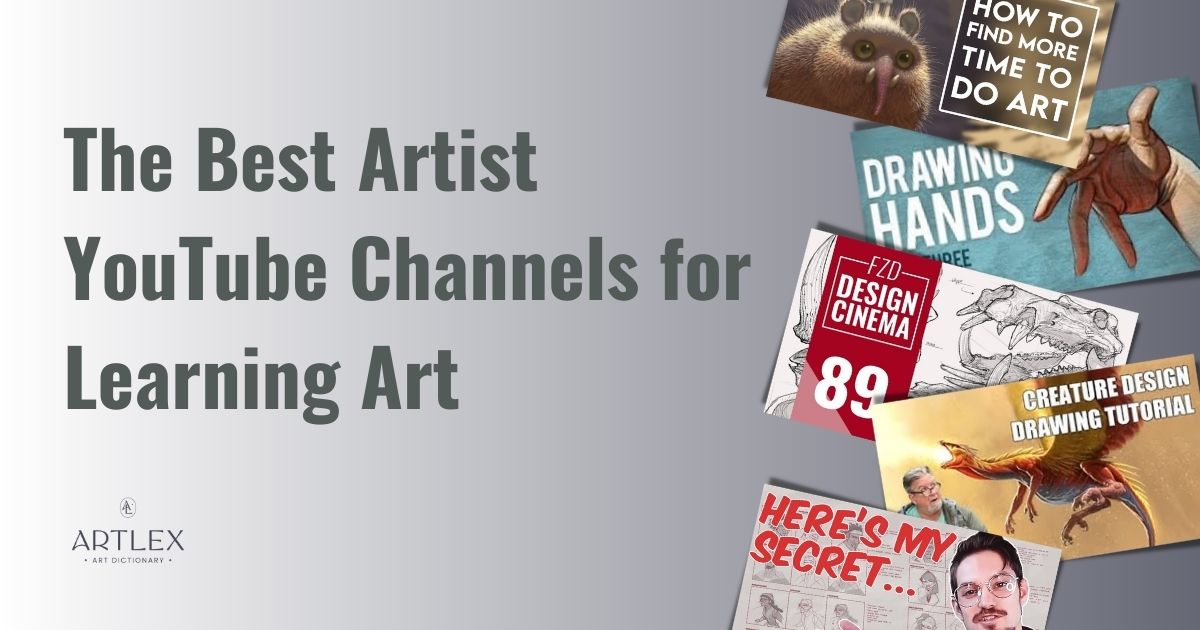 Art is pretty much everywhere, it's human nature to pursue beauty and esthetic, to imagine, to create, to entertain. And YouTube it's not an exception.
But with the mountains of content that is available on YouTube and the new daily additions of new channels, it can be a bit confusing to get to the best content made by artists for artists out there.
In the following list, we've gathered a selection of artists of very popular media, from fine arts to digital art and 3D art:
1. Best Fine Art Gesture and Anatomy Channel – Proko by Stan Prokopenko
This man carried alone for a long time a huge community of willing to learn artists and not without a good reason. His free art tutorials, classes, and anatomy studies are the basics most self-taught artists have regarding anatomy and gesture.
His new series that include short versions of masterclasses from recognized artists of the media is also a great addition to the multiple contributions Stan Prokopenko made to the art community.
2. Best Disney Illustration, Animation, and Concept Art Youtube Channel – Aaron Blaise
Aaron has been in most of our lives and even for some inspired us to pursue art from a very young age, most of the iconic Disney movies that captivated our hearts had this man as a designer and animator. After working for Disney, nowadays Aaron has a big platform where he shares not only his knowledge in art and animation but also his work in the media. An amazing artist and inspiration to follow and learn.
3.- Best Environment, Concept Cinematic, and Game Art Youtube Channel – Feng Zhu FHD
Feng Zhu is a Singaporean artist with an incredible talent that is already a worldwide recognized concept artist whit his own Concept Art and Design Art School.
Besides that his youtube channel has free top-quality educational content on Concept Art and Design. Another amazing artist to subscribe and learn from!
4.- Best Character Concept Art Channel – Bobby Chiu
This award-winning artist has not only worked for some of the most recognized studios around the world but also creates constant high-quality content, tips, and tutorials besides video blogs about his life as an artist. Another channel worth subscribing to.
5.- Best Animation and Storyboard + Media Advise channel – Ethan Becker
Ethan is a young and talented storyboard artist and animator that also makes youtube videos with not only educational content but general advice for those willing to get a job in the art and animation media. His videos are not for everybody since Ethan's approach is a bit aggressive but his content is worth checking out.
6.- Best Digital Concept Art and Character Design Channel – Sinix Design
Robert Stacy, owner of the Sinix Design YouTube channel is a very charismatic and extremely talented artist that focuses on creating educational videos on digital painting, character design, and environmental concept art, as well as providing feedback and advice to fellow artists.
7.- Best Mixed Media and Entertainment Art Youtube Channel – Draw With Jazza
The iconic and super entertaining Jazza is very well known in the youtube community. His videos are not only educational but also entertaining and fun to watch. Jazza doesn't limit himself to one sole media but tries everything he and his audience wants. Highly recommended for beginners and craft artists that like to see the fun in life.
8.- Best Watercolor Art Youtube Channel – Watercolor by Shibasaki
This gentle and kind gentleman has not only a great watercolor technique but our heart as well. Watercolor by Shibasaki has great videos for watercolor beginners, intermediate, and also experienced artists. A definitely must subscribe if you're into watercolor or want to learn from the best without getting yelled at.
9.- Best Ink and Pencil Drawing Youtube Channel – Alphonso Dunn
Already recognized artist Alphonso Dunn is not only the author of one of the best books for traditional drawing and inking but also a content creator on Youtube that provides us with top-quality educational art videos for serious learners.
10 – Best 3D Art and Modeling Channel – Travis Davids
This South-African artist is not only the first source of knowledge most 3D artists begin to learn with but also a very talented artist. His educational content and resources are highly appreciated within the 3D modeling community, so if you're thinking about joining the 3D art world, then his channel is a must.