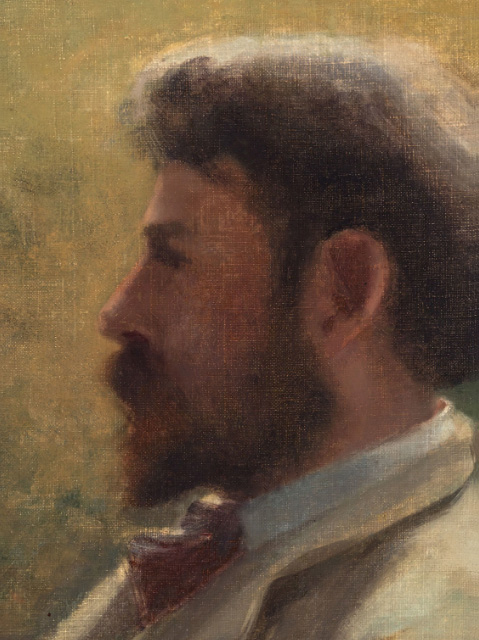 George Agnew Reid, also known as G. A. Reid, was a Canadian painter best known for his genre paintings, but his body of work encompasses murals, figures, history, portraits, and landscapes. Born on July 25, 1860, in Wingham, Ontario, Reid received his artistic training at the Ontario School of Art in Toronto, the Pennsylvania Academy of the Fine Arts in Philadelphia, and the Académie Julian in Paris. He became a full-time artist and teacher, serving as the principal of the Ontario College of Art from 1912 to 1929. He passed away on August 23, 1947.
What Does
George Agnew Reid
Paint About?
George Agnew Reid painted genre scenes, historical events, landscapes, portraits, and even illustrations for books. He mainly did emotional genre paintings depicting the lives of Ontario country people. Reid's paintings captured the essence of rural life, evoking a sense of nostalgia and capturing the spirit of his subjects. Additionally, he explored Canadian landscapes and depicted historical events in his artworks.
Who Was
George Agnew Reid

Influenced By?

George Agnew Reid was influenced by the Parisian Academy, which brought precision and technical skills to his paintings. He also drew inspiration from his studies at the Central Ontario School of Art and the Pennsylvania Academy of the Fine Arts, where he trained under Robert Harris and Thomas Eakins, respectively. Reid's time in Paris, studying at the Académie Julian and the Académie Colarossi, exposed him to the artistic techniques and ideas of prominent French artists. He was particularly influenced by Jean-Joseph Benjamin-Constant, a renowned Orientalist painter. Additionally, his exposure to the murals of Puvis de Chavannes during his travels abroad further shaped his approach to mural painting.
What Art M
ovement Is
George Agnew Reid
Associated With?
George Agnew Reid is associated with the Canadian art movement known as the late 19th-century Canadian realism. This movement emerged in Canada during the late 1800s and aimed to depict the everyday lives of Canadians, particularly in rural and domestic settings. Reid's genre paintings and his focus on capturing the emotional and narrative aspects of his subjects align with the principles of this movement. He also incorporated elements of Impressionism into his work, especially in his later landscapes and nature scenes.
George Agnew Reid

Artwork

George Agnew Reid left behind a significant and diverse collection of artwork, much of which is housed in public collections, including the National Gallery of Canada. Below are a few of his creations.
"Women Operators"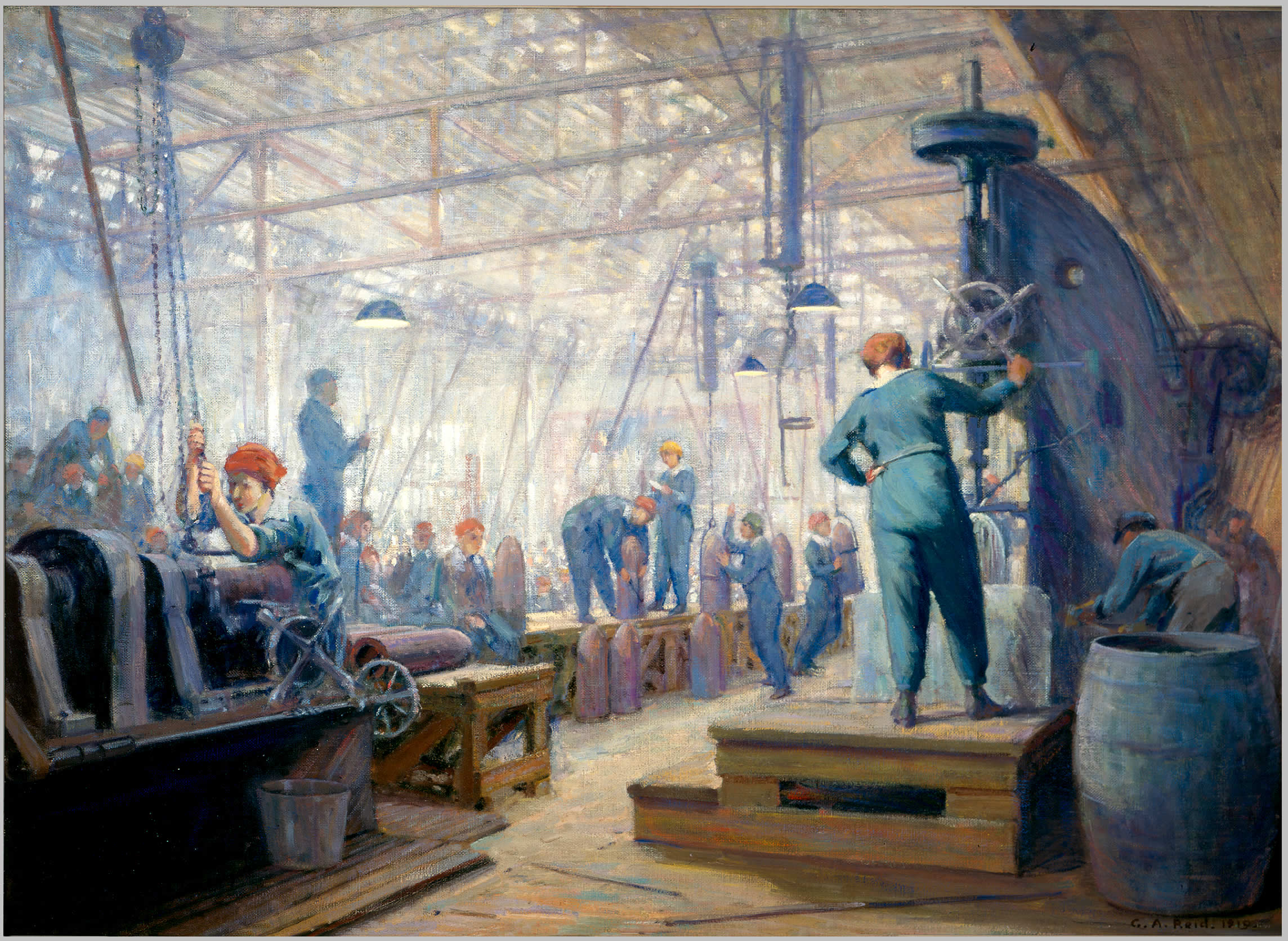 "Mortgaging the Homestead"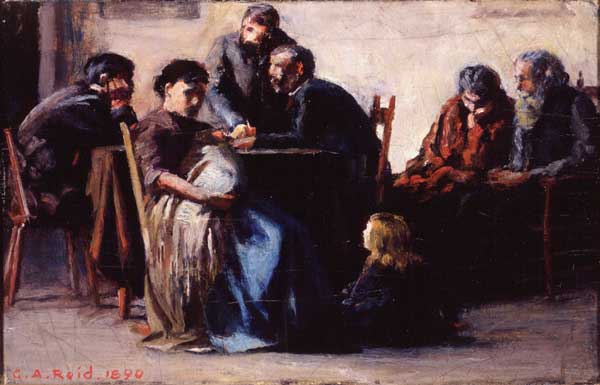 "Portrait of Mrs. Reid"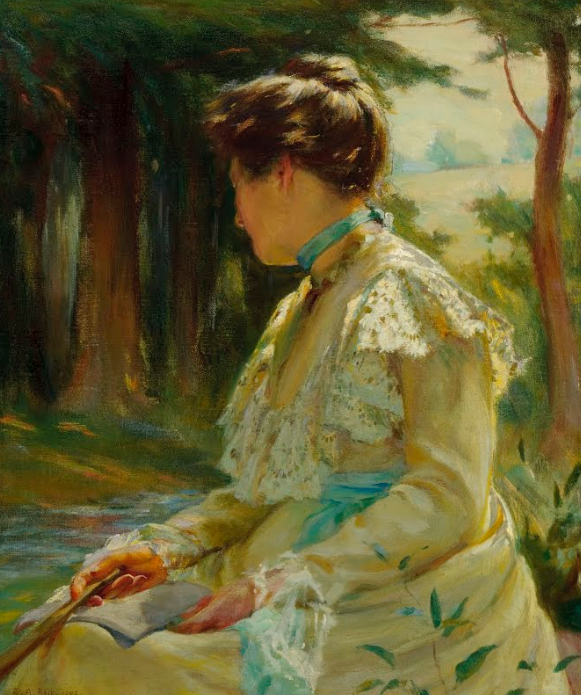 "The Story"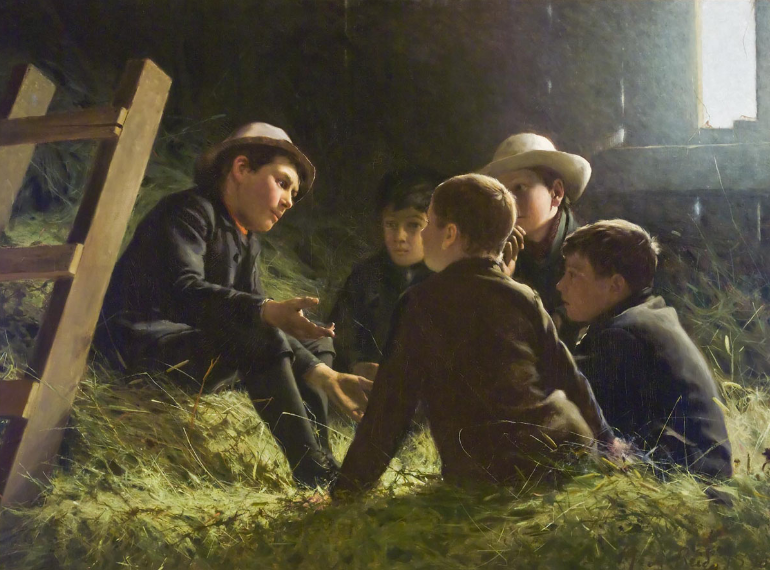 "Forbidden Fruit"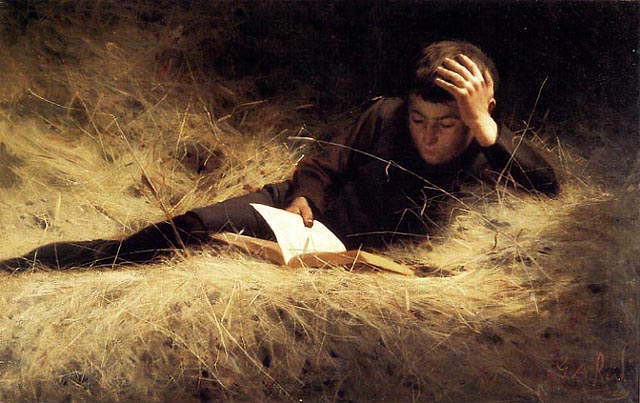 "Lullaby"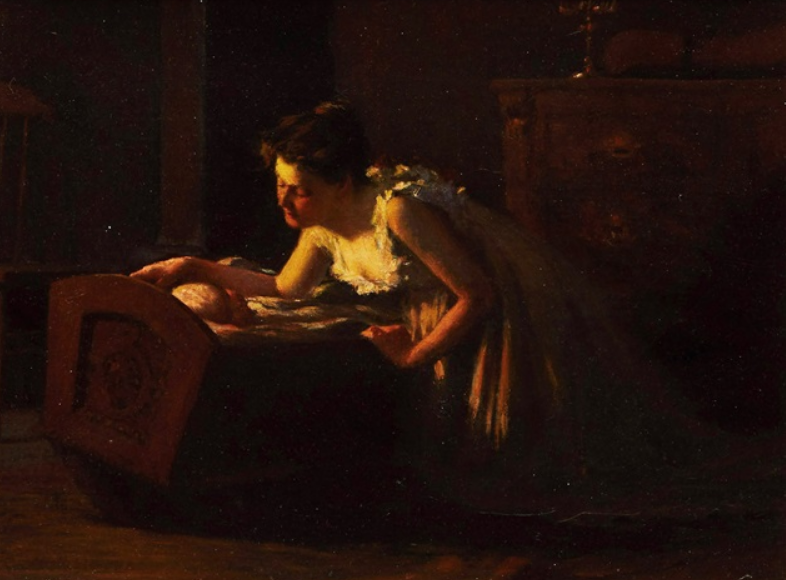 "The End of Day"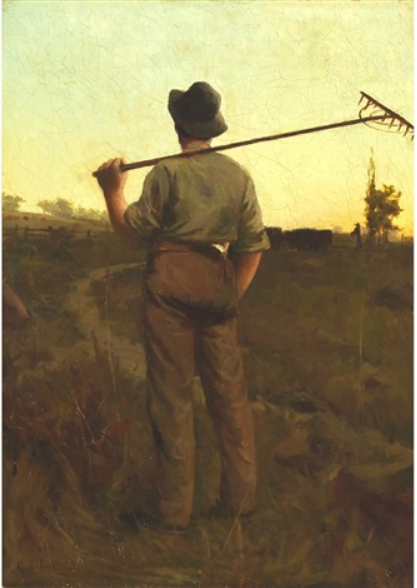 "Model's Head and Shoulders"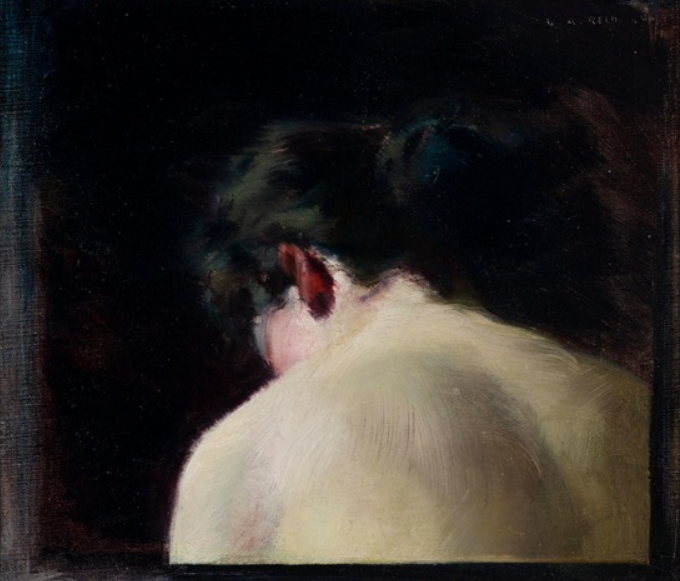 "The Coming of the White Man"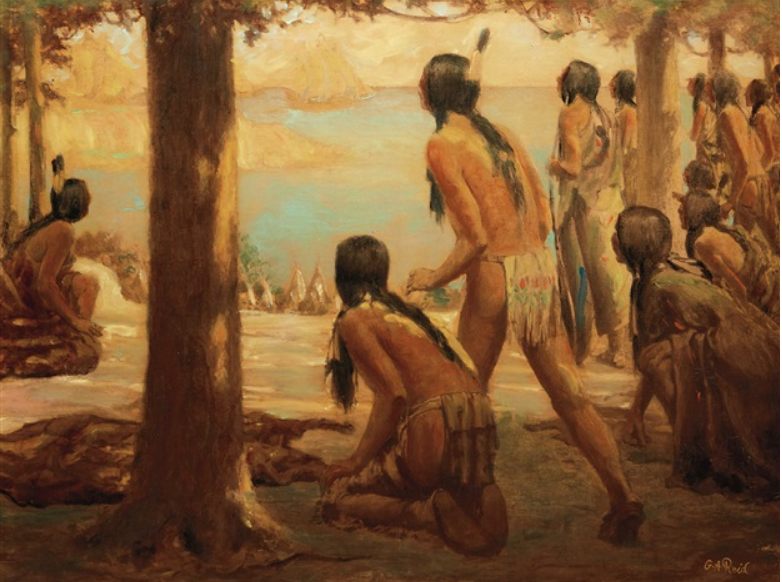 "Twilight, Algoma"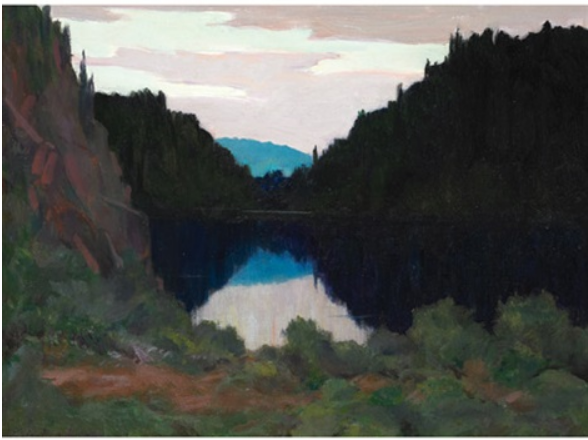 "The tangled thread"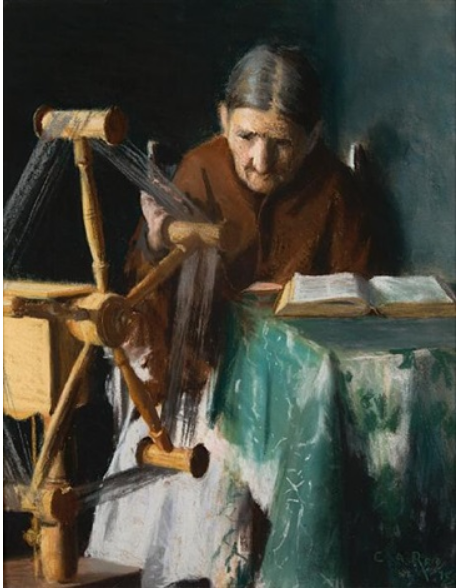 "Academic study of male nude"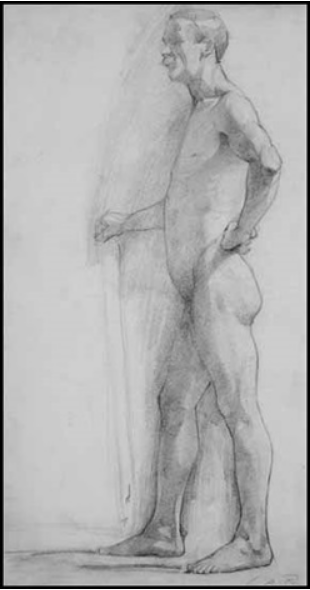 "The berry pickers"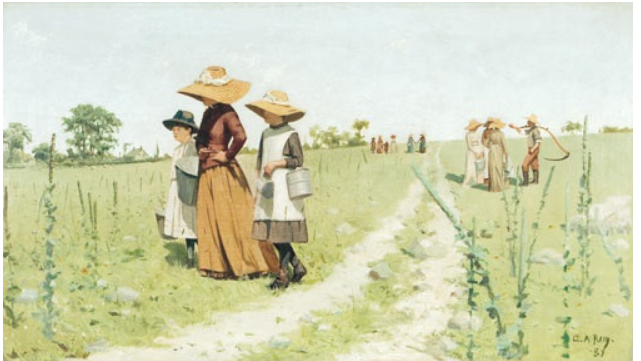 "Blowing bubbles"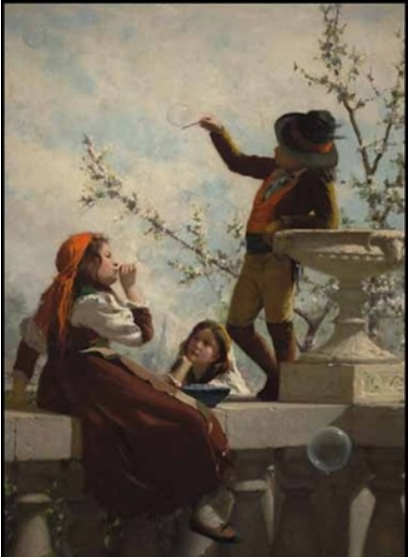 "Portrait of a Woman"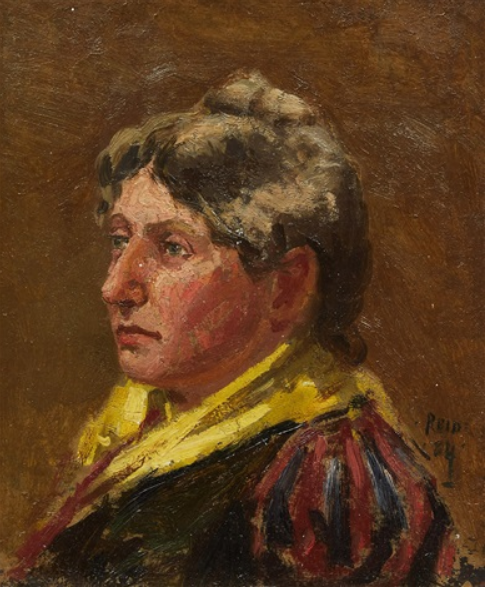 "Workshop Interior"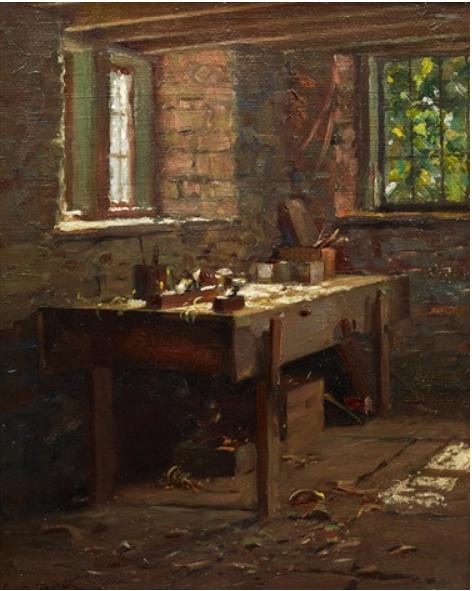 "In the cellar window"