Metal prints are a stunning type of wall decoration that more and more people are interested in having in their homes or offices. They combine aluminum sheets and a black polyethylene center, and various types of finishes on top.
These modern pieces of artwork are a great form of self-expression that you can add to any place in your home. You can get metal prints with your favorite memories to hang in your bedroom, office, living room, or as a gift to loved ones.
Metal prints come in various finishes, all of them still maintaining the beautiful nature of the photos. If you're considering getting a metal print or two, learning about the different finishes can help you choose the right one for your prints.
Matte Metal Print Finish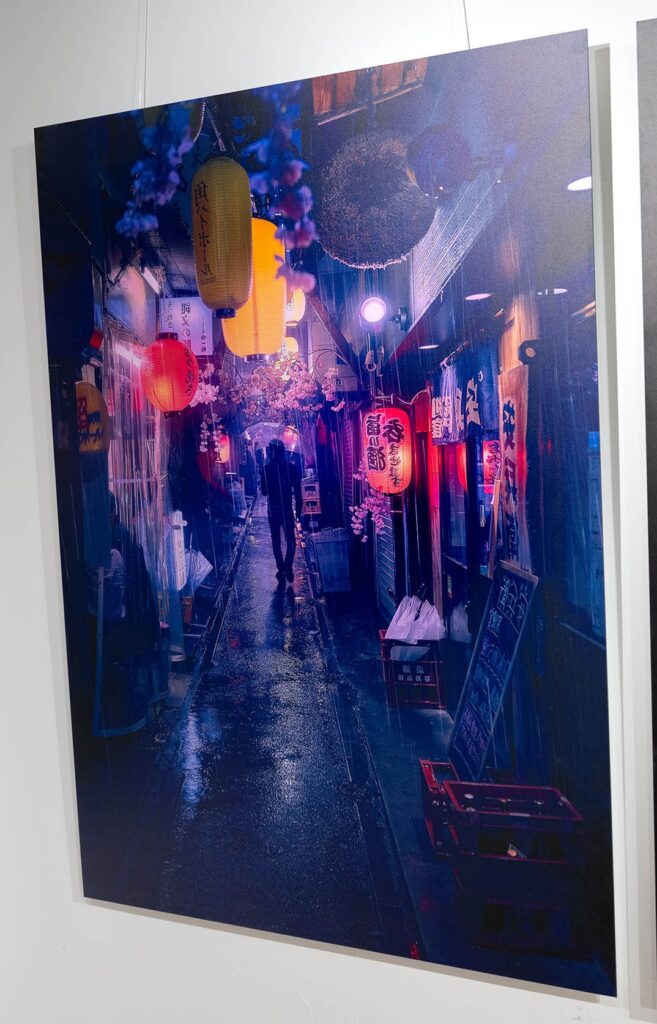 Matte metal print finishes are beautiful. A matte finish has a soft and satin-like surface. This unique finish helps eliminate almost all glare that light can cast on your favorite image. While it eliminates virtually all the glare, in a well-lit room, you'll still be able to make out the tiniest details of the photo.
Of all the finishes you can choose for your metal prints, this will be the most glare-free option and have the lowest contrast level. An image with a low contrast level helps blend a photo's light and dark areas to create a softer appearance.
Matte finishes are known to dull some vibrant colors in an image, so they're better for less colorful photos. That doesn't mean you still can't have a beautiful print with a matte finish, but it won't be as vibrant as it would with another finish like a semi-gloss or gloss.
Advantages of Matte Metal Print Finish
Choosing to go with a matte finish for your metal prints is excellent. The advantages of selecting a matte finish include:
Matte finishes are the most glare-free option
Matte finishes have a low contract
Matte finishes make black and white or sepia images pop
Disadvantages of Matte Metal Print Finish
As with everything, there are disadvantages to choosing a matte finish for your metal prints. Some people might not find these to be disadvantages, but they're worth knowing. These are a few of the drawbacks to matte finishes:
Matte finishes don't give off that "shiny" appearance many people enjoy in photos
Matte finishes have a textured appearance when you view them up close
Best Images/Photos To Use Matte Metal Prints
When choosing pictures for a matte metal print, the best options are older photos, old-fashioned style photos, and ones you want to print in black and white.
If you plan on placing a frame around your metal print, a matte finish is ideal, especially if the frame has glass. The photo won't stick to the glass and can prevent any glare from light that the glass might cause.
Best Company for Matte Metal Prints
Pictorem takes the cake regarding the best company for matte metal prints. When ordering through their website, you'll want to select their silver white finish because it's their only matte option.
The sizing options are vast for their matte metal prints. They range from 10×12 to 47×95. This large size list means that the pricing for these prints varies greatly. The cheapest matte image they offer from their suggested size list is $57, and the most expensive is $2,052 before shipping.
Since the company offers custom sizing, you can input your specifications onto their website to get an estimated quote for how much your print will cost.
If you are looking for our full article breaking down the options, see our guide at The Best Metal Photo Prints Online.
Semi-Glossy Metal Print Finish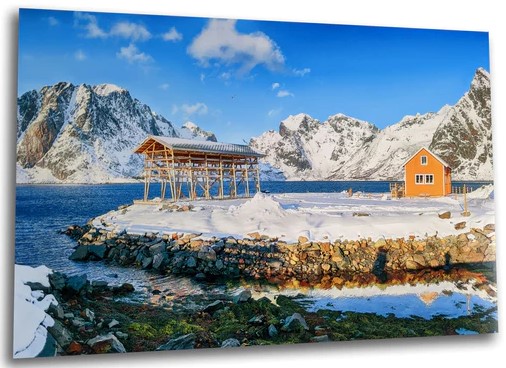 Semi-glossy finished metal prints are the perfect middle ground between a matte and glossy finish. This particular finish helps tone down the glare you could get from artificial and natural light but not nearly as much as a matte finish would.
The best part about a semi-gloss finish is that you still get all the benefits of a glossy finish because it still allows the colors in your photos to pop. It's an excellent finish when you want a color-rich image without a considerable glare from light.
The white base of this finish allows for a more accurate color representation of landscape and portrait images. Since the glare is slightly toned down, you can easily place these photos near a window without worrying about a high glare.
Advantages of Semi-Glossy Metal Print Finish
When considering the type of finish you want for your metal prints, it's essential to understand the advantages of choosing a semi-glossy finish. The main benefits of a semi-glossy finish are:
Semi-gloss finishes are the perfect middle ground between matte and glossy finishes
Semi-gloss finishes reflect a decent amount of light
Semi-gloss finishes keep color photos vibrant
Disadvantages of Semi-Glossy Metal Print Finish
While there are plenty of advantages of using a semi-glossy finish, there are disadvantages too. These are some disadvantages of selecting a semi-glossy finish for metal prints:
Semi-gloss finishes can dull black and white photos and make the details seem to disappear
Not all metal print companies offer a semi-gloss finish, so it can be challenging to get your prints
Best Image/Photos To Use Semi-Glossy Metal Prints
You can use a semi-glossy finish on any type of photo, but if you want to make the most of your photos, using this finish on color photos is best. Since it's still crispy like a glossy finish but allows for less light reflection, it's perfect for making color photos stand out wherever you hang them in your home.
Best Company for Semi-Glossy Metal Prints
If you're looking for a company that can give you that middle ground between matte and glossy finishes, the best option for a semi-glossy metal print is Gloss Metal Prints. It's hard to find a metal print company that offers a semi-gloss finish, so this is a great option.
Looking at their sizing options for semi-gloss metal prints, they have less than other metal print companies, but since it's one of the few with this finish, it's worth it. The sizes range from 8×10 to 40×60 for rectangular photos and 8×8 to 36×36 for circular and square images.
As for the prices, square and circle semi-gloss photos cost between $29 and $275 and $29 to $550 for rectangular semi-gloss images. You don't have any framing options with Gloss Metal Prints, but you can choose a backing option for an extra charge and image enhancement for a minimum of an additional $20, depending on the shape and size of your image.
Glossy Metal Print Finish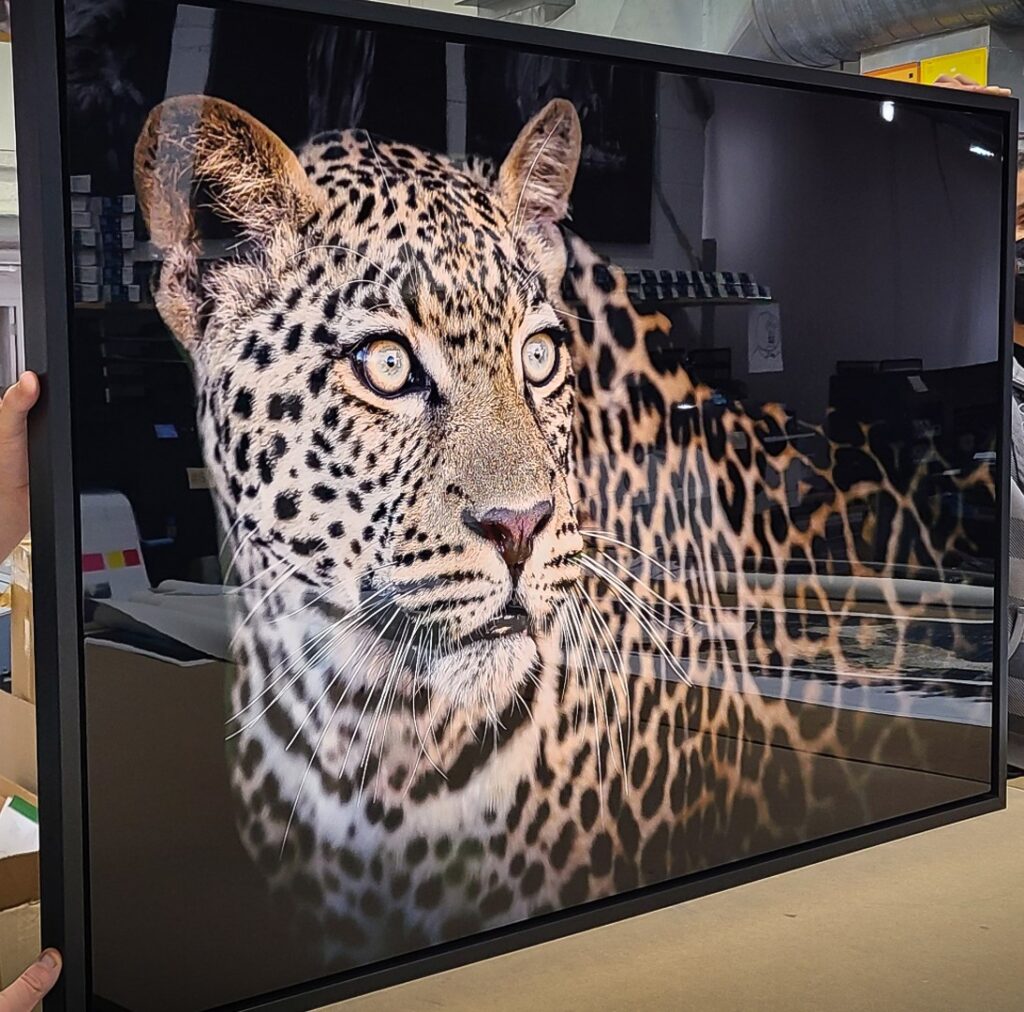 Glossy is the highest sheen finish you can get on your metal prints or any other photos, for that matter. The white base that these finishes offer allows for the most accurate color of all the finishes. A glossy finish is the universal first choice for almost every type of photography.
The surface of the image is very reflective, which makes it challenging to hang near windows, but that reflective surface gives you the best color representation of all the finishes. You'll have a much more detailed image with visual depth.
With more accurate colors, it's ideal for precise skin tones and eye colors on human subjects. It would be best if you displayed metal prints with a glossy finish in a controlled lighting room so you can prevent too much glare.
Advantages of Glossy Metal Print Finish
As one of the most popular finish choices, glossy finishes have several advantages. The benefits of getting your image metal print with a glossy finish are:
Glossy finishes will make your color photos appear brighter
Glossy finishes make your photos feel more contemporary or modern
Glossy finishes are typically a more inexpensive option
Disadvantages of Glossy Metal Print Finish
Here are the main disadvantages you'll want to be aware of before selecting a glossy finish for your metal prints:
If you place glossy finishes near bright lighting or windows, there will be a significant glare that can disrupt your view of the image
Glossy finishes can't enhance the vibrance of black and white photos as they can with color images
Best Images/Photos To Use Glossy Metal Prints
Glossy finishes are the most popular choice for metal prints so you can use this finish on any photo. They're particularly popular for color prints because the shine makes the colors stand out more than other finishes.
It's an excellent finish for images of people, landscapes, or other colorful subjects. You'll love this finish on portraits of people because the person's details will be greater than when you use different finishes. Their skin tone will be more accurate, their eye color sharper, and all the details will appear more transparent.
Best Company for Glossy Metal Prints
For the best glossy metal prints, Mpix is a fantastic option. They offer matte and glossy options, but we think their glossy options are ideal. Their sizes range from 4×4 to 40×60, giving you an extensive range of options.
Before shipping, the costs associated with purchasing a glossy metal print from Mpix can be as low as $24.99 and as high as $934.99 for their most prominent option.
Like other printing companies, Mpix offers framing options for an additional charge. You can choose black, white, brown, or floating frames for your glossy metal print images.
Epoxy Coating Metal Print Finish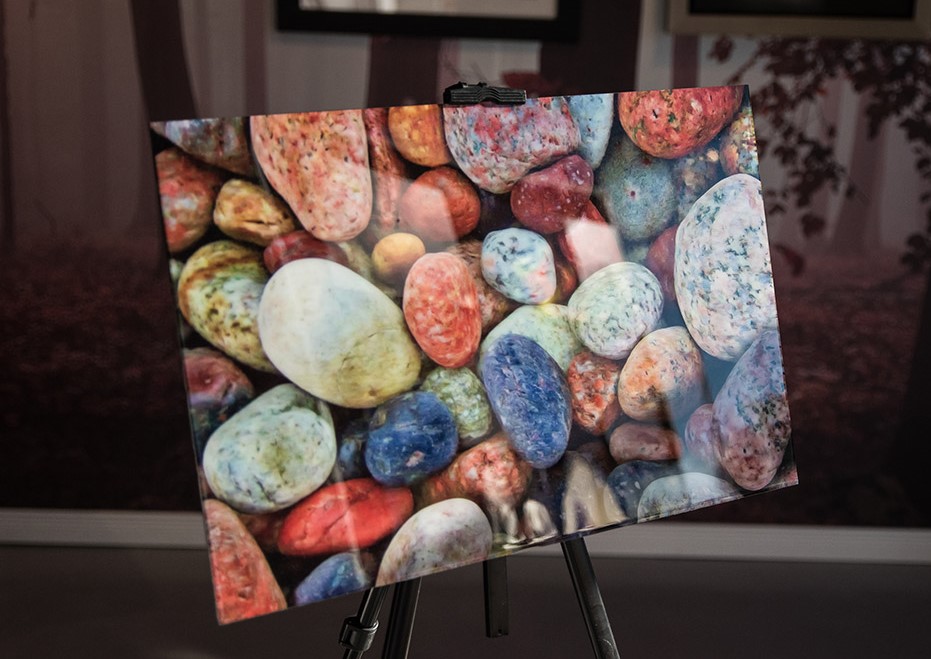 Epoxy coating on metal prints isn't the most popular choice among the others we've discussed, but it's still a great option that many photographers, artists, and ordinary people love. Using epoxy as a finish on metal print images provides an excellent protective layer over the image.
The protective layer allows the image to be scratch-resistant and makes the image slightly shiner than it would have been without an epoxy coating finish. Those creating this finish on your pictures will use a clear coat of resin and let it set to ensure it's solid.
It provides a luminous finish, but it's not nearly as shiny as a glossy finish. It has less glare which is great because you don't have to worry much about where you display the image. Epoxy coating can help add some vibrancy back to the color photos that you feel like it was missing. Since it provides a high-gloss shine, it can help enhance any colors in your photos.
Advantages of Epoxy Coating Metal Print Finish
Even though it's not the top choice of metal print finish, it's still popular for several reasons. The benefits of using an epoxy coating to finish metal prints include:
An epoxy finish ensures that your metal prints will be much more durable and less susceptible to damage
Epoxy finishes provide a high glass-like shine to the images
Epoxy finishes work well with almost any type of photo; subject, single color hue, etc.
Disadvantages of Epoxy Coating Metal Print Finish
Using an epoxy coating to finish your metal prints brings about several disadvantages that you need to be aware of before committing to this finish:
The epoxy coating can turn yellow over time when it's exposed to too much sunlight.
The layer of epoxy might make any lighting that touches the photo have too much glare if it's not in a lighting-controlled environment.
Best Images/Photos To Use Epoxy Metal Prints
Something most artists, photographers, and ordinary people love about an epoxy coating on metal prints is how it works well with almost all types of images. It's great to use on human subjects, landscapes, buildings, and any other photo you can think of.
Since the coating will provide a high shine to your metal prints, it looks excellent with color images because it can brighten them up and give a high level of detail.
Best Company for Epoxy Coating Metal Prints
When looking for the best company to get epoxy coating metal prints, you can't beat Pictorem. They use the highest quality epoxy to ensure that your prints are durable, scratch resistant, and will last for years.
Pictorem offers a large size range for their epoxy metal prints and also allows you to ensure your custom sizing if you need something more specific. Prices will vary, but to give you a better idea, their smallest size, 16×16, costs $165, and their largest, 40×40, costs $821.
You can choose your hanging style when ordering from Pictorem's epoxy coating finishes. You can get a black frame with different hanging options for an additional price and extra editing details like improved contrast, sharpness, and more. These features will cost you extra, but it's nice to have the option.
Metallic Metal Print Finish
Finally, we have a metallic metal print finish. Unlike most other finishes, which have a white base, metallic finishes allow the colors from the image to mix with the metal to create a metallic appearance.
This finish has a high sheen which many artists and photographers love. When you use this finish, all the white areas of your image will look more silver than white due to the lack of a white base. The silver hue adds an industrial appearance that many look for with modern artwork.
That being said, when you use this finish, it reduces the color accuracy of your photo. It still looks pretty good with color photos, but you'll love a metallic finish on metal prints that are black and white.
Advantages of Metallic Metal Print Finish
You might choose to get a metallic finish on your metal prints for many reasons. This finish isn't for everyone, but these are the main advantages of a metallic finish:
Your images will take on an industrial or modern appearance
Metallic finishes give your black and white images more depth and dimension
Metallic finishes will add brilliance to your photos
Disadvantages of Metallic Metal Print Finish
There are some significant disadvantages to choosing a metallic finish for metal prints. The downsides to this finish include:
Metallic finishes dull the color in your photos
Metallic finishes usually cost more than other prints with different finishes of the same size and shape
Best Images/Photos To Use Metallic Metal Prints
When choosing a metallic finish on your images, there are certain subjects or types with which it ultimately looks better. Since there's no white base and the image will have a metallic appearance, human subjects aren't usually the ideal option for these prints.
Of course, you can use this finish for human subjects, but it won't portray skin tones as accurately as semi-glossy and glossy finishes. This finish is perfect for black and white photos or single-tone hues. As for subjects, this finish works well for buildings, shapes, and other contemporary artwork.
Best Company for Metallic Metal Prints
If you're looking for the best company to purchase metallic metal prints from, you must consider shopping at Pictorem. Pictorem refers to their metallic finish as "Brushed Aluminum", as the print has the metallic texture of the raw aluminum plate. This specific finish is stunning and high-quality from this company, but they offer a comprehensive list of metal prints.
Pictorem offers metal print finishes, including brushed aluminum and HD chroma luxe. You can choose between landscape, portrait, panoramic, and square shapes.
The landscape sizes range from 18×12 to 60×40. Portrait sizes range from 10×30 to 40×60, panoramic sizes are 30×10 and 36×18, and square sizes are 12×12 to 36×36. Pricing for these photos can vary from $69 to over $1,000, depending on the sizes, mounts, and finishes you choose.
When you shop from this company, they also offer a variety of framing and mounting options, which can affect the cost of your prints. The price range we mentioned is without any additional features like framing.
Alternatives to Metal Print Finishes
These sophisticated metal prints aren't for everyone and can be pricier than other prints. You have two high-quality options if you're looking for alternatives to metal print finishes.
Acrylic Prints
Acrylic prints are a high-quality print that is an excellent alternative if you don't want a metal print finish. They're durable and still have an elegant appearance when you hang them in your home or office.
These prints feature an acrylic sheet with durable backing. Acrylic prints give your photos a 3D effect, and then they're encased in a similar material to glass. Acrylic prints look professional and sleek, which makes them a modern and great alternative to metal print finishes.
The finishes you can choose when you go with acrylic prints are glossy, metallic, luster, and matte. The finish options allow you to customize your artwork similar to what you would with metal prints.
Canvas Print Finishes
As the name suggests, canvas print finishes are photos or prints projected onto canvases you can hang as decorations. The photos are stretched to fit the chosen canvas size without distorting the image.
The material that most companies use to create canvas prints is hemp. It's durable enough to scratch over the packing without tearing. While hemp was previously the most common material, many companies offer polyester or cotton canvas prints, which can change the finish of the photo.
Cotton finishes on canvas prints will provide a higher-quality photo closer to what you might see in an art gallery or museum. This material will last much longer than hemp or polyester. Polyester canvas finishes are better for vibrant and colorful prints. Companies use this material to make even the most colorful photos appear brighter.
Regardless of the finish you choose for a canvas print, these photos are ideal for adding more versatility to a home. Since they don't have a frame, they're easier to decorate with and move around whenever you need to switch up your decor.
Final Thoughts
Metal prints are stunning additions to any home or office. They allow you to express yourself, showcase your favorite memories of vacations or family photos, and add personality to any room.
When choosing the type of finish you want on your metal print, consider the image type and the look you are trying to achieve. You'll also want to consider where you plan to display the photo and if glare is a contributing factor.
There are five excellent metal print finishes to choose from, each one has advantages and disadvantages, but either way, you'll have beautiful metal prints to hang anywhere in your home.