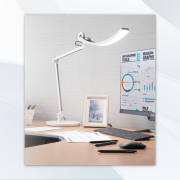 Advanced LED desk lamp ensuring eye health with adjustable brightness and color temperature, perfect for artists working long hours.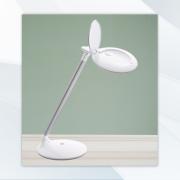 A highly portable, USB-rechargeable lamp with built-in magnifying glass, offering versatile illumination for a variety of art tasks.
An adjustable swing arm lamp with customizable brightness settings, ideal for artists needing light from various angles.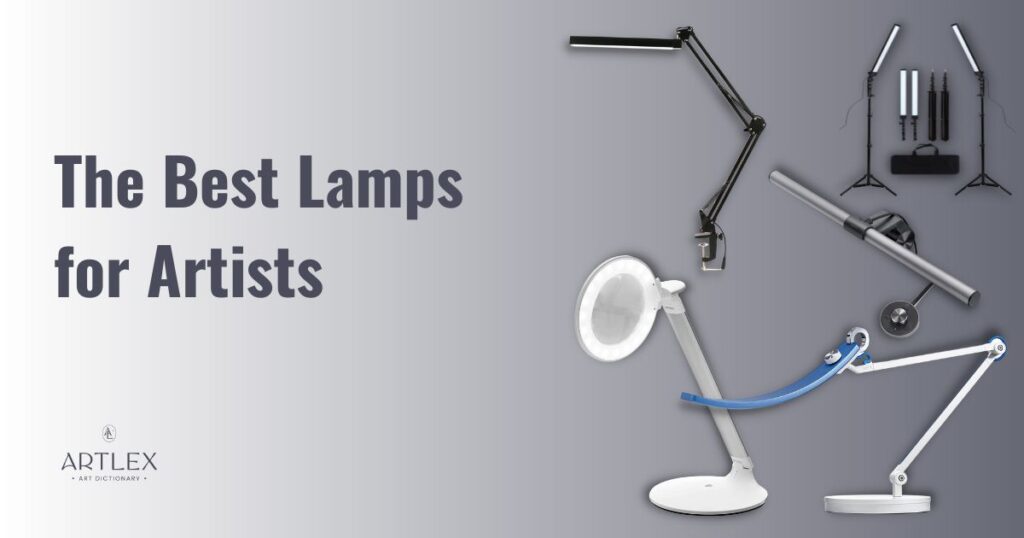 Ambient lighting is another name for the general illumination of a space. It's the light produced by fixtures affixed to the ceiling, such as the light from a chandelier, meant to illuminate a wide area. Thus, more is needed for detailed work.
For artists conducting tasks that demand close focus for extended periods of time, task lighting can help alleviate eye strain by directing more light into a smaller work area. Lamps for artists are designed to provide bright, even, and color-correct lighting for art-related activities such as drawing, painting, sketching, and printmaking. If you want to spare your eyes from unnecessary strain, it's not enough to rely on the ambient lighting in the room; you also need proper task lighting.
Choosing the correct lamps for artists can be a confusing task, however we will discuss the best light source for you based on the light bulb type, color rendering index, color temperature, and the location where it most suits you to place it, which are all of primary importance when making a buying decision. We will also discuss the most appropriate options for artists who need vision-correcting options, those who work primarily on their monitors, as well as people who are pressed for space, as they will require specific choices.
Selection Criteria for 2023—Buying Guide
When researching specialist artists' lamps, consider your individual needs (depending on your occupation), the style of lamp that most appeals to you (desk lamp, floor lamp, etc.), and any other features that you may require (magnifying glass, color temperature adjustment, etc.) For these reasons, it is critical to understand your specific needs first, before reading our 'best of' list.
Before purchasing a lamp, also verify the legislation in your area and ensure that the lamp satisfies safety standards.
LED, Incandescent, or Fluorescent Lights?
Your workspace, first and foremost, ought to be well-lit and inviting. For most, a light source with 500 lumens may be enough, but for artists, the higher, the better is the rule.
LEDs are considered the best option for artists and crafters in the long run due to their superior color rendering, consistent flicker-free light, low energy consumption, and ultra-low heat output.
Brightness of Natural Light?
The term "color rendering index," or CRI, describes how accurately a given light can portray an object's true color. CRI is crucial in art creation as it allows you to see how your work will look in crisp daylight, any time of the day or night.
Natural light is the sole source with an index of 100. The typical lumen output of a LED light for artists should aim to be 80 or higher as to portray colors accurately.
Warm Light or Cool Light?
Light with a color temperature of 2700K is considered to emit a warm glow, whereas light with a color temperature of 3000K is considered neutral, and light with a color temperature of 4000K is considered cool white. The spectrum of natural daylight is between 5000 and 6000 kelvin. So, a high-quality light source with a color temperature ranging above 5000K is recommended, as it will most accurately repeat the colors you intend under daylight.
The warmth or coolness of the light emitted by some desk lamps can be adjusted. Use a warm light rather than a blue one if you plan on doing any crafts in the evening, as blue light is thought to interfere with sleep. Not to mention that blue light has also been accused of hurting your eyes, which is of vital importance for artists spending long stretches of time working.
Desk Lamp or Floor lamp?
A desk light can be placed anywhere, but everyone has a preferred spot where they feel it would be most effective for their work. Measuring ahead of time to make sure the lamp you choose for your desk will actually fit in the space you intend to put it in is always a good idea.
A cordless, battery-operated type is the best option if you plan on moving the lamp around. The arms of certain lamps have hinge joints that allow for a certain degree of movement, although not always the complete 360 degrees.
So check before you look at our list; what kind of base are you after—a stable one or a clamp? Also, some lights contain USB charging ports at the base, and some even support Qi wireless charging for your electronic gadgets. Are there any extras you need for your specific line of work?
Top Product Recommendations for the Best Desk Lamps for Artists 2023
Overall Best Lamp for Artists: BenQ e-Reading LED Desk Lamp
Most Multifunctional Lamp for Artists: Daylight Halo Go
Best Desk Lamps With Swing Arm: YOUKOYI A16S
Best Desk Lamps With Clamp Fixtures: JOSTIC Double Head LED Desk Lamp
Best Lamps for Art Studios: GSKAIWEN 180 LED Studio Lighting Kit
Best Desk Light for Small Spaces: BenQ ScreenBar Plus
1. Overall Best Desk Lamp for Artists—BenQ e-Reading LED Desk Lamp
Desk Lamp Selection Criteria
LED Bulb – 1800lux – 1000 to 250lumen
CRI – >95
Temperature – 2700K – 5700K
Type of fixture – Desk lamp
About BenQ e-Reading LED Desk Lamp
This best light for artists is one of the most expensive desk lamps on our list, but the technology that comes with it may well be worth it.
This LED lamp comes certified by IEC/EN62471 photobiological safety regulations, so you can continue working well into the night without having to worry about the health of your eyes. Further, it reaches very close to natural light, as it is graded of >95CRI, so any details of your work will shine even during the day.
The brightness and color temperature of the light can be adjusted with the touch of a finger to a ring at the lamp's top. The automated setting uses a built-in light sensor to automatically alter the brightness as to suit the current lighting conditions. Despite being somewhat pricey, the bright light it emits and innovative touch controls make it well worth the investment.
Further, if you are a graphic designer, and plan on staying in front of your computer screen for long periods of time, then this LED desk light provides consistent, flicker-free, and evenly-distributed illumination, shielding your eyes from glare.
Finally, these LED panels have a lifespan of 50,000 hours, which is the equivalent of working 17 years straight, 8 hours a day. If you have second thoughts about the upfront cost, remember that it is a long-term investment.
Pros
Wide area coverage
Fully adjustable lamp
Non-flickering light
Auto-dimming mode
Cons
The initial cost is steep
2. Most Multifunctional Lamp for Artists—Daylight Halo Go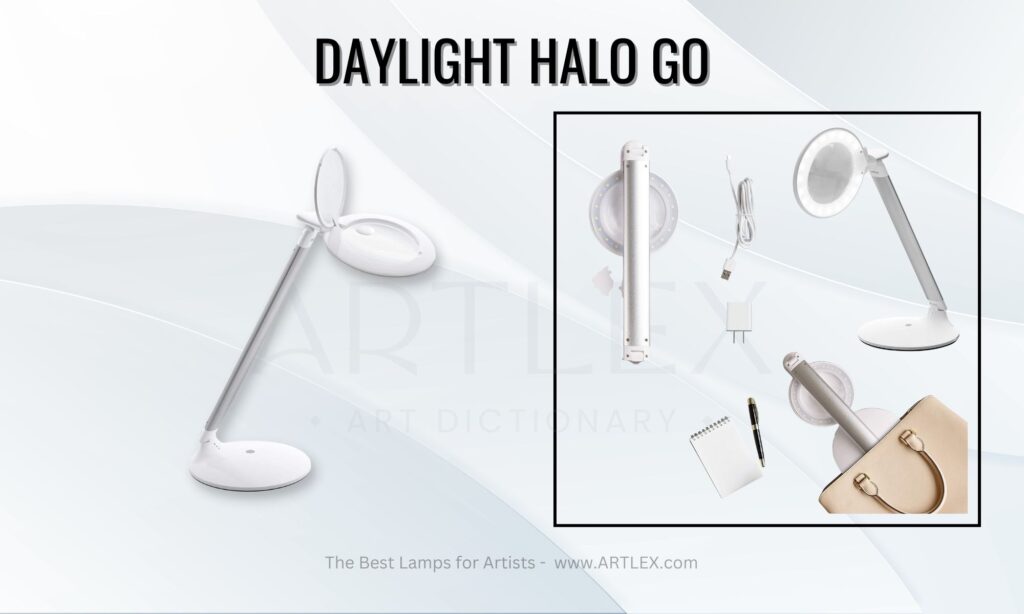 Desk Lamp Selection Criteria
LED Bulb – 4000lux – 315 lumen
CRI – 80+
Temperature – 6000K
Type of fixture – Desk lamp
About Daylight Halo Go
The Daylight Company has been an innovator in specialty lighting in art, health, beauty and is known for its inclusivity of low-vision artists.
If you are looking for an artist lamp that can be used in a variety of tasks, including cross-stitch, then the Daylight Halo Go is a multifunctional option to look into. The USB-rechargeable energy-saving lamp may be placed anywhere you need illumination and is even small enough to fit in your purse, when folded.
This lamp requires minimal charging but will last for eight hours of good lighting, so you can have it with you no matter where the mood strikes. However, customers have commented that you might need to replace the cable after some use, as it stops charging unless you hold it in place.
Moreover, this white light lamp offers the unique feature of a magnifying glass, including five-dioptres (2.25X) magnification with a 12-dioptres (4.0X) inset lens, for working on the finest details, no matter the type of art that has caught your interest.
Pros
Folds flat for easy storage
Magnifying glass as a standard accessory
Cons
No differentiation in brightness levels
3. Best Desk Lamps With Swing Arm—YOUKOYI A16S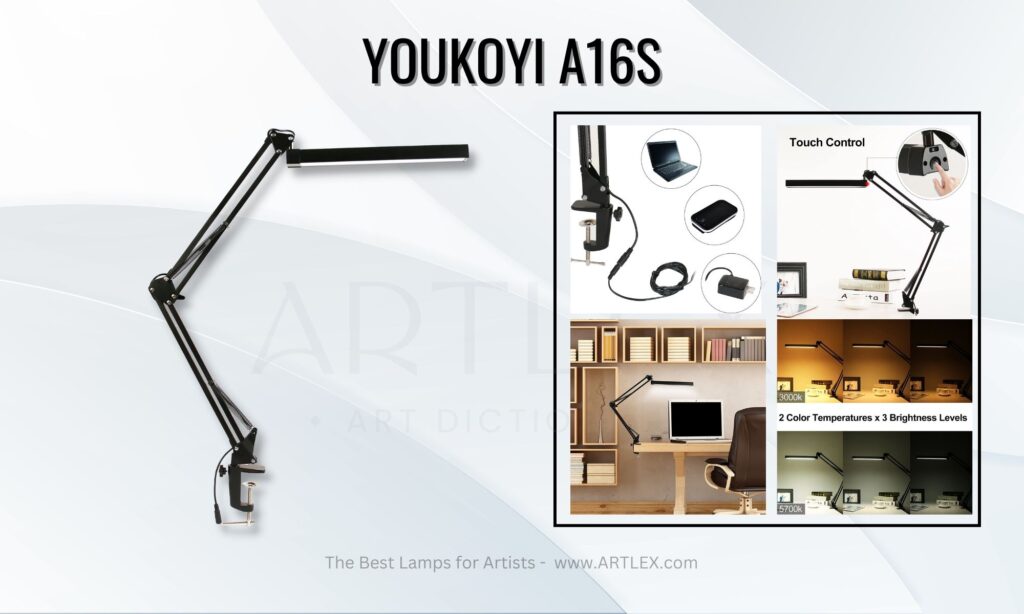 Desk Lamp Selection Criteria
LED Bulb – 17 – 360 lumens, depending on brightness levels
CRI – >80
Temperature – 3000k-6000k
Type of fixture – Clamp lamp
About YOUKOYI A16S
As an artist, sculptor or painter, it is often you find yourself needing bright light from different angles. The adjustable arm of this high-quality lamp may be just what you need to complete work that needs adjustable shade and light.
Even though this light bar comes with a clamp fixture, you can take it with you and use it in a variety of settings, as it comes with a USB port for charging, so that the lamp may be run off either a laptop, a USB power bank, or the included wall adaptor.
The brightness level of the LED light can be dimmed to your liking, in terms of both location and luminosity. Low, medium, and high are the three brightness settings available.
The touch control on the top of the lamp makes it easy to adjust, with just one hand. Simply tap it to turn it on/off or double-tap it to set the brightness level to your liking. When you switch off the light, the brightness setting will be remembered. When you turn the light on the next time, it will be at the same level of brightness as before. To reset it, simply unplug and replug it, like in the olden days.
Finally, the flexible arm folds down to 15.7 inches, so it is out of the way when you are done for the day. The desk lamp's head can swivel 350° in both directions and be tilted to the left or right by 180°. It has a long arm that extends 13.7 inches and can altogether rotate 270°. So there is virtually no angle you can't work on with this adjustable stand.
Pros
Multi-joint flexible arm
Spring loaded arm
Touch switch
Modern design
Cons
The bulb is not replaceable
4. Best Desk Lamps With Clamp Fixtures—JOSTIC Double Head LED Desk Lamp

Desk Lamp Selection Criteria
LED Bulb – 1200 lumen
CRI – >85
Temperature – 3200K-6500K
Type of fixture – Clamp lamp
About JOSTIC Double Head LED Desk Lamp
The issue with most clamp LED lamps is that, while you gain more space on your desk, you also lose some area of direct light to work with. The JOSTIC Double Head LED Desk Lamp was specifically designed to be the solution to this issue, with two headlamps to illuminate your entire desk space without altering your working area.
The 168 full-spectrum LED beads, not only are energy-saving, but offer you the best light along with the flexible joints for your whole desk. If you share the space with another person, this lamp can provide light for both of you, irrelevant of the angle you wish to shine it on your art piece. So, you can both work just as efficiently at no extra cost.
There are 50 lighting modes available, with a total of 500 possible light configurations (five color temperatures by ten brightness levels), so you can work with no eye strain no matter what the ambient light of the room is like. To turn off brightness in gradual increments, you can just hold down the brightness button for a while. The lamp also includes a memory chip that remembers the last used lighting setting, so you know where you left off.
This lamp's flexible design allows for horizontal adjustment of 180° and rotation of 275° at the lamp head, vertical adjustment of 135° at the lamp arm, and 360° of rotation at the lamp base. The possibility of adjusting the model from a variety of angles, portability, and minimal storage requirements makes this a unique, extremely durable, modern design lamp. Be advised that the clamps can accommodate table thicknesses of up to 2.5 inches.
Since it has a double lamp head and several joints, it can also be used in a wide variety of artistic settings. This lamp is perfect for use as a desk light or to illuminate a computer screen, or even to use with two monitors at an architect's studio, or even to carry back to your home while playing the piano, drawing, sewing, painting, or any other creative endeavor.
Pros:
Saves desk space
Ample light for more than one person
500 light combinations
Cons:
Joints may need re-screwing every few months
5. Best Lamps for Art Studios—GSKAIWEN 180 LED Studio Lighting Kit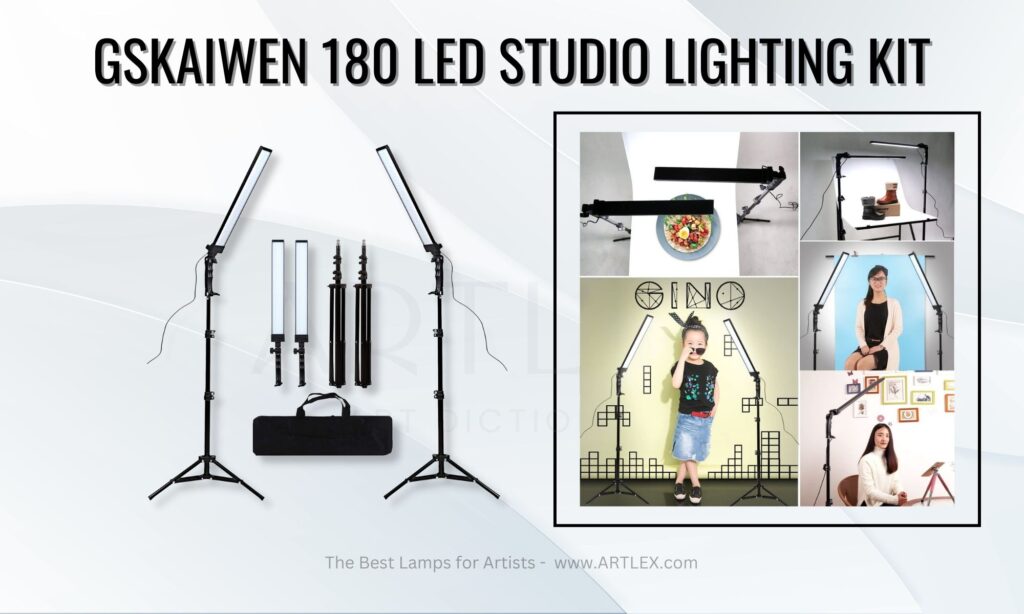 Desk Lamp Selection Criteria
LED Bulb – 3200 lumen
CRI – N/A
Temperature – 5500K
Type of fixture – Stand lamp
About GSKAIWEN LED Studio Lighting Kit
This is a different device type, and at this price point, it is a good option for your art studio but also a good desk lamp. If you are an artist that takes videos and photos on the go, transporting it is easy, as well. As these lights are lightweight and the package comes with a carrying bag, you can do outdoor photoshoots no problem.
The 79-inch tall light stand with a sturdy base helps take a multi-angle photo or video and fine-tune the colors of your film to exactly how you want them, thanks to the customizable color temperature. The dimmer switch gives you a continuum of light tone, so you can adjust it depending on what you want to film and the sentiment you want to project.
At the same time, this lamp can be set as low as 25 inches, to be used as a soft light for your desk, while you go on to edit your videos. So there is no need to pay up for additional lights to complete your projects.
Pros:
It can be used as a table lamp and portable studio light
Dimmable light
Easy to transport
Cons:
Sometimes a little hard to fit everything in the bag in a hurry
6. Best Desk Light for Small Spaces: BenQ ScreenBar Plus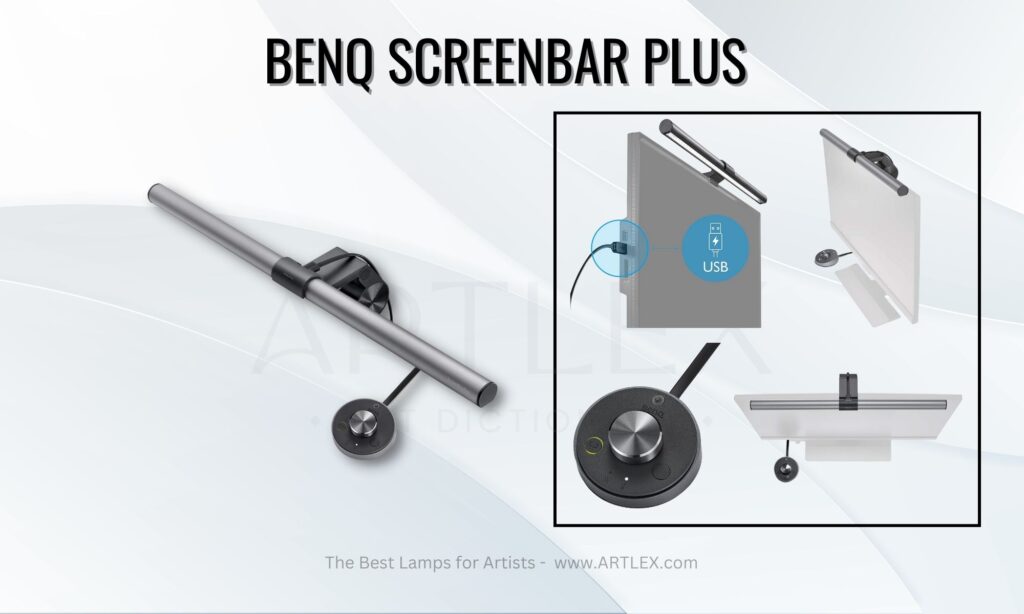 Desk Lamp Selection Criteria
LED Bulb – 500 lux – >900 lumen
CRI – >95
Temperature – 2700K – 6500K
Type of fixture – Clamp on lamp
About BenQ ScreenBar Plus
For monitor-centric artists, the BenQ ScreenBar Plus lamp allows you the benefits of a high-tech desk lamp without sacrificing space.
The lamp's innovative design allows it to sit atop your screen and shine down, providing between 500 lux to 900 lux of brightness without the glare that would be produced by most conventional lamps.
This product comes with 15 levels of auto-dim glass shade, so it can automatically adjust to the ambient light of your room to make sure your eyes are well protected while you are solely focused on work. The desktop dial will also let you manually decide on the brightness and warmth of your environment.
Finally, this is a highly portable desk lamp and can be taken with you to your studio, home or even the library as it is powered via a USB outlet, so with the help of your power bank you can use it just like a regular table lamp.
Pros:
Benefits of a desk lamp, without taking up any space
15 auto-dim levels
Manual touch control
Variety of touch sensors on a single dial
Cons:
Curved monitors may be an issue when installing it
Conclusion—The Best Desk Lamp for Artists 2023
Lamps with movable arms were a popular topic of innovation in the 1920s, when inventors tried out new designs such as counterbalances. Except for one: the modern desk lamp, designed by UK-based freelance automotive designer and engineer Carwardine, who specialized in vehicle suspensions. Since, then the best desk lamp for artists has been the topic of much research and debates.
Depending on the desk lamp that is the right for your art and the space you work on, we have compiled a list our best options.
The Daylight company has given us the Halo Go table lamp, which a truly inclusive artist lamp with a magnifying glass that makes lighting your space while working on detailed projects easy for all artists equally.
The BenQ ScreenBar Plus is a great option for people who work on their computers and need light without taking any space from their workstation, while the JOSTIC Double Head LED Desk Lamp is a wonderful option for artists working with double screens.
We hope you found our analysis of the best desk lamp for artists of 2023 to be helpful. Consult our associated guides for further sources of comparable items for the artistic lifestyle.