Handi Quilter Simply Sixteen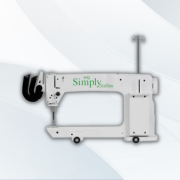 Top-tier, beginner-friendly with small standing frame design suitable for smaller spaces; has smaller foot frame.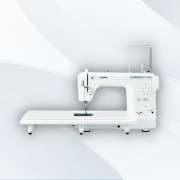 Affordable, ideal for beginners with great versatility; requires manual settings change, lacks LED screen.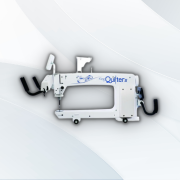 Ideal for professionals with cutting-edge features and high stitching speed; ruler base is optional.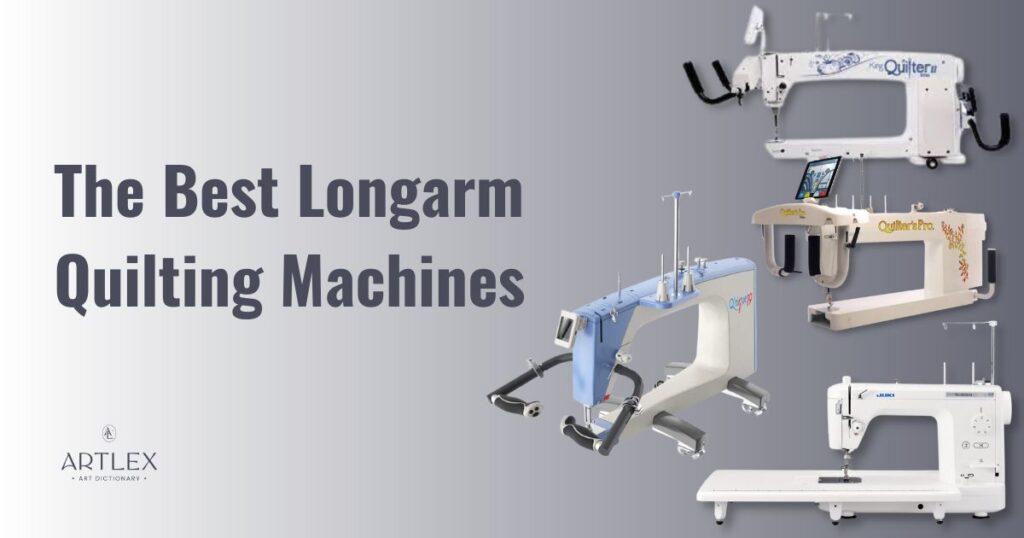 A quilt is a piece of multilayered textile, typically made up of two or more pieces of cloth or fiber. Normal construction employs three layers plus a filler. Using quilting techniques, the top fabric is joined to the batting or wadding and the backing fabric, all with the help of a long-arm quilting machine.
The use of quilts is enjoyed by everyone, and it is a rather common gift during the holidays. The very sound of the word conjures up images of cozy comfort on a cool night. So, if you're handy with a regular sewing machine, you can also add a quilt to your sewing projects. How about we make this project more workable by using the top longarm quilting machine available instead?
There are numerous ways in which a long-arm quilting machine differs from a home sewing machine. A long arm machine is used to stitch a quilt's top, batting and backing together in one continuous seam. At the same time, on a longarm machine, the quilt sandwich is held static while the machine's head moves in a vertical and horizontal plane to add quilting stitches, unlike on a domestic sewing machine which is the opposite.
Despite their apparent differences, sewing and quilting are often done together. Although sewing is essential, quilting requires more technical skills. Quilting is a step above basic sewing in that it requires stitching together several layers of fabric.
With a long-arm quilting machine, you have the option of using a computerized system that gives you limited control over the quilting process or a manual system that gives you complete freedom to choose the quilting pattern and complete it yourself.
Even though most quilters own high-tech sewing machines, they might be less familiar with the world of long-arm quilting machines and their details. Choosing the correct machine can be difficult. However, we will discuss the best long-arm quilting machines based on their throat space, quilt speed, and stitch regulation, which are all important factors when deciding which model to buy. We will also discuss the most appropriate choices for beginners, professionals and large businesses, among others.
Selection Criteria for long arm quilting machine 2023—Buying Guide
Although it's tempting to go for a feature-rich machine, sometimes less is more. After you've prepared your quilt sandwich, the last thing you want to do is waste time searching through a confusing user manual, as you can't really pinpoint what all the machine features do.
Also, keep in mind how much space you can afford for your quilting adventures, so it keeps giving you joy rather than suffocating you and the room.
Throat Space
Quilting machines have what is known as a "throat," which is the area behind the needle that is hidden by the machine. More quilting room is available with a longer throat.
The difference between the two main types of these machines, the mid-arm or long-arm options, has to do with how far the needle is from the machine's back. Our reviewed long-arm quilting machines provide a neck space ranging from 15 to 26 inches.
However, 18 and up is the sweet spot. With a less-than-18-inch throat space, it's possible this machine is classified as a mid-arm quilting machine by some professionals.
Stitching Speed
Using a long-arm quilting machine is a time-efficient way to quilt, so the number of stitches per minute is a crucial number to keep in mind when deciding on the model you want to buy.
A quilting machine's stitch output is proportional to the strength of its motor and its stitching speed. So, if you want to improve your SPM, try using a long-arm machine with a higher setting.
To have an idea of what to aim for, speeds of 1500 SPM are great for intermediate work, while speeds over 1800 SPM are suitable for professional work.
Stitch Regulation
As far as long-arm quilting machines go, stitch regulation is one of the most essential and widely used features. Being able to switch to manual mode is great, but you seldom ever do. The most professionally finished quilts are those that have been stitch-regulated and carefully managed by the sewing machine. Be sure that the machine has a stitch regulator and that it can switch between a precise setting and a faster "cruise" setting.
Regulating the thread rate ensures uniformity in your stitches and provides greater precision in the final product.
Top Product Recommendations for the Best Long Arm Quilting Machines 2023
Overall Best Long Arm Quilting Machine: Handi Quilter Simply Sixteen
Best Long Arm Quilting Machine for Beginners: Juki TL-2000Qi
Best Long Arm Quilting Machine for Professionals: King Quilter ® II ELITE Long Arm Quilting Machine
Most Inclusive Long Arm Quilting Machine: Quilter's Pro Deluxe Long Arm Quilting Machine
Best Longarm Quilting Machine for Frame Compatibility: Grace Company Qnique 19 Quilting Machine
Best Long Arm Quilting Machine for Large Businesses: Handi Quilter Infinity 26-inch Long Arm with Gallery2 Frame
1. Overall Best Longarm Quilting Machine—Handi Quilter Simply Sixteen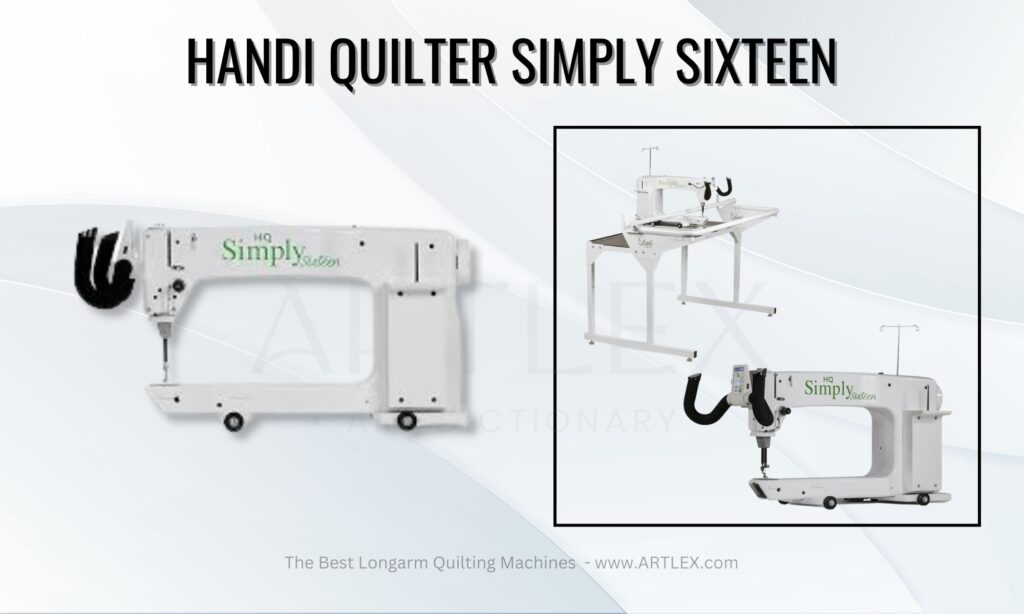 Selection Criteria
Quality – 10/10
Throat Space – 9/10
Stitching Speed – 10/10
Stitch Regulation – 9/10
About Handi Quilter Simply Sixteen
The Simply Sixteen is a top-tier long-arm quilting machine manufactured by Handi-Quilter, with a high degree of dependability. The Simply Sixteen's automatic threader and top-loading bobbin make quilting a breeze and simple to operate, so you can customize it to suit your needs as often as you feel the need.
The Handi Quilter Simply Sixteen is a quilting machine with a standing frame design that is smaller than most machines on the market. Despite its small size, it can readily carry king-size quilts thanks to its exclusive HQ Little Foot frame technology. Because its quilting frame is under 5 feet long, this machine is suitable for persons with little storage space.
This machine is particularly ideal for beginners, as it comes with comprehensive instructions and round-the-clock help from Handi Quilter's expert staff. Its maximum stitching speed of 1800 SPM is more than enough for most jobs, including professional-level ones. The device can be used with a touchscreen and ergonomic hand grips. With the addition of the back handles, you may even try your hand at pantograph edge-to-edge quilting.
Furthermore, the preset modes for regulating stitch length and width, as well as a manual mode and a large bobbin capacity, let you go longer between bobbin changes when moving between stitch types.
Pros:
Built-in diagnostics
Great stitch regulation
Adjustable stitch length
Precision mode
Cons:
2. Best Long Arm Quilting Machine for Beginners—Juki TL-2000Qi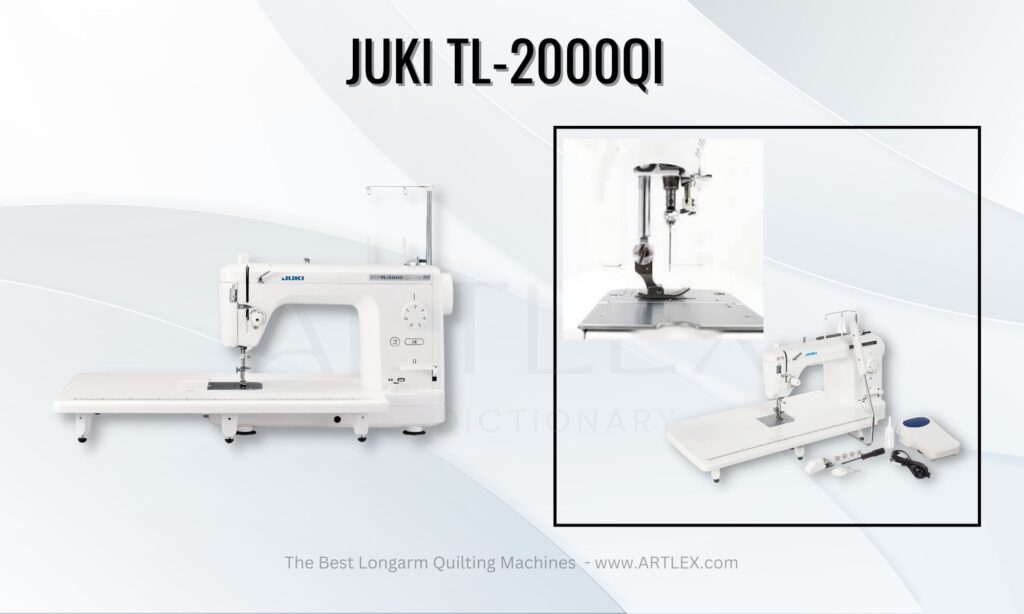 Selection Criteria
Quality – 9/10
Throat Space – 8/10
Stitching Speed – 9/10
Stitch Regulation – 8/10
About Juki TL-2000Qi
Most people who think about exploring this medium are scared because of the high price of long arm machines. The Juki TL-2000Qi is the most affordable long-arm quilting machine on our list, yet it still offers outstanding value and a high level of versatility that will impress even the most seasoned quilters.
This equipment is exceptional when compared to its price. It is impossible to find anything more durable, precise, or potent for the price so that you may dive into the world of quilting without fear of failure. However, the machine's ease of use and superb ergonomics ensure that you will not lose out on the features that will help you learn the art of quilting.
The Juki is a comprehensive long-arm system, therefore, no further accessories are required unless you frequently utilize and demand such functions from your machine. Despite the lack of a computer, its stitch control gives it a modern feel, and its precision is comparable to all but the most expensive ones below it. This machine sports a 1,500 SPM speed, while the simplicity of the Juki has numerous advantages, notably its ease of setup and operation. The unit comes with an instructional DVD and user manual, so you can get started right away.
Pros:
Automatic feed dogs
Automatic needle threader
Lightweight and portable
Good price point
Cons:
All the settings need to be changed manually
No LED screen
3. Best Long Arm Quilting Machine for Professionals—King Quilter ® II ELITE Long Arm Quilting Machine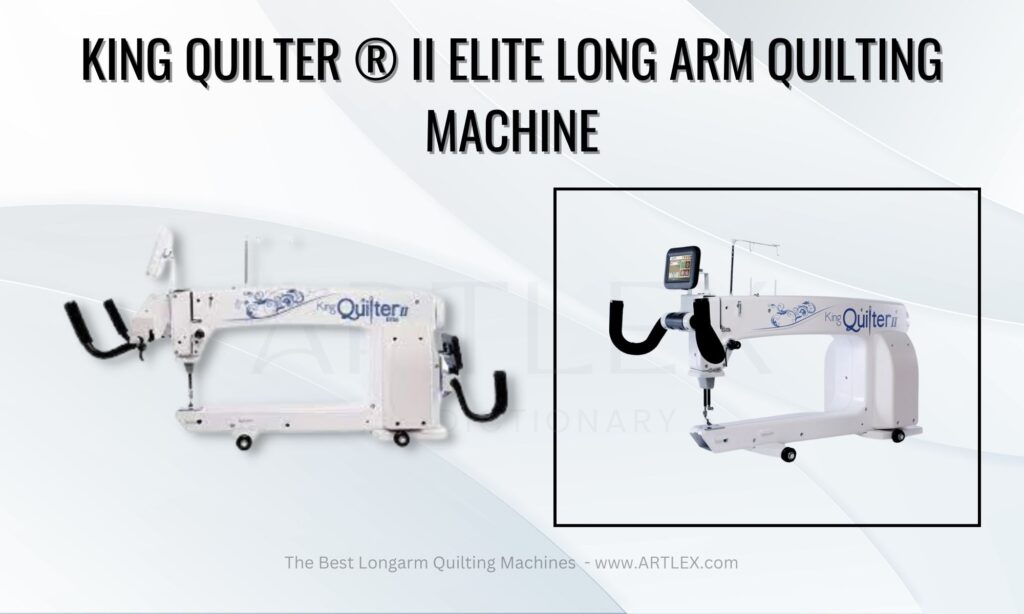 Selection Criteria
Quality – 10/10
Throat Space – 9/10
Stitching Speed – 10/10
Stitch Regulation – 10/10
About King Quilter ® II ELITE Long Arm Quilting Machine
This cutting-edge long arm machine is ideal for professional quilters because it is constructed to last and requires little maintenance. The seven-inch color touchscreen enables for single-finger operation, and the quality of the two-piece CNC casting ensures cutting-edge functionality without breaking the bank. It also features a plethora of quilting apps to help make your tasks easier and more pleasurable.
The motor in the King Quilter II is powerful, durable, and fast, reaching speeds of up to 2,200 stitches per minute. This long-arm quilting machine, with its 18-inch throat area, is well-suited for working on very large quilts, even after hours, since the strategically placed LED lights ensure adequate vision of your work day or night.
Quilt bindings are normally fastened to the front, wrapped around the back, and hand-stitched down. Some professionals, though, like to begin from the back and work their way to the front. The King Quilter II Elite is a wonderful alternative for professionals who choose to quilt from the front or back of their machine. The machine also has a basting stitch, cruise mode, accuracy mode, auto-sizing, rotating, and repeating patterns, allowing you to automate the majority of your job.
Pros:
Can create intricate patterns
Quick access buttons
Motorized bobbin winder
High stitching speed
Cruise mode
Cons:
Ruler base comes as optional
4. Most Inclusive Long Arm Quilting Machine—Quilter's Pro Deluxe Long Arm Quilting Machine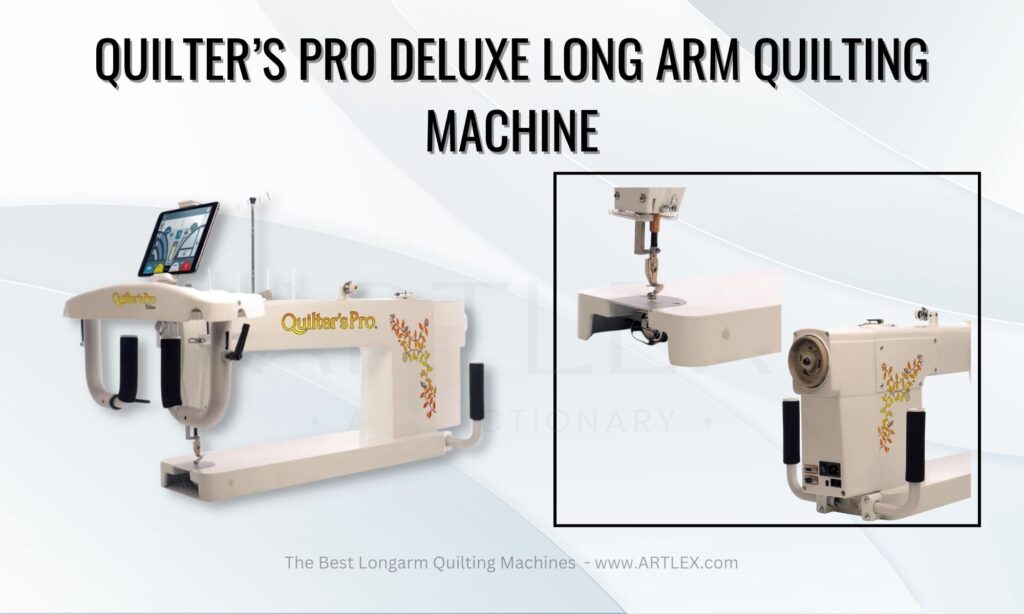 Selection Criteria
Quality – 10/10
Throat Space – 10/10
Stitching Speed – 9/10
Stitch Regulation -10/10
About Quilter's Pro Deluxe Long Arm Quilting Machine
Art is inclusive in nature, and quilting is no different, so our list would not be complete without an option for an inclusive long-arm quilting machine.
The Quilter's Pro Deluxe boasts an 18-inch neck and a direct drive motor that can sew at up to 2,000 stitches per minute, making it a commercial-level machine from the start. However, this is not the reason we chose it for our list: it also includes a refurbished 9.7-inch iPad Pro as part of the bundle, which will help people who require visual aids at work, making it the device with the largest touchscreen. Simply connect your Quilter's Pro Deluxe long arm to the iPad Pro through Bluetooth, then download the software from the app store to gain access to all of your machine's functions and features. Additionally, LED lighting illuminates your quilting area, making it easier to work.
Aside from that, this machine incorporates Comfort Grip handles on both the front and back that are adjustable to the optimal position for maximum quilting comfort. Curved handlebars allow for effortless machine movement while also lowering tension, allowing persons with arthritis to operate this machine with comfort. The handlebars provide access to start/stop, needle half cycle/full cycle, and tie-off actions, so there is no need to worry about tiring your hands.
Each handle of the Quilter's Pro Deluxe Long Arm incorporates soft-touch button controls and an LCD display. When you select Regulated Stitch mode on the LCD panel, your machine moves in sync with you; as you move, it sews, and when you stop, it stops with you. With its precise stitch regulation and stitching as fine as 22 threads per inch, the Regulated Stitch allows for even the smallest micro-stippling and top accuracy without you breaking a sweat.
Pros:
Automatic needle position
Great Stitch speed
Extra comfort grip handles
Cons:
Loud if used in small spaces
Warranty lasts less than most sewing machines
5. Best Longarm Quilting Machine for Frame Compatibility—Grace Company Qnique 19 Quilting Machine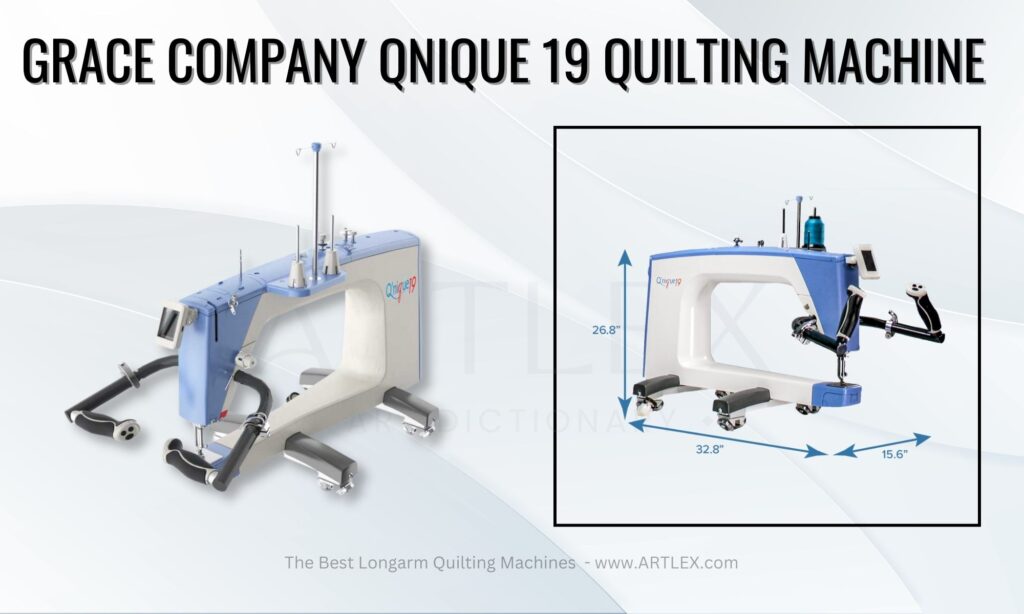 Selection Criteria
Quality – 9/10
Throat Space – 9/10
Stitching Speed – 10/10
Stitch Regulation – 10/10
About Grace Company Qnique 19 Quilting Machine
Quilting takes time but using a frame to keep all three layers in place and your work taut can significantly boost your productivity. Furthermore, you may save time and effort by not having to shift and turn your quilt while sewing. With a big 19-inch neck space, the Qnique Quilter 19 is great for quilting large designs and blocks. It is compatible with a wide range of quilting frames, including the industry standard: Q-Zone Hoop-Frame. This way, you can enjoy a fully automated quilting system in combination with this machine and its Quilter's Creative Touch Software.
The powerful engine can produce 2,000 stitches per minute for more detailed quilt stitching. It includes a stitch regulation built in to ensure that your stitches are always the same length. The machine adjusts the stitching pace based on your inputs. As a result, your stitches will be the same length as others every time.
The Qnique Quilting Machine's built-in bobbin winder features its own motor, which enables you to reload the bobbins without turning on the quilting machine. As it is larger than most, it allows you to quilt for longer periods of time before needing to refill or change your bobbin.
Pros:
Compatible with Q-Zone Hoop-Frame
Built-in bobbin winder
Over 200 stitch patterns
Can create large quilts
Can trace patterns from photographs
Cons:
No rear handle
Does not allow for robotics, as an option
6. Best Long Arm Quilting Machine for Large Businesses—Handi Quilter Infinity 26-inch Long Arm with Gallery2 Frame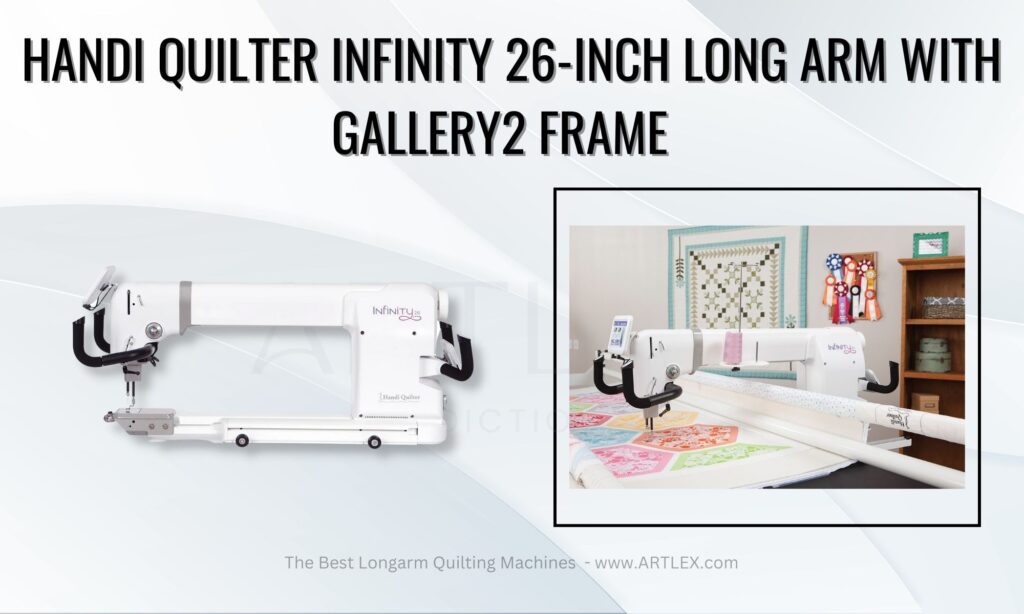 Selection Criteria
Quality – 10/10
Throat Space – 10/10
Stitching Speed – 10/10
Stitch Regulation – 10/10
About Quilter Infinity 26-inch Long Arm with Gallery2 Frame
Large businesses aim for dependable results, as well as speed and accuracy. The Handi Quilter Infinity comes with impressive specifications, including a stitching speed of 3,100 SPM. The throat space is 26 inches, which is more than enough to quilt several dozen blocks. This long-arm quilting machine has a stitch density of 4 to 20 SPI, and the ability to alter stitch density is a fantastic feature for professionals. The total light system allows you to adjust the LED lights and cycle between warm, cool, neutral, and UV options.
The other thing you should know about this long-arm quilting machine is that it has two stitch control modes in its stitch regulation options: Precision and Cruise, as well as a precise needle laser, so you can choose whether you want your items to be completed manually or regulated. Furthermore, the quilter's eye camera allows you to see even beneath your quilt work.
The onboard conversion frames are built with the quilting machine's premium 12-foot HQ Gallery2 frame. For a limited time, the HQ STITCH 310 standard sewing machine is available as an added bonus to meet all of your business demands. Finally, the system comes with 500 pre-loaded designs as well as the capacity to download any design from the internet.
We appreciate that the number of capabilities on this machine may appear overwhelming to someone considering a career in quilting or even a professional. That is why this machine includes a free two-day virtual hands-on training session.
Pros:
Impressive specifications
Silent
Easy to maneuver, despite its size
Allows for free motion quilting
Pinpoint needle laser
Two stitch regulation modes
Variable speed
Cons:
Conclusion—The Best Long Arm Quilting Machines 2023
While reading our arm quilting machines review may have given you an idea of the range of machines in the market, we hope it helped you focus on which one would be best for your needs.
If you don't have enough space for a full long-arm quilting machine, but want quick access buttons and professional-level specifications, then you could give the Handi Quilter Simply Sixteen a try. It is an overall great machine for both beginners and professionals, and can handle most of the projects you will come up with. As an added bonus, there is no need for a separate frame, when you opt for this machine.
On the other hand, if you own a business and need the top of the top, then you can't go wrong with the Quilter Infinity 26-inch Long Arm with Gallery2 Frame. Even though it comes with a high price point, it more than justifies its price for the professional quilter.
We hope you found our analysis of the top long-arm sewing machines of 2023 to be helpful. Consult our associated guides for further sources of comparable items for the artistic lifestyle.