A versatile photo stick offering robust features and a decent storage space for both Android and PC users.
iDiskk 4 in 1 Photo Stick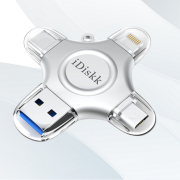 An ideal solution for businesses, featuring extensive device compatibility and a focus on quick, cross-platform file transfers.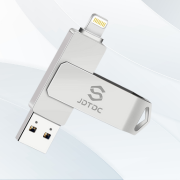 A reliable, user-friendly photo stick perfect for everyday use, despite a strong focus on Apple device compatibility.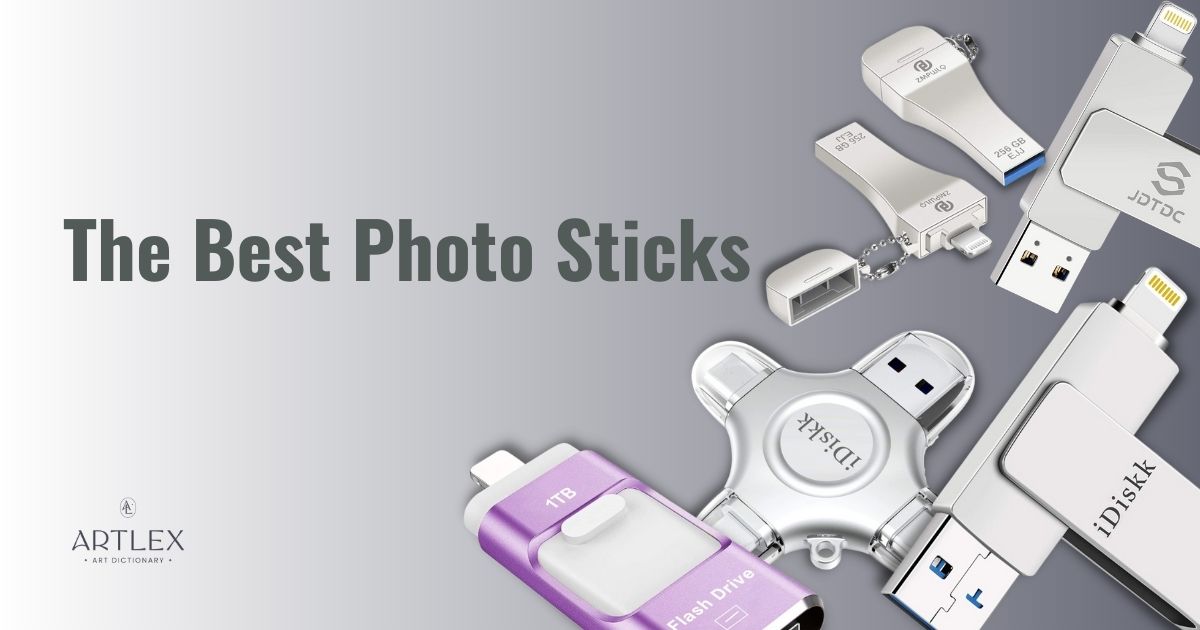 In this day and age, digital images are the most consumed type of content online for all types of work. You might be a professional photographer or just an average taker of photos. A photo stick is a great way to save and store all of your most important images while avoiding the storage constraints of cameras and phones.
Because it is a relatively new product on the market, it can be confusing to know what to look for in a photo stick, especially when compared to a flash drive. I'll share with you how to navigate the differences. I'll also break down what I think are the best photo sticks based on price, storage capacity, software compatibility, and device compatibility.
How to Choose the Best Photo Stick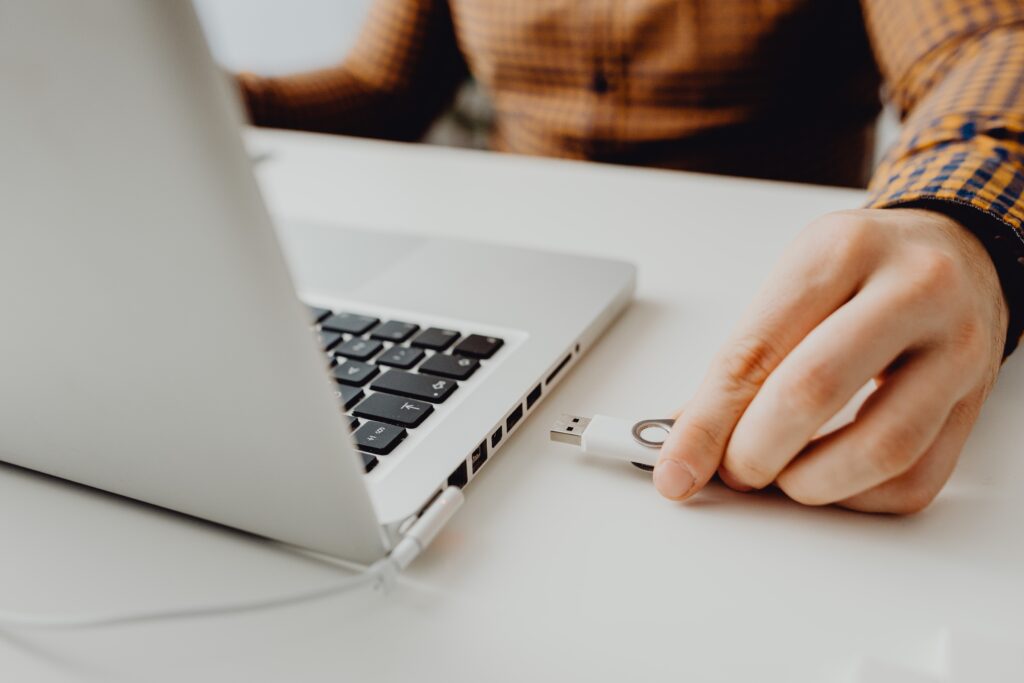 Lost photos are such an issue that National Save Your Photos Day is celebrated in September every year! From malware to water damage, you could lose thousands of pictures. With more and more concern about the impact of cloud storage, it's a good idea to have a secure space for duplicate files.
I've found that an ideal photo stick will quickly sort through a multitude of file types and should fit my capacity needs. It's common to see photo sticks with larger storage capacities than flash drives, but that's also going to change on a user-to-user basis.
Ultimately, I think it's a combination of storage size, software features, and how easily you can use it for the right price.
Price
You're primarily paying for the software power and storage of a photo stick when you buy one.
Because they're becoming more common over time, this year, I found it became a lot easier to find decent photo sticks for under $40. However, the most complex photo sticks will run you upwards of $60.
I found that I could easily find over 100 GB of total storage for around $40, with other features like one-step use, security backups, and warranties. Under $30, and you start to get a little light on features, but rarely do quality photo sticks drop beneath that price range.
Price is a straightforward factor in making any purchase. I've found that the quality discrepancy between two photo sticks that are only $10 apart can be surprisingly significant. While not everyone needs a high-end product built for industry-level photographers and videographers, you certainly get what you pay for in terms of features.
The perfect balance of affordability and useability is hard to achieve. It will depend heavily on how often you find uses for your photo stick and the volume of files you need to quickly move around and sort through.
The products in my recommendations range anywhere from $30 to $60.
Storage Capacity
Because photos and videos tend to be larger files, try to invest in a photo stick with higher storage capacity. Measured in gigabytes (GB), this common storage metric makes it simple to compare a whole host of media types and devices.
Computer hard drives are at the high end of storage capacity, with many measuring in 1,000s of GB. Blu-ray discs hold around 25 gigabytes of data. For comparison, flash drives and photo sticks range in storage but usually have 8 GB at their smallest and a few hundred GB at their largest.
Photos, videos, and other files commonly associated with photo sticks take up much more space than text files and optimized documents.
I can find a use for a few hundred gigabytes of storage if working on a video project or compiling particularly large albums of high-resolution photos. However, having double-digit GB is more than enough for simple family photo collection sorting.
The lowest storage size in the products I'd recommend is 128 GB, while the largest is advertised at 1 terabyte (equivalent to 1,000 gigabytes).
Software Compatibility
The software allows for a few unique functions that separate photo sticks from flash drives. While flash drives are simpler storage devices used for a variety of files, they often lack sorting software and automatic backup features.
One-click use software can shave hours of time off of sorting through a storage device. Although the default space available on a photo stick will be effectively lower because of software inclusions, I'd say it's more than worth it.
A good balance of price and software features needs to account for what you will use. Ideally, I would find a good use for every single advertised feature of a photo stick, but sometimes the bells and whistles ended up going to waste.
While software compatibility is a little harder to rank than price or storage, the comparison comes down to the number of default applications that a photo stick allows a user to run. Most photo sticks support auto-sort functions at a minimum, but the more, the merrier for professional users.
My list of products ranges from some that come with only auto-sorting software and backup features to those that additionally include direct-play software and password encryption folders.
Device compatibility
Being able to plug your photo stick into a multitude of ports and seamlessly transfer files is vital for on-the-go use. Different manufacturers prioritize unique standards, which can present challenges when trying to transfer files across mobile devices, laptops, and more.
Artists have complete control over their process with all kinds of personal devices, like phones, DSLR cameras, and laptops. No matter how much precision you have thanks to other tools, you'll want a photo stick. I learned that if you don't have a photo and video backup solution that works with them, all of your work is vulnerable.
The number of compatible ports on a photo stick is the metric for device compatibility. I commonly found USB ports supporting 3.0 across modern photo sticks. Many also support iOS lighting connections.
All the products I included support lightning connections for iOS phones and USB connections for PCs. Some of the more versatile products also include micro USB connections for Android and USB-C.
The Best Photo Sticks on the Market Today
Best Overall Photo Stick — iDiskk Photo Stick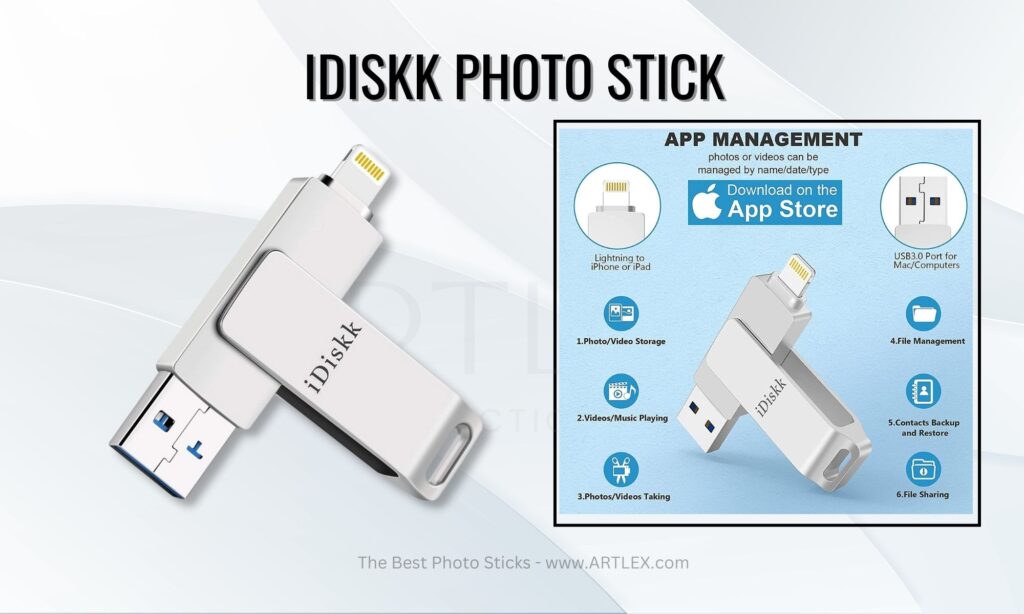 Price: $39.68
Storage Capacity: 128GB
Software Compatibility: Auto-sort, movie and music player, automatic backup, and encryption folders
Device Compatibility: Lightning and USB 3.0 port compatibility
About the iDiskk Photo Stick
For both android phones and personal computers, I found this photo stick to provide a solid suite of features while retaining suitable storage space for a decent price. The versatility provided by this stick's software and hardware options made up for the clunkiness of the iDiskk app.
128 GB is more than enough to accommodate for the stick's included software features as well as tons of videos, photos, audio files, and documents. I think the ability to manage my files directly from taking pictures with my phone goes a long way in making this device efficient for a large number of potential users.
Pros
Sturdy construction
Company support for quick replacement in the event of an accident
I was pleased with the data transfer speeds regardless of file extension
Cons
iDiskk app is poorly designed compared to 1st-party applications
Much lower speed is experienced when the phone is at low battery
It's recommended you remove any phone case before using
Best Photo Stick for Business — iDiskk 4 in 1 Photo Stick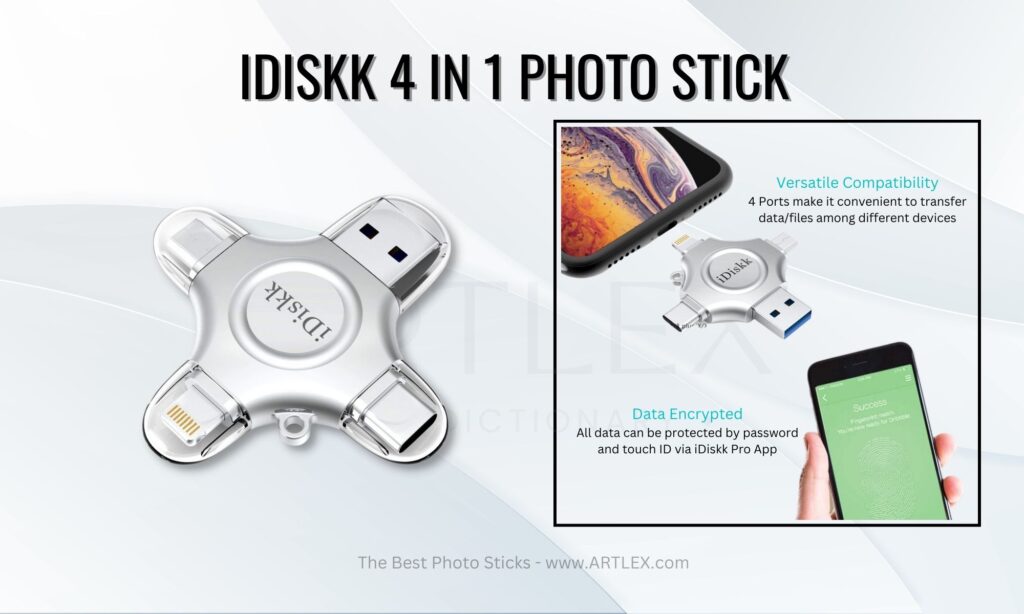 Price: $59.70
Storage Capacity: 256 GB
Software Compatibility: Automatic sorting, plug-and-play video and audio, comprehensive backup features, password or touch encryption, and cross-platform focus
Device Compatibility: Lightning port, type-c connection, micro USB, and USB 3.0 support
About the iDiskk 4 in 1 Photo Stick
The situational ability to connect to most devices of any recommended photo stick is fantastic when I'm interfacing with multiple machines. If you need files copied and spread quickly across different ports. Very few photo sticks of this quality can offer that sort of connection variety, but that does mean it's a pricey item.
It meets many of the standards of the iDiskk photo stick I recommend for everyone but beefs up hardware to a slight degree. However, the overall changes might be overkill for someone not interested in high-fidelity photo taking or video production.
Pros
Surprisingly small size for the increase in connections
Included instructions were a step above many photo sticks
I was impressed by the quality of the protective caps included
Cons
iDiskk app is poorly designed compared to 1st-party applications
Item weight is low but can be cumbersome while connected
It's recommended you remove any phone case before using
Best Everyday Photo Stick — JSL JDTDC Photo Stick
Price: $39.99
Storage Capacity: 128 GB
Software Compatibility: Auto-sort, plug-and-play files, and backup for any photo, video, and contact files.
Device Compatibility: Lightning and USB port compatibility
About the JSL JDTDC Photo Stick
I found this model to be thoroughly average in terms of specs. The lack of encryption options bothers me as far as travel and personal photos are concerned. I don't think it will be a considerable issue for the average user, but it is worth noting.
Pros
High transfer speeds regardless of device battery
The sturdy design is physically tough
Easy to manage folder hierarchy even without encryption options
Cons
Heavy focus on compatibility with Apple devices over other connections
Poor proprietary app rating for using this stick
It's recommended you remove any phone case before using
Best Budget Photo Stick — Sttarluk Photo Stick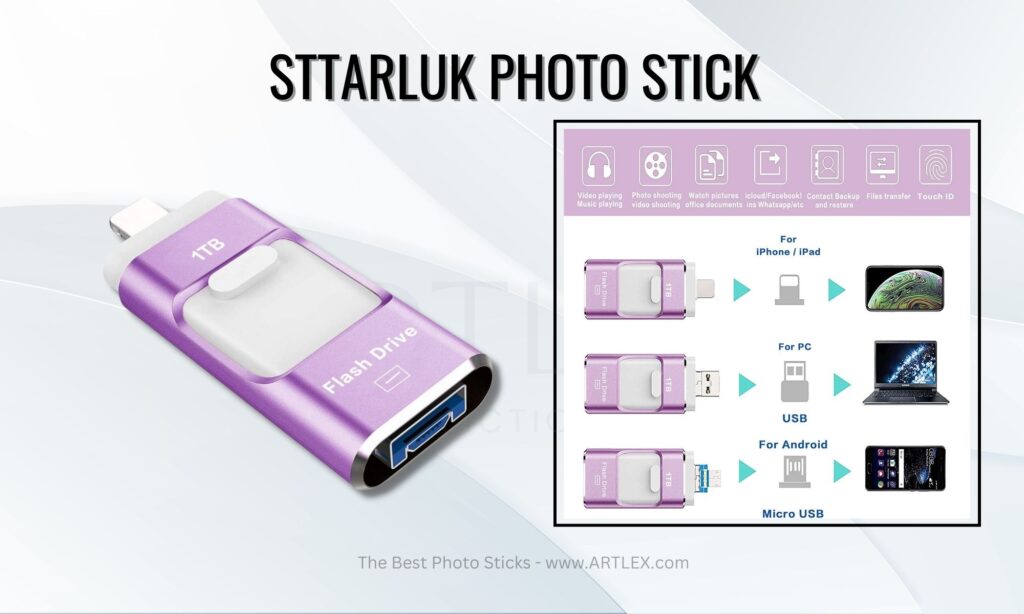 Price: $28.98
Storage Capacity: 1 TB
Software Compatibility: One-click backup software, file streaming while connected, auto-sort, encryption offered
Device Compatibility: Lighting connection, USB, and Micro USB
About the Sttarluk Photo Stick
Although the specs of this tiny photo stick seem very impressive, there are several small caveats to make. While 1 TB is an immense amount of storage space, the stability of said storage is not like my other recommendations. It's fantastic for large amounts of low-priority content but shouldn't be used professionally.
Pros
Default software takes up very little space
Detailed included instructions
Cons
Extremely slow transfer speed
Storage corruption issues made a few files of the many I tested with impossible to access
The proprietary app is hard to navigate
Best Photo Stick for Travel — PL ZMPWLQ iOS Photo Stick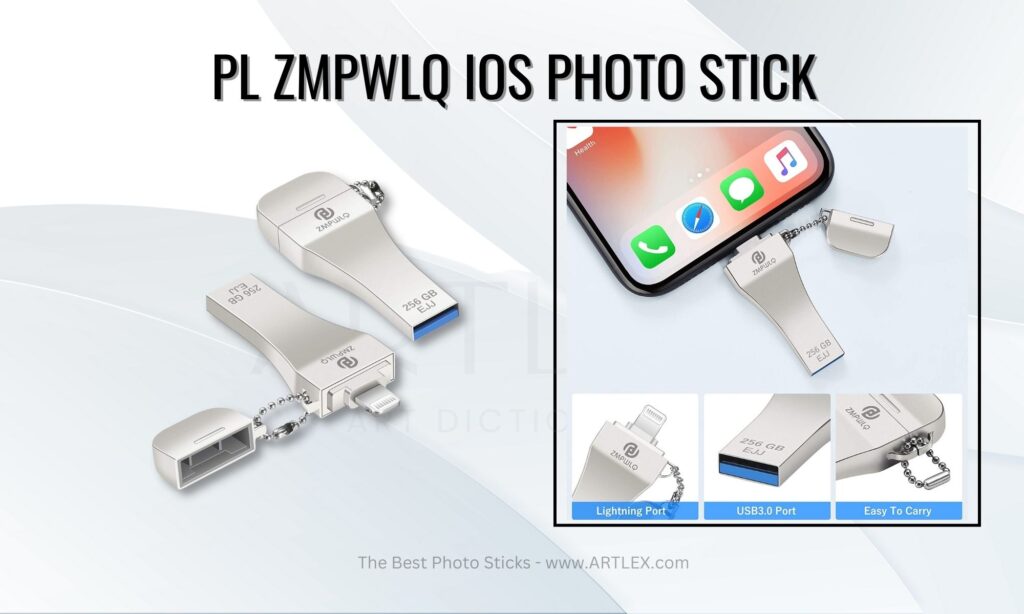 Price: $59.49
Storage Capacity: 256 GB
Software Compatibility: Auto-backup, direct streaming, automatic sorting, and password encrypted files
Device Compatibility: Lightning and USB 3.0 port compatibility
About the PL ZMPWLQ iOS Photo Stick
The combination of slim design and durable material convinced me of this pricier model's ability to work well in travel scenarios. With appropriate speeds and compatibility for generally useful software, on-the-go usage is encouraged.
Even if I forgot to upload files to a cloud service or other device, the higher storage size allows for multiple days of capacity when taking higher-resolution photos or even videos.
Pros
Convenient carrying chain
Easy set-up and app instructions
Cons
Backups are easy to initiate and fast but can result in errors frequently
The proprietary application is very limited
Conclusion
Every day we benefit from the ways digital photography has impacted our culture, and utilizing a streamlined device for managing all the photos and videos we take is ideal. I recommend looking into the right photo stick for your personal and professional needs from this list.
While the right product for you may need to target more specific criteria, the factors of price, capacity, and compatibility are what I value in my photo sticks. I'd say that the iDiskk Photo Stick matches the needs of most people reading this.