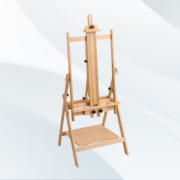 A multi-functional, adjustable beechwood easel suitable for various painting types, featuring easy storage and portability.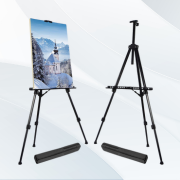 A lightweight, portable easel made from corrosion-resistant airplane aluminum, perfect for plein air painting, with adjustable legs and rubber feet for stability.
US Art Supply Tabletop Easel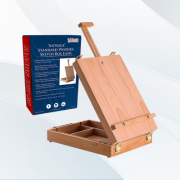 A compact, versatile tabletop easel made from beechwood, capable of holding canvases up to 21 inches, and featuring integrated storage for art supplies.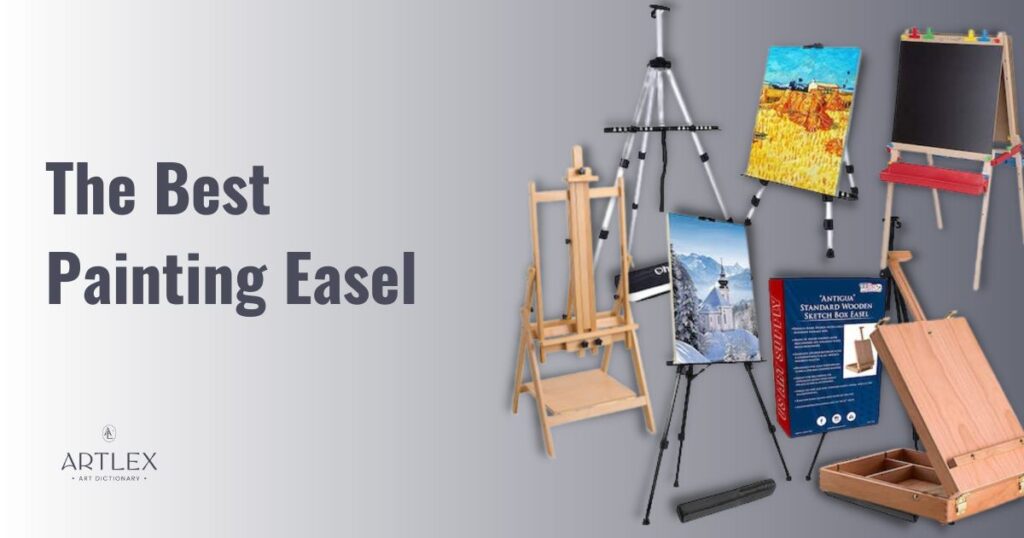 The right easel can improve your posture and provide you with a comfortable place to work on your paintings.
In addition to providing a fixed location in which to work, art easels can improve productivity by letting you adjust the height and angle at which you produce art, as well as provide easy storage for your art supplies.
Whether you're a seasoned painter, just starting out, or anywhere in between, a sturdy painting easel is an invaluable tool. But how can one determine which easel is best suited to your individual requirements? You should probably give some thought to the location of your painting setup first. You'll appreciate having something attractive and portable if you travel frequently or if you do a lot of tabletop painting and plein air painting. The ideal easel will be mobile, simple to store, and not too heavy.
However, if you only ever paint in one location, such as your house or studio, then you can ignore those considerations. The truth is that you're going to want a solid and sturdy easel.
All in all, the best art easel will depend on the place where you create art, the material it is made out of, and your canvas sizes.
Selection Criteria for the Best Painting Easel 2023—Art Supplies Buying Guide
Tabletop or Floor Easel
Artists typically use art supplies according to their needs, and painting easels are no exception.
A-Frame Easels
This is the standard easel for art classes and is widely used by students and emerging professionals. Its adjustable bar design makes it suitable for painters of varying skill levels and budgets. They also take up little space when they are not in use.
The A-Frame gets its name from the resemblance of its backbone to the English letter 'A.'
Table Adjustable Easel
Tabletop easels, which can resemble miniature A-frames, are great for occasional painters or people with limited room. These are the most portable easels, suitable for people who like painting outdoors or don't have dedicated space in their homes or studios to store their supplies, as they usually provide easy storage for brushes and tools.
H Frame Floor Easel
The base and frame of an H-Frame easel are exceptionally solid. These easels are the largest and sturdiest available. Since they don't typically collapse, they require significantly more space than a standard table easel or A-frame easel while not in use.
Some H-frame easels have a crank handle that makes adjusting the height of the canvas rest a breeze, adding another layer of adjustability for your comfort.
The H-Frame easel has everything an experienced painter may want. It's perfect for commissioned painters because it's versatile and can hold a variety of tools and supplies, and even accommodate large canvases.
Art Easel Material
Usually, wood or metal is used to make easels. One might suit your purposes and tastes better than the other.
Wood is an excellent material for those who prefer a more traditional look. Beechwood is strong and stable. However, it weighs more than metal alternatives.
Aluminum is ideal for those who need a portable and lightweight easel.
On the other hand, aluminum easels don't have the same structural rigidity as those made from beechwood.
Top Product Recommendations for Painting Easels

Best Overall Painting Easel: Blick Convertible Easel
Best Plein Air Easels: T Sign Portable Easel
Best Tabletop Easel: US Art Supply Tabletop Easel
Best Easel for Beginners: Ohuhu Aluminum Easel
Best Easel for Professional Artists: U.S. Art Supply Master Multi-Function Studio Adjustable H-Frame Floor Easel
Best Easel for Children: Melissa Doug Deluxe Standing Art Easel
1. Best Overall Painting Easel—Blick Convertible Easel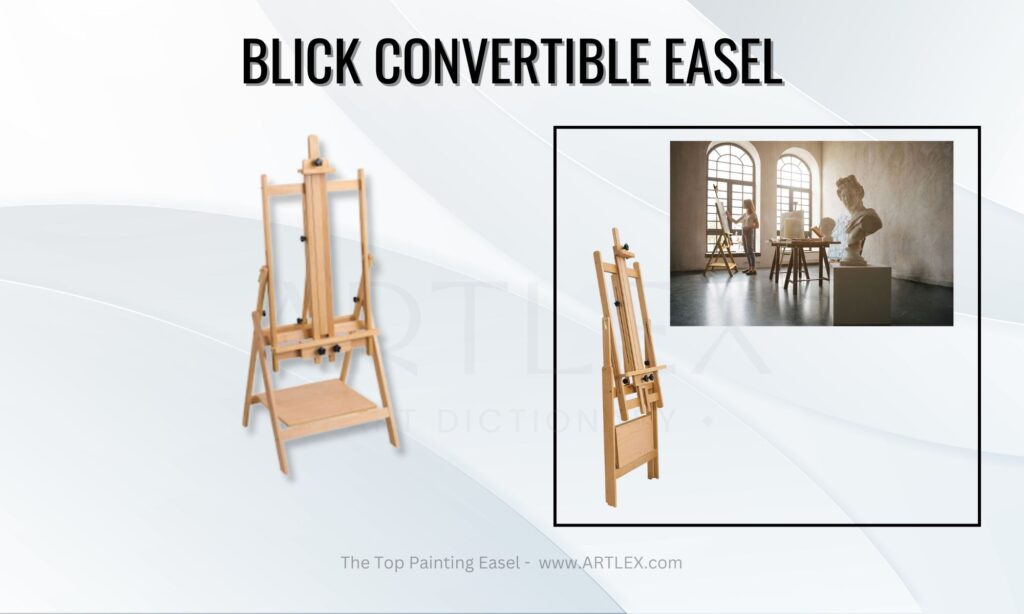 Art Easel Selection Criteria
Art Easel Quality – 10/10
Art Easel Type – H Frame Easel
Art Easel Material – Beechwood
About Blick Convertible Easel
The most important feature to look for in the top overall art easel on our list is one that can be used for multiple purposes. Blick Studio's easel stand is an excellent all-around option because it can be tilted for acrylic and oil painting, angled for pastel artwork, and adjusted horizontally for watercolor painting so that you can use this easel stand nomatter how the mood strikes you.
We also appreciate that the easel can accommodate canvases of varying widths and heights, up to a maximum of 61 inches in height. In addition to being compact when folded, it takes up minimal space when not in use and weighs only 17 pounds. So it is also easy to transport for painting indoors and outdoors to catch the correct light for your painting.
The equipment and materials you need are always within easy reach, thanks to its lower shelf.
Pros:
Easel adjusts to accommodate canvas for all types of painting
Easel folds flat for storage
Painting outdoors is easy due to its low carry weight
Cons:
2. Best Plein Air Easels—T Sign Portable Easel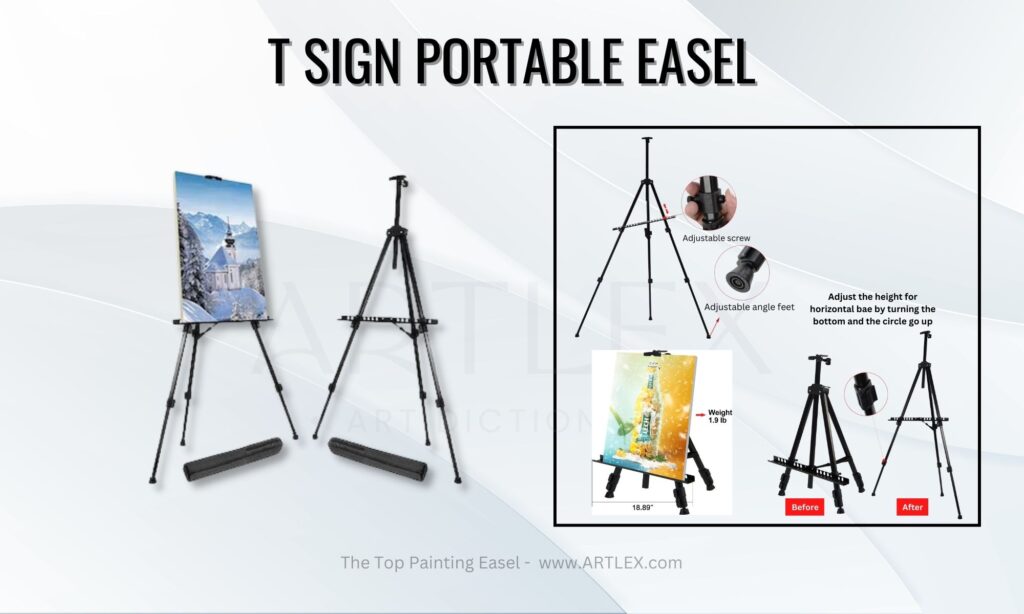 Art Easel Selection Criteria
Art Easel Quality – 9/10
Art Easel Type – A-frame
Art Easel Material – Airplane aluminum
About T Sign Easel
Wooden painting easels are probably not the first thing that comes to mind when you think of plein-air art. If you want to paint outdoors, then this classic A frame easel made of 7075 alloys is lightweight yet twice as robust as the standard easel alloy of 6082 that most companies use, option. Thanks to its high resistance to corrosion, it can be used in the open air with confidence.
Further, this stand collapses to a little over 21 inches, making transport a breeze. Along with its convenient nylon carry bag, used to transport and stow away when not in use.
This plein air easel is durable and can be used on a variety of surfaces thanks to its adjustable legs and rubber feet. However, the aluminum construction of the frame makes it unstable when supporting large canvases.
You can also use it as a display easel for small canvases or a dry-erase board.
Pros:
Best art easel to hold canvases in the open air
Light enough to carry
Comes with a carry bag
Cons:
Not stable enough for large canvases
No art supply holder
3. ​​Best Tabletop Easel—US Art Supply Tabletop Easel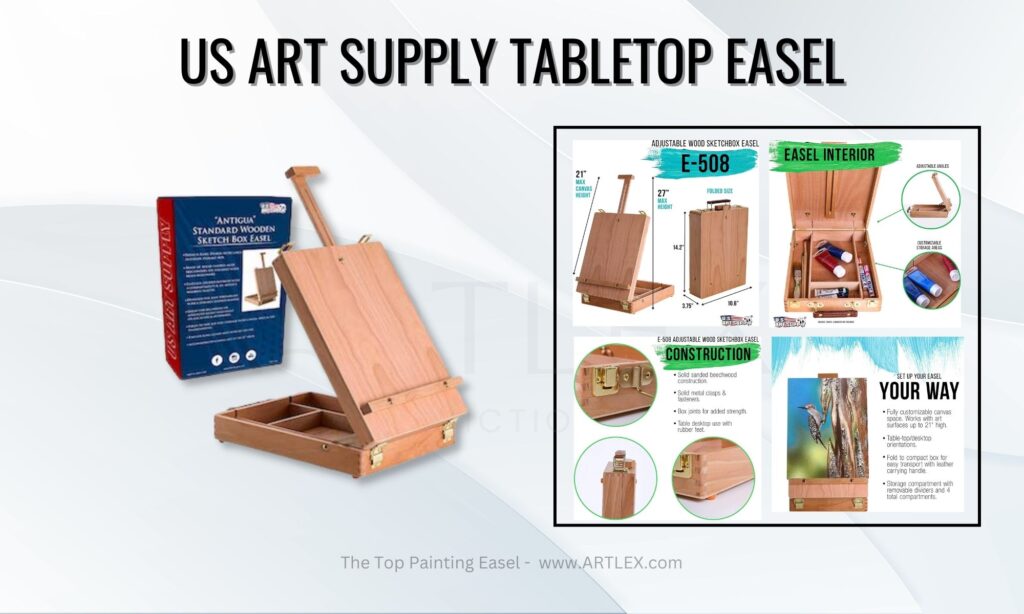 Art Easel Selection Criteria
Art Easel Quality – 10/10
Art Easel Type – Tabletop
Art Easel Material – Beechwood
About US Art Supply Tabletop Easel
This tabletop, classic French easel is crafted with care from beechwood, to ensure a steady platform while you work on your painting. Despite its compact size, this wooden easel can accommodate canvases up to 21 inches.
This art supply easel is lightweight and compact, measuring only 10.6 by 14.2 by 3.76 inches when folded. It's pleasant and straightforward to put together, while the price is right.
We recommend it because it is a robust small box that folds out to a great level for painting and drawing and because you can store all of your art supplies on the box itself. Although it's only half of a traditional French easel in terms of its leg structure, this sturdy and well-organized box easel would do nicely for most artists.
We really like that in addition to being an attractive centerpiece for your table, it can also be used as a display easel for your paintings.
In the end, the versatility and low price of this tabletop easel are worth giving it a shot at.
Pros:
Compact easel
Adjustable canvas holder
Table easel with storage space for all art supplies
Cons:
it's a high-quality product at a low price, but it's aimed solely at enthusiasts
4. Best Easel for Beginners—Ohuhu Aluminum Easel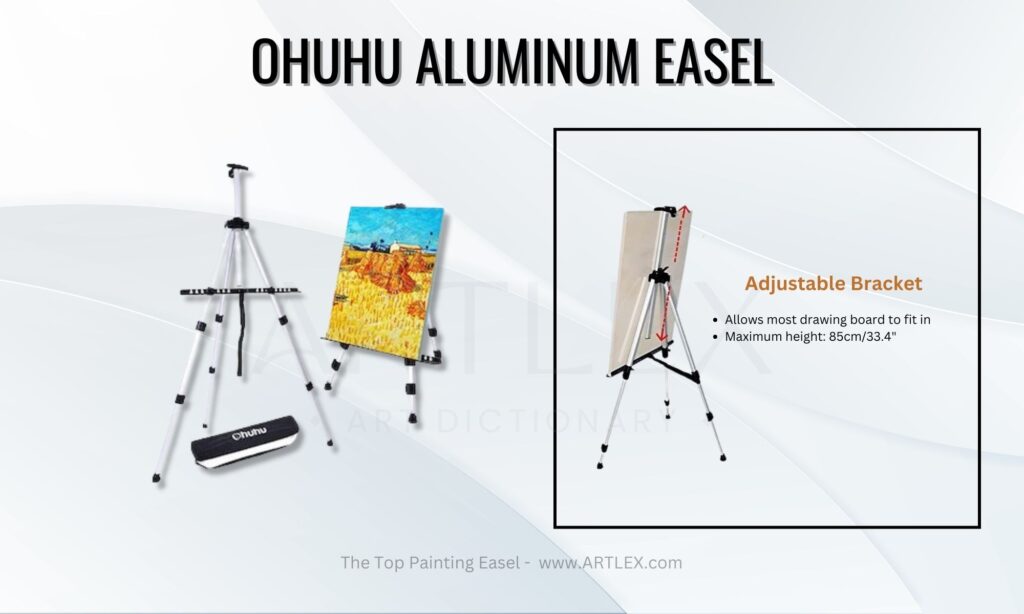 Art Easel Selection Criteria
Art Easel Quality – 9/10
Art Easel Type – A-frame
Art Easel Material – Aluminum
About Ohuhu Aluminum Easel
This Ohuhu aluminum easel is perfect for painting and drawing inside and in the great outdoors. You can adjust the easel so that it may be used either on a table or standing up, and the legs can be adjusted independently so that they won't tip over on any inclines. So even if you are a novice, you can experiment enough to learn how you prefer to sit or stand in order to give your best self in your art.
For speedy height and angle adjustments, this artist's easel features knobs that can be turned with just your thumb, so making changes won't disturb you.
No matter the weather or the surface you're painting on, the spring clamp will keep your canvas in place. Bear in mind that this is a field easel. Therefore, it is not the sturdiest option. This aluminum easel is designed for portability, collapsing to just 20.8 inches when folded and coming with its own convenient carrying bag. This way, you can hold brushes and all art materials in your bag and go where inspiration takes you.
Pros:
Lightweight
Compact
Easily adjustable, so you can learn your preferences without being disturbed while you work
Cons:
Not sturdy for large canvases
5. Best Easel for Professional Artists—U.S. Art Supply Master Multi-Function Studio Adjustable H-Frame Floor Easel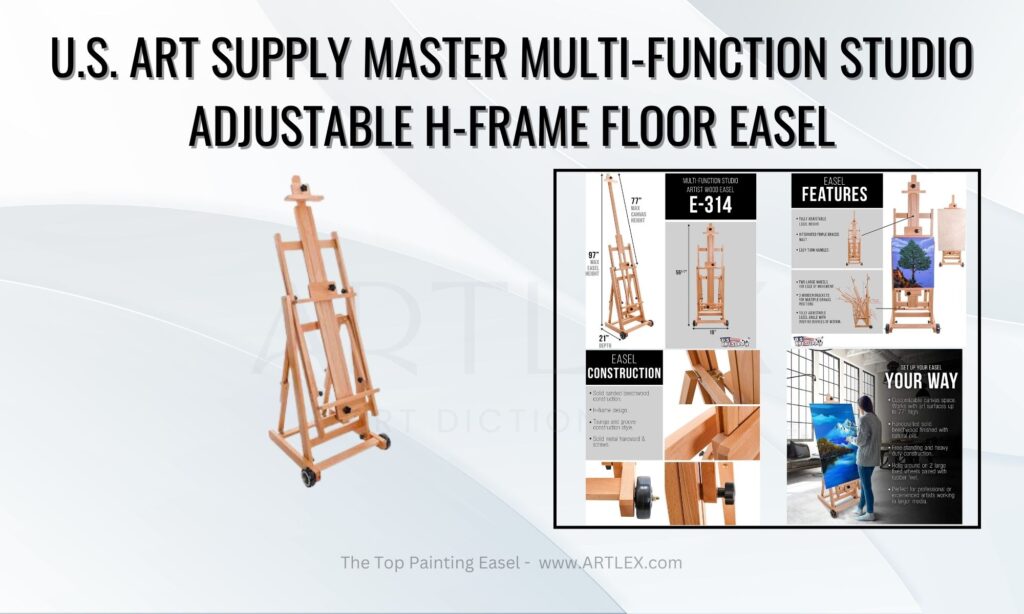 Art Easel Selection Criteria
Art Easel Quality – 10/10
Art Easel Type – H Frame
Art Easel Material – Beechwood
About U.S. Art Supply Medium H-Frame
Professional easels are all about practicality and status. The rubber feet and fixed wheels of the Master Multi-Function Studio Adjustable H-Frame floor easel are designed for professional use. This premium oil-finished easel is created in a wood grain pattern from German-grown, sustainably harvested Beechwood, which has been hand-sanded to a fine finish.
This robust and extendable easel can hold canvases up to 77 inches in height. The easel can be angled all the way down to a flat horizontal table angle, which is perfect for working with watercolors or doing paint pouring, or it can be adjusted up to slightly past a full vertical incline, which is great for working with pastels and portraits.
Further, you can vary the tray's height from six to 42 inches, so it's always at the perfect height for you, whether you're sitting or standing.
Pros:
Wheels make it easy to move, despite its weight and imposing height
Adjustable height and tilt
Premium construction materials
Cons:
Instructions on how to put it together are not very clear
No storage drawer
6. Best Easel for Children—Melissa Doug Deluxe Standing Art Easel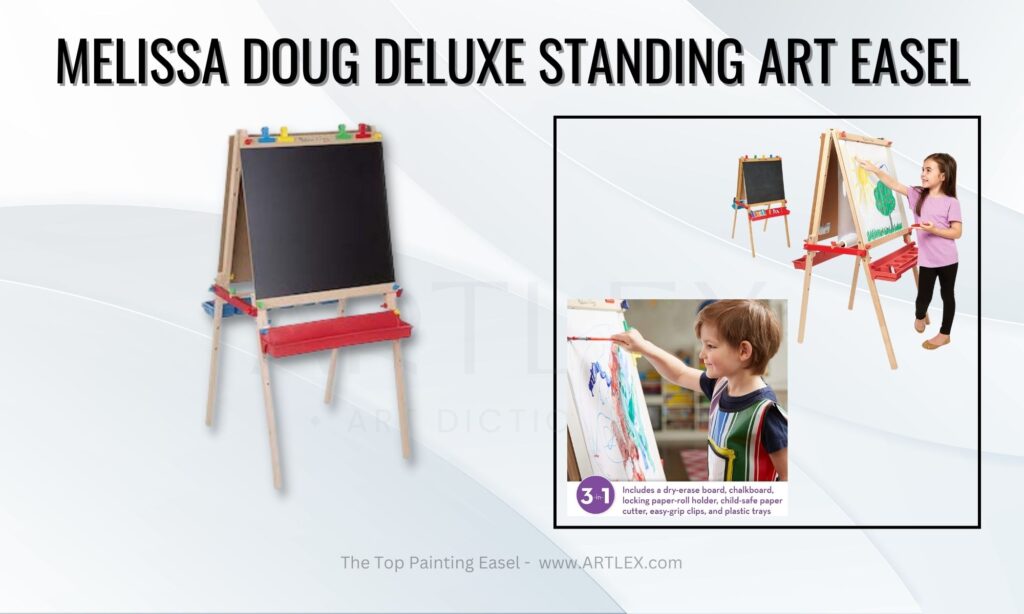 Art Easel Selection Criteria
Art Easel Quality – 9/10
Art Easel Type – Easel Stand
Art Easel Material – Wood, Plastic, Metal
About Melissa Doug Deluxe Standing Art Easel
Melissa Doug products are well known among parents, and their artist easels collection are no exception.
As painting is a fun hobby for children, we recommend the Melissa Doug Deluxe Standing Easel. It is very adaptable and can be used with children aged three to seven years. The supplied easy-clip grips allow kids to attach a sheet of paper, make it a chalkboard or dry-erase board on which they may draw or color with their favorite media.
Also included are a paper-roll holder for cleaning up accidents, a paper cutter that is suitable for kids to use, and two wide, detachable plastic trays for storing a variety of painting supplies. Since the trays and cutting boards are removable, cleanup is a breeze and can be done in the sink.
The wooden construction of the easel guarantees years of reliable service. The easel allows for simple three-dimensional height modification. These characteristics allow you to tailor it to your child's age and height.
It's a bit of a pain to put together, but once it's together, consumers rave about how high quality it is and how simple it is to disassemble.
The layout allows for simultaneous use by two kids, thanks to its dual-sided nature, so you don't need to worry about sibling fights over an easel stand during art and craft time.
This easel isn't cheap, but it's well worth the price because of its sturdy and reliable construction and the fact that it folds flat when not in use.
Pros:
Longlasting quality
Best art easel to be used by two children at the same time
Folded flat when not in use
Cons:
Difficult to put together
Price point may seem steep
Conclusion—The Best Art Easels 2023
If you are pressed for space but want to create professional-level work, then a tabletop easel could be your best bet. The US Art Supply Tabletop Easel may be the best art easel for the job, as it will even hold your art supplies in one place.
On the other hand, when looking at wooden easels for the professional artist, the U.S. Art Supply Master Multi-Function Studio Adjustable H-Frame floor easel does not go unnoticed. Despite its steep price point, it is considered one of the best art easels on the market due to its superior construction and wheels to be moved easily. It is a studio easel for the connoisseur and one of the most convertible easels on our list.
We hope you found our analysis of the best art easels of 2023 to be helpful. Consult our associated guides for additional sources of comparable items for the artistic lifestyle.