Brent Wheelchair Accessible Power Wheel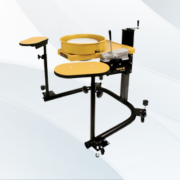 Offers inclusivity with adjustable height, perfect for wheelchair users; heavy weight can make maneuvering difficult
Brent Model Pottery Wheel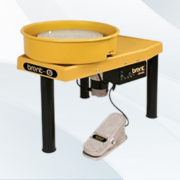 Ideal for professionals with solid build and three speed settings; relatively lower motor wheel speed.
Skutt Thomas Stuart Prodigy Pottery Wheel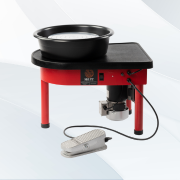 Suited for beginners with affordability and performance balance, durable components; lacks reversing feature and full-size splash pans.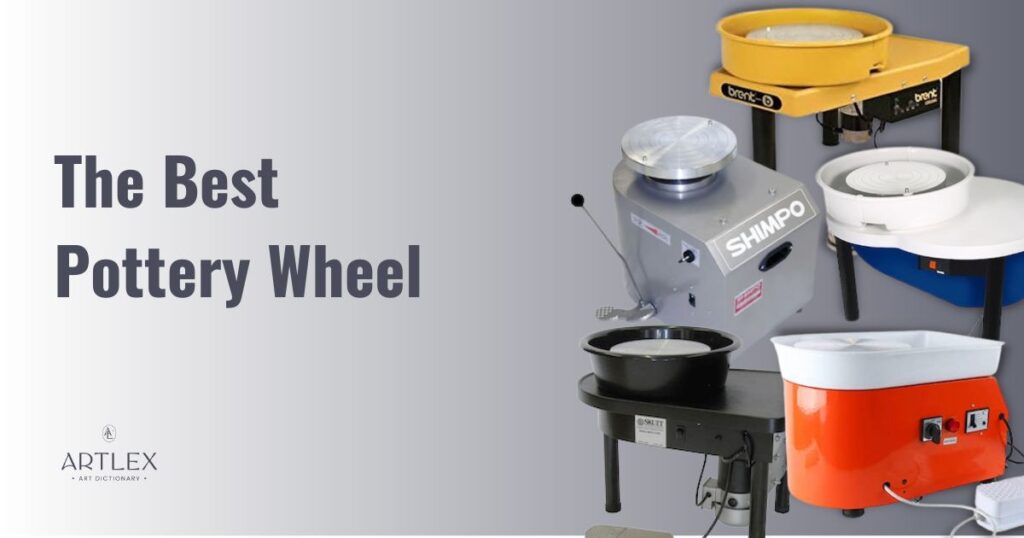 A pottery wheel makes it easy to create a perfectly symmetrical ceramic object, and while learning how to throw accurately is essential, a wheel can get you started right away. When it comes to picking the best pottery wheel, however, professionals require a bit more power and speed regulation than novices.
The craft of pottery making is centuries old, yet it has managed to retain its popularity, as you can create something one-of-a-kind out of only a lump of clay, a workbench, and a pottery wheel. There is nothing like the experience of working with clay, whether you like to hand-build a vase or throw cups, bowls, and plates on the pottery wheel.
It's never too late to learn something new, and that includes pottery making. Certainly, there is a lot to take in, and that might be daunting at first. However, everything changes once you get a beginner-friendly instrument like an electric pottery wheel.
Choosing the correct one for your needs can be a confusing task, however we will discuss the best pottery wheels based the type you want to buy (kick wheel or electric), the weight it needs to support, and if you prefer to work in a clockwise or anti clockwise motion, which are all of primary importance when making a buying decision. We will also discuss the most appropriate options for artists who are now starting, for professionals, as well as those who share a studio and need a quiet pottery wheel, as they will require specific choices.
Selection Criteria for the best pottery wheels 2023—Buying Guide
Type of pottery wheel head
Tabletop wheels are ideal for smaller crafts, such as cups and bowls. However, you'll need a larger wheel to handle the additional clay weight if you plan on making large sculptural pieces, like as pots and vases. Weight restrictions account for not just the clay itself, but also the force required to shape it.
Typically, there are three types of pottery wheels:
Compact carts with low weight capacities, able to support less than 20 pounds.
Intermediate pottery wheels that can carry between 20 and 50 pounds
Extra-large wheels – can carry up to 100 pounds
Right or Left Handed Wheel
Whether you're right- or left-handed, or merely have a strong inclination one way or the other, you can find yourself working the wheel clockwise or counterclockwise; and then there are those who prefer to change things up from project to project. If you're not sure which way you prefer to throw, renting a wheel is the way to go. It'll be easier to choose a suitable wheel if you know what to look for.
Kick Wheel Foot Pedal or Hand Lever
If you are using a kick wheel, to alter the speed of your pottery tools, you can use your hand lever or foot pedal.
Lever-operated wheels are more user-friendly for novices, since you can regulate the speed so precisely allowing you to have a lot of leeway to find the perfect setting. Some people with disabilities may also find them easier to use.
On the other hand, depressing and releasing a floor-mounted foot pedal allows you to control the wheel's speed with your foot. While foot pedals are convenient since they allow you to keep working with both hands while adjusting the speed, they do need a little more coordination as you need to use three limbs at once. It's common for beginners to have trouble using foot pedals because of how easy it is to keep pressing down on the pedal unintentionally. It may take some time to adjust to them.
Top Product Recommendations for the Best Pottery Wheel 2023
Overall Top Pottery Wheel: Brent Wheelchair Accessible Power Wheel
Best Professional Pottery Wheel: Brent Model Pottery Wheel
Best Beginner Pottery Wheel: Skutt Thomas Stuart Prodigy Pottery Wheel
Most Quiet Pottery Wheel: YaeTek Pottery Wheel
Top Pottery Wheel for Left Handers: Shimpo VL Lite Wheel
Top Pottery Wheel for Studios: Nidec Shimpo RK
1. Overall Top Pottery Wheel—Brent Wheelchair Accessible Power Wheel
Pottery Wheels Selection Criteria
Type of Pottery Wheel – Extra large pottery wheel
Variable Speed Control – Yes
Foot Pedal – electric pottery wheel
About Brent Wheelchair Accessible Power Wheel
We believe that the best pottery wheels are the ones that offer equal opportunities to all artists, and the Brent Wheelchair Accessible Power Wheel model is the most inclusive option. Most pottery wheels are hard to reach when in a wheelchair, but the leg extensions of this model can accommodate any user.
Furthermore, it's mobile and compact, thanks to the lockable castors and fitting through any 36-inch door, making it easy to move to rooms in rehabilitation centers. The normal splash pan and wheel head on this pottery wheel are both the same size as those on our other models, but the entire area can be raised or lowered by turning a crank handle so that it can be adjusted to the user's desired working height.
This pottery wheel is aimed at intermediate potters, and it is constructed with fabricated steel and a durable powder-coated finish, while it can handle clay up to 150 pounds, so you can throw ceramic or porcelain like a clay boss.
Pros:
Perfect pottery wheel for artists in wheelchair
Leg extensions
Adjustable height
Cons:
Weighs 286 pounds, making it difficult to maneuver
2. Best Professional Pottery Wheel—Brent Model Pottery Wheel
Pottery Wheels Selection Criteria
Type of Pottery Wheel – Extra large pottery wheel
Variable Speed Control – Yes
Foot Pedal – Yes
About Brent Pottery Wheels
If you are looking for heavy-duty machines, then Brent wheels is recommended, despite its high price. It has a solid build and offers three speed settings (normal, neutral, and reverse) that are controlled by a single switch.
A modular foot pedal is included to help with timing and accuracy. The ½ horsepower motor, specialized Brent splash pan, 14-inch bat pins, and 150-pound centering capacity of this machine are all noteworthy qualities.
The belt driven wheel automatic tensioning system maintains optimal tension in the six-groove poly-v drive belt for optimal efficiency.
This is an excellent pick if you own a pottery studio, are a serious enthusiast, or instruct students in the art form, as Brent wheels can resist the wear and tear of prolonged use. And if that weren't enough, there's a comprehensive guide to wheel throwing included in this set as well.
Pros:
All steel design
12-inch aluminum wheel head
Concentric circles for ease in centering capacity
Cons:
240 RPM motor wheel speed
3. Best Beginner Pottery Wheel—Skutt Thomas Stuart Prodigy Pottery Wheel
Pottery Wheels Selection Criteria
Type of Pottery Wheel – Intermediate pottery wheel
Variable Speed Control – Yes
Foot Pedal – Yes
About Skutt Thomas Stuart Prodigy Pottery Wheel
Although Skutt is most known for their electric kilns, in 2008 they bought Thomas Stuart Wheels and have since worked to uphold the company's pottery wheels reputation.
If you are looking for a pottery wheel for beginners, Skutt aims the Prodigy wheels models toward schools and learning centers.
The Skutt wheels Prodigy model strikes a nice compromise between affordability and performance, making it ideal for novice potters. The foot pedals and the ⅓ horsepower motor have both been rigorously tested for longevity, while this potter's wheel has a special, continuous-duty motor so you can keep experimenting and learning without time constraints. The wheel head and detachable splash pan may be easily removed with a simple twist and pull up motion.
The SCR Controller included into this potter's wheel is of industrial grade and is essential for maintaining a consistent temperature throughout lengthy potting sessions. This company's ergonomic cast-aluminum pedal is a significant upgrade from plastic pedals since it can withstand the wear and tear of long hours of use and learning experience of pottery beginners.
Pros:
Plastic vacuum formed table top for complete water protection
Removable splash pan easier to clean
Cons:
Skuff wheels do not have the reversing feature
Skuff wheels full size splash pans are NOT available
4. Most Quiet Pottery Wheel—YaeTek Pottery Wheel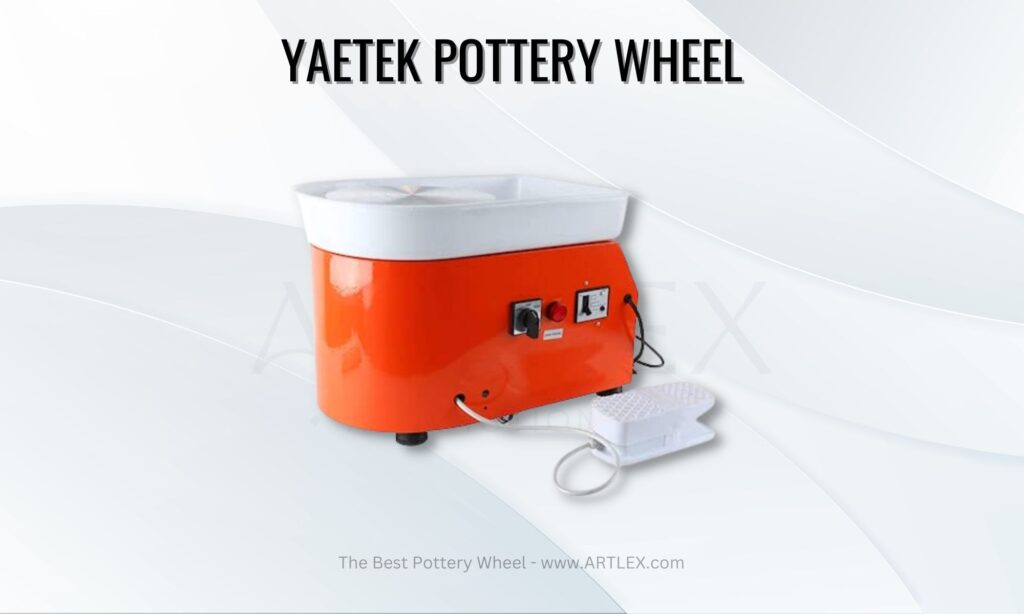 Pottery Wheels Selection Criteria
Type of Pottery Wheel – Intermediate pottery wheel
Variable Speed Control – Yes
Foot Pedal – Yes
About YaeTek Pottery Wheel
This budget wheel is made of high-quality materials and cutting-edge technology which allows to operate at full speed with less than 60 decibels sound. So if you want to work alongside fellow artists, you don't have to worry about distracting them.
Even though Yae Tek electric pottery wheels are lightweight and simple to assemble, they are also sturdy enough to handle even professional projects. This tabletop pottery wheel can spin either clockwise or counterclockwise, with the flip of a switch.
The ABS basin is simple to clean, and the small footprint makes it ideal for mud shielding. The wheel's sturdy construction prevents erosion by keeping dirt and debris from getting into the motor.
Because of the size of the wheel, you may comfortably and conveniently shape your clay while you work on your project.With up to 300 RPM, you can adjust the wheel's speed with a knob. It's also lightweight at just 33 pounds, so moving it from one workshop to another won't be a problem.
Experts agree that the wheel's speed is remarkable and that it significantly exceeds their expectations.
Pros:
Being brushless, the motor is very quiet
Lighter wheel than most, makes it highly portable
Wheel rotates clockwise and anti-clockwise
Cons:
Drip pan is not removable
Does not come with bat pins
5. Top Pottery Wheel for Left Handers—Shimpo VL Lite Wheel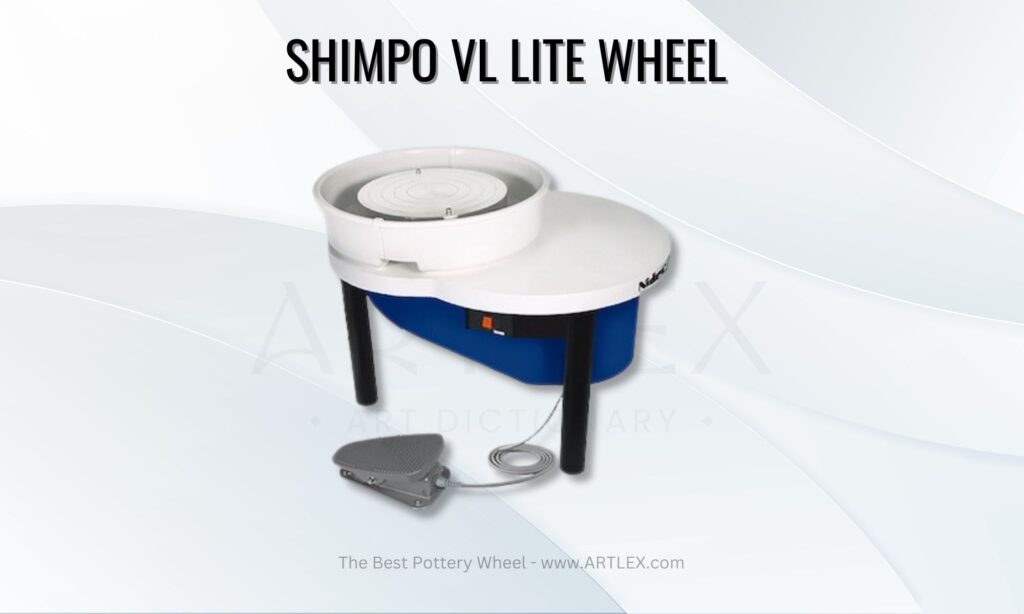 Pottery Wheels Selection Criteria
Type of Pottery Wheel – Intermediate pottery wheel
Variable Speed Control – Yes
Foot Pedal – Yes
About Shimpo Wheels VL Lite
Left handed individuals usually prefer anti-clockwise movement when throwing pottery. However, not all machines offer a reversing switch. So if you're just starting out in the ceramics world, Shimpo pottery wheels may be a good option for you. Included in the package are a remote foot pedal, a removable splash pan, and a ½ horsepower motor, along with the wheel head.
This lightweight wheel is compact enough to carry with you, for both right- or left-handed as the handle is reversible. The Shimpo VL Lite has a removable two-piece splash pan, making cleanup a breeze.
You can also center up to 25 pounds of clay on this pottery wheel, so you can keep working on your pottery without having to stop multiple times during a single session to add more clay.
The splash pan, made of bendable plastic, can be difficult to remove off this wheel. Due to its interlocking construction, disassembly might be a challenge. To remove the splash pan, you must first separate one half from the other and then do the same with the other half. Some initial annoyance is to be expected due to the learning curve.
Pros:
Right pottery wheel for left handers, due to reversible wheel
Two piece splash pan
Built-in breaker, to keep the motor safe from overload
Removable splash pan
Detached foot pedal
Cons:
6. Top Pottery Wheel for Studios—Nidec Shimpo RK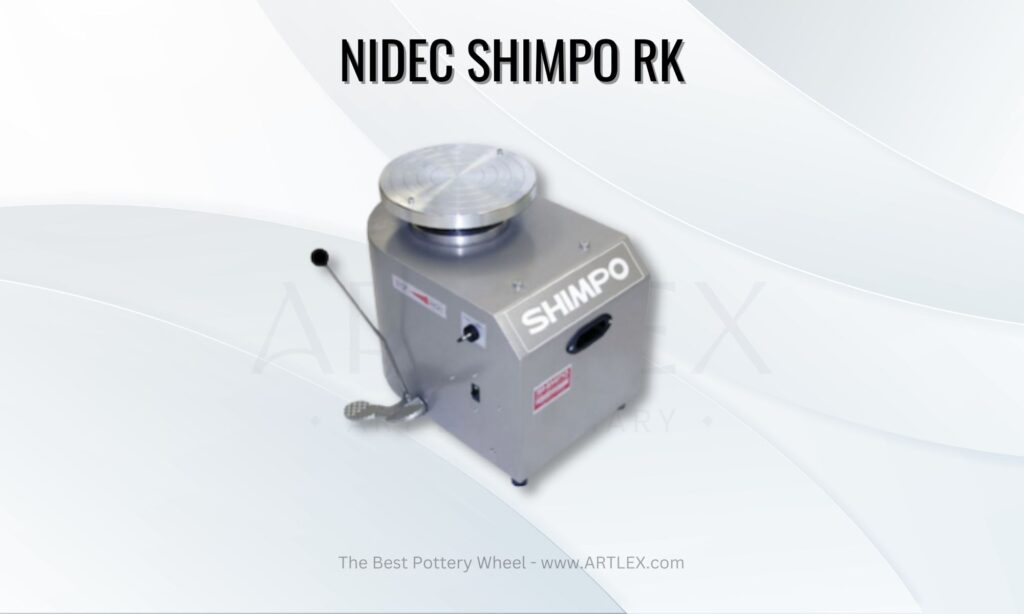 Pottery Wheels Selection Criteria
Type of Pottery Wheel – Extra large pottery wheels
Variable Speed Control – Yes
Foot Pedal – Yes
About Nidec Shimpo RK
Shimpo wheels create models specialized for professional use in pottery studios. Their ultra-responsive foot pedals, dual rotation, and powerful motors differentiate them from other wheels.
If you're looking to buy pottery wheels for your studio, Shimpo wheels not only look great but are also highly durable. Because studios house a large number of pottery wheels in a small space, the noise level can make or break an artist's day. These wheels are known for their quiet, powerful motors and top-of-the-line foot pedals that respond quickly to every command, allowing everyone to work and focus on their craft without interruption. The Nidec Shimpo RK-Whisper Potter's Wheel is quick to respond and produces a lot of torque at any speed, making it suitable for users of all skill levels.
The half-horsepower brushless DC motor is driven directly and offers a wide speed range for precise manipulation. As the electronic motor is operated by a fixed foot pedal with a hand lever, you can use the motor either with the left or right hand, making it accessible to all artists coming to your studio.
To handle clay of all levels, standard features include a 12-inch wheel head, a dual-piece splash pan, and up to 100-pound centers. The wheel head is free to rotate, allowing it to be used as a banding wheel even when the speed is set to zero, allowing beginners to learn their trade and pros to fine-tune their skills.
Pros:
Electric pottery wheel
Studio-sized wheel heads can handle up to 100 pounds
Can be used as a banding wheel
Quiet
Cons:
Conclusion—The Best Pottery Wheel 2023
If you are looking for a pottery wheel for beginners, the Skutt Thomas Stuart Prodigy series is the place to look into, as their continuous motor along with easy clean up splash pan allows you to explore this art for hours without worrying about your new pottery wheel.
On the other hand, if you have a studio and plan on inviting both novices and professionals alike, the Soldner Wheels, with their highly responsive foot pedals, ultra powerful motors and high wheel speed, are a good option to look into.
We hope you found our analysis of the top pottery wheels of 2023 to be helpful. Consult our associated guides for further sources of comparable items for the artistic lifestyle.