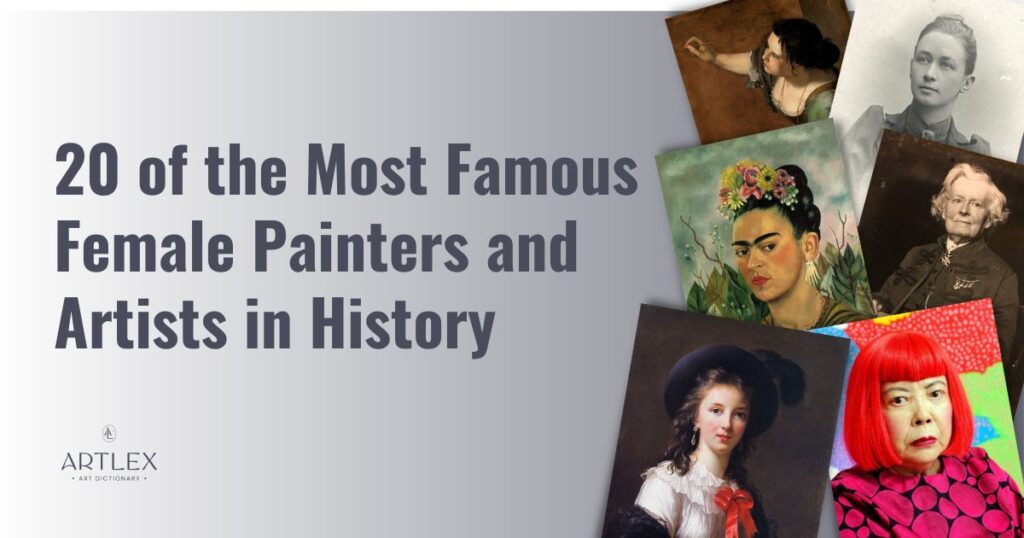 Explore the lives of these twenty most famous women painters here, examining their most renowned pieces of the past few centuries that continue to motivate. We will celebrate these remarkable women in our journey through the 20 most famous female painters and look at the most celebrated women painters in art history.
1. Frida Kahlo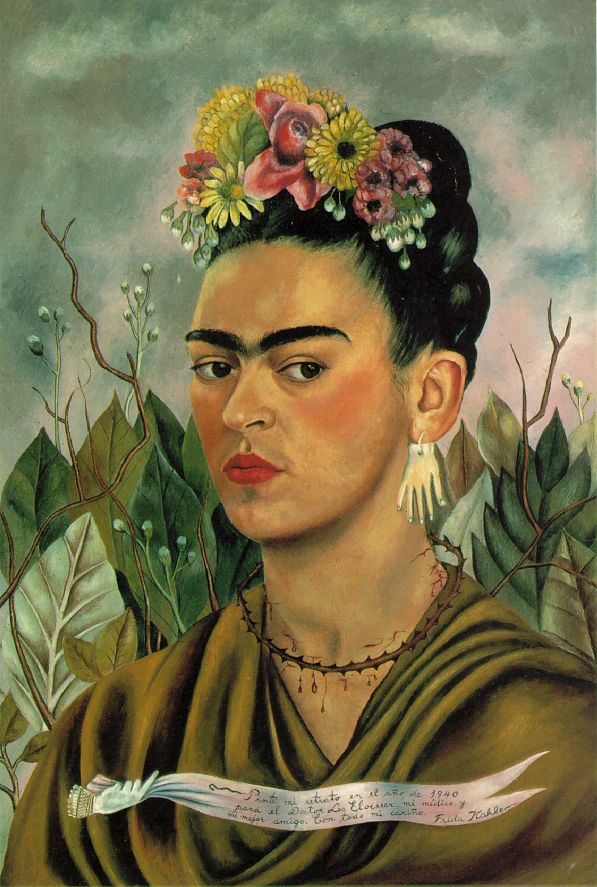 Birth year: 1907
Death year: 1954
Nationality: Mexican
Notable characteristics/subject matter: self-portraits, vibrant colors, Mexican culture
Notable artwork: The Two Fridas
Frida Kahlo was a groundbreaking famous Mexican artist known for her captivating self-portraits and surrealistic style. Her artwork often incorporated elements of Mexican culture, making her an influential figure within the country's artistic community.
She was mainly influenced by the works of Diego Rivera, a prominent Mexican muralist whom she later married and divorced. Additionally, she drew ideas Mexican Muralist movement. Kahlo's creative legacy has had a lasting effect on the art world, and she is one of the many female artists part of Mexico's cultural identity.
2. Artemisia Gentileschi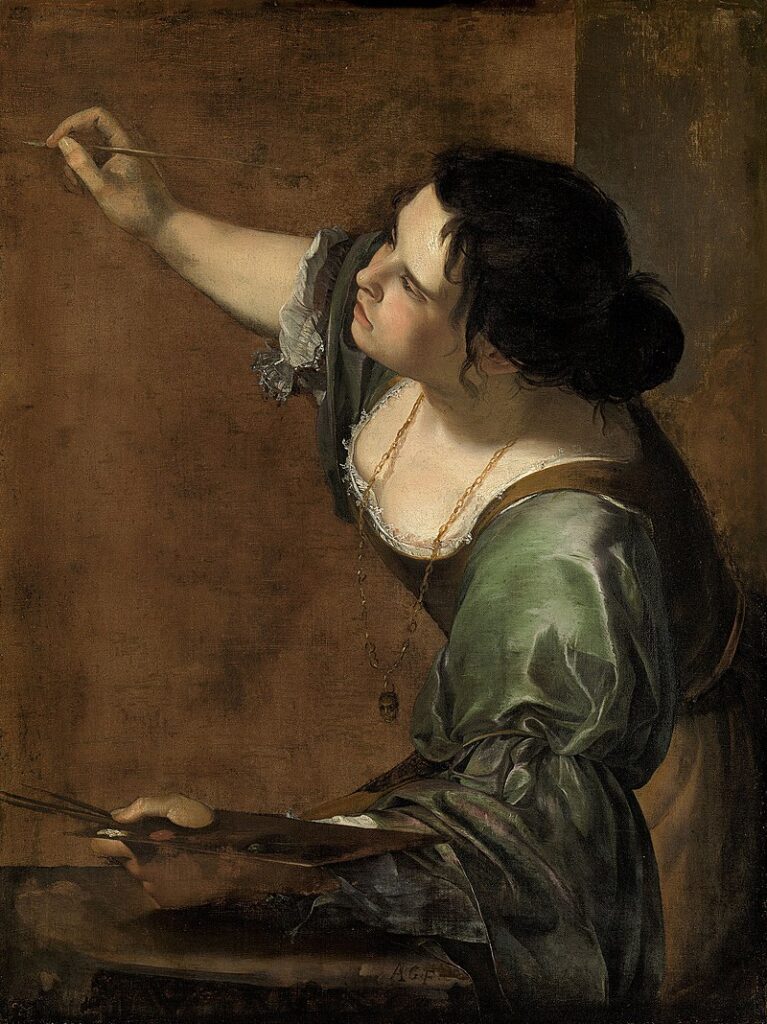 Birth year: 1593
Death year: 1653
Nationality: Italian
Notable characteristics/subject matter: Baroque painting of strong female protagonists
Notable artwork: "Judith Slaying Holofernes"
Another famous female painter with work that was greatly inspired by the chiaroscuro technique is Artemisia Gentileschi. She also drew influence from renowned Renaissance masters. Artemisia contributed to its growth through her unique style and subject matter as part of the Baroque movement in Italy.
In a time when women artists were not as widely recognized, Artemisia Gentileschi broke through barriers and left an indelible mark on the world of art with her powerful depictions of heroic women continuing to inspire and captivate audiences today.
3. Georgia O'Keeffe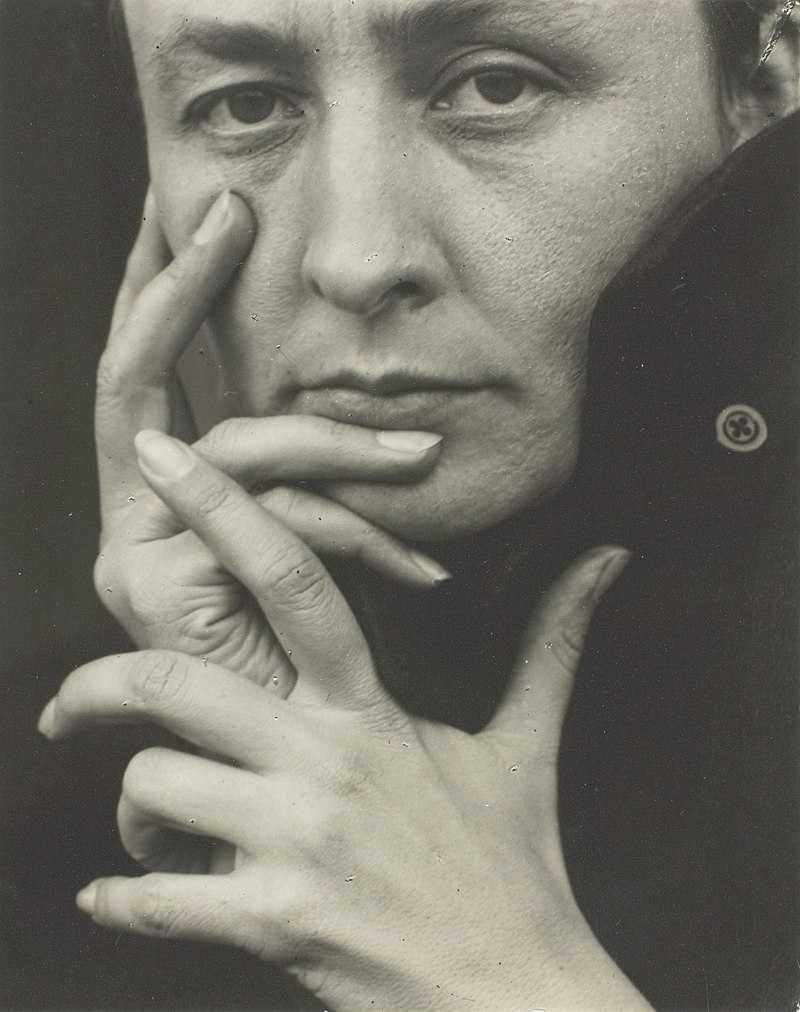 Birth year: 1887
Death year: 1986
Nationality: American
Notable characteristics/subject matter: Abstract landscapes and flowers
Notable artwork: Red Canna
Georgia O'Keeffe drew from European modernists like Picasso and Matisse and American contemporaries like Dove and Hartley with her distinct painting style with vibrant colors, abstract shapes, and expressive brushwork.
One of Georgia O'Keeffe's most famous artworks, Red Canna, represents an abstract flower. The painting has been widely interpreted as a symbol of female sexuality in American culture at that time. However, O'Keeffe challenged traditional notions about women and their societal role with her feminist art.
4. Mary Cassatt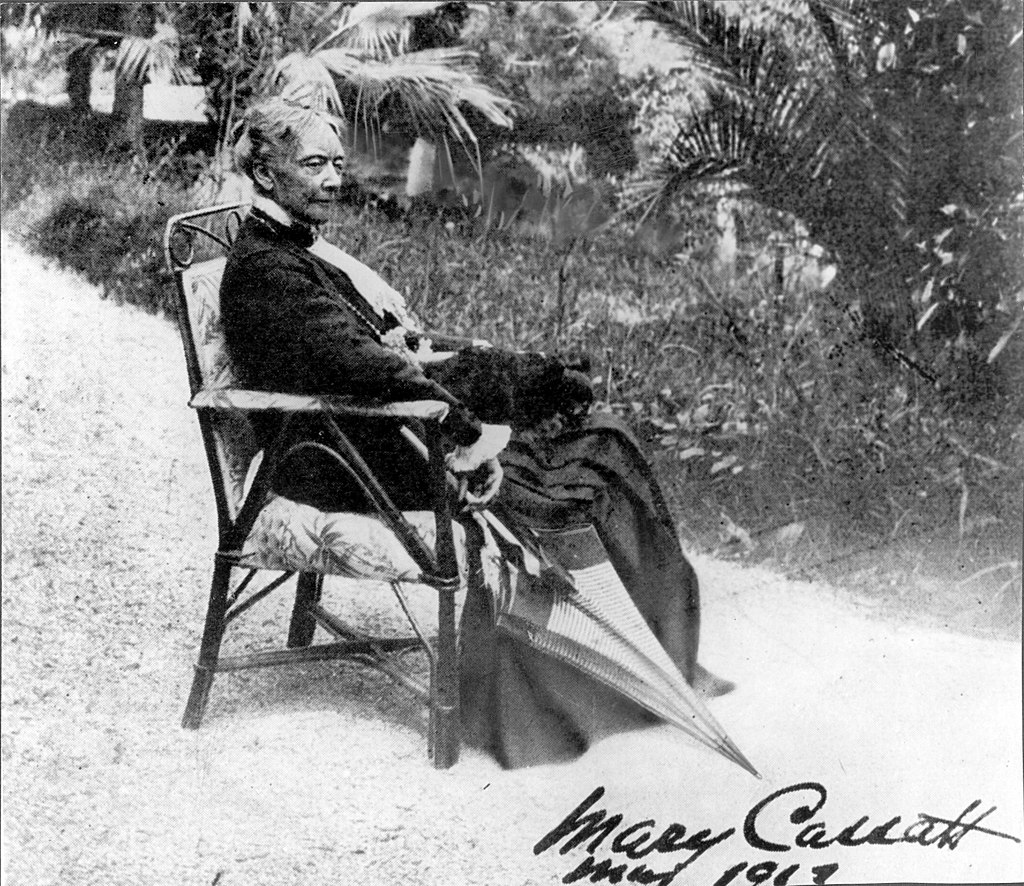 Birth year: 1844
Death year: 1926
Nationality: American
Notable characteristics/subject matter: Motherhood, women's rights
Notable artwork: Young Mother Sewing
Mary Cassatt began her artistic journey as a famous female painter at the Pennsylvania Academy of Fine Arts but later moved to Paris. When she met Edgar Degas, Cassatt found her place in the art world. She became part of the Impressionist Movement and helped redefine painting conventions through experimentation with color, light, composition, and subject matter.
Her unique perspective as an American woman artist allowed her to explore themes undervalued by male contemporaries. One such theme was the depiction of women in their everyday lives, particularly mothers caring for their children. Despite facing numerous challenges throughout her long and varied career due to her gender, Mary Cassatt persevered and ultimately left an indelible mark on art history.
5. Yayoi Kusama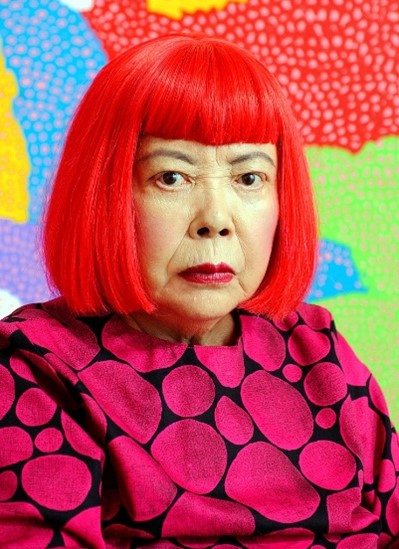 Birth year: 1929
Nationality: Japanese
Notable characteristics/subject matter: Polka dots and infinity rooms, mirrored installations
Notable artwork: "Infinity Mirrored Room – The Soules of Millions of Light Years Away."
Yayoi Kusama's career as one of our female artists began during the post-World War II era when Japan underwent significant cultural changes. In the late 1950s, Kusama went to NYC and joined the avant-garde artistic movement with other renowned figures such as Andy Warhol and Claes Oldenburg.
Kusama's work is often associated with the Pop Art movement due to her use of bold colors, patterns, and everyday objects. However, Kusama's art also draws from other genres, such as Abstract Expressionism and Minimalism.
6. Élisabeth Vigée Le Brun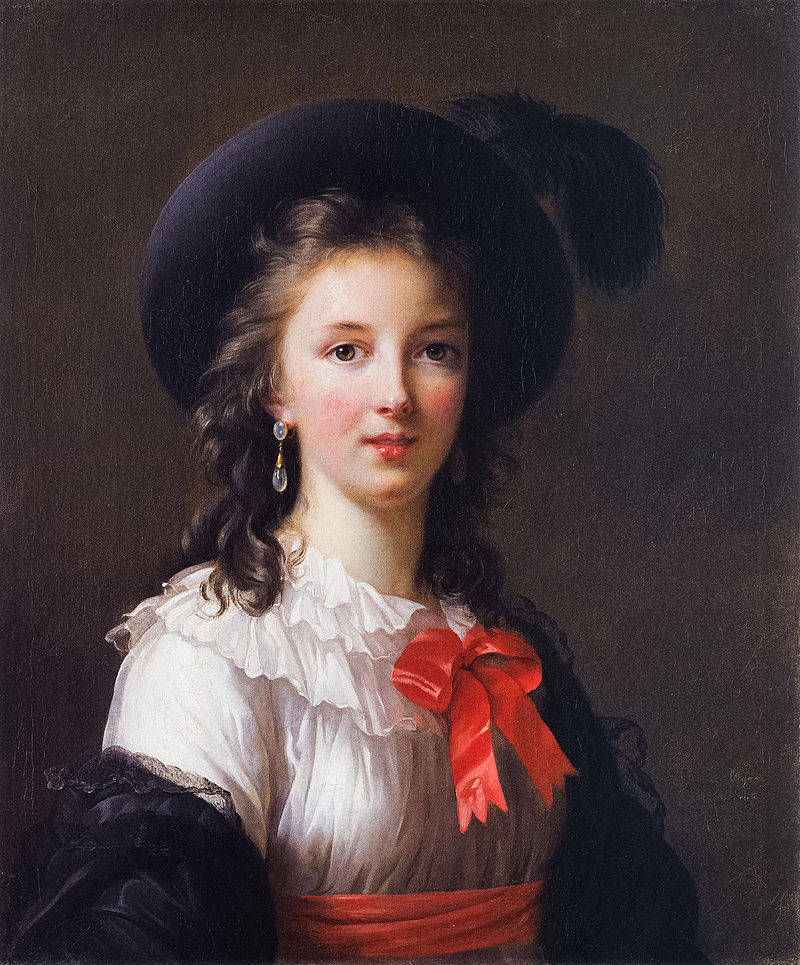 Birth year: 1755
Death year: 1842
Nationality: French
Notable characteristics/subject matter: Soft colors, delicate brush strokes
Notable artwork: Marie Antoinette with a Rose
Élisabeth Louise Vigée Le Brun had an artistic journey of famous female painters that spanned the era of pre-revolutionary France, the French Revolution itself, and into Napoleon Bonaparte's rule; thus, she experienced numerous transformations in society as well as shifts in art trends in the Rococo Art Movement.
One of Vigee Le Brun's most well-known paintings is Marie Antoinette with a Rose, created in 1783. To restore Marie Antoinette's image, Vigee Le Brun portrayed her in a more modest attire while holding a rose – symbolizing purity and innocence. The painting showcases the young artist who's skillful technique provides insight into how art could be used for propaganda during this turbulent period in France's history.
7. Helen Frankenthaler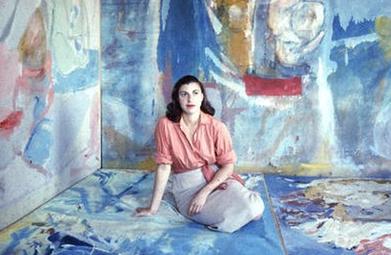 Birth year: 1928
Death year: 2011
Nationality: American
Notable characteristics/subject matter: Soak-stain method, abstract
Notable artwork: Mountains and Sea
Helen Frankenthaler was heavily influenced by Abstract Expressionism, particularly the paintings of Jackson Pollock. After seeing Pollock's drip paintings, she developed her prolific and innovative artist soak-stain method. This technique allowed her to create luminous washes of color while maintaining depth within each piece.
Frankenthaler broke barriers for women artists during her time. She demonstrated that famous female artists could thrive in a predominantly male industry, standing out as one of the few women affiliated with Abstract Expressionism.
8. Rosa Bonheur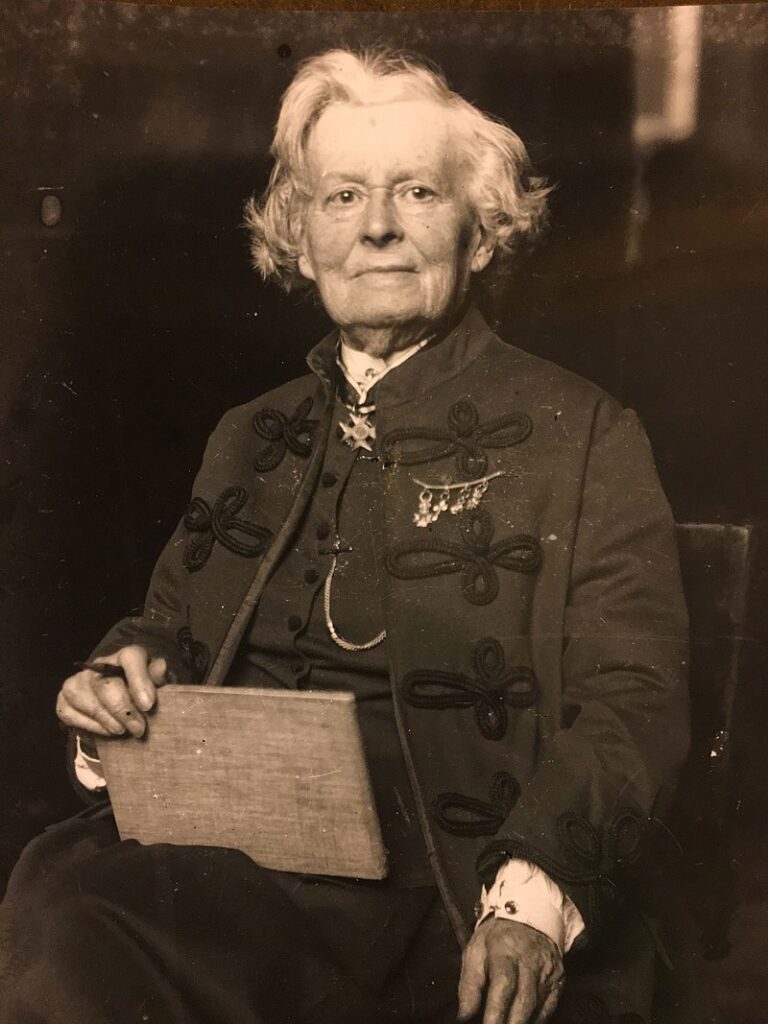 Birth year: 1822
Death year: 1899
Nationality: French
Notable characteristics/subject matter: Animals
Notable artwork: The Horse Fair, Ploughing in the Nivernais
Rosa Bonheur's artistry emerged when famous women artists were not encouraged or allowed to pursue careers as artists. She established herself as one of the leading animal painters of her time by studying anatomy at veterinary schools and observing animals firsthand.
Rosa Bonheur was primarily associated with the Realist movement in France during the mid-19th century. Although she did not engage directly with political themes like other Realist artists, her work still showcased the beauty and dignity of rural life.
9. Hilma af Klint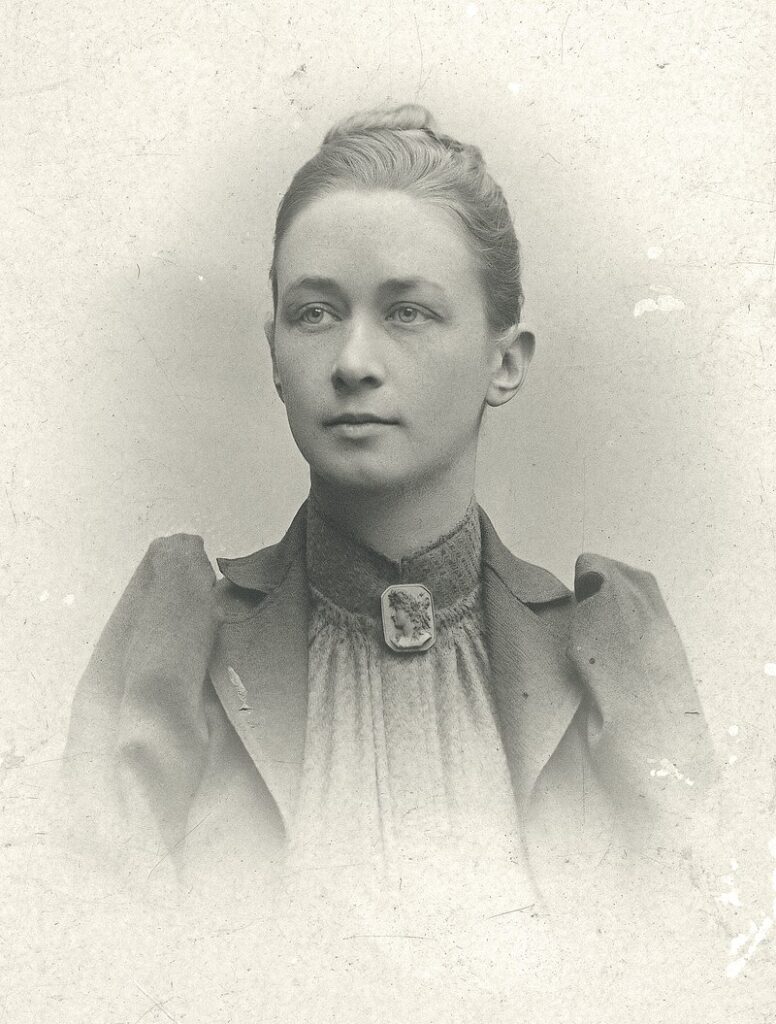 Birth year: 1862
Death year: 1944
Nationality: Swedish artist
Notable characteristics/subject matter: Abstract with spiritual themes
Notable artwork: The Ten Largest Series (a large-scale series)
Hilma af Klint was influenced by theosophy, Rosicrucianism, and other esoteric teachings. Throughout her art career, she remained largely independent of any specific art movement or group.
Hilma af Klint is now considered one of the pioneers of abstract art. Her work predates that of more well-known abstract artists like Kandinsky and Mondrian. However, her work remained largely unknown until decades after her death due to her stipulation that her paintings not be shown publicly until at least 20 years after she passed away.
10. Tamara de Lempicka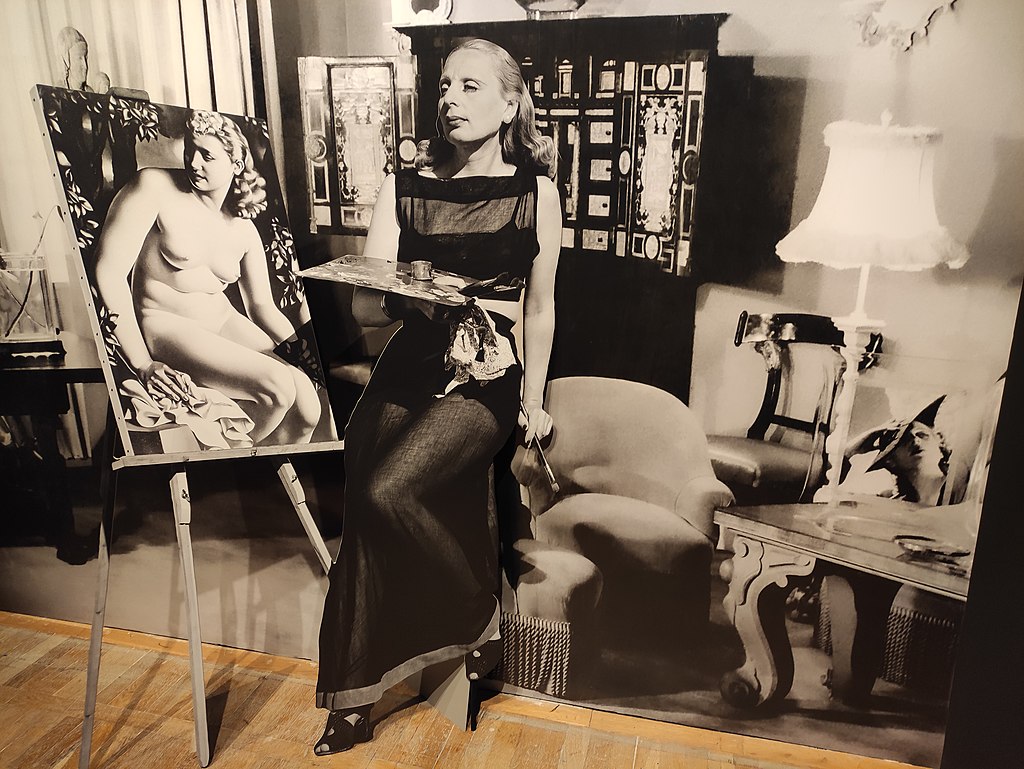 Birth year: 1898
Death year: 1980
Nationality: Polish
Notable characteristics/subject matter: Art Deco style
Notable artwork: La Jeune Fille Verte
Influenced by both Cubism and Neoclassicism, Tamara de Lempicka's work reflects the extravagance and glamour of Paris during the Annees Folles, or "Crazy Years." This period between World War I and II saw rapid economic growth, cultural advancements, and social change across Europe.
Not only did Tamara de Lempicka capture the essence of the Art Deco movement through her paintings, but she also became an icon – representing the liberated modern woman who defied societal norms to pursue artistic success.
11. Berthe Morisot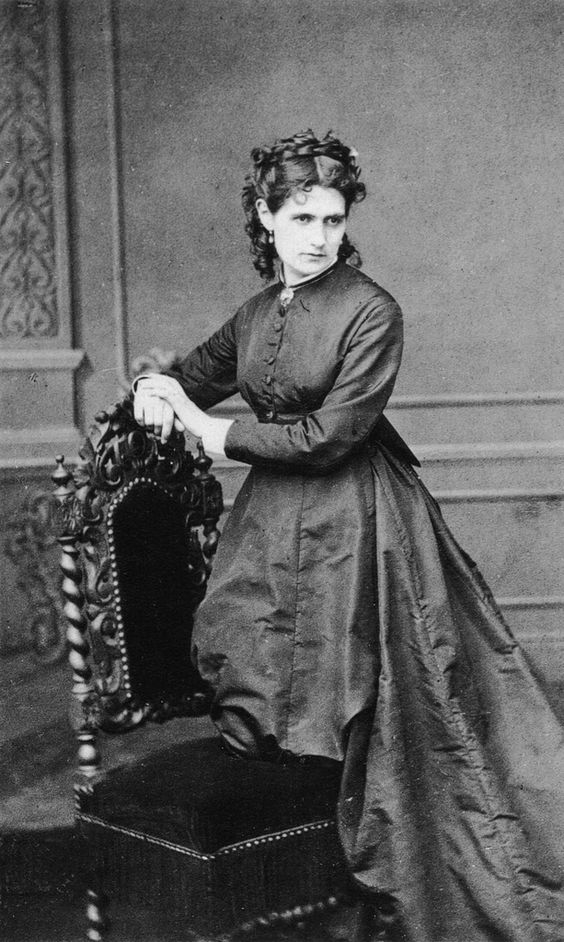 Birth year: 1841
Death year: 1895
Nationality: French
Notable characteristics/subject matter: Domestic life, landscapes, and portrait painter
Notable artwork: The Cradle
Berthe Morisot grew up surrounded by art with her sister. However, their father discouraged them from pursuing careers as painters because it was considered inappropriate for women then. Despite this, both sisters continued to paint privately with guidance from established artists.
Morisot continued to paint despite facing discrimination as a woman artist. She exhibited regularly at the Paris Salon and participated in exhibitions with other Impressionists. Her work was well-received, but she achieved a different level than some of her male contemporaries, such as Monet or Renoir.
12. Angelica Kauffman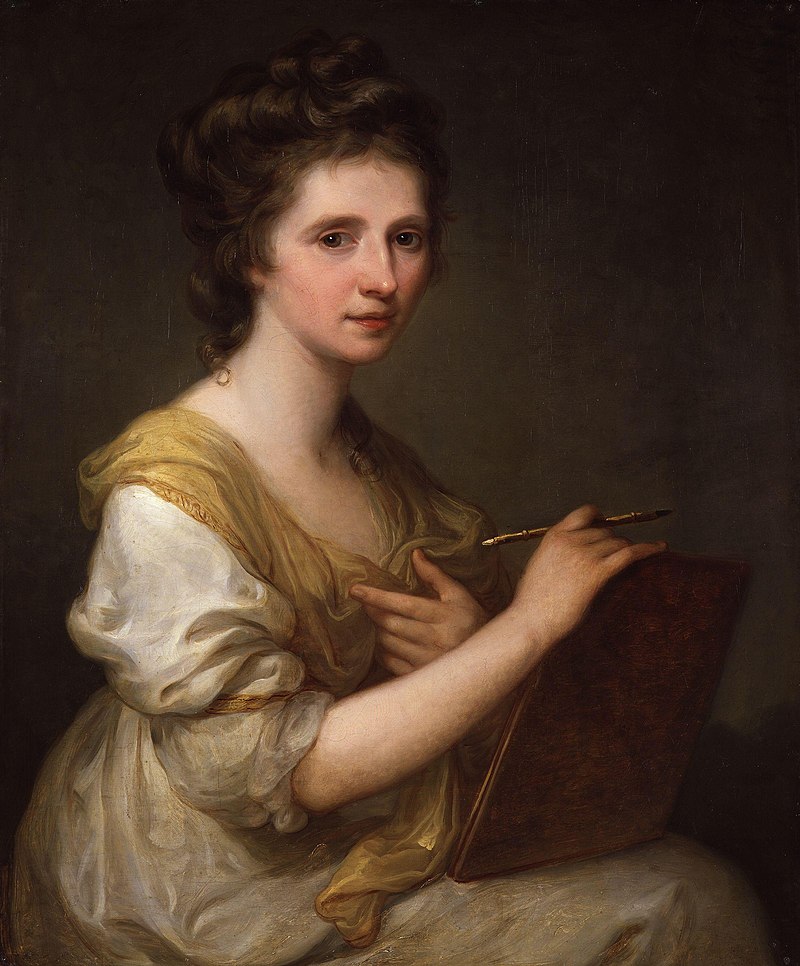 Birth year: 1741
Death year: 1807
Nationality: Swiss-Austrian
Notable characteristics/subject matter: Portraits, history paintings, and decorative art
Notable artwork: Cornelia Pointing to Her Children as Her Treasures
Born to a family of artists, Angelica showed her talent to create art very early and received training from her father. She exhibited her first work at the Academy of Arts in Florence at twelve.
In 1766, she moved to London, quickly becoming one of the most sought-after portrait painters among the aristocracy. Neoclassicism influenced her style, which emphasized simplicity and clarity over ornate decoration.
13. Sofonisba Anguissola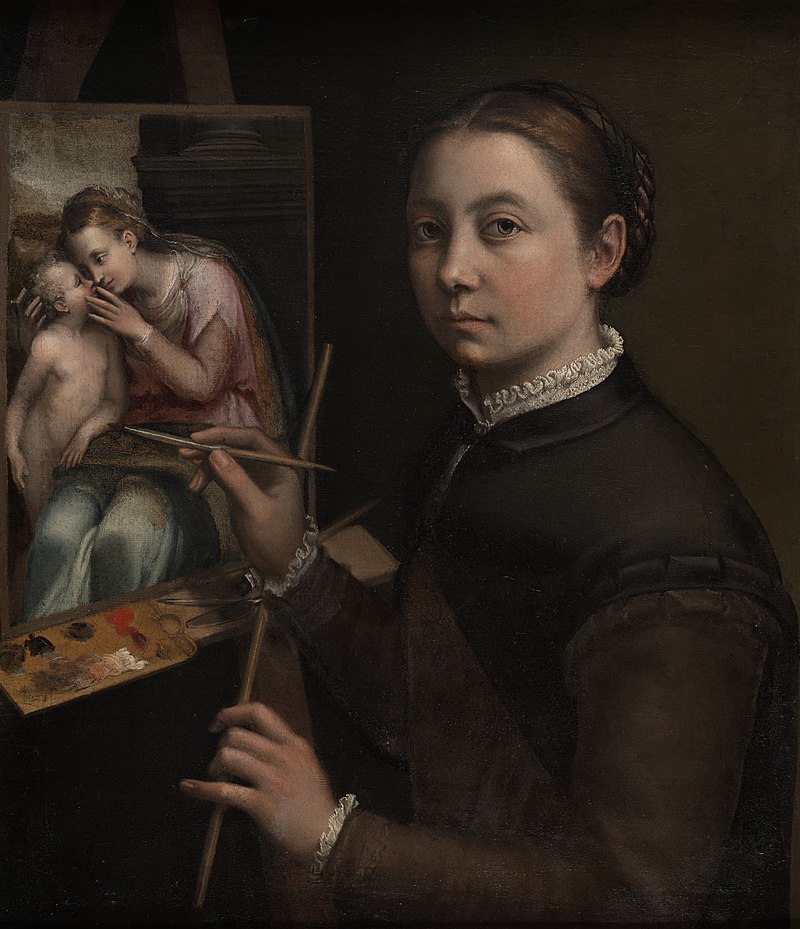 Birth year: 1532
Death year: 1625
Nationality: Italian
Notable characteristics/subject matter: Portraiture and use of chiaroscuro
Notable artwork: The Chess Game
Sofonisba Anguissola was born into an aristocratic family during the Italian Renaissance period. Her father recognized her talent at a young age and allowed her to receive a formal art education and school training alongside her brothers. In 1559, she became the court painter for King Philip II of Spain, where she painted portraits for his court.
Despite her talent, Anguissola faced challenges as a female artist during the Renaissance period. For example, she needed help studying anatomy or drawing from live models, which is essential for creating realistic figures in a painting. However, she persevered and continued to create artworks that gained recognition throughout Europe.
14. Louise Bourgeois
Birth year: 1911
Death year: 2010
Nationality: French-American
Notable characteristics/subject matter: Feminism, sexuality, and the human body.
Notable artwork: Maman
Louise Bourgeois grew up in her family's restoration business. In 1938, she moved to New York, where she became involved with the American modernism movement alongside other famous artists like Jackson Pollock. Not until much later did she achieve widespread recognition for her contributions to contemporary art history.
Influenced by surrealism and abstract expressionism movements, Louise Bourgeois was known for pushing boundaries both technically and conceptually within fine arts circles worldwide before passing away at the age of ninety-eight, leaving behind an impressive legacy spanning nearly seventy-five years!
15. Judith Leyster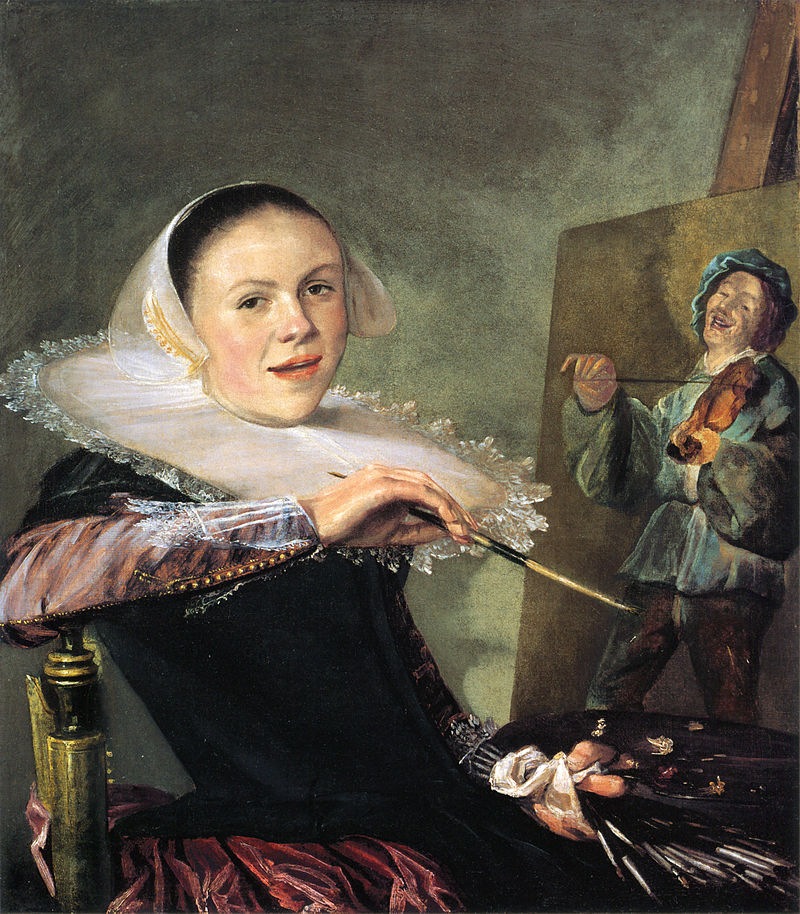 Birth year: 1609
Death year: 1660
Nationality: Dutch
Notable characteristics/subject matter: Genre paintings, portraits of musicians and singers, use of chiaroscuro
Notable artwork: The Proposition
Judith Leyster was born into an artistic family in Haarlem, Netherlands. In 1628, she became the first-ever female painter and member admitted to the Guild of St Luke – an organization for painters and other artists.
This period of Dutch art was called the "Golden Age." Many talented painters throughout Holland, such as Rembrandt, Vermeer, and Frans Hals. Judith Leyster was a famous female painter and one of the few women who managed to establish a successful career in this male-dominated field during the Dutch Golden Age.
16. Leonora Carrington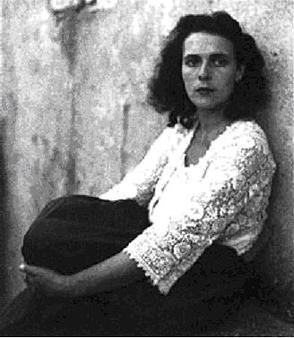 Birth year: 1917
Death year: 2011
Nationality: British/Mexican
Notable characteristics/subject matter: Surrealist art with fantastical and mythical elements and incorporated feminist themes
Famous Artwork: The Giantess (The Guardian of the Egg)
Leonora Carrington was encouraged by her mother to pursue art from a young age. She studied at the Chelsea School of Art before meeting Max Ernst. Together they fled Nazi-occupied France for New York City during World War II.
Influenced heavily by surrealism and mythology, her most famous works include "The Giantess" (c.1947), which depicts a towering woman striding through an eerie landscape while holding a bell jar containing tiny human figures. However, Carrington was also known for incorporating feminist themes into her artwork long before it became popular to do so.
17. Tracey Emin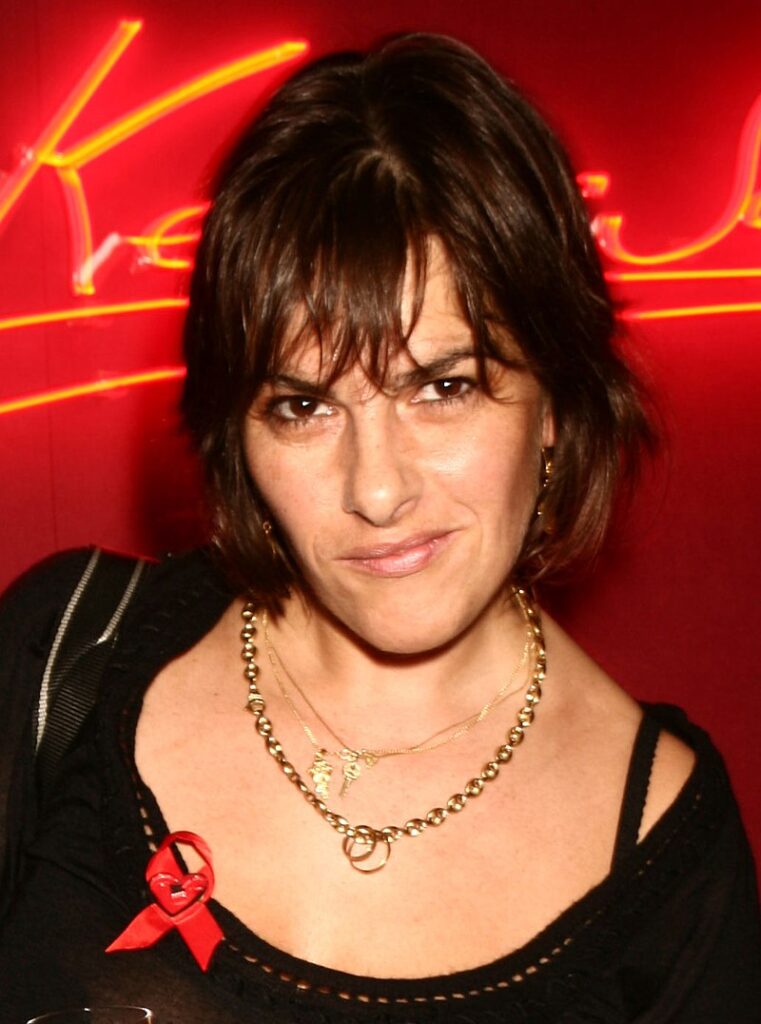 Birth year: 1963
Death year: Still alive
Nationality: British
Notable characteristics/subject matter: Sexuality, relationships, and identity
Notable artwork: My Bed
Tracey Emin studied at Maidstone College of Art before completing her BA at Goldsmiths College in London, where she became associated with other "Young British Artists" or YBAs.
Emin cites Edvard Munch among her influences, which can be seen through some aspects of expressionism in her pieces. For example, the Bed (1985) was a painting by Munch that inspired Emin's My Bed. The bed and surrounding objects in the piece represent her struggles with depression and relationships. Her work also reflects feminist ideas from feminist art movements, like postmodern feminism.
18. Catharina van Hemessen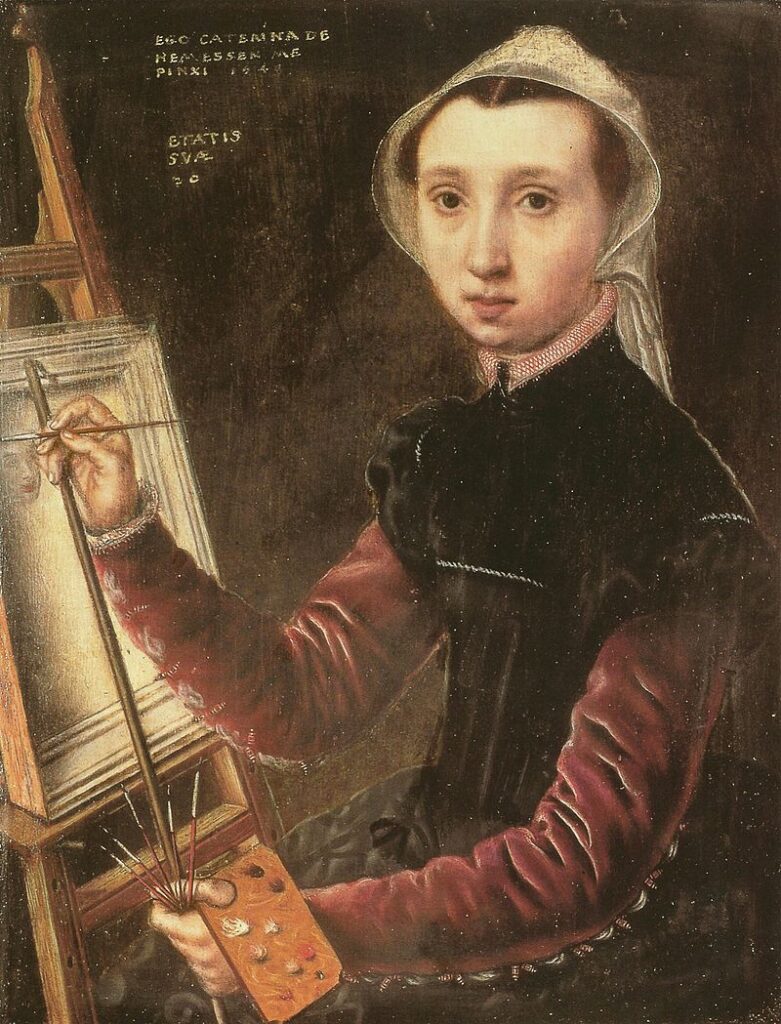 Birth year: 1528
Death year: 1580
Nationality: Flemish
Notable characteristics/subject matter: portraiture and genre scenes, everyday activities
Notable artwork: Self-Portrait
Catherina Van Hemessen's father, Jan Sanders, recognized his daughter's talent and encouraged her artistic pursuits from a young age. Despite facing gender-based discrimination throughout her career, Van Hemessen continued painting until her death.
Van Hemessen's "Self-Portrait" is a notable artwork celebrated as an early example of female empowerment in the art world. The painting reflects her confidence and pride in being a young woman artist during a time when women were often excluded from artistic circles.
19. Sonia Delaunay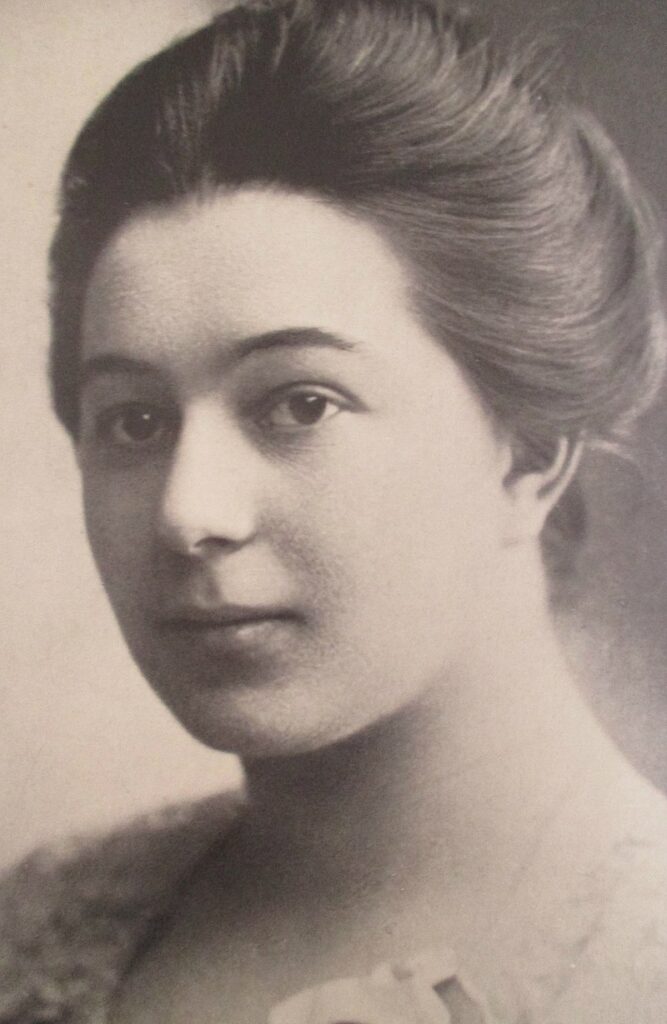 Birth year: 1885
Death year: 1979
Nationality: Ukrainian-born French
Notable characteristics/subject matter: Vibrant use of color, abstract art with geometric shapes
Notable artwork: Electric Prisms
Delaunay was born Sarah Stern in Ukraine but changed her name when she moved to Paris with her husband. Together, they became leaders of the Orphism art movement, which focused on using bright colors and abstract forms.
Fauvism, Cubism, traditional Ukrainian embroidery, and folk art heavily influenced Delaunay's work. She also worked in fashion design, creating textiles with bold patterns that reflected her artistic style. In addition, she helped organize the Salon des Indépendants and co-founded the magazine "Simultané," which showcased artists like Pablo Picasso and Wassily Kandinsky.
20. Bridget Riley
Birth year: 1931
Death year: Still alive
Nationality: British
Notable characteristics/subject matter: Op Art style, optical illusions, and geometric patterns
Notable artwork: Movement in Squares
Bridget Riley's early works were influenced by the Pointillist technique of Georges Seurat, which she later abandoned to develop her signature Op Art style. She gained international recognition in the 1960s with exhibitions at prestigious galleries such as The Museum of Modern Art in New York City.
Riley was heavily influenced by Victor Vasarely and Josef Albers' theories on color perception. Her use of geometric shapes and bold colors have influenced subsequent generations of artists working within abstraction.