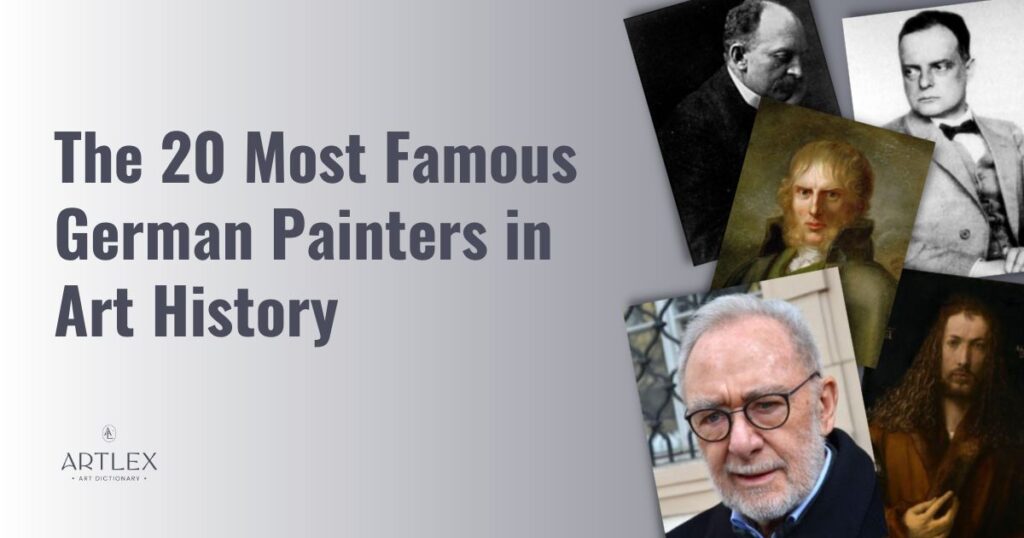 Through this exploration of the 20 Most Famous German Painters, we will examine how these renowned artists have left an indelible mark on global art history by contributing their unique perspectives and styles from the Northern Renaissance to modern times. These renowned painters span various eras, from the Northern Renaissance to modern times, each contributing their unique perspectives and styles.
Albrecht Durer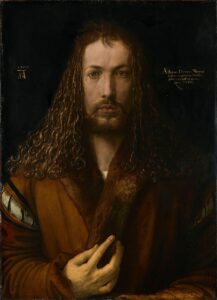 Born in 1471 in Nuremberg, Germany, Albrecht Durer was a painter, printmaker, and theorist of the German Renaissance. A renowned German artist, Albrecht Durer had a substantial effect on the development of art through his pioneering methods and enthralling topics.
One of Albrecht Durer's most notable contributions is his mastery of the woodcut technique. His detailed designs were often used for book illustrations or standalone prints that showcased religious themes or allegorical subjects.
Durer's most famous works include "The Four Horsemen of the Apocalypse" (1498) and "Adam and Eve" (1504). "The Four Horsemen of the Apocalypse," a woodcut print from his series on The Book of Revelation, showcases Durer's skillful use of line work to create dramatic tension within the composition.
Caspar David Friedrich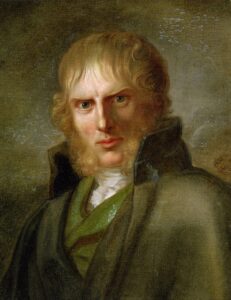 Born in 1774 in Greifswald, Germany, Caspar David Friedrich was a Romantic landscape painter who worked during the late 18th century to early 19th century period. He is best known for his melancholic landscapes featuring nature scenes such as mountains, forests, seascapes, ruins, etc., often with an element of spirituality or mysticism present within them.
Friedrich's paintings emerged during the German Romantic movement that emphasized emotion and individualism over reason and order. This movement was influenced by other European Romantics like William Blake from England and Eugene Delacroix from France.
"Wanderer Above The Sea Of Fog" (1818) is perhaps Friedrich's most famous work. It depicts a lone figure standing atop a rocky outcrop overlooking an expansive sea of fog below him. The painting has been interpreted as representing the Romantic ideal of man confronting nature's sublime power while also reflecting upon his own existence within it.
Gerhard Richter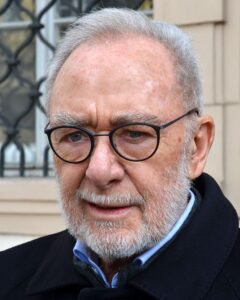 Born in 1932 in Dresden, Germany, Gerhard Richter is an influential contemporary German artist known for his diverse and innovative artistic techniques. His work spans various styles such as abstract, photorealism, and minimalism.
Richter's formative years were dominated by the ravages of World War II and Germany's post-war partition into East and West. He studied at the Dresden Academy of Fine Arts before fleeing to West Germany just two months before the construction of the Berlin Wall. In Dusseldorf, he continued his studies at Kunstakademie Dusseldorf under Karl Otto Gotz – a significant figure in post-war German art.
"Candle" is one of Gerhard Richter's most famous works. The painting features a single lit candle against a dark background, showcasing his mastery of photorealistic techniques. The painting, with its solitary lit candle in a dark setting, brings to mind ideas of mortality and the flow of time – concepts that have been at the core of artistic expression for centuries.
Max Ernst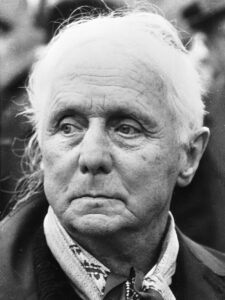 Born in 1891 in Bruhl, Germany, Max Ernst was an influential artist who played a significant role in the development of both Dadaism and Surrealism. Ernst had an expansive artistry, with his works covering various forms such as painting, sculpture, collage and printmaking over many years.
Influenced by his father's interest in art as well as the works of German Expressionists like Emil Nolde, Max Ernst began experimenting with different styles at an early age. His exposure to avant-garde movements during World War I further shaped his artistic vision. In 1919, he co-founded the Cologne Dada group along with other artists like Johannes Baargeld.
"The Entire City" (1935) is a significant work by Max Ernst that showcases his mastery of texture and dreamlike imagery. Created during a time when Europe was facing political turmoil leading up to World War II, this painting reflects the artist's concerns about societal decay and destruction.
Paul Klee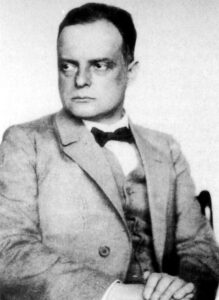 Born in 1879 in Münchenbuchsee, Switzerland, Paul Klee was a German-Swiss painter who is considered one of the most influential artists of the 20th century. He had an extensive artistic career that spanned various art movements such as Expressionism, Cubism, and Surrealism.
During his time spent in Paris between 1911-12, he met Picasso among other famous contemporary artists like Robert Delaunay, and their cubist work significantly impacted him resulting in more geometric compositions within his own artwork.:
Twittering Machine, created in 1922, is a prime example of Klee's unique style, featuring abstract shapes and lines that create an image resembling a mechanical device. The work has been interpreted as a commentary on the modern world's increasing mechanization.
Otto Dix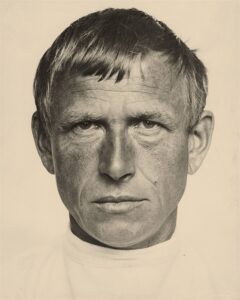 Dix's artistic career began at a young age when he apprenticed as a painter under Carl Senff. Before World War I, Dix had already demonstrated his talent by studying fine arts at the Dresden Academy of Fine Arts and apprenticing as a painter under Carl Senff. The brutal experiences on the battlefield deeply impacted Dix's work, inspiring him to create art that revealed the devastating effects of war on soldiers and civilians alike.
Throughout his career, Otto Dix drew inspiration from other important artists like Max Ernst (a fellow German painter) as well as contemporary French painters like Georges Rouault who also focused on human suffering within their artwork.
Otto Dix is best known for his gripping depictions of life during wartime through paintings such as "The Trench" (1923) and "War Cripples" (1920). Dix was highly regarded as one of the most significant artists in Germany during the Weimar Republic times due to his evocative images of wartime suffering.
Hans Holbein the Younger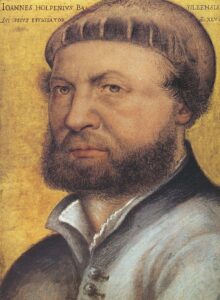 Holbein's artistic career began under the tutelage of his father, Hans Holbein Senior, a famous German painter himself. Hans traveled to England in search of work after finding limited opportunities within the Holy Roman Empire due to political turmoil caused by religious reformations.
In England, he became a court painter for Henry VIII and created some iconic works that are still celebrated today. His unique style combined elements from both Italian Renaissance art and Flemish realism, which made him an important artist not only in Germany but also across Europe.
His work as a court painter for Henry VIII provided valuable insight into the lives and personalities of important historical figures during this tumultuous period in English history. The Ambassadors (1533), one of Hans Holbein's most famous works, is not only a masterpiece but also serves as a testament to the power dynamics at play within European politics during this time.
Emil Nolde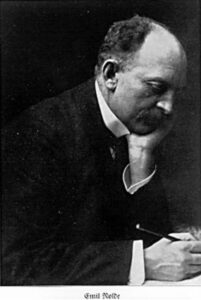 Born in 1867 in Nolde, Germany, Emil Nolde was a prominent painter and printmaker associated with the German Expressionist movement. His artistic career spanned various art movements such as Die Brucke (The Bridge) and Der Blaue Reiter (The Blue Rider). Known for his bold use of color and brushwork, he often depicted religious scenes, landscapes, still lifes, and portraits.
In 1906, Emil Nolde joined the avant-garde group Die Brucke, where he developed his signature style that featured intense colors combined with expressive brushstrokes. Emil Nolde's short-lived involvement with Die Brucke was instrumental in establishing him as a major figure of German Expressionism, despite the differences in artistic vision.
In the post-war years, Emil Nolde's reputation was restored, and he became one of the most celebrated German artists of the 20th century. His works can now be found in major art institutions worldwide such as the Museum of Modern Art, New York; Tate Gallery, London; and Hamburger Bahnhof – Museum für Gegenwart, Berlin.
Ernst Ludwig Kirchner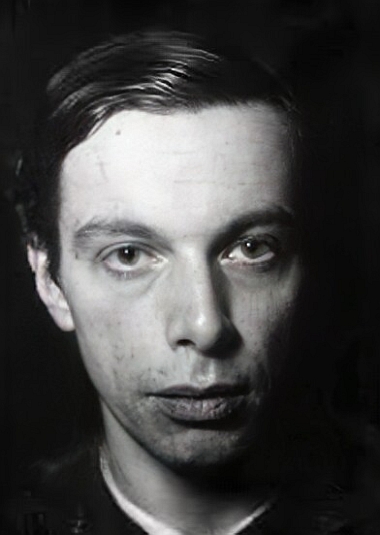 Born in 1880 in Aschaffenburg, Germany, Ernst Ludwig Kirchner was a key figure of the German Expressionist movement and one of the founding members of Der Blaue Reiter. He is best known for his bold use of color and distorted forms to convey emotional intensity. His artistic career spanned various styles and subject matters, including urban scenes, landscapes, nudes, and portraits.
Ernst Ludwig Kirchner was a pioneering German expressionist painter who left an indelible mark on modern art. Kirchner's oeuvre is celebrated for its vivid hues and intense emotions, solidifying his standing as a major contributor to 20th century German painting.
Georg Baselitz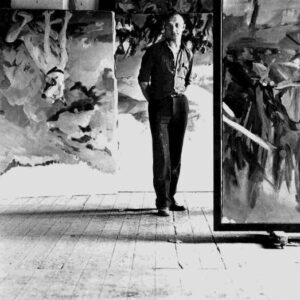 Born in 1938 in Deutschbaselitz, Germany, Georg Baselitz is an influential contemporary German artist known for his expressive paintings and sculptures. He rose to prominence as a major figure of the Neo-Expressionist movement in post-World War II Germany.
Baselitz drew inspiration from earlier famous German painters like Otto Dix, Emil Nolde, and Max Ernst. One notable characteristic of his work is that he often paints subjects upside down. This technique allows viewers to focus on form rather than content or narrative. In addition to painting, Baselitz has also created numerous sculptures throughout his artistic career using wood as a primary medium.
Baselitz is famous for his work on "The Heroes" series (1965-66), a collection of paintings depicting war-torn landscapes and soldiers, often shown upside down. This series reflects Baselitz's critical view of Germany's past during World War II.
Anselm Kiefer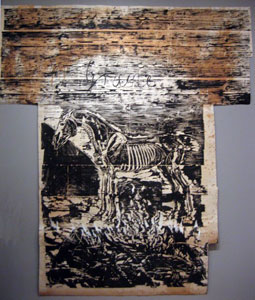 Anselm Kiefer is a German painter and sculptor born on March 8, 1945, in Donaueschingen, Germany. He is known for his large-scale works that explore themes of history, mythology, and spirituality.
Kiefer's work often deals with the weight of German history and its impact on contemporary society. He frequently incorporates materials such as lead, ash, and straw into his pieces to create a sense of decay or destruction.
One of Kiefer's most famous works is "The Orders of the Night," which features a darkened landscape with broken towers rising out from it. The painting references Paul Celan's poem "Todesfuge" ("Death Fugue"), which describes life in Nazi concentration camps.
Max Beckmann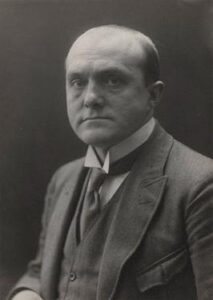 Born in Leipzig, Max Beckmann was one of the most prominent German painters during the early 20th century. He studied at various art academies across Europe before settling down in Berlin where he began his artistic career.
The First World War had a significant impact on Beckmann's life both personally and artistically. After serving as a medical orderly near Flanders' front lines, he returned home traumatized by what he had seen. His work took on darker tones with more grim subject matter that reflected these experiences.
"Departure" is considered one of Max Beckmann's most famous works created between 1932 and 1935. It is an oil on canvas painting that depicts a group of people leaving a train station, presumably for their next destination. The scene is dark with muted colors and the figures are portrayed in an expressionistic style, conveying feelings of anxiety or unease.
Max Liebermann
Max Liebermann was a famous German painter born on July 20, 1847, in Berlin. He died at the age of 87 years old on February 8, 1935.
Liebermann was known for his Impressionist style and often painted landscapes and cityscapes. He also painted portraits and Jewish themes which were significant to him as he came from a wealthy Jewish family.
Terrace of a Restaurant in Nienstedten (1902) is one of Max Liebermann's most well-known paintings. The painting depicts an outdoor scene with people dining at tables under umbrellas while overlooking the Elbe River. This piece captures the essence of summer leisure time enjoyed by Germans during that era.
Lucas Cranach the Elder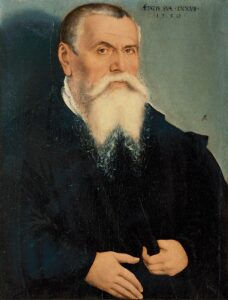 In the late 15th century, Lucas Cranach the Elder was born in Kronach, a small town located in Upper Franconia. He began training as an artist under local painter Michael Wolgemut before moving to Vienna to work with Albrecht Dürer's father.
Cranach's style was influenced by Italian Renaissance artists like Leonardo da Vinci but also incorporated elements from German Gothic art. His incorporation of humanist ideas into his work is evident through pieces like "Adam and Eve" which portrays humans without idealization or embellishment.
One of Cranach's most famous works is "Adam and Eve," a painting that depicts the biblical story of humanity's first parents. The work shows both figures standing in front of a tree, with only leaves covering their nudity.
Franz Xaver Winterhalter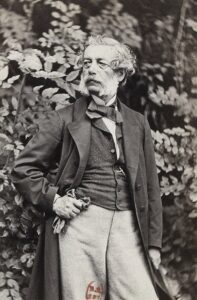 Franz Xaver Winterhalter was a German painter born in 1805 and died in 1873. He was born in the Black Forest region of Germany, specifically Menzenschwand.
Winterhalter's paintings often depicted noblewomen with their children or alone wearing luxurious dresses made from fine materials such as silk or satin. His subjects were usually posed against elaborate backdrops that showcased opulent interiors or landscapes. He was also known for painting royalty such as Queen Victoria and Empress Eugenie de Montijo.
One of his most famous works is "The Empress Eugenie Surrounded by her Ladies in Waiting," which was painted in 1855. This painting depicts Empress Eugenie de Montijo surrounded by her ladies-in-waiting dressed in luxurious gowns that showcase their wealth and status.
Hans Arp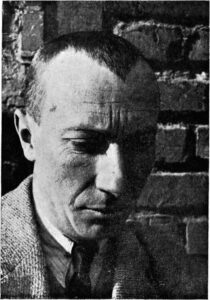 In the early 20th century, Hans Arp was one of the leading figures of Dadaism – an avant-garde art movement that emerged during World War I. This anti-art movement aimed to reject traditional values and artistic conventions by creating works that were absurd or nonsensical.
The influence of Cubism can also be seen throughout much of his work; however, unlike many other artists associated with this style who focused on geometric shapes as their primary subject matter, Arp preferred to explore more fluid lines that mimicked natural forms such as plants or rocks.
"Birds In Aquarium" (1920) is one of Hans Arp's most famous pieces. It features biomorphic shapes floating within a rectangular space reminiscent of an aquarium tank. The piece is notable for its playful yet surreal quality – it creates a sense of wonder while also being slightly unsettling due to its unusual composition.
Gabriele Münter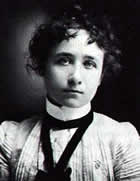 Gabriele Münter was a German painter born in Berlin in 1877 and died in Murnau am Staffelsee, Germany, in 1962. She is known for her contributions to the expressionist movement as well as being a founding member of the Blue Rider group.
Münter's style is characterized by bold colors and simplified forms that convey emotion rather than realism. Her subject matter often included landscapes, still lives, and portraits of family members or fellow artists such as Wassily Kandinsky.
Münter's most famous artwork is "The Jawlensky-Window" (1910), which depicts the stained glass window designed by Alexej von Jawlensky for their home. The painting showcases her use of vibrant colors and abstracted shapes while also capturing an intimate moment from her personal life with another artist.
Hans Hartung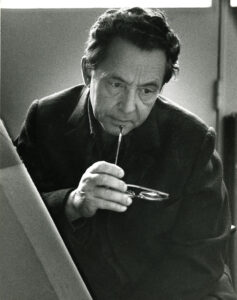 Born in Leipzig in 1904, Hans Hartung was a German-French painter known for his contributions to the gestural abstraction movement. He studied philosophy at the University of Leipzig before enrolling at the Dresden Academy of Fine Arts in 1924. During this time, he became interested in painting after attending lectures by Otto Dix.
Influenced by artists such as Wassily Kandinsky and Paul Klee, Hartung began experimenting with abstract forms during the late 1920s. However, it wasn't until he moved to Paris in 1935 that his artistic career took off.
One notable artwork from Hans Hartung is T1957-H27, which exemplifies his bold brushstrokes and use of color contrast to create dynamic compositions. The piece features black lines against an orange background with white highlights scattered throughout.
George Grosz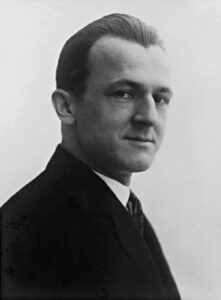 In the early years of George Grosz's artistic career, he studied at various academies throughout Germany. He was influenced by both Expressionism and Futurism but ultimately found his own style that combined elements from both movements with his unique satirical voice.
In addition to being an artist, Grosz was also politically active; he joined the Communist Party in 1918 but later left due to disagreements with their policies. Throughout his life, he continued to create works that critiqued German society under Nazi rule as well as American capitalism after immigrating to New York City in 1933.
Grosz's most famous work is likely The Funeral (Die Trauerfeier), which depicts a funeral procession for fallen soldiers during World War I. The painting captures not only the somber mood of mourning but also highlights how war can be used for political gain at great cost to human life.